Surviving and Thriving at Trans-Cascadia: Multi-Day Adventure Enduro Race
Party in the Woods | Trans-Cascadia Race Report
with CAROLINE WASHAM & KAYSEE ARMSTRONG, Liv Racing MTB Athletes
It wasn't until the last Trans-Cascadia email hit my inbox that the gravity of what we were about to do finally sunk in. It read:
"Also consider purchasing a waterproof bivy sack for your sleeping bag. Our minds always go to better safe than sorry… this will ensure 100% your sleeping bag stays dry no matter what happens."
I turned to Kaysee, face white with a mix of fear and disgust, "No matter what happens? What does that mean? WHY would we be wet INSIDE our tents?!?"
At that point, sitting in our rental minivan on the way to the Portland REI for last minute supplies, there was no turning back.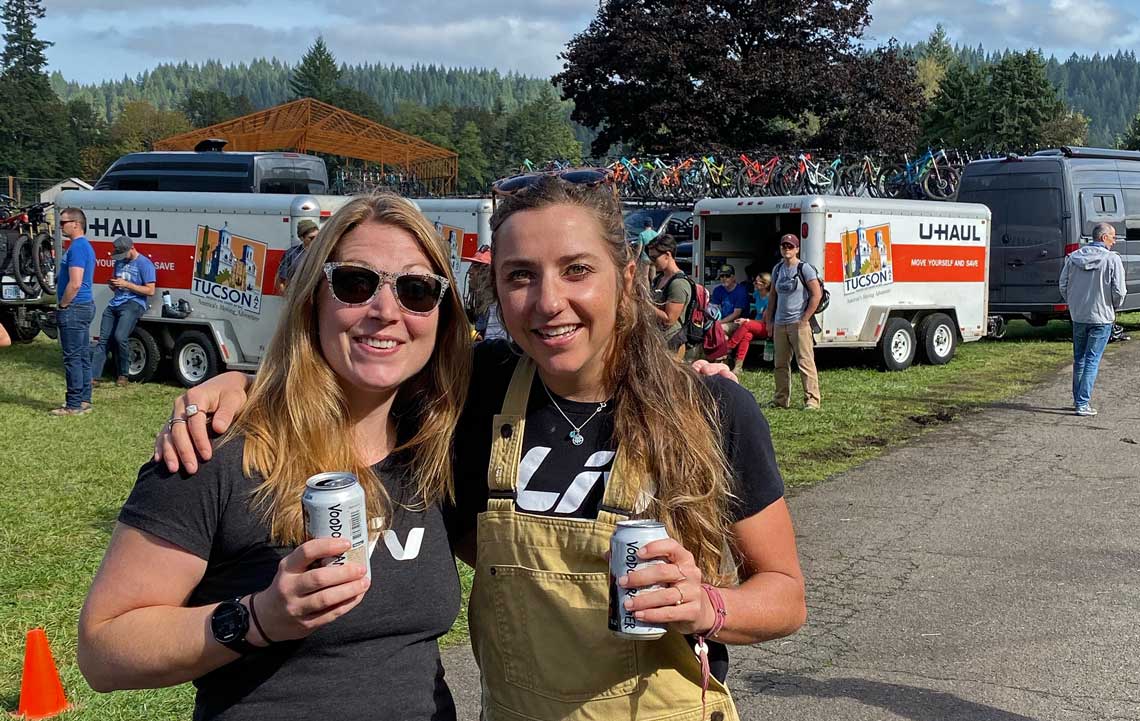 The best adventures begin as crazy ideas.
This all started on January 29, 2019 with a text:
"I had this crazy idea: the downhiller and the XC racer both go to the same race in search of fresh trails, long days in the saddle, and good times! Trans-Cascadia?"
And an answer:
"Ummmmm DREAM RACE!!!!! Count me in!!! So in. I will drop everything for this." (All exclamation points were used in the original text.)
THE RACE: Trans-Cascadia. A 4-day blind format race on primitive Pacific Northwest singletrack. Days typically consist of 6-8 hours on the bike, 4000-6000ft of climbing, and 3-4 stages that are mostly downhill. Each year, the race directors schedule work parties with the goal of uncovering forgotten trail to create new resources for local mountain biking, hiking, and equestrian communities. The location of the trails is a secret… until you arrive.
THE RACERS: Pro XC, endurance mountain bike, and gravel racer Kaysee Armstrong & Pro Downhill racer Caroline Washam
THE BIKE: The Liv Intrigue Advanced. 140mm (rear)/ 150mm (front) travel for efficient climbs and fun, fast descents. Get a closer look at our bikes HERE!
THE PLAN: Show up. Appreciate each moment. Ride as fast as we can. Document the whole thing.
We locked in our registration that week and jumped into our – very different – race seasons. When we saw each other two weeks before Trans-Cascadia at the Snowshoe, West Virginia World Cup, both of us were admittedly feeling the effects of a long, rough season – mentally and physically.
But it didn't matter how tired we both were, how ill-prepared my body was for the long days in the saddle, or how uncomfortable Kaysee was wearing baggy shorts and body armor, setting out on this trip kindled our need for adventure. We felt like kids again, giddy with excitement and nervous about the unknown. Although we were both stepping out of our comfort zones, along the way we would rediscover why we fell in love with mountain biking in the first place.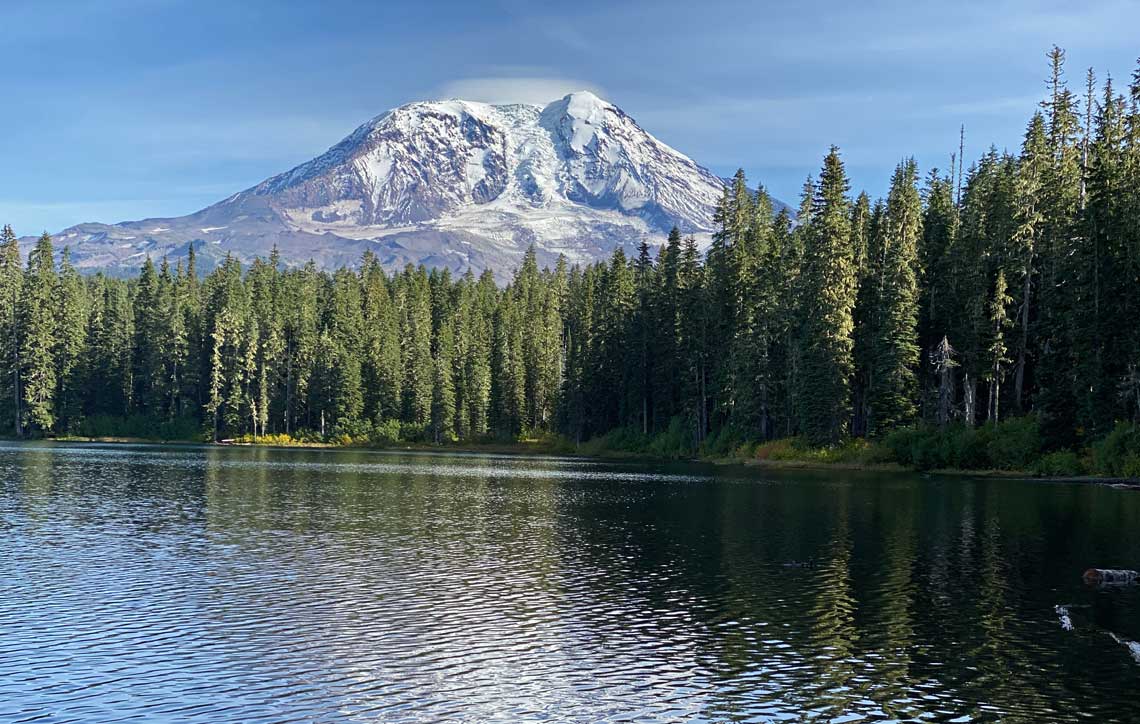 View of Mt. Adams from camp 
Into the mountains we go… to lose our minds and find our souls.
On the last Wednesday in September, Kaysee and I pulled up to a farm outside of Portland, Oregon in a minivan. We were greeted by pork belly tacos, beer, and around 180 folks who really dig riding bikes and throwing great parties. And so, our Trans-Cascadia adventure began.
The shuttle to camp took hours and led deep into the Gifford Pinchot National Forest to the shores of Lake Takhlakh. After throwing our bags in a tent, we checked out the lake view just a few steps away. Jaws hit the loamy ground as a crystal-clear view of Mt. Adams emerged. Was this place even real?
It wasn't just the scenery that was dreamy. A walk around camp revealed a make-shift restaurant where some of Portland's finest chefs would be feeding us gourmet meals in the woods, massage and physio tents, and party central – complete with games, fire pit, and a real-deal bar where you could order your drink from a guy who resembled "the Dude" from Big Lebowski. On that first evening, I made a tie-dye t-shirt while sipping an old fashioned and chatting with old and new friends. As we sat down to our first camp meal of pork ribs with chipotle honey butter cornbread and collard greens, maps were passed out and we remembered… oh yeah, we are here to ride our bikes.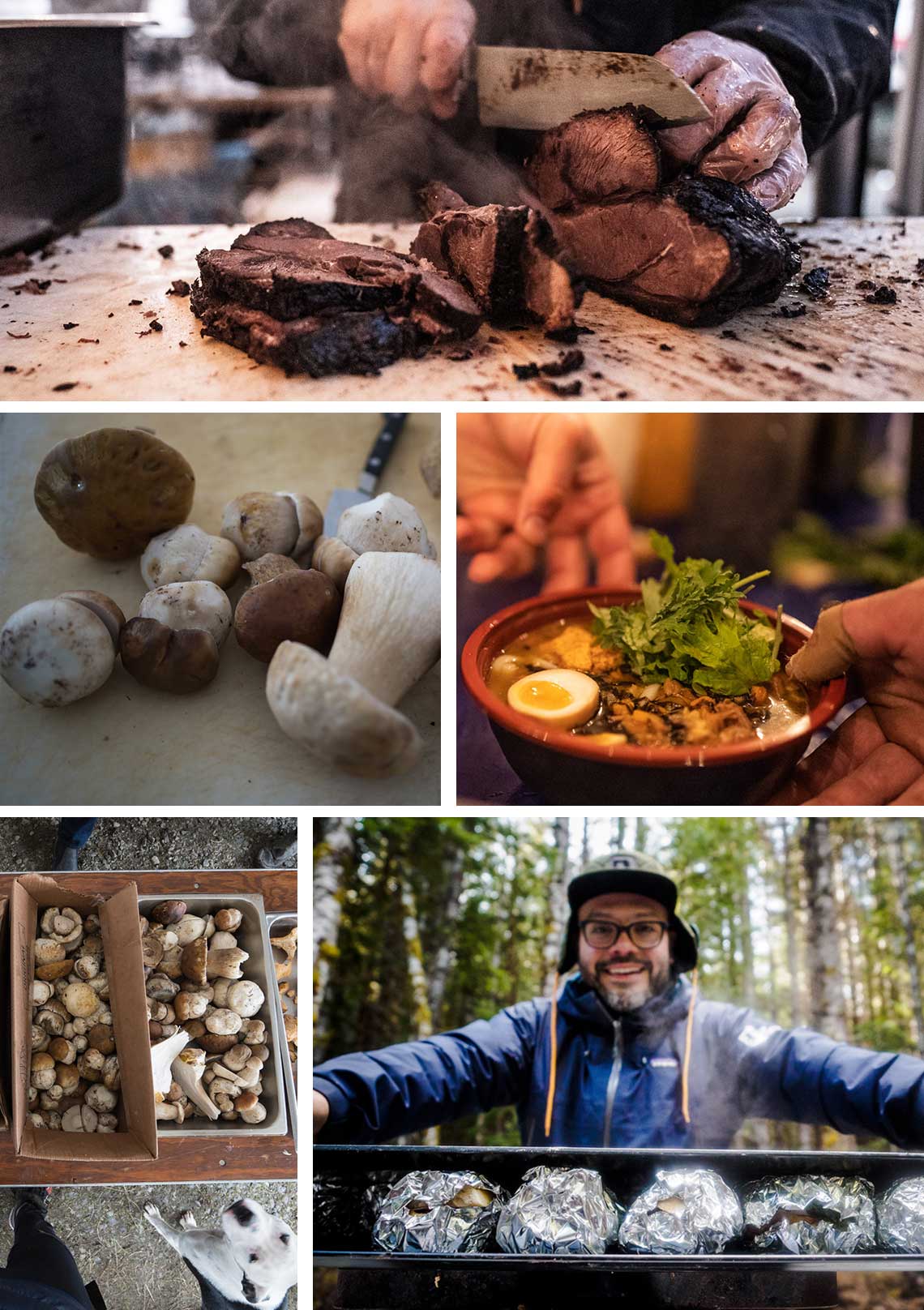 The food was out of this world. Thanks, chefs! Photos, from top: Dylan Van Weelden, Patrick Means, Max Schumann
Day One. "It won't be the hardest day," said Caroline prematurely.
4 stages, 18 miles, 4500ft of climbing and just under 8000ft of descending was on tap for day one.
A steady drizzle began as we rolled out of camp in the shuttle. By the time we reached the start of our short climb to stage one, it was raining and cold. With every pedal stroke up that first hill, a little energy was lost due to tires spinning in fresh mud. Then, a 4-mile descent. It started rocky, rough and technical and ended with long, flowy straightaways with tight switchbacks and zesty paver chutes. The constant rain, heavy at times, made it difficult to see the slick roots and mud waiting to catch you out. I loved it. Kaysee, on the other hand, felt a little out of her element.
Most of the climbing for the day (4000ft) took place over just seven miles. While Kaysee was mountain-goating her way up the trail and catching her breath with more than enough time to enjoy the views, I was huffing and puffing up the hike-a-bike – having to keep moving to make the cutoff. I got cramps in places I have never gotten cramps before, but I made it… and enjoyed the hell out of every descent. By the time I got to the end of the last stage, it had gotten so dark I could barely see the trail ahead. The combination of dwindling visibility and my inability to hold onto the handlebars lead to a bloody, yet photogenic end to my day. I still managed to sneak into third place after day one, while Kaysee felt a mix of relief and accomplishment after her first day as a pro enduro racer.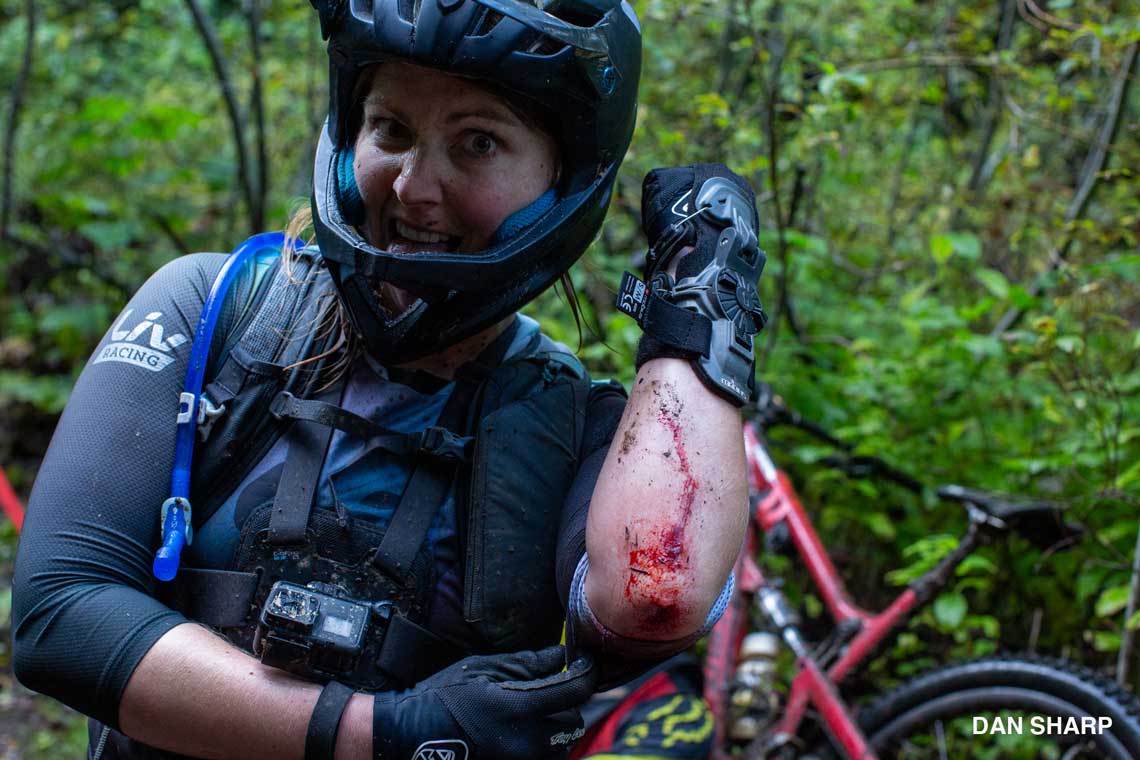 Should'a worn the elbow pads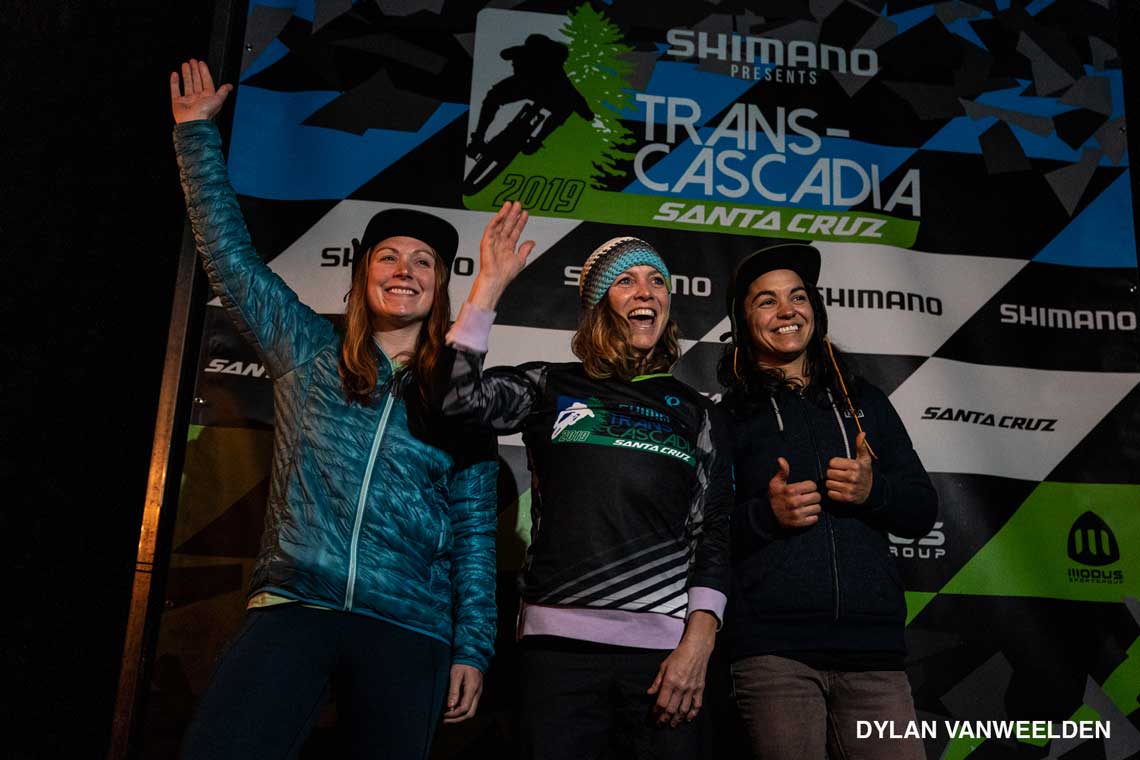 Day Two. Finding our groove.
With a "mixed precipitation" warning and judging by the previous day's long hike-a-bike miles, we didn't wait around camp long to begin the 23-mile journey. But, by all accounts, day two was a sigh of relief. Stages were fast, flowy and open to interpretation and the transfers were… well… pleasant – even for this downhill racer. It was time to settle in and enjoy the experience.
Blind racing is so different from downhill, where I stress about every turn, drop and jump on the course. Out here, I had no idea what to expect, which was liberating. As I dropped in to the third and final stage for the day, I found myself completely in the moment, breathing easier and having more fun than I ever have in a race. Though Kaysee admitted she was pretty nervous before every stage for the same reason I wasn't, she was thriving on the adrenaline. She summarized it well here:
"Everything about this race is why I got into mountain biking in the first place. I love to descend, and I love technical trail, but I don't race it. I do so many races that are epic, long 7 to 8-hour days that have hike-a-bikes. What was hard about this was getting to the top and being super nervous. Just knowing people who are faster than you are lining up behind you and thinking, 'What if they run me over?' It didn't end up being as big of a deal as I played it up to be. I just remember getting to the bottom of stage 2 and thinking… 'that was my best run ever.' I just had so many endorphins and it happened because I overcame something I didn't think I could do."
It was raining by the time we arrived back at camp that afternoon, but we had plenty of time to wash our bikes, get hot showers, and revel in the post-ride good vibes. After dinner, as the cold was setting in, everyone gathered around the fire to enjoy a hot toddy and watch the photo slideshow from the previous day's action. Just as the screen dimmed, we looked up to see snow falling.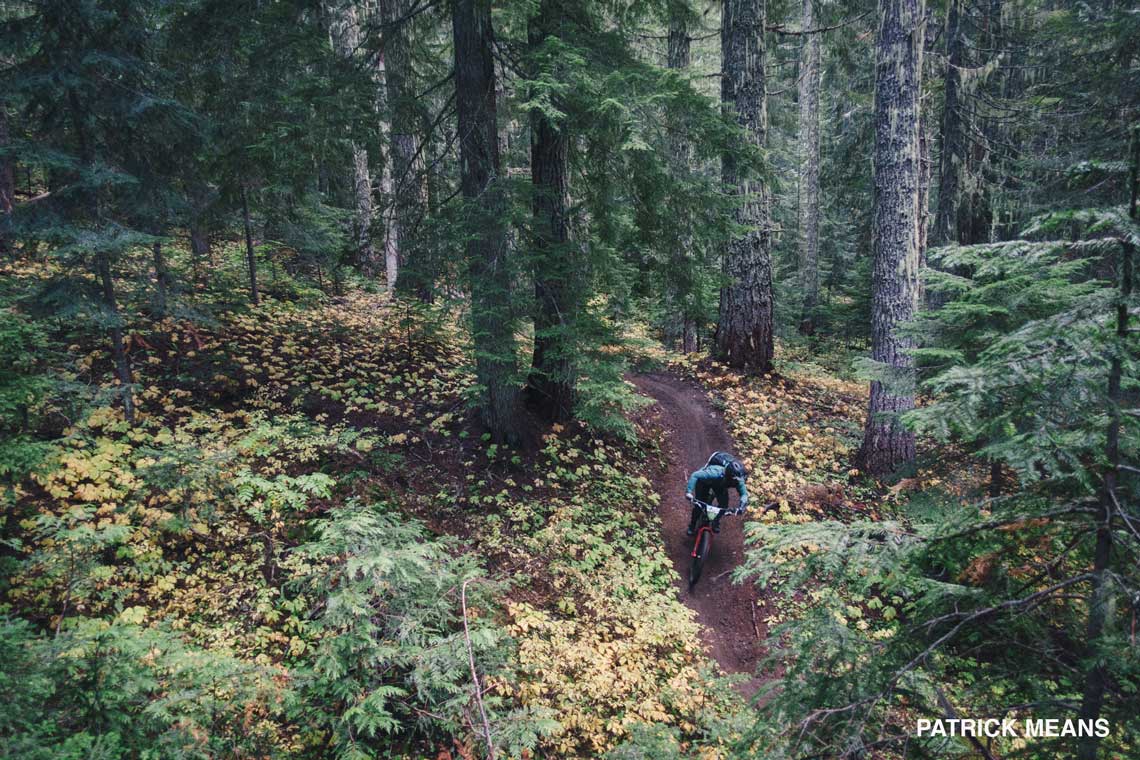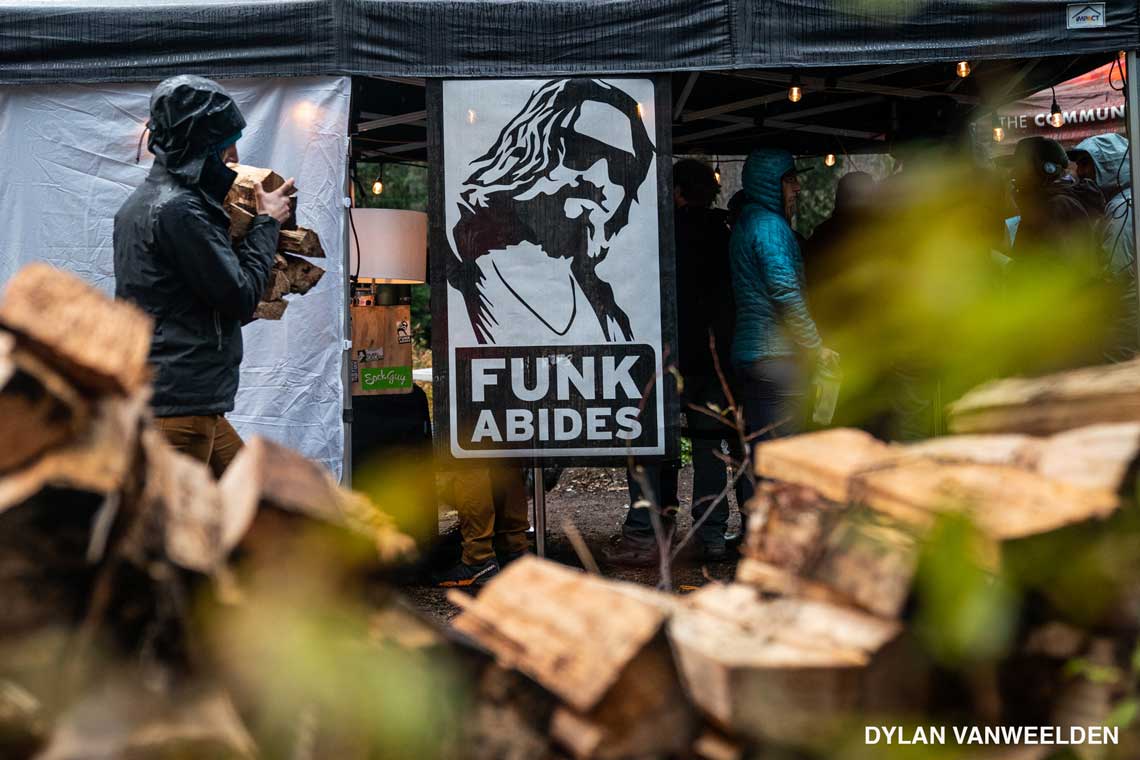 Day Three. How did we get here? I'm not crying, you're crying.
My tent, covered in a layer of ice, crunched as I unzipped it that morning. The bikes were frozen solid to the point that tire pressure seemed like the least of my worries – my brake levers weren't even moving. It was a big day: we were moving camp. Tomorrow, we would wake up in the shadow of Mount St. Helens instead of Mt. Adams. We stood by the fire, defrosting our bikes for several minutes before rolling out of camp in our down jackets.
After a cold hike-a-bike up to a beautiful ridgeline, we got plenty of bang for our buck in the form of two super-fast and fun descents. At the bottom of the stage 2, we were greeted by the chefs with hot veggie soup, Italian paninis, a fire, and whiskey before we hopped in shuttles and headed to the non-motorized side of the Gifford Pinchot.
Although Kaysee and I weren't riding together due to our vastly different riding styles, we both described having "a moment" while traversing along the ridgeline on the edge of the Mount St. Helens blast zone behind a group of good new friends. Under clear skies, we took in unobstructed views of the surrounding mountains and ridges, covered in a blanket of snow and thought, "how did we get here?" Though we may be self-proclaimed non-crying-types, I'll be damned… there were a few happy tears.
Strawberry Mtn: A ribbon of slick, dark loam twisted through the snow-covered forest floor in a magical way before changing to moss and hero dirt near the bottom of the 3000ft, three-mile descent. The best 12 minutes I've ever spent on a bike? Yeah, it was up there. There was one stage left for the day, and I was even excited for the transfer. It was another opportunity to ride along the ridge that gave us such awe-inspiring views of Mount St. Helens before. But this time, as the van picked its way up the weather-worn access road, we could see dark clouds building.
When I arrived at the start of the stage, the skies opened and started dumping a mix of snow and sleet. I popped my goggles on and blasted off. Excitement changed to worry when I could no longer see out of my goggles. Pulling them off and dangling them from my handlebar as I continued to race, I was now getting pelted in the face with ice. At the finish, I learned the stage would be canceled. I was one of only about a dozen riders who got to ride down that final stage. Despite some tense moments, it was an epic trail and I felt lucky. Kaysee had the luck of riding all the way to the start of the final stage in increasingly heavy snow, only to have to turn around and take the shuttle back to camp.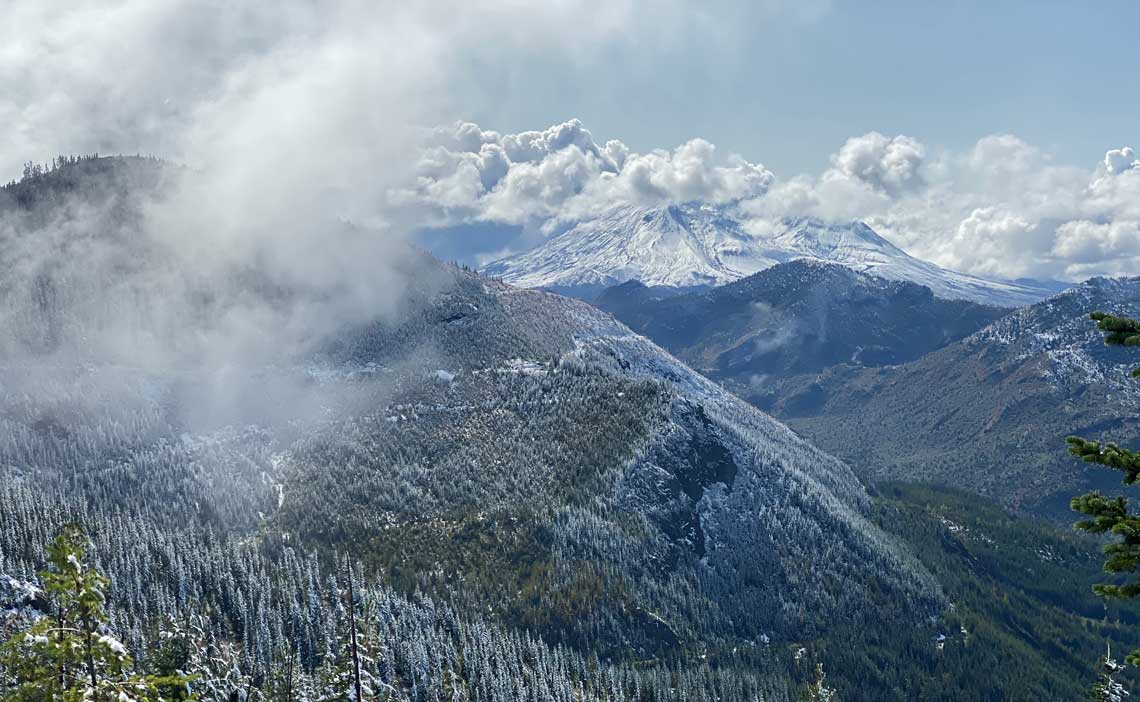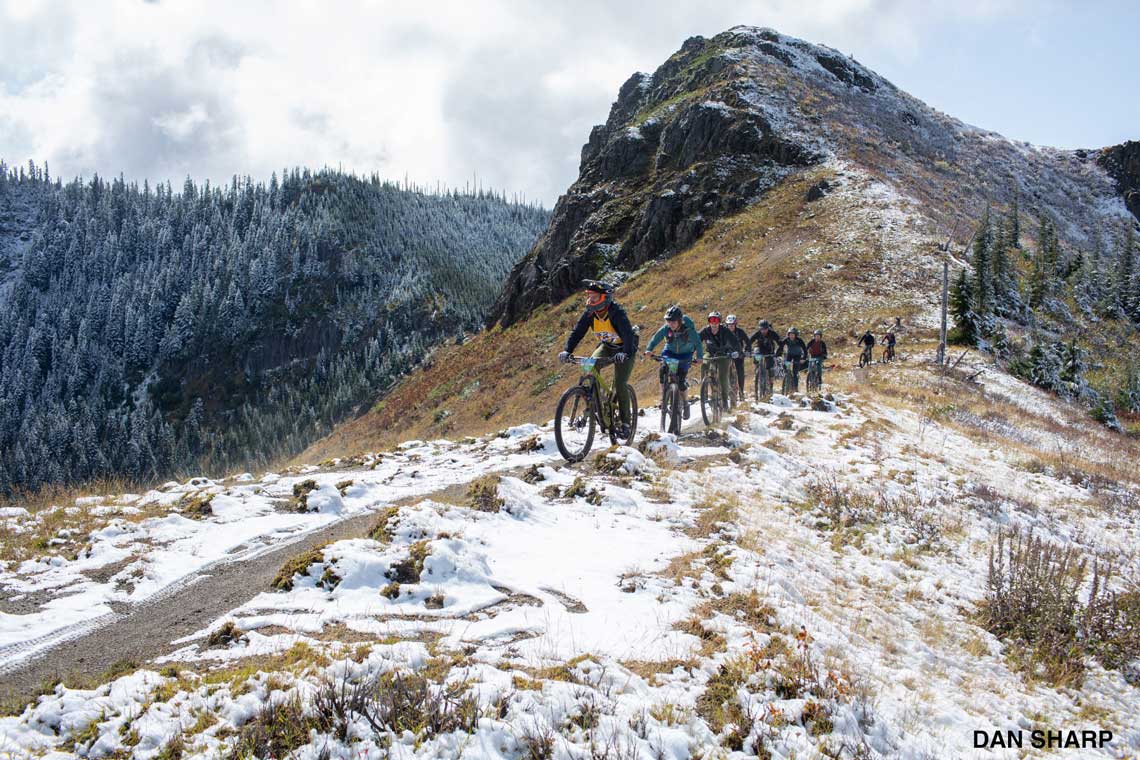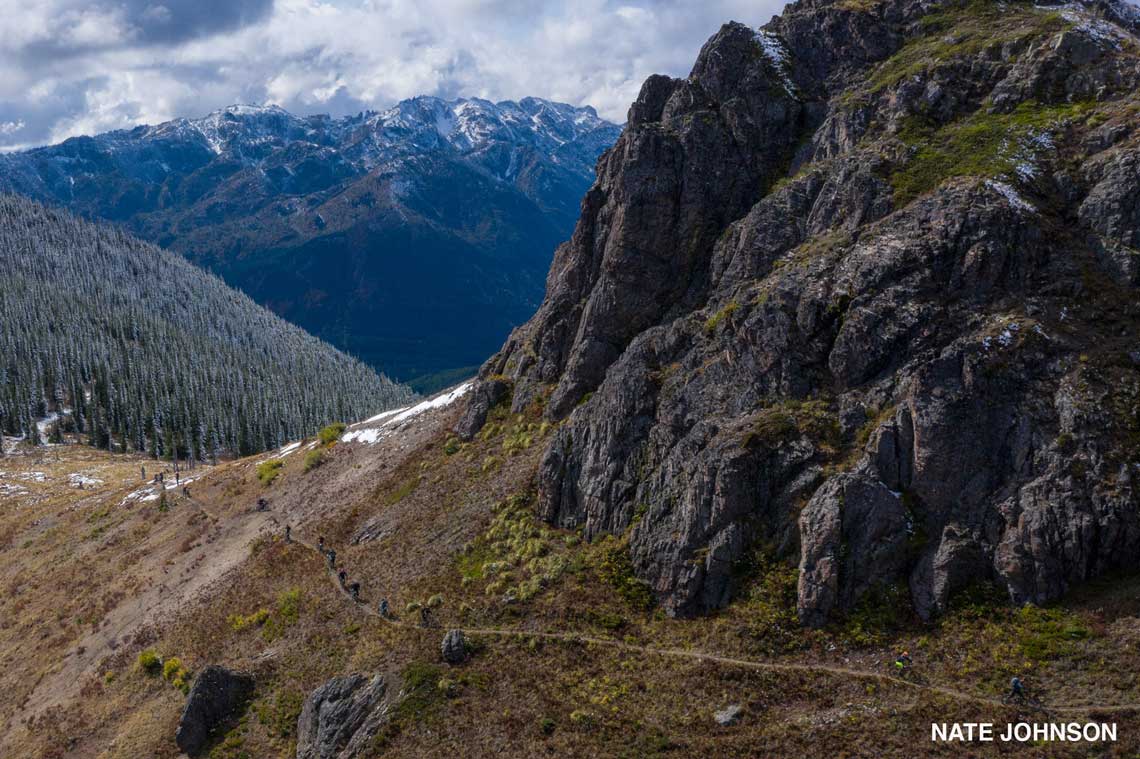 Day Four. Just a party in the woods.
When the final day was canceled due to heavy overnight snow, no one was extremely heart broken. Over the course of three days, we had the chance to ride and race some of the best trails we've ever seen, meet amazing people, and get pampered by the chefs and crew the entire time. With sore legs and happy hearts, we cozied up by the fire for one last night of fun at the best party in the woods.
It's impossible to describe how it felt for Kaysee and I to conquer this race. In our own ways, this was one of the hardest things we've ever done. It pushed me physically and challenged me to stay positive even when my entire body hurt. And it challenged Kaysee to ride difficult descents faster than she otherwise would. In the end, we both surprised ourselves and would gladly be back to do it again.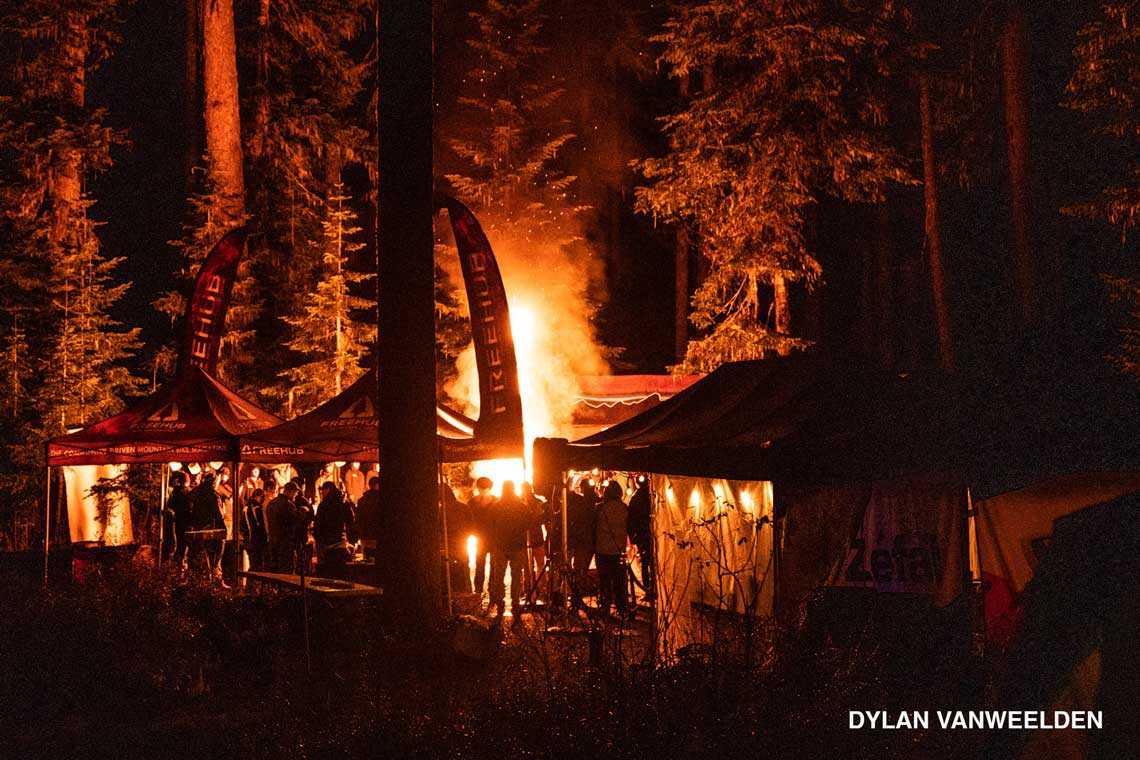 Take the challenge…
Out of 118 racers at Trans-Cascadia, only 16 were women. Between 11 pros and 5 amateurs, we came from different mtb backgrounds, different countries, and had different strengths and weaknesses. We inspired each other and celebrated each other's successes. The cool thing about races like Trans-Cascadia is you can make it your own adventure. Sure, it's hard, but powering through the hard bits and coming out on the other side is the sweetest reward. So, want to give it a try? In addition to Trans-Cascadia, here are some other adventure-style enduro races we'd love to experience: