The Importance of Proper Bike Fit
Bike Fit: The Key to Comfort and Efficiency
Other than your busy life, what is holding you back from riding your bike every day? If you could change one thing about your bike, what would it be?
If you are suffering from numb hands or toes, knee pain, lower back pain, shoulder discomfort or any number of other aches and pains after riding your bike, it is likely due to improper bike fit. Getting a professional bike fit is one of the most commonly skipped steps when buying a new bike, but it is one of the most important. If you want to ride happily and pain-free for many years and miles to come, do yourself a favor and give yourself the gift of a proper bicycle fit.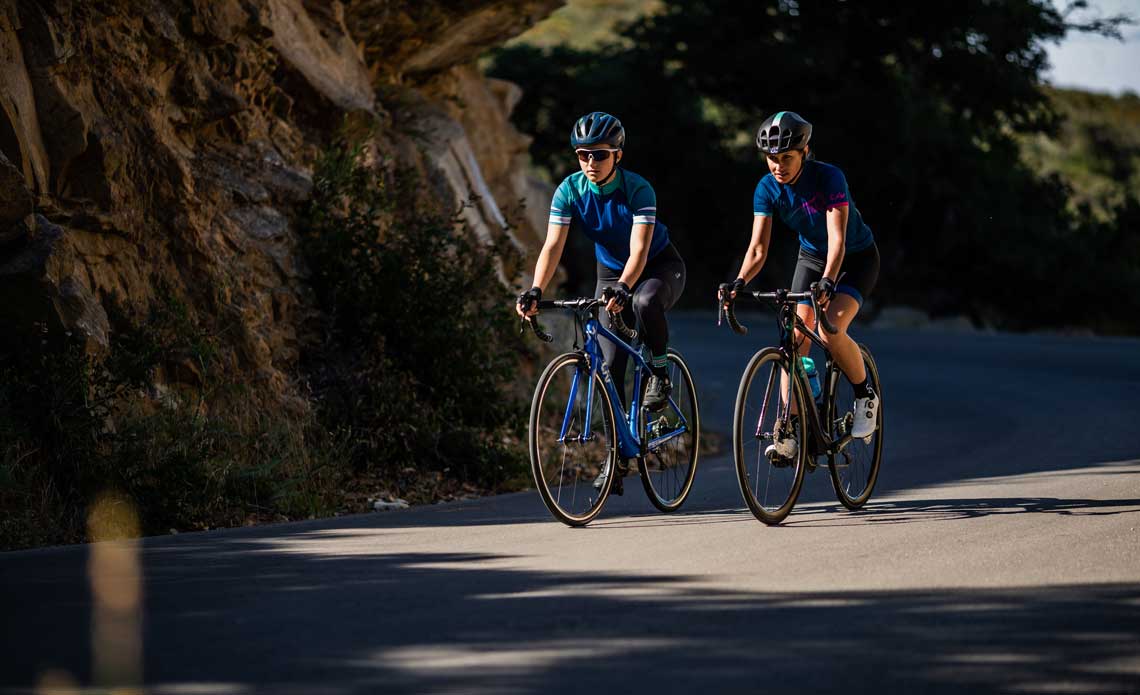 What is Bike Fit?
Everyone's body is different. Some of us have long legs and short torsos; some women struggle to reach their brake levers due to small hands; some people may pedal a little bit differently than others; maybe you have one leg that is slightly longer than the other and you never even knew it! In addition to our bodies being the way they are, injuries or personal goals can affect how your bike should be set up to maximize comfort, efficiency, and power. Luckily, bicycles are machines with many adjustable parts. In fact, every touch point on the bike can be changed out, altered or moved to fit you better. Although there are many different theories to bike fit, the main idea is to make adjustments to the bike's components with these goals in mind:
Enhancing overall rider comfort
Preventing injuries
Reducing or eliminating pain and numbness
Reducing or eliminating discomfort associated with riding
Reducing rider fatigue by enhancing efficiency
Improving overall performance on the bike
Where Can I Get Fit?
When you buy a new bike, the bike shop will likely perform a very basic fit analysis to figure out what size bike you should be riding. How? They will have jump on a few different bikes and give them a spin! The best way to know what size bike you should be riding is to sit in the saddle. Reach and stand-over height are the most important elements in deciding which size bike is the best fit for you.
After purchasing the bike, a shop employee will ensure that your seat height is close to the right height and basic elements are adjusted properly. Most bike shops employee a professional fit technician, available by appointment. A professional bike fit is recommended particularly for road cyclists that spend an extensive amount of time in a static position on the saddle, however, every rider—from mountain bikers to commuters—can benefit from a proper bike fit.
What Should I Wear?
When you head to the shop for your bike fit, make sure to wear your favorite cycling shorts. Getting a bike fit in anything other than the clothes you normally ride in could result in an improper fit. Also, bring the pedals and shoes that you normally ride in. For issues like toe numbness, knee or hip pain, it will be important for the fit technician to review your clipless cleat placement. If you do not use clipless pedals, still bring the shoes you ride in. If you currently use shoes that have a flexible or soft sole, your fitter may have suggestions on a more efficient shoe for flat pedals.
How Long Will it Take?
Any professional bike fit worth its salt should take a good amount of time to complete, especially if it is your first fitting. Your bike fitter will want to get to know you. They will ask you about your cycling history, current, and past injuries and your goals. Your bone structure, flexibility and anatomy—things your probably don't even think about—are also extremely important for your fitter to understand. The whole process, from the initial interview to you walking away with a custom-fitted bike, could take anywhere between 1-3 hours.
What Are the Elements of a Bike Fit?
After getting to know you, your bike fitter will set your bike up on a trainer and have you pedal, so she or he can analyze how you currently ride your bike. Be prepared to work up a sweat; in order for you to really settle into your riding habits, you will need to be on the bike for a while.
Depending on what issues you have, these are the adjustments that can be made to your bike during a fit:
Saddle height
Saddle fore/aft position (movement of seat on the saddle rails)
Saddle tilt (angle of saddle in relation to the floor)
Getting a new saddle (your fitter may suggest a completely different saddle based on your body position and anatomy)
Stem length (for reach adjustments)
Stem height ("drop" or how high/low your handlebars sit on the steer tube. Generally, the lower the handlebars, the flatter your back; the higher the handlebars, the more upright you will be)
Handlebar width
Grip/ grip tape diameter
Brake lever adjustments (brake levers can be dialed in our out so you can comfortably reach them, the brake levers can also be moved on the bar so you have an ideal hand position)
Crank length
Shoe, insole and cleat adjustments (relatively small adjustments here can make a big difference in how your knees and hips move as you pedal, which could be the cause of discomfort in those areas)
Is That It?
Nope, of course not! Over time, your bike fit will change due to injuries, changes in skill level, new goals, weight loss and increase/decrease in flexibility. If anything changes with your body, or if it has just been a few years, it is a good idea to go get an updated bike fit.
Visit your local Liv retailer to learn about their bike fit services. Happy riding!