How to Setup Your Bike for Bikepacking
with Juliet Korver, Bikepacking Enthusiast
Think of bikepacking as a camping trip you take with your bike. It's all about exploring the roads, gravel roads (or groads), and trails less travelled. Essentially, you're carrying everything you need for your camping trip on you and your bike and sometimes the terrain can get a little rough.
One of the most important details when planning a bikepacking trip is making sure you have the right bike for the job. Here are my tips for setting up your bike for bikepacking success:
1. The Bike
Sure, you can take almost any bike on a bikepacking trip. But the best bike for the job will depend on your route and the terrain you're setting out to ride. A gravel bike, like the Liv Devote, offers the best mix of lightweight, efficiency, rugged components, and comfort. This bike can tackle gravel, dirt roads, and/or singletrack. Learn more about gravel bikes and what makes them different HERE>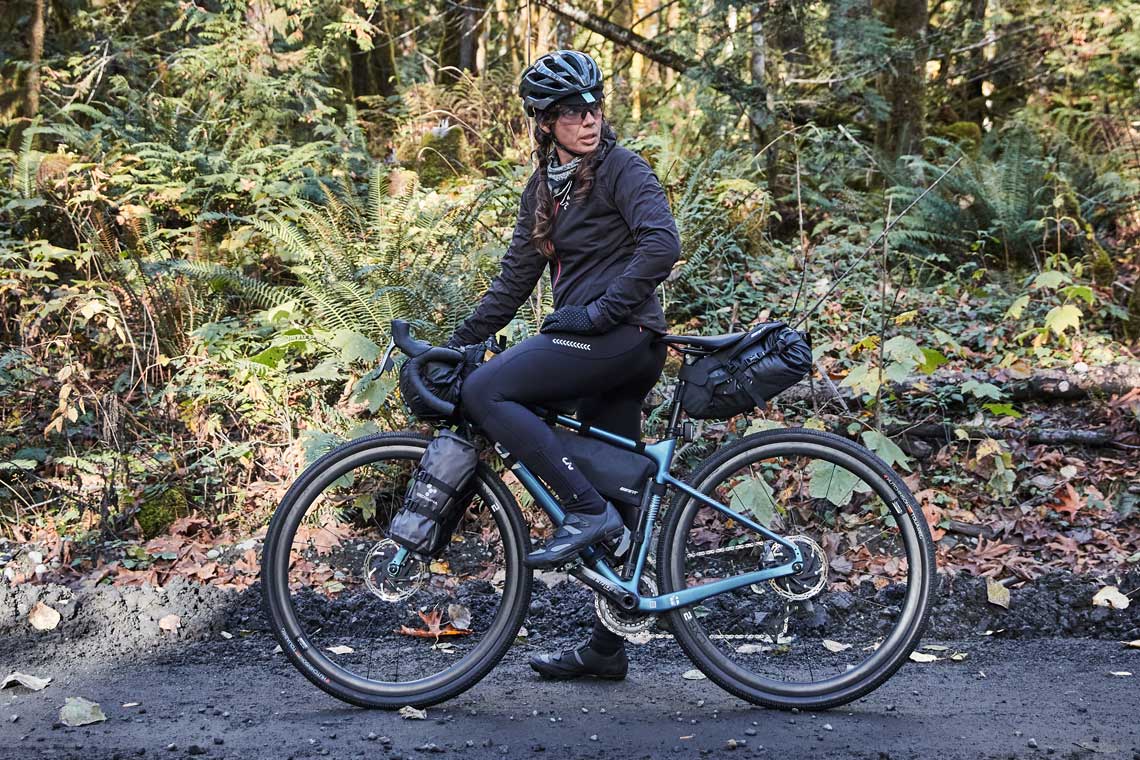 2. Wheel Size
The Devote comes with 700c wheels with a tire clearance of 45mm. This setup will allow you to roll faster on smoother terrain. But you can also run 650b wheels. Why would you want to run a smaller diameter wheel? A 650b wheelset will allow you to run a wider tire, up to 50mm, which could provide ore grip on rough, technical terrain. So, if you're planning on a route that includes singletrack or fire roads that have seen better days, snagging a 650b wheelset could be a great option.
3. Tire Selection
The terrain you will be riding will also dictate your tire selection. Tires with a slick center tread are great for bikepacks where you will be on and off paved roads or on hardpacked surfaces. Tires with a slight tread (either uniform, or with slightly beefier outside knobs) are great for most terrain. Tires with larger knobs everywhere are good for loose and muddy terrain. With the 700c wheels the Devote comes with, you can run 32-45mm tires.
Another factor to consider when choosing tires is selecting a tubeless tire. Tubeless systems allow you to run a lesser tire pressure without worrying about getting pinch flats (like you would with tubes). Lower tire pressure also provides added comfort and control on rougher, looser terrain.
Tire pressure is a personal preference. Things that will affect your choice are your weight as a rider, your bike's loaded weight, the terrainyou are riding, and whether you are running a tubeless setup. Play around with it and see what feels right for you. You can also change it throughout the day – add some air for a flat, fast section and take a bit out if you hit technical terrain.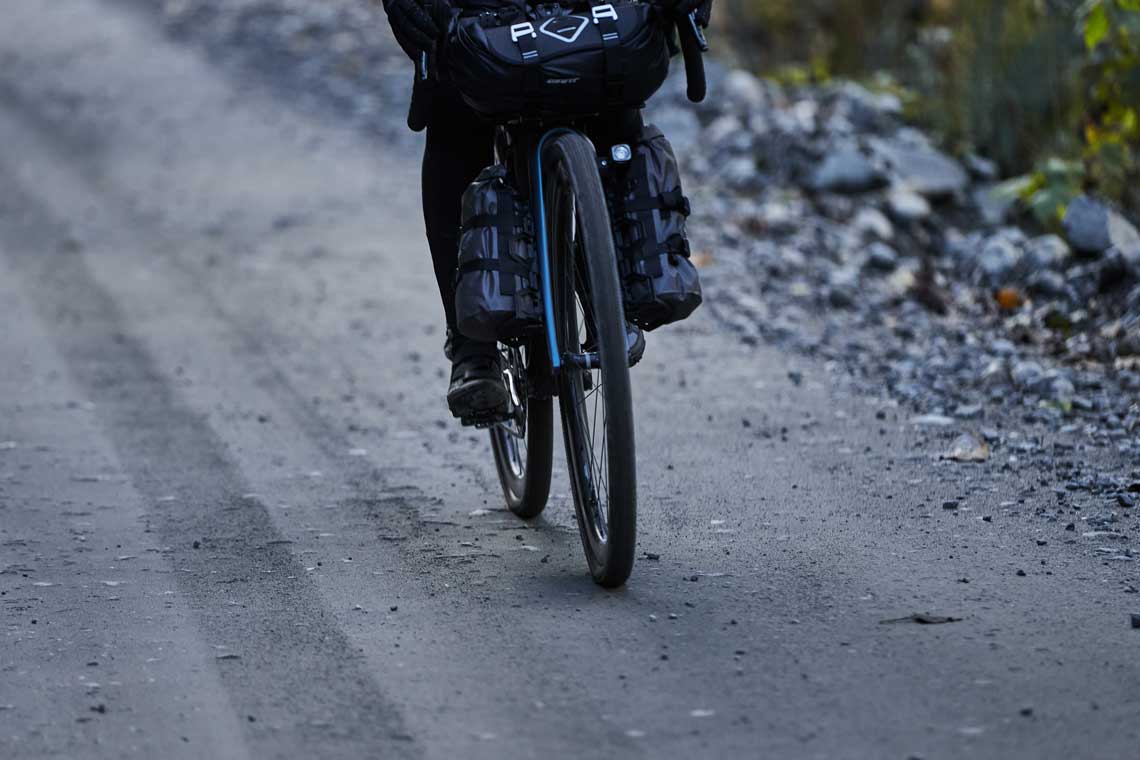 4. Cassette Selection
Are you going up? That is the big question. If you are tackling a lot of elevation on your bikepacking route and/or encountering steep pitches, you might want to opt for a cassette with a wider gear range to help you out. Being able to spin up technical trails is nice, and a packed bike with long days will make you appreciate having one more gear. Check the gearing on your bike and if you're not sure, test it out. Take your bike for a spin on some steeper, longer climbs. Still not sure if what you've got will cut it? Head to your local bike shop with your route map and bike in hand – they would love to help you out with some bike setup tips!
5. Handlebars
Flared handlebars are really nice to have on a bikepacking bike. The flare allows you to get into your drops and have access to to your gears and brakes, even when you have a handlebar bag on. Also, a flared bar is wider in the drops, and therefore a bit more stable for tackling rougher descents. Luckily, the Devote comes  stock with flared bars!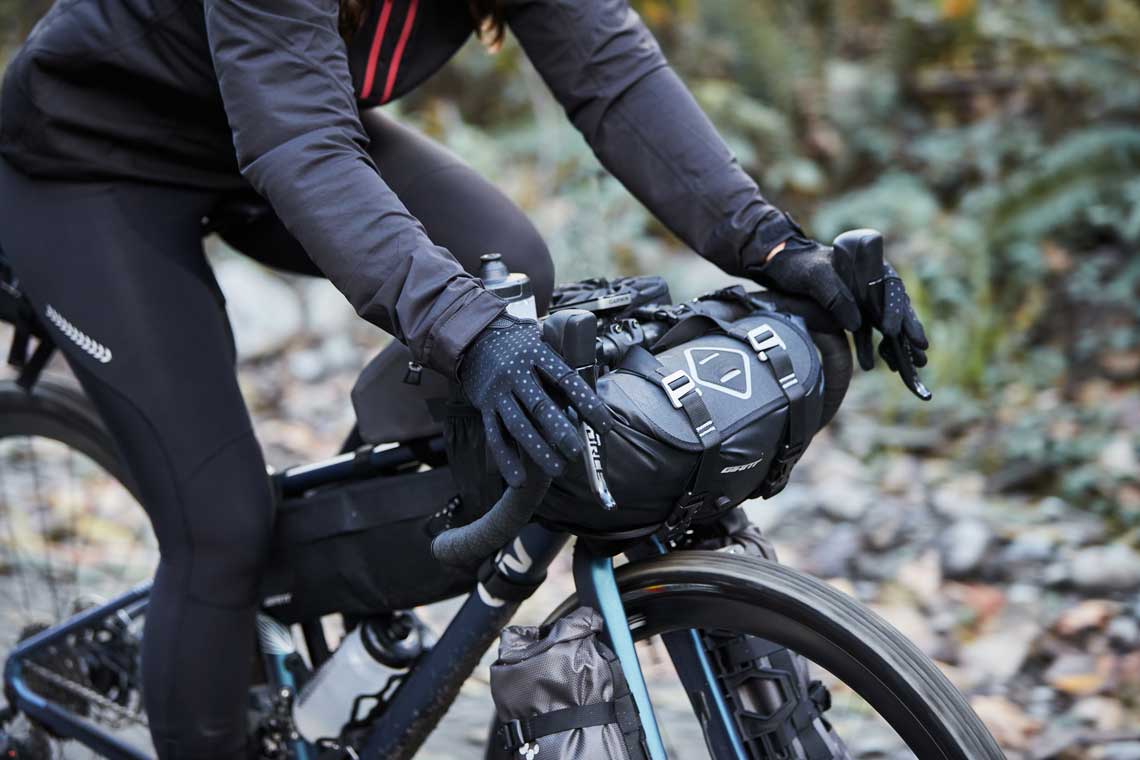 6. Frame Protection
Before you put bags on your bike, think about protecting your frame where they will attach and rub. Your handlebar bag can also press against the cable housing and cause some rubbing on the headtube of your bike. You can use "bike wrap" or bike-specific protective tape, but often I will split open a used tube and wrap it on with electrical tape. Either will do the trick!
7. Pedals
Pedals (and shoes) are an important consideration for bikepacking. Most riders will opt for a clipless shoe (where you shoe attaches to the pedal) for efficiency while pedaling. However, some bikepacking routes might include substantial hike-a-bike sections that might make flat pedals and shoes more comfortable. Also, if the terrain you are riding is very technical, being able to put a foot down quickly could be more important than pedaling efficiency.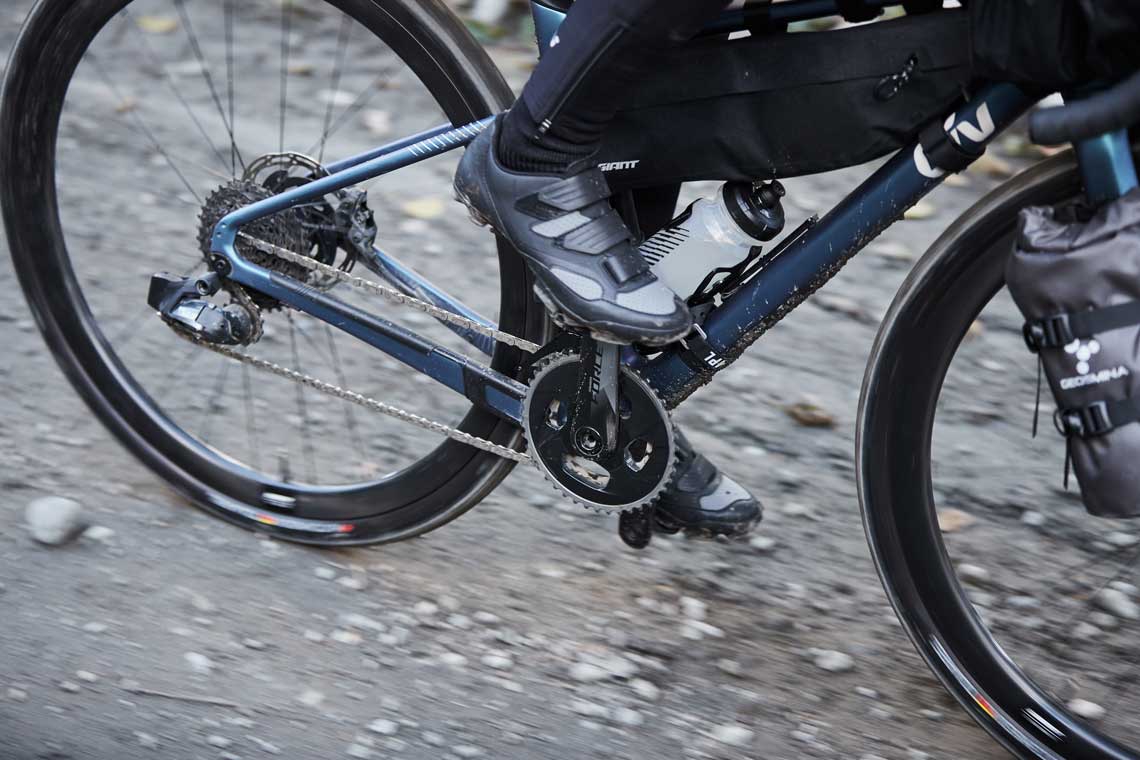 8. Gear and Bottle Cages
The Devote comes with multiple cage mounts, both in the front triangle and on the fork. When you're thinking about your bikepacking trip, determine if you need to carry more "stuff" or if you need to carry more water. Gear cages can hold larger water containers or provide extra storage. I do suggest using side-mounted water bottle cages, which allow you to access to water even if you're using a frame bag.
9. Bike Lights
It's important to have lights on your bike for safety and visibility when on roads shared with cars and for being able to see where you're going in low-light conditions. Bonus: your front light can double as your flashlight around camp! When your bags are mounted on your bike, you will lose your seatpost to mount your rear light, and often a handlebar-mounted light will get obstructed by your front bag. Find a rear light that works with your own bag system. Some rear lights can be mounted to a seat stay or the back of a saddle bag. I suggest using a very bright front light that can mount to your fork.