How to Make Energy Bars
Fueling my New York City Road Ride with Pumpkin Pie Energy Bars
with LOTTIE BILDIRICI, Health + Nutrition Coach, Athlete + Liv Ambassador
My journey into the world of cycling was unexpected. I first began as an injured runner, cycling to satisfy my need for that endurance fix and "runners high." Growing up in Brooklyn, NY I didn't have many options for cycling routes. Mind numbing loops in Prospect Park – a 3.3-mile loop – was really the only way to get my miles in. I have clocked up to 60 miles in that park…
As I continued to ride and get healthy again running, I signed up for a sprint triathlon. It was the best way for me to use that cross-training fitness and be able to compete in a race without having my true running fitness back. That triathlon came and went, and I found myself living in Boulder, CO working with athletes on sports nutrition. Boulder was a special place, with picture perfect trails and an incredible athlete community. I came back to New York City that spring craving the great outdoors and looking for community.
In my search, I found myself cycling again. I heard about this Wednesday freelancers ride that met in SoHo at the Rapha shop. I decided to do my first group ride – just show up to see what it was about. We rode a classic New York City route from downtown Manhattan over the George Washington Bridge to Alpine, NJ. I found myself riding with far more experienced riders, but the encouragement, comradery and scenic views were everything.
Over the past four years, this ride has become a staple for me. It is the most magical escape from the hustle and bustle of New York City. I recently took my new Liv Avail Advanced Pro out for a spin on my favorite route.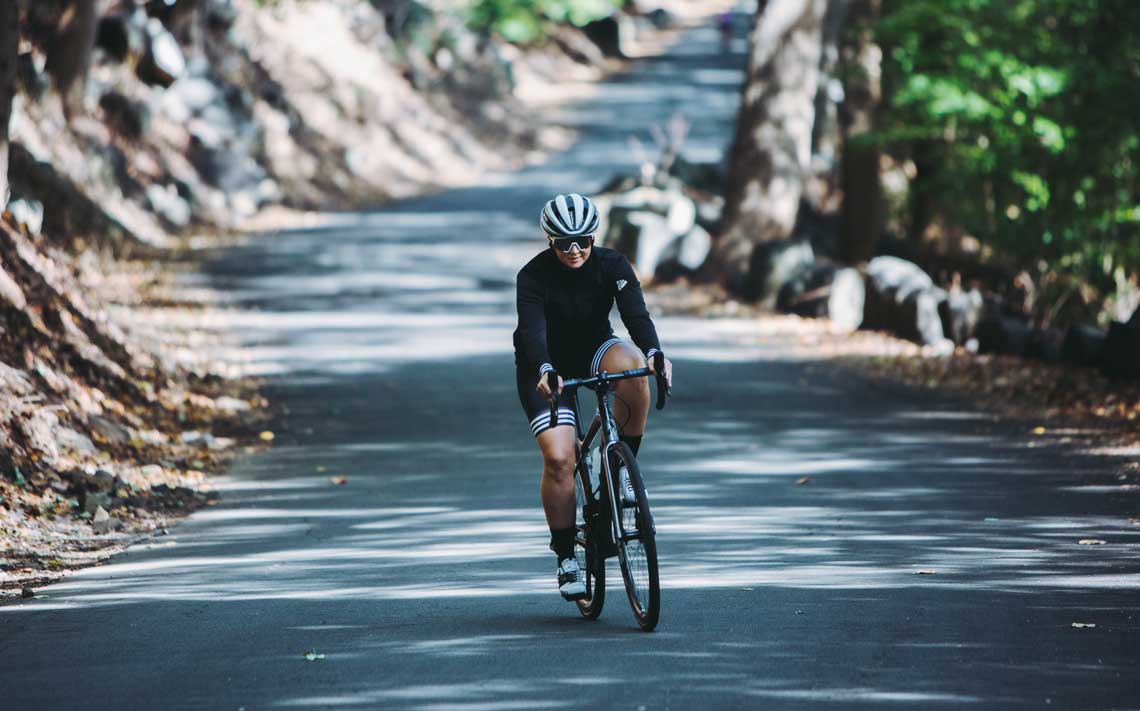 Right when you cross over the GW bridge you make a quick left and one more left and you are on River Road. It's a rolling hill stretch that's tree-lined with beautiful views of Manhattan. There are some challenging segments of the ride, the first one being the "Great Wall" – a short but steep kicker. Then, you finish off on "Alpine Hill," a mile-long climb that leads you to the top of the road where most people regroup at the ranger station for a bathroom break and water. It is a great little hill to do repeats on or really challenge yourself to go for that PR.
I like to extend the ride to the 9W Market. It's about five miles from the ranger station and on a nice sunny weekend – or even the dead of winter – you can find dozens of cyclists there stopping for a coffee or pastry. I always opt to skip the store-bought goods and make my own treats for the ride, but I do love a warm cup of coffee and sitting by the fire while enjoying it. I brought my latest Pumpkin Pie Energy Bar recipe with me – it's completely free of added sugar and made with real food! Dates, pumpkin puree, nuts, nut butter, spices… It's simply the perfect mid-ride energy snack!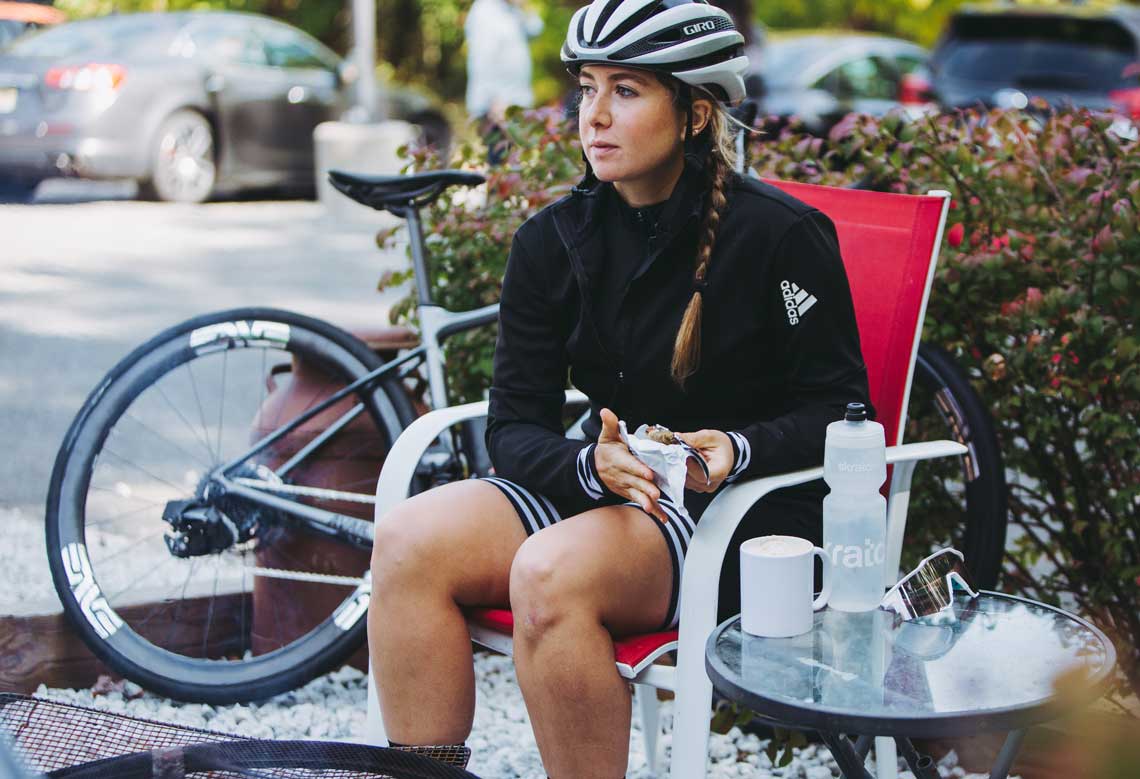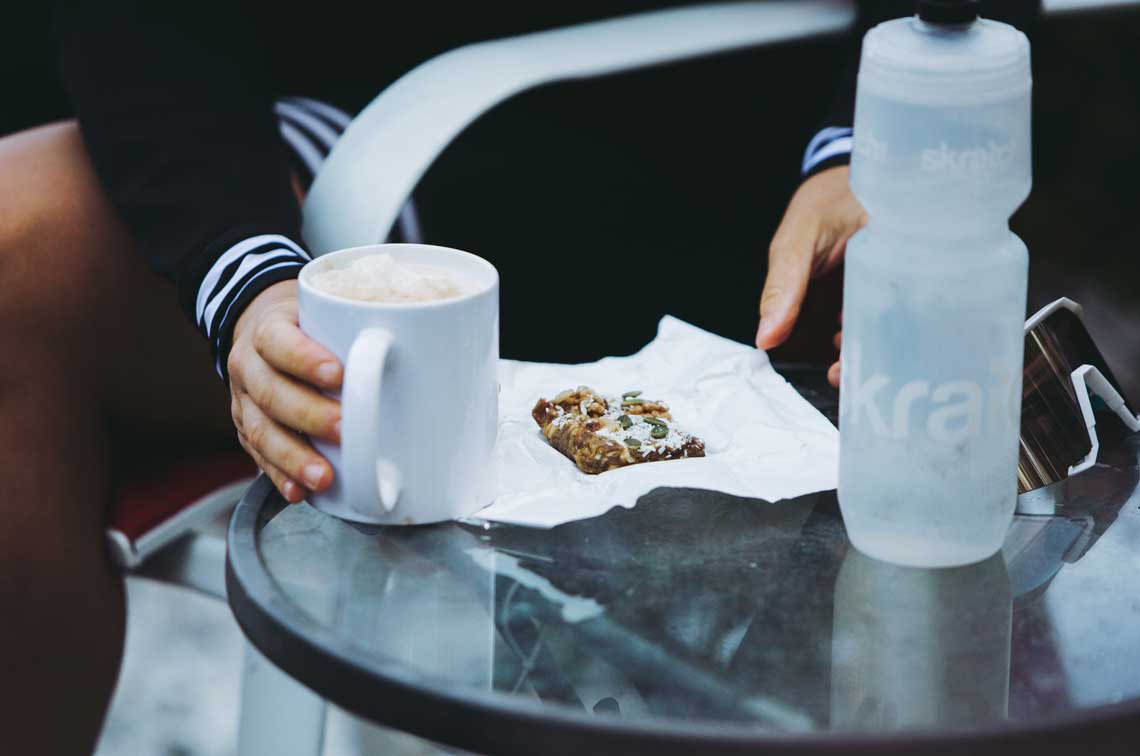 Once I am caffeinated it's a straight shot home on 9W road back to the bridge. The ride is about 40-50 miles total, including the commute to the bridge. For those city-dwellers who get to sneak a ride in before work or on the weekends, it kind of feels like this secret hidden treasure that only us cyclists know about. We get so caught up in the grind of NYC; it is such a breath of fresh air to able to cycle on so many beautiful roads. Click the map below to view my route on Strava!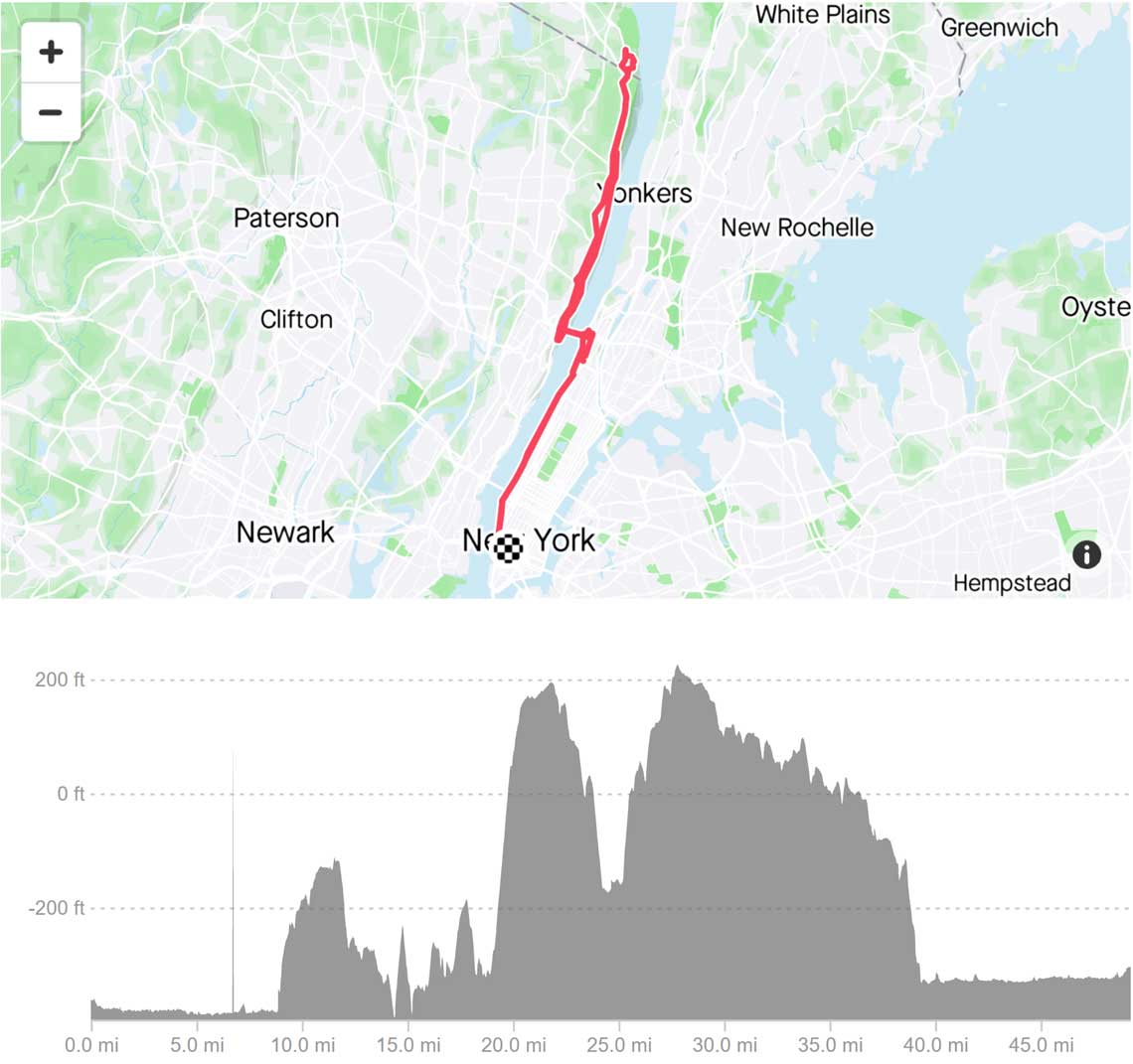 Pumpkin Pie Energy Bar Recipe
Makes 12 bars  
2 cups dates
1 cup raw cashews
1/4 cup pumpkin purée
2 tablespoons pumpkin seeds
1 tablespoon shredded unsweetened coconut
1 tablespoon nut butter
½ teaspoon Cinnamon
½ teaspoon Nutmeg
½ teaspoon pure vanilla extract
dash Salt
Toppings 
In a food processor combine all ingredients besides toppings.
Blend until well combined.
Line an 8x8 pan with parchment paper and press mixture into the pan. You will not fill the whole pan because you want the bars to be about an inch thick.
Once it is evenly spread in the pan place toppings on top.
Then place in the freezer for at least 2-3 hours before cutting.
Once cut place in a sealed container or Ziploc in the freezer.
Note :The bars will stay fresh for about 3-4 months in the freezer. When taking it on the ride either place it in parchment paper + tinfoil or a Ziploc baggy. I recently purchased tinfoil lined with parchment, which makes the perfect vehicle to take homemade goodies riding.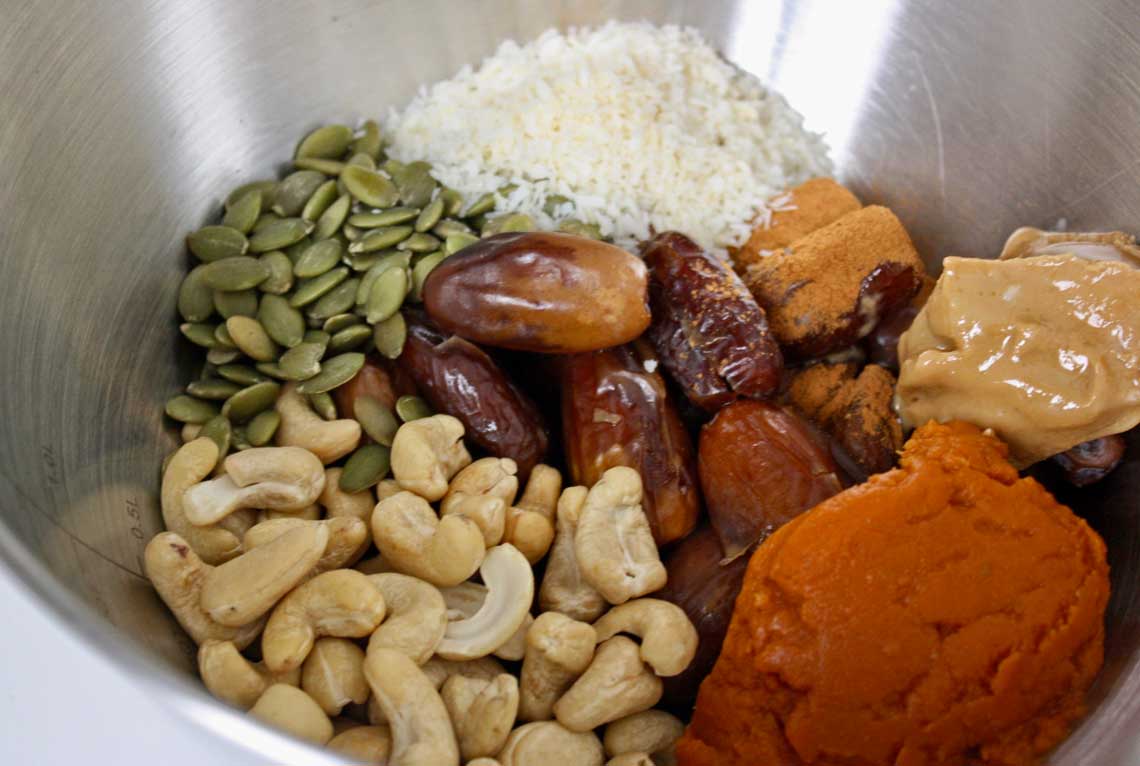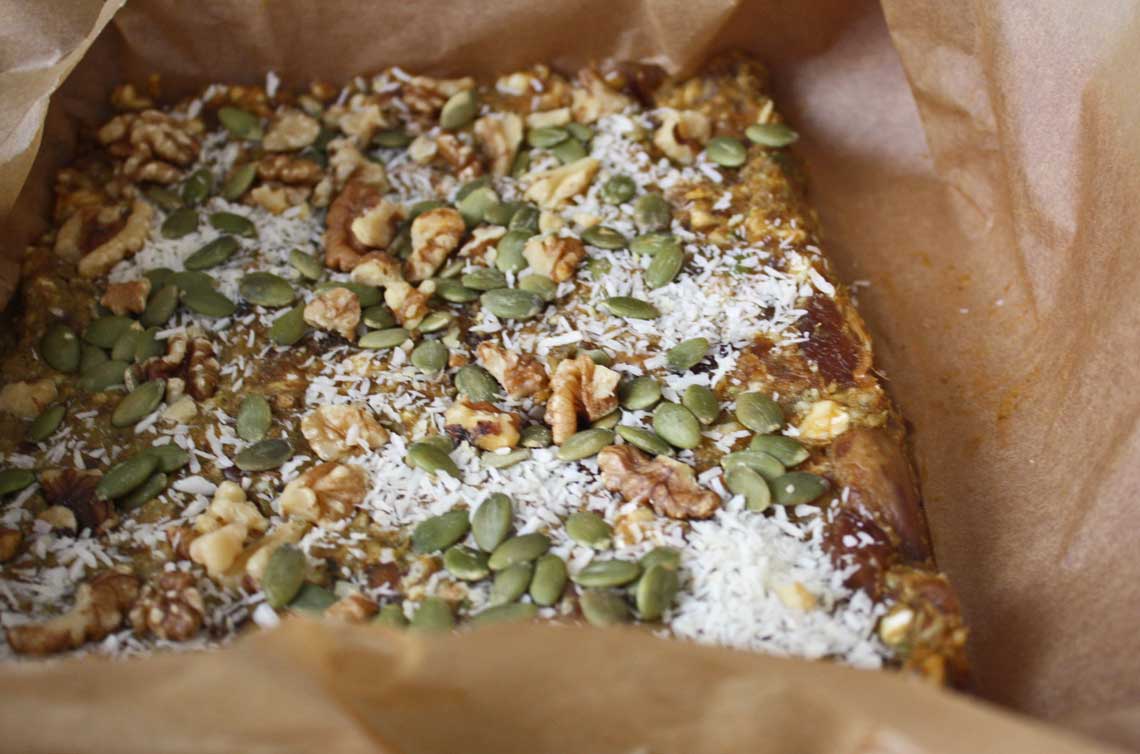 For more riding snacks and other recipes checkout runonveg.com