Liv Racing Report: Enduro World Series Val Di Fassa Double Header
After much of the race season across disciplines was canceled and postponed, the Liv Racing enduro squad began 2021 with restrained hope for a full Enduro World Series season. With some rescheduling at the start of the year, the EWS kicked off Wednesday, June 23 in Canazei, Italy with the first race of nine races on the 2021 calendar. New for this year, three venues are set to host two races back-to-back and Val Di Fassa would be the first test.
Liv Factory Racing athlete Isabella Naughton made the trip from the United States to join Leonie Picton (Canada) and Rae Morrison (New Zealand) of the Liv Racing Collective. We caught up with the crew following the first two EWS rounds, read on to get a glimpse behind the scenes.
All photos by Sven Martin Photography.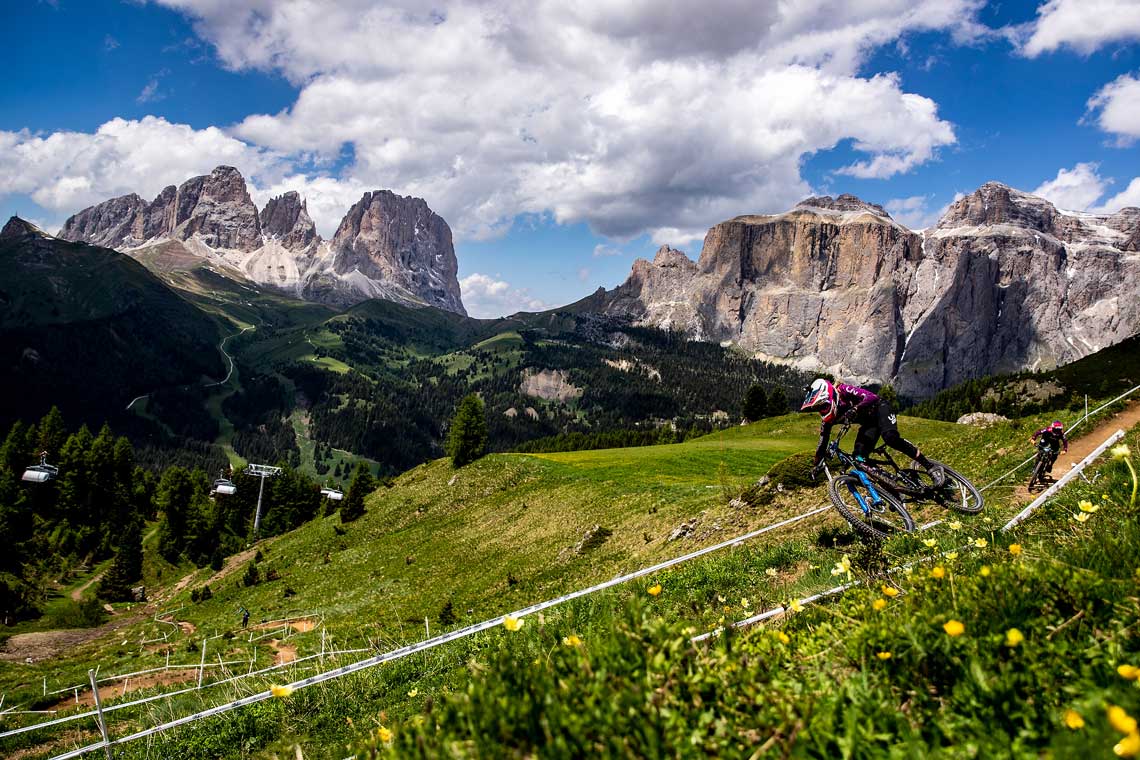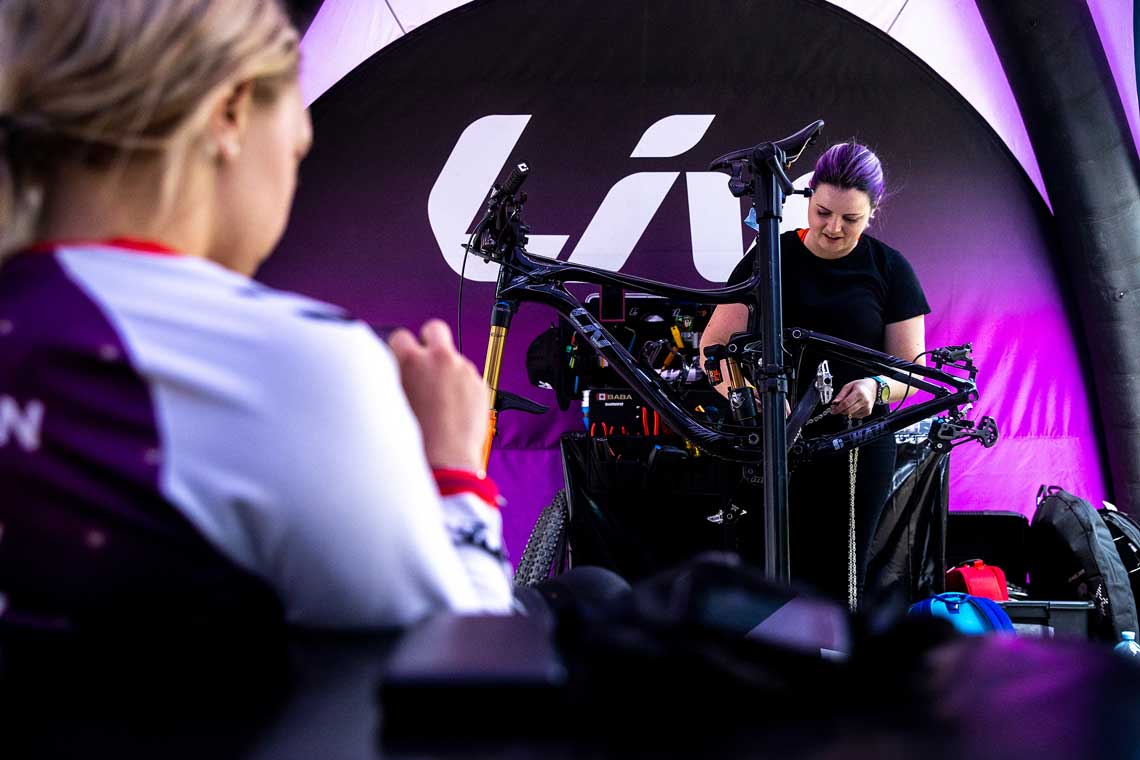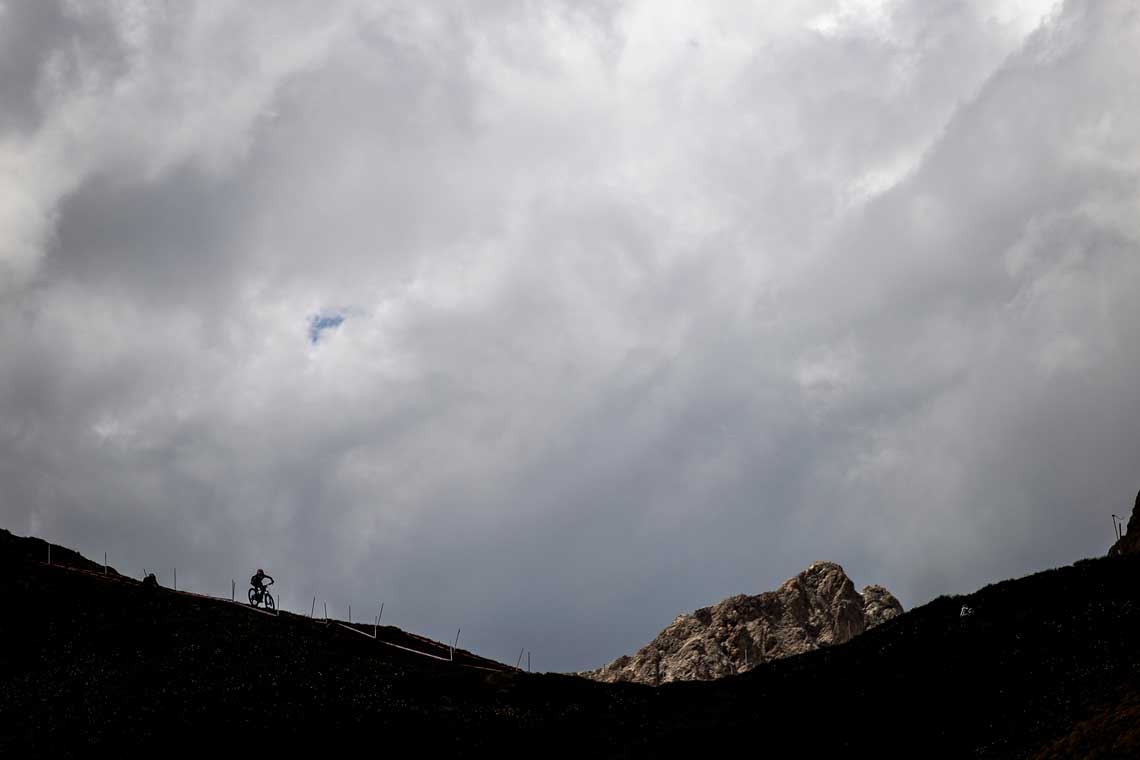 Rae Morrison
Val Di Fassa #1 | 10th, Pro Women
Val Di Fassa #2 | 9th, Pro Women
Liv: How did you feel coming into the first race of the season?
Rae: I was very nervous before the race. It had been a long offseason where I had a couple of injuries so wasn't sure what my form was like. It has felt like a long time since the last EWS, so I was very nervous but also excited to be racing and getting to see all my racing friends again.
Liv: What was your favorite moment from the EWS #1?
Rae: The last stage of the day was insane. We started at 2,400m on this small, rutted ridge line and I was trying to death grip. It was pretty scary with random rocks and crossing ruts. I was stoked I got down that section fast and held that adrenaline all the way down 900m decent into the village.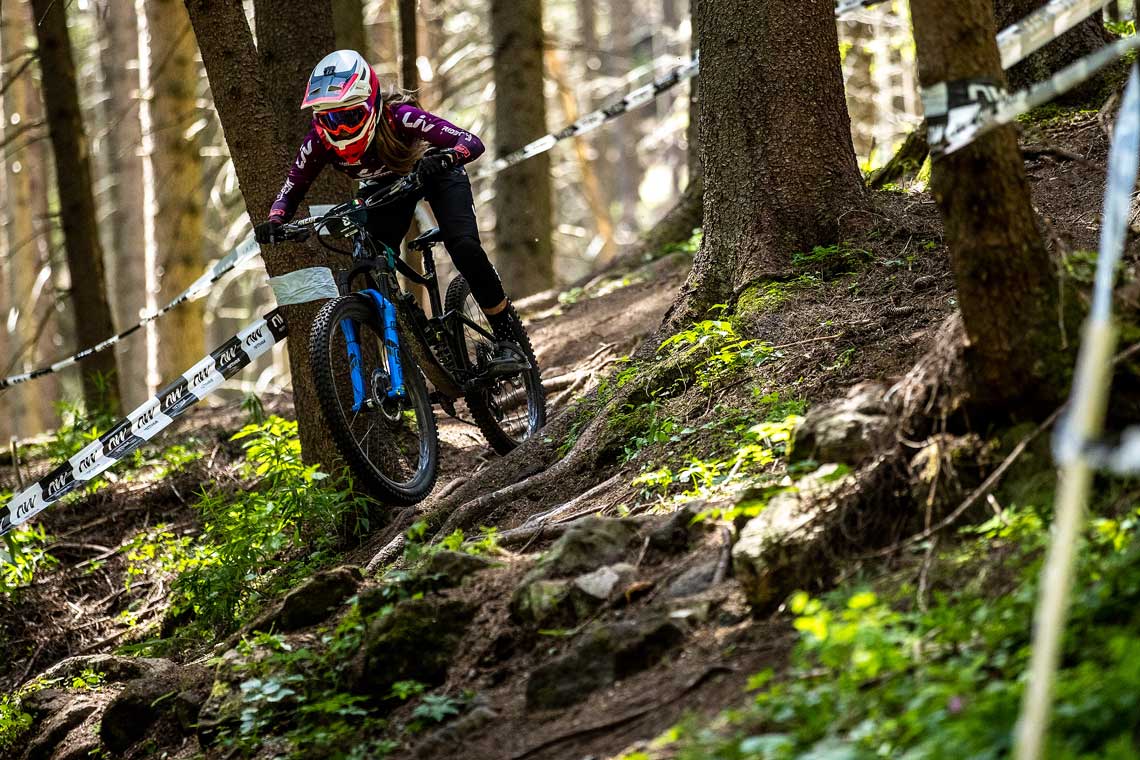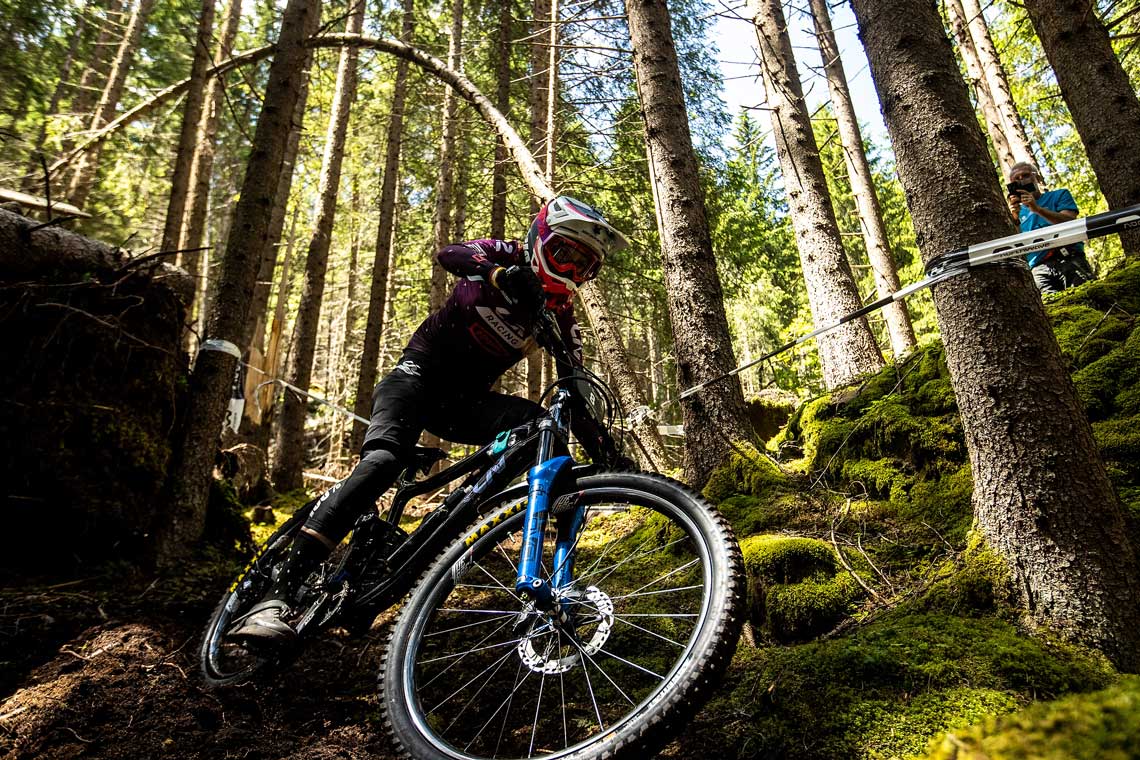 Liv: What was it like racing two EWS rounds back-to-back?
Rae: We raced on the Wednesday and raced again on the Friday evening and all-day Saturday. I was reasonably fatigued from the first race but loved the location and was really happy to be there racing my bike. I made sure that after the first race I prioritized my recovery with getting good nutrition, stretching, hot/colds, and good sleep. I went into the race feeling very positive.
Liv: What were the conditions like for the second race?
Rae: The first pro stage on Friday was a little wild. Half the women's field got a dry course, then a thunderstorm rolled in, and all the open men and half the open women had a wet, slippery course for their race runs. It was fun to ride and navigate the tricky slippery roots. The second day the sun was out, and the dirt was good, but the roots were still so slippery. I had a good time and enjoyed the challenge.
Liv: Did you have any mishaps on course?
Rae: On Friday's pro stage I fell off and put a hole in my shin. I finished the stage, but afterwards noticed some blood and a hole in the side of my knee pad. I was able to get stitched up and race the next day with my leg taped up.
Liv: Were you happy with your runs?
Rae: I'm super happy with the result. The field is so competitive now and the depth is insane. I wasn't super happy with my riding with heaps of mistakes and crashes. I felt I lost a lot of time. I'm looking forward to cleaning up my stages and having more consistent runs.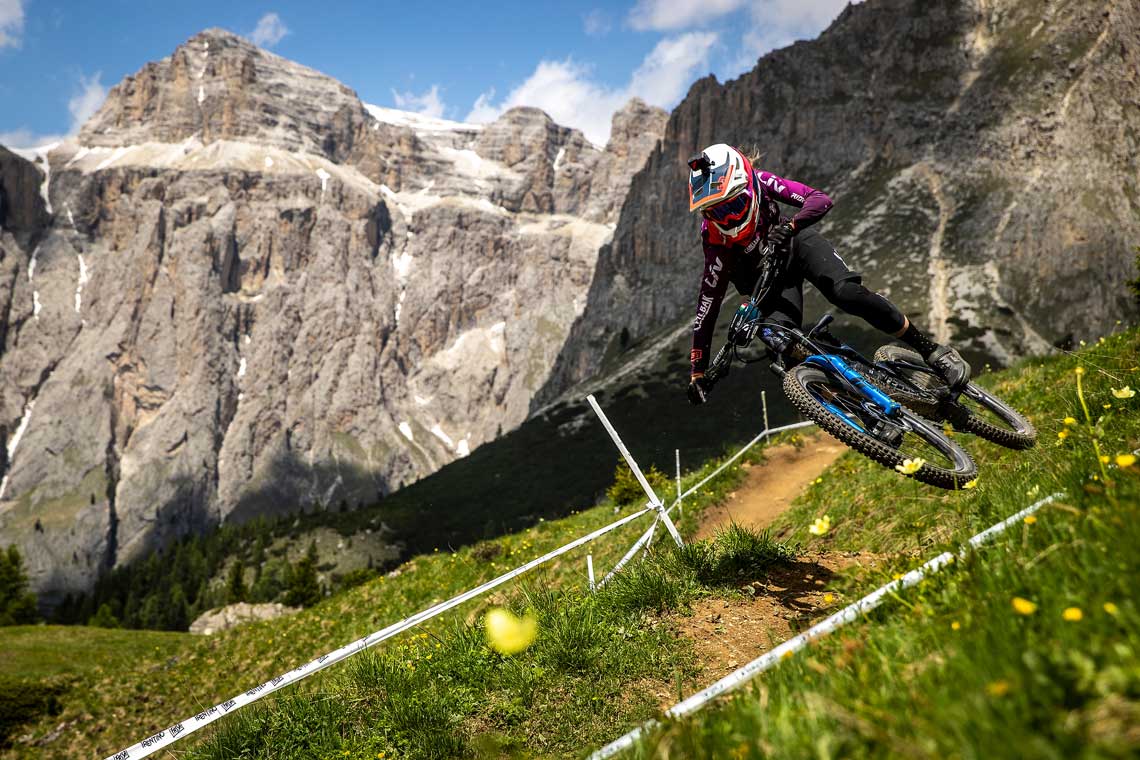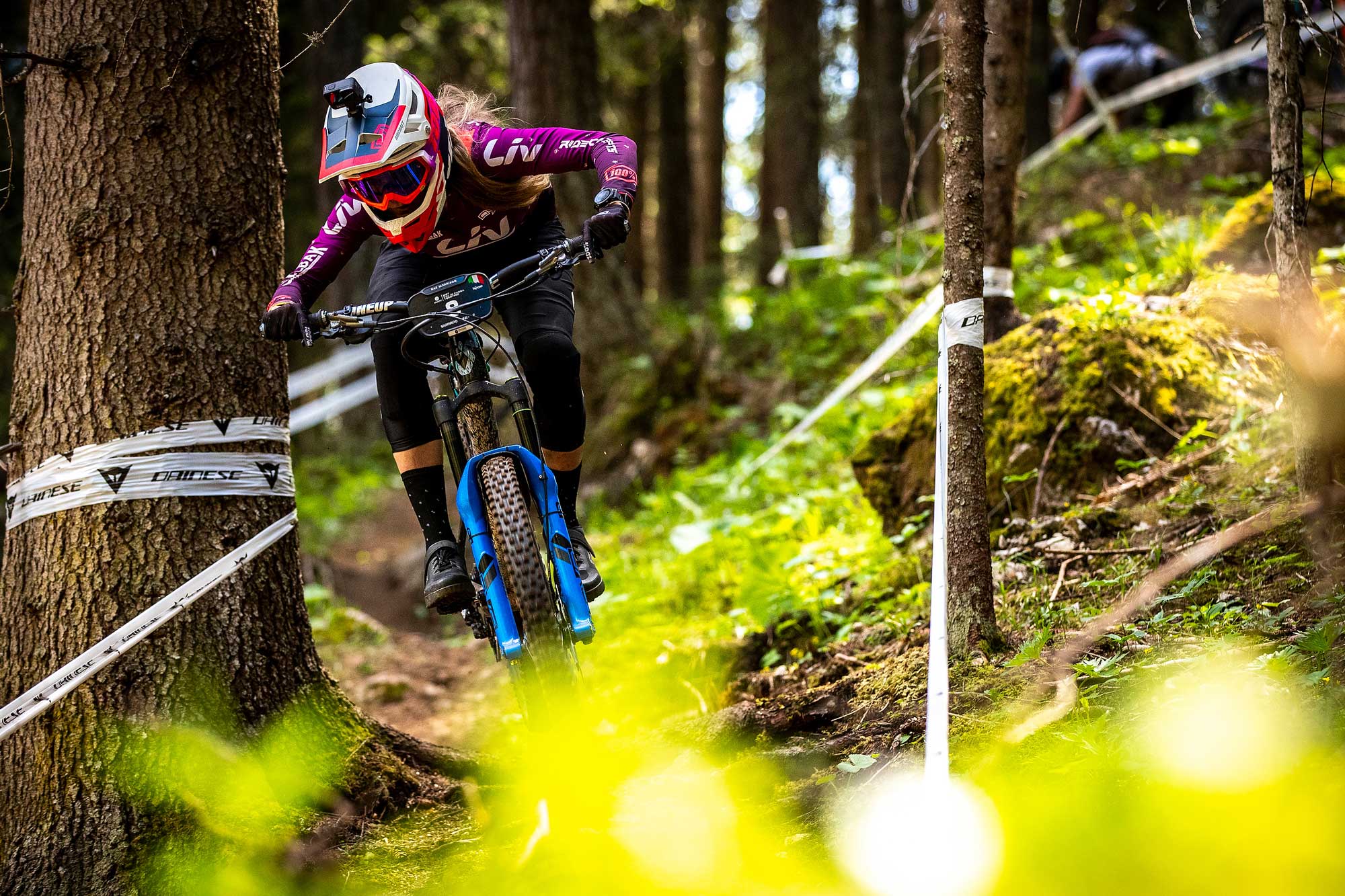 Leonie Picton
Val Di Fassa #1 | 1st, Masters Women
Val Di Fassa #2 | 1st, Masters Women
Liv: What was on your mind heading into the first EWS race of the year?
Leonie: The biggest concern I had for this race was the elevation, with the highest stage starting at 2,440m. I based my travel so I could get into the mountains early to acclimatize. I was also beyond nervous. It has been a long time between races and my adrenaline was fired up. I just had this positive mantra replaying in my mind, which helped calm me a little.
Liv: What did it feel like to come away with the win?
Leonie: It's been a very long time since I last stepped on a podium. It was the best part of the day. I have been reaming about this moment for such a long time. To have my dreams come true, is a very amazing feeling.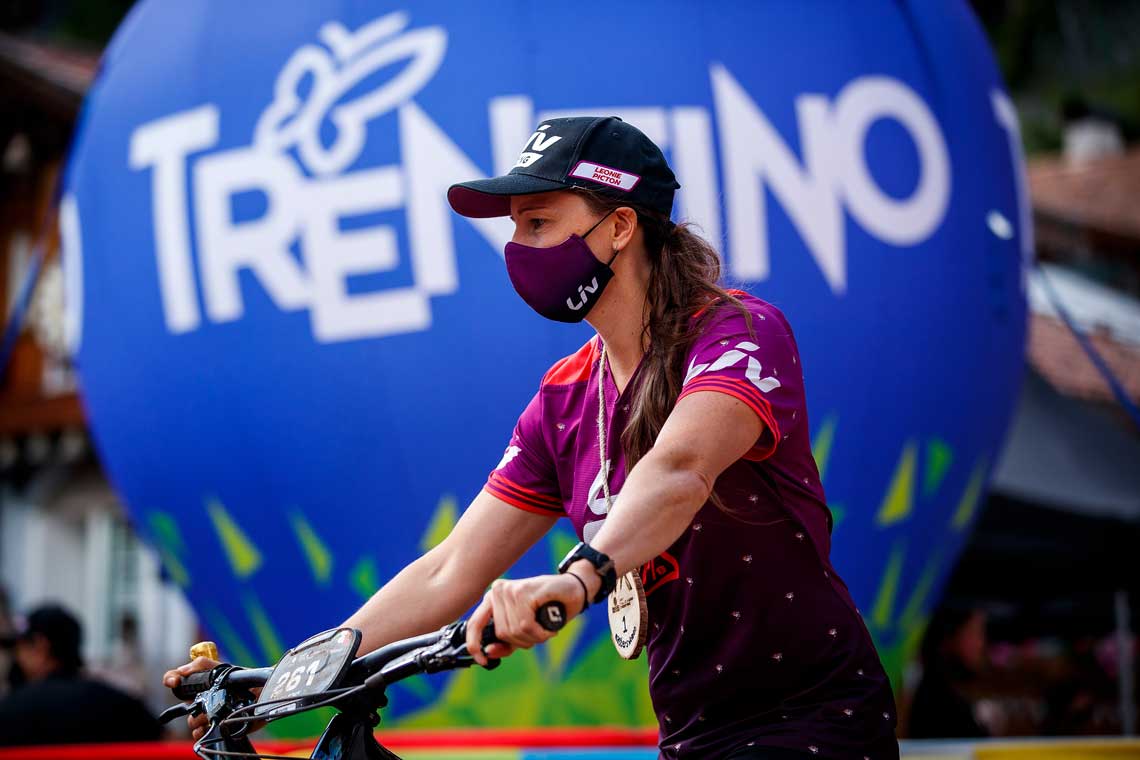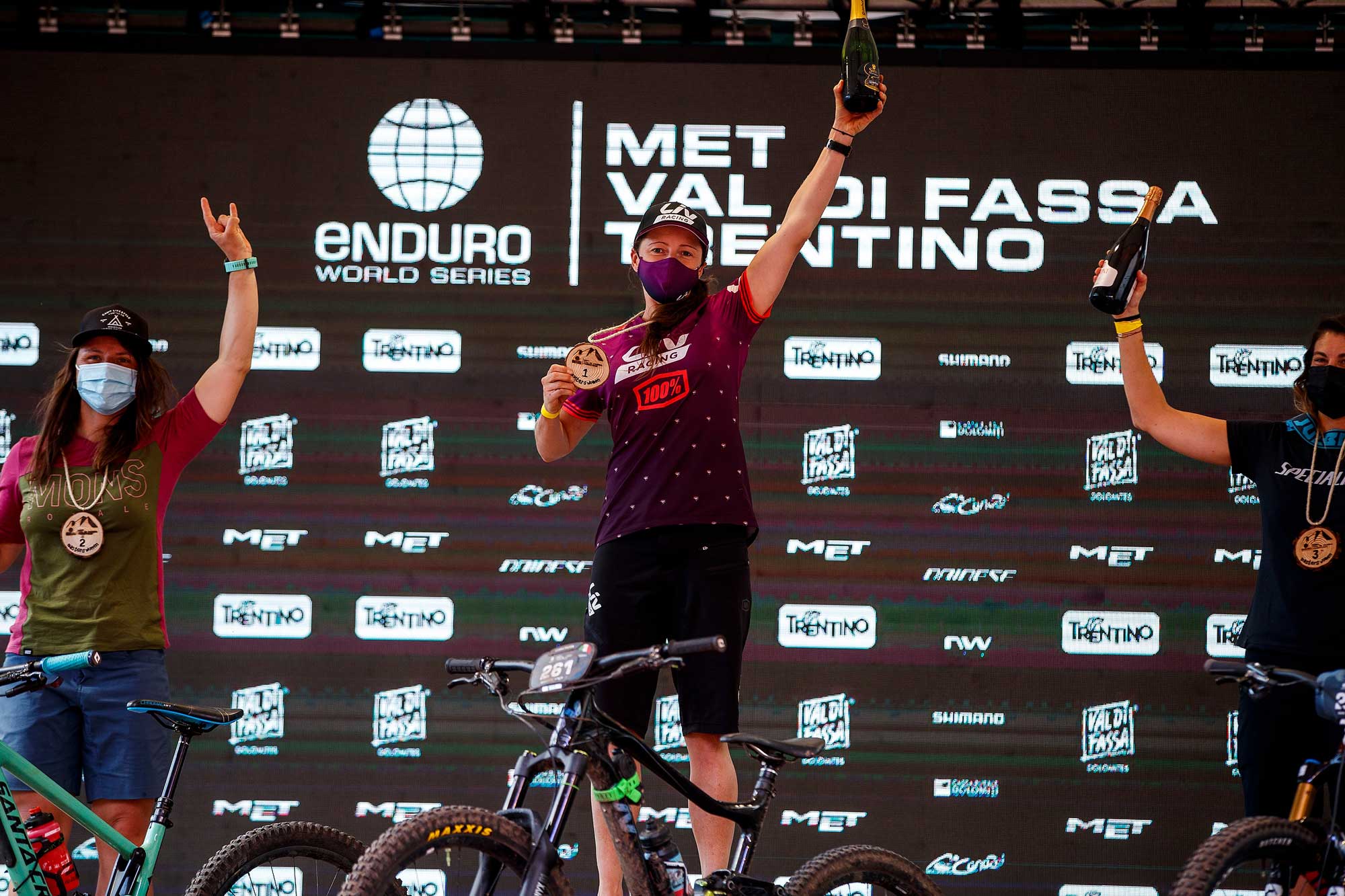 Liv: How did the rainy conditions for the second race affect you mentally?
Leonie: Knowing my result from the first round and that we were also racing on the same trails, I was confident that I could win again. Then it rained all night with massive bursts of lightening and booming thunder. It was quite a show. Sitting in the start gate for the first stage on Saturday was un-nerving because we didn't know what condition the trails would be in or how slippery and muddy it was going to be.
Liv: What were some of the differences from the first race to the second?
Leonie: The trails were completely different from when we had raced them the few days before. The mud was tacky is some places but then turned to slippery clay in other spots. The roots were like riding on black ice. I can't even recall how many times I had to wipe myself off the ground. The rain increased the technicality of the trails and some of the lines I was riding on Race #1 were not as easy.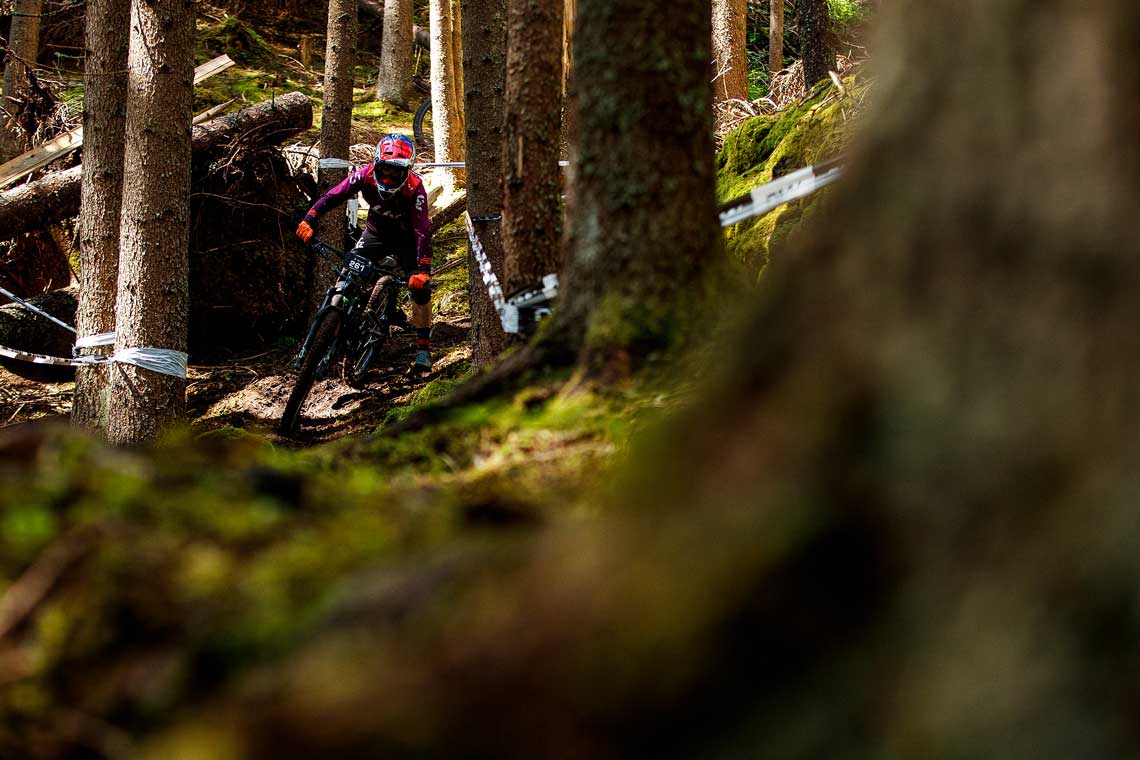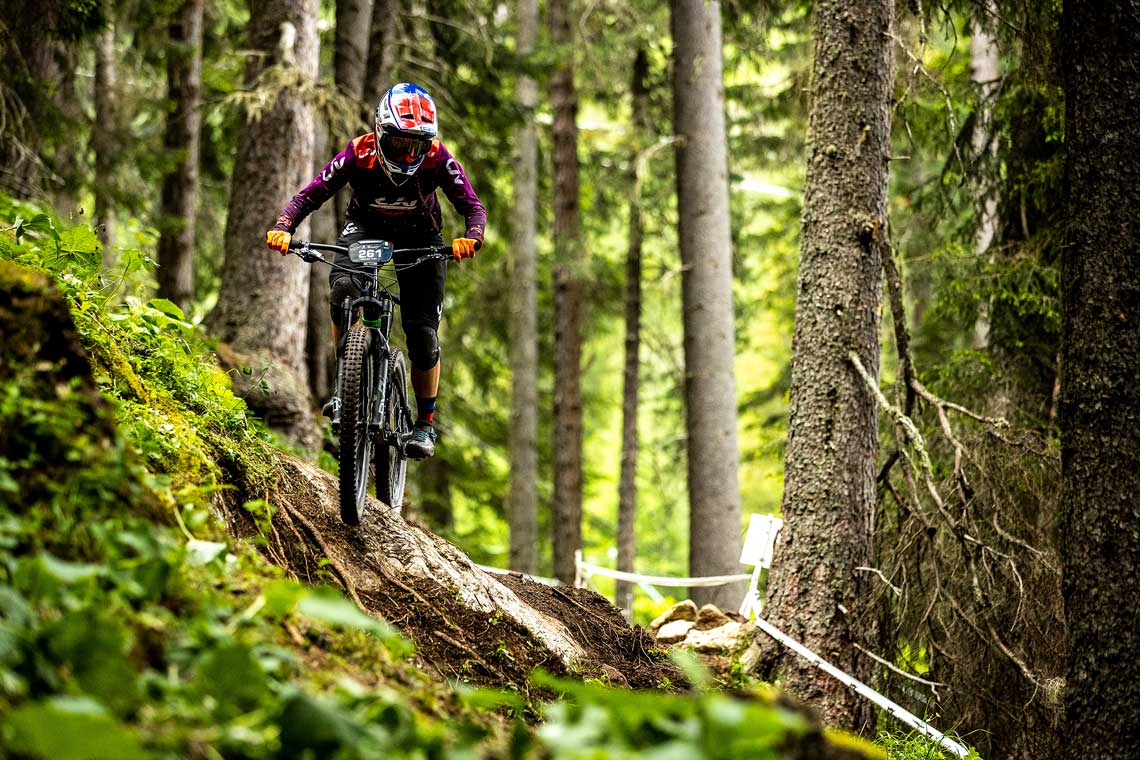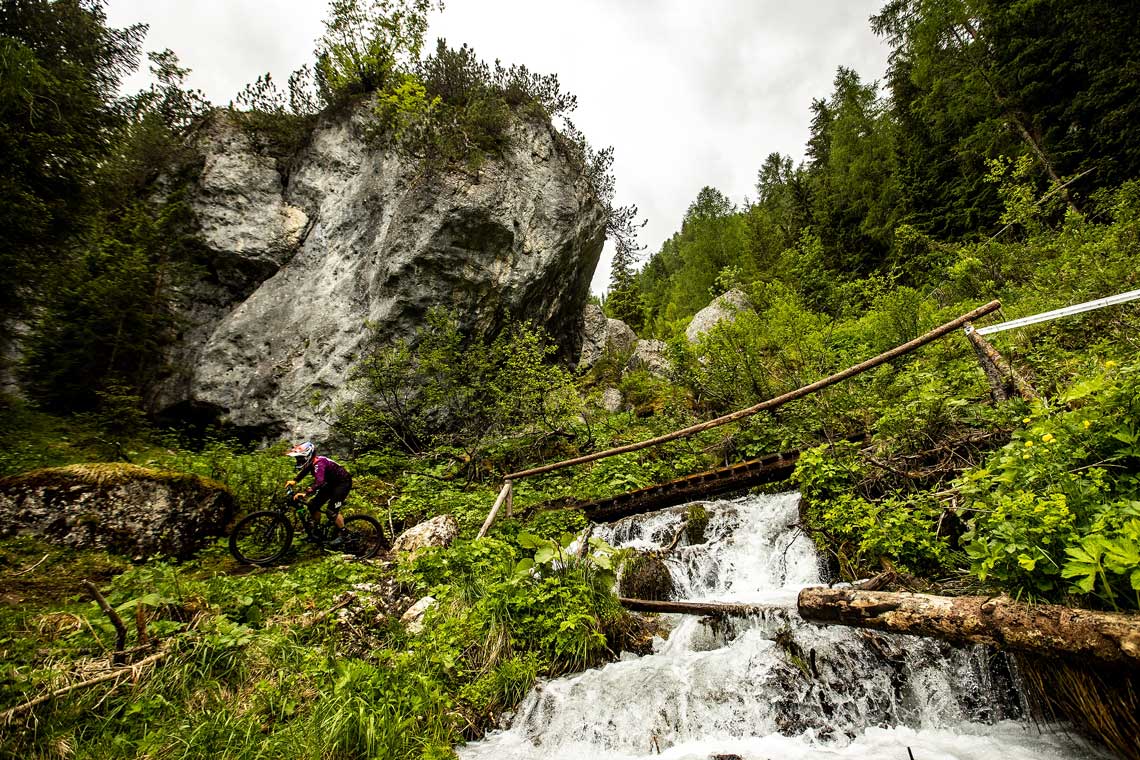 Isabella Naughton
Val Di Fassa #1 | 33rd, Pro Women
Val Di Fassa #2 | 27th, Pro Women
Liv: What was it like preparing for your first EWS race in the elite women's field?
Bella: I have been preparing by working with my coach to training the gym and bike as best as I could. I was nervous, but excited because I didn't entirely know what to expect.
Liv: How did you feel during race day?
Bella: I am happy that I went from a crash and 40th on the first stage to getting 22nd on stage four. It was awesome to continue doing better on every stage. I know there is always room to improve, and this is the most stacked women's field we've ever seen at an EWS. I had my best result of the week on the last stage of round two, squeezing into the top 20.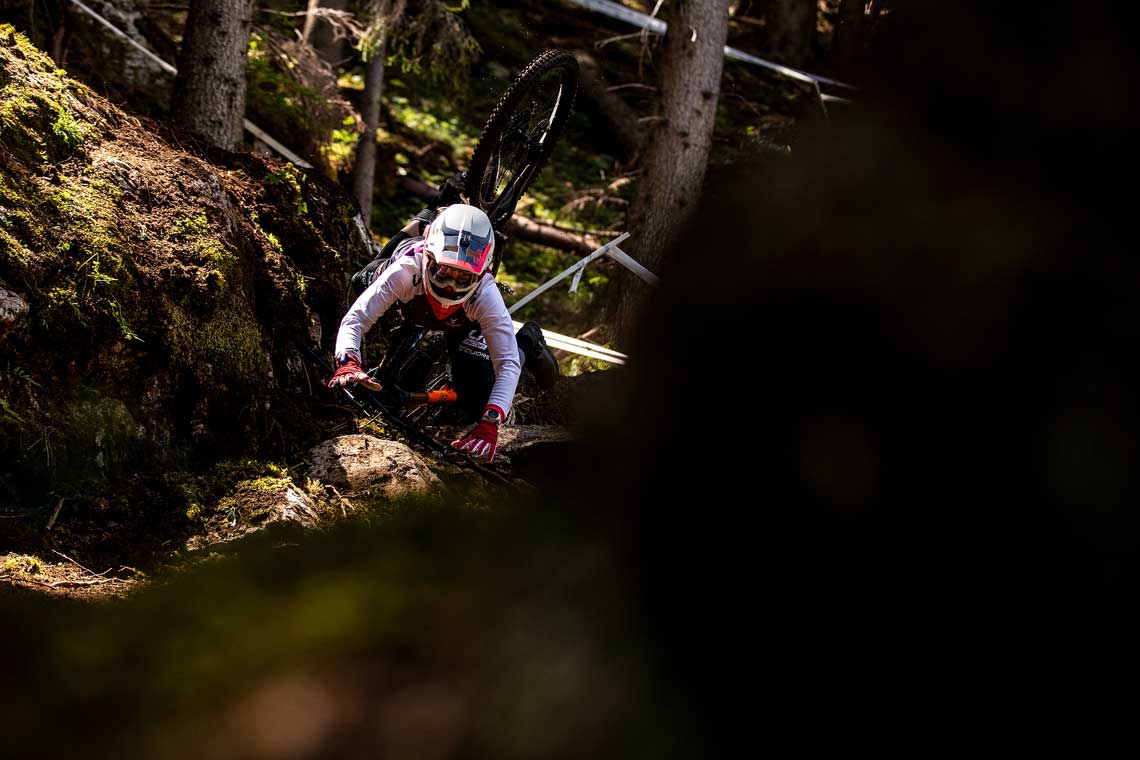 Liv: Sven Martin happened to catch your crash from stage one, round one on camera. Can you tell us the story behind the photos?
Bella: When we practiced the stage, the tape had been moved but we weren't aware of it. The night before the race we received an email showing a picture of where the tape was supposed to be, which was over the line I had been taking. So, I knew I just had to move my line up a bit but wasn't sure exactly how much speed I would need or anything like that. Basically, the holes coming into the drop were bigger than I thought and I just didn't have enough speed so my front tire landed in a big hole and I went over the bars. My bike flew into some photographers. Oops!
My brake lever had moved, but nothing so extreme that I couldn't ride. I was a little shaken up, but I finished the stage the best I could. I went into the rest of the stages with a fresh mindset. Most importantly, I am okay! I was a little sore the next day but nothing too bad.
Liv: What were some things that helped you continue to improve throughout the week?
Bella: What helped me improve each stage as well as into round two was treating each stage like a new race. If I didn't have a great result after a stage, I would go into the next one with the intention of wanting to do better and reminding myself that I know how to ride a bike fast and to just have fun.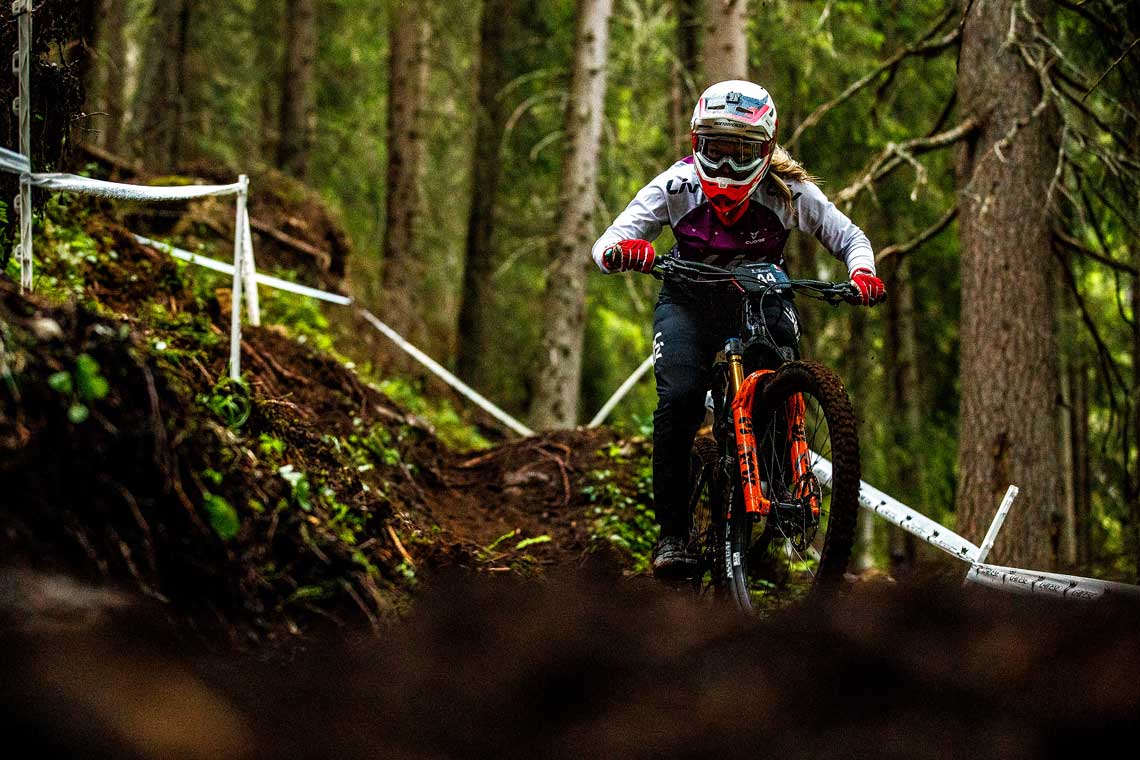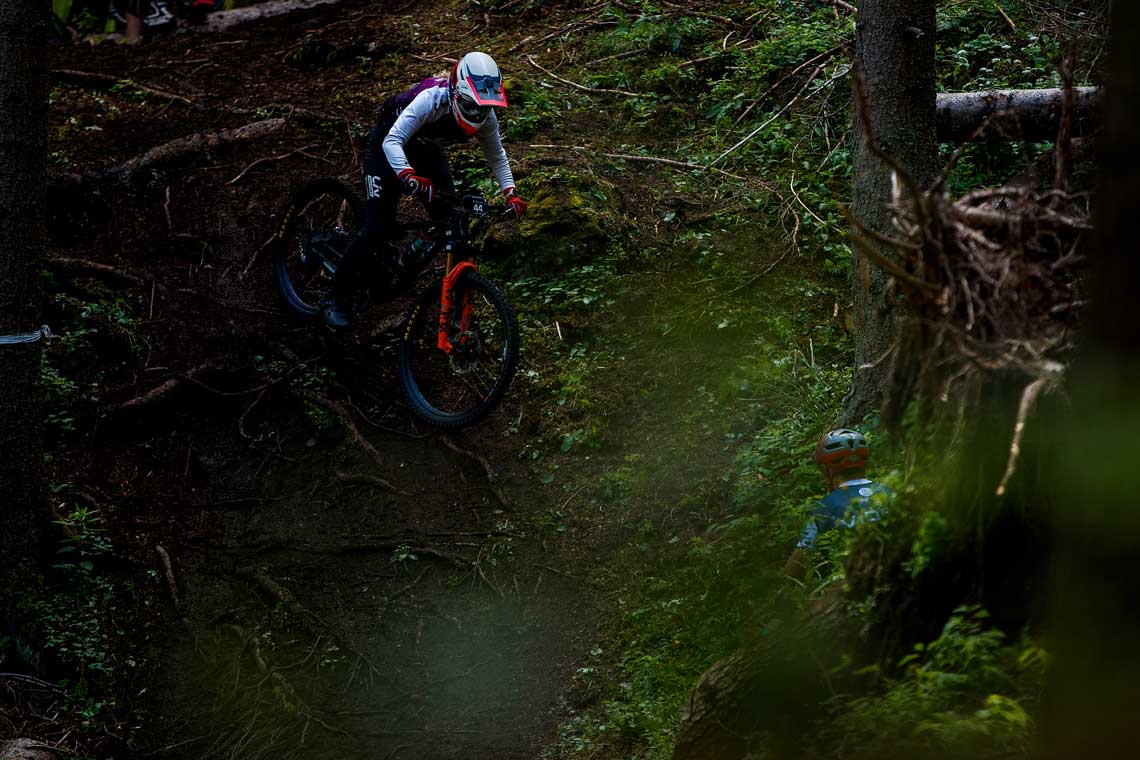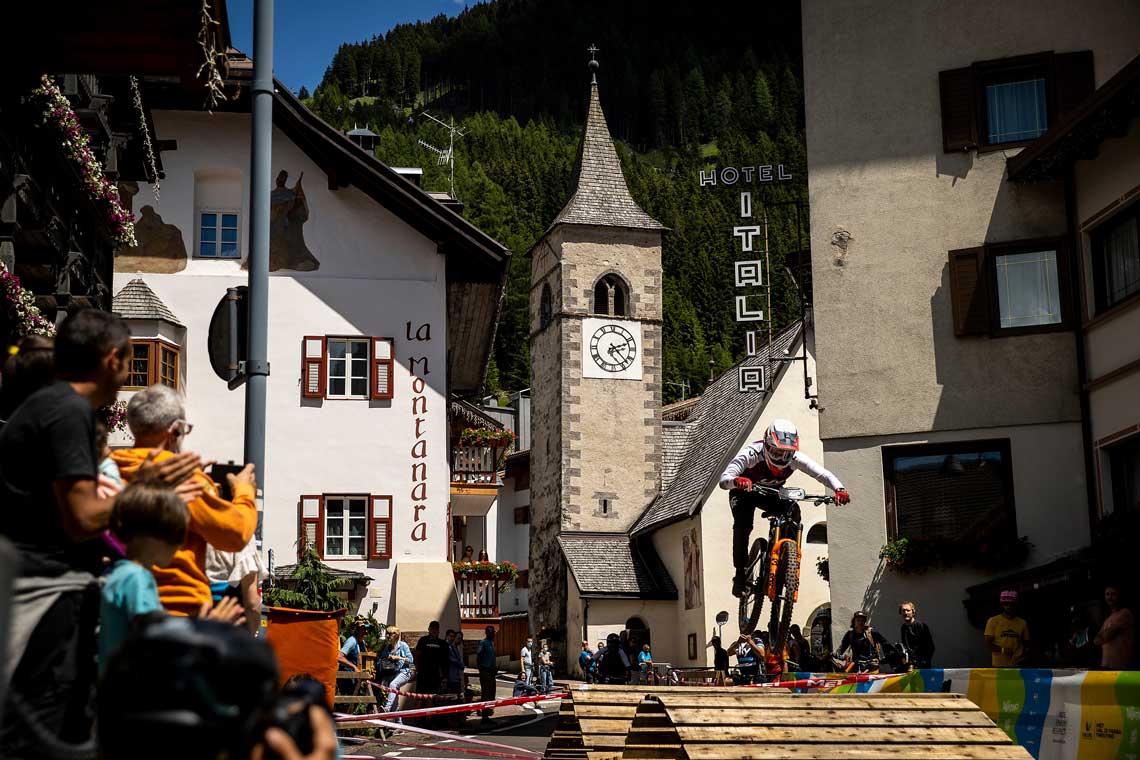 Next up, more action in Italy. The Liv Racing enduro athletes will head to La Thuile next week. Follow the action live at EnduroWorldSeries.com