Liv Racing Report: Enduro World Series Val di Fassa 2019
Enduro in the Dolomites, EWS Round #4
The fourth round of the Enduro World Series brought our Liv Racing pros to a new location: Canazei, Italy in the heart of the Dolomites. Fresh tracks and epic views were the highlight of the short, but hot race weekend. We caught up with Rae and Leonie after they made the voyage to the next weekend's race in Les Orres, France. Read on as they reflect on an epic five-stage battle in Val di Fassa.
Rae's Results:

Leonie's Results:

All photos by Sven Martin Photography.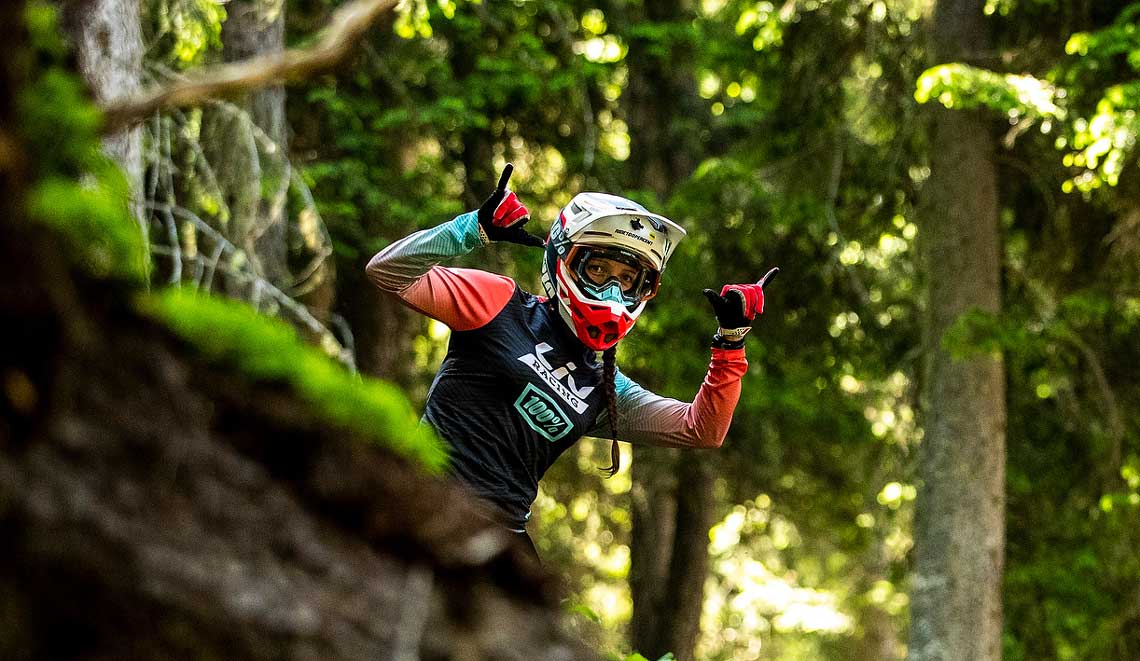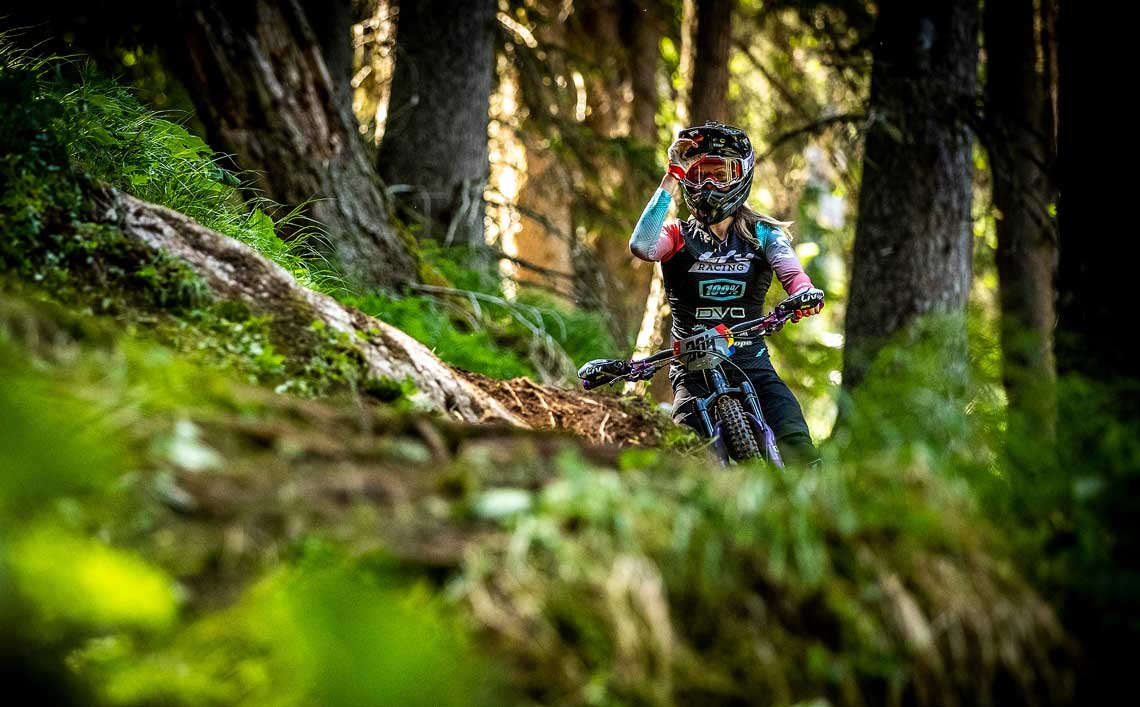 Liv: It's been about a month and a half since the last EWS race, what have you both been up to?
Rae: I went home to Nelson, New Zealand for 4 weeks. It was a great time to get in a solid training block and top up my fitness and strength after a couple months on the road. I also had a chance to visit my family. When I left New Zealand, my Dad was in the hospital recovering from about 16 broken bones, so it was great to see him out of hospital and further along in his rehabilitation. 
Leonie: Working. Plus trying to find time to ride my bike whenever I can. 
Liv: You made it to Val di Fassa – and from what we've seen it's stunning there! What was it like?
Rae: Absolutely incredible scenery! It is like looking at a postcard or National Geographic every direction you look. Everyone should visit to experience the views and Dolomites first hand!
Leonie: There scenery is so beautiful, it is actually unbelievable. The valley is incredible and as you climb the mountains, you are rewarded with the most fabulous views. Of all the places I have traveled, this is my most favorite.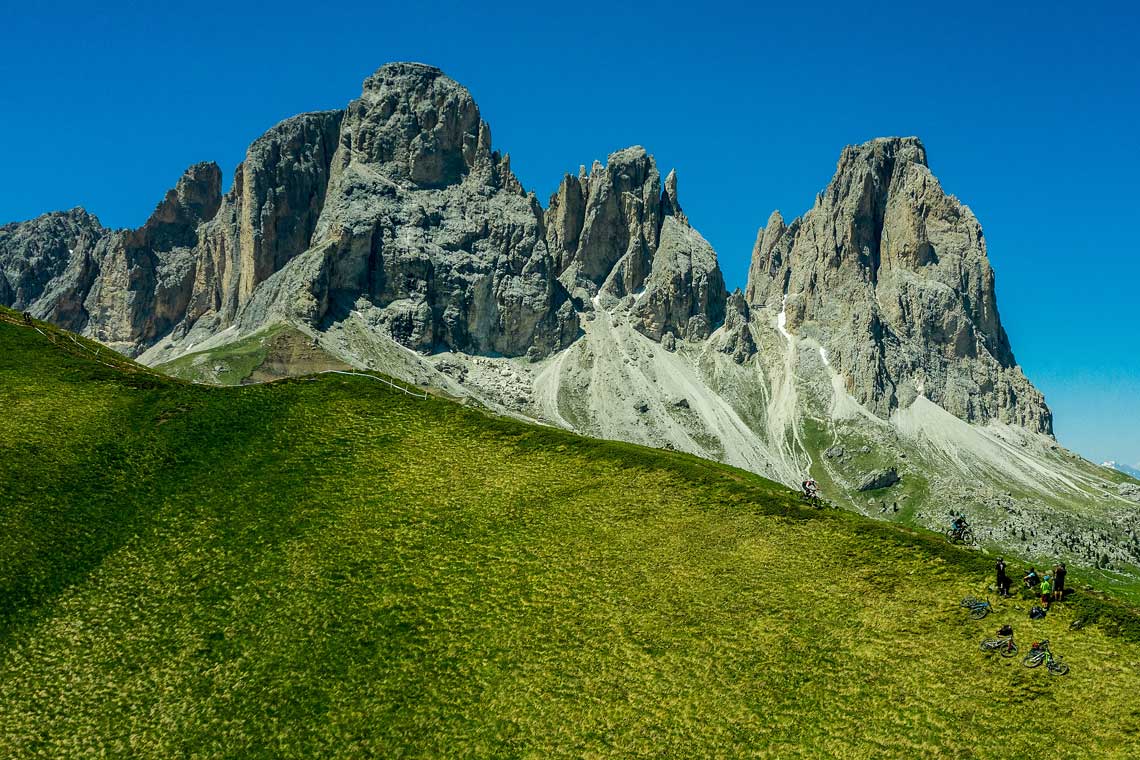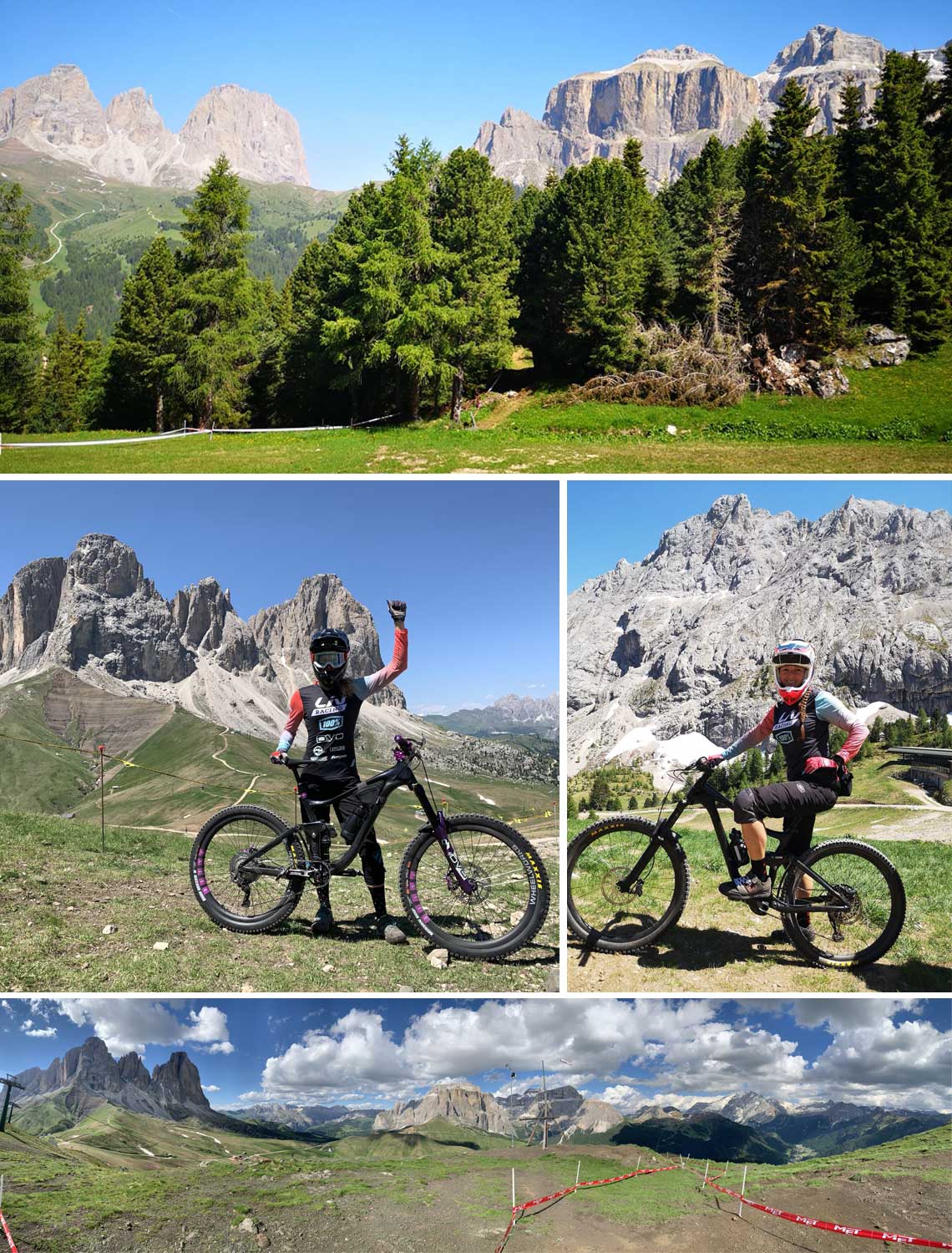 Liv: The heat has been a big headline from the weekend – just how hot was it? Did that affect how you prepped for race day and did you struggle with the temps at all?
Rae: I wasn't too bad with the heat. It was really, really hot but I had acclimatized well in New Zealand by using the sauna after workouts and keeping on top of my hydration. 
Leonie: I wasn't really keeping tabs on how hot it was, but I remember seeing 33 degrees at one point. We jumped in the glacial river at the end of each day. It was so cold and refreshing. I wasn't really bothered by the heat all week until getting to the top of stage 5 on race day. I could feel my body shutting down, my eyes couldn't focus, my muscles were tingling and weak. 
Liv: Looks like there were lots of fresh-cut areas of trail. Describe the terrain and conditions.
Rae: Every stage was different. The trail builders and race organizers did an amazing job creating one of the best courses we have ever had. There was everything from alpine ridges, fresh cut dirt, rooty singletrack, bike park, loose fire road corners and even a bit of urban. 
Leonie: All the trails were really fun. No daunting features, just really fast. The new trail sections added some spice to the well-used existing trails. Stage 3 consisted entirely of new trail. I was expecting the trail to be very dusty and blown out due to the lack of rain and hot temperatures, but it was incredible.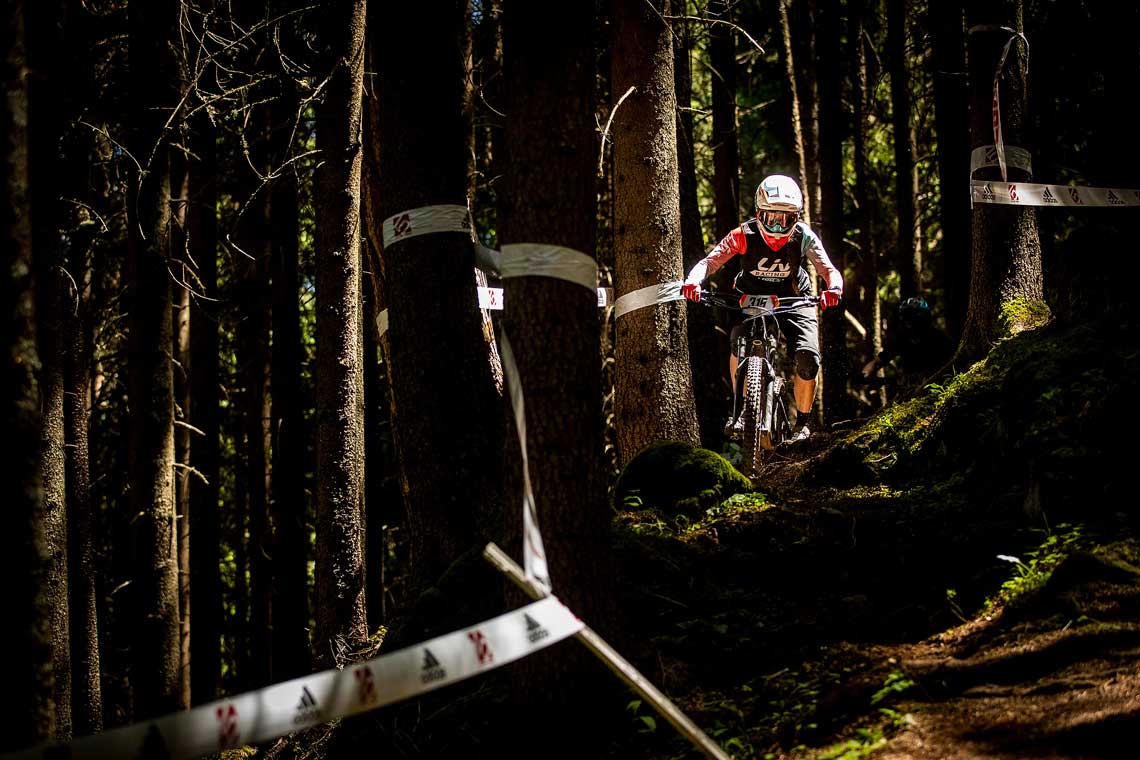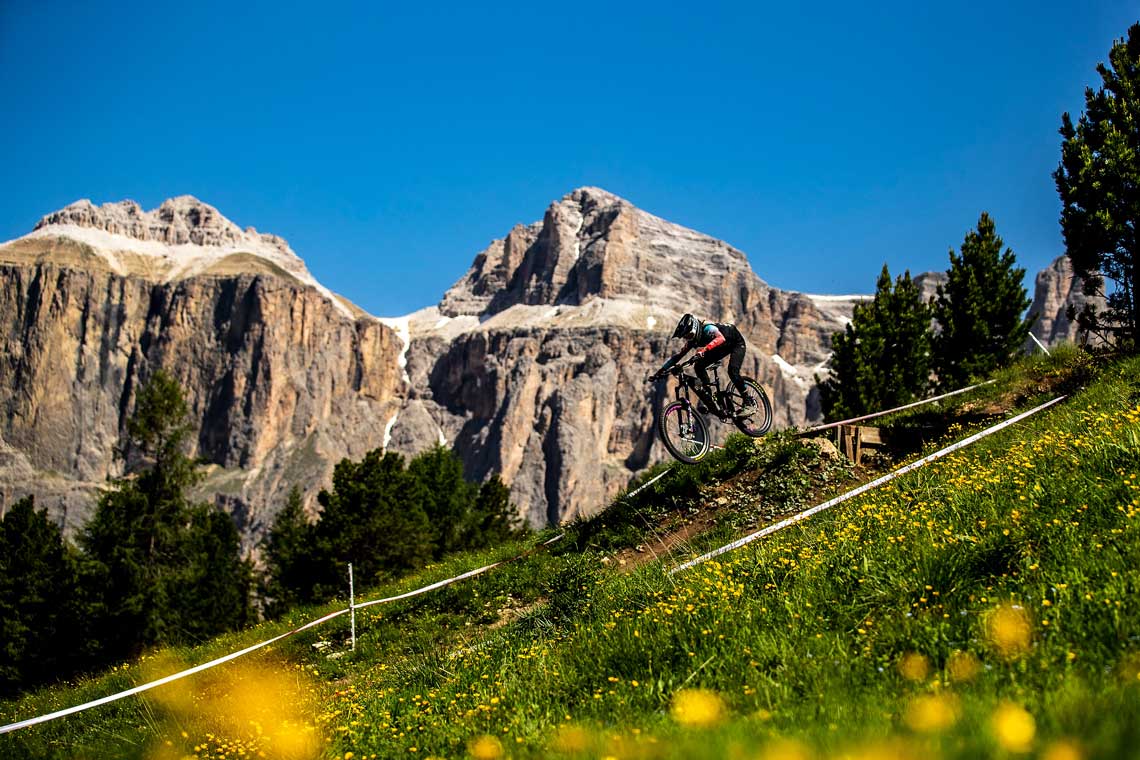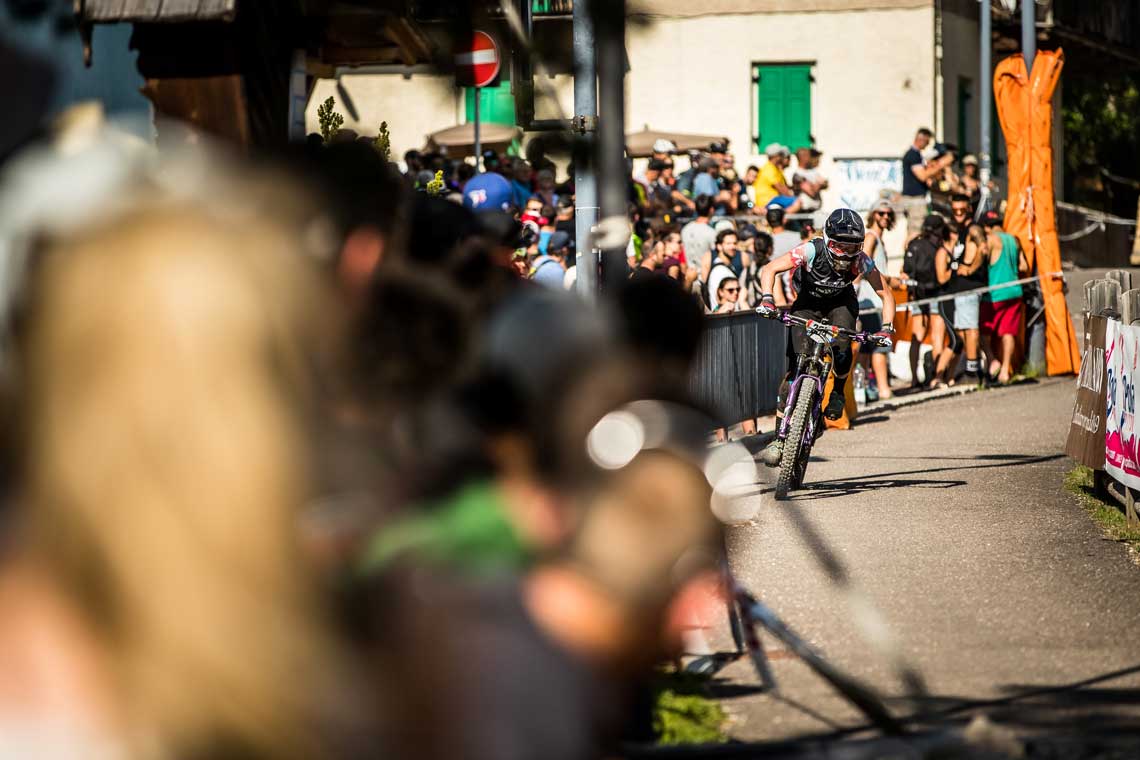 Liv: What was your favorite stage and why? 
Rae: I really enjoyed stage 5. It was the longest stage of the day and descended 900m from the top with the Dolomites as a backdrop to the centre of Canazei.  I loved the variety the stage had to offer, and I love the challenge of longer stages.
Leonie: Stage 1. It had a mix of everything. Bike park style berms, open ski run, tight rocky single track, small amount of climbing, flowy sections, north shore bridges, and a few muddy patches to make it interesting.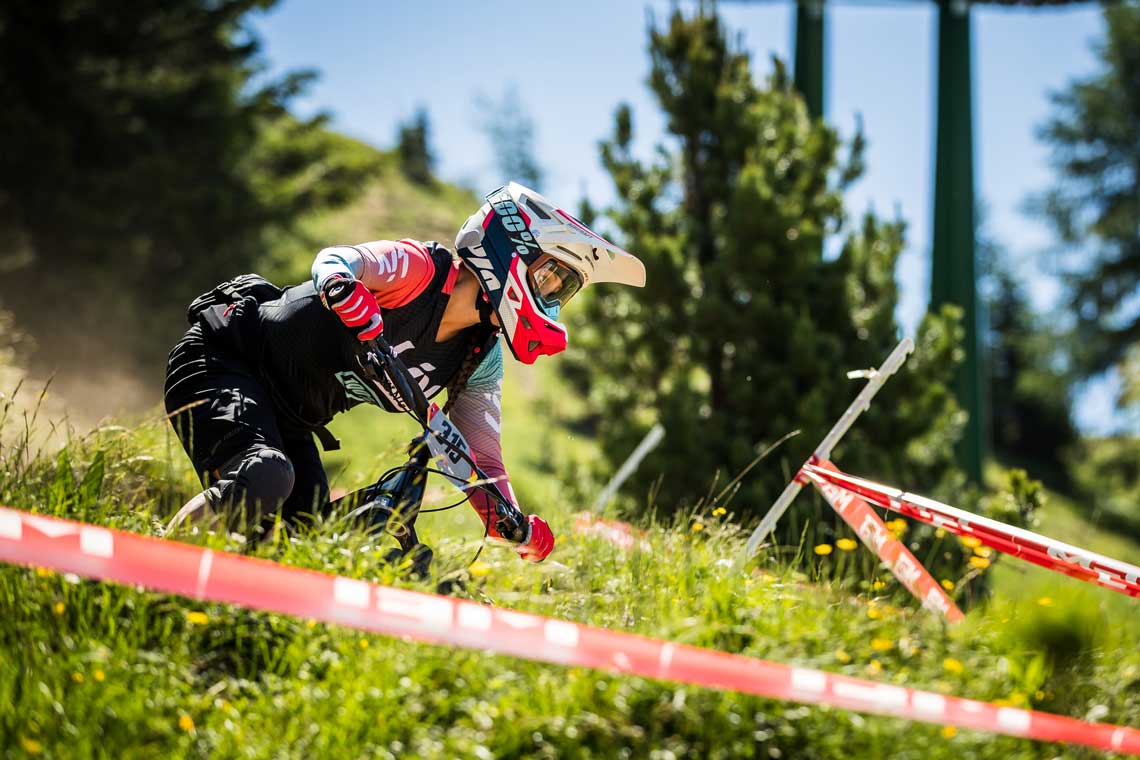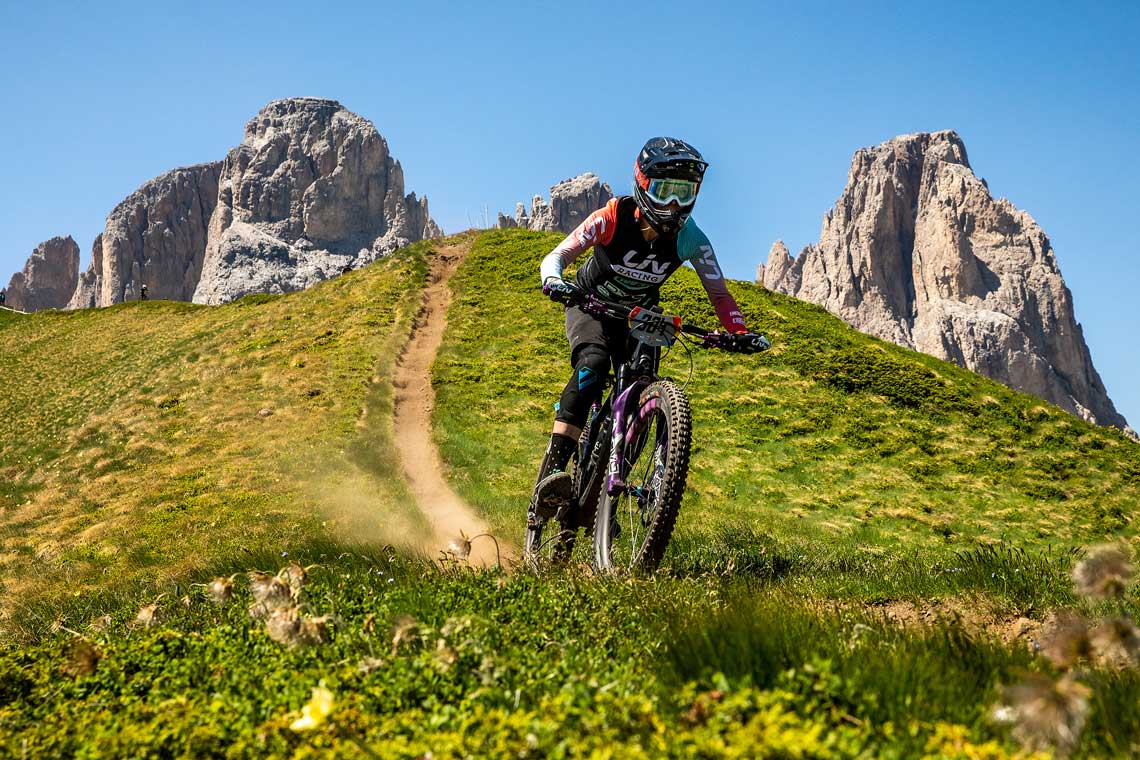 Liv: Describe one section that was particularly challenging and how you worked your way through it.
Rae: Funnily enough the most difficult section I found was a long climb on stage 1. With the heat and altitude, it was a hard climb to pace. It you go too easy you lose time and placings, if you go too hard then you have already burnt all you candles for the remaining 10 minutes of the stage. It was a difficult one to get right. 
Leonie: Stage 5 started on an exposed alpine ridge line before descending into the trees. While it wasn't a particularly challenging piece of trail, it was challenging mentally. Ripping down the ridge so fast knowing that one small mistake could have you cartwheeling endlessly down the side of the mountain. I tried to stay calm, not overthink the situation, focus on the trail, and block out the safety-conscious thoughts.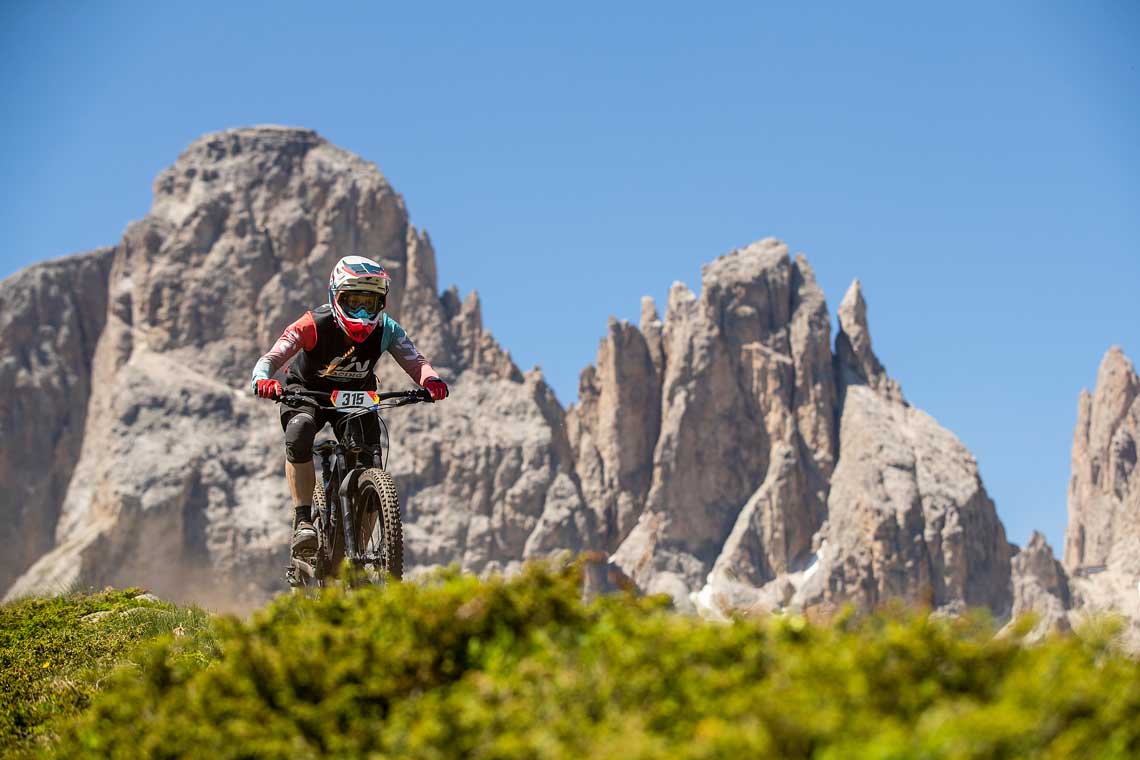 Liv: Lifts! This race had more than your normal EWS. Was this a welcome change? How much climbing did you still have to do on your bike?
Rae: I looovvveeee lifts. The race was heavily lift assisted, which I think all the racers enjoyed. The stages were incredibly physical, and the heat was very draining. It was so nice to have a few moments to chill out on a gondola and be carried to the next stage.
Leonie: With the current heat wave, it was a very welcomed change from the usual. The whole day was about 3000m, while we pedaled less than 1000m.
Liv: Favorite moment between the tape?
Rae: I really enjoyed the last 2 stages. After a pit stop and an ice block I felt refreshed and really started to have fun riding my bike. 
Leonie: Just having fun with all the other rad chicks we get race with.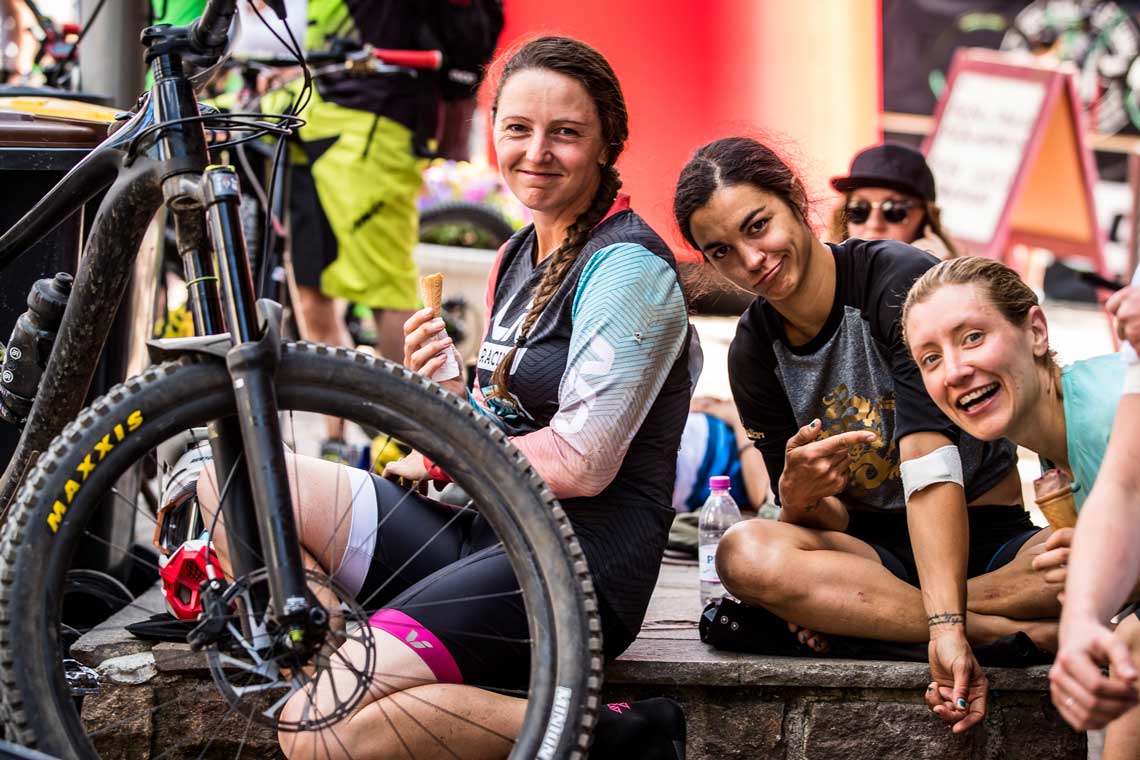 Liv: Favorite moment outside of racing?
Rae: The gelato!
Leonie: The end of day sit in the glacial River. And the gelati.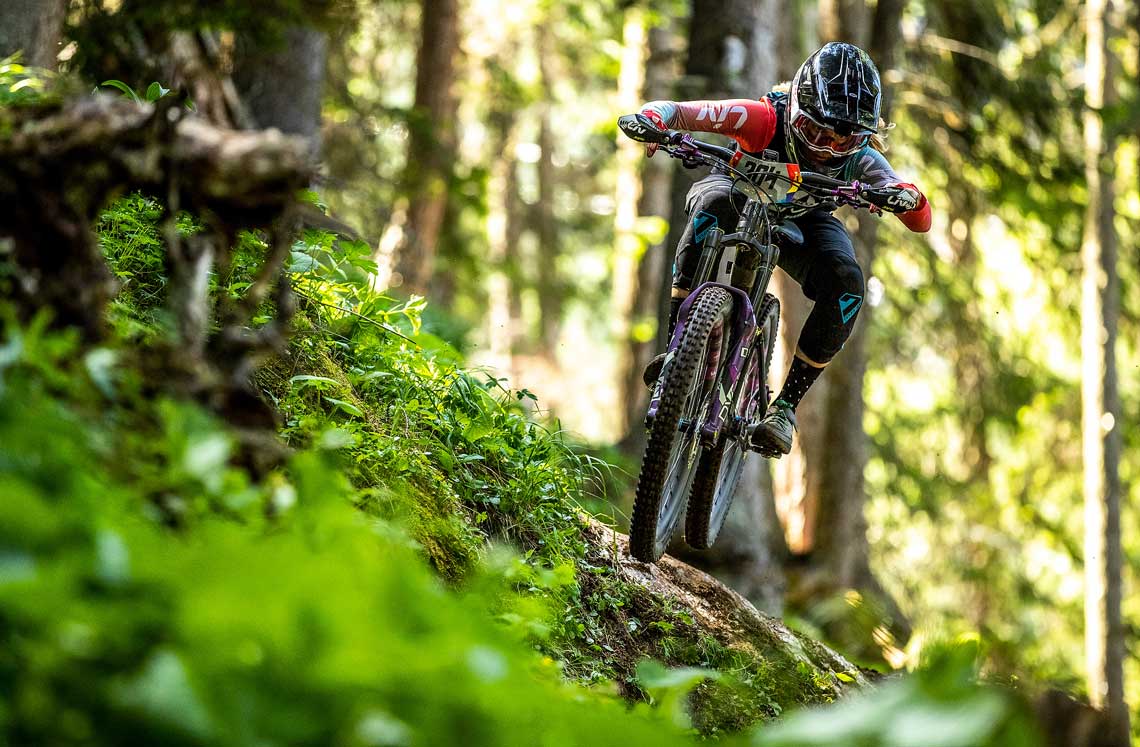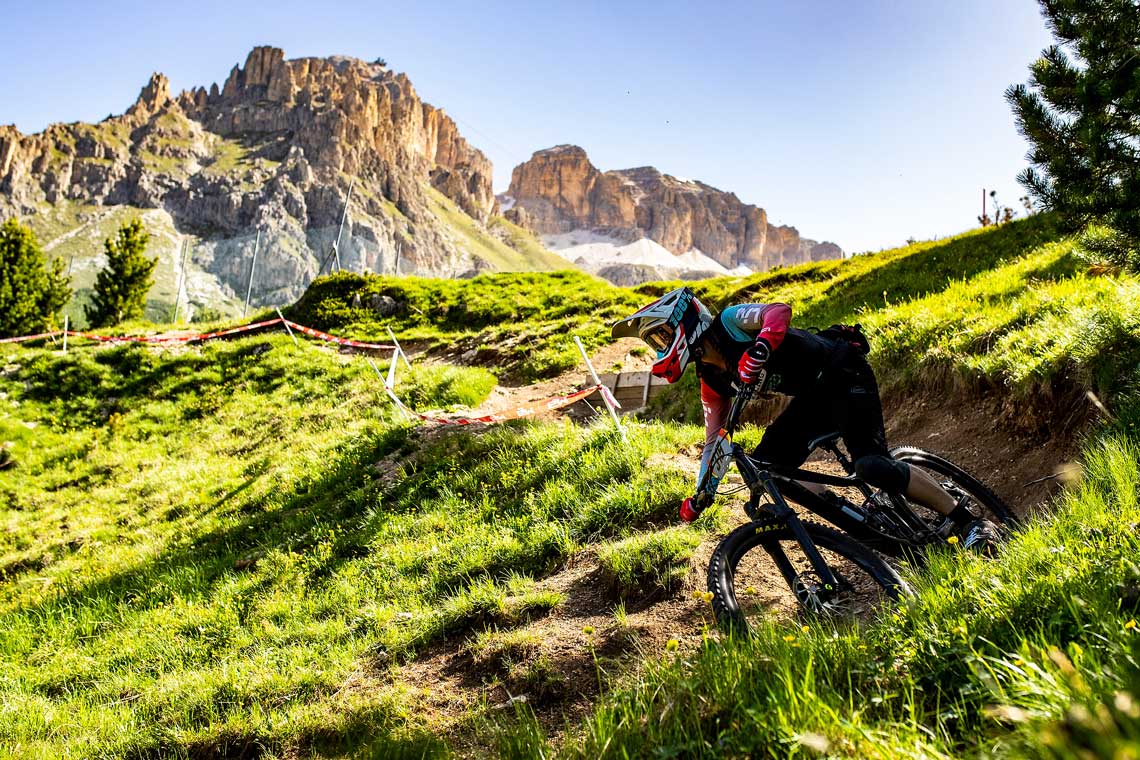 Liv: What are you looking forward to most about this weekend's race in France?
Rae: Being healthy again. I had a cold in Canazei that I caught on the plane over from New Zealand. I had about 20 tissues stored in my shorts for the race and a few drops of eucalyptus oil in my helmet to help with decongestion. I got through fine, but I am now seriously looking forward to being able to breath freely again and feel better. Bring on France!
Leonie: It's going to be a wet one. I'm looking forward to the challenge. 
Learn more about Rae and Leonie by clicking the links below, and keep up with the latest news by following them on social media!