How to Set Up a Mountain Bike for Indoor Training
Do you want to stay in riding shape for mountain bike season during the cold winter months? Investing in an indoor cycling trainer is a great way to keep your training up when the trails are closed. I was excited to learn I didn't have to invest in a certain type of bike to ride inside. I can just hook up my Liv Pique mountain bike to my indoor trainer and ride!
Now let me be clear, I was hesitant about buying an indoor trainer because it seemed unmotivating to ride a bike inside and go nowhere. I love being outside feeling the wind in my face as much as anyone. But, living in a snowy mountain town during the winter, that's just not possible. I have found that riding my mountain bike inside is a lot more fun than I thought it would be – especially with the Zwift app! It has literally changed the way my Ladies AllRide staff and I approach indoor training, and we want to share it with you.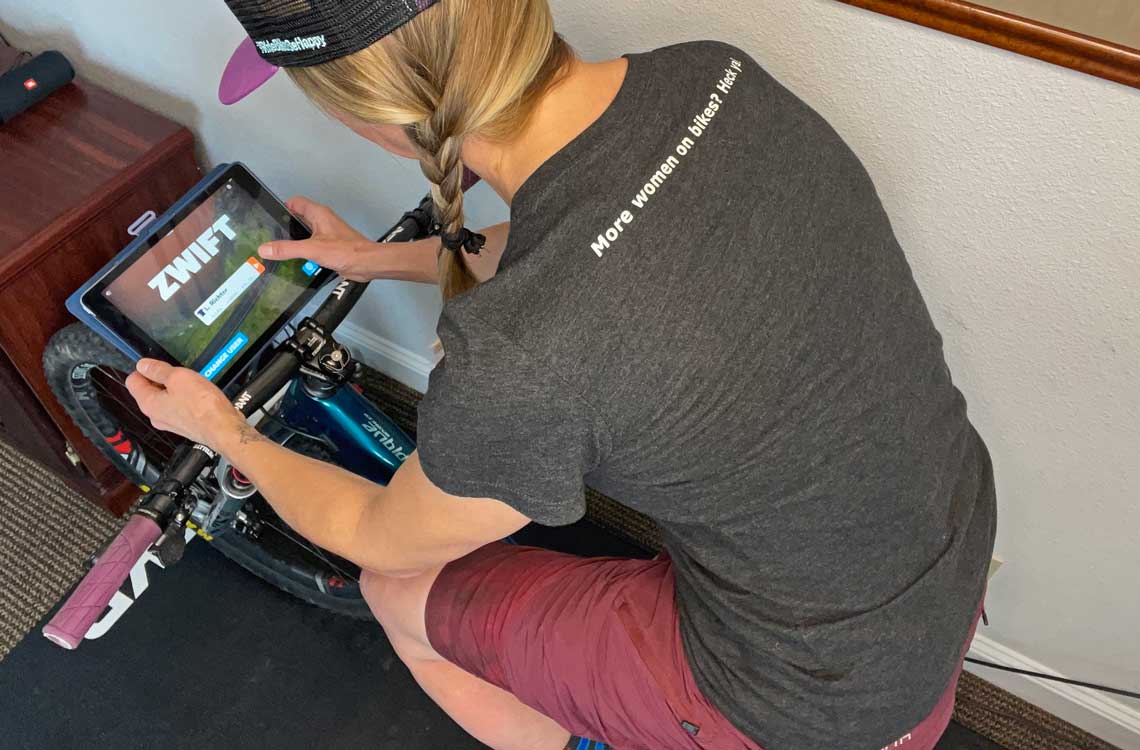 To start with, make sure you check out Liv's guide to setting up your bike for indoor training to learn more about proper bike fit and how to protect your floor and bike from damage.
Setting up a mountain bike on an indoor trainer requires a few modifications. I have a WAHOO KICKR CORE direct drive smart trainer and my teammate Cierra has a Saris Mag rear wheel-mounted trainer. No matter what kind of indoor trainer you have, make sure you LOCK OUT your front and rear suspension when riding inside. Read on for more MTB trainer setup tips!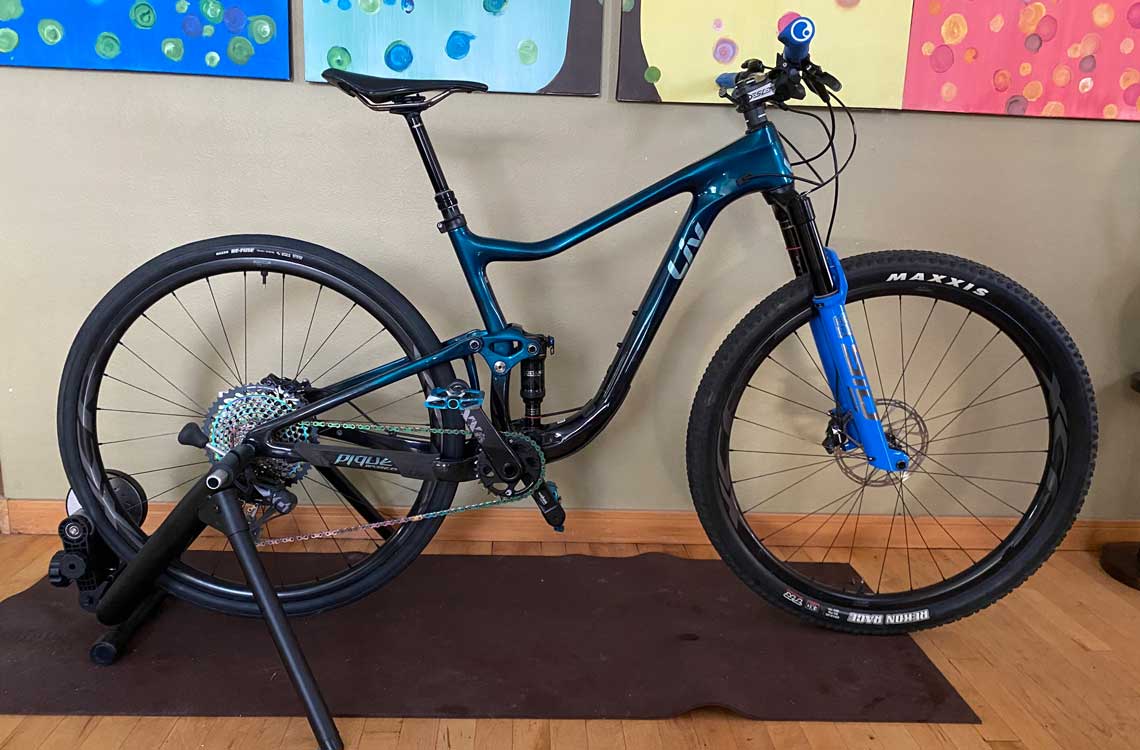 How to Set Up a Mountain Bike on a Rear Wheel-Mounted Trainer
For this type of trainer, you leave the rear wheel on your bike and attach it to the trainer at the rear axle. Many rear wheel-mounted trainers will work with your mountain bike, but you should make sure first by calling the manufacturer. Pay attention to clearance specifications for tire width and wheel size. We learned a valuable lesson about using a mountain bike tire on a rear wheel-mounted trainer; the roller got so hot that the soft-compound rubber melted. OOPS!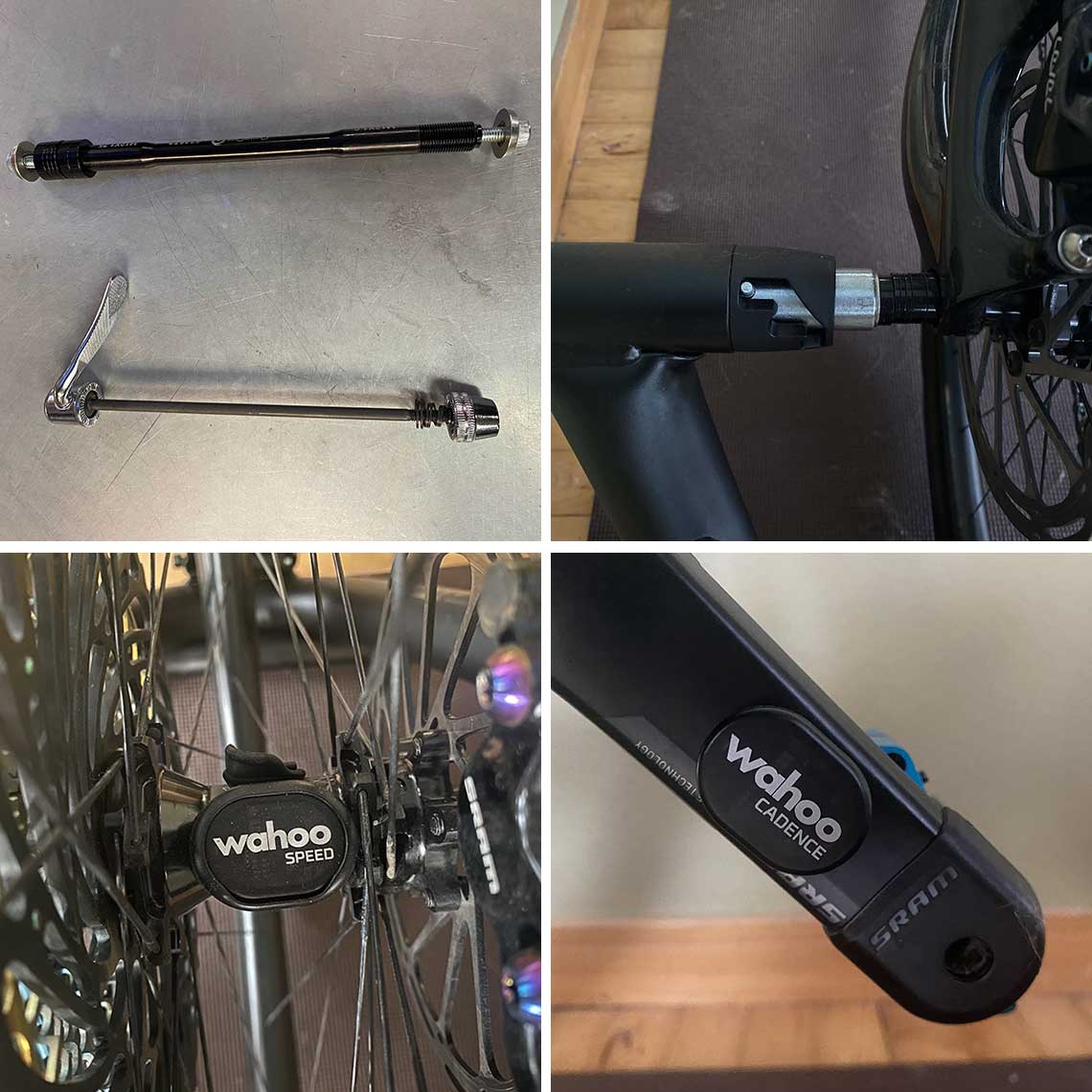 Here are our tips for using your mountain bike on this type of trainer:
Follow the instructions on your trainer to adjust the contact with your rear tire and ensure everything is tight before getting on your bike to ride.
Consider purchasing an inexpensive rear wheel, training tire, and cassette to prevent excessive wear on your nicer wheel.
At a minimum, purchase a training tire for use when riding your mountain bike on a trainer. This tire should have a durable compound and have a smooth tread. As I mentioned above, soft compound tires with tread can melt on a trainer! Plus, tires with tread cause extra noise.
You will need a few adapter parts to put a mountain bike on this type of trainer, as well as a few parts to make it "smart" so it works with apps like Zwift. These are the parts Cierra got to make her trainer "smart":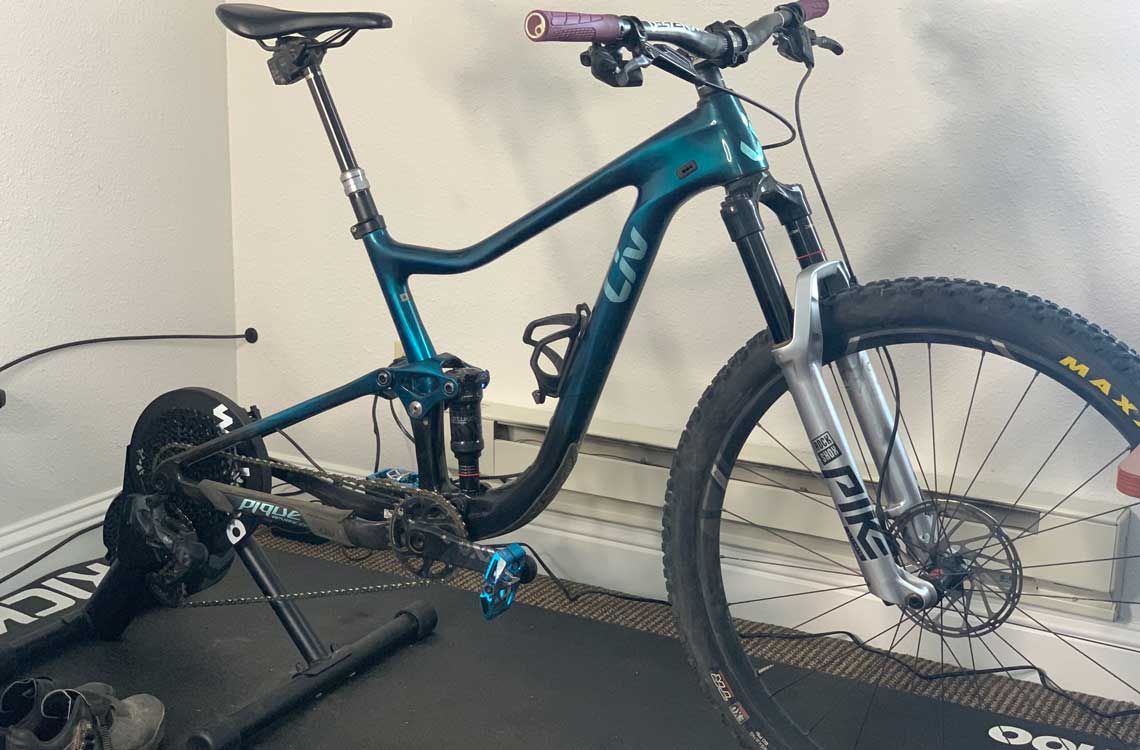 How to Set Up a Mountain Bike on a Direct Drive Trainer
These types of trainers require you to remove the rear wheel from your bike and mount the bike directly onto the trainer. Most direct drive trainers are compatible with mountain bikes, as long as you have the correct adapters for your bike and a cassette that is compatible with the drivetrain on your bike.
Here are tips for setting up your mountain bike on a direct drive trainer:
You will need an extra cassette. Otherwise, you'll be removing and re-installing the cassette on your bike every time you want to ride indoors. It's important to know the brand of our drivetrain (SRAM, Shimano, etc) and how many cogs are in your cassette.
Make sure you have the correct driver body (also known as a freehub) for your cassette. For most* SRAM 11 or 12-speed drivetrains, you will need an XD/XDR driver body. For Shimano and SRAM 8,9 and 10-speed and Shimano 11-speed drivetrains, you will need an HG driver body. And, for Shimano 12-speed drivetrains, you'll need an MS** driver body. (*I use a SRAM 12-speed "Eagle" drivetrain. SRAM's lower price-point cassette, called SRAM NX, uses an HG driver which is what came on my WAHOO KICKR CORE trainer. So, all you have to do is slide cassette onto the trainer – no need to purchase the XD driver. **Note: Some trainers may not be compatible with all drivetrains/ freehubs.)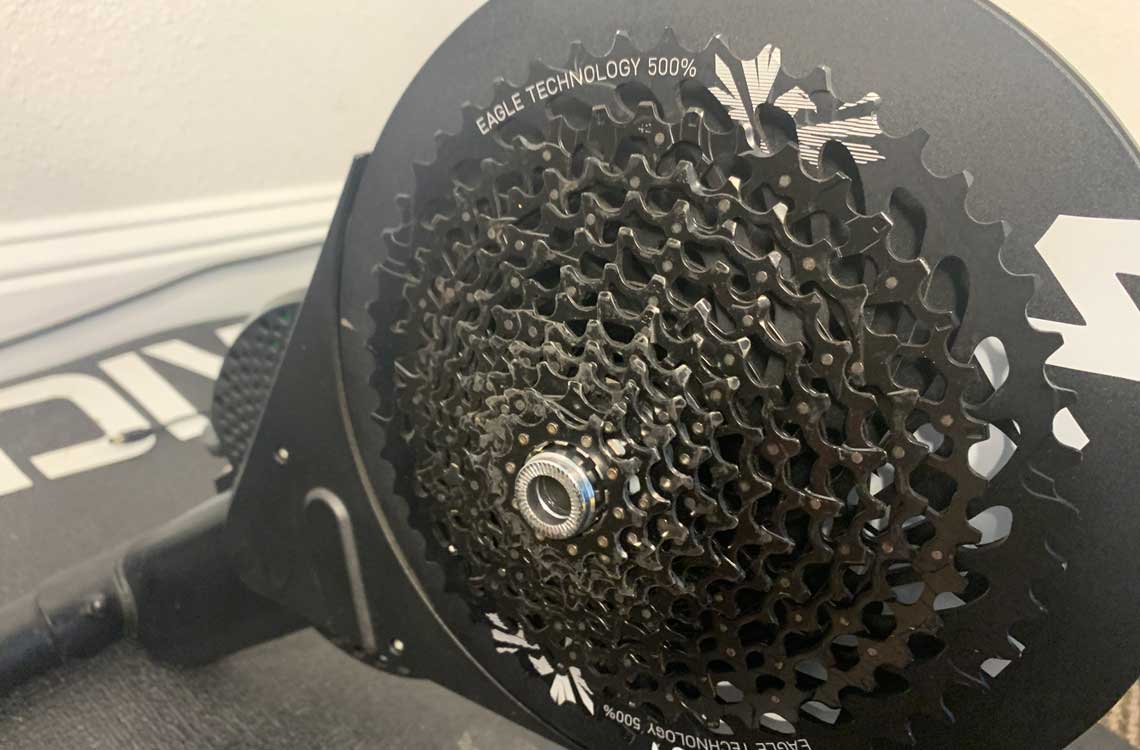 There are basically four rear axle setups for mountain bikes:

Quick release rear skewer without boost. (QR x 135mm)
A thru-axle without boost. (12mm x 135mm OR 12mm x 142mm)
Quick release rear skewer with boost. (QR x 141mm)
A thru-axle with boost. (12mm x 148mm)

Knowing what size rear axle you have/ the hub spacing is important if you need to purchase an adapter to set up your bike on an indoor trainer. Generally speaking, "boost" hub spacing (148mm) with a 12mm thru axle became the norm after 2017-18. The Wahoo KICKR CORE comes with the following adapters for mountain bikes:

The piece on the cassette side is called the Drive Side Thru Axle Adapter (comes with the KICKR & KICKR Core)
The piece on the other side is the 142/148 Non-Drive Side Thru-Axle Adapter (comes with the KICKR & KICKR Core)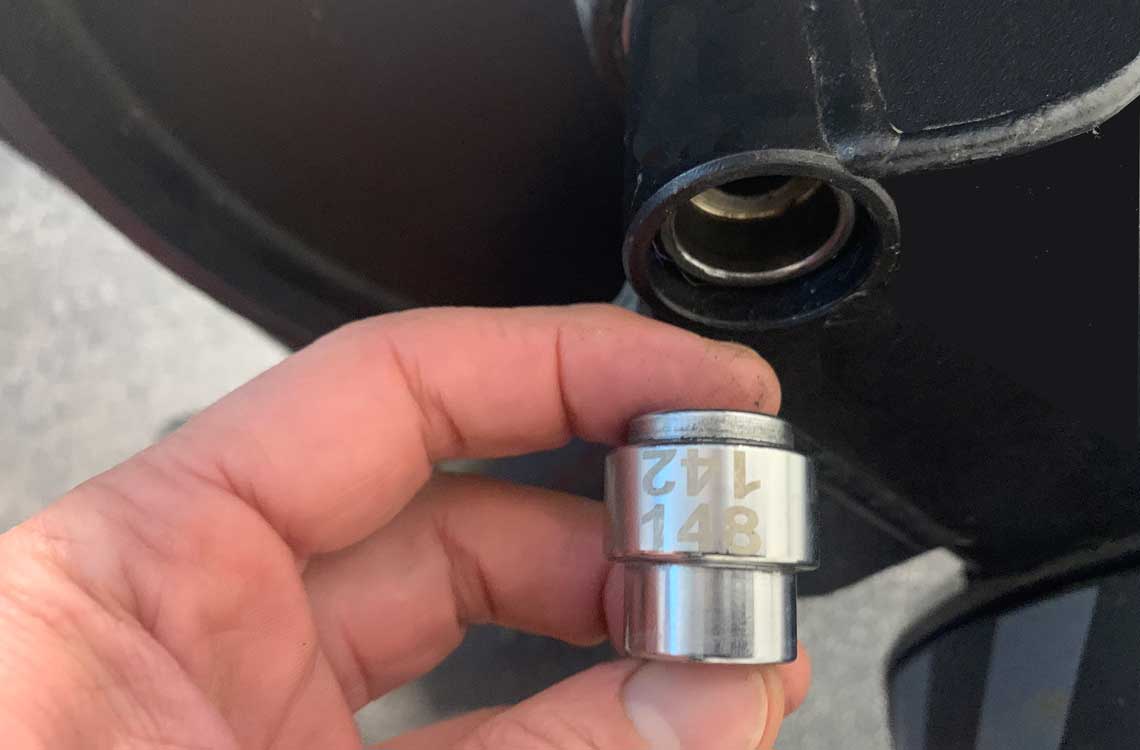 If you're not sure what your hub spacing is, you can flip your bike upside down and carefully measure the distance between the two dropouts. You should also be able to find this information on your bike manufacturer's website. And, if all else fails, just call or bring your bike to your local shop.
You must be comfortable removing the rear wheel of your bike for this type of trainer to make sense for you. Here are a few tricks:

Shift into your smallest cog before getting started.
Unscrew and pull out the thru-axle or loosen the quick release skewer.
Push on the bottom pulley of the derailleur to loosen the chain and pull the body of the derailleur out of the way to remove the wheel. If you have a button that allows you to keep the derailleur open and the chain loose (SRAM drivetrains), lock that into place. On Shimano drivetrains there may be a clutch lock on the derailleur, make sure that is in the "off" position before removing the wheel (and make sure you turn it back on before riding on your trainer).
Carefully place bike onto trainer with adapters and line up rear dropouts with the holes, making sure the chain is on the smallest cog of the trainer cassette.
Tighten rear thru-axle or quick release skewer and test it out.
Don't know how to remove a rear wheel? Check out our video on how to fix a flat to see how to remove a rear wheel.