THE SPIRITED POWER OF EMBOLDEN E+ ENTICES YOU TO SAY YES AT EVERY TURN, TAKING YOU FARTHER AND FASTER THAN BEFORE.
Highlights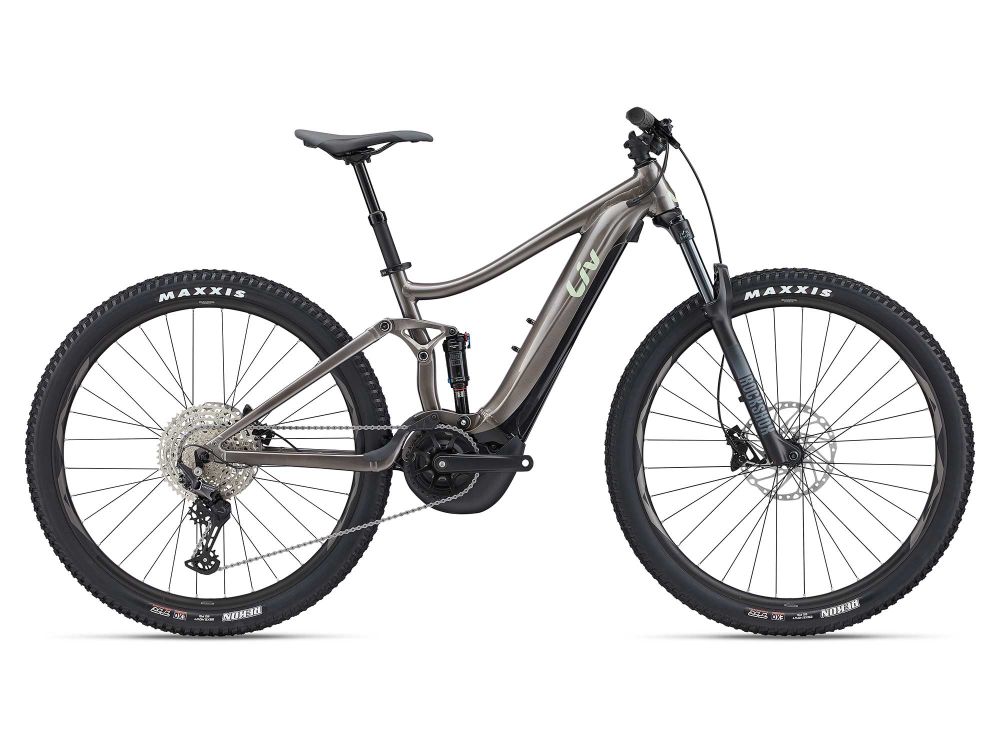 Gallery
Selecting any of the image buttons will open a larger image gallery with image descriptions
Techs & Features

ALUXX SL Aluminum Technology
Acest material de aluminiu de înaltă performanță, de ultimă generație, este fabricat în principal din aliaj 6011 și oferă cele mai bune raporturi rezistență-greutate din clasa sa. Aceste seturi de cadru dispun, de asemenea, de tehnologii unice de sudură pentru o calitate de rulare de înaltă performanță.

EnergyPak
Designul cu eliberare laterală EnergyPak face ușor de manevrat și scos bateria din bicicleta electrică, plus bateria poate fi încărcată pe sau în afara bicicletei pentru confort.

FlexPoint Suspension Technology
Un design dovedit "cu un singur pivot" care utilizează acțiunea de flexie a joncțiunii chainstay/seatstay pentru a produce un sistem de suspensie ușor și durabil, cu 4,7 inchi/120 mm cursă pe spate.

Hybrid Cycling Technology
Hybrid Cycling Technology is a system that combines electric power with human power to produce the most efficient, powerful and natural E-bike riding experience. It's a seamless extension of a rider's own power that sets Liv and Giant E-bikes apart from other "electric" bicycles. The system consists of four key innovative technologies that work in unison with your own body's power output—a seamless extension of your own capabilities.

RideControl Dash
Această unitate două în unu are butoane pentru a controla modurile de asistență plus un afișaj color integrat. Puteți verifica intervalul, nivelul bateriei și modul de asistență, împreună cu datele standard de ciclism, cum ar fi viteza și distanța, fără a fi nevoie să accesați un alt ecran pentru bicicleta electrică. De asemenea, are o conexiune ANT+, astfel încât să puteți conecta un monitor de puls și alte dispozitive de fitness.

RideControl ONE
RideControl ONE takes your E-bike riding experience to new levels with integrated button controls and a clean handlebar free of any display. The E-bikes equipped with RideControl ONE can connect with the Liv and Giant E-bike App to function as your E-bike display

Smart Assist
Cu Smart Assist, vă puteți bucura de o accelerare fără întreruperi și de o creștere a puterii. Sistemul Smart Assist Technology reproduce un stil natural de condus, folosind cei șase senzori pentru a adăuga asistență exact atunci când este nevoie.

SyncDrive Sport
Inovația, expertiza în producție și un sistem motor alimentat de Yamaha, toate se combină pentru a extinde abilitățile oricărui pilot. SyncDrive Sport oferă trei moduri de asistență și este echipat pe biciclete electrice care sunt utilizate atât pentru mersul zilnic, cât și pentru mersul off-road mai solicitant. Acest mic motor cu tracțiune medie oferă un cuplu masiv de maxim 80 Nm și este apreciat pe scară largă pentru performanța și fiabilitatea sa.