THE PERFECT E-BIKE FOR THOSE WHO WANT AN ELEGANT SOLUTION TO GETTING AROUND TOWN.
Highlights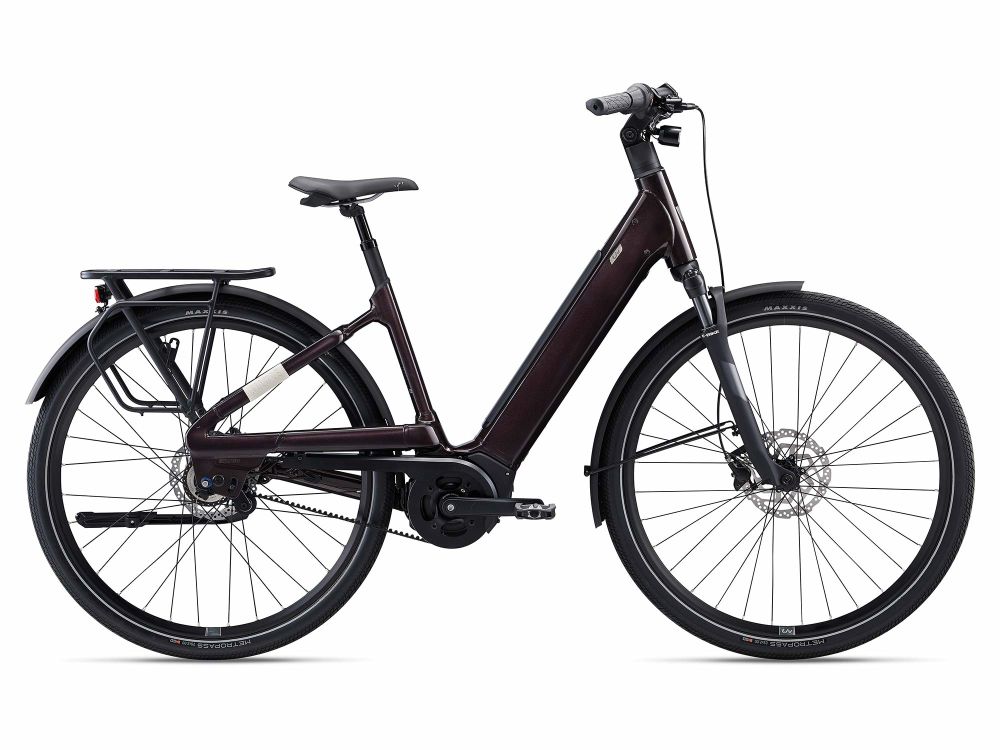 Gallery
Selecting any of the image buttons will open a larger image gallery with image descriptions
Techs & Features

ALUXX Aluminum Technology
Acest material pentru cadru de nivel de performanță are aliaj 6061 cu tuburi cu un singur cap pentru a produce seturi de cadru puternice și ușoare pentru o varietate de biciclete și stiluri de condus diferite.

EnergyPak
Designul cu eliberare laterală EnergyPak face ușor de manevrat și scos bateria din bicicleta electrică, plus bateria poate fi încărcată pe sau în afara bicicletei pentru confort.

Hybrid Cycling Technology
Hybrid Cycling Technology is a system that combines electric power with human power to produce the most efficient, powerful and natural E-bike riding experience. It's a seamless extension of a rider's own power that sets Liv and Giant E-bikes apart from other "electric" bicycles. The system consists of four key innovative technologies that work in unison with your own body's power output—a seamless extension of your own capabilities.

RideControl ERGO
RideControl Ergo vă duce experiența de mers cu bicicleta electrică la noi niveluri, cu butoane inteligente de integrare pentru comenzi curate și simple, fără afișaj, pe ghidon. Ergonomice și accesibile în timpul mersului, butoanele ușor de apăsat vă permit să selectați modul de alimentare și Walk Assist.

RideControl Go
Disponibil pe bicicletele electrice premium Liv, RideControl Go are un buton multifuncțional integrat în tubul superior. LED-urile colorate vă permit să comutați modurile de alimentare din tubul superior și să păstrați o configurație curată a ghidonului. Luminile afișează, de asemenea, nivelul bateriei și modul de asistență.

RideDash Evo
RideDash EVO este complet revizuit pentru 2021. Are o perspectivă mai sportivă, cu un afișaj color și grafică care arată noi funcționalități pentru a îmbunătăți experiența de mers cu bicicleta electrică. Are opțiuni de integrare ghidon/tupă și o conexiune fiabilă, prin cablu. Ecranul cu profil redus afișează informații despre călătorie, inclusiv viteza, distanța, autonomia bateriei și navigarea, ritmul cardiac și condiția fizică necesită conectarea aplicației.

Smart Assist
Cu Smart Assist, vă puteți bucura de o accelerare fără întreruperi și de o creștere a puterii. Sistemul Smart Assist Technology reproduce un stil natural de condus, folosind cei șase senzori pentru a adăuga asistență exact atunci când este nevoie.

SyncDrive Sport
Inovația, expertiza în producție și un sistem motor alimentat de Yamaha, toate se combină pentru a extinde abilitățile oricărui pilot. SyncDrive Sport oferă trei moduri de asistență și este echipat pe biciclete electrice care sunt utilizate atât pentru mersul zilnic, cât și pentru mersul off-road mai solicitant. Acest mic motor cu tracțiune medie oferă un cuplu masiv de maxim 80 Nm și este apreciat pe scară largă pentru performanța și fiabilitatea sa.

Syncdrive Core
SyncDrive Core este ideal pentru bicicletele electrice cu cadre joase și oferă o senzație naturală, neintimidată în timpul mersului. SyncDrive Core oferă performanță silențioasă, oferind în același timp putere pentru o experiență confortabilă și relaxantă de mers pe bicicletă electrică.