How to Make a Power-Packed Breakfast Smoothie
"Eat the rainbow," "Eat your veggies," "Eat food, not too much, mostly plants." Most of us have heard all kinds of tidy quotes to encourage eating vegetables! We get it!! However, vegetables for breakfast can be a challenge; after all most of us are not craving a big crunchy kale salad first thing in the morning. The thing is, most of us are not craving anything at all first thing in the morning, except maybe coffee. It's when we are most rested, have the most energy, and haven't been worn down by traffic jams, threshold intervals, or whatever other stresses we might encounter during the day. It's when we are best able to make good decisions because our will power is at its best. Taking advantage of that fully charged will power to nourish your body well first thing in the morning will set you up for a productive day. By replenishing your body with fuel and nutrients in the morning, you help stabilize your energy stores and boost your metabolism. In contrast, using that will-power to abstain from breakfast can lead to feeling sluggish, slowing your metabolism as it tries to conserve energy, and encountering cravings later on in the day.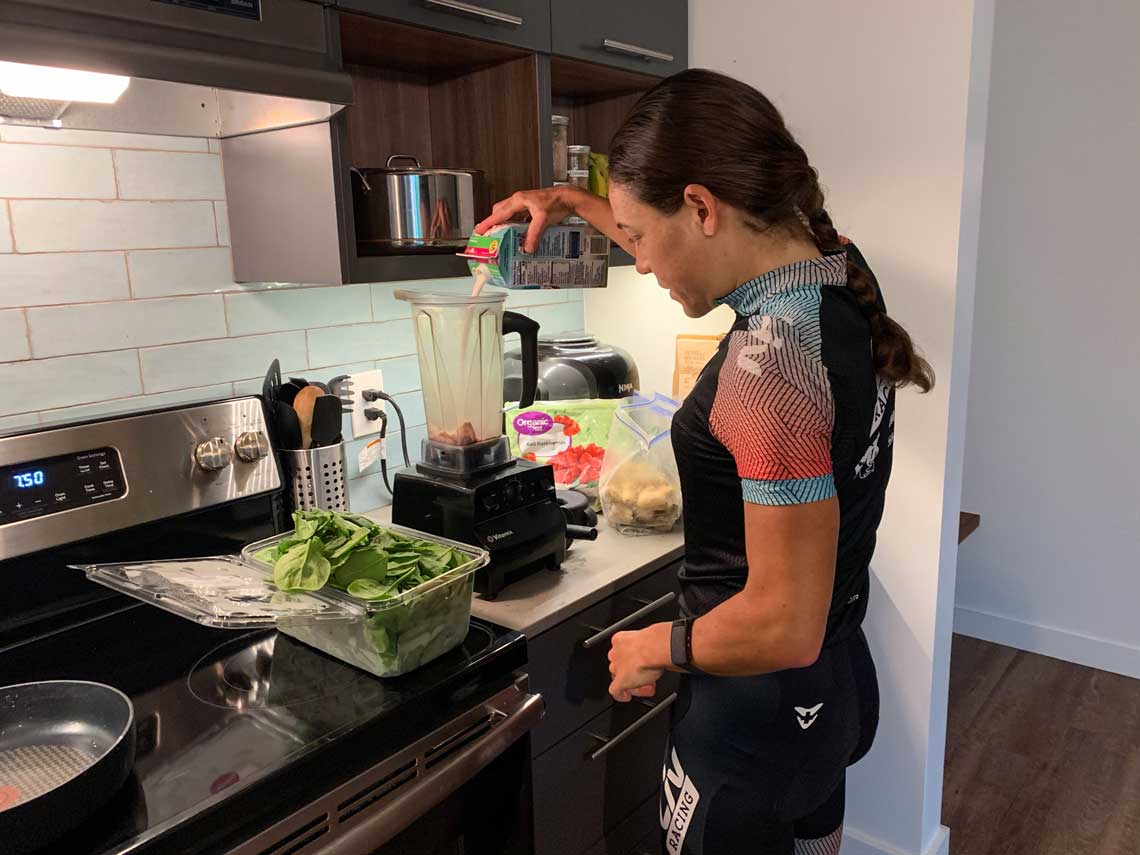 My go-to power-packed breakfast is a smoothie loaded with veggies, protein, healthy fats, and carbs from fruit. I will have this before I head out to ride to make sure I'm starting out with plenty of fuel for my workout and can produce my best effort. Here's why I've chosen my 5 core ingredients:
Hemp seeds: these are rich in essential fatty acids and have the highest protein content among the three most popular seeds: hemp, chia, and flax. Additionally they are high in vitamin E, phosphorus, potassium, sodium, magnesium, sulfur, calcium, iron and zinc. They add a rich creamy texture to your smoothie!
Non dairy milk: this provides a creamy base and will not aggravate dairy or lactose sensitivities.
Spinach: spinach is rich in iron, vitamin K, vitamin A, vitamin C and folate; it also is a good source of manganese, magnesium, iron and vitamin B2.
Cucumber: low in calories and high in water content, cucumbers are great for hydration. They also contain antioxidants, including flavonoids and tannins. By freezing the cucumbers, you can store them for weeks and add body to the smoothie.
Banana: lower in fructose than other fruits, bananas are easier for some to digest for energy. They also contain potassium, calcium, manganese, magnesium, iron, folate, niacin, riboflavin, vitamin B6, and the amino acid tryptophan. The carbohydrate content aids in the absorption of tryptophan in the brain, and vitamin B6 contributes to converting the tryptophan into serotonin, a mood-boosting hormone. Freezing the bananas allows you to store them for weeks and adds body to the smoothie.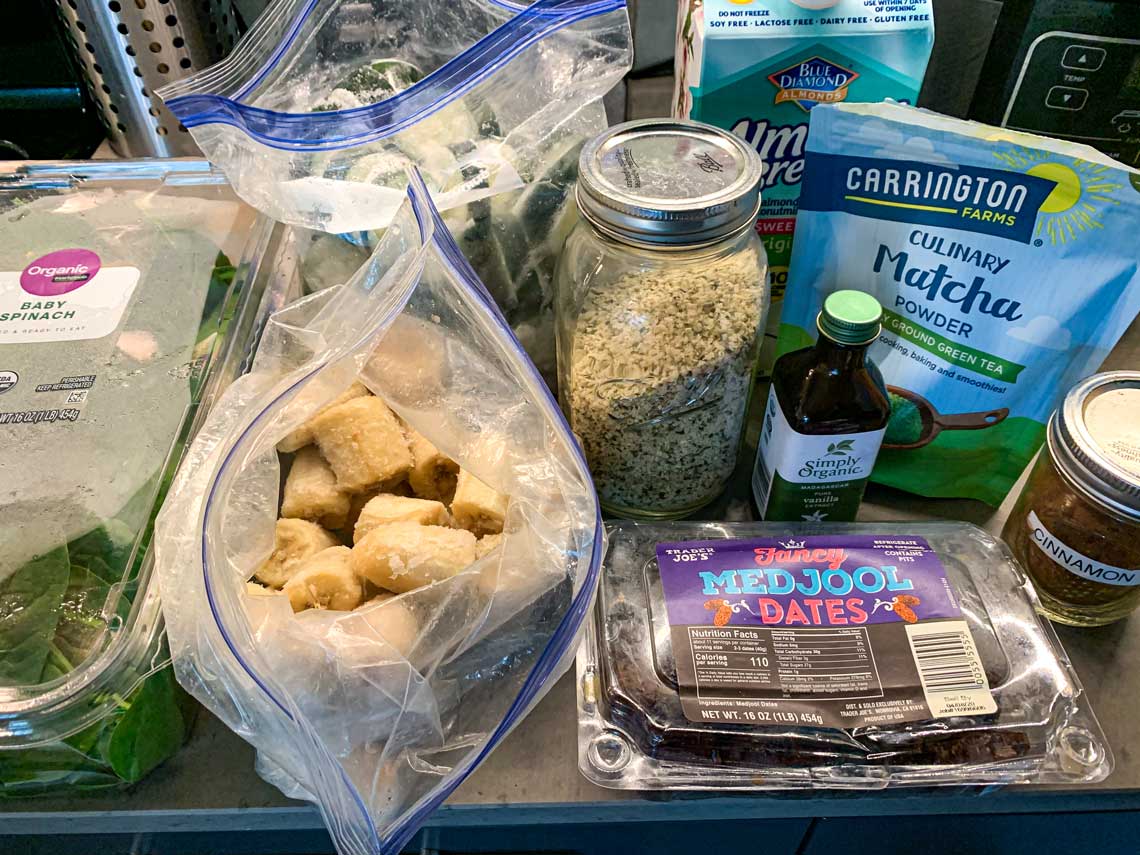 There are many reasons why a smoothie is an effective and beneficial breakfast choice.
Create an easy breakfast routine. When I was a teacher, having a standard smoothie base (listed below) made grocery shopping efficient and reduced the decisions I had to make in the morning when I was getting ready for a day of teaching verb conjugations. On Sunday evenings, I would get prep done ahead of time by chopping and freezing my cucumbers and bananas, or sometimes making and freezing all my smoothies for the week!
It's all about variety! You may be wondering how variety fits into this standard smoothie base. The variety comes with the flavor additions! By adding 1-5 extra ingredients, you can vary your flavor as well as nutrients each morning. I can attest that this smoothie (along with some scrambled eggs on the side) kept my energy levels sustained until lunch time, whether through a busy morning of classes, or during a long training ride.
Easy nutrition on-the-go. Smoothies are easy to transport if you need to eat in the car. I've sipped many smoothies while driving to an early afternoon cyclocross race! Smoothies can be kept frozen and saved for later—even taken through airport security!
You don't need to be a chef. Smoothies cannot be "messed up" even if you aren't a great cook. There is no need for precise measurements, chemical reactions, or proper mixing technique. That said, a Vitamix will make it incredibly smooth and creamy!
Cooling or warming - smoothies can be both.You can adjust your smoothie to be either cooling in the summer or warming in the winter based on this concept from Chinese medicine.
Adjust based on your training plan. Usually I pair my smoothie with scrambled eggs to add even more protein to my breakfast, regardless of whether it's a training day or recovery day. If I'm going to do a harder or longer training day, I'll add in extra bananas or dates to increase the carbohydrate content of my smoothie. I might put my smoothie in a bowl and throw on some dried fruit, maple syrup and nuts to add more calories if I have an especially monster day ahead!
Standard 5-ingredient Smoothie Base:
3 tablespoons hemp seeds
1 cup unsweetened non dairy milk
several handfuls spinach
1/2 cucumber, chopped and frozen
1/2 banana, chopped and frozen
Flavor Varieties
Red Velvet: 1 cup frozen berries, 1 scoop beet powder
Mint Chip: few drops peppermint extract, 2-3 dates, 1 tablespoon cacao nibs (optional)
Matcha: 1 teaspoon matcha, 2-3 dates, 1/2 teaspoon cinnamon, vanilla
Snickerdoodle: reduce to 2 tablespoons hemp seeds, 2 tablespoons tahini, 2-3 dates, 1 teaspoon cinnamon
Golden Milk: 1/2 cup fresh or frozen mango, 1 teaspoon turmeric, 1/2 teaspoon cinnamon, (other spices like ginger, cloves, cardamom), dash black pepper, vanilla *note that due to spinach this will be green not golden in color!
Blueberry Ginger: 1 cup frozen blueberries, 1/2 teaspoon ginger
Notes:
*you can use other greens besides spinach, spinach is the most mild in flavor
*you can sub 1.5 tablespoons of any nut/seed butter for the hemp seeds
*you can sub frozen cauliflower for the cucumber