Specs
| | |
| --- | --- |
| Tallas | XS, S, M |
| Colores | White/Lime/Teal |
| Cuadro | Advanced-Grade Composite |
| Horquilla | Advanced-Grade Composite, Hybrid Steerer |
| Manillar | Liv Avow Composite Base Bar |
| Potencia | Avow Alloy |
| Tija de sillín | Avow Composite |
| Sillín | Liv Contact SL, Forward |
| Manetas de cambio | Shimano SL-BSR1 |
| Desviador | Shimano 105 |
| Cambio trasero | Shimano Ultegra |
| Frenos | Giant SpeedControl SL |
| Palancas de frenos | Giant |
| Casette | Shimano 105 11-28, 11s |
| | |
| --- | --- |
| Cadena | KMC X11EL-1 |
| Jgo. platos y bielas | FSA Trimax Alloy 50/34 |
| Bottom Bracket | FSA press fit |
| llanta/Aro | P-A2 wheelset |
| Bujes | P-A2 wheelset |
| Radios | P-A2 wheelset |
| Cubiertas | GIANT P-SL 2, Front and Rear specfic, 700x25c |
| Extras | Water Bottle Cage on saddle back |
| Peso | ¿Cuánto pesa la bici? Es una pregunta clásica e importante. No existe ningún estándar en la industria de la bicicleta que permita comparar el peso de una bicicleta de una marca a otra. Lo que a menudo conduce a informaciones erróneas. Las diferencias descansan en las tallas, los materiales utilizados, los elementos incluidos o nó en la evaluación del peso. Nosotros consideramos que la única forma de evaluar el peso de una bici es, sencillamente, probándola. |
Giant se reserva el derecho a modificar especificaciones, precios o colores sin previo aviso
Highlights
Historically, the terms 'comfort' and 'tri bike' do not go hand-in-hand, but Liv rebelled against that trend with Avow Advanced Pro. This triathlon bike offers a women's-specific customizable fit, allowing you comfort and power while performing at the highest level. Nothing keeps your mind and body sharper than fueling up, that's when the hands-free hydration system and aerodynamic snack box quickly leap up to 'favorite features' status.
Sizing Guide and Geometry
Sizing to be used as a reference only. Please check with a local authorized Liv or Giant dealer to determine the correct size.
Available sizes may vary from country to country.
XXS

 

146 cm

4'9"

156 cm

5'1"

XS

 

155 cm

5'1"

165 cm

5'5"

S

 

162 cm

5'4"

171 cm

5'7"

M

 

169 cm

5'7"

180 cm

5'11"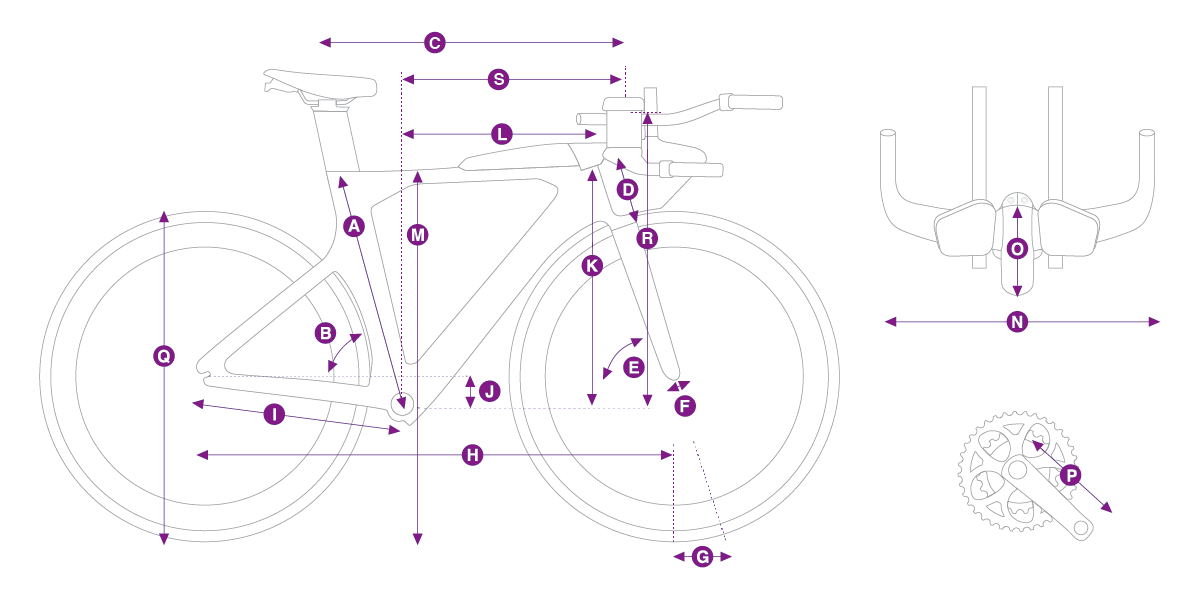 XXS
XS
S
M

A

Seat Tube Length

(mm)

(inch)

450

17,7

480

18,9

510

20,1

530

20,9

B

Seat Tube Angle

(degrees)

77,0°

77,0°

77,0°

77,0°

C

Top Tube Length

(mm)

(inch)

480

18,9

500

19,7

515

20,3

540

21,3

D

Head Tube Length

(mm)

(inch)

80

3,1

80

3,1

95

3,7

125

4,9

E

Head Tube Angle

(degrees)

71,5°

72,0°

72,5°

72,5°

F

Fork Rake

(mm)

(inch)

40

1,6

40

1,6

40

1,6

40

1,6

G

Trail

(mm)

(inch)

62

2,4

68

2,7

64

2,5

64

2,5

H

Wheelbase

(mm)

(inch)

949

37,4

961

37,8

974

38,3

1001

39,4

I

Chain Stay Length

(mm)

(inch)

405

15,9

405

15,9

405

15,9

405

15,9

J

Bottom Bracket Drop

(mm)

(inch)

64

2,5

75

3

75

3

75

3

K

Stack

(mm)

(inch)

442

17,4

490

19,3

504

19,8

534

21

L

Reach

(mm)

(inch)

378

14,9

387

15,2

398

15,7

417

16,4

M

Stand Over Height

(mm)

(inch)

708

27,9

740

29,1

767

30,2

788

31

N

Handlebar Width

(mm)

(inch)

400

15,7

400

15,7

400

15,7

400

15,7

O

Stem Length

(mm)

(inch)

80

3,1

80

3,1

80

3,1

80

3,1

P

Crank Length

(mm)

(inch)

160

6,3

160

6,3

165

6,5

165

6,5

Q

Wheel Size

F650C/R700C

700C

700C

700C
Giant se reserva el derecho a modificar especificaciones, precios o colores sin previo aviso