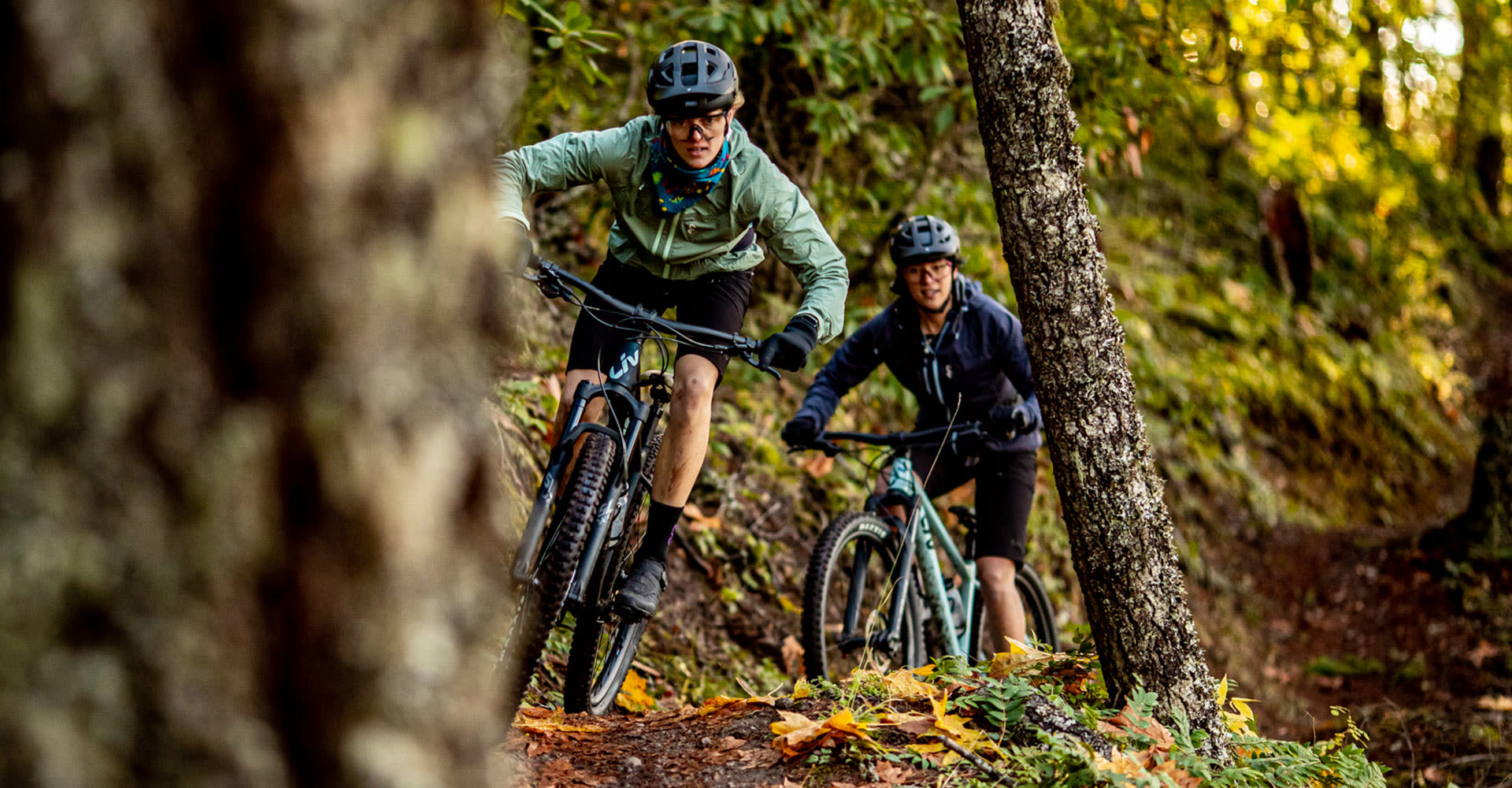 Feel more connected to the trail with the all-new Lurra. Built for charging up singletrack climbs and diving into fast, flowy descents, this hardtail trail bike is simplicity at its best.
Optimal Trail Design
Lightweight ALUXX SL-Grade Aluminum hardtail frame with a steep seat tube angle optimizes your input when powering up climbs and hammering on the flats, resulting in greater efficiency and speed. And a 66-degree head tube angle offers confidence on steep descents, while the 438mm chainstays keep it feeling stable and playful. Frame sizes are paired up with wheel sizes, providing the ideal fit for you and where you want to ride.
Boosted Confidence
Take on technical terrain with the 130mm of plush front suspension, high-volume tubeless tires offering extreme traction on roots, rocks and ruts, and a dropper seatpost allowing you to get low and ride with control.
Adventure-Ready
The Lurra comes equipped with mounts for two water bottle cages and additional mounts on the underside of the top tube allow riders to add a small gear bag for stowing tools. Internal cable routing keeps the important stuff tidy and protected, so you can stay focused on the ride ahead.
Meet Eddie
Sarah "Eddie" Edwards is an instigator of adventure, coach and guide, and outdoor evangelist.
Location: Oregon, USA
Mountain biking experience: I've only been riding for about three years. It was love at first sight. I love the people I've met and continue to meet through mountain biking. These friendships have filled my life with so much joy.
Favorite trail: Anything that's steep, flowy, rocky, and challenging with a couple of jumps sprinkled in. I dig variety and can usually be found riding my gravel bike on singletrack, hitting the bike park, or pedaling an epic loop with friends.
Inspiration: Geneva. Because she's a boss b**** and the coolest person I know.
Day job: Events manager at Crow's Feet bike and ski shop, bike travel guide, and youth mountain bike coach among various other side hustles to pay for all the bike parts I break and keep the dream alive.
Passion: Making the outdoor space more accessible, welcoming, and fun for women in Central Oregon. I've worked in collaboration with other awesome women in the community to grow women's group rides, bike mechanic clinics, ski waxing clinics, a monthly women's speaker series, film screenings, and a big women's bike and ski Google group where folks can connect. Riding bikes has brought me so much happiness and I want every woman to have the opportunity to feel that feeling.
Follow me: @shredwards23 like and subscribe to stay tuned for more kooky content *winks*
Meet Geneva
Geneva Mayall is an enrolled member of the Citizen Potawatomi Nation, advocate, educator, and spreader of stoke.
Location: Bend, Oregon, USA (Original lands of the Wasco and Warm Springs and Northern Paiute)
Mountain biking experience: I've been mountain biking since I was eight. My dad taught me and put me in a mountain bike camp where I was the only girl. It motivated me to be better and faster so I could prove to those dumb third grade boys that girls can ride too. Riding allows me to truly be present and escape after a crazy work week. I love the pure joy that comes from mountain biking and the friendships that come from facing challenging features, long days together, and sharing good snacks.
Favorite trail: Post Canyon in Hood River is up there. The trails feel like a roller coaster ride and the beautiful views of the Columbia River are an added bonus. I love flowy trails because it feels like dancing on a bike... and I like to boogie! But I also love a high-alpine all-day mission that involves creek crossings, cool plants, pretty views and A LOT of snacks.
Inspiration: My dad. He taught me how to bike, ski, and love the outdoors. Being a person of color, it was really cool to see another person of color (my dad) take up space in the outdoor industry. He did a great job mentoring me, making me feel safe, and also pushing me when I was discouraged. OBVIOUSLY, my bestie Eddie is an inspiration as well. She's really leading the charge for getting women into the outdoors and I feel extremely proud to be her friend.
Day job: I work with our local community college running their Native American program. I work with local Native students to help them feel successful in and outside of school. I also have a billion side hustles! I like to stay busy.
Passion: Making an impact in the cycling and outdoor community by taking up space. Women of color experiencing joy in the outdoors and feeling safe is a radical action in itself. We need more of us and more visibility so little girls, like I once was, can see people that look like them in these spaces and believe they belong in the outdoor recreation community too. I also love coaching youth mountain bike programs, one of my favorites is working with a group of Latinx teenagers through a program called Vamonos Outside.
Follow me: You can take a sip of @gen_n_juus (my instagram handle) ;-)