Race Report: Enduro World Series Whistler, BC, Canada
Rough and Rowdy, EWS Round #6 at Crankworx, Whistler
Round 6 of the Enduro World Series kicks off Crankworx, Whistler – the week and a half long mountain bike festival. It is the one venue that has been on the EWS calendar since its inception and never gets old.  Riders can't wait to get to Whistler to ride the legendary bike park and backcountry classic trails while fans line the course is to see their favorite athletes tear up the terrain. Unlike some other EWS stops this year, there would be no threat of rain that plagues so many races. Instead, the racers were met with the opposite challenge: dry, dusty trails filled with holes from thousands of sliding tires.
The biggest obstacle of EWS Whistler's one-day, five-stage race? Stage 5 – A 20+ minute behemoth that takes riders from the barren, rocky terrain and gorgeous views of the Top of the World and connects 13 different trails to deposit the riders back in the center of Whistler Village.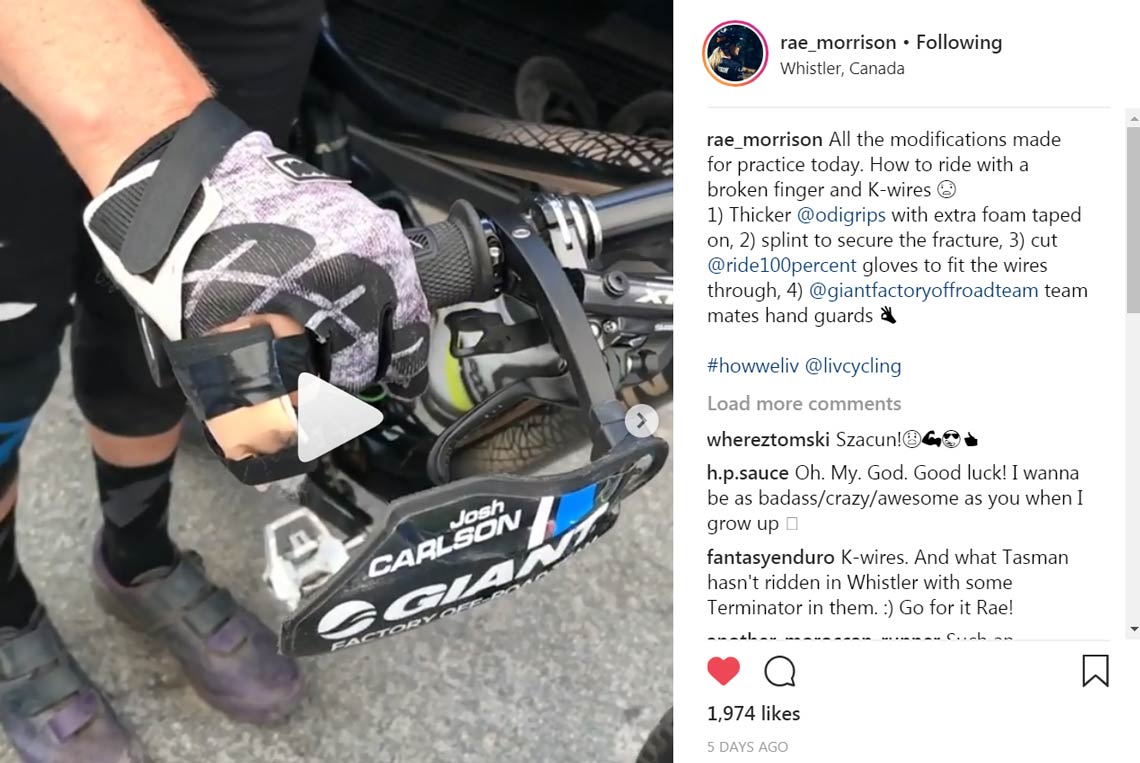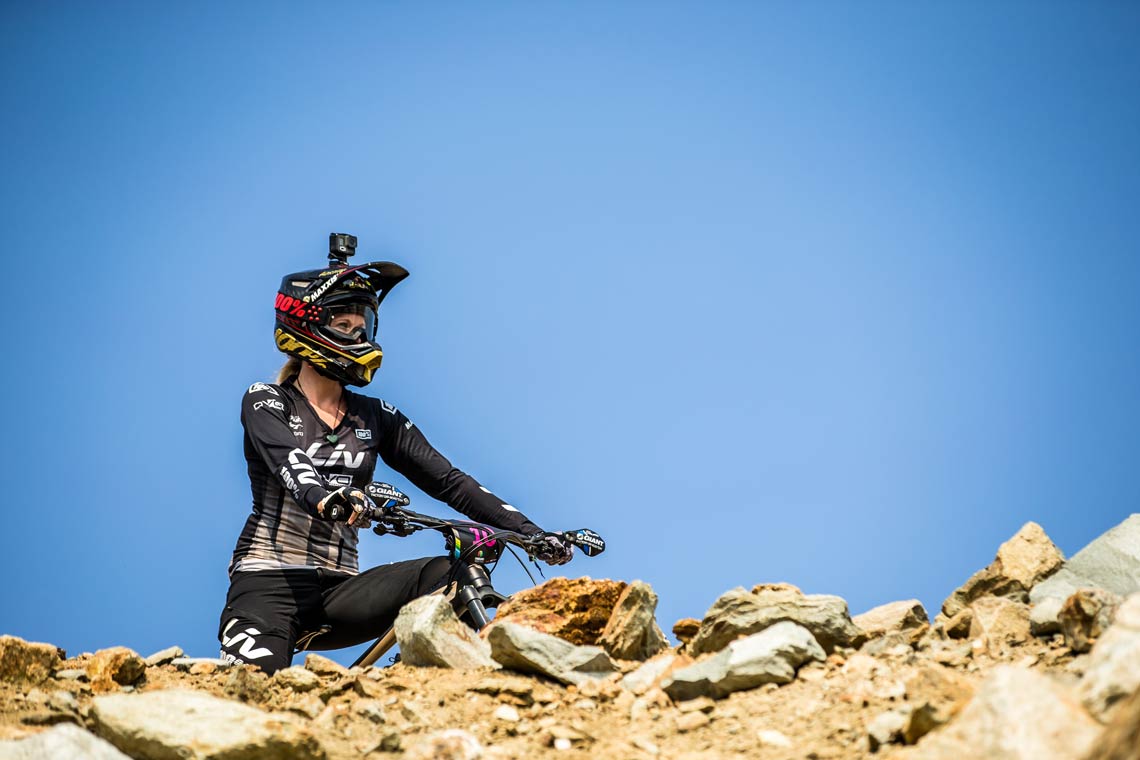 After punching a rock in La Thuile, Liv & Giant Factory Off-Road Team's Rae Morrison headed straight to British Columbia to see a specialist and have surgery on her mangled pinky finger. With wires holding the bone in place and an intricate system of support on her handlebars, she attempted to practice the demanding tracks – but it was to no avail. Pain and weakness in Rae's hand would make it impossible for her to hold on over the course of five stages. She continues to train and heal and will be back for the final two EWS rounds in Spain and Italy.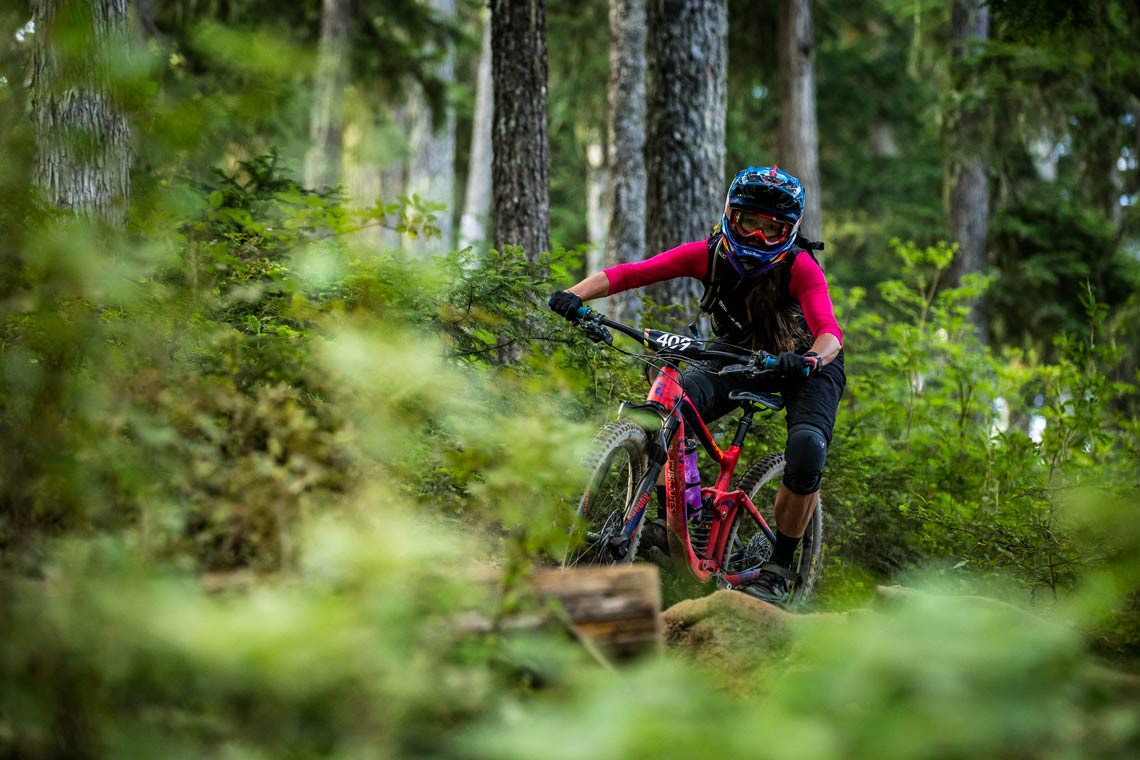 Whistler local and Liv athlete Leonie Picton, however, was chomping at the bit to race of in her backyard. Her knowledge of the trails and persistence – even after a bad fall – put her in an impressive 15th overall in the largest women's elite field all year.  We caught up with Leonie after her smashing fifth-place Crankworx Air DH finish to get the inside scoop on both races.  Follow along below.
Photography by Boris Beyer.

Liv: Since you've lived in Whistler for 6 years, this is now your home mountain. How does this round of the EWS compare to the other races you've been to this season? How did you feel coming into this race, having the hometown advantage?
Leonie: I was feeling pretty comfortable coming into this race, as knowing the trails does help with your confidence. At the other EWS races, there is so much more mental preparation required. Racing a hard feature on a trail is significantly easier when you have ridden it more than once. Having a hometown advantage has its pros and cons. While you are confident knowing you can ride the trails much faster than if it was just your first time, you also have this lingering weight on your shoulders of a higher expectation. You want to show your friends and family that you have what it takes to be the best. And you fear falling short of the expectations.
Liv: What stage did you feel the best on and which gave you the greatest challenge?
Leonie: My favorite was Stage 1. I was super hyped up at the start of the day. Maybe too much sugar for breakfast, Ha! I felt that I hit all my lines and pushed hard.
Stage 5 gave me the biggest challenge. I have been working hard on my fitness this year, but I still have such a long way to go. This stage was so long and had a large amount of pedaling involved in the top section. I didn't want to burn myself out in the first few minutes of the trail knowing how big this stage was.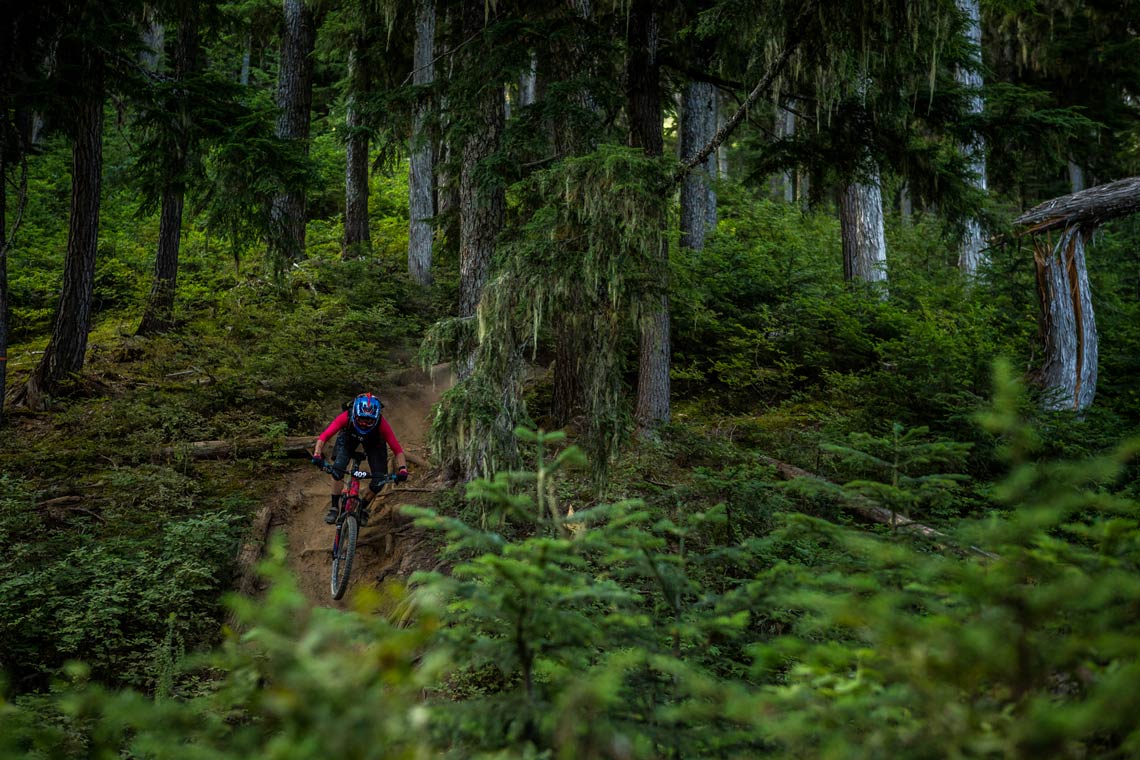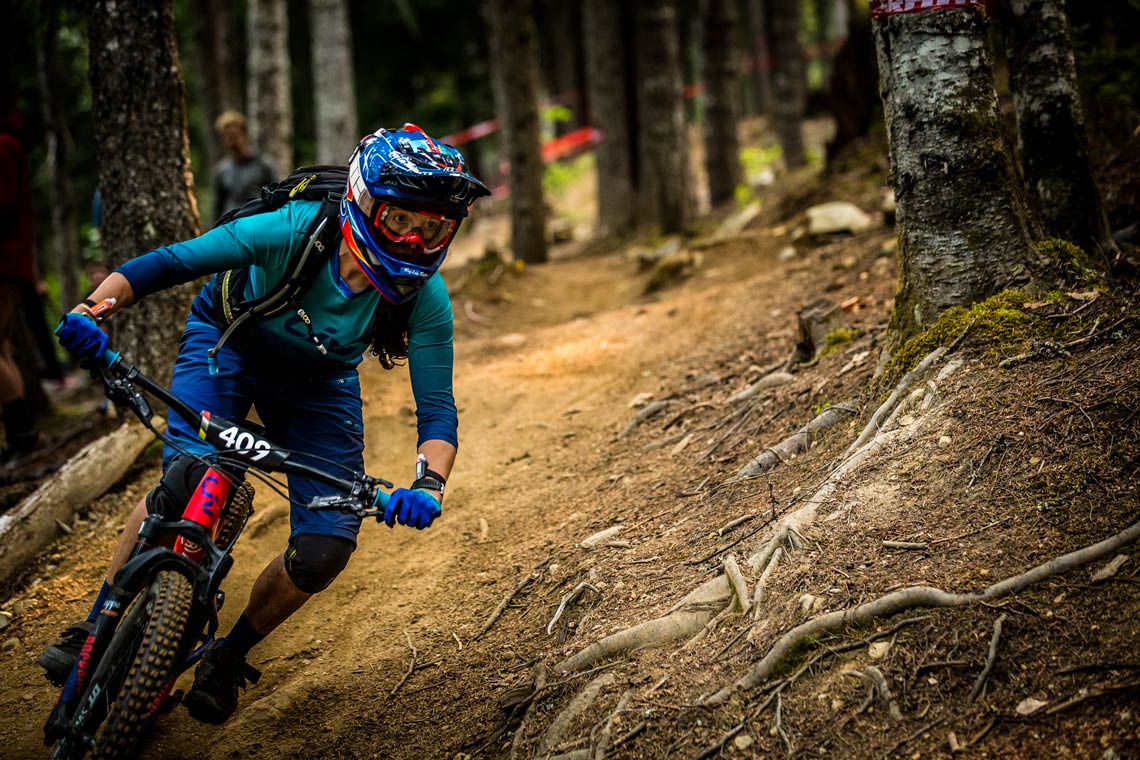 Liv: What were the conditions like out on course?
Leonie: It was rough. The trails had deep holes. After the first stage, I realized my arms couldn't keep up. I knew I would have to pace myself a little more than I wanted. Knowing the trails well did help me because I could pick different lines to get out of the rough.  
Liv: Unlike the past few races, this EWS stop was a one-day event. What did that mean for your strategy?
Leonie: I think about how much I need to pace myself while trying to be realistic and not pacing myself too much. Once I get out there, I just get it done. I try to not think about how much harder a one-day event is. I think about the small milestones; 1 down, 4 to go; yeah half way point; only 1 to go. I try to keep my thoughts positive.
Liv: Do you have any superstitions or routines the night before or morning of a race?
Leonie: I am not a superstitious person about racing, but I am a huge stress head. While I don't see it as a routine, the night before I like to get every little detail sorted. All my gear is laid out and food packed, everything in its place ready for the morning. Knowing that everything is in order before I go to bed helps me get a good night's sleep.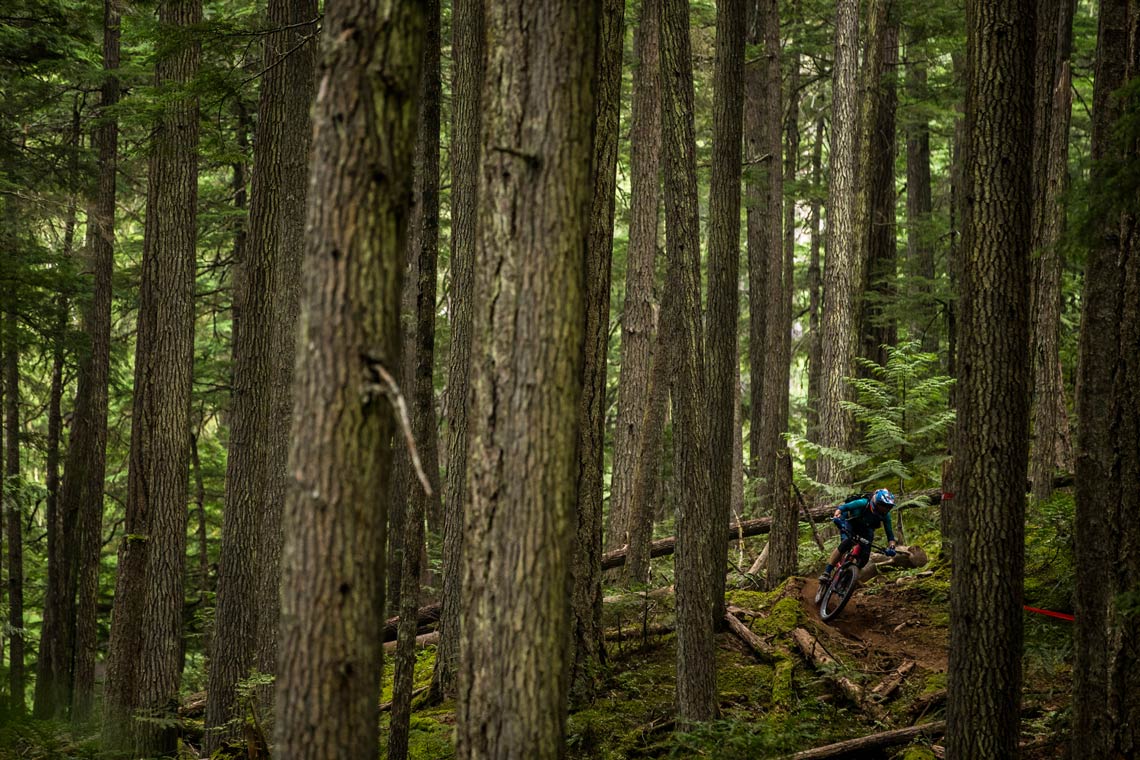 Liv: What is your strategy going into a long day like EWS Whistler, particularly knowing the last stage is the biggest and baddest?
Leonie: I focus on food and water intake. You can't expect your body to perform well and for a long time if you're not fueling it right. I try to drink as often as possible. There is no point drinking big gulps of water once you feel thirsty. It's the same with food. I try to eat little bits of food frequently.
Liv: Many of the riders, including the day's winner, had issues with flats and wheel damage. How do you mitigate those risks and keep your bike in good shape on such rough trails?
Leonie: I just ride and hope nothing bad happens. There is no real strategic plan.
Liv: You were having some great runs, until stage 4. What happened and how did it affect you heading into the final stage?
Leonie: Stage 4 was going so well. I felt like I was nailing it until my front wheel slipped out on a bridge about 200 meters before the finish line. I have honestly never hit the ground so hard before in my life, it felt like I was on the ground for an eternity. I was hurting. My pedal got jammed in between the slats of wood on the bridge, my handle bars were twisted and my brake lever was pointing skyward. After getting my act together and crossing the finish line, I took some time to evaluate how I felt. I knew my ribs weren't broken but I could barely lift my arm and couldn't hold any weight with it.
I was so disappointed, but I didn't want this to be the end of my day. I decided to make my way up to the start of Stage 5 and reassess at the top.
I dropped into Stage 5 not knowing what was going to happen. I wanted to finish, I just didn't know if I would be racing to the finish or just riding down. The adrenaline kicked in about a minute into the stage. I was attacking the corners and pedaling hard. I really don't know how I managed to get my best stage result of the day on Stage 5.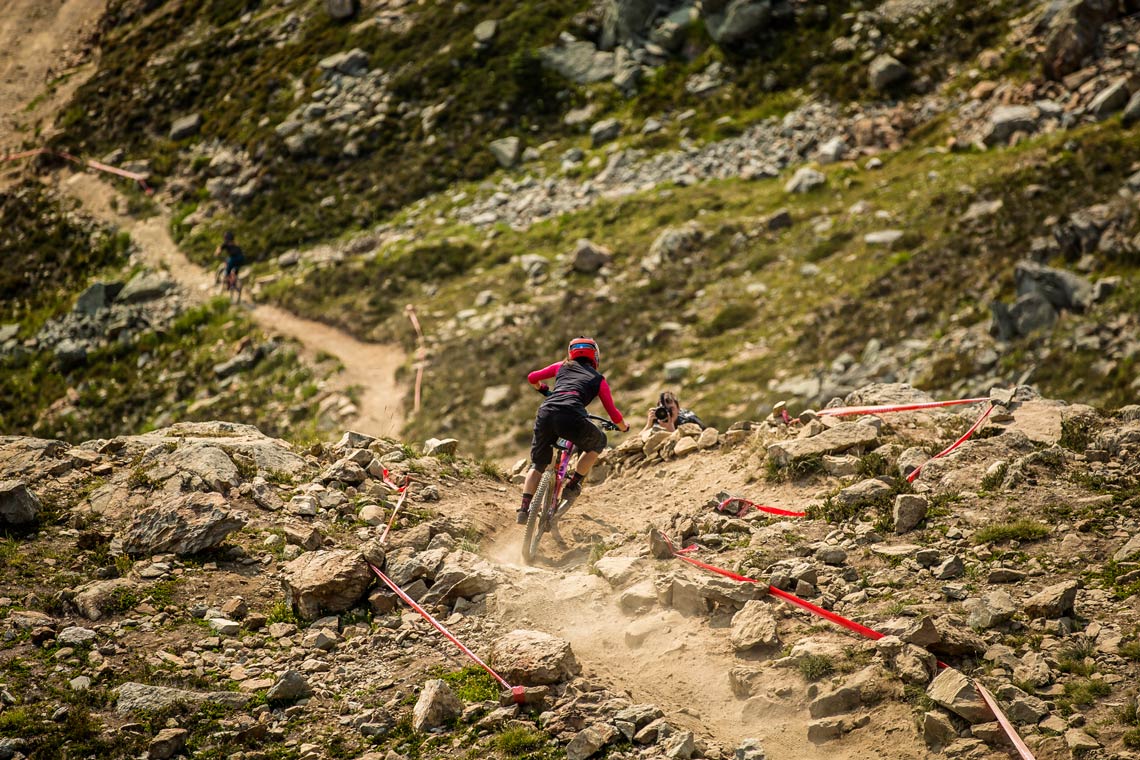 Liv: How do you approach a 25-minute stage like the last stage of the day from the Top of the World?
Leonie: As you descend down the stage, you get excited about the trail your on and knowing you are getting closer to the finish. Finishing 'Top of the World', jumping into 'No Joke' at full speed, then flying down 'Expressway' into 'Too tight'. It's the excitement of reaching the next trail.   
Liv: How did it feel to cross the finish?
Leonie: I was so thrilled to have finished and be surrounded by my friends in the finish arena, but I also felt like I should have gone straight to the hospital. I was fortunate enough to only have bad bruising after my fall on stage 4. But, I've still been wearing a shoulder and wrist brace since Sunday.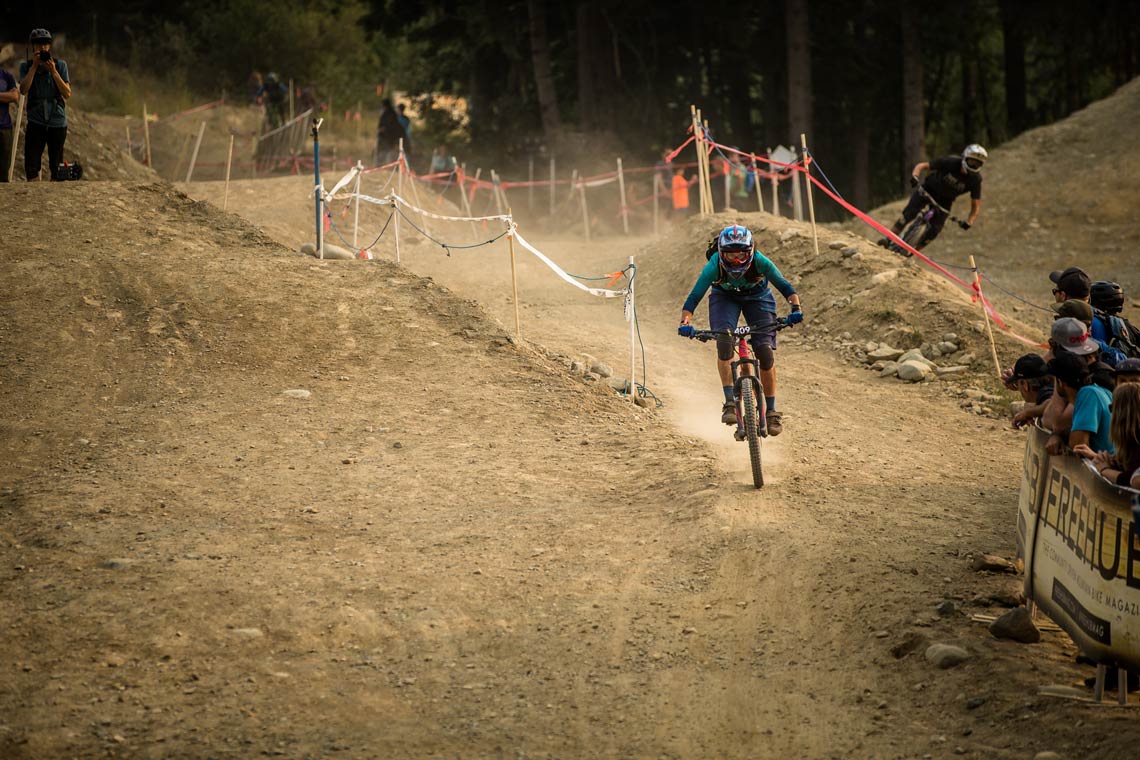 Liv: You decided to enter the Air DH race just a couple days after the EWS. This race has you flying down Whistler's famous jump trail, A-Line. Why did you choose to participate in the Air DH? What was your goal?
Leonie: I wanted to have a go just for fun. I have had some mental demons in the past with jumps and I finally felt confident enough to give it a go. My goal was to have fun and try lay down a time for at least top 10.
Liv: With only 10 of the top riders left to go, you sat in second. But rider after rider, you stayed there. Ending up 5th in that kind of a field is huge. How did it go? Will you do more races like that in the future?
Leonie: It was cool. I haven't been that excited in a while. I just really couldn't believe what I was seeing. I kept turning to Georgia (placed one spot above me) to see if it was really happening. What a feeling.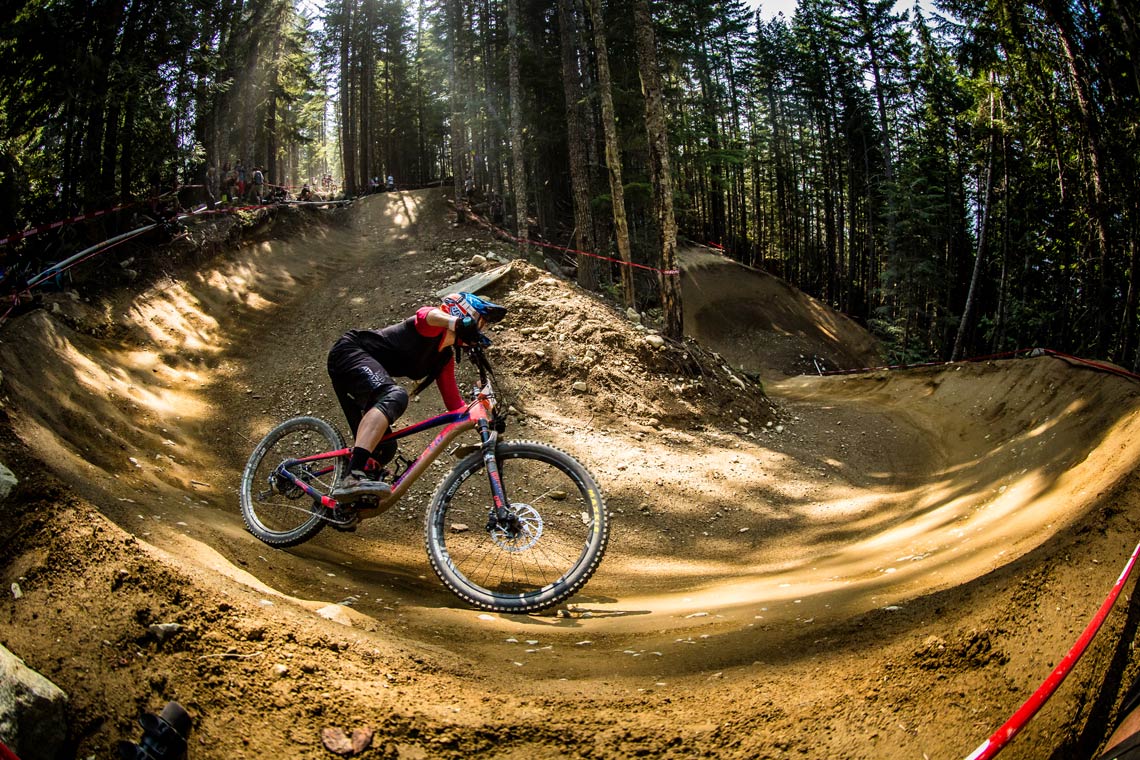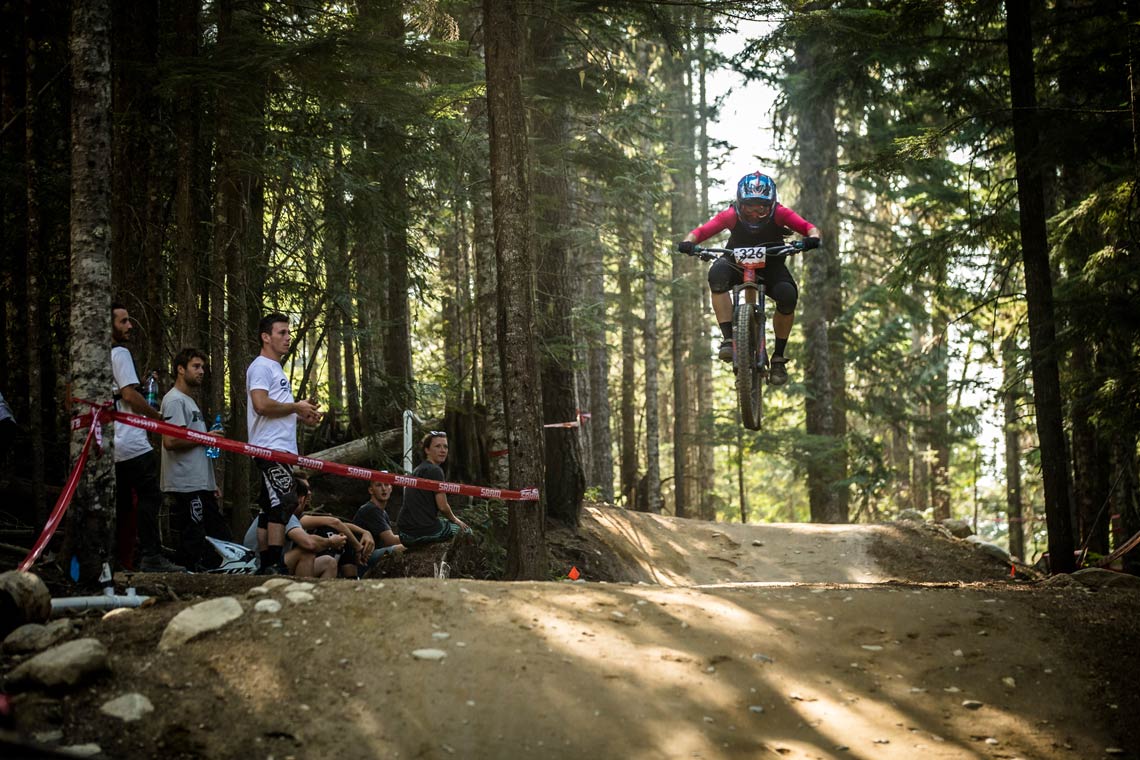 Sven Martin Photos.
Liv: What's next on your schedule?
Leonie: I'll be heading to the last 2 rounds of EWS next month. And then a holiday is in order, I think.
Learn more about Rae and Leonie by clicking the links below, and keep up with the latest news by following them on social media!