Liv Racing Report: Enduro World Series Crans-Montana
Liv Racing Collective teammates Leonie Picton, Rae Morrison, and Riley Miller, along with Liv Factory Racing athlete Isabella Naughton had a quick turnaround from the last Enduro World Series round in France to arrive in Crans-Montana, Switzerland. The 10-hour drive took the riders high into the Swiss Alps. Dropping into the first stage of the race, you can look across the valley and just see Zermatt, where the EWS has been hosted in the past. But this was the first time athletes would test out Crans-Montana's high-speed bike park stages.
The EWS riders were in for the Pro Stage on Saturday, a 1.81-kilometer course with 333 meters of vertical drop that started in the bike park, descended through steep, technical loam, and wrapped with an urban finish. The following day, they would tackle 33.51 kilometers between the transfers and four race courses. Riley, racing the EWS80, would tackle three of the same stages as the pros – including the Pro Stage – on Saturday.
We caught up with the riders ahead of their travel to Italy.
All photos by Sven Martin Photography, except where noted.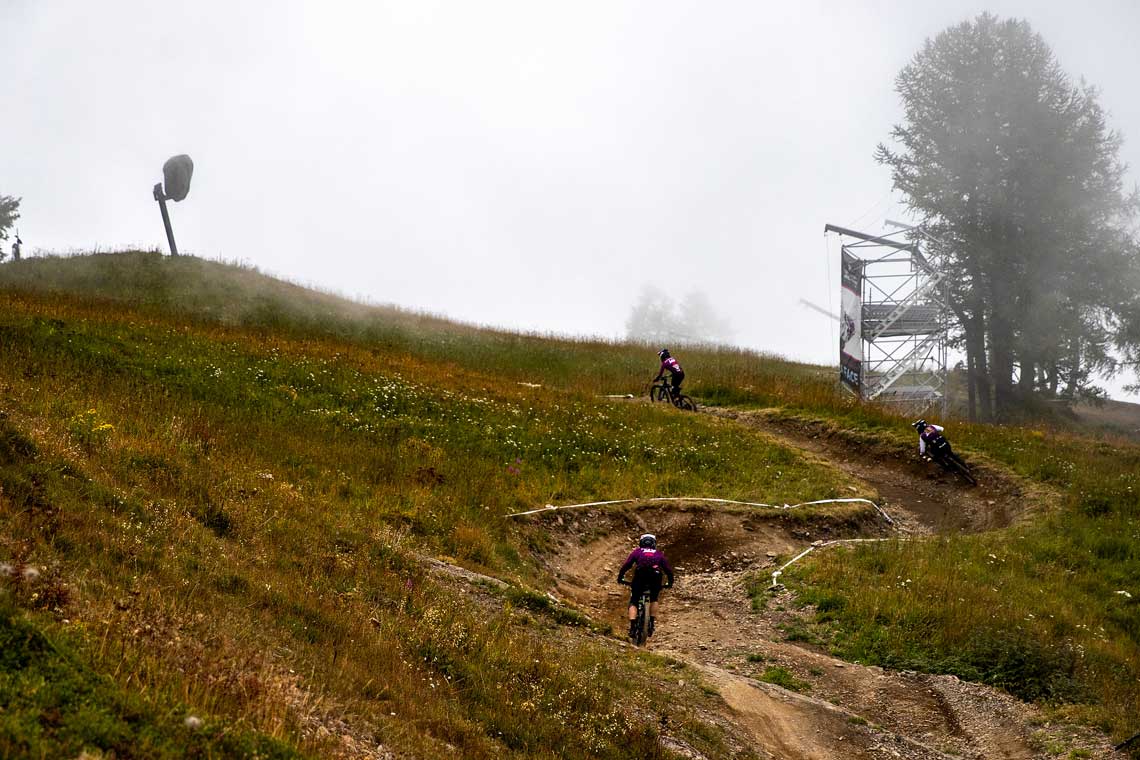 Rae Morrison
11th, Pro Women
Liv: After such a hectic week in Loudenvielle and a 10-hour drive to Crans-Montana, how do you manage your recovery with preparing for the next race?
Rae: After two races in a week followed by the 10 hour drive to the next venue, recovery was so important. I made sure I had good nutrition straight after the race and a cold shower. Then during the drive, I wore my compression socks to help keep good circulation in my legs and had a tennis ball I would use to trigger point my sore muscles.
Liv: What did you think about the courses for this weekend? Did they play to your strengths? 
Rae: I loved the course it was so much fun. It was not my strength, but I still had a great time. There aren't many bike park trails where I am from. Usually, I go to Whistler each year to build confidence on berms and big jumps but I haven't been there for two years since before Covid. It took me a bit of time in practice to feel comfortable on those trails and to hit the bigger jumps. I felt like I really pushed outside my comfort zone which I'm proud of.
Liv: What was your favorite moment outside of the tape this week? 
Rae: We found a nice Chinese restaurant that had amazing food. I've been in Europe for 3 months now so finding some different and delicious food was definitely a highlight.
Liv: With the level of talent in the women's field continuing to rise, mistakes and crashes can have a big impact, where perhaps in the past you could make up for mistakes in the next stage. Has this affected your approach to the race at all?
Rae: The level of the women's field is so exciting. The times are so incredibly tight you can't afford any big mistakes. Because we only ride the tracks once, I think mistakes are always going to happen, but big crashes or mistakes that cost a lot of time are very costly. I went from 9th to 17th in one bad stage after a crash. I only lost 15 seconds, but nowadays that can be a lot of placings. Luckily there was one more stage for me to make up some more time, but I think it makes for great and exciting racing.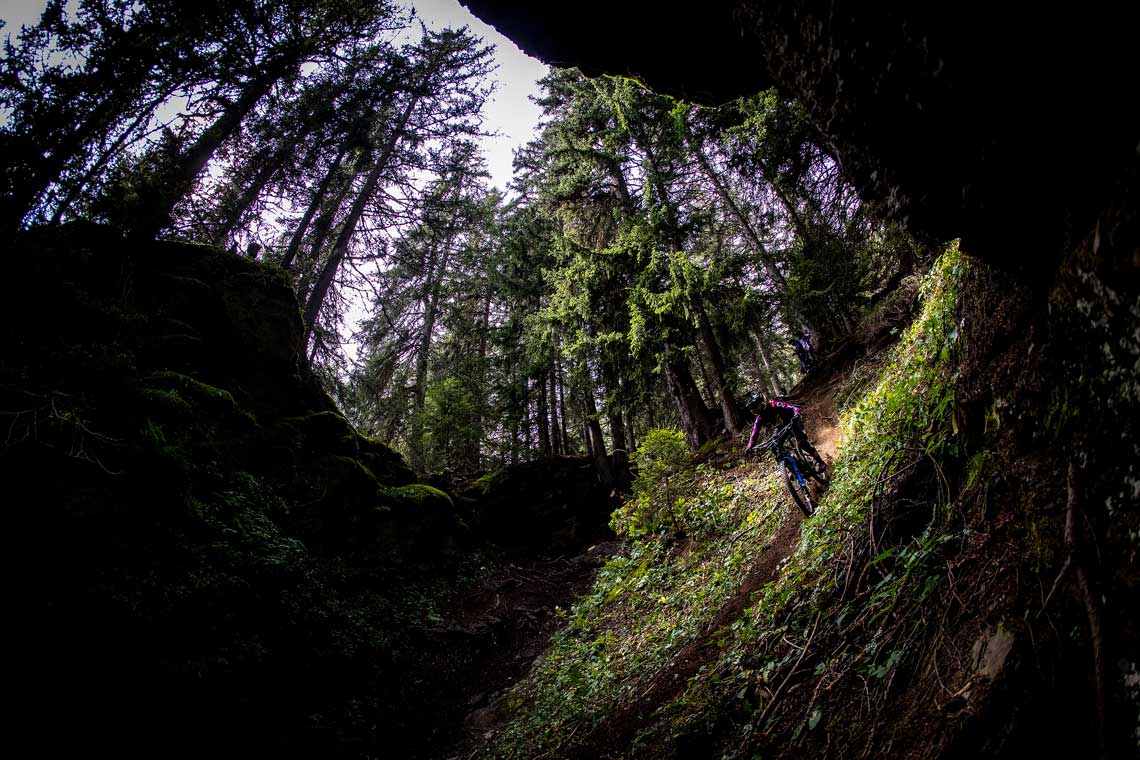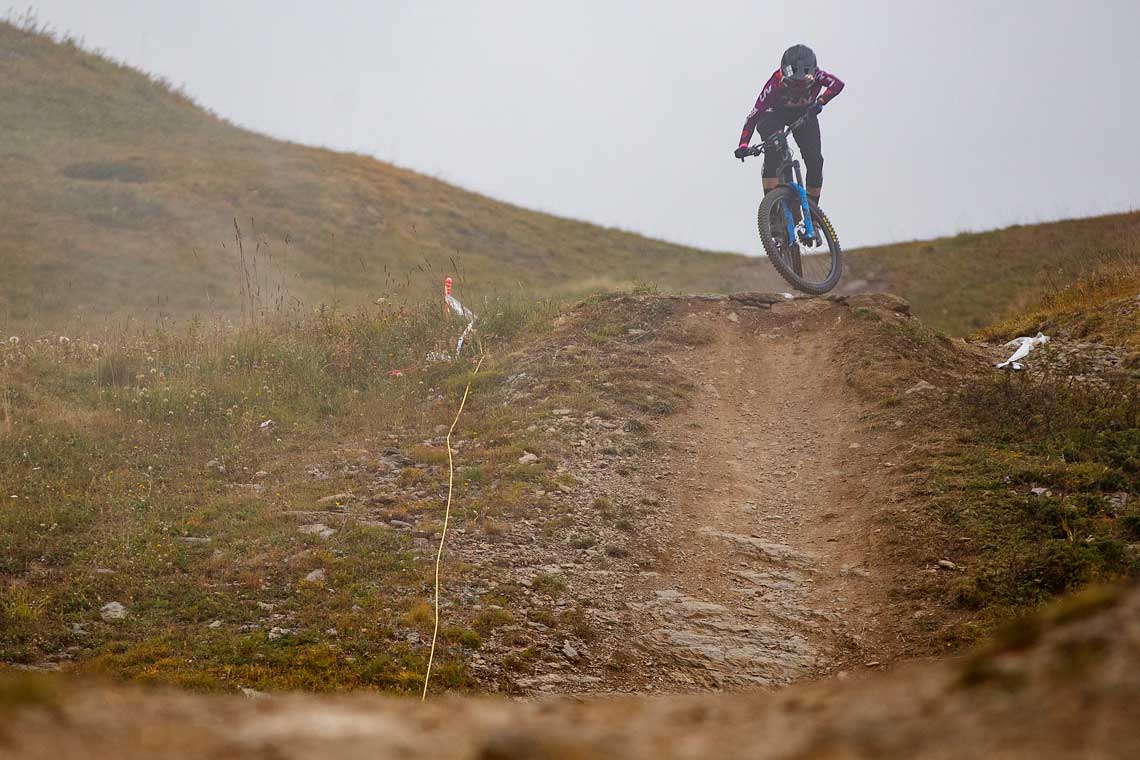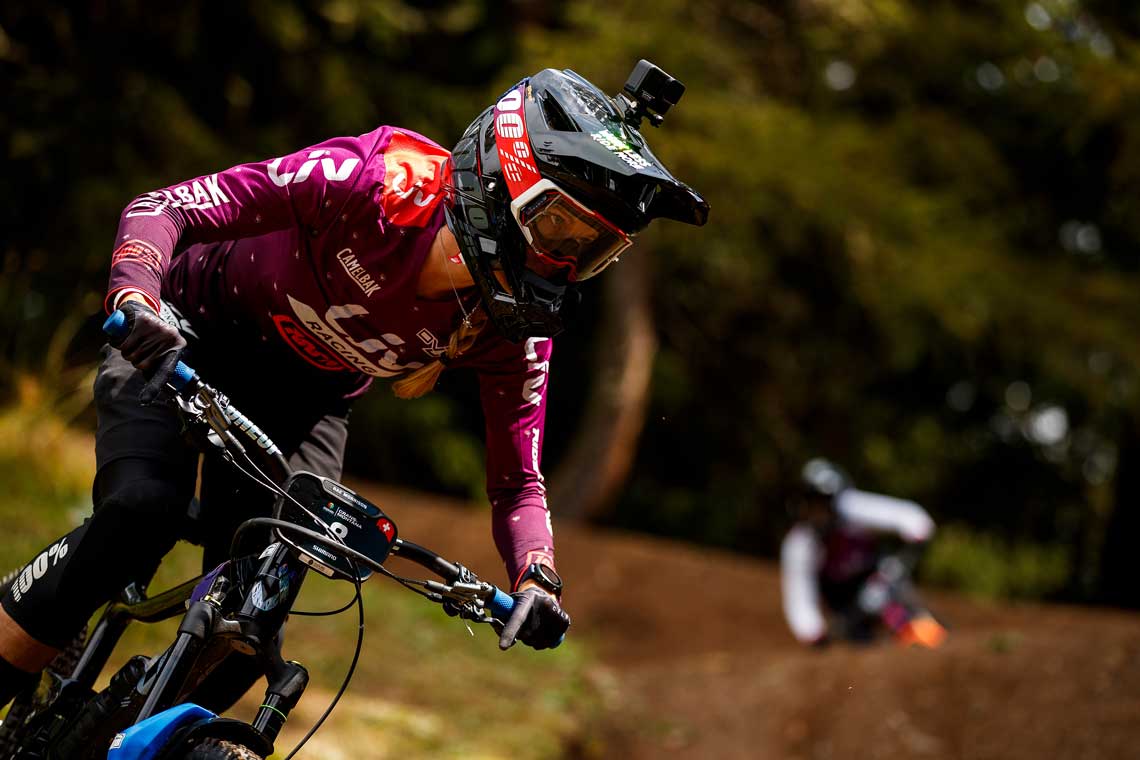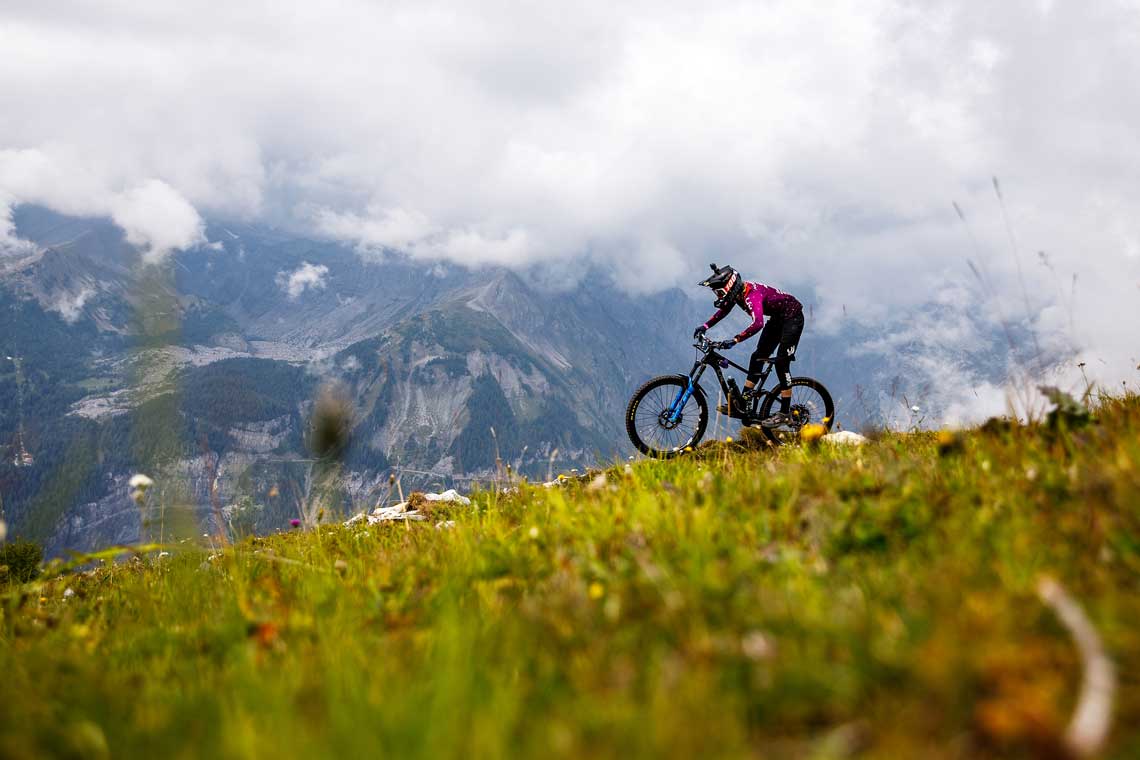 Leonie Picton
1st, Masters Women</h3
Liv: This is the first race of the season that wasn't a double-header, did that affect your mindset going into the race? Physically are you able to push more? 
Leonie: Im not sure if it is the elevation in Crans-Montana, or if it's because we are already in mid-September, even though is wasn't a double header, I felt so tired and by Sunday morning there was no extra energy to push harder than in the previous rounds. Maybe that's just my age catching up with me. Haha.
Liv: Overall, how did you feel on the tracks in Crans-Montana vs Loudenvielle? What were some main differences this week vs last? 
Leonie: The biggest difference between the two locations was the number of jumps, and good-sized ones too. It created a new hype around the pits and out on the trails. I think everyone was pretty excited. I really enjoy a good jump trails, so I was just having so much fun out there.
Liv: What was your favorite stage of the weekend and why?
Leonie:  It's a little difficult to pick a favourite. Each trail was pretty unique. I had the most fun on stage 5. It started off in the bike park with fast sections, lots of jumps, and some good-sized berms. Then cut into a fresh new trail which had some awesome steeper sections and fun rock features, and finally finishing off with a short urban section with the wooden jump into the finish area.
Liv: How will you be spending the week leading up to Finale? 
Leonie: We are heading straight to Finale for the shakedown ride on Tuesday, then two days off sitting by the beach eating gelato, before it all kicks off again on Friday for practice.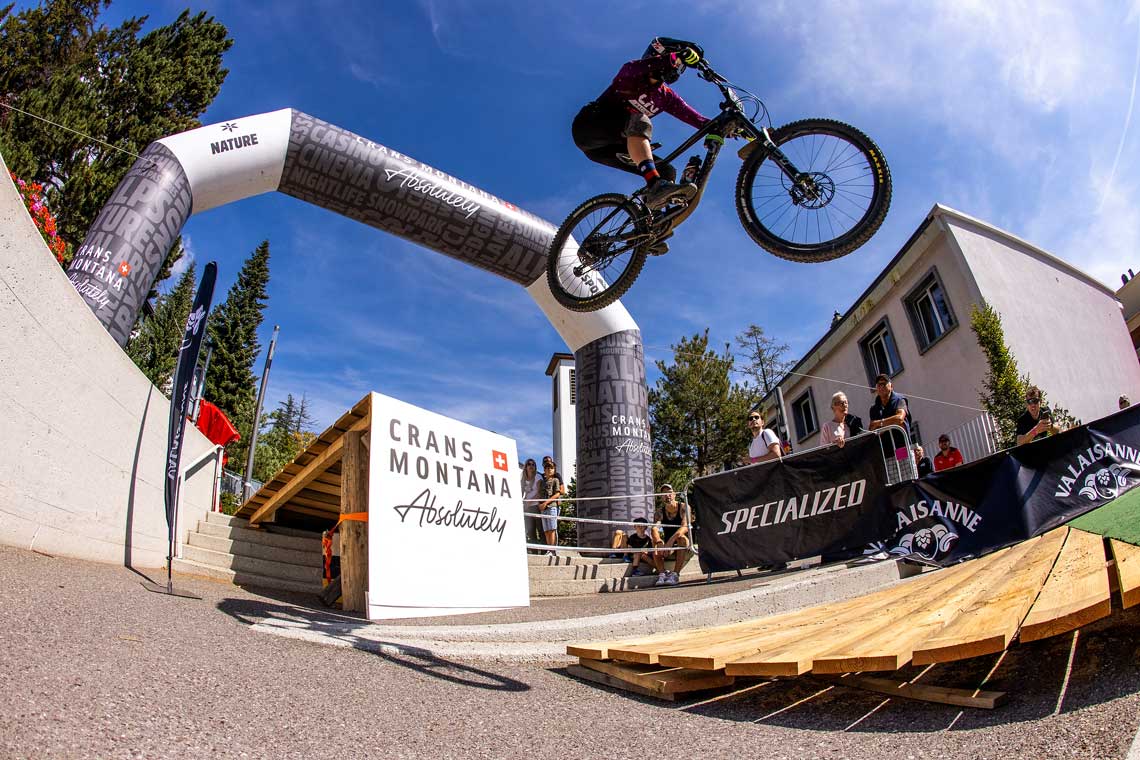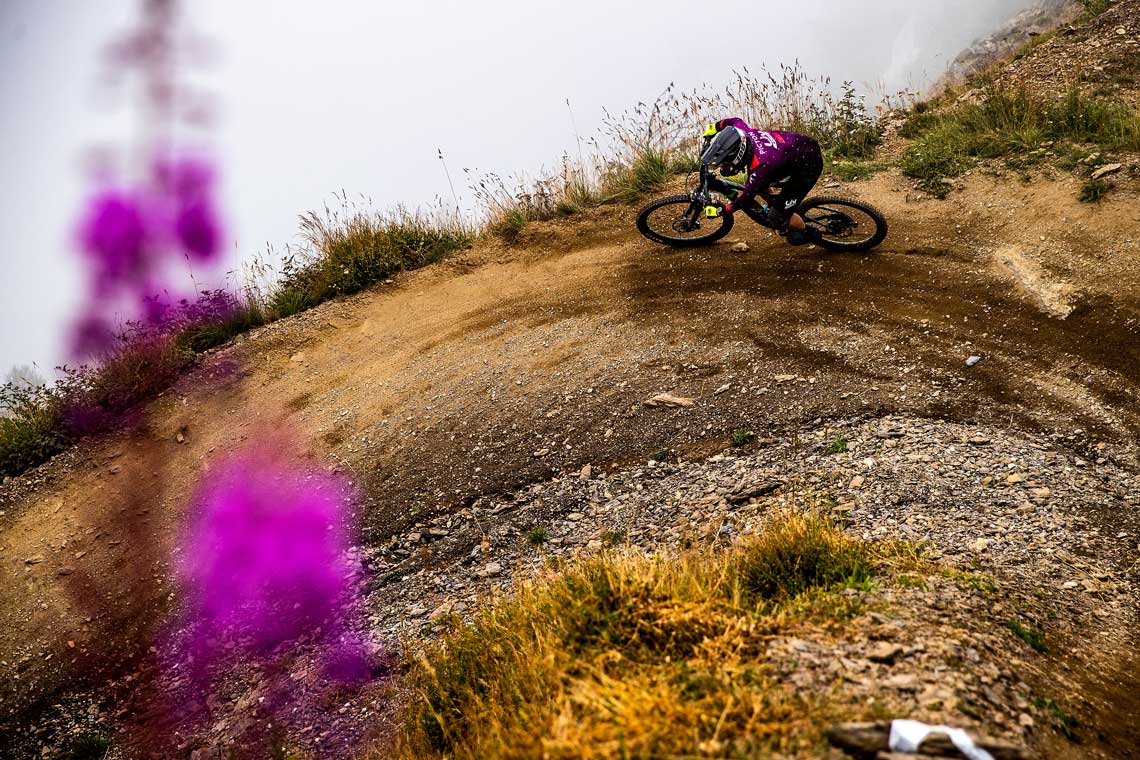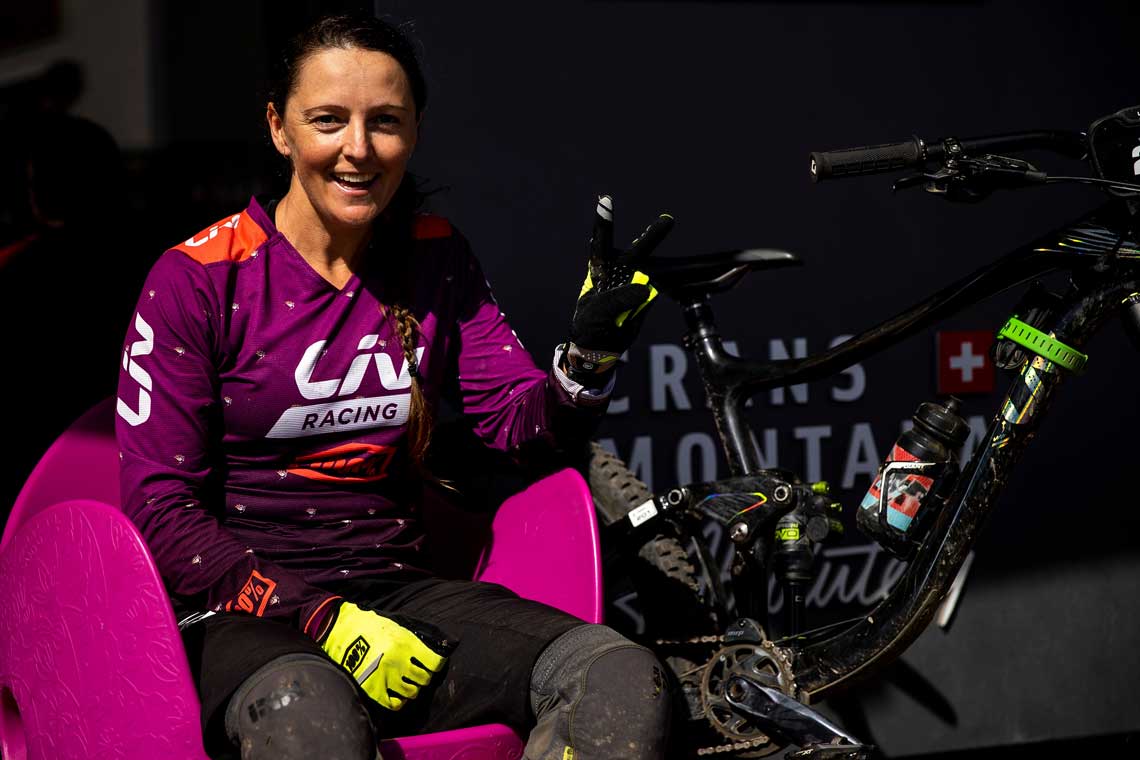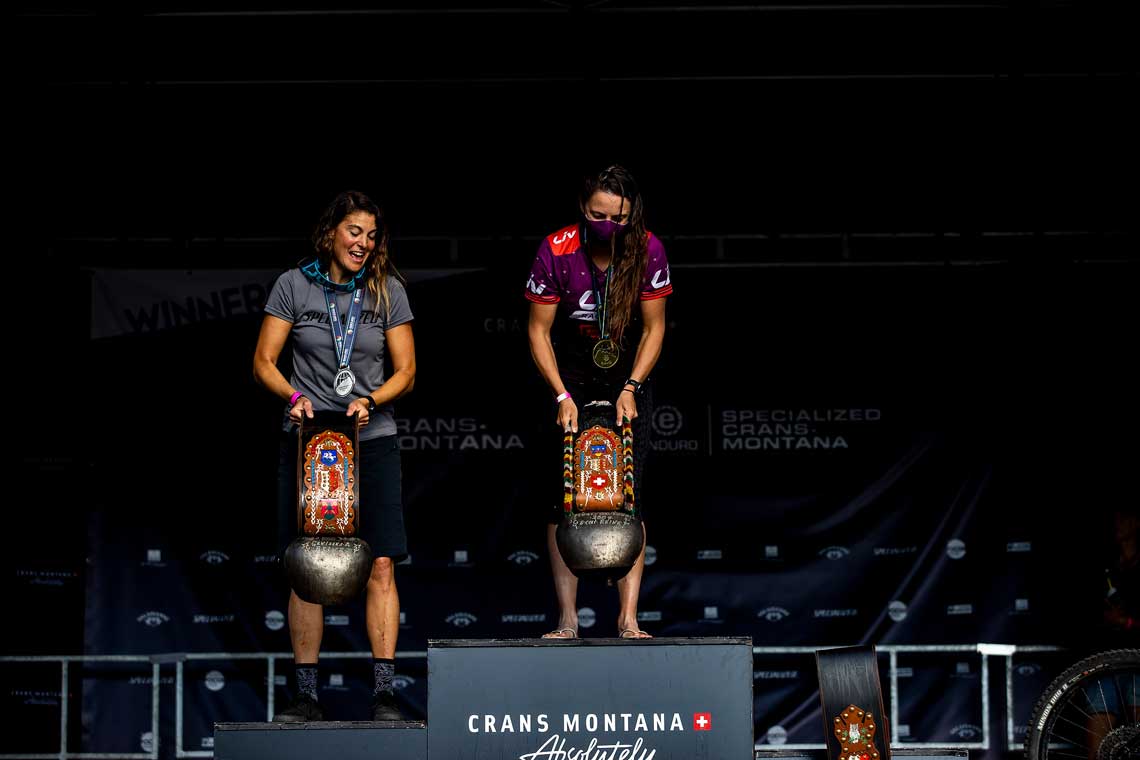 Isabella Naughton
15th, Pro Women
Liv: Heading into the race this weekend, is there anything you did differently during practice or course walks? 
Bella: I walked two full stages this race, which I hadn't been doing as much of and it really does help a lot, especially when you only get one practice run on each stage. And then, in practice I rode with Rae and Leonie and just enjoyed riding my bike again.
Liv: What about bike setup? Is there anything you changed coming off last weekend in Loudenvielle or things you have been experimenting with? 
Bella: Yes, I worked with Joules at Fox and I changed my fork setup quite a bit. I went from a 170mm fox fork to 160mm in hopes it would help me get more over the front of my bike and help with my cornering. It did just that and I instantly felt more comfortable.
Liv: What was your favorite stage of the weekend and why? 
Bella: My favorite stage this weekend was stage 3. To me, it mimiced more of a downhill track or tracks back home and I was just super comfortable on it and hit all my lines exactly how I wanted to which resulted in 10th on that stage. Although I really enjoyed all the stages this weekend, there were some gap jumps that took a second for me to be comfortable hitting, but once I did it gave me the biggest smile to do it.
Liv: You mentioned last week that your goal was to be consistently in the top 20 and working toward the top 15, well you've now accomplished that - how does it feel?
Bella: Getting my first top-15 in this supe-stacked field of Pro ladies is something I thought would take a lot longer to achieve, let alone being 10th on stage 3. It feels really good and it's really motivating to know that I'm moving in the right direction. I told myself that I just need to have fun on the bike again, take the aspect of it being a race out and just enjoy the process. Riding with the Liv ladies in practice was so fun and following Rae was really beneficial for me. My main goals for the rest of the season are to continue to enjoy the process and remember this feeling of what it took to ride fast this weekend. I'd like to work on continuing to be in the top 15 overall and treat each stage as it's own race to work on more top-10 stage finishes.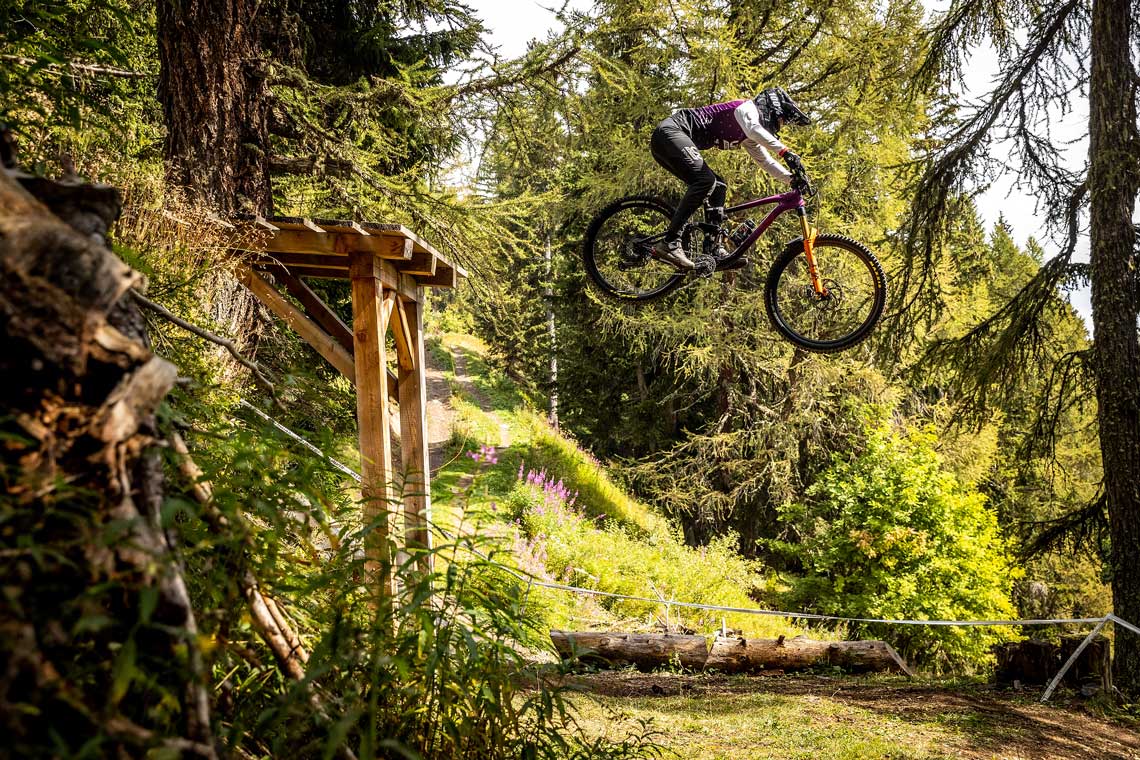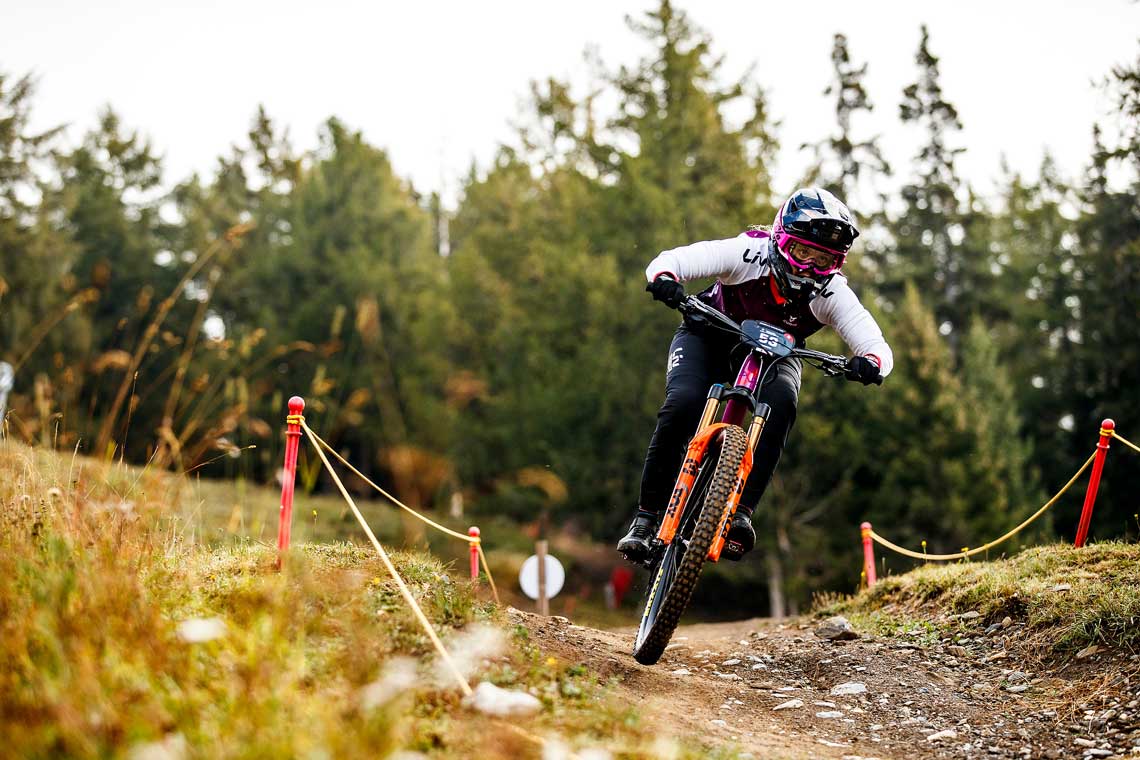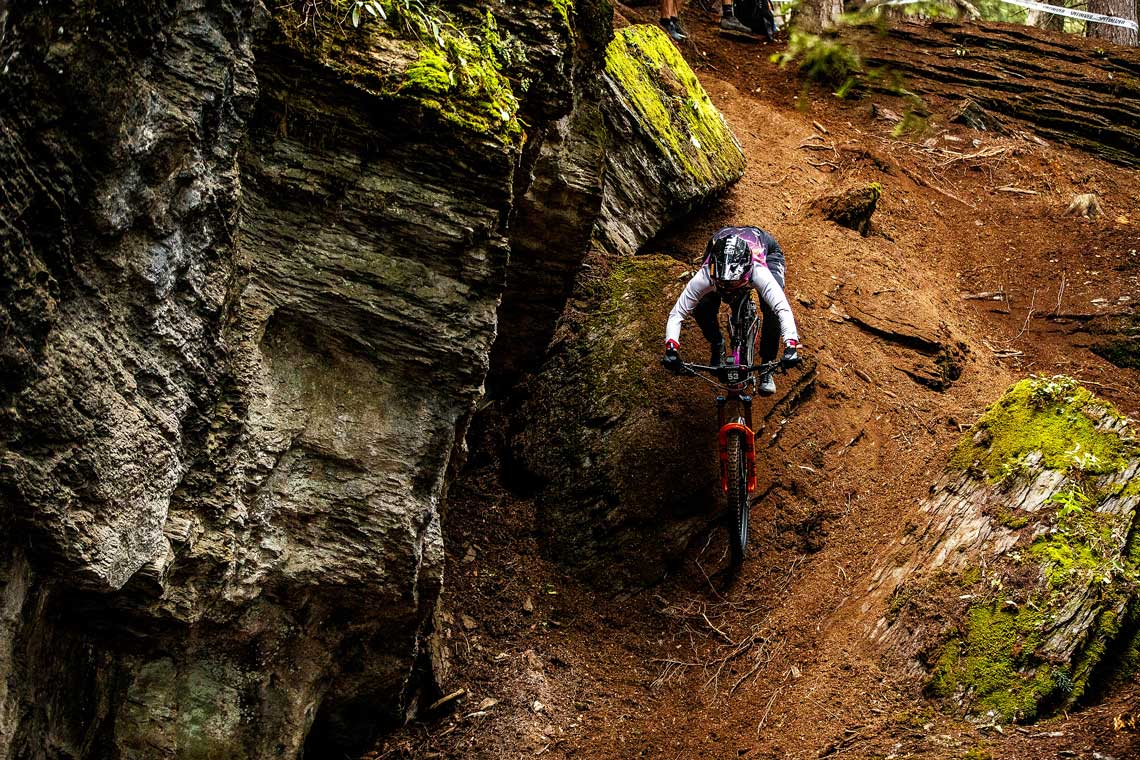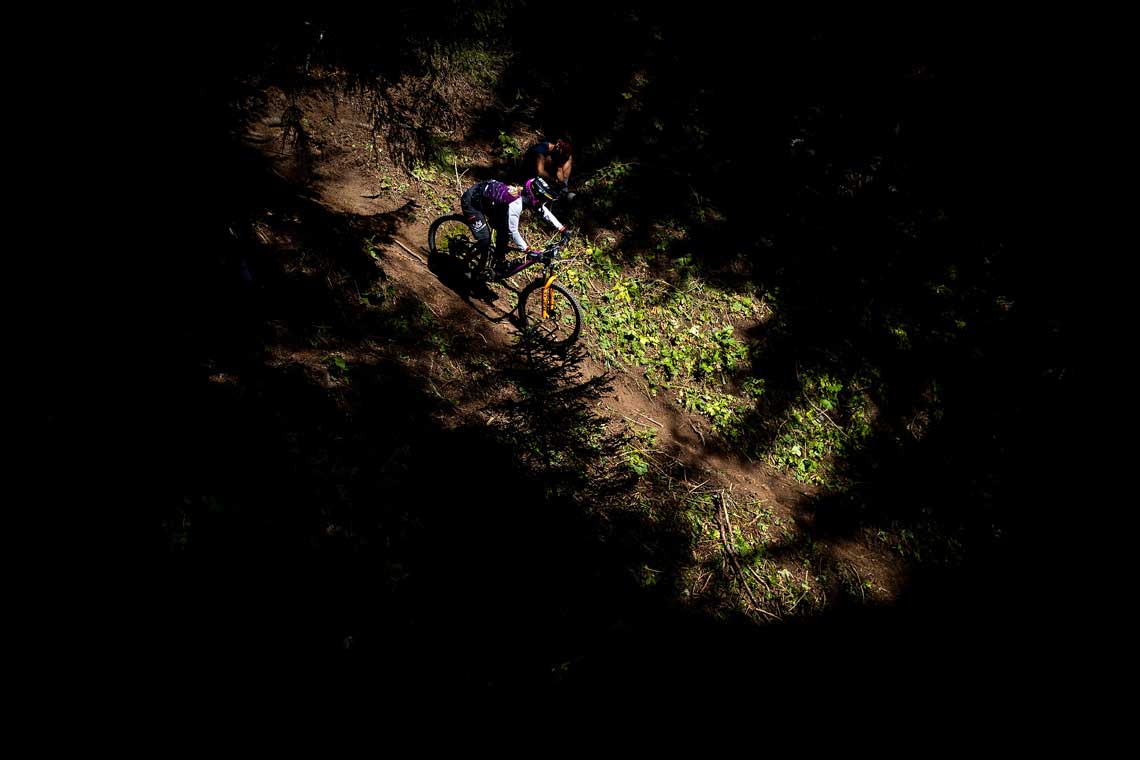 Riley Miller
EWS80 | 2nd Youth Women 13-16
Liv: What were the tracks like in Crans-Montana compared to Loudenvielle? What was your favorite stage and why? 
Riley: The tracks were so much different. Loudenvielle had a lot of grassy corners with flow and ruts on some tracks and steep shoots and hard 180-degree turns on others. Crans-Montana was loamy with jumps and drops, flow, rock gardens, open flat track, and a ton of roots. It was slightly less wet in Loudenvielle, but about the same conditions.
Liv: How does racing in Europe differ from racing in the US? What has been the hardest thing to get used to/ the biggest obstacle you've overcome so far? 
Riley: Racing is racing. The scale of the event and the amount of people who come from around the world is different. The hardest part is figuring out the race schedule and logistics – it's very easy to get confused on which courses and transfers are where, which courses are in my race (EWS80), when you can practice/track walk, etc.
Liv: What are the top three things you've learned from your Liv Racing enduro teammates? 
Riley:
Not to completely tire myself out before practice and race day.
To not stand at the top of a feature for too long.
To not be hard on yourself - to treat everything as a learning experience.
Liv: Other than racing, what has been a highlight of your trip so far? 
Riley: The experience. Just being here, eating the food, seeing the villages and landmarks, and so much more. We are travelling around to the races in a little camper van and it's been hard at times, but we always make it work!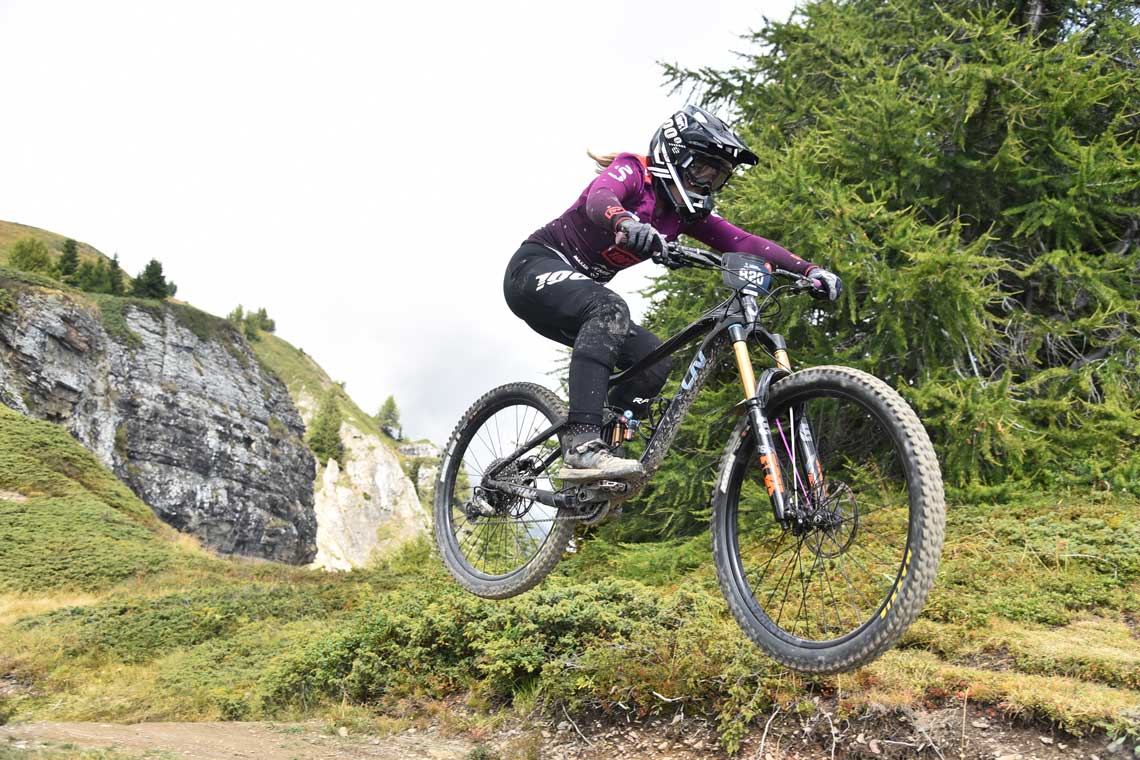 Photo by FollowRacer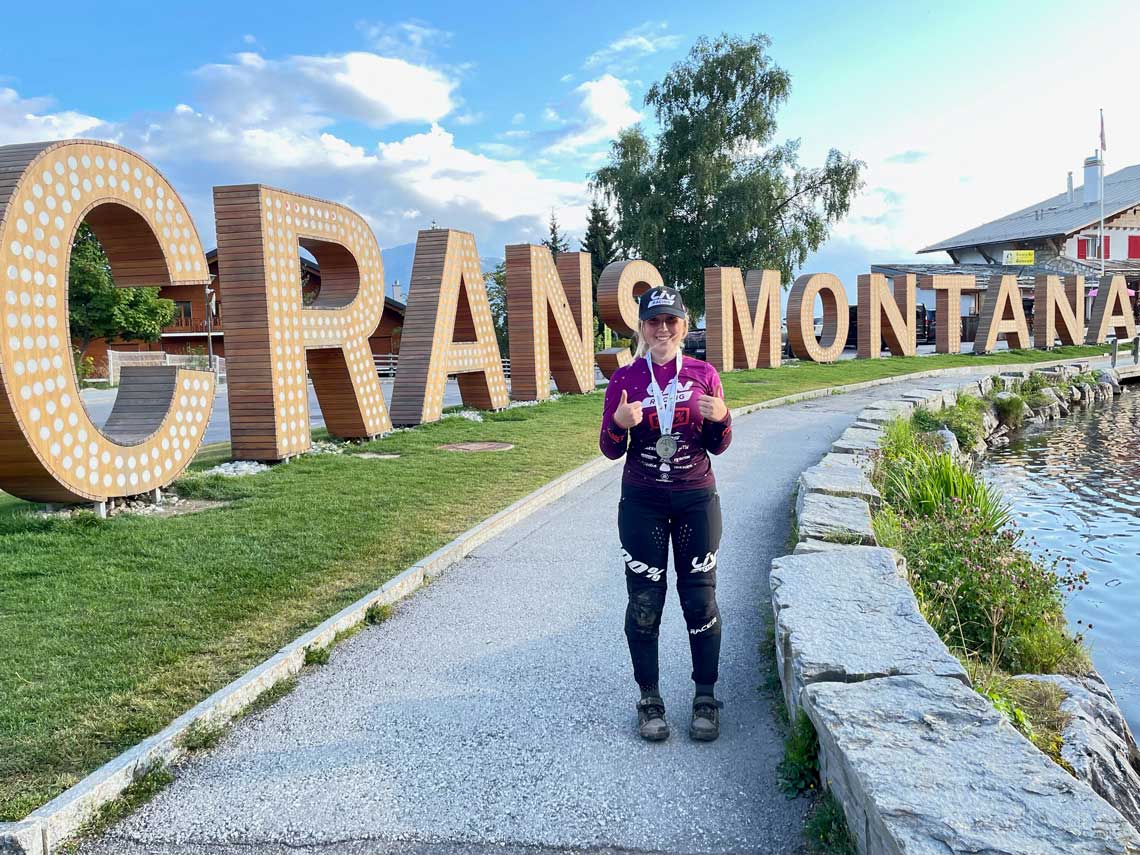 Photo courtesy Westerly Miller
The Liv Racing enduro athletes are racing again this weekend in Finale, Italy. Follow the action live at EnduroWorldSeries.com