How to Fit a Triathlon Bike
How to Increase Performance without Sacrificing Comfort
Whether you are a beginner triathlete or a seasoned cyclist, many people are misguided when it comes to how their bike should fit. Many people don't know what size road or triathlon bike they need to help them during moments of peak performance. One of the most important things to remember is pain and discomfort are not a normal side effects of riding bikes! From the bike you choose to the adjustments you can make to your bike, there are tons of ways to become more efficient and comfortable on your bike in triathlons.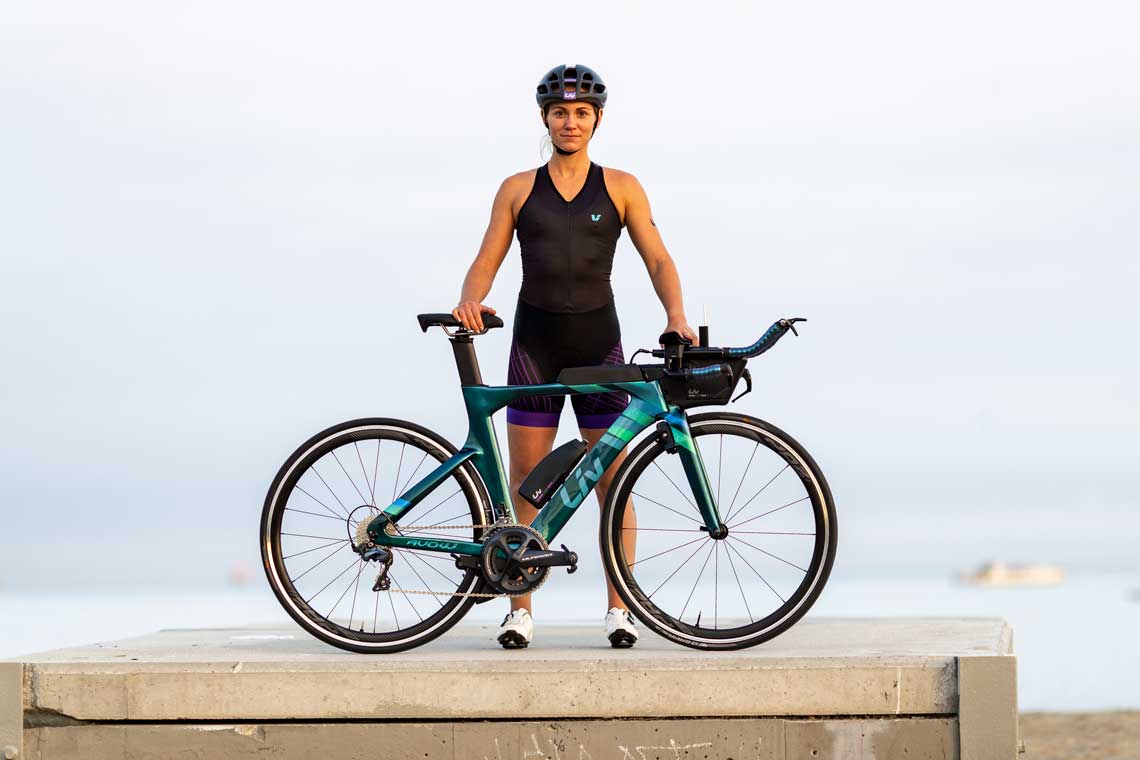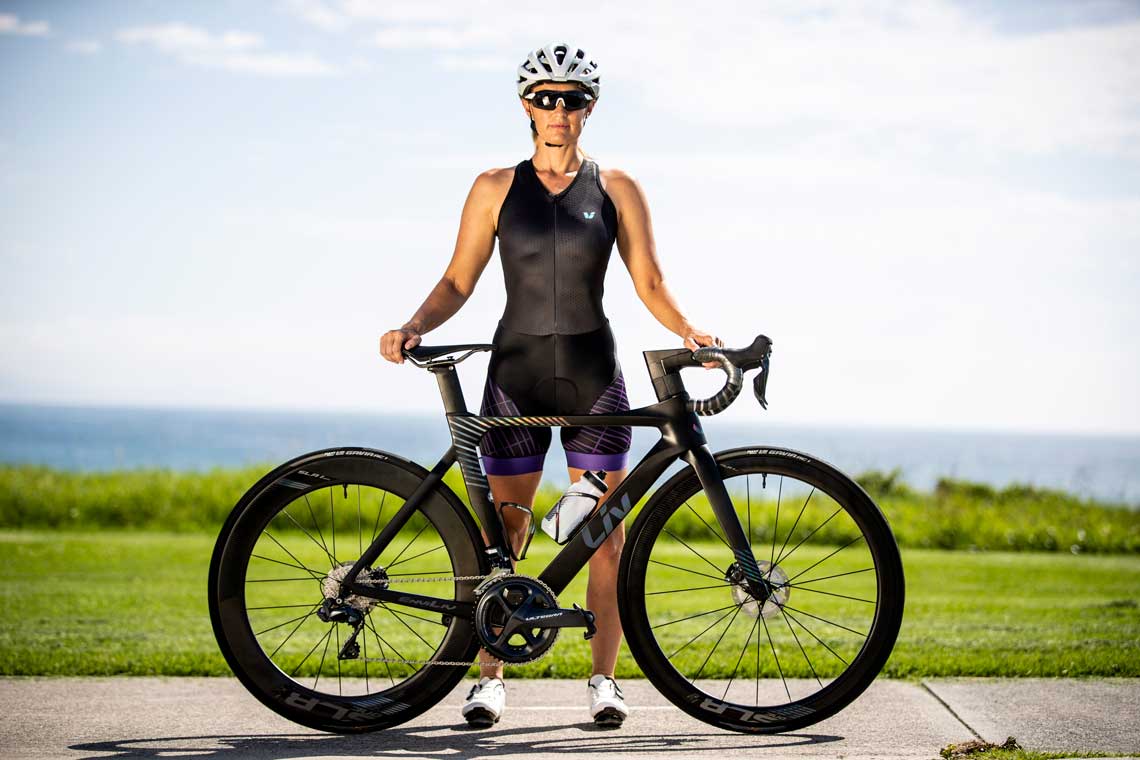 Road Bike VS Triathlon Bike
When purchasing a bike, the options can sometimes be overwhelming. Generally, as a triathlete, the salesperson at your local bike shop will point you in the direction of either a road bike or triathlon bike. There are a few key differences between the two:
Road bikes are designed for general road riding that can be separated into two different styles. Endurance road bikes, like the Avail offer an upright geometry focused on comfort over long distances. The seat tube angle is generally relaxed and the head tube angle is "slack," meaning the front wheel is a little farther out in front of the rider.
Road race bikes, like the EnviLiv Advanced Pro Disc are meant to be ridden in a more aggressive forward position. This position requires a little more flexibility from the rider, but can result in a more powerful and speedy climb on the bike. This particular bike also has aerodynamic tube shaping, which helps to cut through the wind while being stiff and responsive.
With any road bike, whether it is a model made for long-distance comfort or aerodynamics and speed, aerodynamic clip-on bars can be added to benefit triathletes. Aero bars give the rider position options that will allow her to rest certain muscle groups on the bike and create an aerodynamic line with her body.
Triathlon bikes, like the Avow Advanced Pro are made specifically for performance while racing and training for triathlons. These bikes have aerodynamic tube shaping, aerodynamic handle bars and wheels, specific geometry to get the rider in a position that will allow key muscle groups to rest and aerodynamic nutrition and water compartments.
What Are Your Race Goals?
You will determine which bike is right for you and how you will fit your bike based on your race goals. A beginner sprint triathlete whose sights are set on finishing the race will likely have a different bike and setup than an athlete training to qualify for Ironman World Championships.
Two factors are important here:
1. The length of the race you are participating in. The longer the race you are competing in, the harder it will be to compete on any bike that is not specifically designed for triathlons. This is because tri bikes are designed to allow your body to rest, so you can be prepared to do well in the run that follows. An endurance bike, no matter how you adjust it, relies too heavily on the use of your quadriceps, which need to be fresh for the running portion of a triathlon. Once you decide which bike to buy, how you set up the bike during your bike fit is also determined by the type of triathlon you are doing. While a triathlete may be comfortable in a very aggressive aerodynamic position for a sprint triathlon, the same setup may not be as desirable over an Ironman's 112 mile (180.2 KM) bike ride. 
2. How serious you are about doing well in the race. If you are a beginner triathlete, you may not want to commit to buying a bike that is made specifically for triathlons, which is totally fine! Maybe you just want a well-rounded bicycle that you can use for training, racing and your weekend adventures. There are always ways of making the bike better suited for race day, but still applicable as your every-day bike.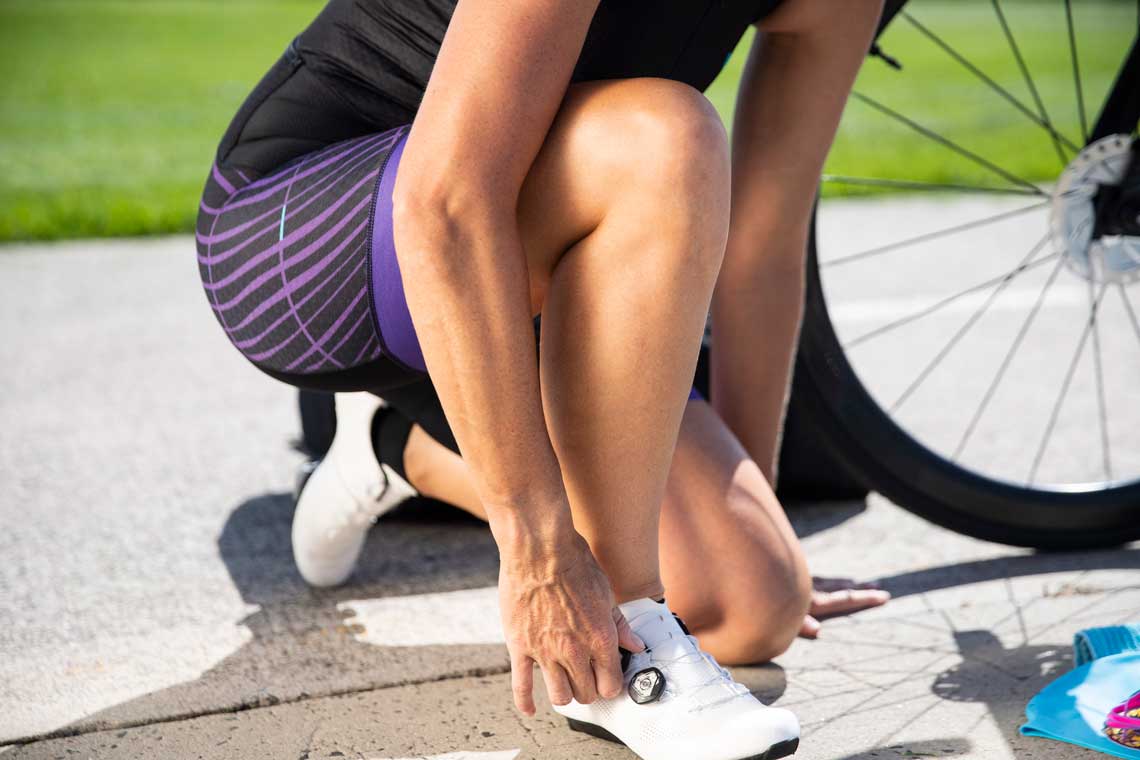 Getting a Professional Bike Fit
Getting a professional bike fit is the most important part of buying a new triathlon or road bike. Bike fit can make you more comfortable on your bike, increase your power and speed and keep you from getting injured. The professional bike fit specialist at your local bike shop will take time to figure out what your cycling goals are, previous injuries that may affect how you ride a bike and your unique riding style. Yes, getting a bike fit does take some time and it isn't cheap, but a proper bike fit will benefit your riding much more than an expensive wheel set or handle bars!
There are many factors that go into a professional bike fit. Here are just a few important adjustments that could be causing you pain, discomfort or loss of power:
Bike Size: When you are deciding what type of bike you need, you will also need to find out what size bike you should be riding. It is important to remember, just because you ride a "52" Trek, doesn't mean you will ride the same size when you go to buy a Liv. Differing geometry between different bike makes and models make it difficult to compare based on a specific "size number." In fact, that size number is based more off the seat tube height, which is much less important than the top tube length (effective reach) and seat tube angle. Check out our bike size and fit guide here!
Saddle: Saddle discomfort is usually the leading reason why women stop riding or do not ride more often. It begins with choosing the right saddle for your body position on the bike. Triathlon bikes will usually have a different type of saddle with a large cutout and a shortened nose, since triathletes sit so far forward on the bike. On the road bike, women tend to have two different types of contact conditions: forward or upright. Choosing the right saddle can take time. For this reason, many local bike shops will have demo saddles so you can test a saddle for a few weeks before buying it. Check out our saddle fit guide here!
Body Angles: The angle of your upper body will largely depend on your race goals, flexibility and the length of your race. If you are a competitive triathlete, your goal is probably to lower your upper body as much as possible to reduce wind drag. However, extremely aerodynamic positions could actually reduce your power and affect your ability to do well in the running portion of the triathlon. For triathletes, it is all about balance and you should not have to sacrifice comfort!
Aero Bars: During your professional bike fit, the fitter will look at the position of your aero bars on your bike. When you are in this aerodynamic position, your elbows should be resting on the arm pads, creating a 90 degree angle with your upper body. Your upper body should feel supported, without strain in your shoulders or neck. The aero bars should also be the correct length, so you can comfortably reach the shifters.
Cleat Placement: The placement of clipless cleats is an easy adjustment to forget about, but it is one of the most important! If your cleat is too far forward, you could feel numbness in your toes and lack of power. If one of your cleats is twisted slightly, you could be experiencing all sorts of pain from your ankle, up through your knees and hips. It is super important to check your cleat bolts regularly, to make sure they are tight and your cleat is not slipping as you ride.
If you have had a recent injury, bought new shoes or a new saddle or if it has been a few years since your last bike fit, your ideal position on the bike may have changed. Even if your goals have changed and you are now a more serious triathlete, it may be time to re-evaluate your bike fit!