What to Pack for an Epic Mountain Bike Ride
What's in My Pack? Packing for Trans-Cascadia
When packing for an epic mountain bike ride or backcountry race, I always live by one motto: It's better to have it and not need it, than need it and not have it!
So, what constitutes an "epic" ride and would require packing all this stuff? Although it's always a good idea to be prepared for injury and bike mechanicals on any ride, here's a few criteria for rides that may require a heavier pack:
Distance/ length of the ride: Simply put, the longer the ride and the longer you are out in the elements, the more things that can go wrong. If I'm planning to be on my bike more than 3-4 hours and/or ride farther than 15-20 miles, I consider that an epic day.
Terrain: Sure, you could get hurt or break a derailleur on a sidewalk, but gnarlier trails involve higher risk. For example, if I'm riding a super-rocky trail where I know I'm prone to flat tires, I will likely pack extra flat repair supplies.
Weather: Cold? Hot? Wet? These are the biggest factors determining what's in your pack. From bringing extra layers to packing everything in ziplock bags, know what's in the forecast.
Trail traffic/ riding group size: Are you alone or with a group of friends? If you're alone, does the trail you're on see a lot of traffic? These are risk assessments and can play a role in what you're bringing with you on your ride.
Distance from the nearest medical facility/ ease of access: Do you really need to bring that giant first aid kit? Welp, if you're hundreds of miles from the nearest hospital with no cell phone service in the middle of a forest with no road access for 30 miles, then… yeah.
Distance to the nearest water source: This will help you determine what size hydration pack and bladder you need, how much water you should bring in that bladder, if you need extra water bottles, and if carrying a water filter is a good idea.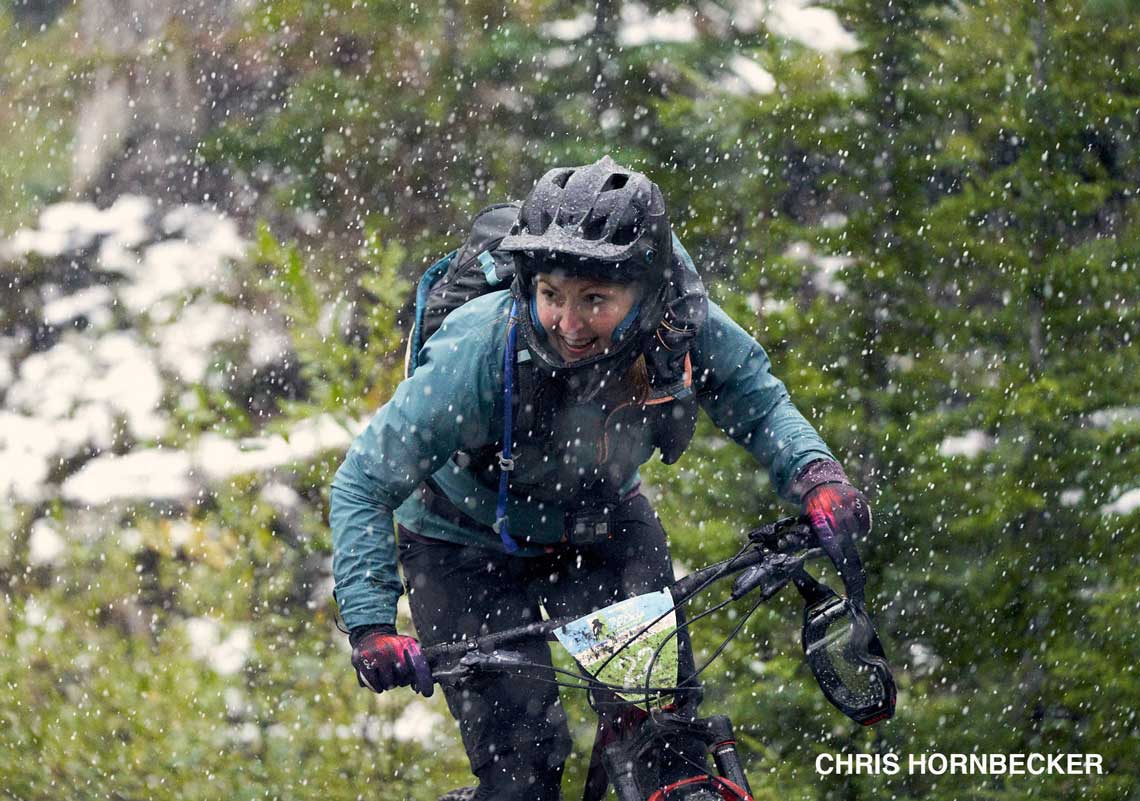 For Trans-Cascadia we were dealing with some of these factors, but not others. Yes, we were out in an extremely remote area with gnarly terrain in near-freezing temps and we were on our bikes for 6 to 8 hours a day, but we had easy access to trained medical professionals, chefs to cook hot lunches for us on the side of a fire road, and enough access to clean, fresh water that I never actually carried a water filter during the race. Luckily, I didn't have to use most of the things that were in my pack during the race. I did, however, lend out tools, my knife, and the occasional snack during the race. Take note: having a large, well-stocked pack can – and more often than not, will – make you into a TRAIL HERO.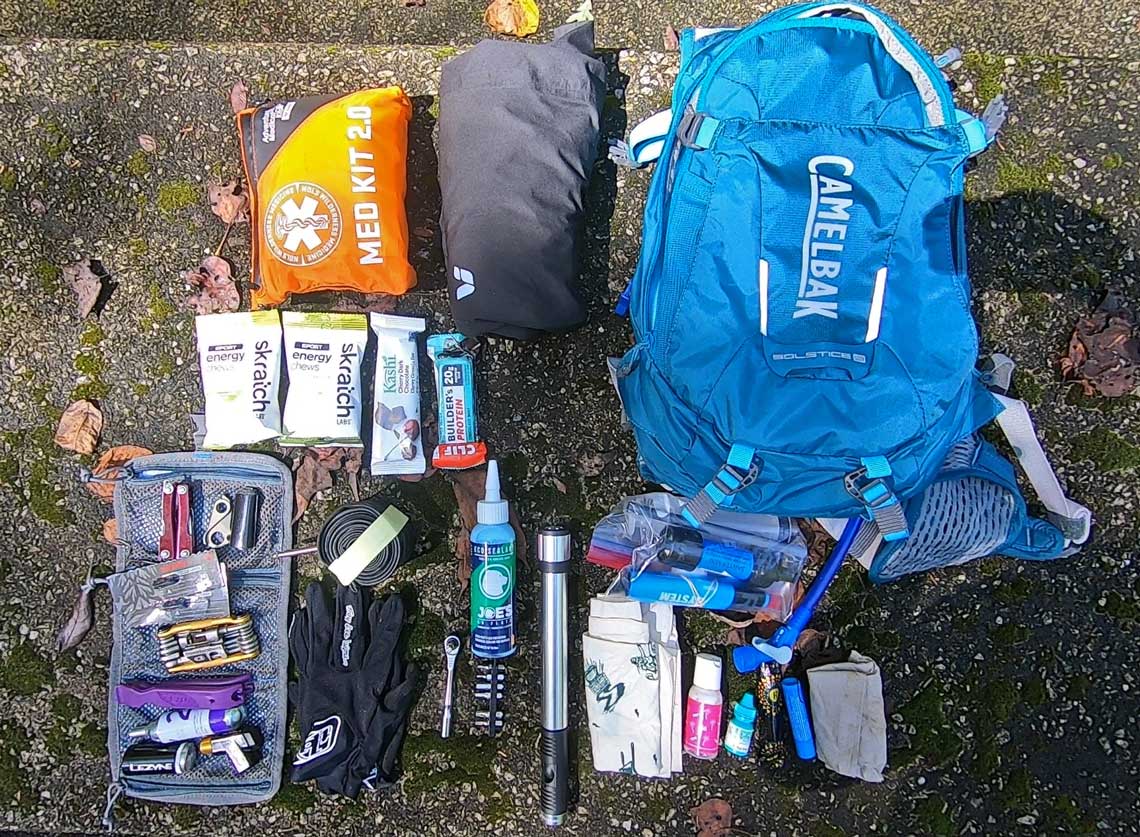 What to Bring
The Pack: Although I used the CamelBak Solstice LR in the video, I ended up going with the CamelBak L.U.X.E. LR for the race. The water bladder size was the same, but the pack itself is larger and comes with a rain cover.
Rain Jacket
Extra gloves
First aid kit
Tube
Extra sealant
Bandana
Water filter
Pump
Multi-tool (with chain breaker)
Multi-knife tool with needle nose pliers
Tire levers
C02 and valve
Tire plug kit
Zip ties
Extra chain links
Derailleur hanger
Gorilla or duct tape
Sunscreen
Chapstick
Tampon
Napkins/ toilet paper
Phone
Credit Card
Cash
Identification
Insurance card
Food