How to Get Started Riding Indoors with Zwift
Zwift is a video game for athletes, and the speed and strength of your avatar is based on you. You can ride, train, and even race in a virtual world, with other people who are currently using the platform at the same time. You can experience the terrain changes of the route you are riding on and even do pre-build workouts that help you achieve your goals.
No matter the weather, time of day, or COVID-19, Zwift provides a safe and supportive environment for us to work towards our training objectives.
As a professional athlete who lives in Bend, Oregon, USA, I log a lot of winter miles indoors, with the help of Zwift, a Saris Hammer trainer, and my Langma. The Zwift platform allows me to train in a controlled environment on my own bike, even when there are feet of snow on the ground. And when winter turns to spring and summer, I continue to use Zwift for specific, focused workouts and group training sessions with athletes I coach.
How do I get started on Zwift?
Let's make it simple. Here's what you'll need:
1. Your bike! Most people use a 11 or 12-speed road bike for indoor riding, but a mountain bike, gravel bike, or hybrid bike that is compatible with your trainer will do the trick.
2. An indoor trainer. A smart trainer provides the best Zwift experience because it accurately measures your power output and simulates climbs, descents and even drafting benefits. (recommended)
Learn more about the best smart trainers on the market here.
Don't have a smart trainer? You can still use Zwift by combining a supported Classic Trainer and your bike, equipped with either a ANT+ or BlueTooth powermeter or speed sensor. Powermeters and speed and cadence sensors connect to Zwift wirelessly using an ANT+ dongle or through the Zwit Companion app via BlueTooth.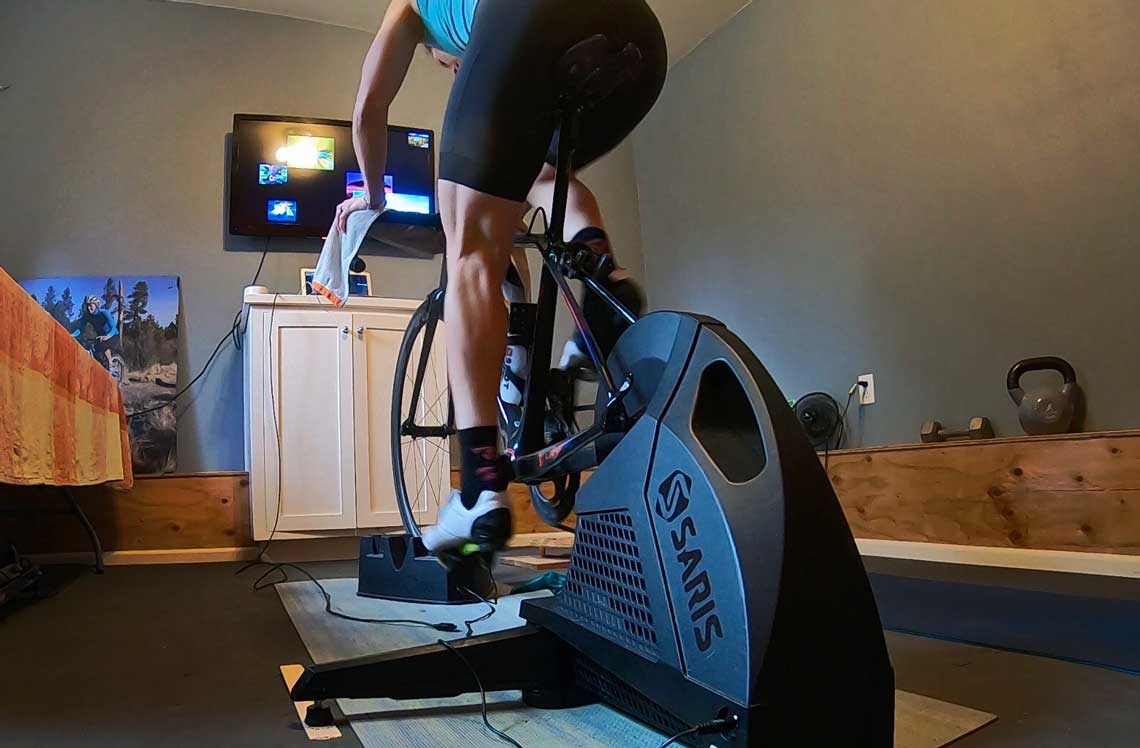 3. A device to run Zwift, with an internet connection and either Bluetooth or ANT+.
I run the Zwift software on my MacBook Air and run the Zwift Companion App, on my iphone as a remote control, allowing me to give "Ride Ons", join events, message fellow Zwifters, find Friends and to Stop, Turn or Pause my Zwift avatar.
Click here for a current list of Zwift supported devices.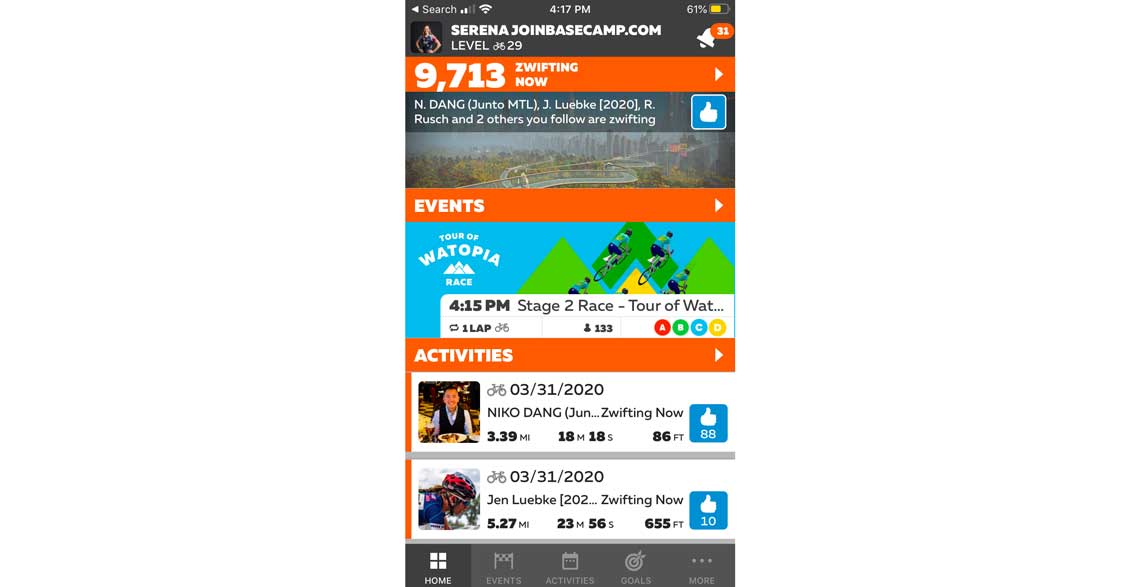 4. A space to ride. Having a dedicated and inspiring space to ride Zwift, while not necessary, is motivating. Maybe this is the only place you allow yourself to watch Netflix, or listen to your favorite podcast. Maybe you have pictures of the places you love to ride and medals from completed events hung on the wall.
No matter what your space looks like there are a few essential elements:
Ventilation and a fan - good air flow will keep you much more comfortable.
Keep hydration and fuel close by - staying on top of hydration is imperative.
A sweat towel on your handlebars and another under your bike - yep, you are going to sweat.
Now what?
Create a Zwift Account and complete your profile.
Download Zwift software to your computer, and the Companion App to your phone.
Set up your bike on the smart trainer and connect your smart trainer to Zwift. Your smart trainer and Zwift will talk to each other through either your ANT+ or BlueTooth connection, but you have to make sure they are "paired".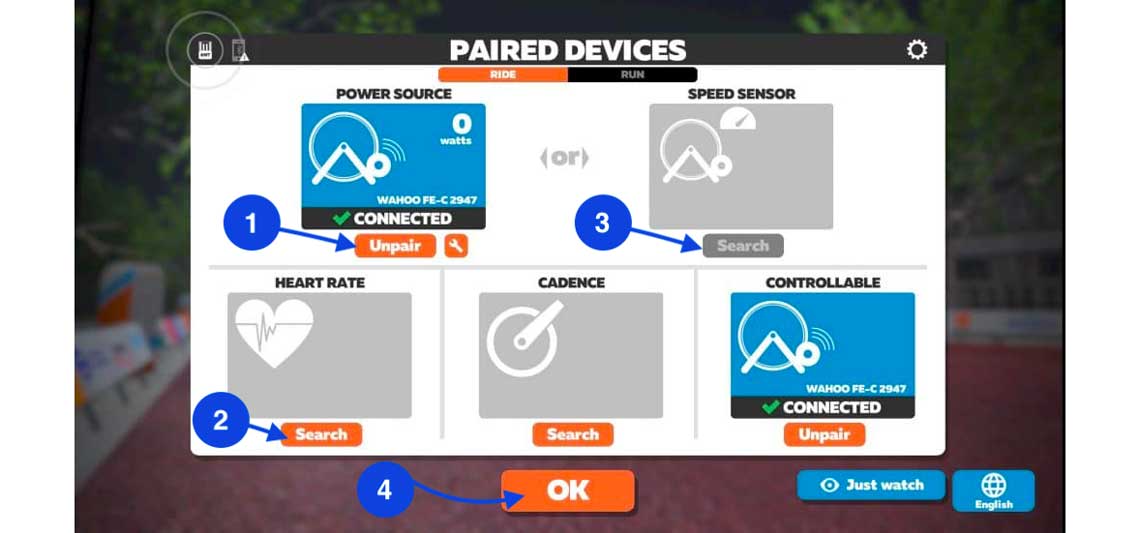 Open Zwift on your device, and pair (Controllable and Power Source) with your smart trainer (1)
Pair your heart monitor (2), if you are using one. Training with power and heart rate allows you to better understand how hard you are working to produce a given power target; and to better plan and evaluate your training plan.
If you are using a speed sensor instead of a smart trainer, pair it (3)
Click OK (4) and you are almost ready to ride.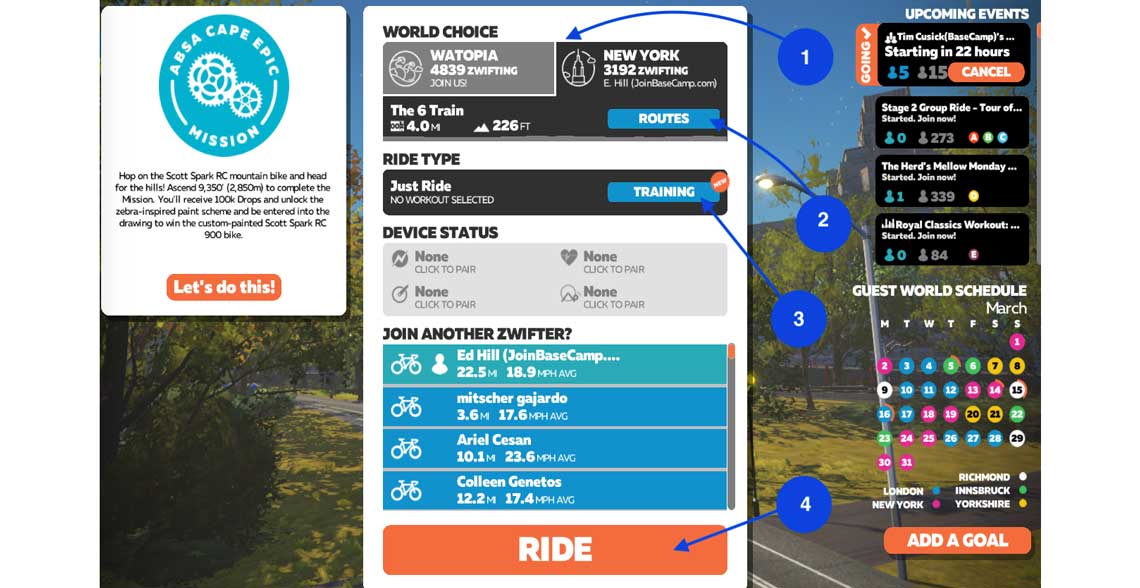 Next, select the World (1) you would like to ride in, and which Route (2) within that world.
Once you select a route, you will be able to ride with all the other cyclists who are already on that route, and experience the climbs, descents, twists and turns.
You can also select Training (3) and do a pre-programed workout that directs you on what power to hold for what duration and your smart trainer will keep you honest, but adjusting resistance and cadence as you move through the workout to match power targets.
If you have a TrainingPeaks account and have planned workouts on the schedule, you can link these accounts and today's workout will be visible when you click the Training Button (3).
Once you have selected your route and/or workout, click Ride (4) and you will be transported into Watopia or your world of choice. Once you start to pedal, your avator will begin moving down the road, along with all the other Zwifters currently online.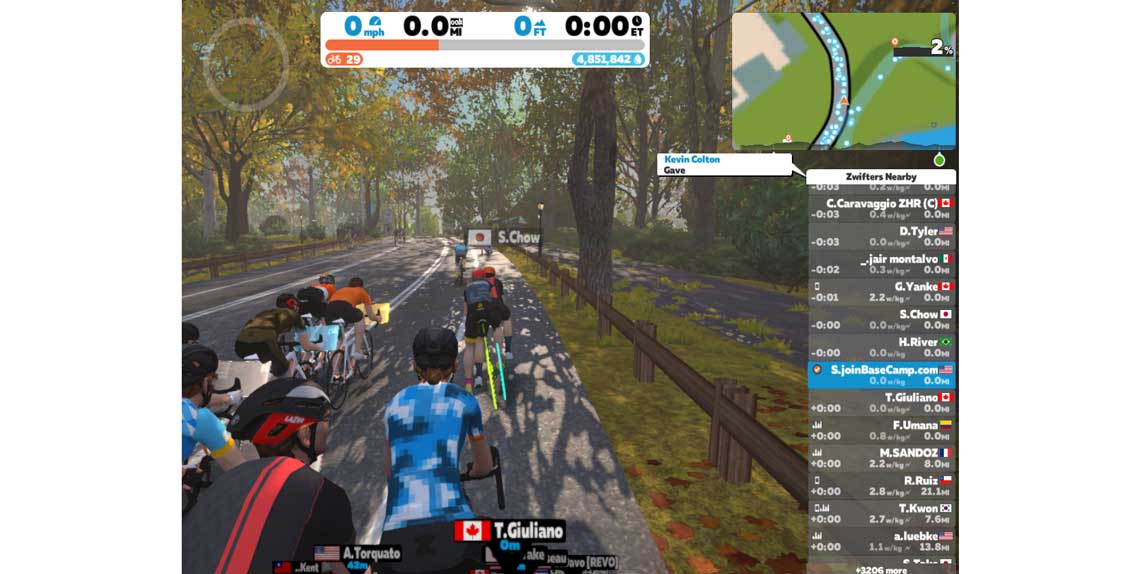 All set with the basics? Now it's time to take Zwifting to the next level → check back next week for more insights on using Zwift.