What is a Gravel Bike?
We know what you're thinking… "Can't you ride any bike on gravel?"
Sure, you can ride a road bike, cyclocross bike, or mountain bike on gravel and dirt roads, but there is a better tool for the job – the gravel bike. It's designed to make off-road adventures comfortable, efficient and FUN.
So, what is a gravel bike? Let's dive in to explore the differences between these bikes to find out what makes a bike like the Liv Devote shine.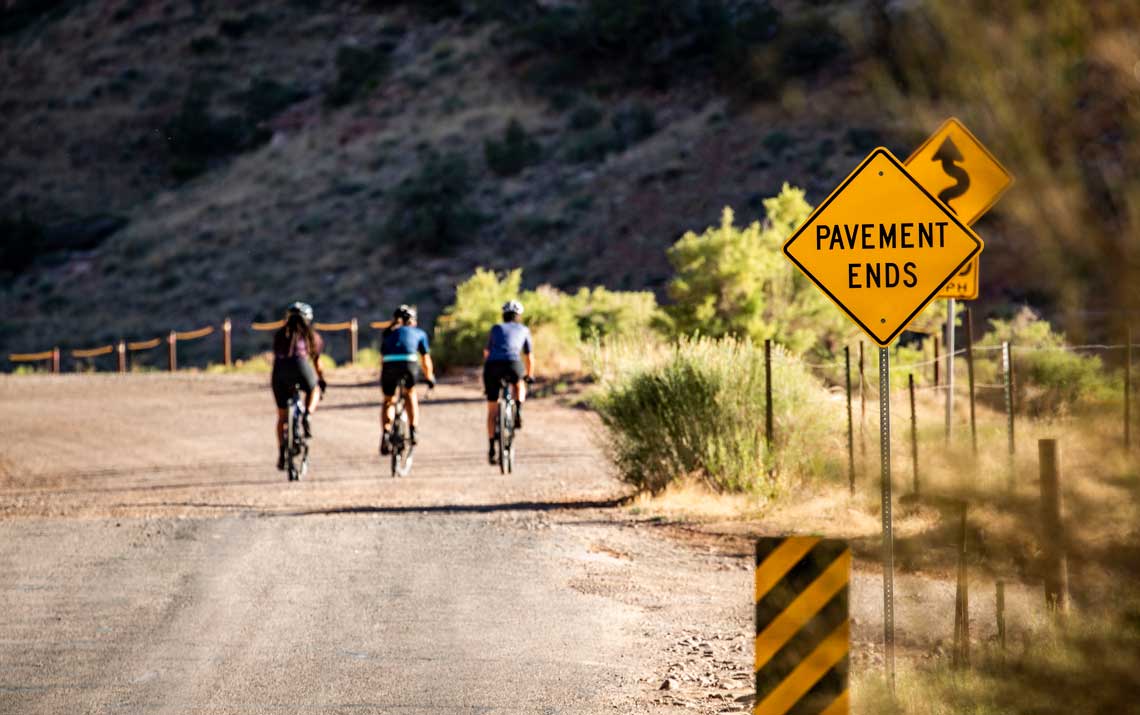 Gravel Bike VS Road Bike
The all-terrain-vehicle of bikes, gravel bikes are made to carry all your gear, handle any weather conditions and road surfaces, and do it all while being comfortable. On the flip, road bikes – whether designed for comfort over longer distances like the Liv Avail, speed on hilly roads like the Liv Langma, or flat out high-powered sprinting like the EnviLiv, they all have one thing in common: they are designed to be ridden on paved surfaces.

| | |
| --- | --- |
| Gravel Bike | Road Bike |
| More clearance for larger tires. Wider tires, maximum 45c, give gravel bikes more traction and make them more comfortable on rough roads and trails. | Optimized for speed and efficiency on paved roads, road bikes typically have narrower tires, maximum 35c in width. |
| Gravel bike frame geometry has a longer wheelbase, lower bottom bracket, and slacker headtube angle, which make it more stable on off-road terrain. | Road bikes are designed to be super snappy and efficient with a steeper headtube angle and shorter wheelbase. |
| Disc brakes are a must when it comes to gravel bikes for powerful and predictable stopping on any terrain. | Most road bikes now come with disc brakes, but many road racers still opt for rim brakes which are lighter weight. |
| Mounts for extra water bottles, fenders, and racks come standard on gravel bikes so you can load them up with gear for backcountry adventures. | While some road bikes have mounts for fenders and racks, most will only have room for two water bottles to keep weight down. |
| Gravel bikes use flared drop bars that are a bit wider for more control and stability. | Regular drop bars on a road bike are designed for speed and efficiency. |
| Some gravel bikes will have a dropper seatpost, which allows the rider to move the saddle out of the way for more technical descending while standing. | On road bikes the rider is always in the saddle, even on descents, so a regular seatpost is used. |
Gravel Bike VS Cyclocross Bike
Though they look extremely similar and are both designed to be ridden off-road, gravel bikes and cyclocross bikes are meant for distinctly different uses. The main difference? Cyclocross bikes like the Liv Brava Advanced are specifically made for racing short, punchy courses where you'll likely have to carry your bike.

| | |
| --- | --- |
| Gravel Bike | Cyclocross Bike |
| Frame shape for gravel bikes follow the compact road bike blueprint. The slanting top tube and small rear triangle save on weight and add some compliance to the frame for a more comfortable ride. | Cyclocross bikes have a distinct straight top tube. Standover height isn't a thing for these bikes – instead, they are designed with a large open triangle frame for easy shoulder carrying over cyclocross race obstacles and run-ups. |
| The gravel bike's geometry is long and low for stability and comfort, with a low bottom bracket and long wheelbase. | Cyclocross bikes need to be snappy. You need to turn on a dime and power out of dead-stops, not to mention you might need to bunny hop a barricade. A higher bottom bracket and shorter wheelbase help make this happen. |
| Tire clearance up to 45c, and you'll likely run wide tires with as much tread as you'll need for the conditions. | Also with tire clearance up to 45c, however, with a geometry optimized around a 33c tire. UCI rules state you can't run tires wider than 33c for elite racing, plus you want that extra room around the tire to allow mud to clear. |
| A wider gear range on the gravel bike allows you to tackle long, hilly routes without having to get out of the saddle. | With cyclocross's short courses and short, punchy climbs, a 1x drivetrain with a bigger gear is more useful. |
| For longer rides and bikepacking, gravel bikes are equipped with tons of mounts for bags, fenders, and extra water bottles. | Though cyclocross bikes have some mounting options, it's not a top priority since this bike is designed for racing. |
| Flared drop bars and a dropper seatpost add more stability and control on rough roads and trails. | Regular drop bars may be a bit wider than they would be on the road, and the ability to add a dropper seatpost, if needed, for the race course. |
Gravel Bike VS Mountain Bike
Fully rigid or full squish? When compared to gravel bikes, mountain bikes like the Liv Intrigue 29 are optimized for varying levels of gnar on singletrack trails.

| | |
| --- | --- |
| Gravel Bike | Mountain Bike |
| When it comes to geometry, a gravel bike is going to have a taller headtube, steeper headtube angle, and a lower bottom bracket. Making this bike stable mostly in a seated position and optimized for minimal tech. | Mountain bikes get their stability from a slacker headtube angle, making them capable of mowing over rocks, roots, and other trail features. A higher bottom bracket makes it easier to clear those same trail obstacles with your rear wheel as well. |
| Gravel bikes don't have a suspension fork or shock. They are "rigid", making them super-efficient for long rides on gravel and dirt roads. | Mountain bikes will have a suspension fork and sometimes a rear shock to absorb impacts on the trail. The more travel in your suspension, the more comfortable you'll be on gnarly singletrack. However, all that suspension makes mtbs a little slower rolling and zaps some of your pedaling efficiency. |
| The disc brakes used on gravel bikes tend to have a fairly small rotor, making them lighter weight. | MTBs have larger rotors to disperse heat when braking heavily over extended periods of time. |
| Flared drop bars on gravel bikes give the rider options for hand placement on long sections of gravel road, where body position rarely changes. | Mountain bikes have flat handlebars. You don't need to change hand your position, because you are constantly standing up and maneuvering the bike underneath you. |
| Maximum 45c tires with small knobs for traction and control on gravel and dirt. | 2.2-2.6-inch tires are typical on most mountain bikes with larger knobs for riding on mud, loose dirt, rocks and roots. |