Racing Leadville Trail 100 MTB
Why the Leadville 100 is So Hard and So Worth It
with KYM PERFETTO, (Kym Nonstop) bike racer and personal trainer
Last year I "accidentally" registered for a mountain bike race. I flipped the letters XC in my mind and thought I'd registered for a three-day cyclocross event. It wasn't until a month before when I'd realized my mistake. Instead of backing out, I got a Liv Pique Advanced and rode every day for a month before embarking on my first MTB race. My teammate and I finished in 3rd place.
An entire year later, I opted to do something equally daunting: the Leadville Trail 100.  Taking place at altitude in scenic Leadville, Colorado, the Leadville 100 is considered one of the toughest mountain bike races in the United States. I've always been a fan of superlatives.
Despite never having ridden 100 miles on a mountain bike before, I figured that I was at least more prepared for this race than my first one. But, that wasn't exactly true…
I invited my friend and fellow Liv athlete Sam Scipio to join me for the ride. She's an avid ultra-distance rider and I knew she'd be up for the challenge. She'd ridden multiple 100+ mile days on the Tour Divide – and on a single speed no less! Sam accepted the challenge and one-upped me; She was going to do Leadville 100 on a single speed.
It was 38 degrees on the start line. Bundled in all my layers, I rode one-handed for the first 20 miles, alternating hands as the other thawed out in my jacket. As soon as we hit singletrack, I pushed for position but quickly became breathless. Reminding myself what happens when I push too hard at altitude, I backed off and enjoyed the scenery. No doubt this sealed my fate of walking the steeper grades, but it felt necessary to prevent altitude sickness.
The hardest part about Leadville isn't the 11,000+ feet of climbing, or the occasional 19 percent grades, or even the 103.7-mile course – it's the altitude. For any cyclist, the burning in your legs is familiar. The burning in your lungs is the difference. This is why a sub-10-hour finish is considered really good.
Leadville lived up to its reputation. It kicked my butt and provided unparalleled views the entire way. I finished 100th out of 142 women, my worst result in a race ever… But I finished. What stands out about that stat the most is the super-low number of female competitors. 142 women out of 2000+ registrants.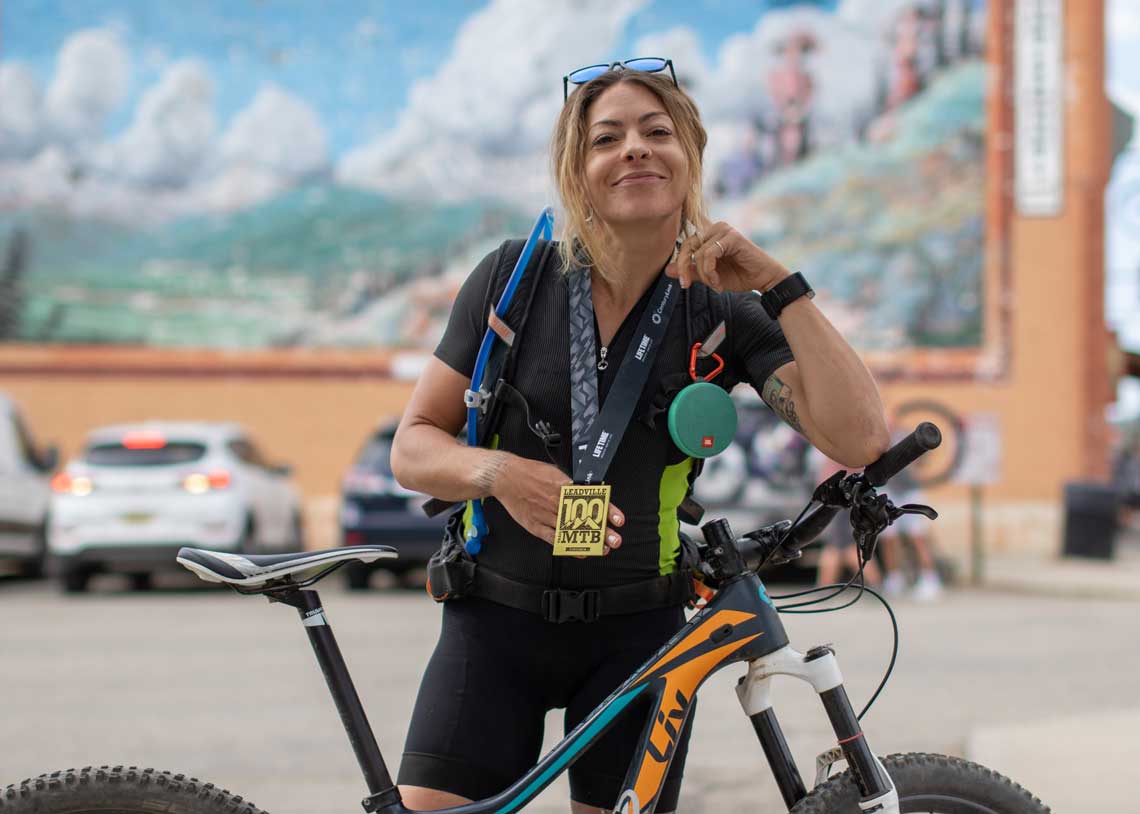 Snowy Mountain Photography
So, are you interested in challenging yourself to the Leadville Trail 100 MTB? Due to the high demand for the race, not everyone who wants to register is guaranteed a spot. There are a few different ways you can get into the event. #1: You can enter the lottery, which opens December 1, 2018, and ends December 31st. #2: You can qualify for the race at one of next year's qualifying events. #3: You can sign up for the official training camp. #4: You can compete on behalf of one of LT100's official charity partners. All the info you need is HERE.