Race Report: Enduro World Series Zona Zero - Ainsa, Spain
A Physical Test in the Pyrenees, EWS Round #7
The penultimate round of the Enduro World Series finally arrived in Ainsa, Spain. The location hasn't been in the EWS rotation since 2015, but it was known to be a racer favorite. Hosted by the Festival Zona Zero Sobrarbe, locals welcomed racers with open arms and one heck of a party. Launching into the weekend with a fun and exciting Prologue through the historic town of Ainsa, fans were out in full force for the entire weekend. Unlike the last race weekend on the Zona Zero trails, the weather proved to be dry and hot which made for slippery, dusty conditions in the wide open sections closer to town.
With Rae Morrison still out of competition due to injury, Leonie Picton made her way from Whistler to Europe for the back-to-back final two rounds of the EWS – though she wouldn't be without injury herself. We briefly caught up with Leonie after a rough race in Ainsa as she made her way east to Finale, Italy.

Photography by Sven Martin.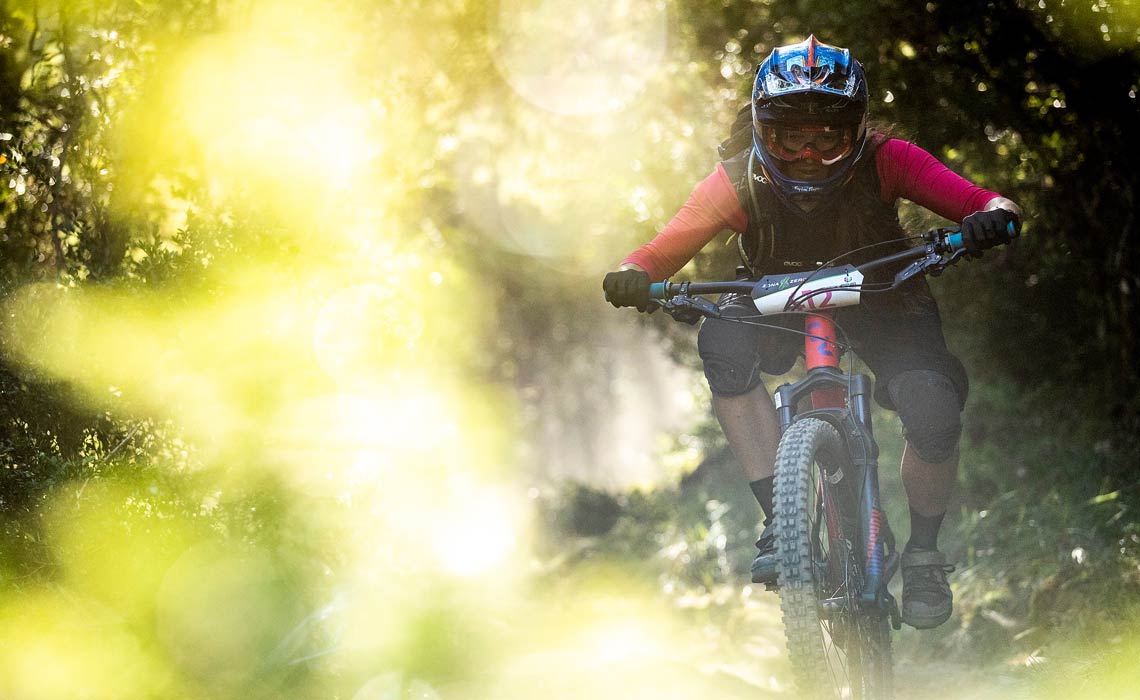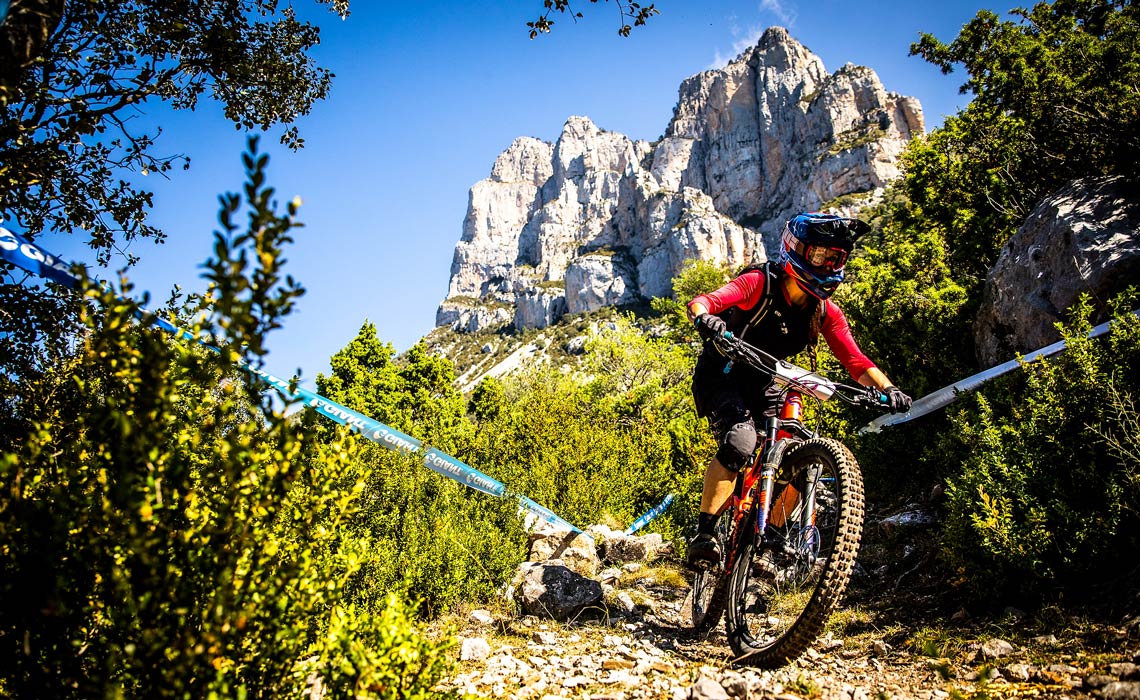 Liv: After a gnarly fall at the last EWS round in Whistler, how have you been recovering?
Leonie: I had some pain in my wrist. An x-ray showed inconclusive results, even though I couldn't bear weight on it.
Who doesn't love hiking to stay fit? The only problem is if you haven't been hiking in a while and then do over 80km in five days, something is bound to go wrong. 
I, unfortunately, injured my knee that I have previously had surgery on. I couldn't walk. I was barely able to walk for the three weeks leading up to Ainsa. As my knee started to feel better, I went out for a small pedal, but it was not ready. It was looking unlikely that I would even be able to race. 
Liv: What is your goal heading into the final two rounds of the series?
Leonie: With my knee and wrist injuries, I was honestly just hoping to be able to ride. My three weeks on the R.I.C.E (rest, ice, compression, elevation) program didn't do my fitness any favours.
Liv: Describe the town of Ainsa and the surrounding mountains where the race would take place. What was the vibe like?
Leonie: Ainsa is a small, beautiful rugged town at the foot of the Pyrenees Mountains. The race pits were set up in the oldest part of town. A majestic 11th-century castle atop of the hill overlooking the forking river and the far stretched valley. 
The locals were excited to see us and celebrated us with great festivities.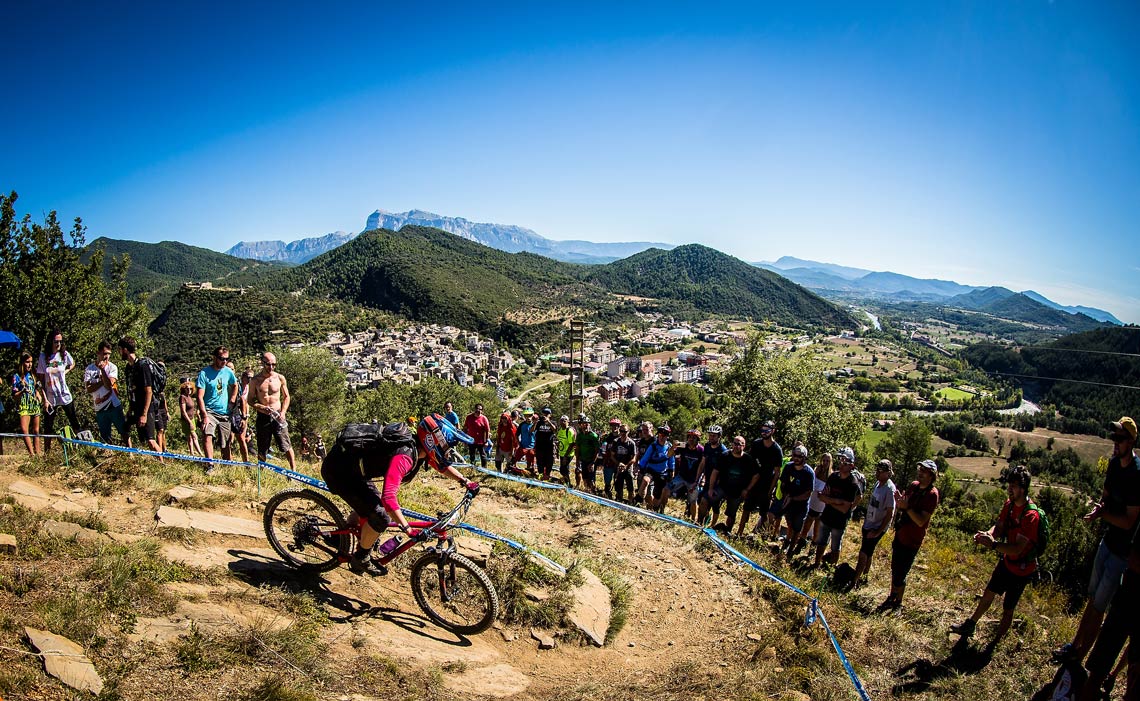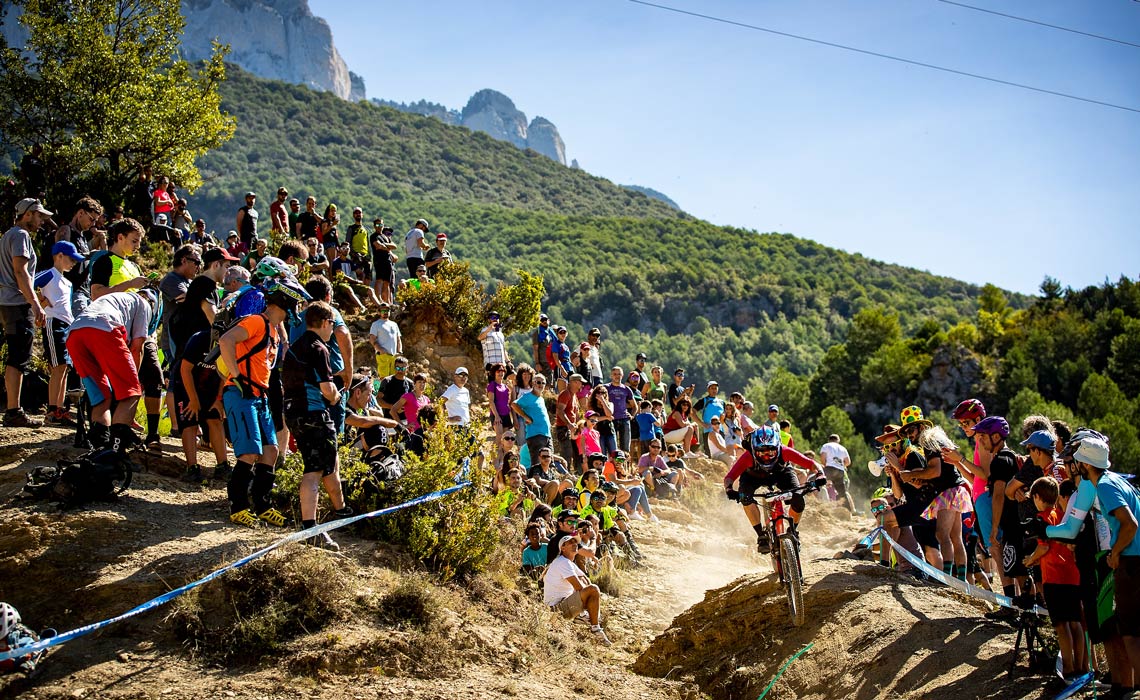 Liv: Many riders described the trails in Ainsa as "physical," perhaps even the most physical stages of the year. Did you find Ainsa to be more physically taxing than other EWS races you have done this year? How so?
Leonie: There was a fair amount of uphill or traverse pedaling on all stages, even the prologue. And with the temperatures in the 30s, it was extremely tough. 
Liv: With two days of training and seven stages to learn, what is your practice strategy?
Leonie: My strategy is to always learn as much as I can by walking the trails and taking photos and plenty of notes. While I was walking stage 2, my knee swelled up and I had to stop. I had an idea on which trails or specific sections would be worth looking at and focused on looking at those.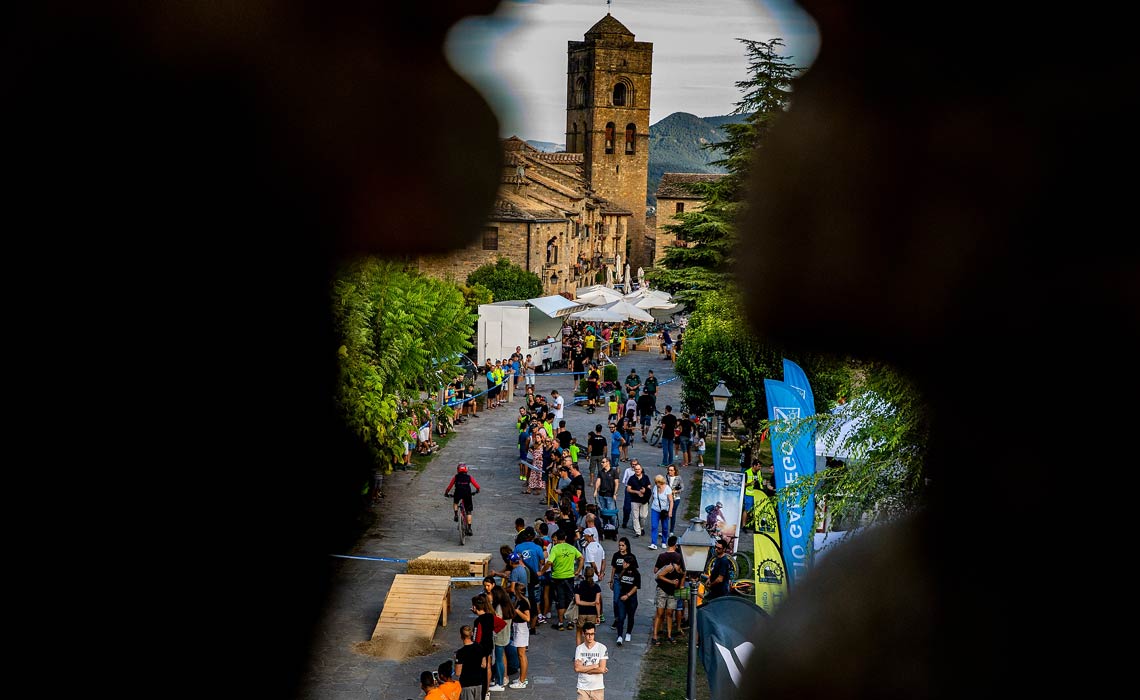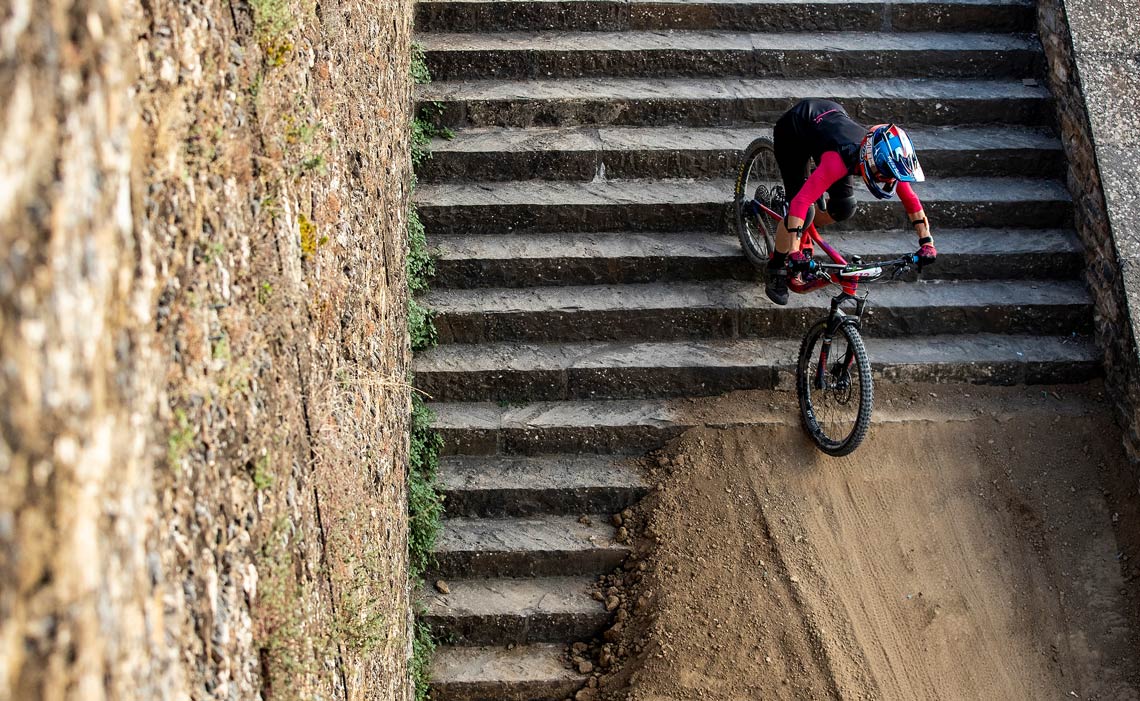 Liv: The weekend kicked off with an urban prologue through the streets of Ainsa, but we didn't see much coverage of the event. What was it like and did the results count for anything?
Leonie: The prologue was really fun. The result of the prologue did not count towards any of the other weekends racing, so like most others, I took it fairly easy and didn't take pointless risks. It wasn't possible to walk the course beforehand which made it all the more interesting. I had no idea where I was going and the mystery of it was amazing. Going through buildings and down blind staircases; it was something I won't soon forget!
Liv: How were you feeling – body and mind – heading into Saturday?
Leonie: My body was not 100%, so my mindset was a little more relaxed than normal. I just had to do my best. The liaison climbs to stages 1 and 2 were very long. I knew if my knee didn't fail on either of those climbs, I would be able to finish the day. I set myself small goals.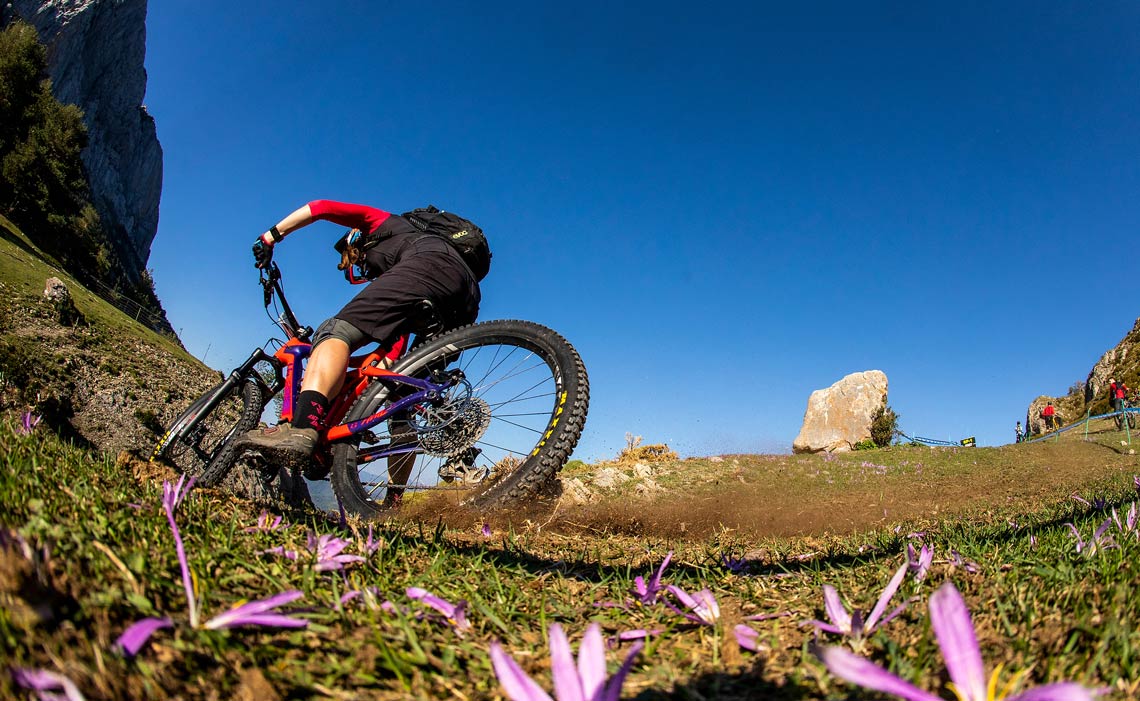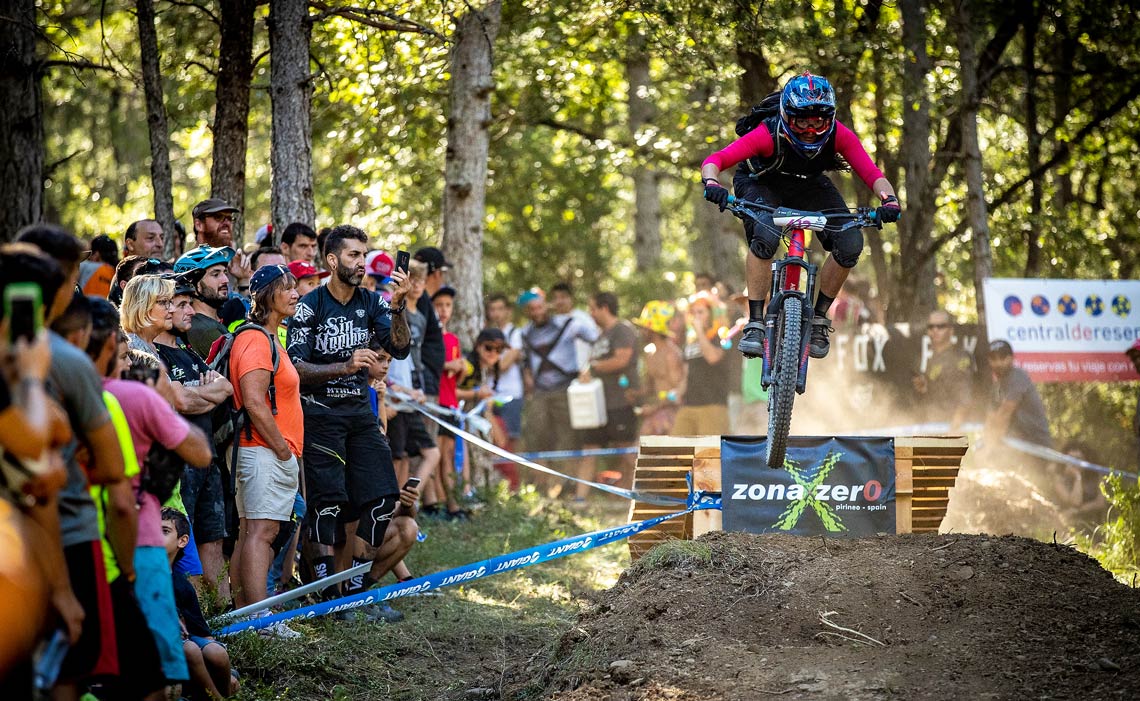 Liv: With an hour and a half climb to the top of the first and longest stage, how did it set the tempo for the rest of the weekend? What was your favorite stage of the weekend and which gave you the most trouble?
Leonie: We set off on the climb near midday, so the heat was intense. We had plenty of time to just cruise up to the top. I just wanted to make it to the top without much pain and with enough time to rest before dropping in. It would be over 3 hours from leaving the staging area to dropping into the first stage which set the stage for a very long and hot day. 
Stage 1 was my least favourite because it had the most pedaling. It was the most beautiful, but the most painful. 
Stage 4 was the most fun. Short, with exposed ridgeline style pump track. It was cool.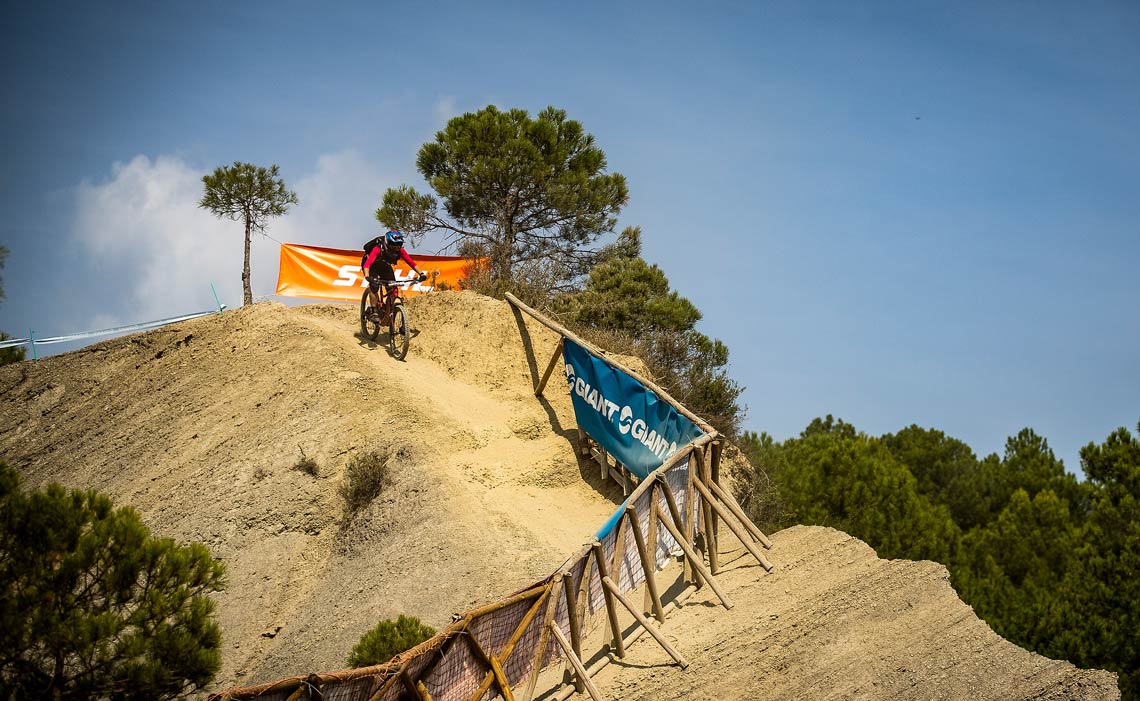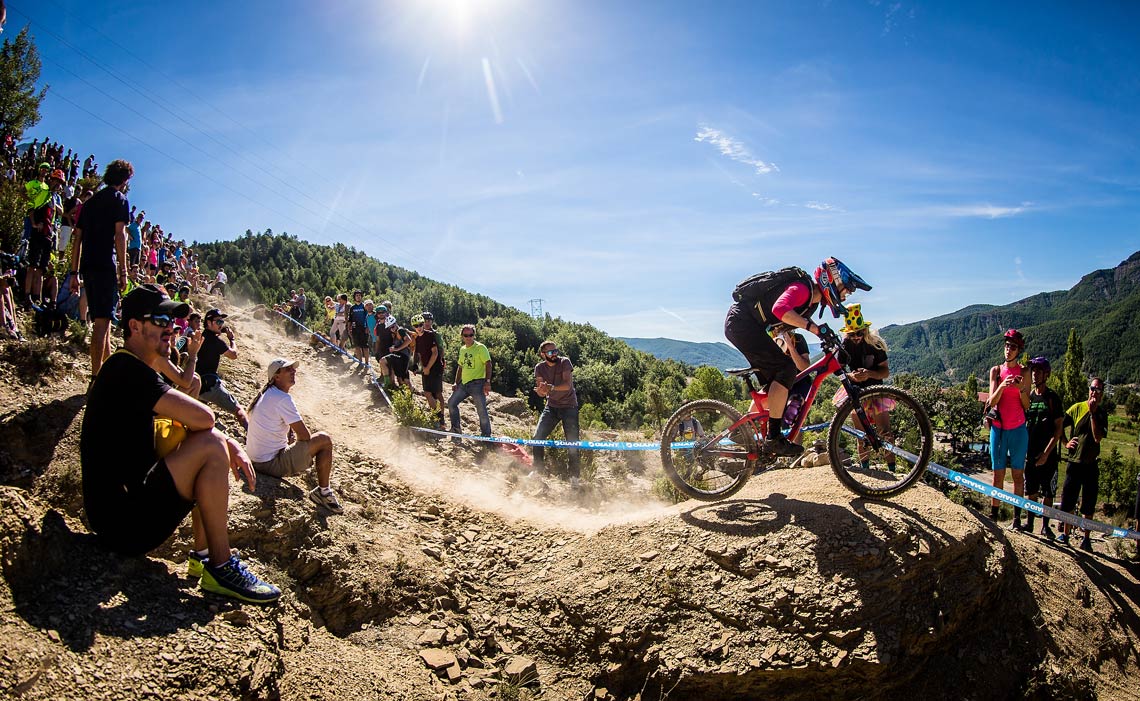 Liv: Unfortunately the weekend didn't go quite how you wanted. What happened to your ankle and how did you carry on for the rest of the race?
Leonie: On stage 6 I had a high-speed crash. My cleat didn't release and my ankle hit the ground with a pop. I heard it loud and felt the pain straight away. I rolled down to the bottom and assessed the situation. It hurt to walk but the smooth action of pedaling seemed manageable. I knew I would be so disappointed in myself if I didn't finish. I climbed up at stage 7 and rested in the shade, collected my thoughts and knew I was only one stage away from finishing. I could do it. 
Liv: What is your prognosis and do you expect to be racing in Finale? 
Leonie: My ankle is swollen, there is some intense bruising coming out and it's pretty sore to touch. Luckily I can weight bear and pedal but not very well. A few days rest and some TLC and we'll see what happens. I hope to be out on my bike on Friday for practise.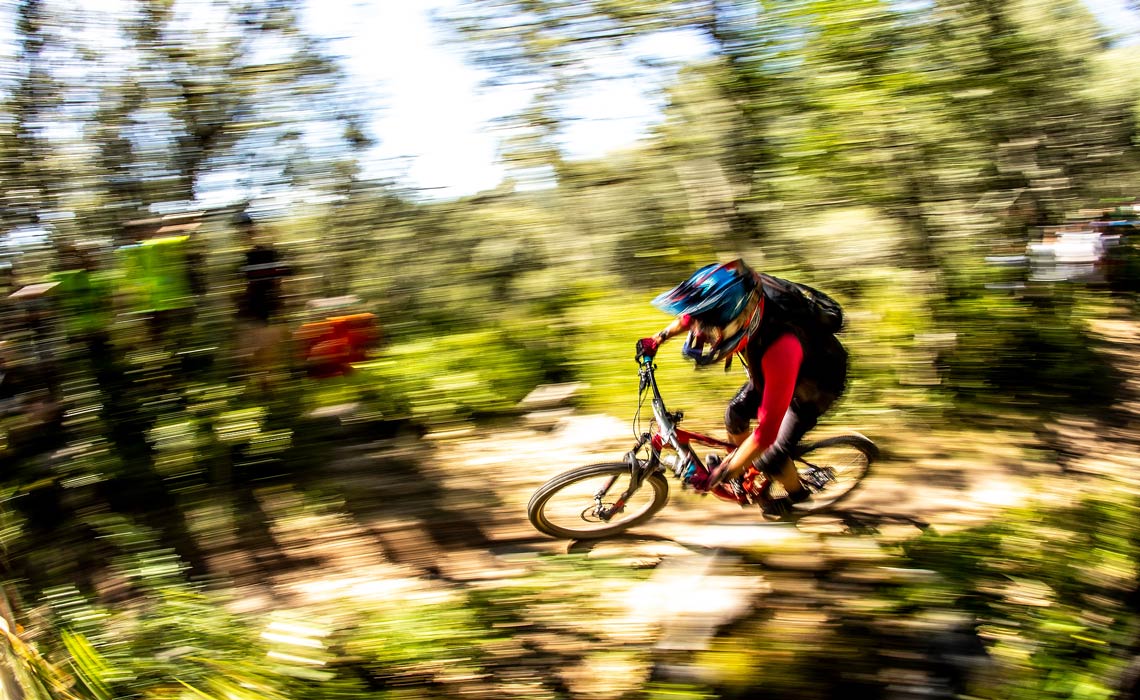 Learn more about Leonie! Meet Leonie
Leonie raced aboard the Hail Advanced and wore the Liv Energize Kit. Discover them both: Hail Advanced | Liv Energize Off-Road Kit