Liv Racing Report: Enduro World Series Whistler 2019
Wet and Wild in Whistler, EWS Round #6
Enduro World Series Whistler is, without a doubt, our Liv Racing athletes' favorite venue of the year. Taking place during Crankworx, the race kicks off over a week of festivities that celebrate everything mountain biking. After having to sit out of this race last year, Rae Morrison was eager to get a chance at a good result, as was Whistler local Leonie Picton. This year, 18-year-old Liv Racing ripper Isabella Naughton would also give the EWS a try in the U21 category.
For the first time in the seven years EWS has been coming to Whistler, the race took place over two days. The first of the two was the longest and toughest stage of the entire year, the 11km, -1526m monster that started at the Top of the World and ended in the village. Last year, this behemoth stage came at the end of a long day of racing, so all competitors were happy to see that it was given its own day in 2019.
Overnight rain into Sunday made things interesting, to say the least. Dealing with visibility issues, roots like ice, and slick rock slabs made one of the hardest days of the year even more difficult. Ahead of them: five stages, 45km, 3013m of climbing, and 3012m of descent.
We caught up with Rae, Leonie, and Isabella this week once they had a chance to recover. Read on to get a behind-the-scenes look at one of the gnarliest races of the season.
Rae's Results (Elite): 

Leonie's Results (Elite): 

Isabella's Results (U21): 

All photos by Sven Martin Photography.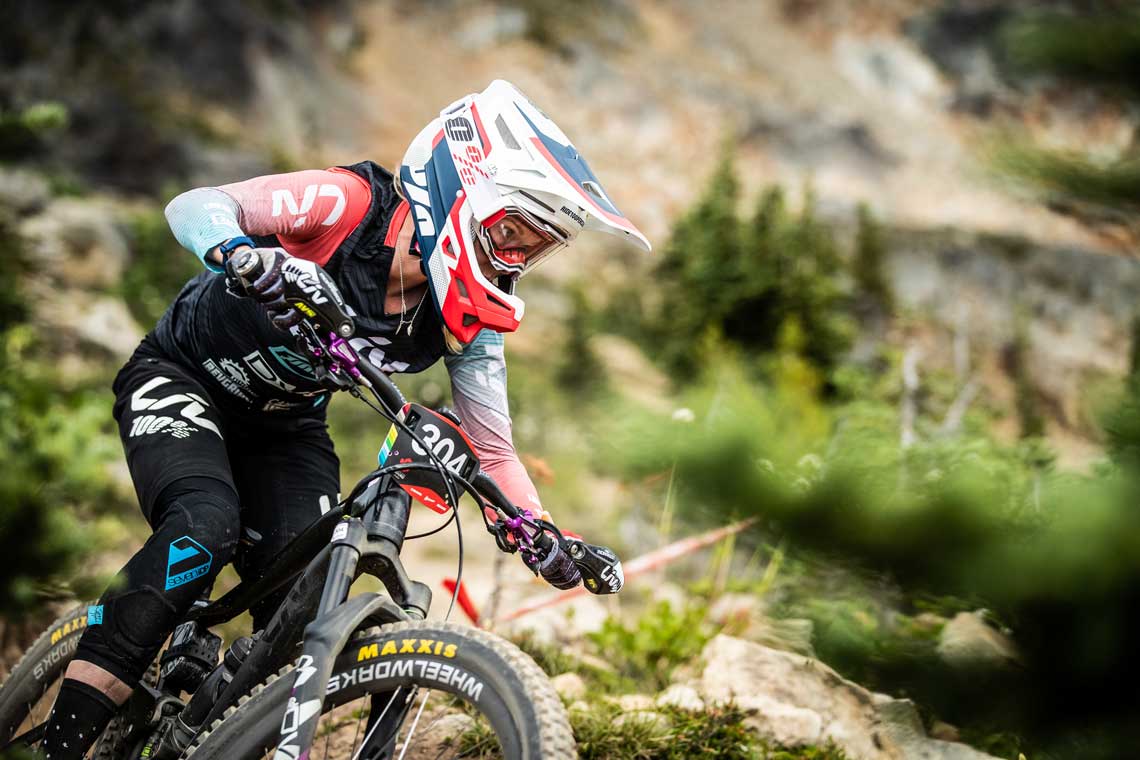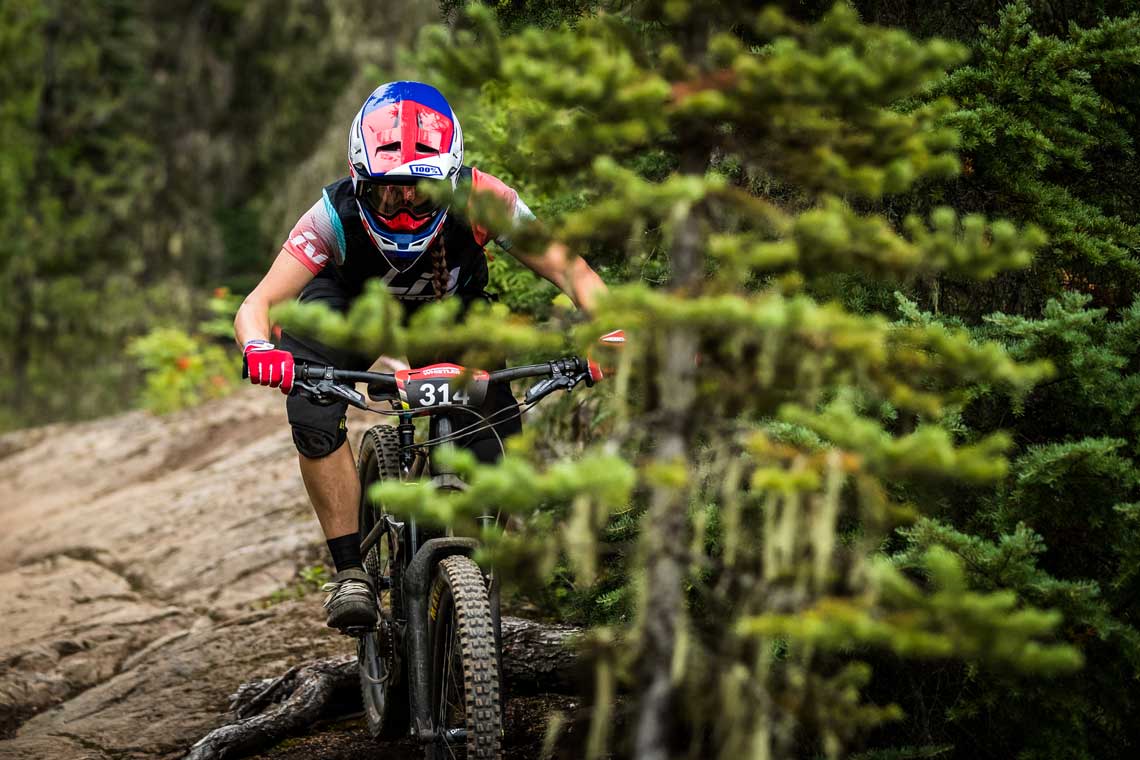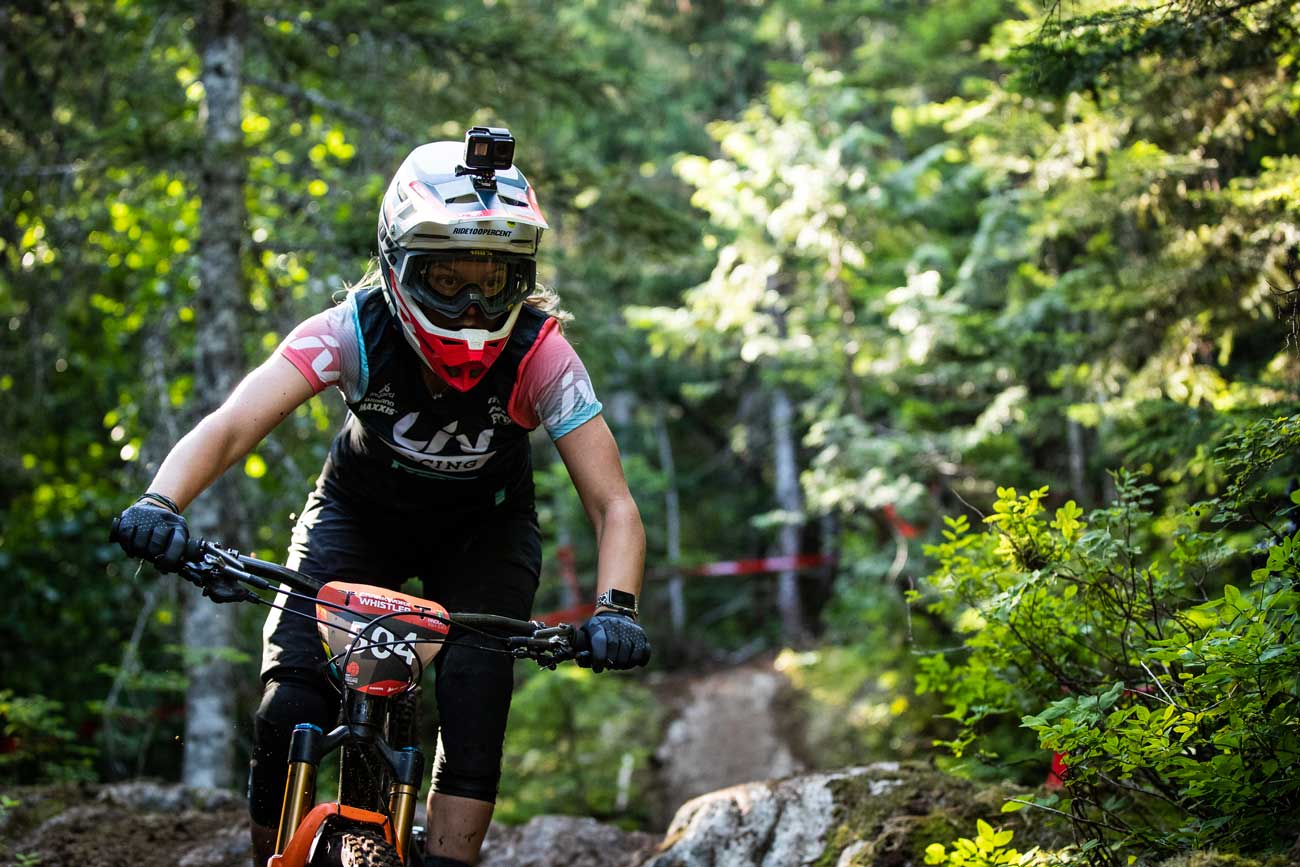 Liv: How does it feel to be back in Whistler for Crankworx? What are some things that make this place special for each of you? 
Rae: I love Whistler. The riding here is a biking Disneyland. It's always a great few weeks. Being involved with Crankworx is always special and amazing to see and to be involved with the festival.
Leonie: It is really great to be racing on home trails. Getting to sleep in my own bed, keeping a normal routing, and not having to worry out feeling jet lagged is great. I do also find myself at a disadvantage. I have been working full time right up until training started, so was feeling pretty tired before the racing had even begun. My favorite thing about racing at home would have to be my family and friends. They are incredibly supportive and are always out there cheering out on. It is absolutely amazing hearing them and sometimes seeing them (Marissa gets a special mention for running alongside me, screaming at me to pedal faster during the road climb on stage 3). Having that support and encouragement really means a great deal to me.
Isabella: I came to Whistler for Crankworx last year but only raced the challenger enduro. This year was completely different, it was more challenging but in so many fun ways! Whistler is such a cool place, it's like Disneyland for bikes!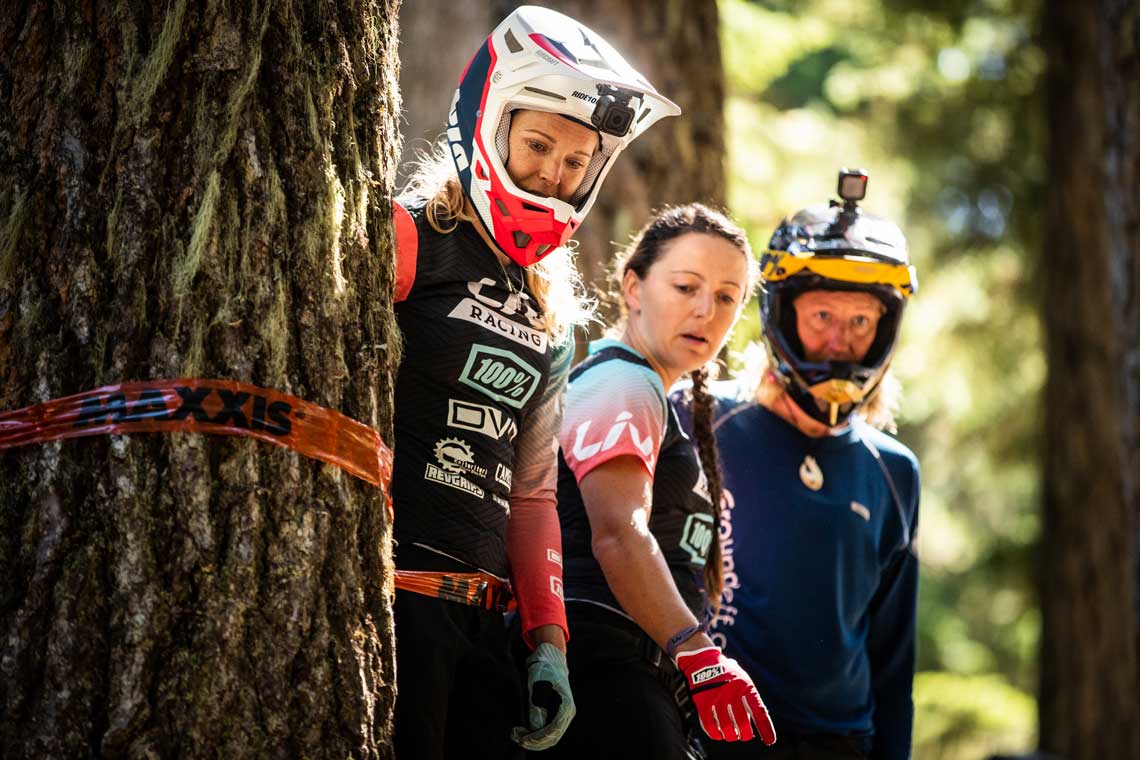 Liv: Leading up to race day, it seems like it would be easy to over-do it and get worn out with so much amazing riding around Whistler. How do you manage the week leading up to a big race, so you are prepared but also fresh?
Rae: It is really easy to get excited and do too much before the race because the riding is just so good and fun! I allowed myself to ride heaps during the weekend before, but when it was race week, I spent most of the day track walking and then had Wednesday off before practice. I'm lucky to stay on after the race so will have another week of amazing riding and endless park laps.
Leonie: For me, the week leading up to the race consisted mostly of working and then trying to rest, but also trying not to stress about being so tired. 
Isabella: In Whistler, it is definitely a challenge not to over-ride because it's so easy to go do a couple laps in the bike park without realizing you are fatigued. I make sure to take a rest day before practice starts and make sure to recover after practice days.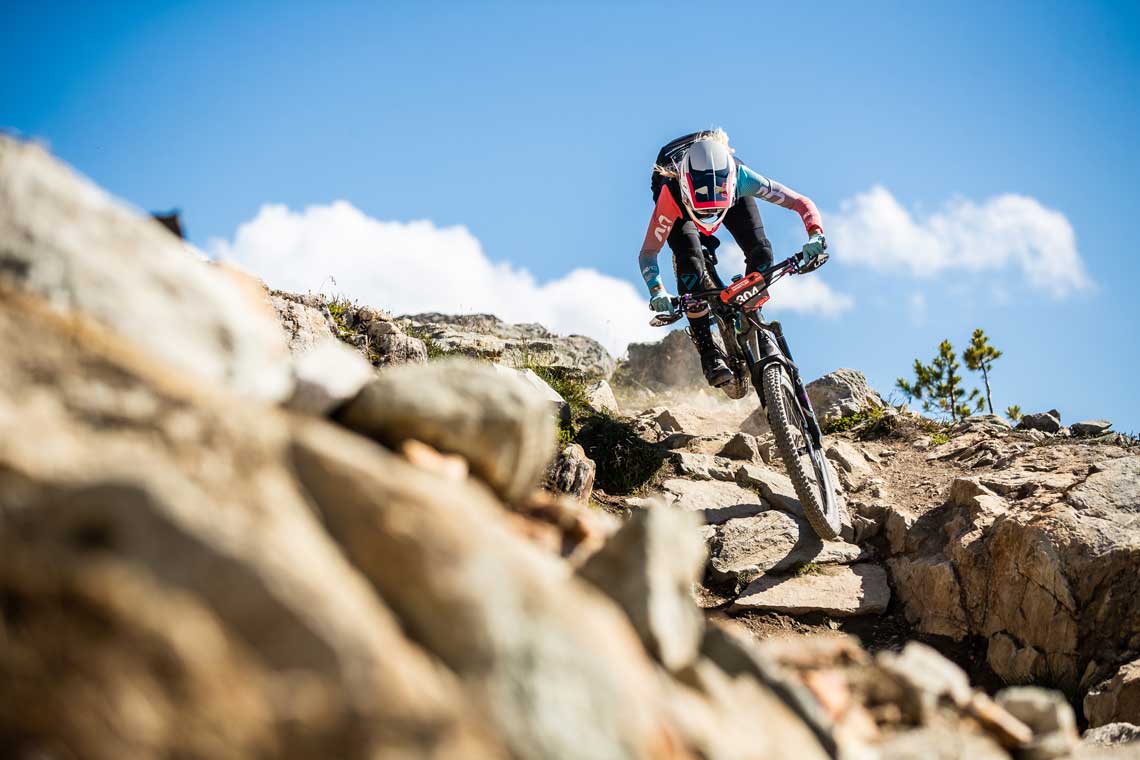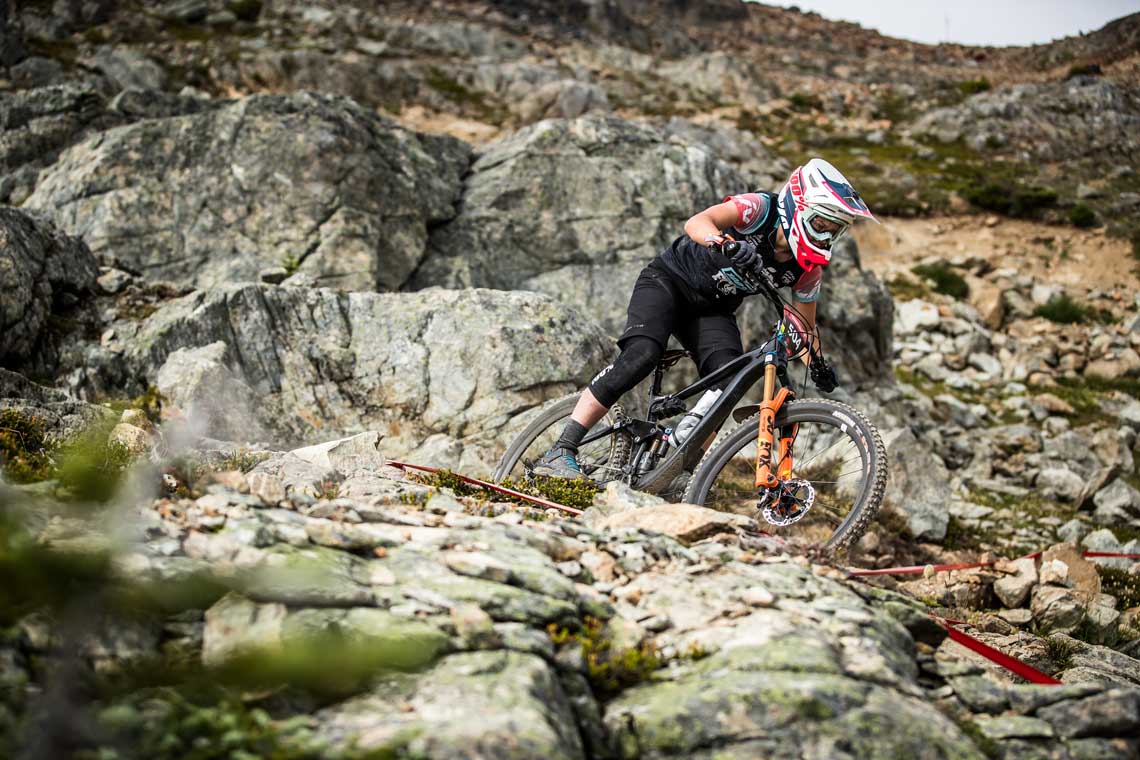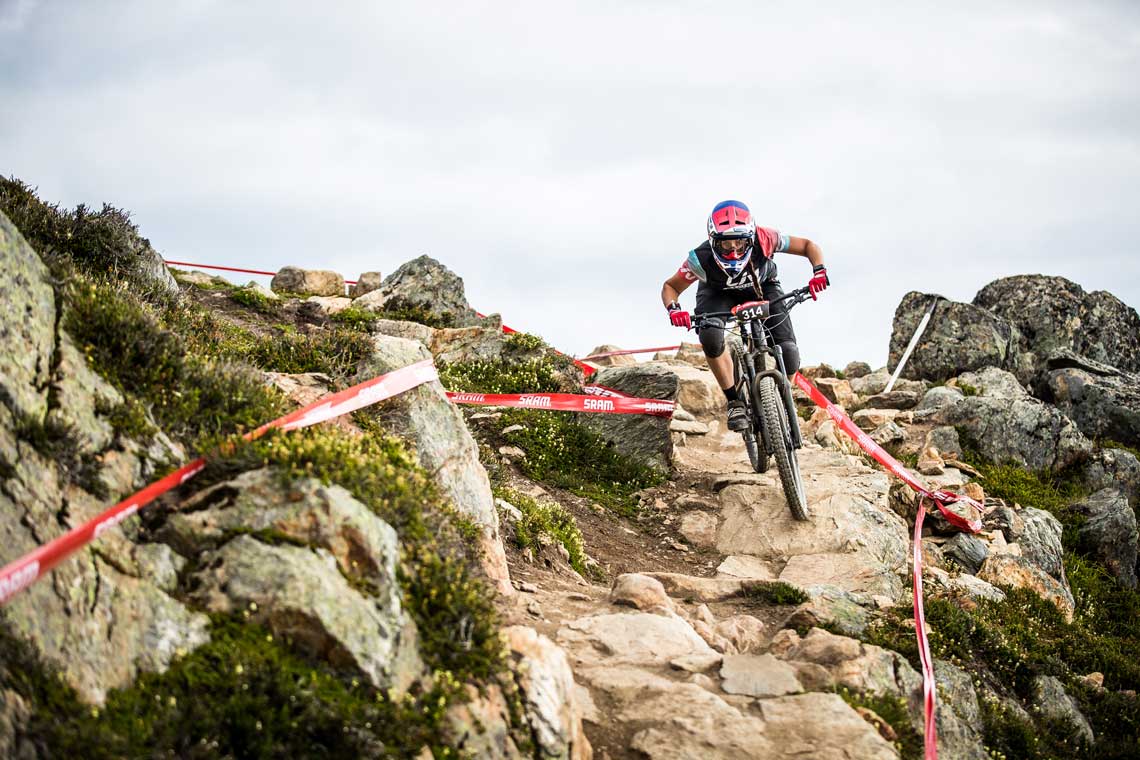 Liv: This year, EWS Whistler changed to a two-day format, with the 11km long/ 1,526m descent/ 23+ minute Top of the World stage taking place Saturday and the remaining stages 2-6 on Sunday. What did you think of the format? On a stage that long, what was your strategy?
Rae: I really like the format of racing 1 stage on Saturday. It gives an extra half day to recover from practice and also gives a little insight to how I'm riding before the big race day on Sunday. My strategy was to go 100%.
Leonie: The EWS used this format at round two in Tasmania. I really enjoy this format. I feel like you get a DH race on Saturday and lay it all out on the line, then the enduro racing starts on Sunday. My strategy for Saturday's stage was to keep it smooth. There are just so many rocks on the Top of the World trail. It is very easy to make mistakes, run off course, puncture a tyre, or hit your derailleur. Since the stage is so long, your hands do get sore. I had to shake them out a couple of times during the not so technical spots.
Isabella: I liked the format of this race but it definitely weird waking up Saturday morning and not having to race untill the afternoon. On the 23-minute Top of the World stage, my strategy was not pushing it too hard at the top of the stage, so I would have enough energy left for the bottom of the stage.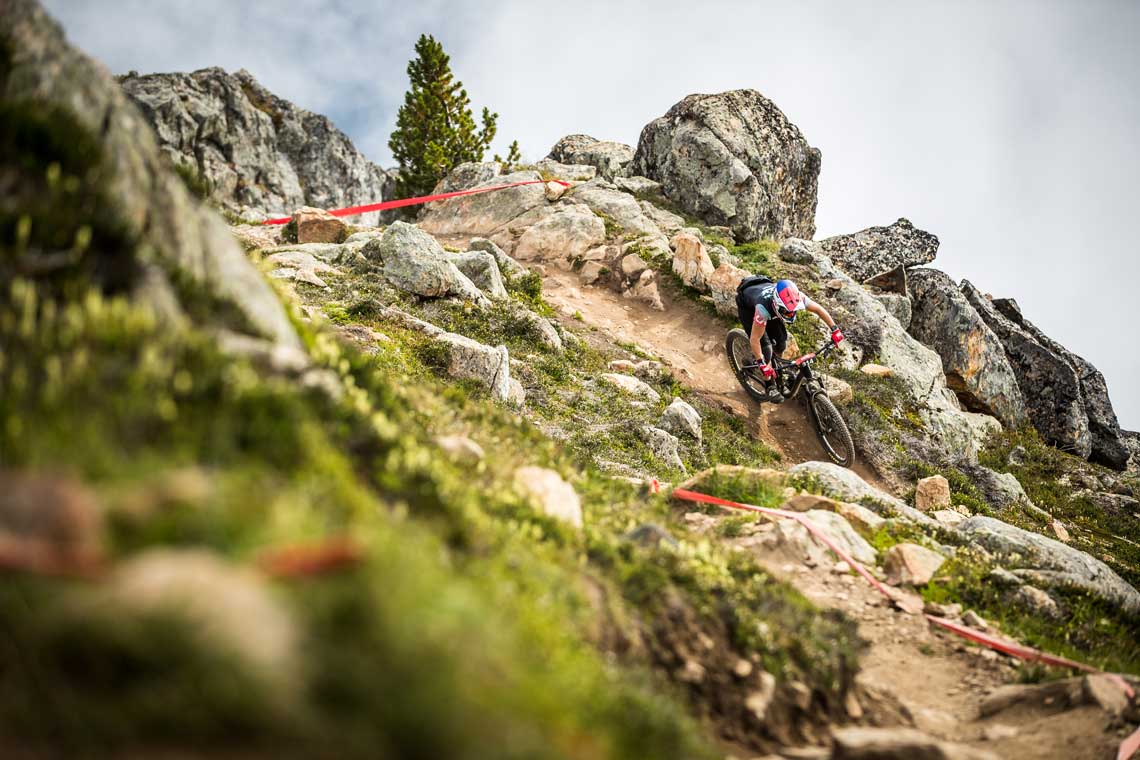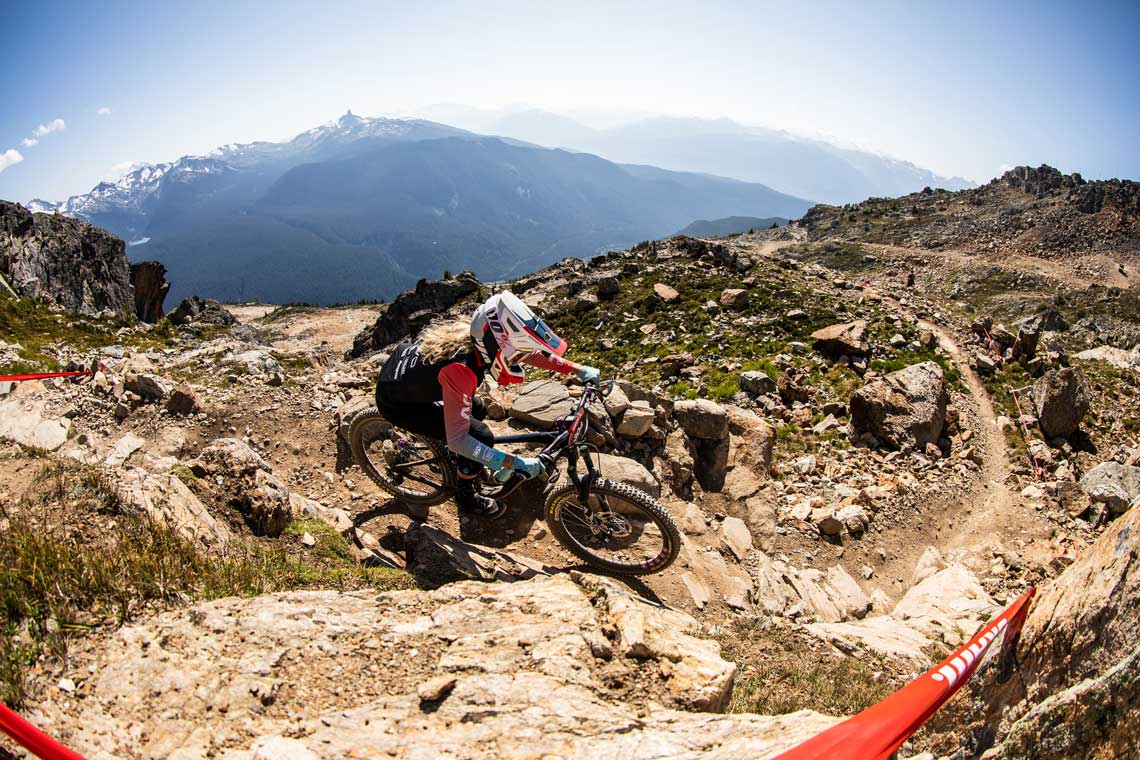 Liv: How did you feel after Stage 1 heading into day 2?
Rae: It was a long stage, but we had all night to recover and be reasonably fresh for Sunday.
Leonie: I felt so amped after crossing the line on Saturday. I'd had a really fun stage and my body felt great. After getting everything ready and prepped for Sunday, the rain started falling. I lay awake most of the night wishing for it to stop, knowing that with every extra drop, the level of slipperiness out on the trails was increasing.  
Isabella: After that stage ended and I saw the results, I knew the next day was going to be a hard battle, but I knew it would be fun!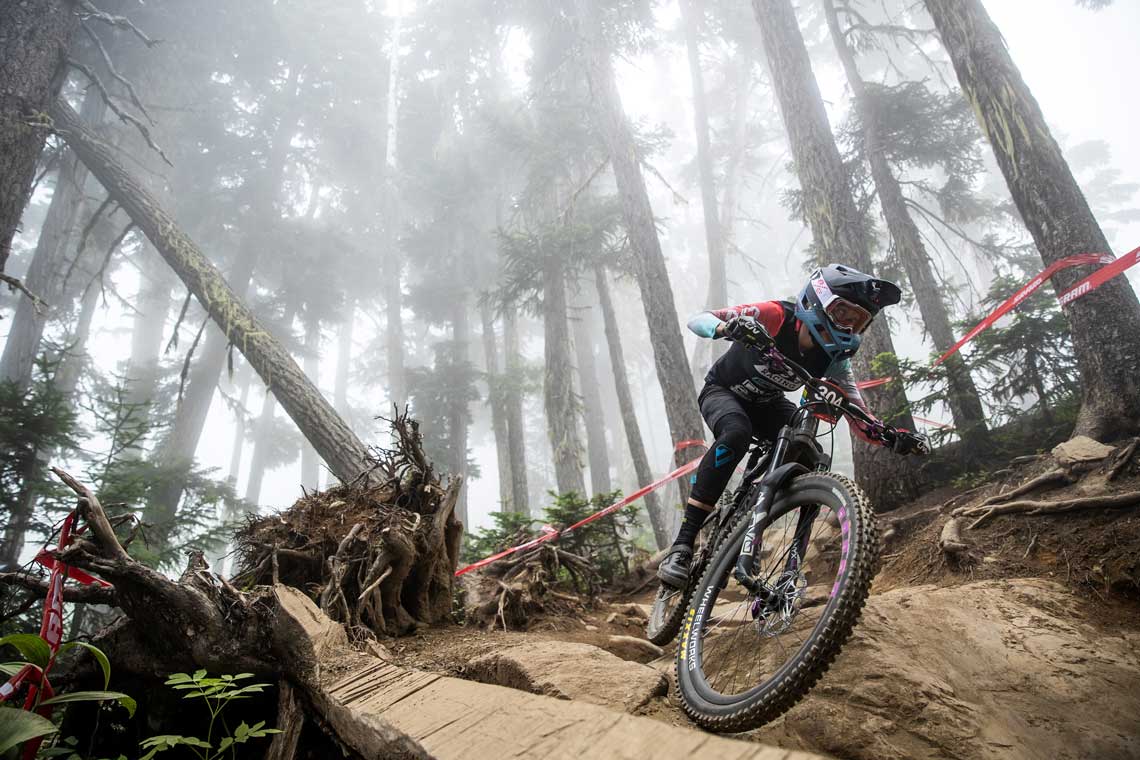 Liv: When you woke up to rain on Sunday morning, what were your first thoughts?
Rae: To wake up to rain the initial reaction is "uh oh," but it has happened so much in previous races I kind of just expect it now and I just make sure I'm properly prepared with rain gear and spare clothes.
Leonie: I was actually feeling strangely excited. I had accepted what was to come, even though I would have preferred a nice hot sunny day with dry trails. My mind was working overtime, processing the trails, thinking through sections and trying to envision a positive outcome.
Isabella: When I woke up to rain Sunday, I knew the day would be very interesting. I was nervous because I have never really raced in wet, muddy conditions.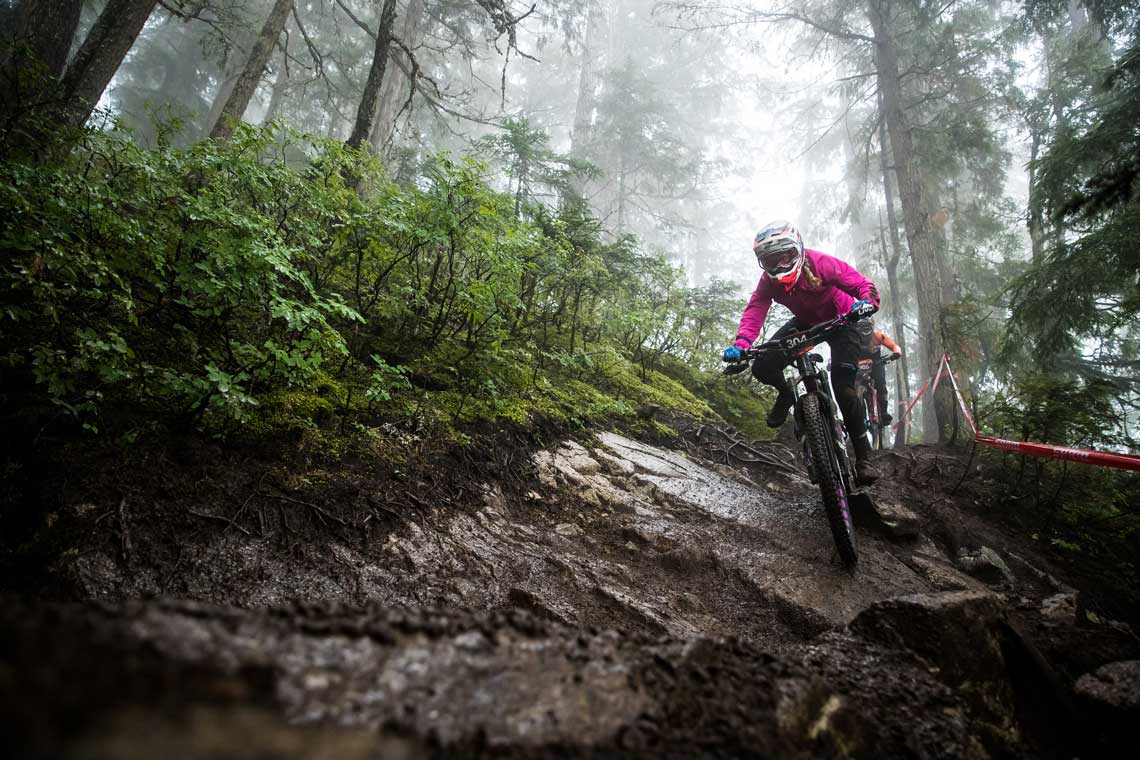 Liv: Describe the conditions on the trails. Did anything change with your bike set up due to the conditions Sunday morning?
Rae: The trails were very slippery and wet, I took the compression off my fork and dropped my tire pressures slightly to help with the grip.
Leonie: It was just so wet. Climbing up to stage 2 was incredibly muggy, so even though it was raining very lightly, there was so much moisture in the air. My goggles fogged up the instant I put them on. Stage 4 was so cold and the fog so thick, it was hard to find the trail when it opened out from the trees.I didn't make any bike set up adjustments from Saturday to Sunday. I had already made a substantial adjustment on Saturday morning, opting to use a larger size frame.
Isabella: The trails resembled a mud slide in some parts but also really good dirt in other spots. My bike pretty much stayed the same for the mud I left the tire choice I had on but lowered tire pressure.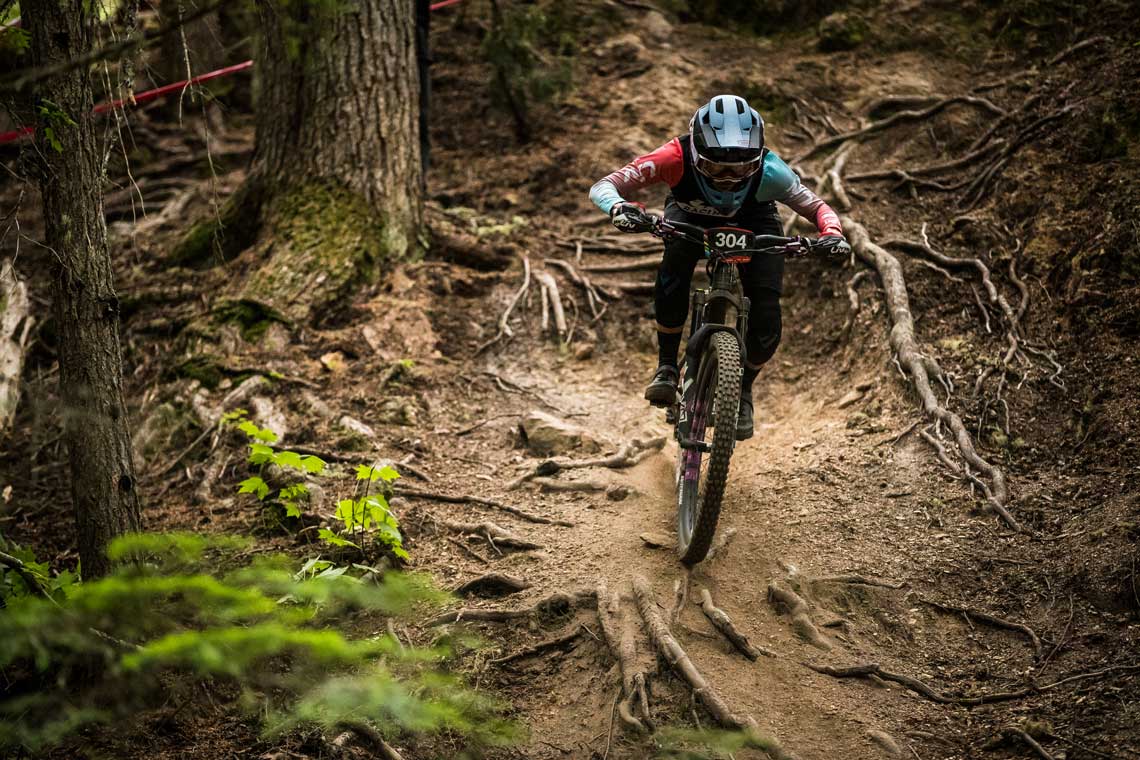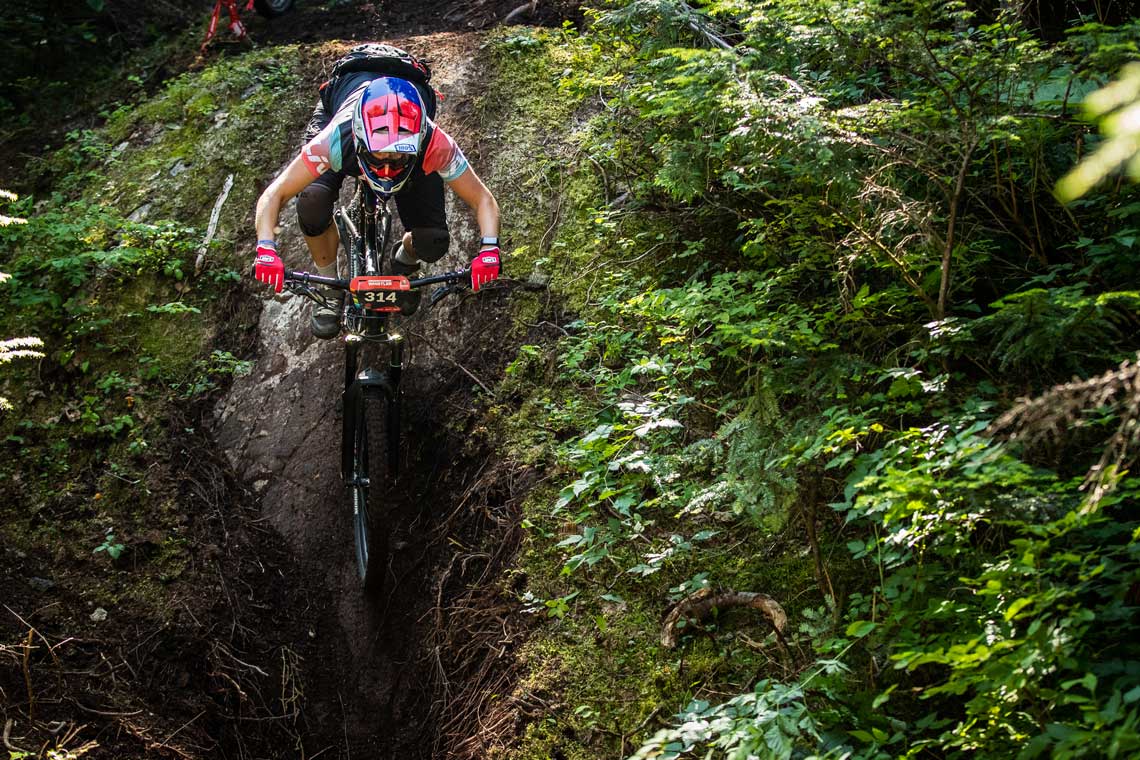 Liv: What is the most challenging part about racing in wet and muddy conditions?
Rae: The hardest thing I found was crashing or going off course. The track was often unpredictable with off-camber slippery roots and big holes I was caught off guard a few times. When that happens, I lose my momentum and get a bit frustrated with losing time.
Leonie: The mental battle with myself was the most challenging part of Sunday. I started the day with confidence, but after making some very costly mistakes on stage 3, I found myself beginning a rollercoaster ride of doubt and belief. I knew I was capable of great things, I just had to focus on keeping a healthy mindset. 
Isabella: The most challenging part about racing in the mud for me was the wet roots. They are very slippery and will just take your bike right out from underneath you super-fast. I just wasn't sure the best way to ride it, but I slowly figured it out.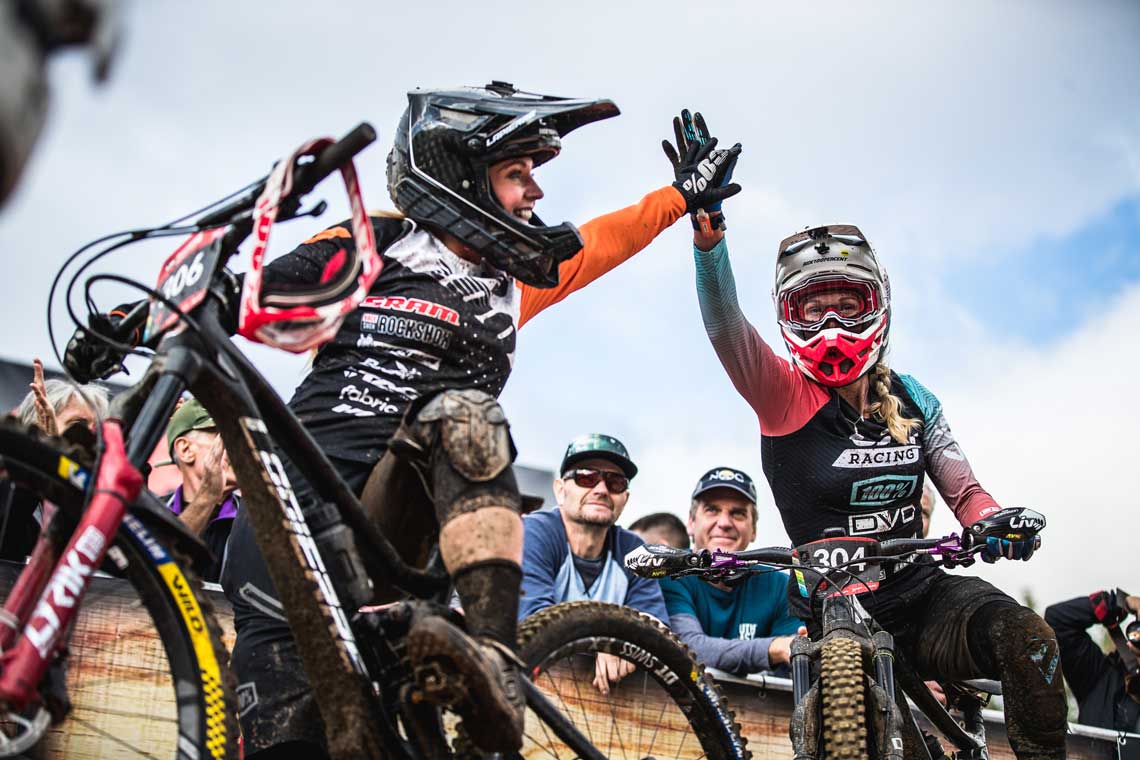 Liv: What was your favorite moment from EWS Whistler?
Rae: I had my friends chase me around the forest with signs all throughout the race. That was amazing and kept my spirits high.
Leonie: I am just so thankful to all my friends for their support and encouragement. All the amazing and talented ladies that I get to line up with at each race. To be surrounded by so many inspiring role models.
Isabella: My favorite moment from EWS Whistler was being with and learning from teammates throughout the week.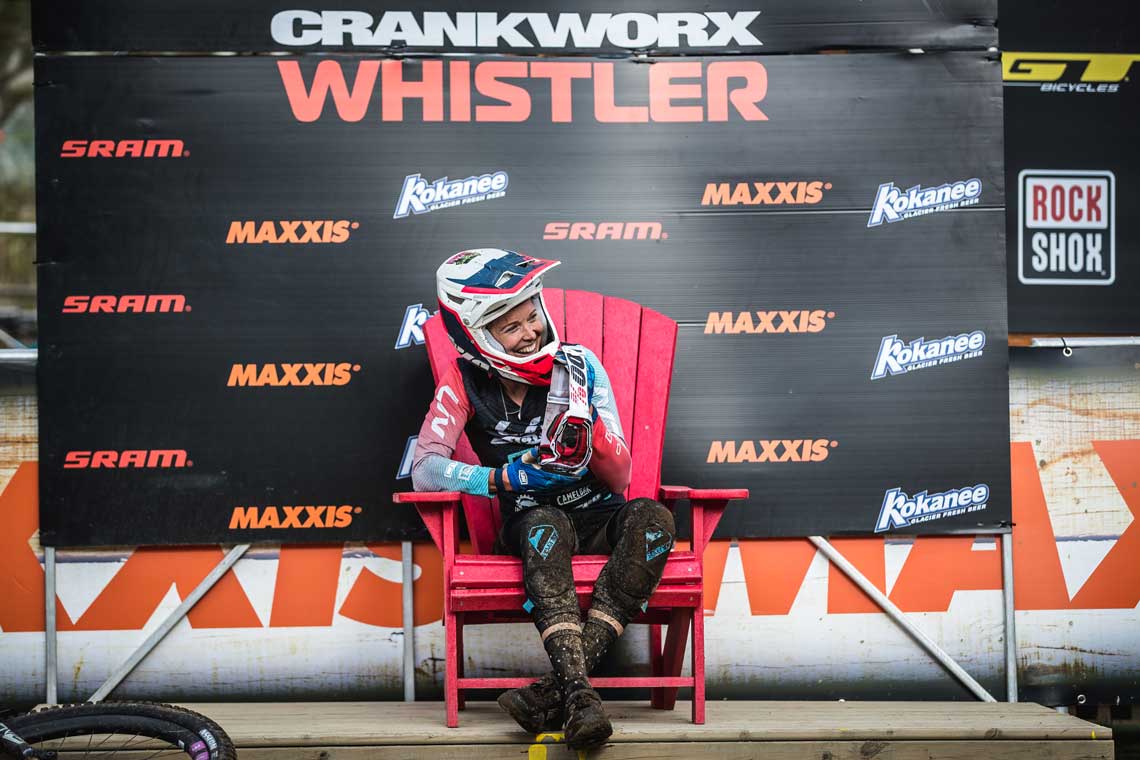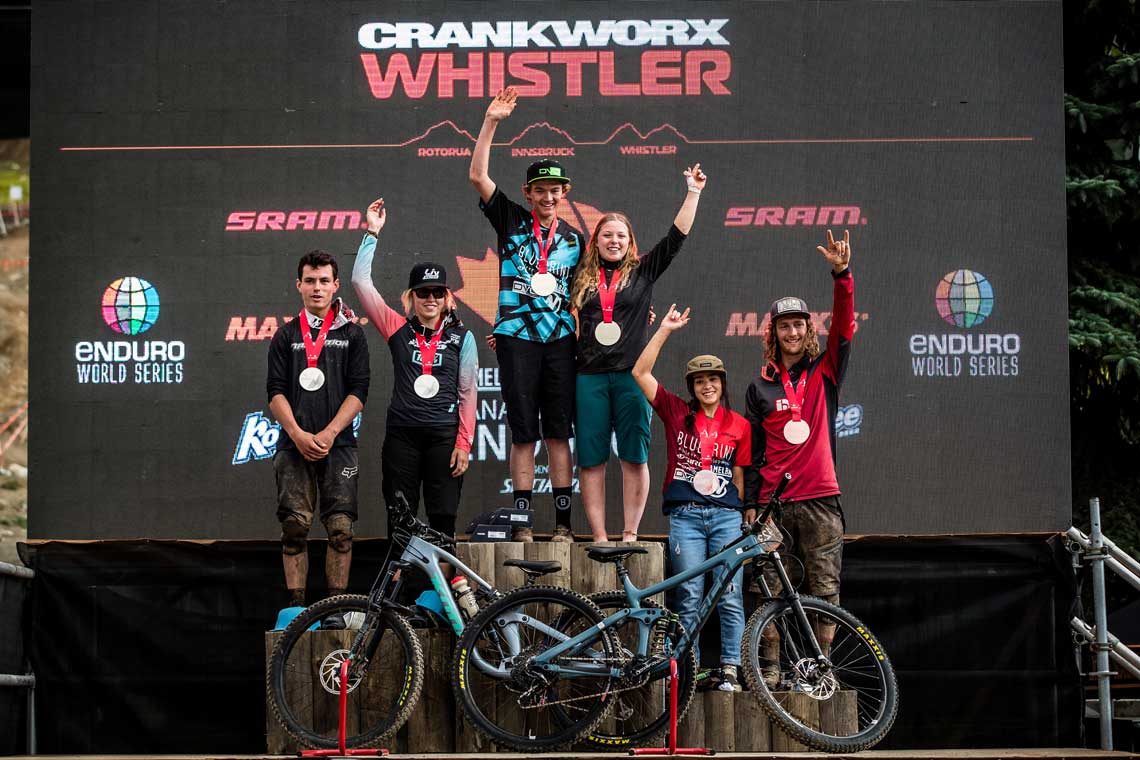 Next up, Rae, Leonie and Isabella will head to a brand-new EWS venue in Northstar, California. They are all excited to ride and race somewhere new – Lake Tahoe is sure to provide some great adventures!
Learn more about Rae, Leonie, and Isabella by clicking the links below, and keep up with the latest news by following them on social media!