Liv Racing Report: Enduro World Series Finale Ligure
The Liv Racing enduro squad was back at it again this weekend, this time in Finale Ligure, Italy. This venue has been a staple on the Enduro World Series tour, but with a few changes to the course, the racers were both loving the stages and loathing the pedal required to get to each track. With four stages plus the pro stage on Saturday, Liv Racing Collective teammates Leonie Picton and Rae Morrison and Liv Factory Racing athlete Isabella Naughton were in for a big day out on Sunday. Racers tackled 53km with 2190m of climbing and descending. With no EWS80 under 16 category, Riley Miller cheered on her teammates from the sidelines in Finale, but will be back racing in Scotland in less than two weeks.
The stages proved to be brutal on bike and body. Read on to find out how the Liv enduro racers made out in Finale.
All photos by Sven Martin Photography, except where noted.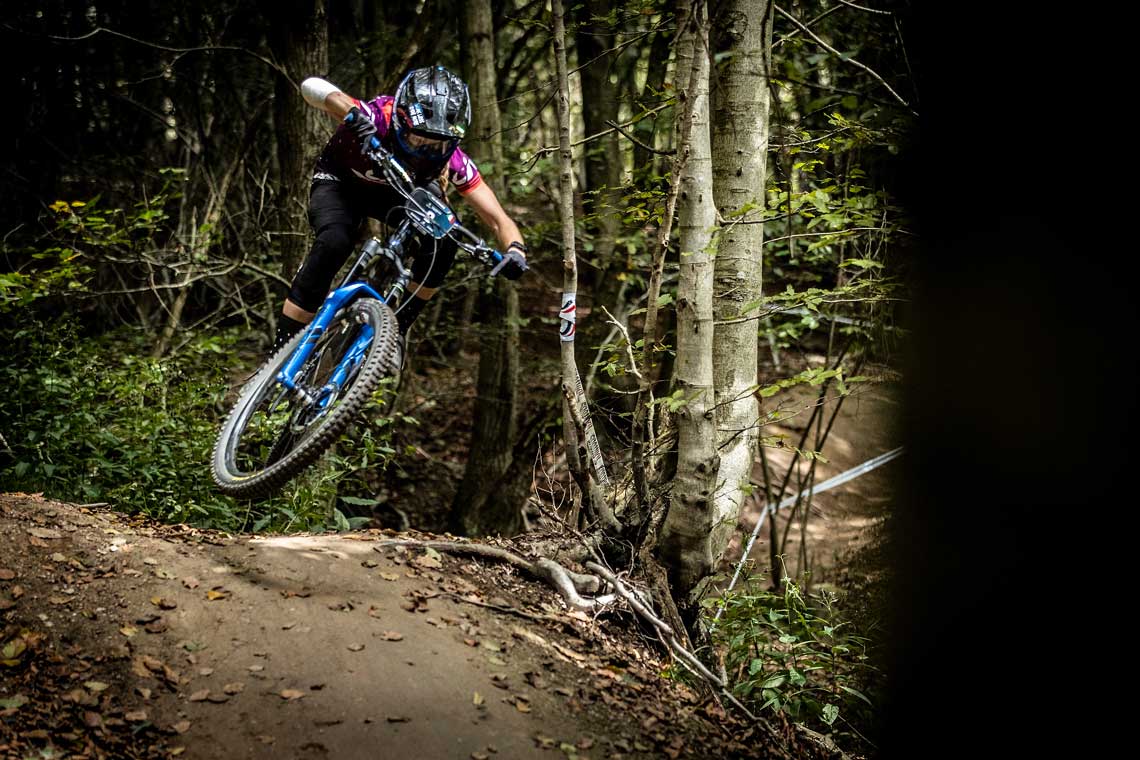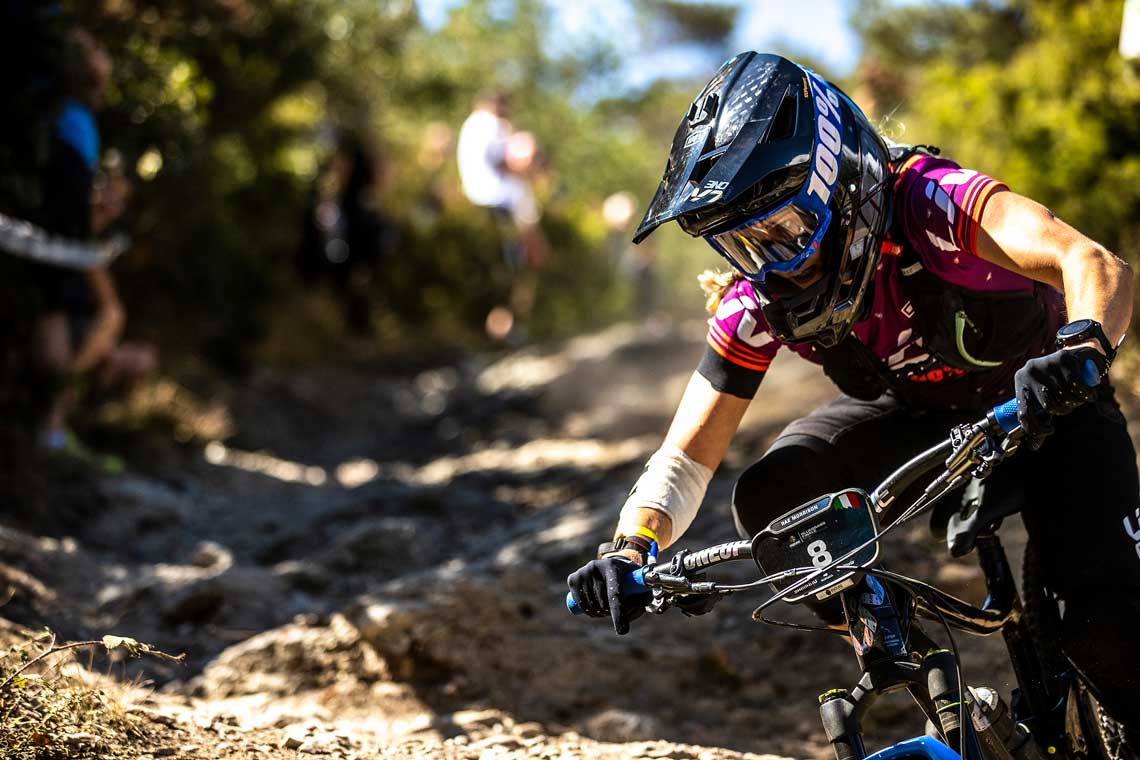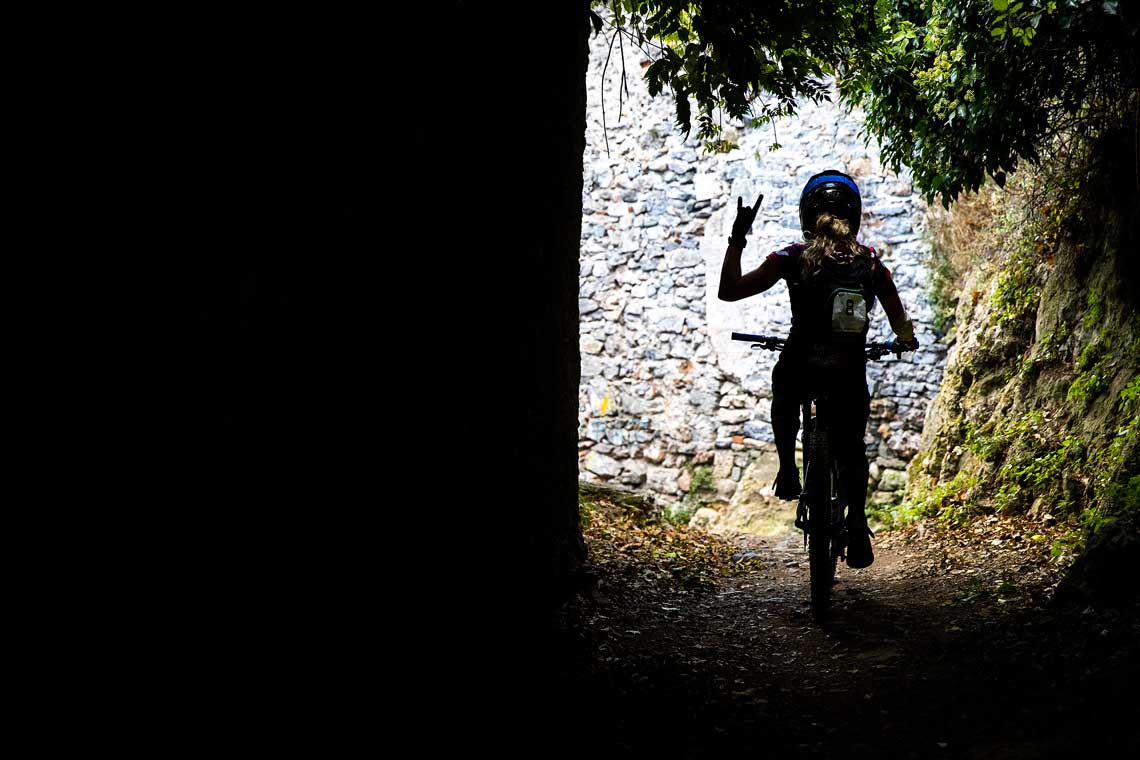 Rae Morrison
9th, Pro Women
Liv: You came into the weekend injured after a crash. Can you tell us a little bit more about the accident and how you were feeling heading into the race in Finale?
Rae: A couple of days after we arrived in Finale Ligure a bunch of us did a shuttle day. Halfway through I was following a couple of friends into a piece of track that you could double up, I didn't quite come in with enough speed and as soon as I landed was ejected out the front. It was a highspeed landing onto solid ground, I tucked into a roll which I think luckily saved me from any broken bones. I was feeling very stiff and sore and even unsure if I was going to be able to race. I sprained my sternoclavicular joint, bruised ribs, grazed my back and arm and put a hole in my elbow. For the first two days I couldn't lift my arm and struggled to support my weight on the bike. But luckily the swelling went down after two days, and I was able to move a little freer to get to the start line.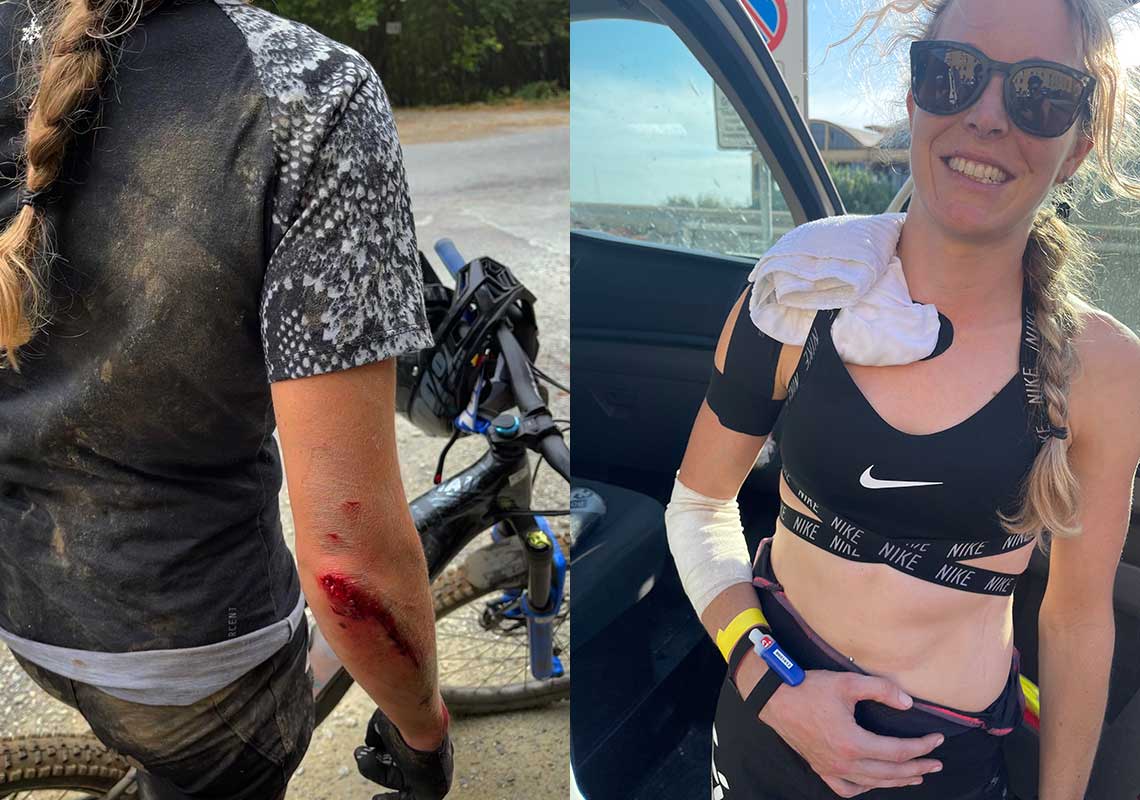 Photos courtesy Rae Morrison.
Liv: You chose to race through your injuries, and you did super well! Do you think coming into the race injured removed some pressure to perform?
Rae: Thanks! I really changed my mindset for the race. My attention was solely focused on getting through and riding the best I could with what I had. I had no expectations and no pressure on myself, and to be honest I think that helped shift my thoughts from results to just taking the day one stage at a time and riding in the moment.
Liv: Racing so many technical stages without support, did you carry more supplies with you than you had been for previous races? What are some of the essentials and how did you carry them on you/ your bike? 
Rae: I carried a lot more food with me than I normally do. I also raced in my Camelbak vest rather than bib shorts with pockets for more storage and comfort. It allowed me easy access to food on the liaisons with the front pockets on the vest so I could eat and ride very easily (with my sore shoulder I couldn't physically reach around to get anything out of my bib short pockets), and it had a nice pouch for my back protector to keep it off my grazes. I didn't carry any more tools than I normally do as I already have most things covered but I did change my set up quite a bit for the bigger day to help reduce fatigue. I raced on faster rolling tires, using MAXXIS Minion DHR front and rear but with the Maxx Grip on the front and Maxx Terra compound on the rear. I also switched to an air shock to help lighten the bike.
Liv: What's your main goal/focus heading into the final EWS round in Scotland?
Rae: First, I'm going to see a physio for my shoulder and neck. Then, I am going to take some of the lessons I learnt from the last race to reduce the pressure on myself and focus more about riding in the moment to set myself up to have a really fun and positive race. It is the last race of the series, so I would love to end it on a high.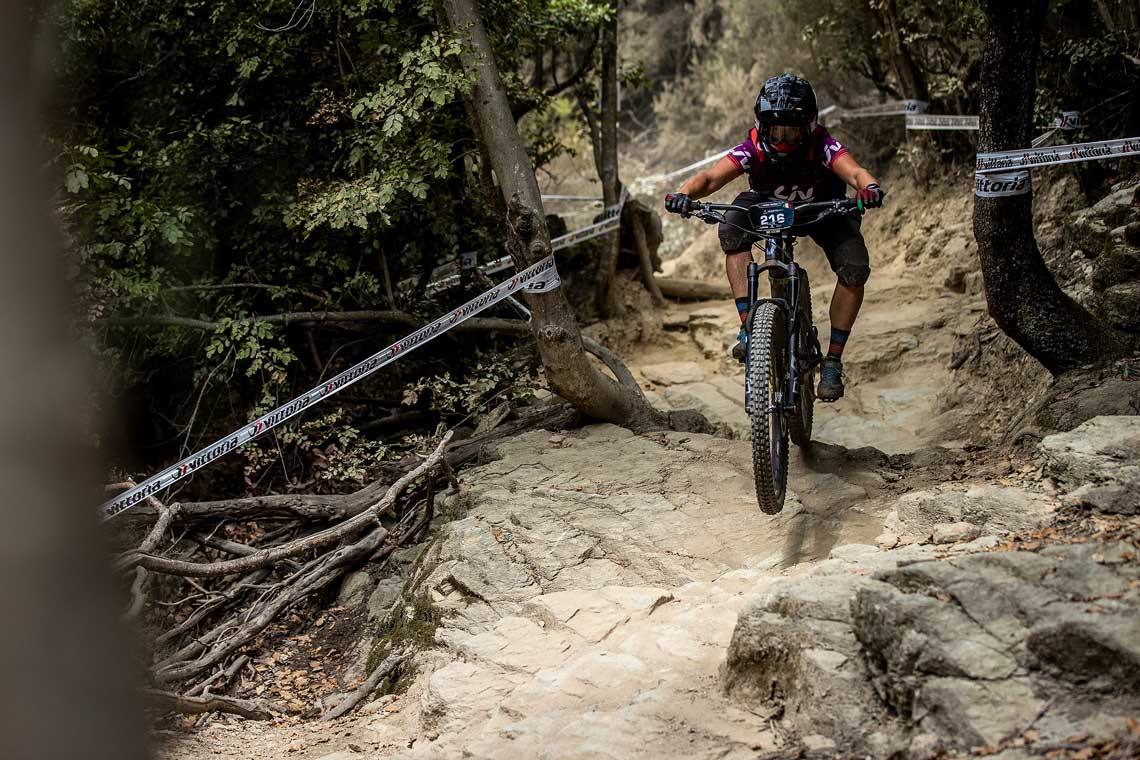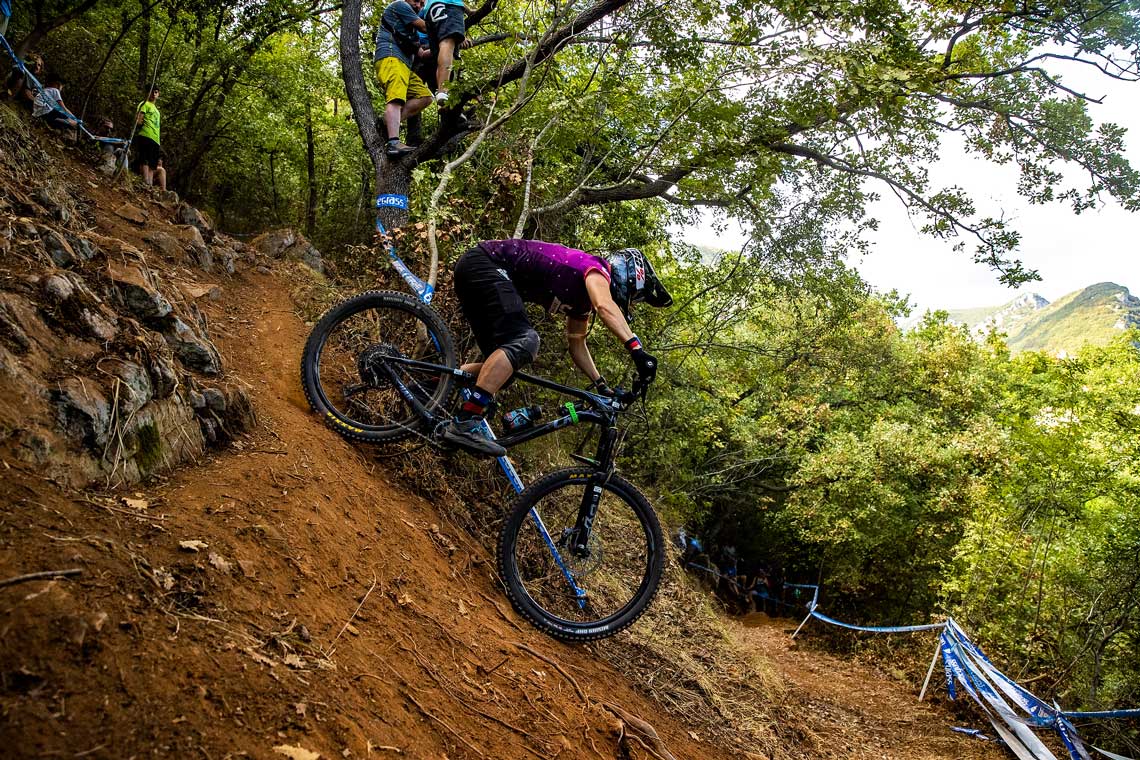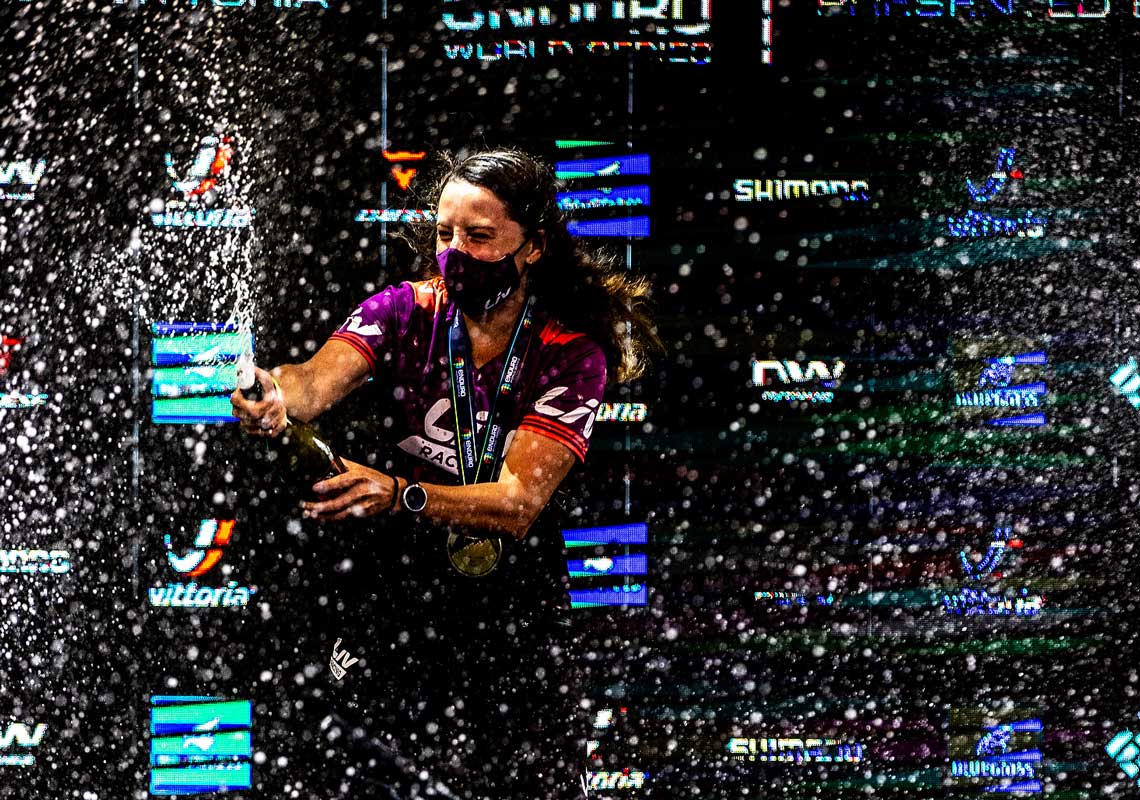 Leonie Picton
1st, Masters Women
Liv: What were some of the changes to the course from the other years you have raced here? Did you like the changes? 
Leonie: This is only my third time racing in Finale Ligure (2017, 2018, 2021). I feel like this is the first time the trails have suited me. Usually, the trails are a little awkward, closer in style to a hiking trail. This year the trails were well worn-in biking trails, with the exception of the Pro stage.
Liv: Sunday was a big day, how long did it take to complete the four stages? How did you manage the heat, hydration and nutrition over the course of the day?
Leonie: Wow, was Sunday a tough day. This is the first race of the season that didn't include a chair lift, gondola, or shuttle. It was all pedal power, the whole 6.5 hours of it. The day started off with a 19km road pedal from the ocean up to NATO Base at 1000m elevation. Getting to the start of Stage 1, already feeling pretty tired, was a very interesting scenario. I had so much food with me (plus getting to stop by the food station twice throughout the day) and stopped at every water fountain I could find. I focused on eating every 30 mins. I drank so much water that at one point my body was rejecting it.
Liv: It seems like a lot of people were having falls and mechanicals during this race, but you rode consistently to win your class by over 46 seconds (with a time that would have placed you 23 in elite women, nice job!). How did you manage the mental and physical demands of this course to have a successful race?  
Leonie:  I enjoyed riding the trails so much during practice. I was feeling really comfortable and with that my confidence was high. Usually in the start gate, I get so nervous and stress about certain features on the trail or maybe not feeling so confident within myself. But after the long pedal up to stage one, all I could think about was just riding smooth and trying to conserve my energy so that I would be able to actually finish the day. I was pretty tired, but I knew as soon as I dropped into each stage it would be so much fun. The trails had some gnarly rocks and since my legs felt heavy and tired, I just tried to stay as light and smooth over the sharp rocks. It is hard to find the line between maybe playing it too safe and going all out. I like to just ride the way I know I can. In previous years, I've pushed too hard and not had the results I was hoping for; 2017 DNF, 2018 I crashed a lot. I wanted to prove to myself that I could have a good time here; I'm glad I had a good mindset and was able to accomplish that.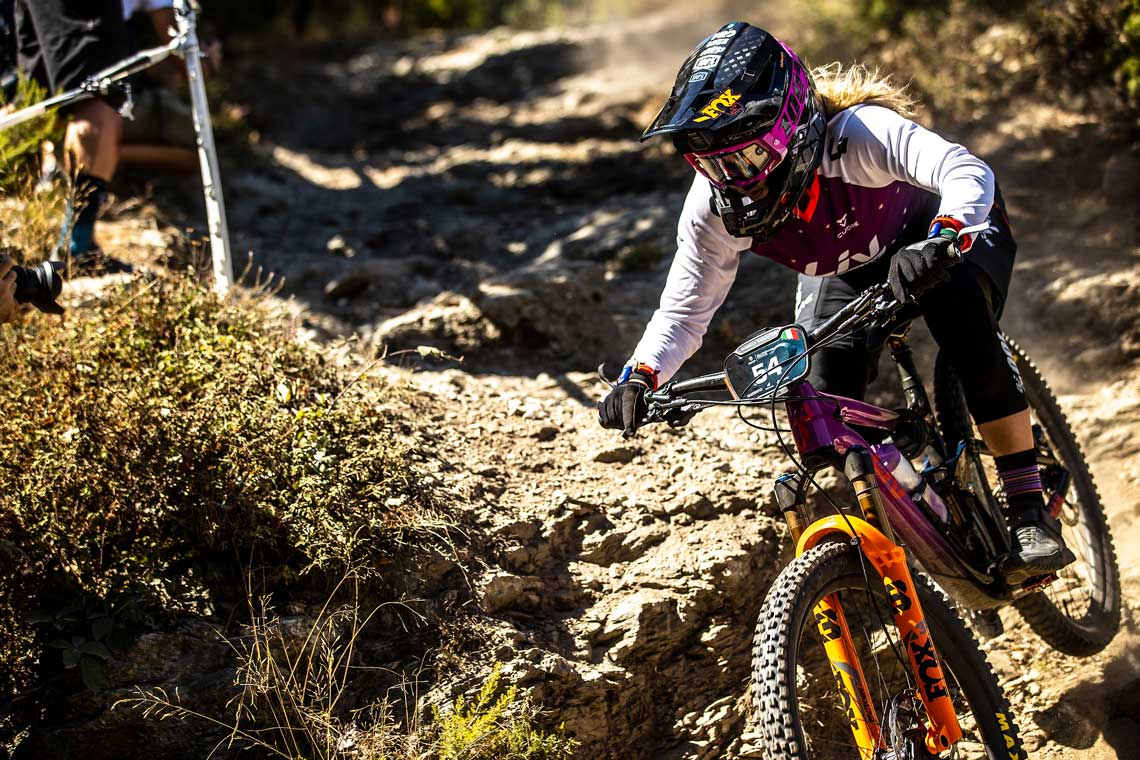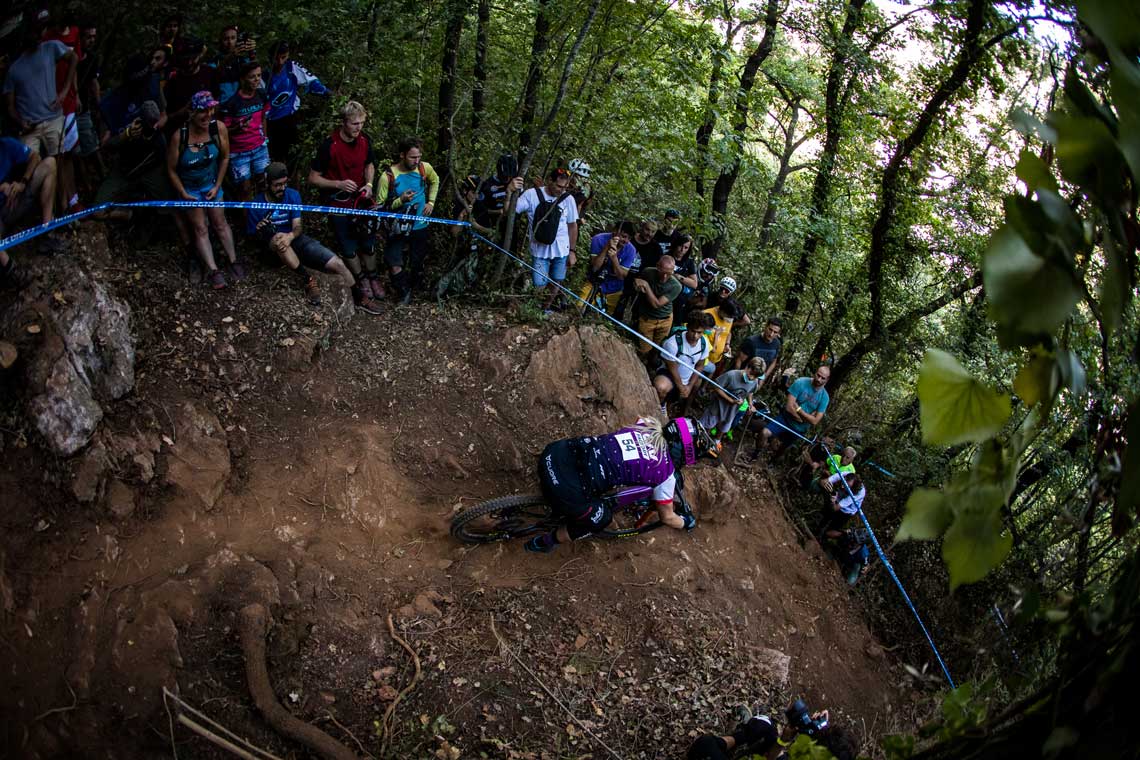 Isabella Naughton
DNF
Liv: Straight into the fourth race in a row, how were you feeling mentally and physically heading into the race this weekend? 
Bella: Going into the 4th week of racing in a row physically I could tell my body was fatigued, but nothing too bad and I took the few days before practice to rest and recover the best I could (which in Italy means a lot of gelato). Mentally I was super excited and ready for racing in Finale, as the riding is always awesome there. I knew it was going to be a long race weekend with tight transfers and almost 7000ft of climbing so I did my best to be fully prepared for that.
Liv: How were the tracks? Was there any stage in particular you were looking forward to? 
Bella: The tracks were much different than Switzerland with less jumps and drops, but more rocky and tight euro turns. I looked forward to all the stages, but stage 4 was definitely my favorite. It was more open and faster than the others.
Liv: Sorry to hear a crash took you out of the race on Sunday! What happened and how are you doing? 
Bella: My crash was off a small rock drop that I had no issue with in practice. In the race, I just simply got a bit off line and landed in a hole causing me to go over the bars and hit a tree. It was definitely one of the bigger crashes I've had in a long time. Luckily, the only thing I broke was my helmet and am so glad I was wearing my 100% full face to protect my head. I'm just a little sore and have a minor concussion, but I feel really grateful it wasn't worse. 
The Liv Racing enduro athletes will be racing the final round of the EWS in Tweed Valley, Scotland October 2-3. Follow the action live at EnduroWorldSeries.com