Liv Racing Report: Crankworx Summer Series 2020
SilverStar – Kicking Horse – Sun Peaks, British Colombia, Canada
Over the course of three weeks, 25 of the world's best mountain bike athletes (who happen to live in British Colombia, Canada) competed in 12 races spanning a range of mountain bike disciplines. Nothing like the Crankworx Summer Series had ever been done before. But during a world-wide pandemic, the idea to have a small number of racers and staff descend on some of the best local mountain bike resorts in BC with all the action being captured in made-for-TV style was just crazy enough to work.
Liv Racing enduro athlete Leonie Picton was selected from a deep pool of talent to be one of the eight women to compete in the Crankworx Summer Series. Though the Whistler, BC local may focus on enduro now, Leonie's background in downhill and success at Air DH races during previous Crankworx Whistler events made her a well-rounded contender for the overall. But, the journey wouldn't be easy.
We caught up with Leonie after the series wrapped to learn more about what went down behind the scenes.
All Photos Courtesy Crankworx World Tour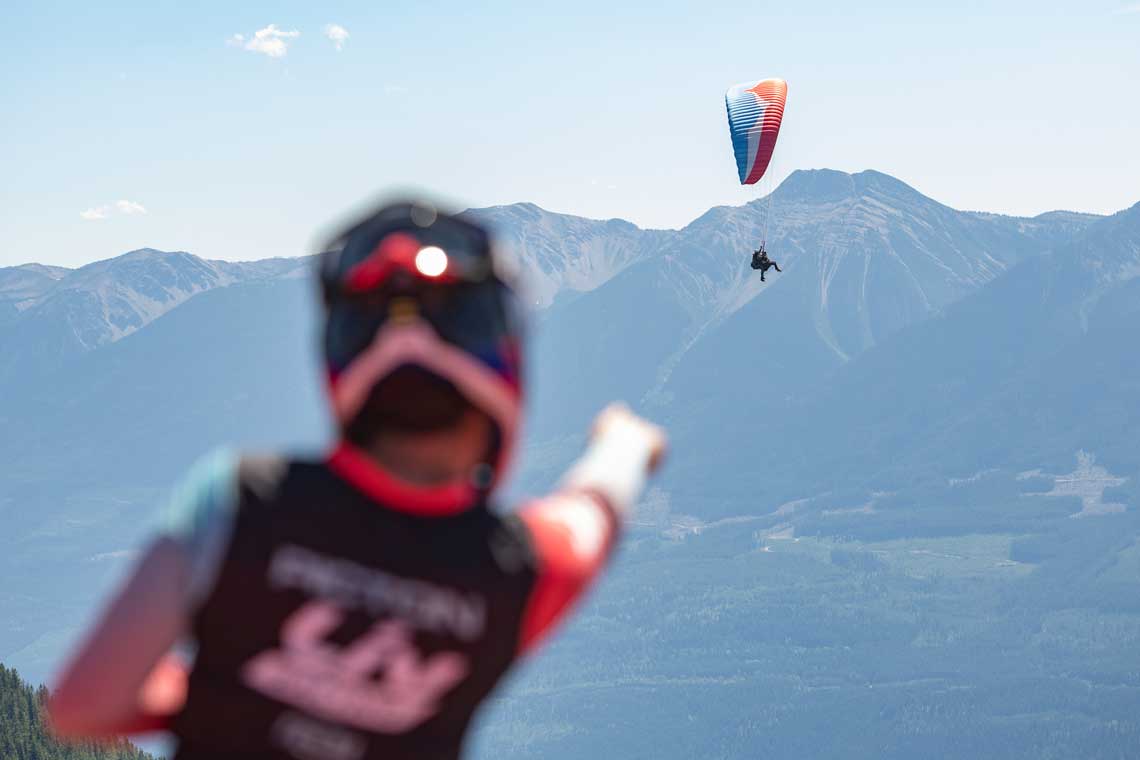 Liv: What made the Crankworx Summer Series different from any other event you've taken part in? 
Leonie: The Crankworx Summer Series was 4 races a week, for 3 straight weeks, totaling 12 races and three different venues. It was unlike anything I have ever experienced before in terms of sheer volume of races over time. Four different disciplines; Enduro, Dual Slalom, Downhill, and Air DH.
Liv: What were your first thoughts when you were contacted about being a part of the Crankworx Summer Series?
Leonie: My initial thought was 'Yeah, we are going racing', which quickly turned into 'Sorry, how many races?' Since the world was plagued by Covid-19, it seemed as though it would be a long time before anyone would get to race again. Trying to stay motivated to train without having a race on the calendar was challenging, so you can only imagine just how excited I was to final have something to focus on. I was slightly concerned about just how many races there were over a short period of time. Would my body be able to handle it? My training didn't really focus on this type of output.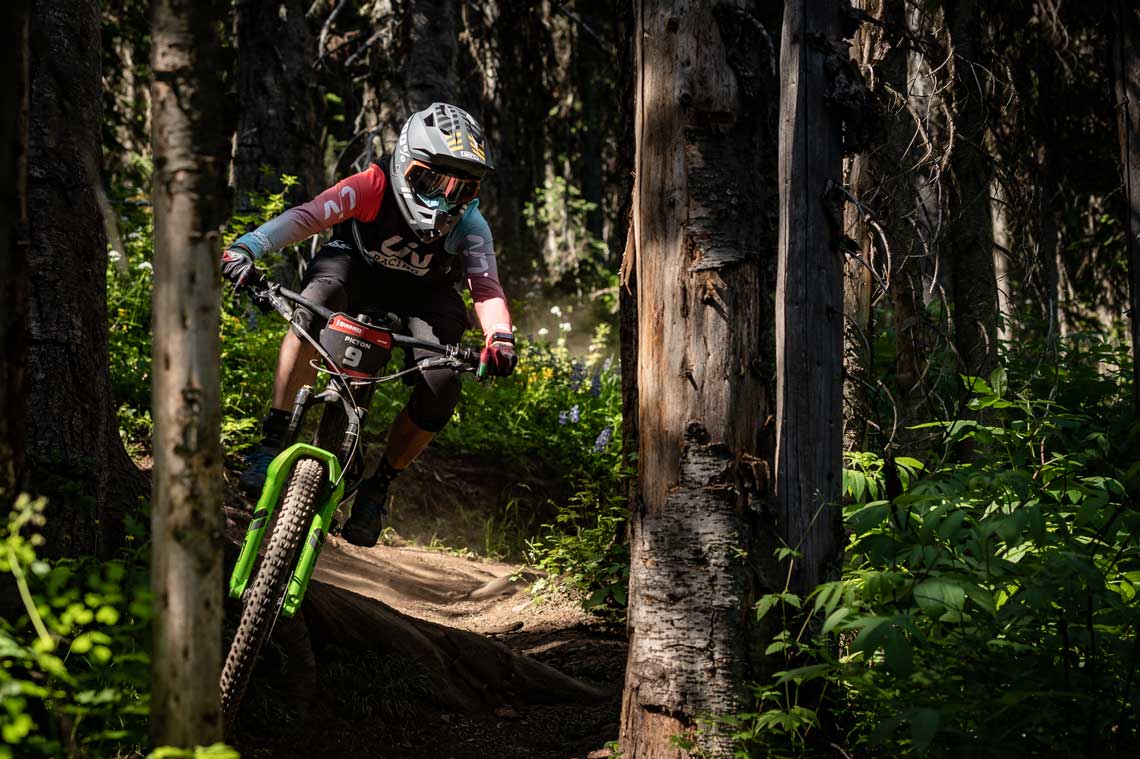 SilverStar enduro.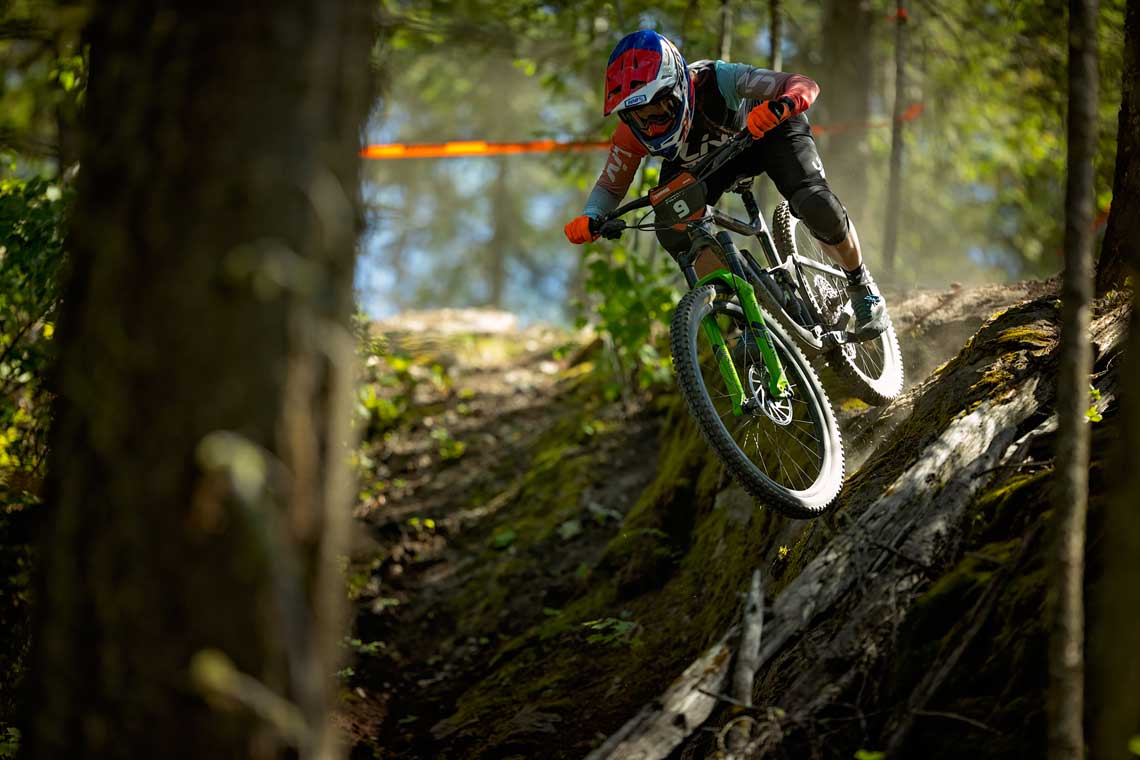 Mount 7 Psychosis downhill race.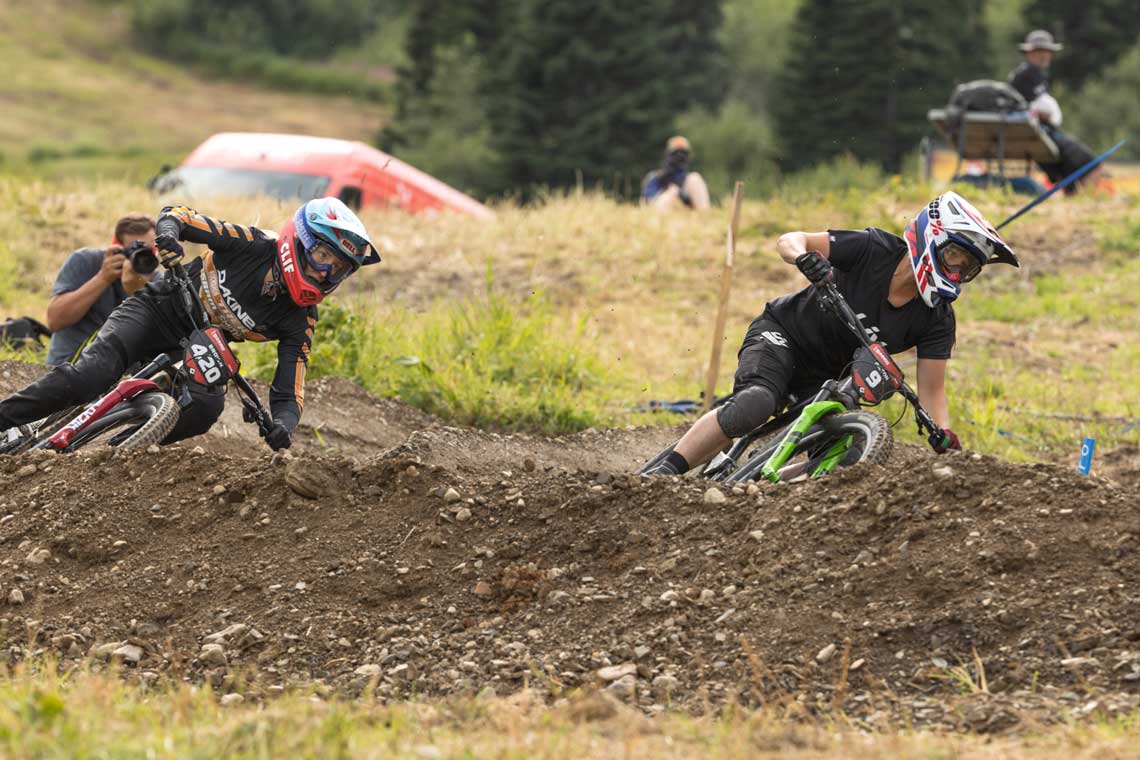 Kicking Horse dual slalom.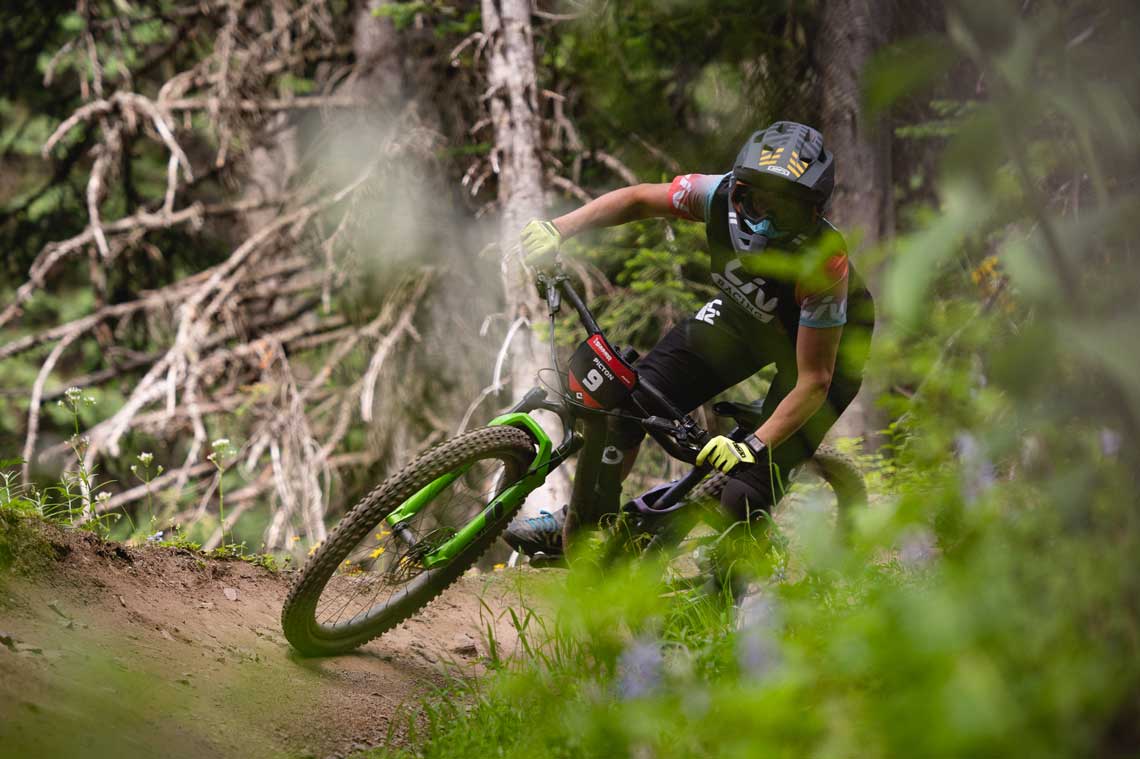 SilverStar air downhill. 
Liv: What were some of the protocols in place to ensure everyone's safety during the COVID-19 pandemic?
Leonie: It was very well organized and very thorough. I had a Health and Wellness screening with a doctor prior to leaving. All the athletes and Crankworx staff completed temperature checks each morning. Face masks were required at all times when a 2 meters distance was not possible or unlikely. And hand sanitizer was available everywhere.
Liv: What was it like racing with no fans lining the courses? 
Leonie: Usually fans line the hardest part of the track, which adds to the pressure of the race. As there were still track marshals on course, I didn't think too much of it really. It was most noticeable at the finish line. No masses of people, just having the other athletes to cheer you on. It really made things more intimate.
Liv: What was your favorite location? 
Leonie: I am not sure I can really pick. Each location was amazing in its own way. SilverStar being the first stop, my excitement levels were at a high and I was having such a great time on the trails. Having the privilege of being involved in the iconic Psychosis race in Golden was the highlight of the second week. I have never been in a situation during a race where you had to ride a section of trail as slow as you could but still trying to go as fast as you can. Then in the third week, we travelled to Sun Peaks. The trails at Sun Peaks are some of my favourite, it is always a blast.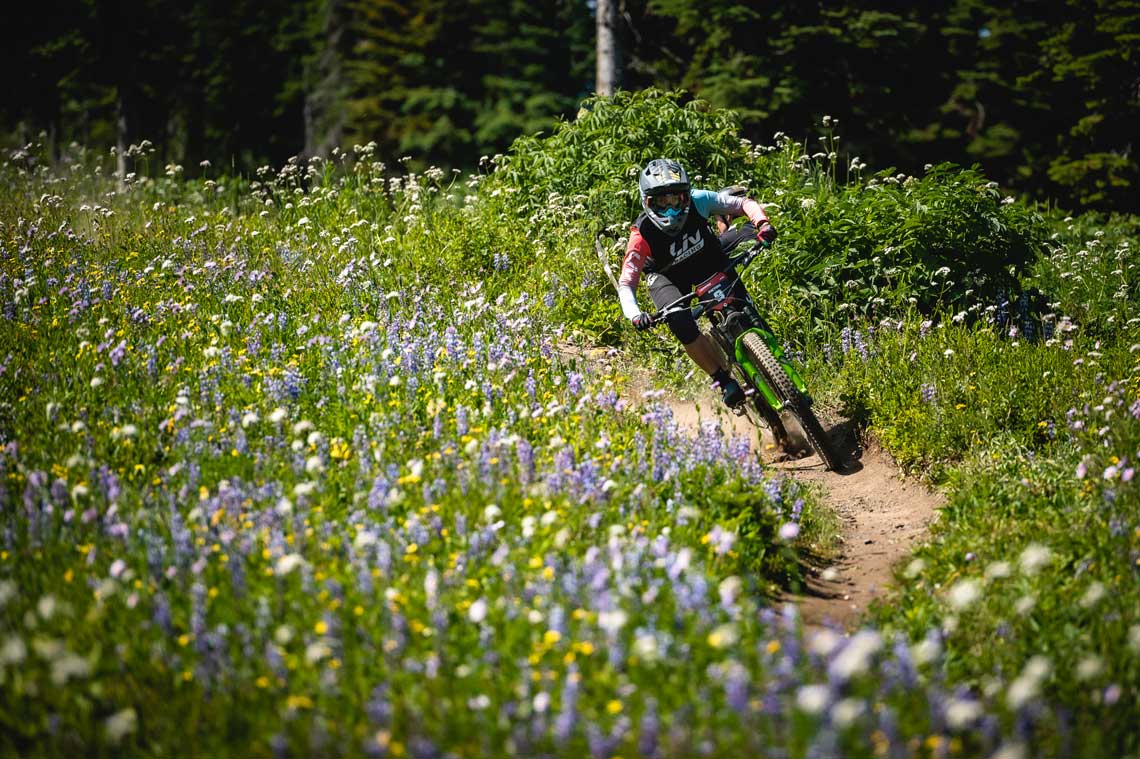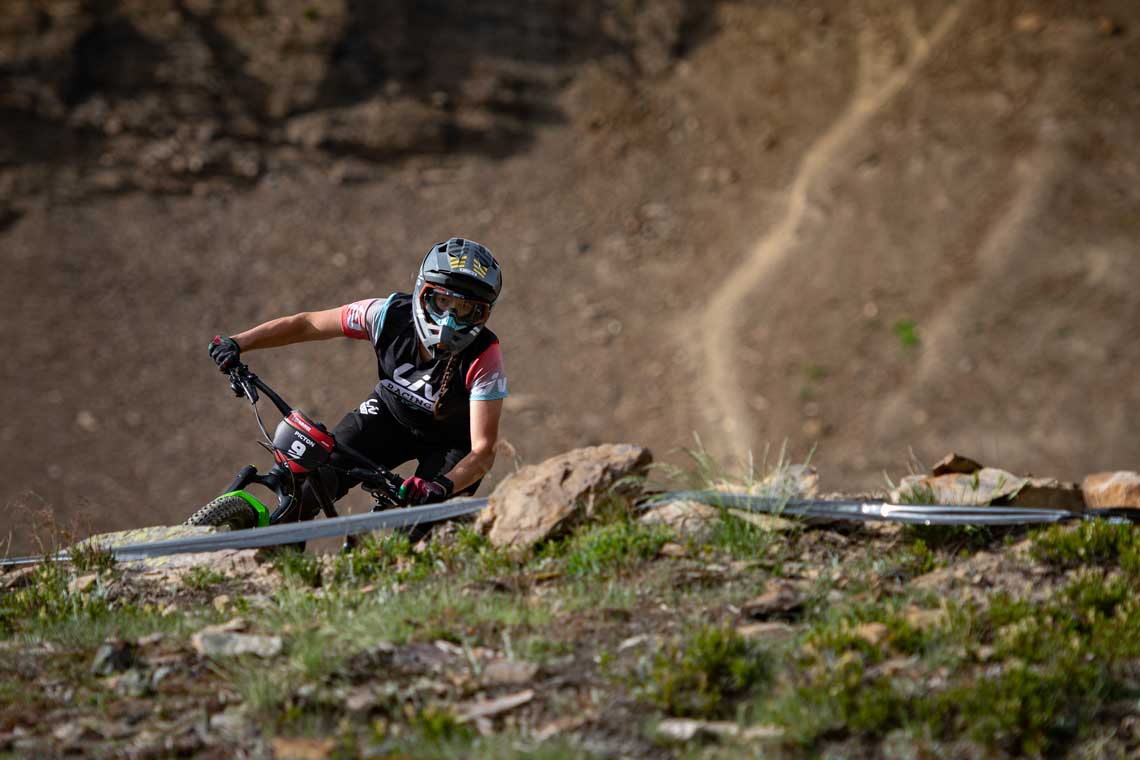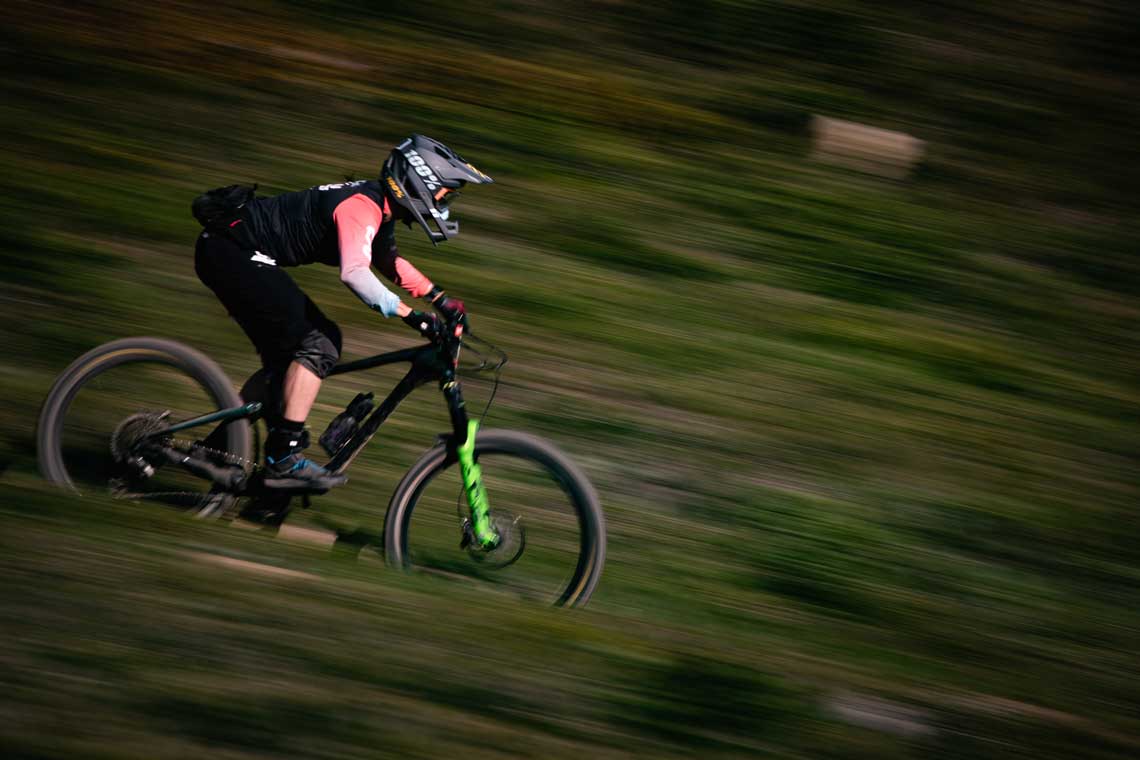 Liv: What was your favorite event? 
Leonie: Psychosis, hands down. The history of the race and knowing you are involved in something so special. The trail is just over 7km in length and dropping a huge 1,220 vertical meters. This trail deserves your respect.
Liv: Tell us a bit more about Psychosis. What were feelings about racing this course prior to dropping in? How did you feel after crossing the finish line? 
Leonie: I had actually never heard of the Psychosis race until getting involved with the Crankworx Summer Series. I had never ridden in Golden before, so I had no idea what I was in for. Before heading out to Golden, I did a little research and watched a few track videos online. I underestimated just how steep this track is. The starting section features the trail 'Dead Dog'. This is where you learn a lot about yourself. I found this section of trail extremely hard, both physically and mentally. I actually broke down and thought I could not go on. It was so steep and started triggering memories of my last big crash when I sustained a concussion. Luckily, once you survived the first steep section, the trail become much friendlier. After completing the first practice lap, I was feeling more optimistic about being able to race this track. I rode the second lap with more determination and strangely, started to enjoy being so scared. Waiting on the start line, I was shaking, I couldn't control my nerves. I just had to focus on riding the steep section at the top without crashing and the rest would be fine. As soon as I completed the steep section, I was so overwhelmed I actually forgot I was racing. The rest of the track was so much fun, and I really enjoyed coming across the finish line, having survived the infamous Mount 7 Psychosis.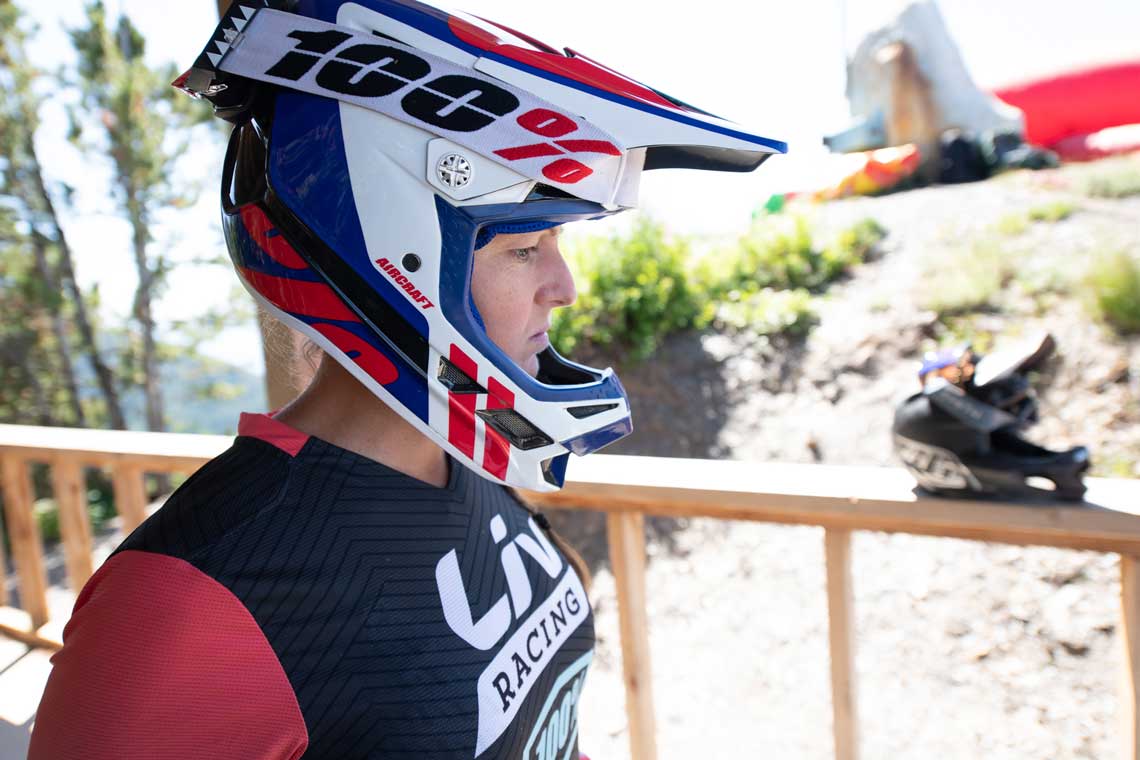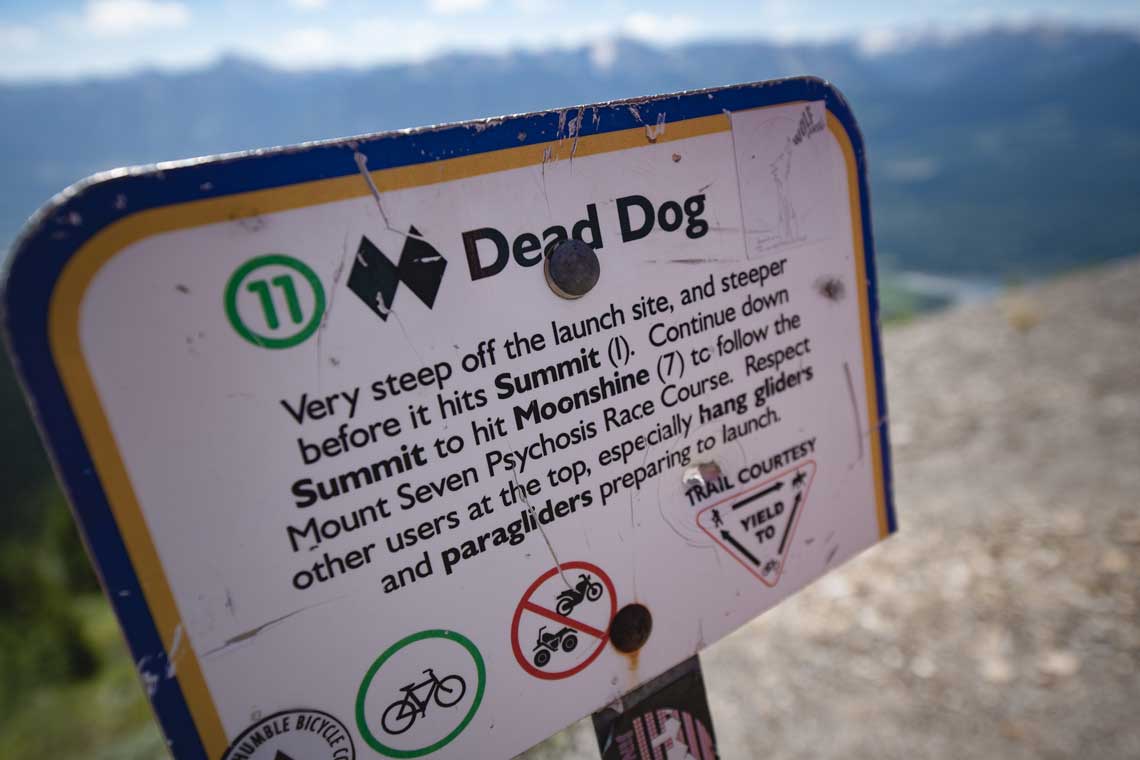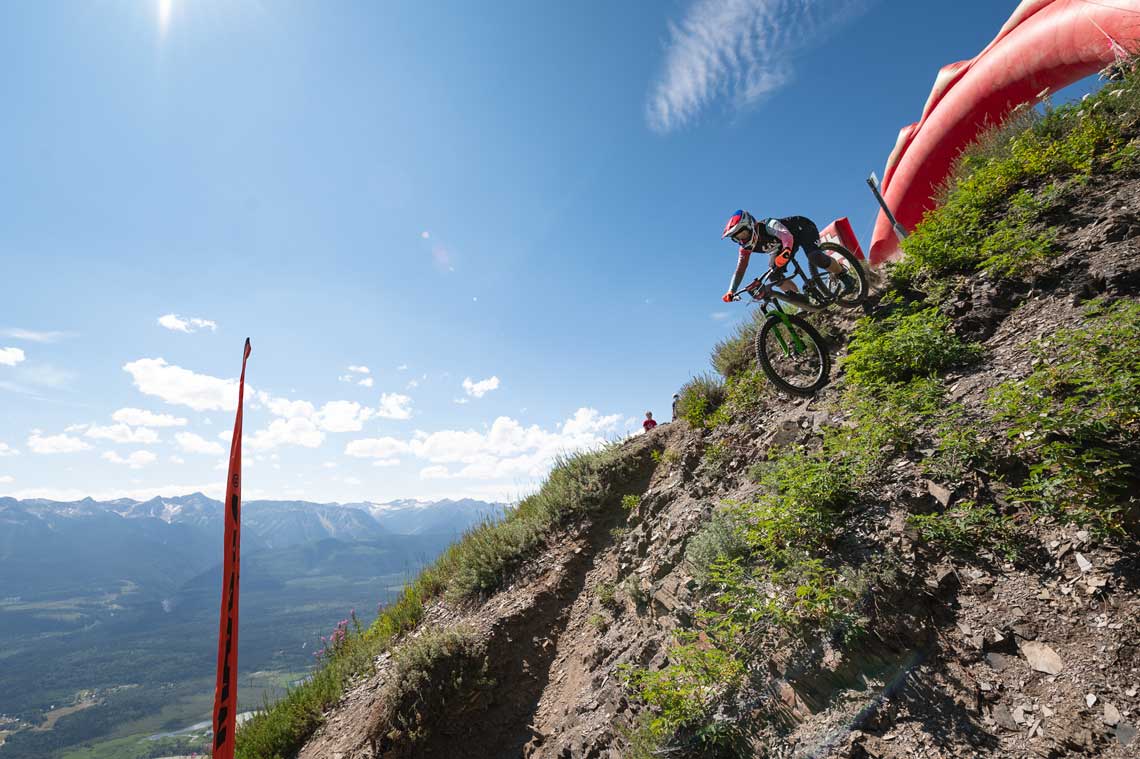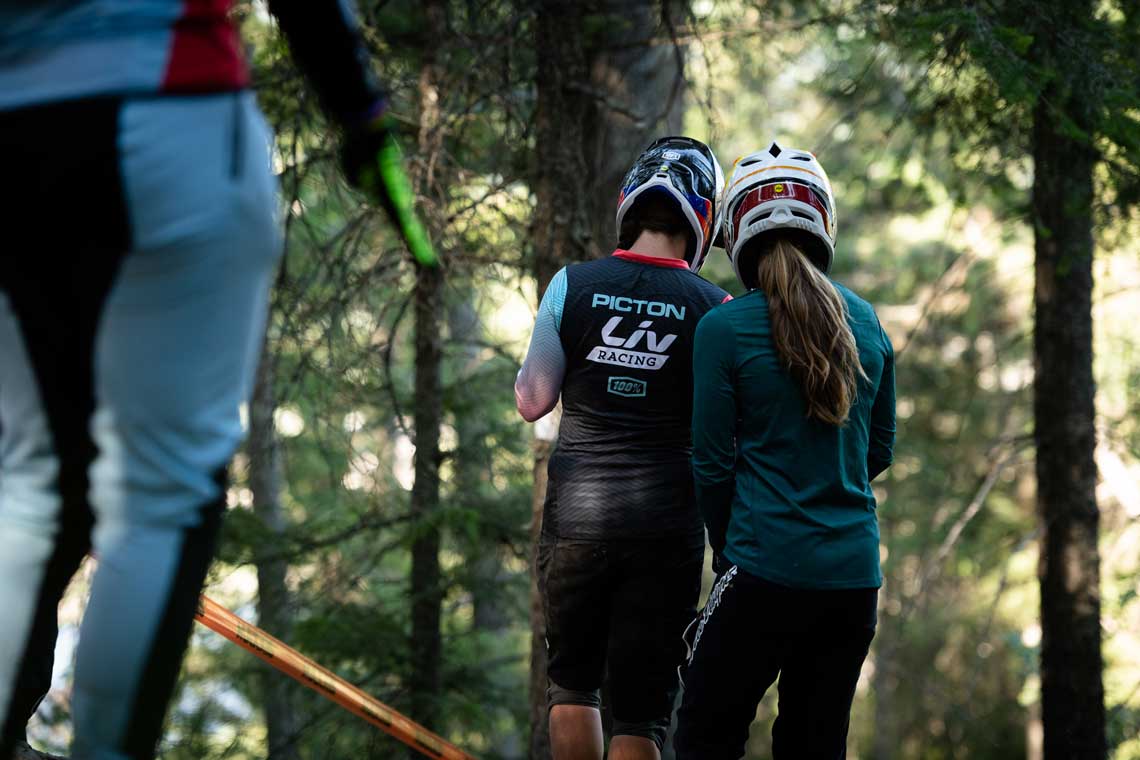 Liv: What was the best moment of the series that didn't involve racing or riding? 
Leonie: Finishing. Haha. Being proud of what everyone had accomplished.
Liv: You raced the Liv Hail Advanced for every event, while some of your competitors had 2-3 different bikes. How did it perform?
Leonie: The Liv Hail Advanced proved to be a great all-rounder. I kept the bike setup the same for the Enduro, Downhill and Air DH, while the only changes I made was to the suspension for the dual slalom. All the trails we raced were in the bike park (with the exception of Psychosis), so I didn't feel a need to make any changes. With 160mm suspension front and back, the bike is designed for that type of technical terrain.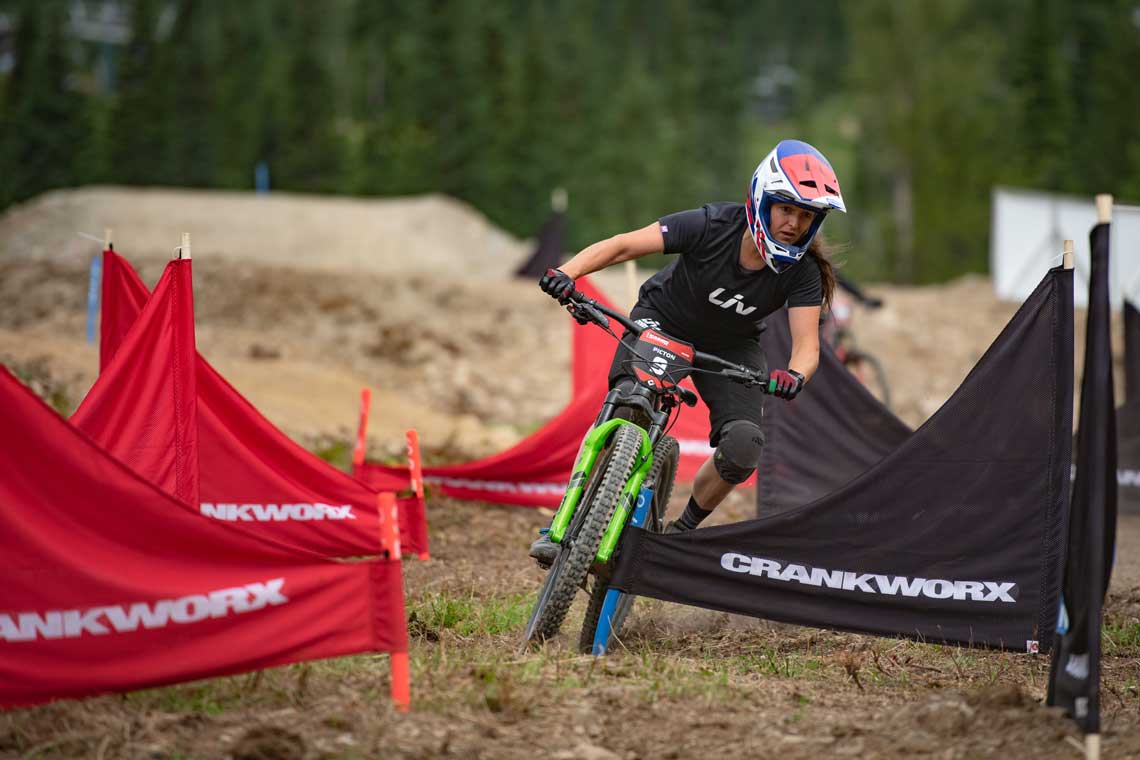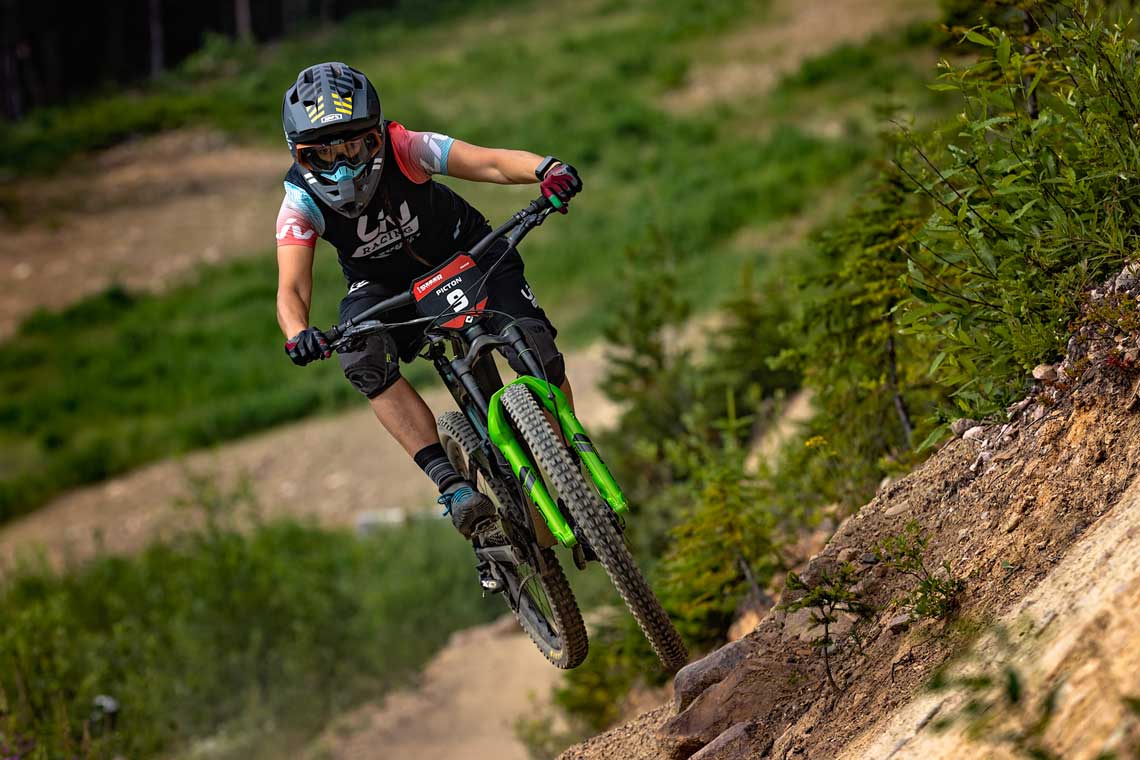 Liv: You were just two seconds off the podium for AirDH at SilverStar. How did that particular race go?
Leonie: I made a bit of an error to my usual pre-race routine, actually. I mismanaged my time and thought I had more time between practice and the race. I dropped in for my last training run and was ready to just relax a bit before the race, not knowing that I only had 10 mins till my race start time. It is the most stressed and slowest chair lift ride I have ever had, right before my race run. I rode to the start line from the top of the chair lift as fast as I could, and as soon as I got to the start line, it was my turn to go. I took one big breath, the clock counted down and I dropped into my race run. I didn't have time to get nervous for the race, I was too worried about not getting there in time.
Liv: After not seeing your name on the start sheet for the Kicking Horse Downhill, we discovered that you'd been dealing with compounding Sciatica issues. How was your pain affecting you and how did you come to the decision to pull out of the series? 
Leonie: I had a Sciatica flare up about 2 weeks before Crankworx started. I was lucky enough to get it under control before heading out to the first event. The first week at SilverStar was great. We were doing a lot of riding and there wasn't a lot of time to rest between each event with training and racing filling up each day. It all came undone on Saturday while driving on the shuttle to Kicking Horse. At first it wasn't so bad. I had to be a bit more cautious with how much riding I was doing and how hard I was pushing. During that week, things got pretty bad. By Friday, I had taken the ride up the gondola to check out the DH course. I dropped into the trail for the first practice run. The pain was unbearable, hot electric shooting pain down my left leg. When I got to the bottom of the course, my toes were numb and my leg was buckling under me. It was pretty clear that I would not be able to race.
Liv: What's next for you in 2020?
Leonie: I am currently trying my hardest to get this Sciatica issue under control, as I hope to get to Europe for the last 4 rounds of the Enduro World Series races in September/October.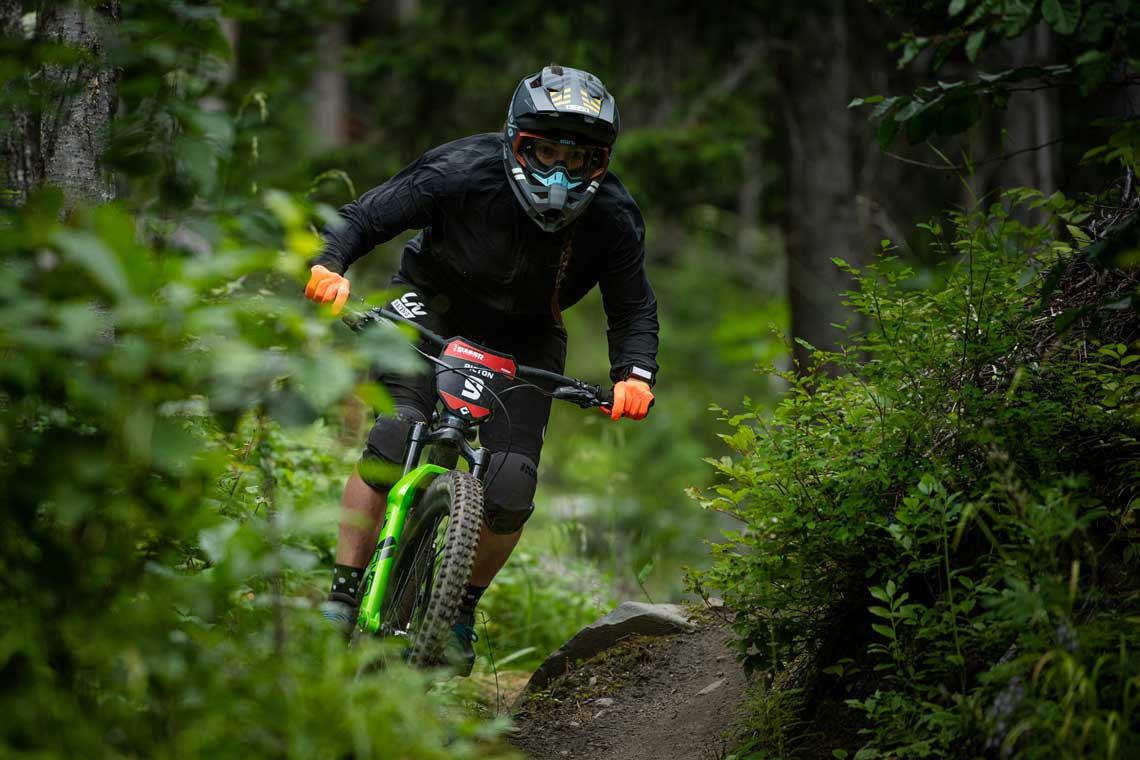 CLICK HERE to learn more about the Crankworx Summer Series and get the full rundown of the events.