Liv and Etxeondo
Liv, Powered by Etxeondo
Together, Liv and Etxeondo have been producing quality performance cycling apparel for Liv's sponsored athletes since 2012. From one team to another, to watching Liv blossom into a comprehensive cycling brand for women, Etxeondo has been along for the ride. With years of performance experience and innovative design techniques, Liv and Etxeondo are able to bring the quality and comfort of kits designed for the industry's top athletes to every woman.
FASHION-MINDED CYCLING APPAREL
Since 1976, Etxeondo has been in the business of creating high-quality cycling apparel for high-performance athletes, using the finest materials and suppliers. The designer feel of each jersey is embedded in the brand's DNA.
Before the founder of Etxeondo entered the world of sports apparel, he began his career in a small farmhouse workshop just outside of San Sebastian, Spain gaining experience in high fashion. With clients like Dior and Balenciaga, Francisco "Paco" Rodrigo cultivated an eye for quality and learned how to work with exquisite fabrics and advanced coloring techniques. His passion for cycling inspired Paco to combine the artisan skills, quality and aesthetic he gained in the fashion industry with a focus on athletic excellence.
A WORK OF ART IS BORN
46 years later, Paco is still most at home working alongside his team in his white lab coat. Whether designing hand-crafted pieces for Liv's elite road racing team or an all-new apparel series for Liv's consumers, Paco, his family and employees take pride in their craft.
As product designers, María Jesús, Paco's wife, and daughter Amaia play a key role in taking Liv's new kit concepts and making them into reality. With input from the Liv apparel team, Amaia creates sketches that will become patterns using the ideal performance fabrics to fit female riders like a second skin. From the patterns, panels are created using a precise
sublimation process and only the highest quality papers, inks, and fabrics. Etxeondo's quality approach to graphic fabric sublimation produces exceptional color retention that can be seen in all its vivid glory on Liv's Spectra and Neptuna kits.
Once the panels are finalized they are delivered to Flori, a woman in her 60's who has been working at Etxeondo since the beginning. With meticulous attention to detail, Flori sews together the samples by hand and presents them to Paco for review. To ensure proper fit, the female employees will test the products before they go into full-size run production.
Some may call the process old-fashioned. But at the end of the day, looking and feeling good in your kit is the key to cycling performance. Liv chooses to work with Etxeondo to present female cyclists with apparel that exceeds expectations in beauty, fit and quality.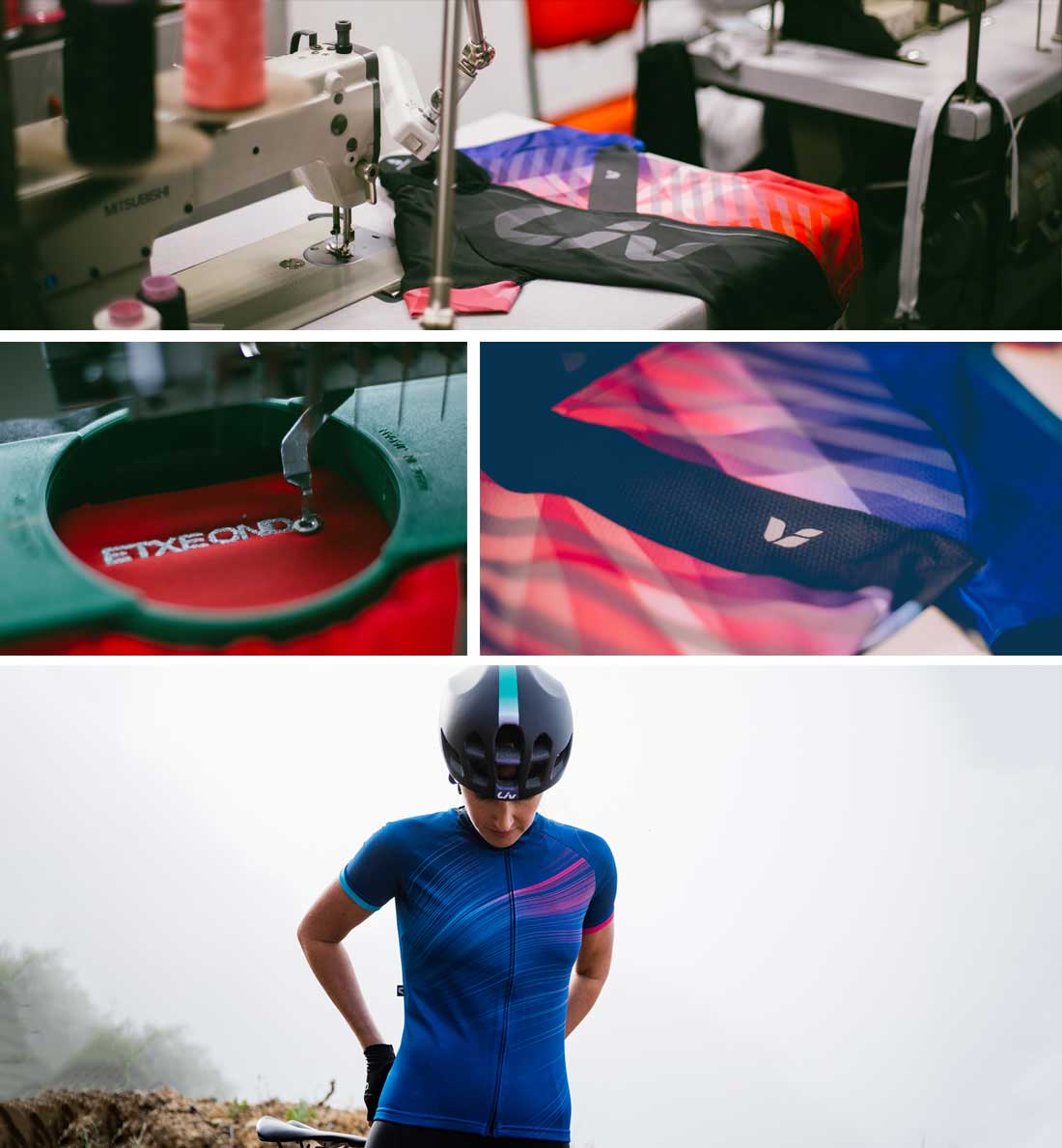 Get the gear: