Let's Keep our Eyes on the Prize
"When I came into women's cycling in 2006, I was one of the lucky ones. I had never thought about earning money or being a full-time pro, but then I got the opportunity. I also saw that there weren't so many opportunities. A lot has changed, and the recognition of women cyclists has increased a lot in general. In the whole cycling community, it's still a man's world, but that's also changing. It's getting better and better with people behind it that push it and raise the bar like Liv." – Marianne Vos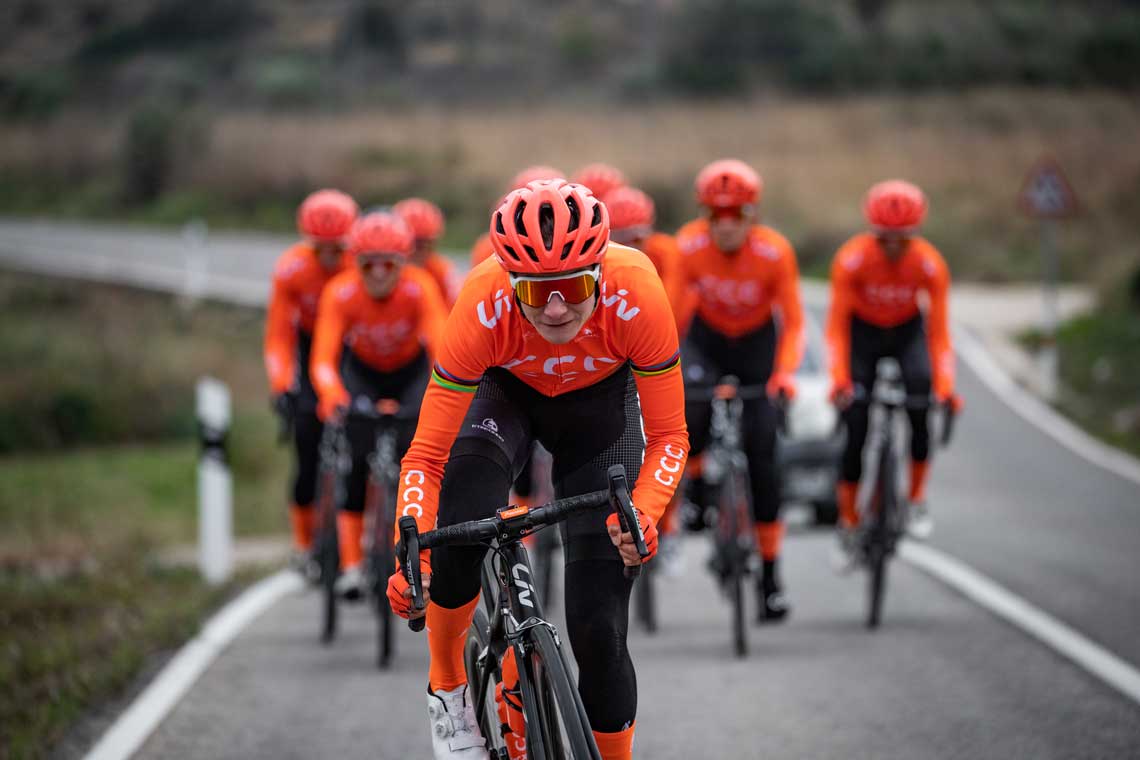 For pro women cyclists, the road can sometimes feel like a long climb. But for those of us that are here now, the road feels a lot less steep. We still have a long way to go, but just look back at how far we've come.
1896: Men's cycling events were held at the first modern Olympic Games.
1903: Men's Tour de France was inaugurated.
1984: Women's cycling became part of the Olympic program.
1984-89: Tour de France Féminin was held, but ultimately cut due to lack of media coverage and funding.
1988: Giro Donne, now known as Giro Rosa, inaugurated. The race is the only remaining women's Grand Tour.
1998-2015: UCI Women's Road Cycling World Cup. The series consisted of no more than 10 one-day races per year.
2012: Liv, previously Liv/giant, supports Rabobank Women's Cycling Team, featuring Marianne Vos. Liv has continued to sponsor at least one international women's cycling team every year since.
2012: Men and women competed in the same number of events in all cycling disciplines at the summer Olympics for the first time. Marianne Vos wins Olympic Gold.
2012: UCI approved equal prize money for Road World Championships and Individual Time Trial World Championships, noting, "no distinction should be made between the achievements of men and women."
2014: La Course by Le Tour de France was born. A one-day race for women on the final day of the men's Tour de France on the Champ Élysées. Marianne Vos helped create the event and won the inaugural race.
2016: UCI Women's World Tour began.
2018: UCI announced a two-tiered system for women's cycling that would lead to an enforced minimum salary of just above €30,000 for the top-tier (Women's WorldTeams) by 2023, equal to the men's Continental teams.
2019: UCI announced it would contribute a 10 percent increase in prize money at women's races between 2019 and 2022, bringing payouts in line with men's races.
2020: Women's World Tour features 21 road cycling events. The men's World Tour has 36 races.
2020: UCI introduced a new maternity leave clause to its contracts between self-employed riders and Women's WorldTeams. Women will be allowed three months leave while being entitled 100 percent of their salary, followed by an additional five months at 50 percent of their salary. The current minimum salary for WorldTeam riders is €15,000.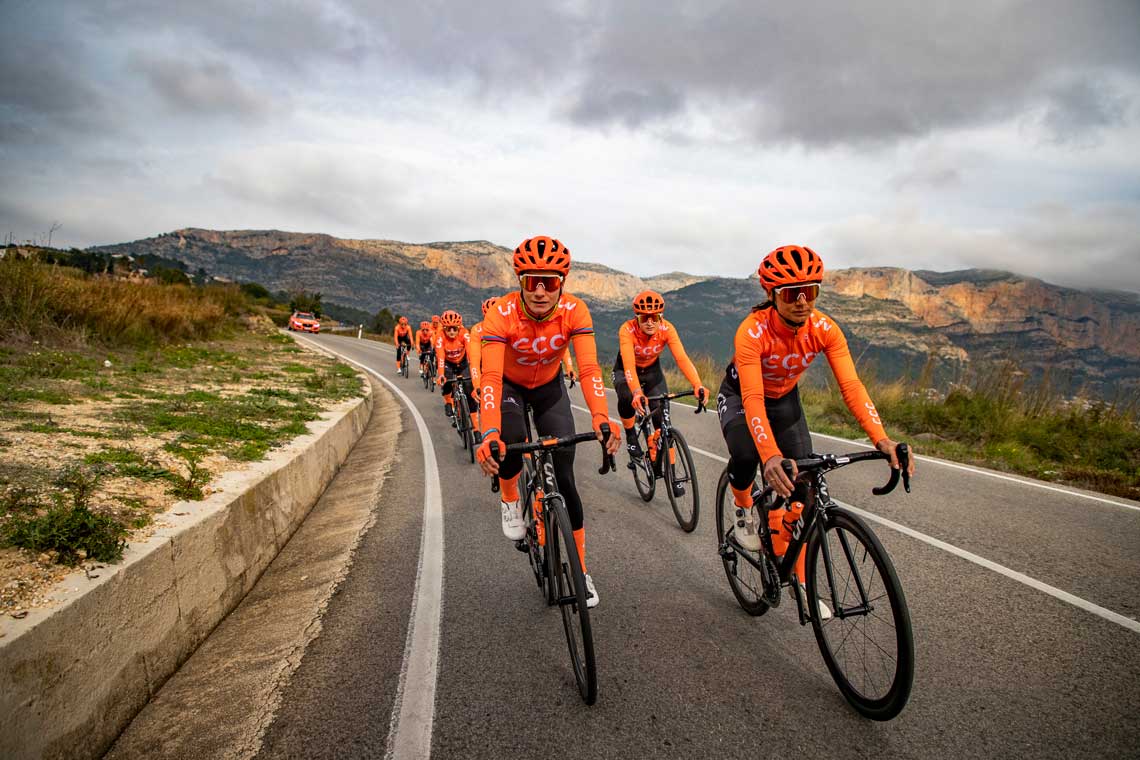 "I think we can only be happy for what has happened. But of course, not sit still and wait because then nothing happens. We just keep going on and showing what women can do and what we are capable of." – Marianne Vos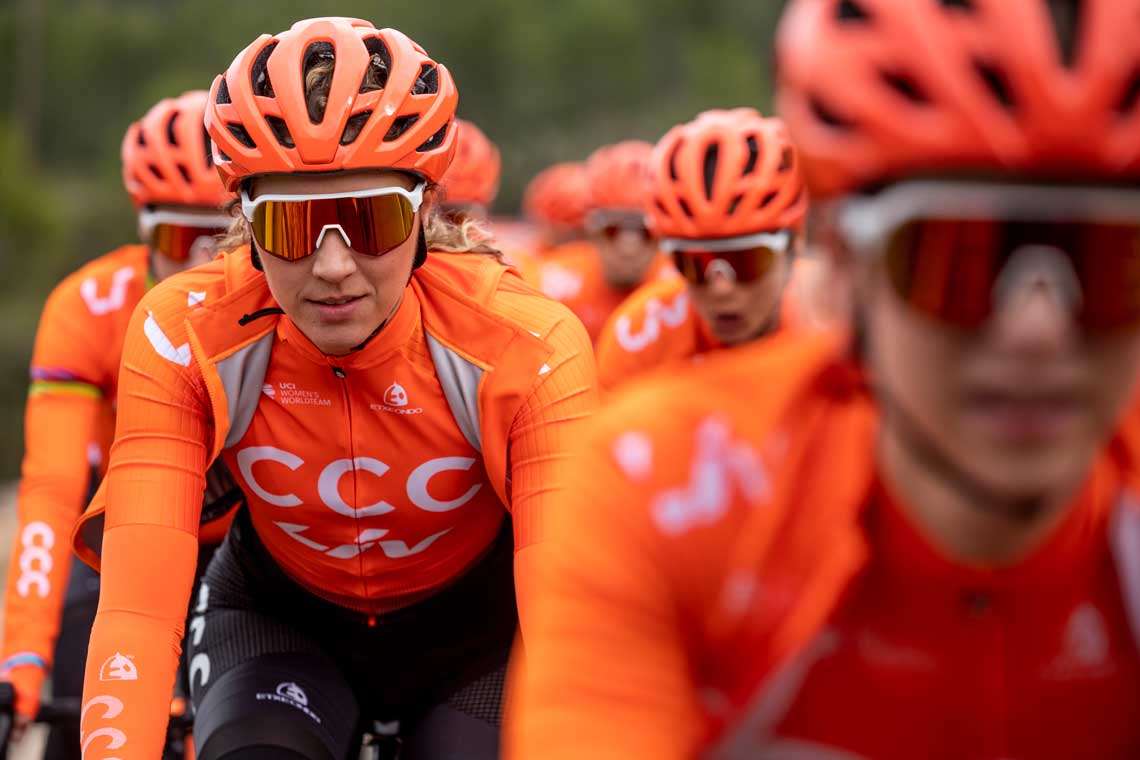 We ride like there is no tomorrow and for a better tomorrow. We envision a day when our daughters can dream of winning the same yellow jersey at the Tour de France as our sons. How do we get there? As we strive to achieve gender equality in cycling, we can all do our part:
Follow the UCI Women's WorldTour and watch live coverage when available. Without live coverage of women's races, women's cycling can't grow.
Support companies who are supporting women's cycling. Successful races require sponsors who will foot the bill.
Share, share, share. How do we get race organizers to see value in women's cycling? We cheer LOUDLY. By lifting up our favorite female road cyclists and cheering on our favorite teams on social media, perhaps race organizers will see that they could generate more money by hosting women's races alongside the men's.
Inspire the next generation. Let's stay committed to the future of women's cycling by creating a sport where young women and girls have fun, feel supported and can aspire to greatness.