How to Take Zwifting to the Next Level
So, you have figured out the basics of riding on Zwift, you can choose a route, do a workout, and have downloaded the Companion App on your smartphone…. Now you are ready to take your Zwifting to the next level. Here's how:
Give Ride Ons
Virtual thumbs up to the people you are riding near or around you in the virtual world. On the Companion App, navigate to the Map….
Give Ride on to one fellow Zwifter: Select another rider's avatar dot and this will bring up that rider's Social PopUp window. From here, give a Ride On by clicking the Thumbs Up button (or extra credit: send a direct message).
Give Ride on to multiple Zwifters: Select your avatar's arrow / white circle and you can give a Ride-On to five riders around you. Ride-Ons will be given to people in your vicinity, going in either direction.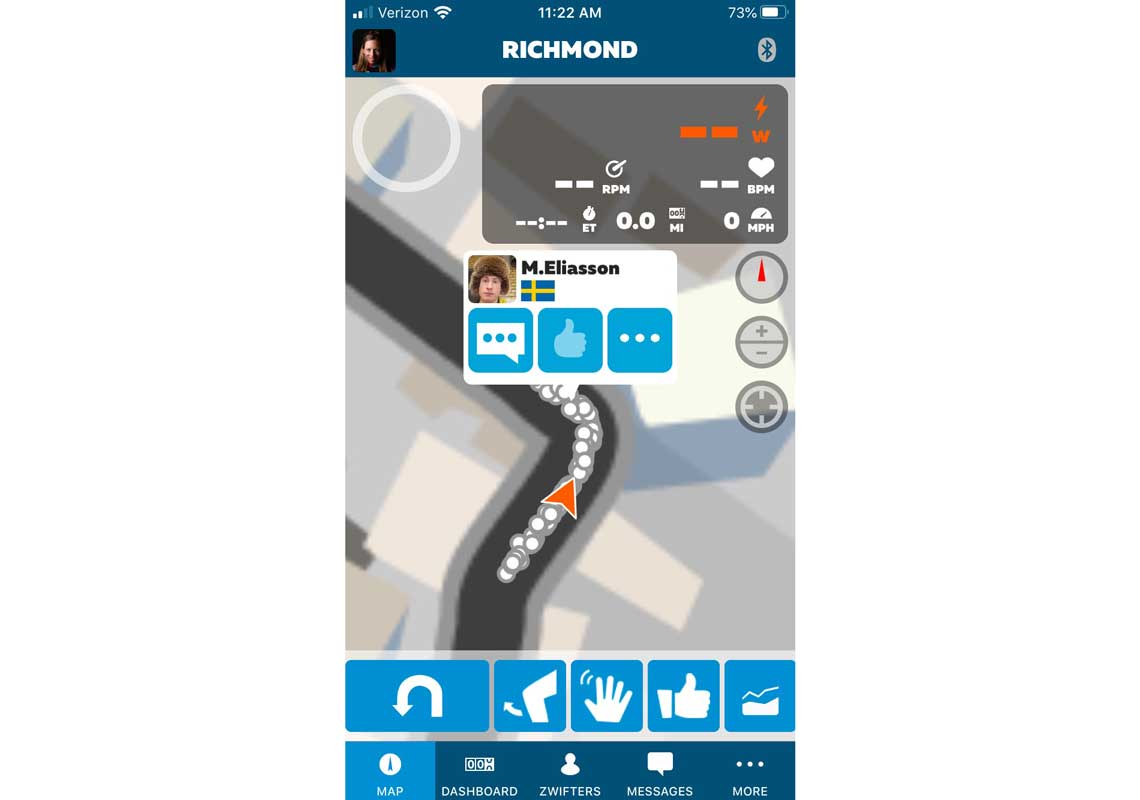 How to Use the Action Bar
The Action Bar lives at the bottom of your device screen, either on your computer or Companion App. In addition to giving a "Ride On", you can stop your ride, make U-turns, change course, wave at other riders, etc. Here is a quick hit guide:

How to Earn and Use Zwift Power Ups
Zwift Power Up are virtual superpowers, adding an element of randomness and strategy in Zwift riding and racing and if you know how to use them, give you an advantage over other rides.
Power Ups are given randomly when you pass through an arch, indicating a start/finish, end of KOM or end of sprint. To activate a Power Up on your Companion App, just tap the circle around the power up! To learn more about Power Ups, click here.

Create a MeetUp and Ride with Your Friends
MeetUps are private events that allow you to invite and ride with your friends – you can all ride/stay together, chat privately, and challenge one another with a custom leaderboard. Learn more about MeetUps here.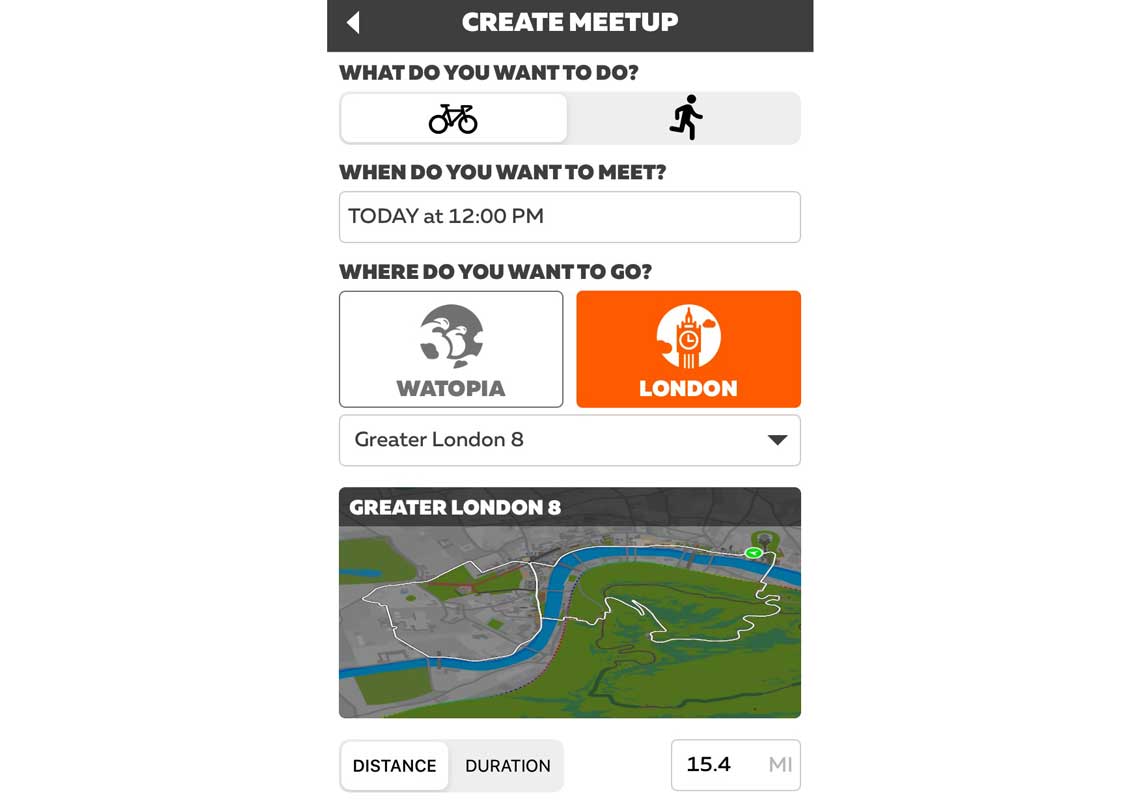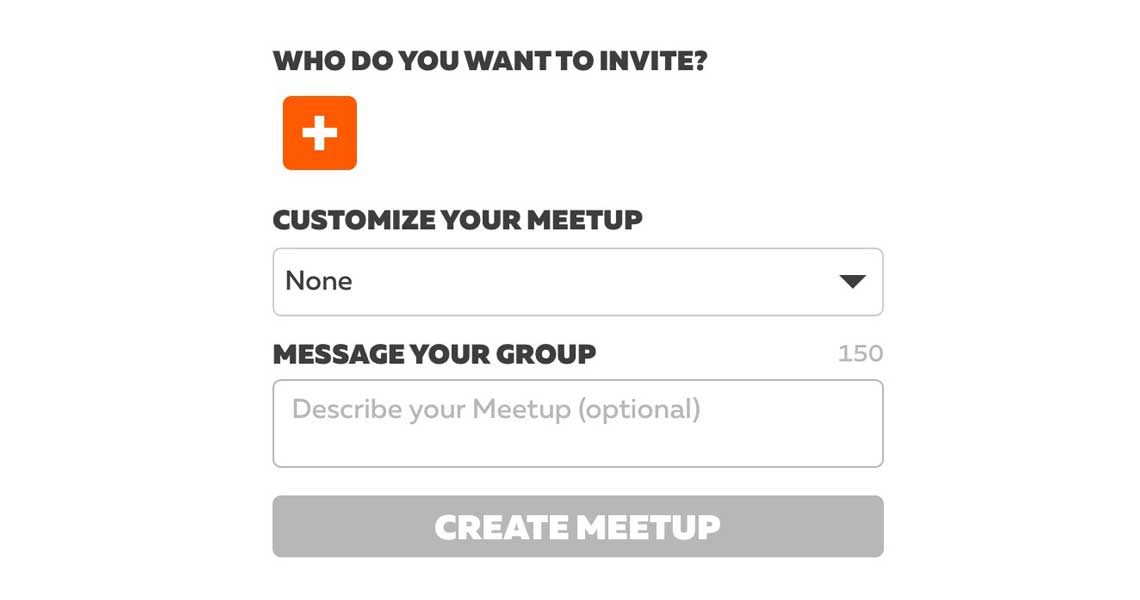 Join a Zwift Event
Need a little extra motivation or looking for a competitive place to test yourself? To join a Zwift ride, workout or race toggle to the Zwift events page, toggle to the events tab on your companion app, or check out all of our weekly Liv group rides here.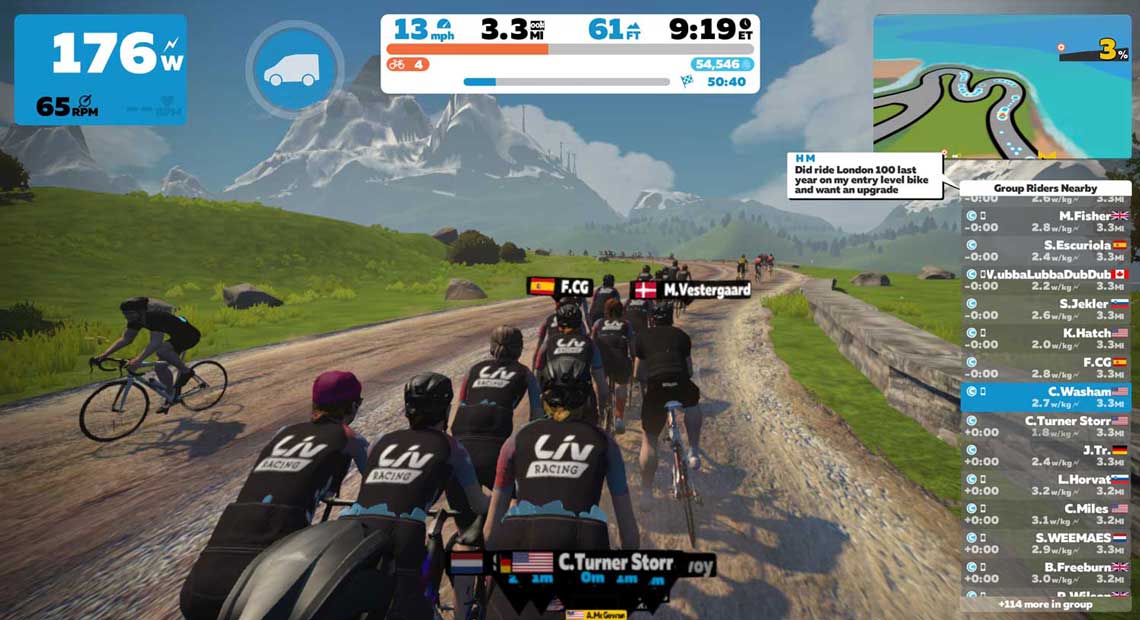 Riding with others on Zwift is a great way to switch things up and add a social element to your Zwifting, but there are some tricks to virtual group riding.
Select the correct category when joining a ride or race. This way, you will get the ride effort you are looking forward to, without "being that gal" off the front or getting dropped by the group. Categories are based on your fitness level which are determined by your weight and functional threshold power (FTP). The ratio of watts per kilo (w/kg) determines your category; A being the fastest group.
Don't know your FTP, no worries. Zwift makes it easy to test on their platform. Click here to learn about testing and setting your FTP in Zwift. Your FTP will increase as you train and get stronger on the bike. You should retest your FTP every 4-12 weeks to be sure it is accurate.
Be honest when inputting your weight into Zwift. If you use a weight that is not correct, you are cheating.
Once you have joined your ride or race be sure to stay true to the nature of the event. If it is a no-drop group ride, stay together, don't take flyers to impress other Zwifters, or try to drop someone. If you are in a more spirited group ride, then pushing the pace is ok. If you are doing a Zwift race, go for it, smash it, that is the idea of racing. As long as you are in the correct race category, there is no harm in making others suffer!
You can draft on Zwift, just like in real life. When riding in a group, try to keep the power steady as you sit behind another Zwifter's wheel, for maximum benefit. If you are riding Zwift solo and approach another rider, a "Close the gap" pop-up will appear. Once you close that gap and are in the prime drafting position "OK" will pop-up. Stay in this spot for a great draft. If you are the one someone else is drafting, give them the "elbow flick" from the Action Bar to indicate you are ready to end your turn at the front, and it is their turn to pull.
Watch out, Zwift races start out FAST! Be sure to get a good warm up in before the start! Things will settle down after a mile or so, but if you get dropped, it is often impossible to regain contact with the leaders.
Customize Avatar, Jersey and Bike
During your ride, click the MENU button on your computer, and select the Garage. Select what element of your avatar you would like to customize. The more Zwift levels you have unlocked, the more options you will have.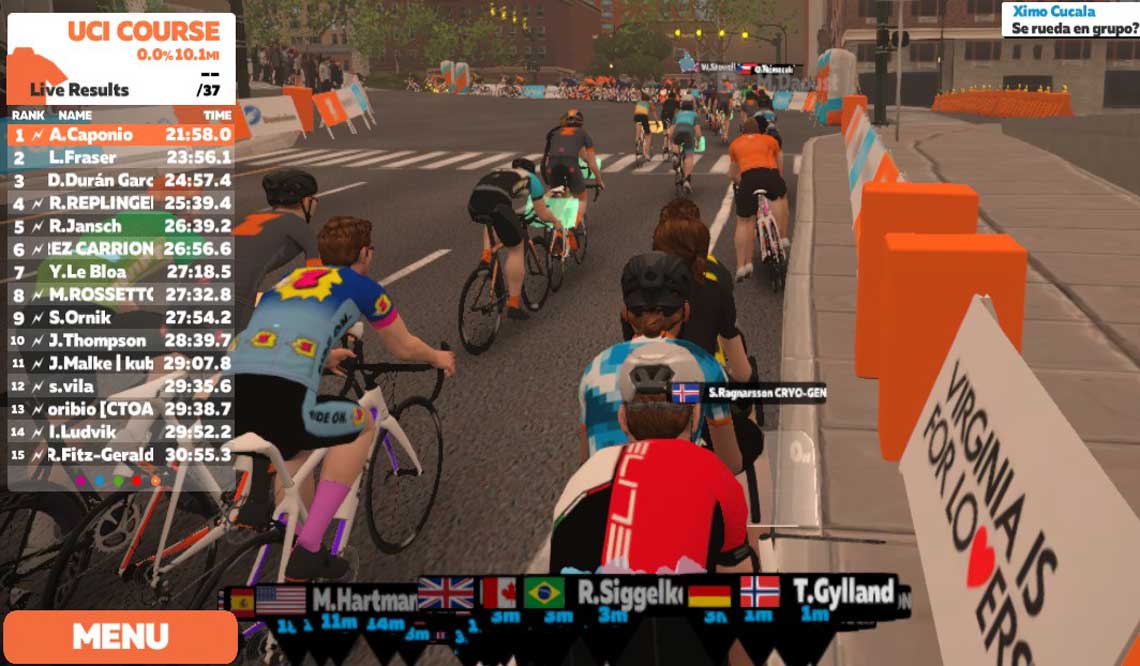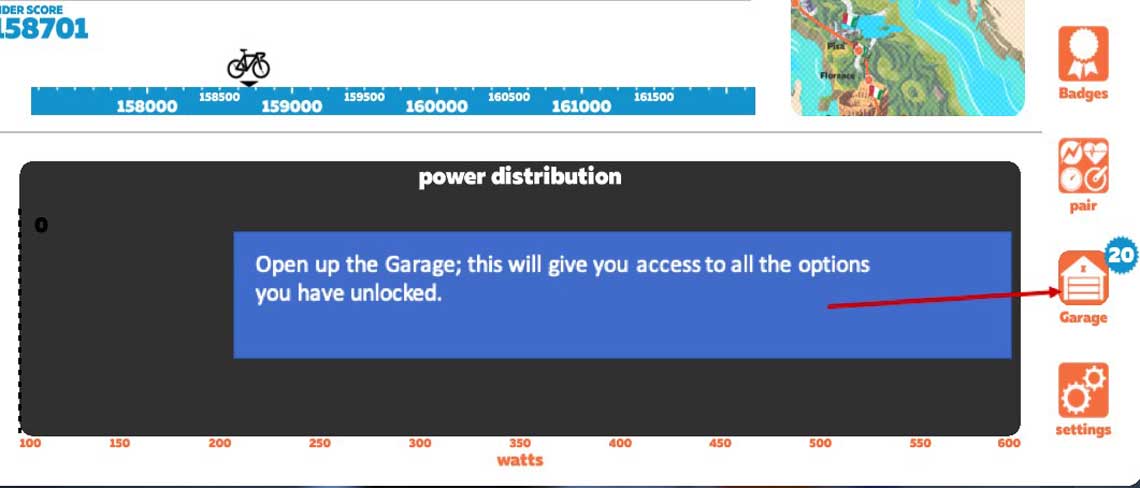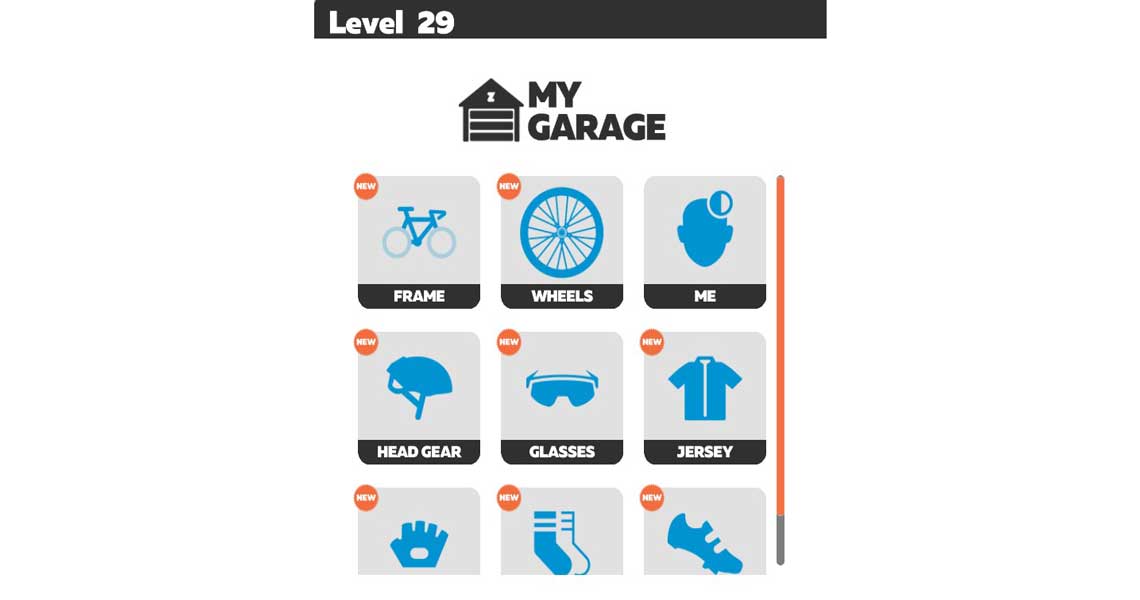 Looking to upgrade your virtual bike to the Liv Langma? You'll need to head over to the Drop Shop, Zwift's virtual bike shop. Here you can exchange the "Drops" you have earned with each ride for the bike of your dreams. Start saving – the Langma will cost you 745,500 drops and you must reach level 22 to purchase it! Not sure you want to wait that long? Just jump into one of the Liv Racing weekly group rides on Zwift for your chance to ride the Langma and wear the Liv Racing kit.