How to Select Mountain Bike Tires
Get a Grip: Choosing the Mountain Bike Tires
When it comes to riding off road, your tires play a huge role in performance. Having the right tire can be the difference between ripping corners and sliding out. It's all about finding the perfect combination of traction, weight and durability, so let's get started!
Parts of a Tire:

Selecting Mountain Bike Tires
Are you riding on dirt, sand, mud, or snow? Good, then this is the right category for you. If you're riding on paved surfaces, make sure to check out our guide to road bike tires. The first question you need to ask yourself when selecting tires is where will I be riding? Deep dust, mud, lots of rocks, slippery roots, hard pack, gravel/ dirt road? The type of dirt and the conditions play a key role in the type of tire you'll want to use. Next, you'll want to consider your goal while riding. If you're a recreational rider looking to have a good time and be safe, your tire choice may be different from an XC racer riding the same trail. When you're making tire selection decisions here are some of the things you want to think about:
Wheel Size
First thing's first, know your wheel size when you're looking for new tires: 26, 27.5 or 29!
Tire Width
1.6- 3 inches: from narrow XC tires to plus size and fat tires, there are a lot of options out there now-a-days
Make sure you are looking at tires that will fit your rim and the clearance on your bike.
Generally speaking, wider tires should provide more traction and control on the trail.
Narrower tires may roll a little faster on smooth trails.
For XC racing, most riders will use 1.6-2.2 inch tires, while trail, enduro, and downhill riders opt for 2.3 inches wide and above!
Comfort also plays a factor. Wider tires allow lower tire pressure for a smoother, more comfortable ride.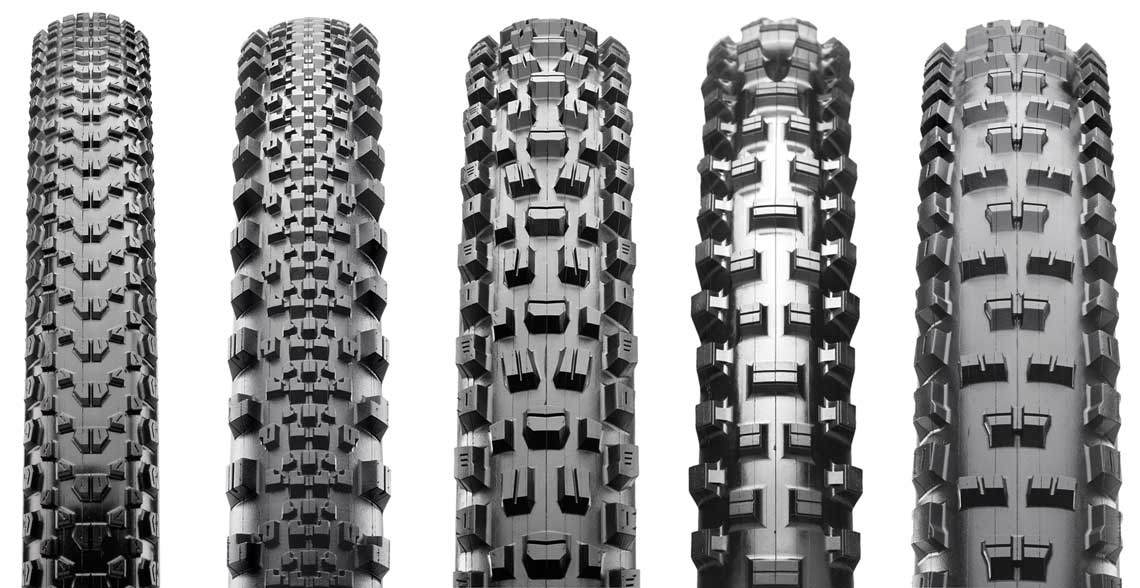 Tire Tread
For mountain biking, tire tread varies widely. 
XC Racing: In general, stick to shorter (low-profile) knobs that are spaced close together. This tread will reduce rolling resistance and is ideal for trails that are hard-packed and fast. 
Trail, Enduro, Downhill: In general, you'll look for bigger knobs that can bike into the trail for more traction on loose dirt and mud.
The pattern of the tread can make a difference in how the tire performs in different conditions and on different trail surfaces. For example, tall knobs in the center of the tire tread can be great for fresh, loamy trails or mud, but could be a nightmare when riding on rocky trails.
The sidewall of the tire can also play a role in how the tire performs. Tires with thinner sidewalls are lighter weight, but can sacrifice durability, flat protection, and cornering stability.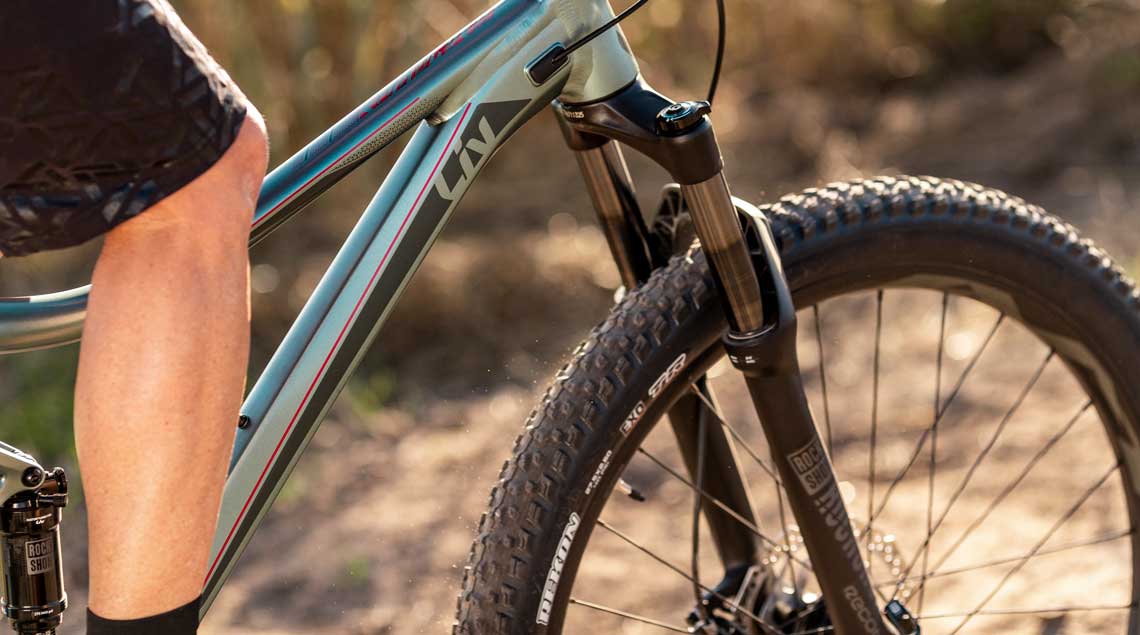 Type of Tire
Tubeless: most mountain bike tires are tubeless ready now-a-days, meaning when paired with a tubeless rim and sealant, the tire will hold air. Tubeless tires are ideal for mountain biking because you can run lower tire pressure for better traction without the risk of pinch flats. Tubeless sealant also fills small punctures that would cause flats with traditional tires and tubes. Learn more about tubless systems HERE. 
Folding vs Wire Bead: this refers to the material the edge of the tire (or bead) is made of. Folding tires use a Kevlar bead which is lighter weight and can be incredibly durable. Wired tires cannot be folded because the bead is made of metal. These tires are heavier, but also could have a more durable bead. Many "downhill casing" tires are not offered in folding versions. One of the biggest differences between these two types of tires is price – folding tires are more expensive.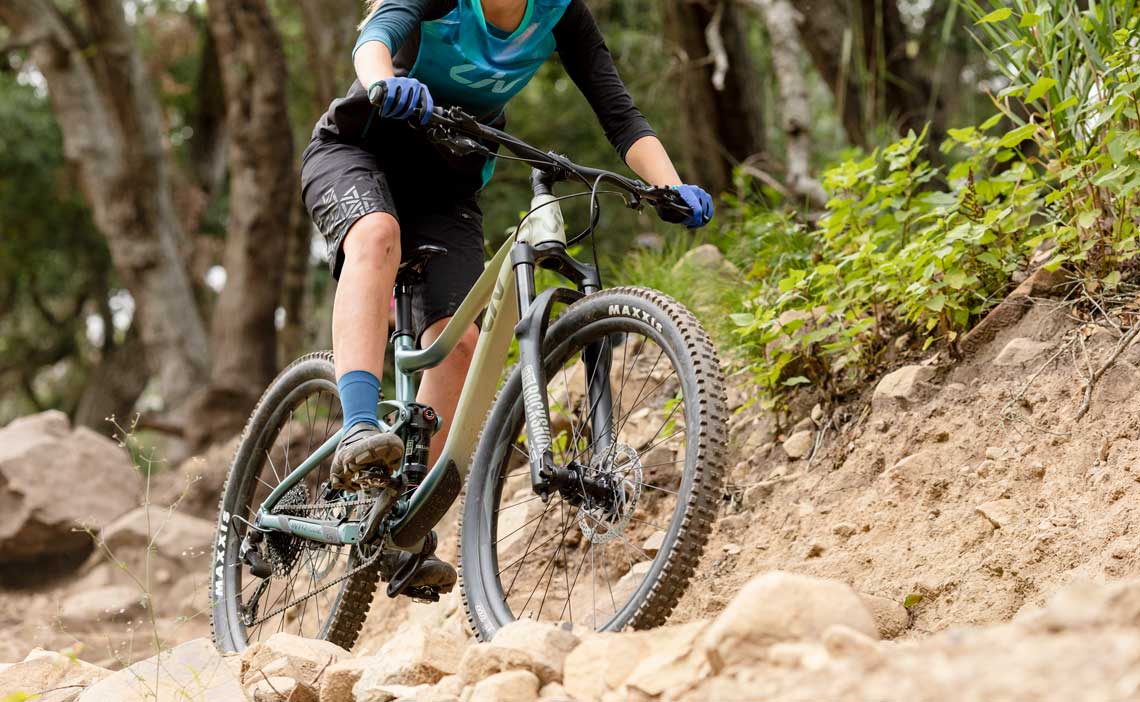 Compound
Mountain bike tire compounds range from Hard to Ultra Soft.
Harder compounds roll faster and are more durable but sacrifice on traction control.
Softer compounds provide more grip but may wear out quicker.
Compound choices will be made based on the trail conditions, performance needs, and what is the most economical for the rider.
Remember, tread and compounds will vary widely from brand to brand. Don't be afraid to ask questions at your local bike shop to ensure you are getting a tire which meets your needs. All tire decisions start with simple questions: Where am I riding? What are my goals? What am I willing to spend (and how often am I willing to replace my tires)?