How to Pack Your Bike for Bikepacking
with Juliet Korver, Bikepacking Enthusiast
You're bike is setup for bikepacking, time to explore the gravel roads less travelled. Just one seemingly small task stands in the way of you and adventure: loading up your bike with all the gear you'll need for an epic bikepacking trip. Experience goes a long way in knowing the best ways to pack your bike. Here's what I've learned about bike bags and how to load them:
1. Tips for Bike Bag Selection
Where are you going? How long are you going for? What do you need to carry? Is there a possibility it is going to rain? All of these questions will affect which bags you'll want to bring with you on your trip.
Saddle/seatpost bag: I like a waterproof seatpost bag with an air purge valve. It's also great if it can carry over 12L.
Front/ handlebar bag: There are two types of front bags – side roll bags or top loading. Choose a bag that will fit between your handlebars and still gives you access to your drops. The other thing to check is that your shifters still have full range.
Half frame or Full frame bag: Half frame bags allow you to keep your water bottle cages on, but have a lot less carrying capacity. If you choose to mount a water bottle to your down tube, a side mount bottle cage will allow you to access your water bottle more easily.
Front accessory bag: These typically go over your front bag and give you a spot to put all the little things you will need to access quickly throughout the day. I like mine to be easily removed. I keep my valuables in it and then I can pop it off to bring into a store or sleep with at night.
Gas tank(s): go on the top tube and are great for snacks and easy access items.
Candy bag(s): Candy bags are handy. Good for snacks, a place to carry water, bear spray… but when climbing they can touch your knees.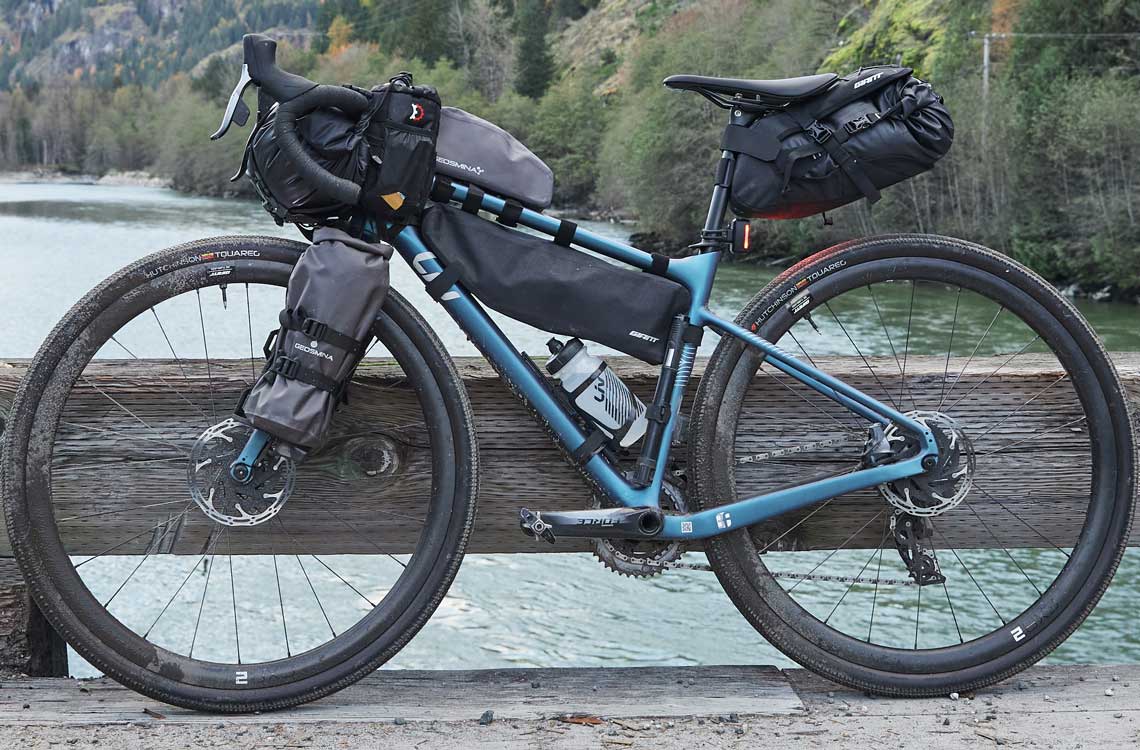 2. Tips for Packing Your Bike Bags
When packing my bike bags, I think about:
What I will need during the day (snacks, quick repair, water purifier, phone/ navigation, layers)
What I will need when I arrive at a camp spot
The things I need to be kept dry, like your sleep system and clothing.
This is how I pack. You will find your own way.
I pack my sleep system into my front bag. It is light, so my handling will be less affected. I pack it into dry bags when I think there could be a chance of rain.
In the full frame bag, I put my first aid kit, big knife, pump, food, and a water bladder.
My seatpost bag is waterproof. I start by putting my repair kit in the bottom because it is the heaviest. Then I start packing in the order of heaviest and least likely to need (cook kit, sleeping/ camp clothing, food). Pack this bag really tight, so that it sits well on your bike.
In my front accessory bag I put my wallet, head lamp, battery pack, cords, staps, quick fix tools, extra chamois cream, and sun screen. I attach or zipper my house key in somewhere it won't get lost.
In my gas tank and candy bag I put my snacks, navigation device, and bear spray. I change what is in these bags during the day and prioritize anything I need easy access to.
If you are headed into an area where there is active wildlife, then be prepared. Keep your bear spray and horn within reach. I also like to have a bear bell on my seat post bag. It lets them know you're around.
I rarely use fork-mounted cages, but when I do I keep them light. It's important that you pack equal weight on each side of the fork so your bike handling isn't affected.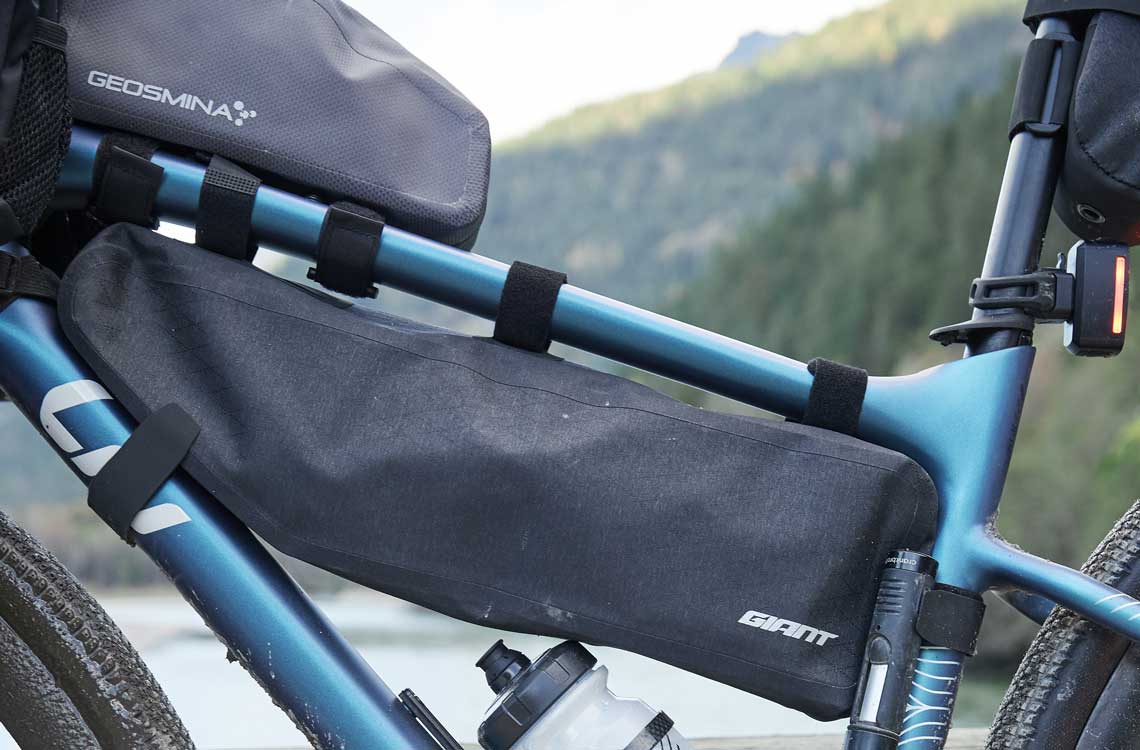 3. Tips for Carrying Water on Your Bike
This is one of the things I get the most questions about.
I prefer a 3L bladder that I carry at the top of my frame bag. I put the hose out of the bag and onto my handlebars. Then, I can drink while on any terrain while keeping my hands on the handlebars. This year, I have also started to use a hydration pack for long gravel rides when extra water capacity is needed.
Here are another few options for carrying water – I have tried all of them. Experiment with what will work for you. There is no right way. Only what will keep you hydrated and feeling comfortable.
Half frame bag with water in bottle cages on the seat tube and down tube.
Carry water bottles in candy bags.
Carry water bottles on your fork mounts.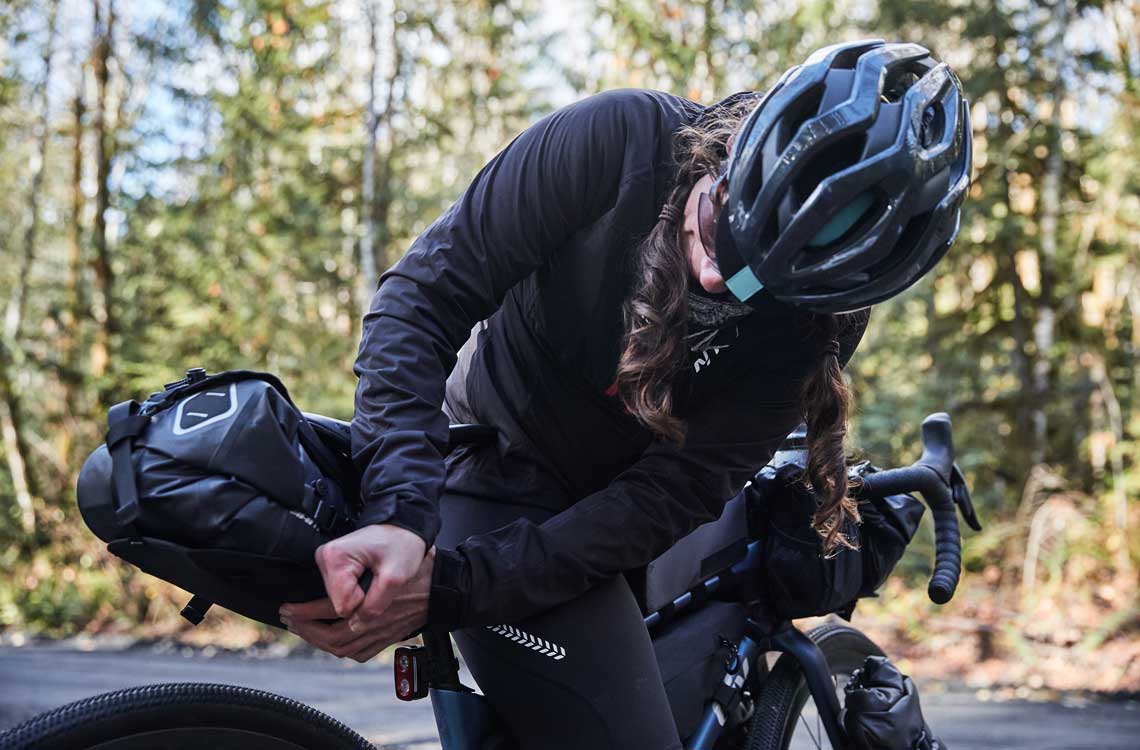 4. Tips for Securing Your Bike Bags to Your Bike
Getting your seatpost bag tight so it does not sway: Seatpost bags tend to sway when riding if they aren't good and snug. Pulling the straps tight and packing them smart helps with this. Tighten every strap and after you have ridden for a bit and everything in your bag has settled, pull over and tighten it again.
Getting your front bag off your tire: Often, bike bags are designed for a large frame size and when the loaded bag on a smaller size bike, there isn't quite enough clearance once the road gets bumpy. To prevent your handlebar/front bag rubbing the tire, keep this bag light and tighten the straps. You can also add an additional strap, if needed.