EnergyPak E-bike Battery
Liv EnergyPak E-bike Battery Technology
Liv EnergyPaks continue to evolve to make them the lightest weight, most streamlined and future-proof E-bike batteries on the market. With cutting-edge battery technology, Liv E-bikes look and perform better than ever before.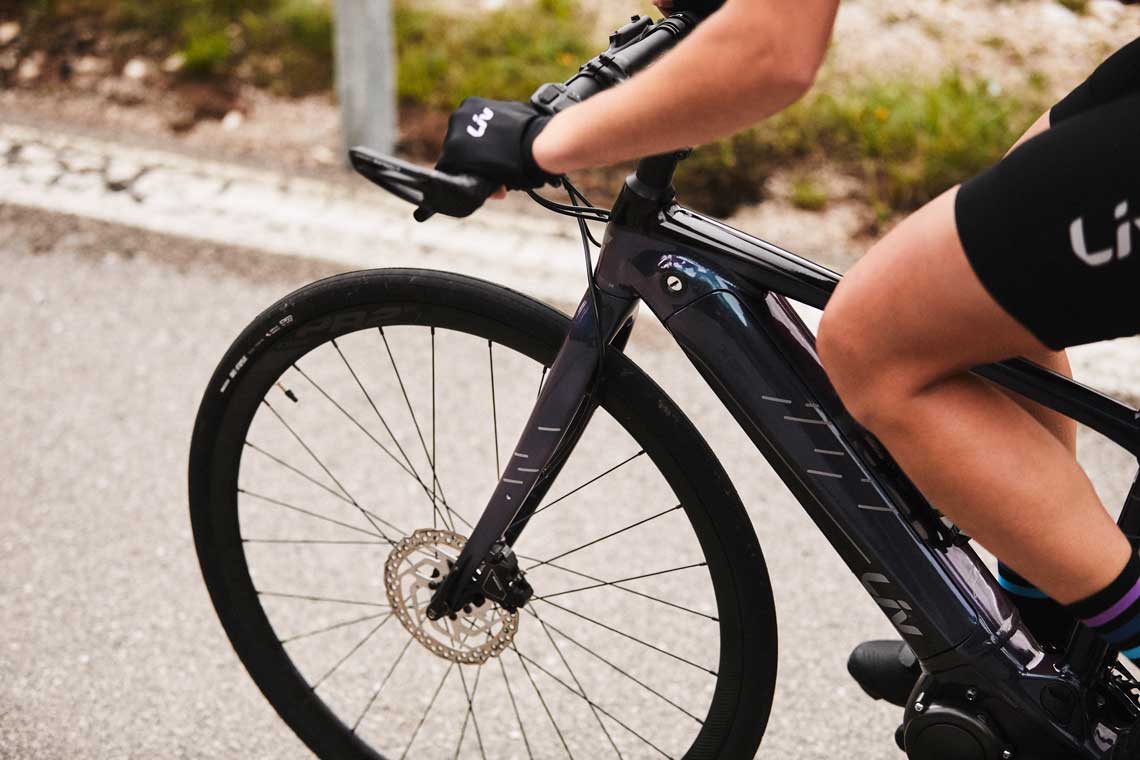 EnergyPak Smart
Whether you want the legs to ride another lap of your favorite trail, accelerate that climb, or commute in ultimate style, Liv's EnergyPak Smart is your secret weapon. On point with the current trends, the EnergyPak Smart frames are also future-proofed with an integrated design. The EnergyPak Smart is firmly attached, well designed and smoothly incorporated into the bottom of the downtube to create a streamlined look and a compact profile that closely matches the design of standard bikes.
With the push of a button, the EnergyPak Smart easily pops out of  the downtube and is ready to charge for your next adventure.  Charging the battery while it's on the bike is another convenient option. The EnergyPak Smart offers rapid charging, and gets the bike over 80% charged within 2.20 hours. With additional rain protection and more space to dissipate heat, Liv EnergyPak Smart offers supreme safety in all conditions. EnergyPak Smart features a Battery Management System for continuous communication between the battery and charger for optimized charging performance.
The 30-cell EnergyPak Smart holds 375Whr of power, and with the super-slim and lightweight design, makes the E-bike nearly indistinguishable from a non-electric bicycle. Together with the 400Wh and 500Wh EnergyPak Smart, you'll have a winning team of safe and appealing batteries.
BENEFITS
INTEGRATED DESIGN: The EnergyPak Smart creates a minimalist downtube profile for a slim and  appealing outlook.
EASY TO OPERATE: Intuitive to operate, the EnergyPak Smart has two locks so it can be easily  removed without any hassle.
SMART CHARGING: Offers smart charging with extremely rapid charging possibilities that  can reach over 80% of capacity in 2.20 hours.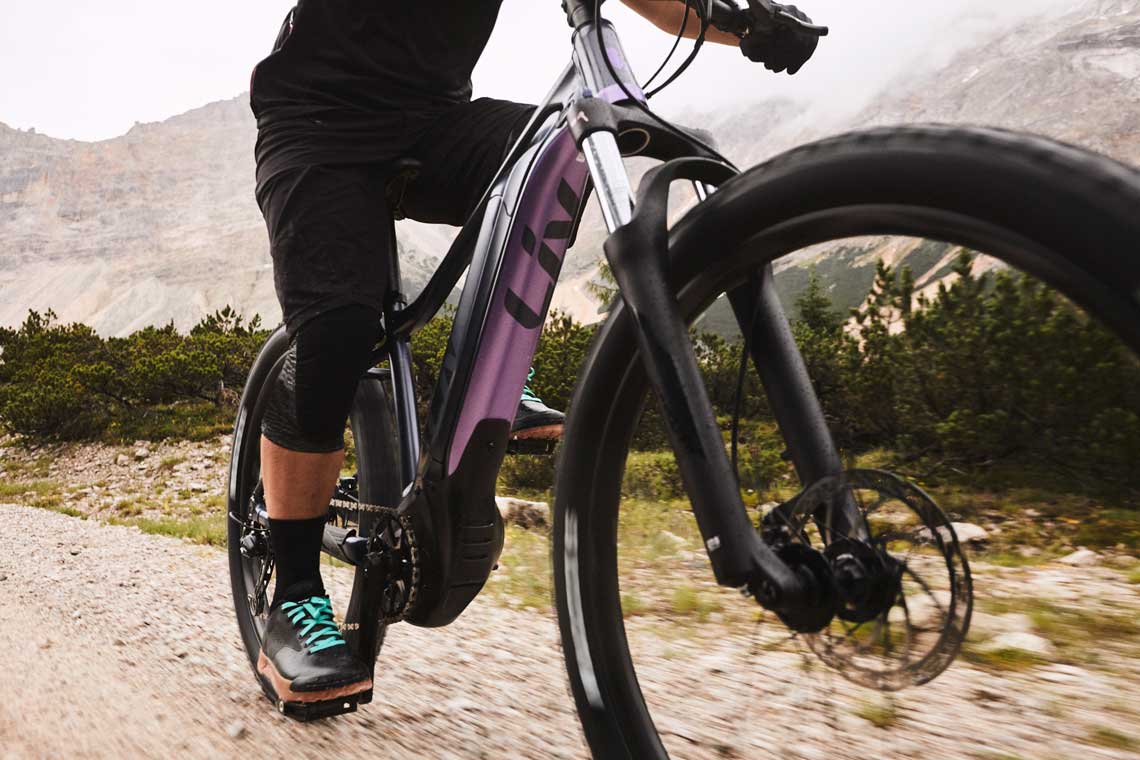 EnergyPak
Liv's EnergyPak technology is innovative and future-proof. The EnergyPak  lineup is built as a side release design and comes with an advanced 4A Fast  Charger with Battery Management System, so the battery will be charged  quickly and efficiently.
BENEFITS
LOWER STANDOVER HEIGHT: Lower stand-over heights make it easier to get on and off the E-bike.
OPTIMIZED GEOMETRY: The side release EnergyPak allows for compact frame designs, including  XS frame sizes.
EASY HANDLING: EnergyPaks are easy to handle and remove from the E-bike with side  release design.
How Far Can You Go on a Charge?
The range on one charge varies depending on several circumstances, such as:  
 Outdoor temperature 
 Rider weight and cargo
 Wind resistence  
 Acceleration
 Tire pressure and profile 
 Poor maintenance
 Terrain elevation and surface
 The number of charges/discharges

The table below gives an approximate range. Conditions are categorized as 'HEAVY', 'GOOD' or 'IDEAL' based on above conditions.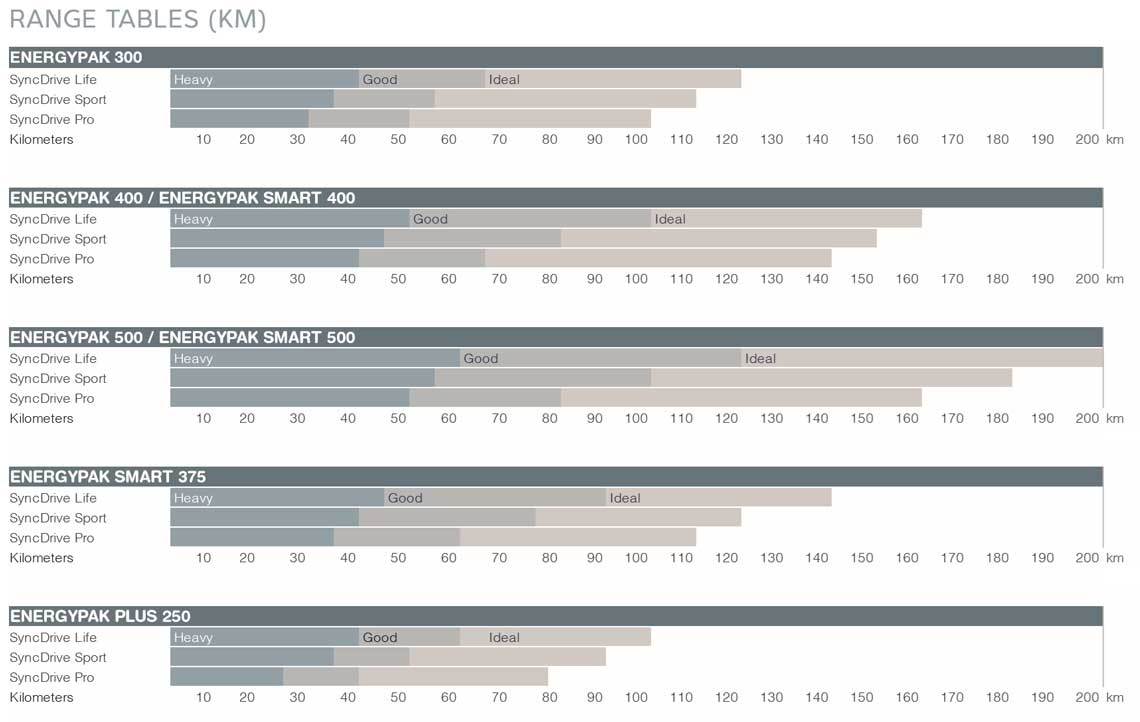 How Long Does it Take to Charge?
Smart Charger (6A): Recharging batteries quickly is essential for getting back out to play in the great outdoors. Not only is Liv's 6A Smart charger compatible  with the EnergyPak Smart battery (500Wh, 400Wh, and 375Wh), it is the fastest way to charge and recharge, and it extends battery life when the EnergyPak is charged more than 500 cycles. This charger uses a lower voltage so the cells are used in a less energetic way. The Smart Charger adjusts voltage to extend battery life without  reducing charge times. Switching between full charge and 60% storage mode can be done by the simple press of a button. The new angled plug reaches easily and is designed to avoid contact with the cranks. Then, go time!
Fast Charger (4A): Charge your E-bike easily, whether back at home or even in the middle of the ride. Liv's Fast Charger (4A) is lightweight enough to throw in a bag and charge the battery on or off the bike.

Learn More by Watching these How-Tos