Cycling at Night: How to Light Up Your Bike
Light Your Bike Into the Night!
That's right, the days are getting shorter and the nights are getting longer. Stop complaining about it on Facebook and get outside and ride your bike! We will let you know the best bike lights for night riding, whether you are cycling socially with friends, going on a night-time group ride or mountain biking at night. You can stay safe and have fun while riding your bike long into the night.
Basic Bike Safety for Night Time Rides on the Road
It is NEVER safe to ride your bike at night without proper lights. When you are dealing with traffic while riding on the road, being visible is your number one priority. Safe night riding starts with your clothing. Here are some tips for what to wear when riding at night: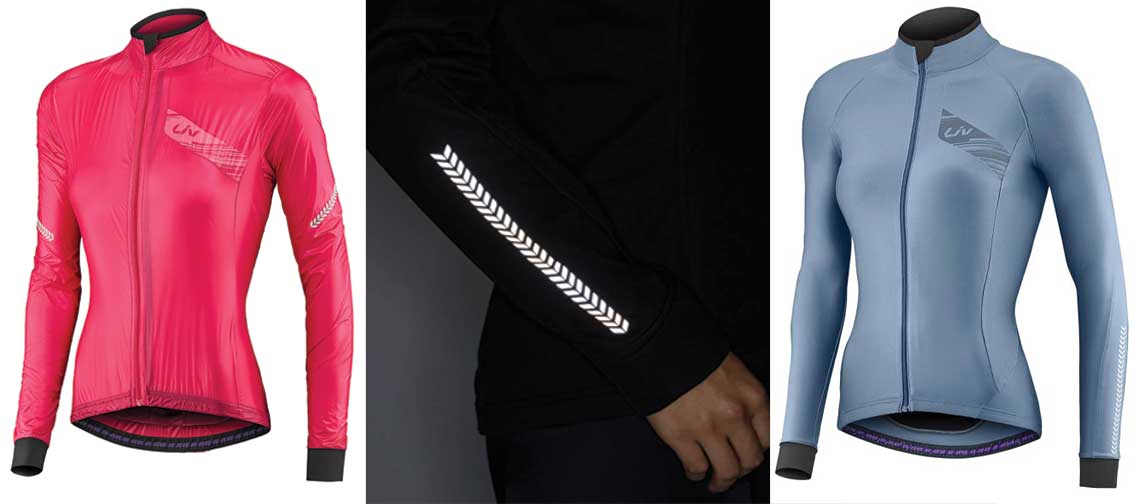 Although fashion may be important to you, when you are riding downtown to meet your friends, leave the black jeans and dark shirts at home. Black almost disappears on your body at night.
Wear a reflective jacket or jersey. Cycling-specific jackets like the LIV Cefira Wind Jacket and LIV Flara Thermal Jacket and Longsleeve Jersey have reflective accents that can help you be seen. All Liv on-road apparel has reflective accents.
If you do not have any reflective clothing, wear bright colors or white. White helps you be seen when car lights hit you.
You can even add reflective material to a jacket you already have. Reflective tape is pretty easy to find at your local hardware store and could help you be more visible to motorists at night.
Cycling gloves also have reflective material that will help people see those hand signals when you are turning.
Last but certainly not least, wear a helmet! Always wear a helmet for safety, regardless of the time of day, but at night, your helmet can help you be seen on the road.
You can add a helmet light or additional reflective material to your helmet.
When riding on the road at night, any additional reflectors on your bike could only help, not hurt, your chances of being seen. However, bike lights are your MOST IMPORTANT safety feature when night riding. Make sure you have the following:
ALWAYS have two lightweight "blinky" lights with you while you are riding. A red flashing light in the rear and a white light in the front are ideal, regardless if you are riding in the day or night.
For serious night riding on the road, be prepared with a more serious rear light. The rear light is one of the most important lights you can have since you cannot avoid cars coming up behind you. Blinking lights will draw more attention to you than solid red or white lights.
Headlights are also important to be seen by oncoming vehicle traffic and to light your way at night. When it is really dark, not being able to see curbs or bumps in the road can be almost as dangerous as not being seen by cars! Headlights vary in brightness and can be as bright as 4000+ Lumens! That is really bright! But, on the road, you don't need your light to be THAT BRIGHT. A single car low-beam headlight is generally around 700 lumens, so you really don't need anything brighter than that. You could even double up and put two smaller lights on each side of your handlebars.
PRO TIP: Charge your lights the day before your night ride and have them set aside ready-to-go. If you try to charge them quickly before your ride and do not get them fully charged, you might find yourself riding home in the dark. Most lights will have different levels of brightness and will last longer on modes that are less bright. So, use your high-beams sparingly!
Mountain Biking at Night
Night-time mountain bike rides are a special treat! Riding at night can make your everyday trail feel new and exciting again. 
Even though you do not have to deal with motorists, riding trails at night can still be dangerous, especially if you are riding an unfamiliar trail at high speeds. There are many different schools of thought when it comes to which lights are the best for night riding and how to position them on you and your bike. Here are a few tips that seem to work for us:
Spend the money for the lumens. The same 250 Lumen headlight that was great for your road bike will make it feel like you are trying to find a mountain bike trail by candlelight. Shoot for between 700-2500 Lumens, depending on your budget. Yes, you can buy that 4000 Lumen light for over $1000, but in our opinion, it is not totally worth it.
Look for battery life. The disadvantage of the more powerful lights is that all that power does not last very long. You want a light that can go strong for the length of ride you plan to do on a regular basis. If you want to pull an all-nighter, you might consider buying an extra battery pack.
Remote switches are really cool. Some mountain bike lights come with a remote switch for your handlebar. If you can afford it, definitely purchase this upgrade! Just like your dropper seat post or your remote fork lockout, you can control your light's brightness without removing your hand from the handlebar.
A helmet-mounted light is better than a handlebar-mounted light, but having both is the best! When riding a mountain bike, sometimes you are looking a different direction than the way your bike is pointing, particularly around corners. Therefore, having a light strapped to your bike isn't always ideal (but it is better than nothing!). Having two lights, one on your handlebar and one on your helmet will definitely give you the best visibility, but it will also cost you twice as much.
You don't need a rear light when riding mountain bikes! That is, unless you are afraid your mtb buddies are going to rear-end you.
Always make sure your headlight is pointing farther ahead down the trail than you think is reasonable. If your headlight is pointing directly in front of your bike when you are standing still, it will most likely not be pointing far enough down the trail when you are moving at higher speeds.
If available, demo a bike light! Some bike light companies have night ride demos where they will let you try out their stuff. This is ideal because you can ask questions from the professionals and try the lights out on the trail before you buy them!
Have Fun with Your Bike Lights!
The best part about night riding is lighting your bike up in fun and funky ways. It doesn't have to be a special occasion to rock some multi-colored lights on your bike, but it is an awesome way to celebrate at a holiday parade. The more you light up your bike, the more likely you are to be seen by motorists!
You can buy lights specifically made for bike wheels and frames. We used Wheel Brightz which are extremely affordable and come in a variety of awesome colors. But, you could easily recreate this look with short strings of battery powered outdoor LED holiday lights.
The important thing to remember when decorating your bike with lights, whether you are using bike-specific lights or not, is to secure your lights well and make sure they are not interfering with any of your bike's moving parts. Small clear zip ties will help you secure the lights to your spokes.
Get creative when lighting up your bike into the night. Share your ideas with us on social media @LivCycling