Building the Purple Armada: Meet Fran Bambust
Flanders, Belgium
"I get pulled along by the energy of others. This is not my energy. It is the energy of the dozens of ladies in the group. Their enthusiasm enthuses me. I want to honour their dreams, their hopes, their aspirations, their expectations… I want to bring out the light I see in them and enlarge it. Light up the spark to a flame to a blazing fire."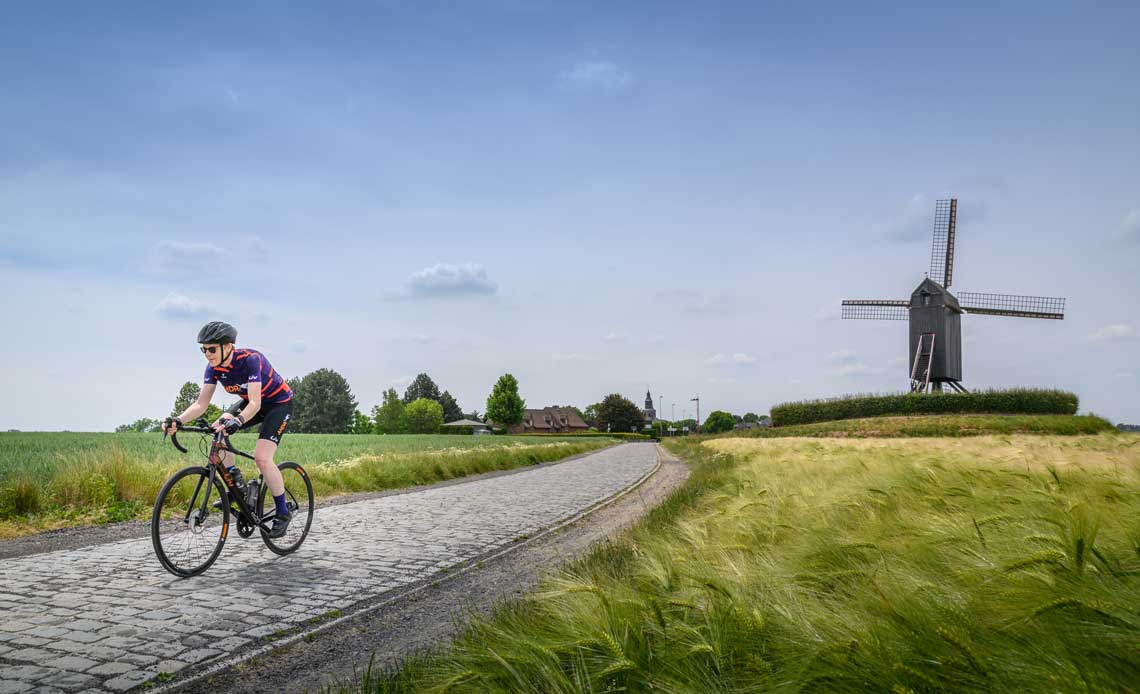 What started as Fran Bambust's participation in the weekly Wednesday AHDR (Australian Hump Day Ride) on Zwift evolved into the identification of a need for an inclusive, connected and enriching community for female E-racers, at all levels of the sport. E-racing and e-riding takes place on a virtual platform such as Zwift, on indoor stationary trainers where cyclists ride with and compete against one another in real-time, on a virtual course.
Drawn in by the number of female riders participating in the AHDR, and because of the encouraging nature of the group, Fran came back each and every week. On the AHDR ride, there was a large group of women at varying levels who supported one another, but there was no system of support for this group of women once the ride concluded. Fran saw a need for a structured e-racing community for women, outside this once-a-week experience.  She proposed a women's only race team on the AHDR Facebook group and she had 20 members by the next day.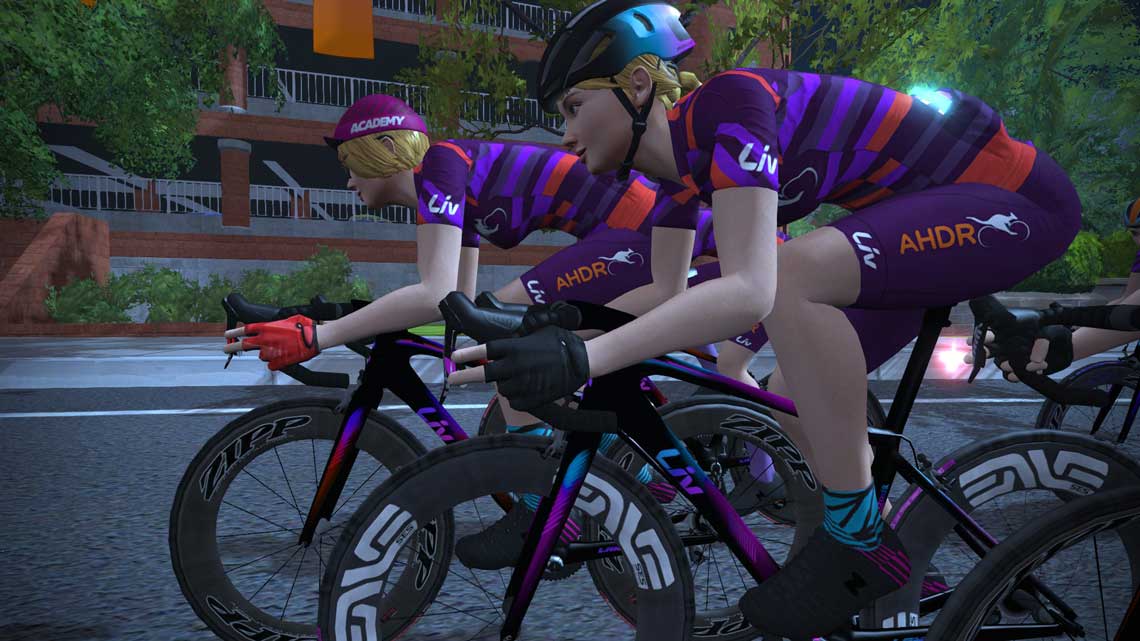 Fran also fell in love with her digital Liv Langma the moment she "bought it'' with her sweat drops at Zwift Level 22.  Could such a beautiful bike exist in real life?
Why yes, it could, and it is the team bike of the CCC-Liv racing team. The more Fran learned more about Liv Cycling, a cycling brand "For Women, By Women," the more confident she became that Liv's brand values aligned with her own. As she went to work answering the call for an inclusive E-based racing community for women, she knew she wanted to represent the Liv ethos in the team name. Purple, the color of Liv and Armada, a feminine noun meaning a fleet of warships; hence was born, Purple Armada.
Fueled by Fran's drive and passion, the Purple Armada has grown from the initial group of 20 to a global E-racing team, with more than 170 riders, ranging from elite E-Racers to the self-named Dingbats, the Level D squad, who's enthusiasm, according the Fran, "unlocks her day."
"This team is not just a race team. It's a group of likeminded women who love to laugh together, celebrate each other's successes and support each other through challenges. I never imagined making friends across the world because of Zwift. But thanks to Fran and the Purple Armada, I feel like I have family all over the world!" - Katherine Mackay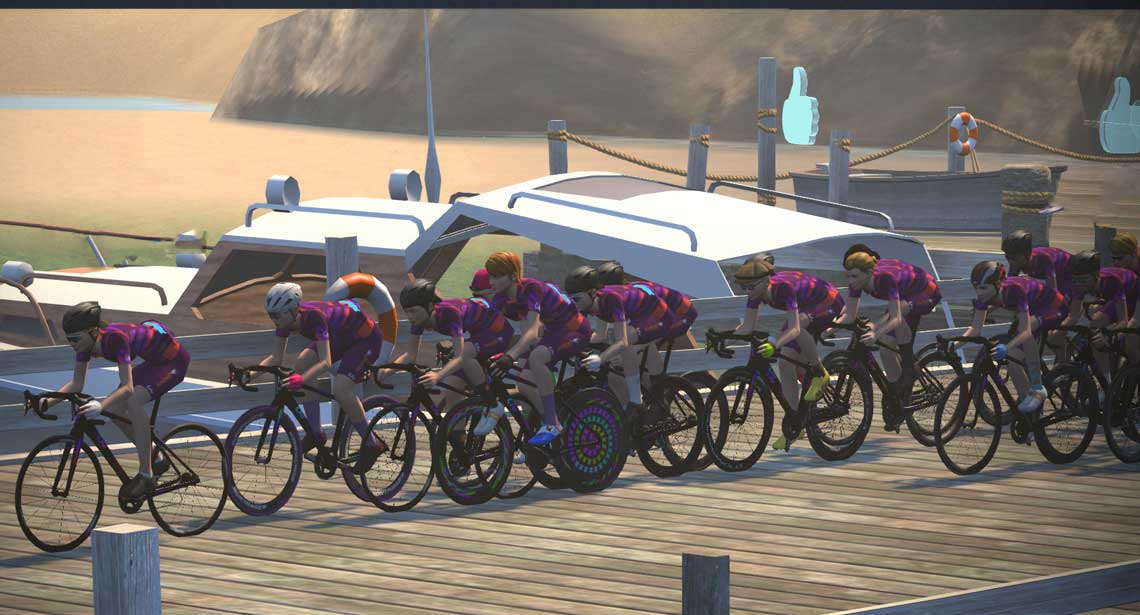 The Purple Armada is an E-racing team that supports its members, no matter their goals or level of racing. Purple Armada aims to provide a community of inclusivity, information sharing, guidance, and encouragement in a secure environment where members feel "at home". Purple Harbor, the Purple Armada Slack account, has channels assigned to each level of racer and goal, and acts as a platform for members to connect and share weekly race reports, personal stories, triumphs, disappointment, knowledge and training information. Team members encourage one another to push harder, are there to provide support when a member falls short of her goal, and to celebrate the progression and success of each rider.
"Nothing unites more than sharing information, sharing help."
As strong as The Purple Armada is today, Fran's vision is big and bold and ambitious. She hopes to build an E-racing and riding club that caters to both recreational riders and the sponsored Elite Purple Armada E-racing team, who's competing at the top level will inspire others to join the squad. The inclusivity of the Purple Armada will remain paramount, honoring the efforts of each rider, no matter her level. The Purple Armada will offer training camps, coaching, skills clinics and basecamps, helping members reach their riding and racing goals and learn the standards and requirements needed to race at the Elite E-racing level.
"I have watched in awe as Fran turned shy and unsure women into participants and then into racers with the confidence to contest at the highest level. Such great achievement doesn't happen by accident, I believe the success of the Purple Armada is largely due to the efforts of Fran and her tireless efforts in communications, race organization and advocacy." - Chevonne Arrowsmith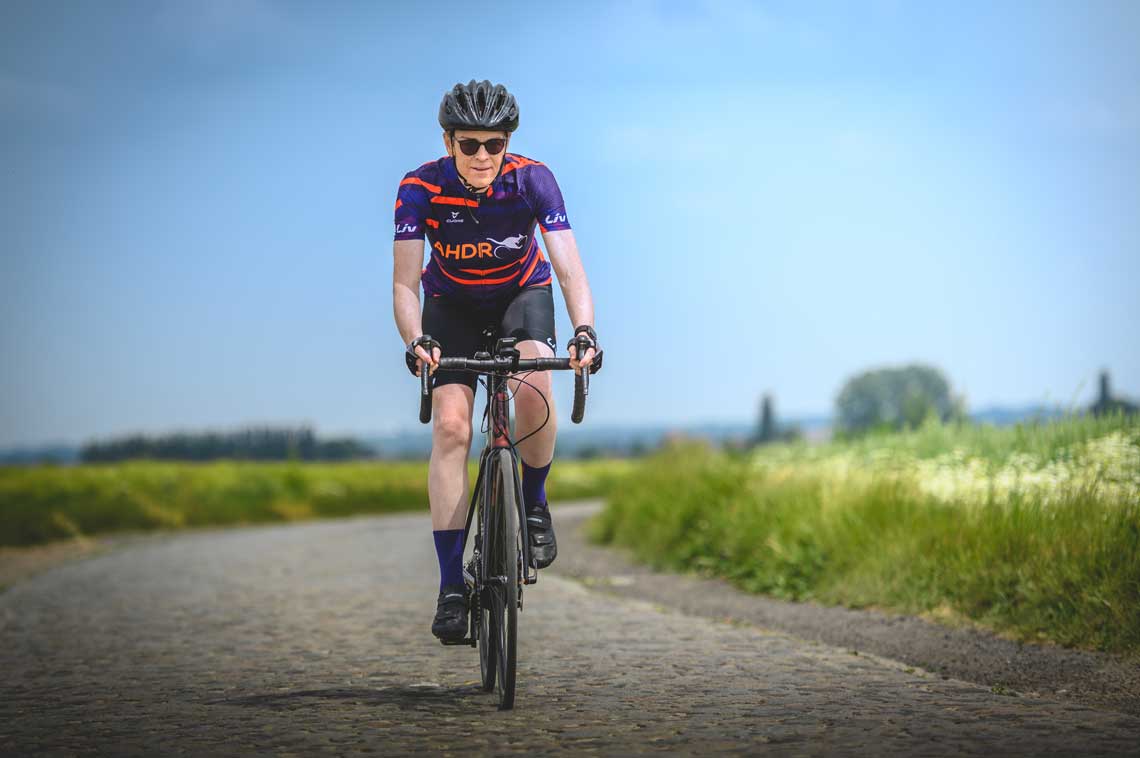 In Spring 2021, Fran plans to travel from her home in Belgium to Australia to meet a large group of team members, this visit culminating with the Three Peaks Challenge, a 235k route that includes three major climbs. 19 Purple Armada team members have already registered.
Fran is active in her engagement with the Zwift Team to continue enhancing the E-riding and racing experience and is currently working with other E-racing teams to create a E-Racing Federation, with hopes of aligning with the UCI and National Federations to recognize accredited teams and E-races.
The Purple Armada is welcoming new members; to learn more about the team and determine if it might be the right fit for you, visit the Purple Armada on Facebook.
Join Purple Armada's weekly group ride on Zwift, CLICK HERE for more information.
Find Fran on Zwift, in her AHDRL kit aboard the Liv Langma at "Fran Bambust [AHDR]" or on the slopes of the Flemish Ardennes aboard her Liv Langma Advanced Pro 1 Disc.