Bike Travel Guide: Los Angeles, California
Los Angeles Sightseeing Road Bike Route
with JEN KYLE WHALEN, Los Angeles-based producer/editor/director/actor
As Blondie says, "Nobody walks in LA."
A lot of people think nobody could possibly ride a bike in LA either.
There's even a hashtag about it on Instagram: #LAsucksforcycling
But let me tell you, riding in LA is pretty sweet.
I moved to LA from New York City seven years ago. NYC has very limited options when it comes to bike routes. How many days can you go over the George Washington Bridge to River Road? And with the rising popularity in rollerblading, Central Park is an obstacle course, at best. The first time I climbed up Mt. Hollywood Drive (closed to cars) in Griffith Park, I felt like I'd discovered a whole new world. I was amongst unicorns. And coyotes, lots of coyotes.
Here is one of my favorite cycling routes in Los Angeles, which happens to pass by lots of movie locations! If you're in LA, hit me up on Instagram @jennysayyes and if I'm free, you're not a murderer, and you're not rolling out super early in the morning, I can ride with you!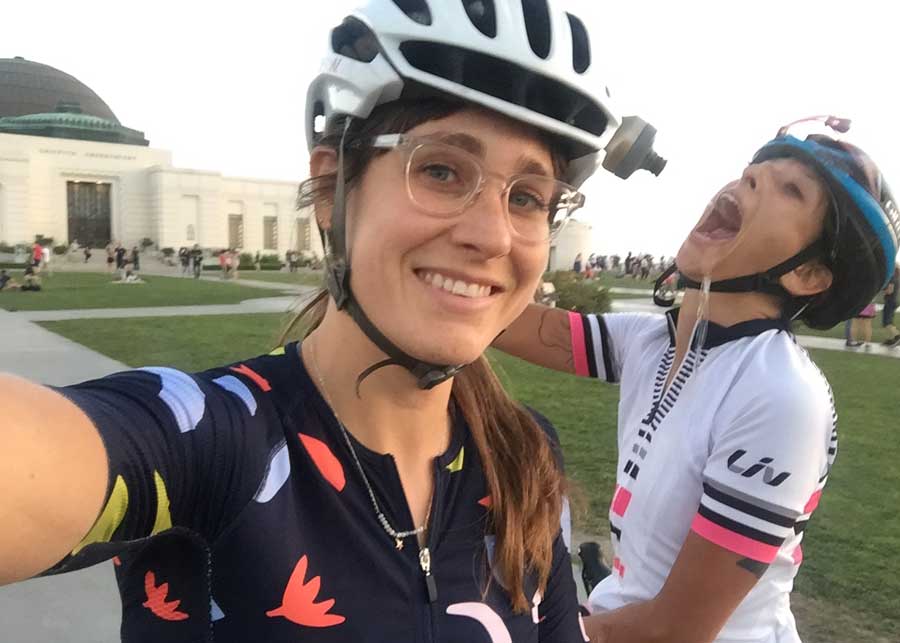 The best way to sightsee locations from television and movies while your visiting LA  is by bike. This ride will take you by three different locations from the movie LA LA Land, one from Rebel Without a Cause, an optional Batman location detour, and has plenty of views of the Hollywood Sign that you can't even get to by car.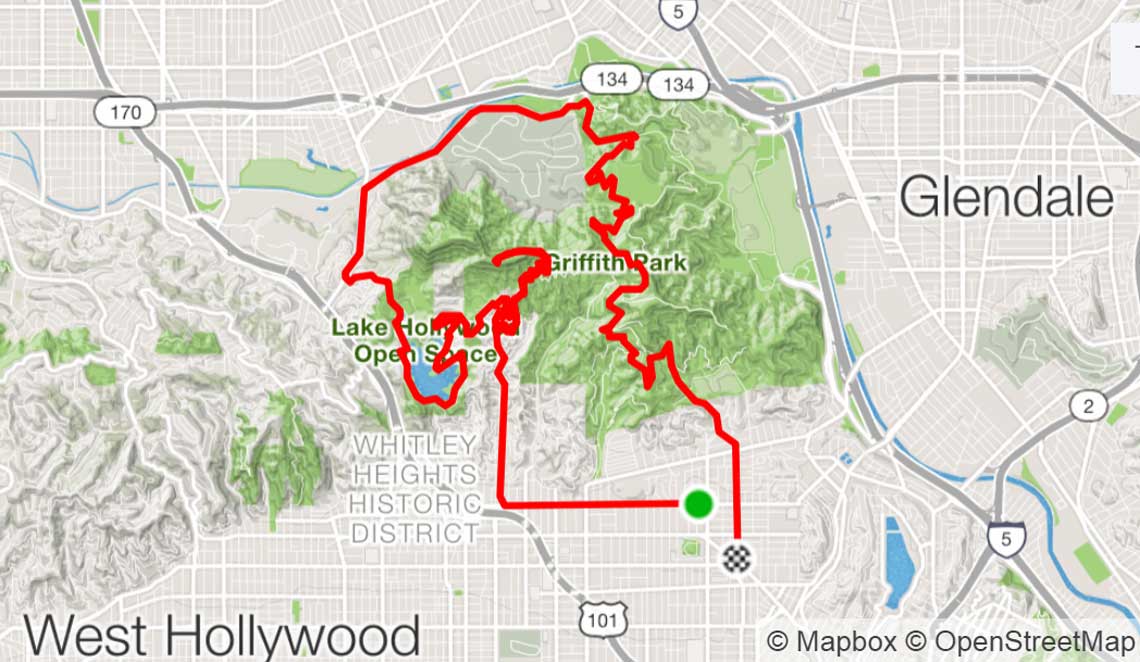 Length: 24 miles/ 38.6 km 
Climbing: 2,884 ft/ 879 m
Estimated ride time: 2 hours
I like to start this ride from the Bourgeois Pig coffee shop: 59131 Franklin Ave, Los Angeles, CA 90028  
You don't go to Bourgeois Pig for the good coffee, they're still years behind on the Chemex single pour over. You come here for the Bohemian-meets-jungle kitschy interior. Vibe-wise, it's like "Central Perk" from Friends but really gothic and weird inside, and instead of people chatting, they're all writing their next big screenplay. There's a dark den in the back that looks like it's straight out of FernGully: The Last Rainforest.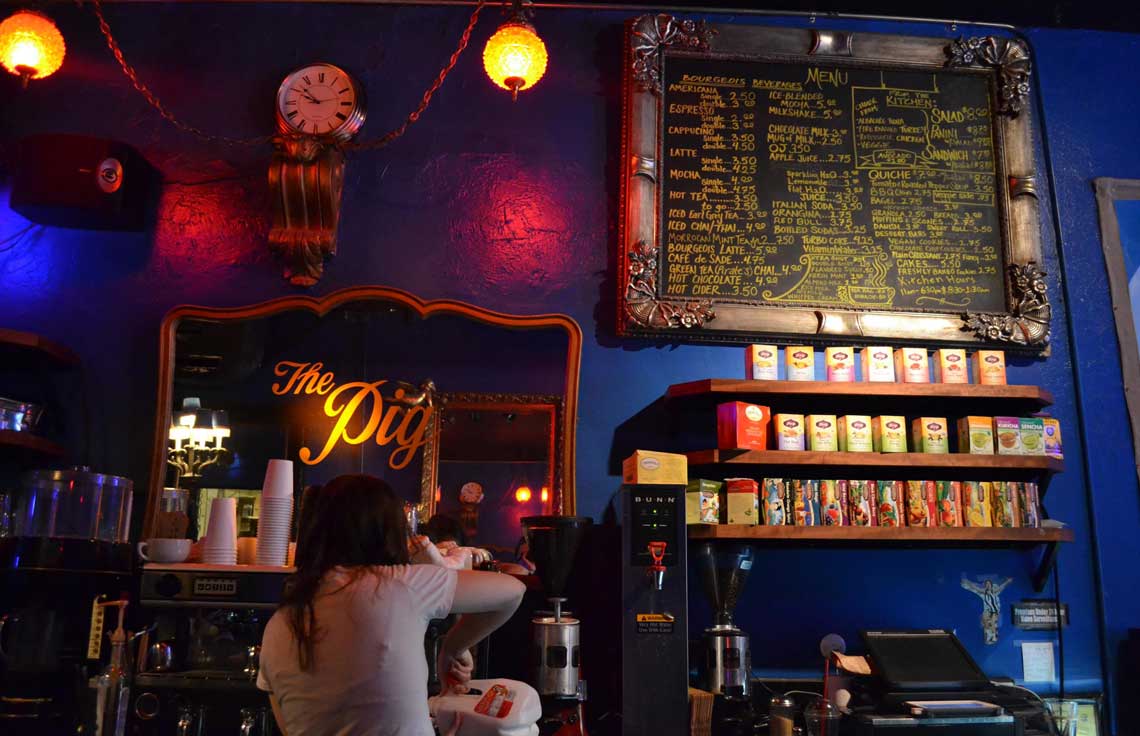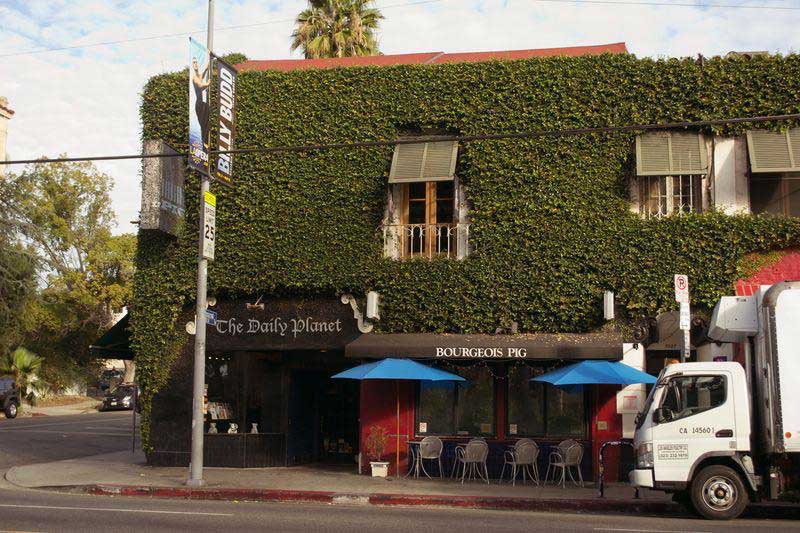 If you're into improv comedy, Upright Citizens Brigade is on the same block. One of the last standing artsy magazine stores is right next door, called The Daily Planet. You can sometimes catch Clark Kent looking for photos of himself in GQ. And telling passersby that he "started the black plastic rimmed glasses fashion phenomenon."
From The Bourgeois Pig, head west on Franklin Ave and make a right up Beachwood Canyon. It's a gradual climb with a head-on view of the Hollywood Sign. You'll veer left at the fork in the road onto Beachwood immediately after passing the Beachwood Café on your left. Wave to the LA brunchers; they're so fancy. Make a left on Ledgewood where you will experience some steepness. You will probably need to get out of the saddle unless you have a 32+ tooth cog in your cassette. Ledgewood dead ends. Give yourself a hug because that was a hard part. But, you're not done. Make a right onto Deronda Dr. and weave around the Hollywood Hills until you get to the top. You will come to a closed white gate. To the left of the gate is a green door that goes to a pedestrian entrance.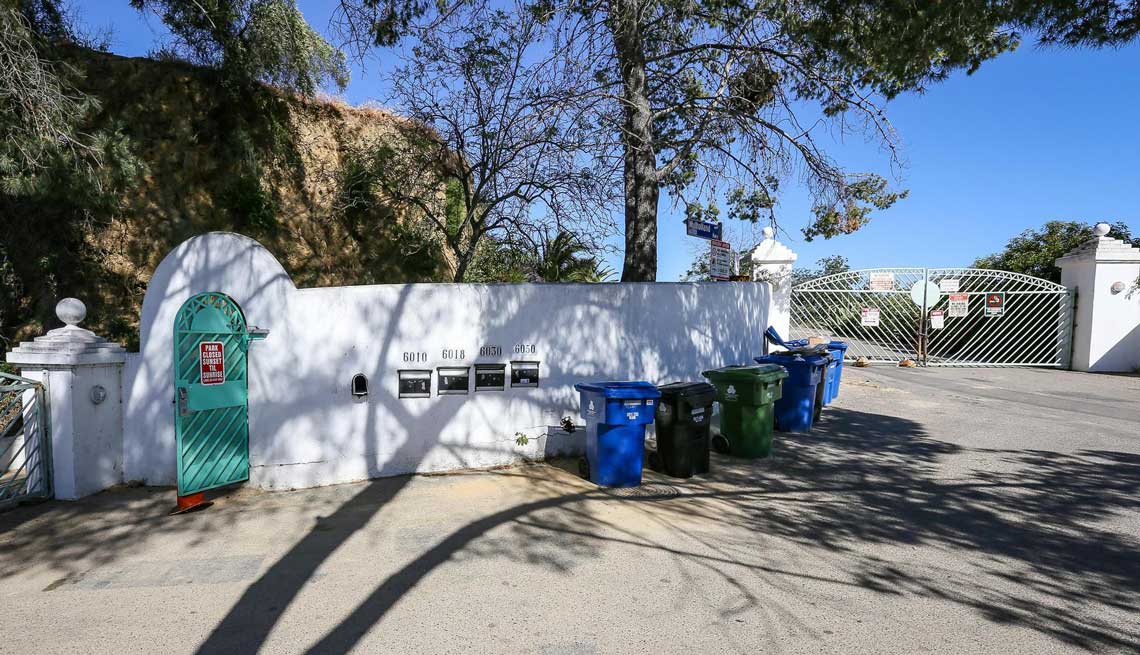 Walk up some steps with the bike and now you're on one of the majestic closed-off roads: Mt. Lee Drive. Ride your bike freely! This is a famous Strava segment. If you're riding on the weekend, you will have to weave around tourists and dodge selfie sticks. The climb to the top of Mount Lee will take you about 10 minutes. Once you're at the top, there are some radio towers and you will see the back of the Hollywood Sign SUPER CLOSE. Take that pic, gurl!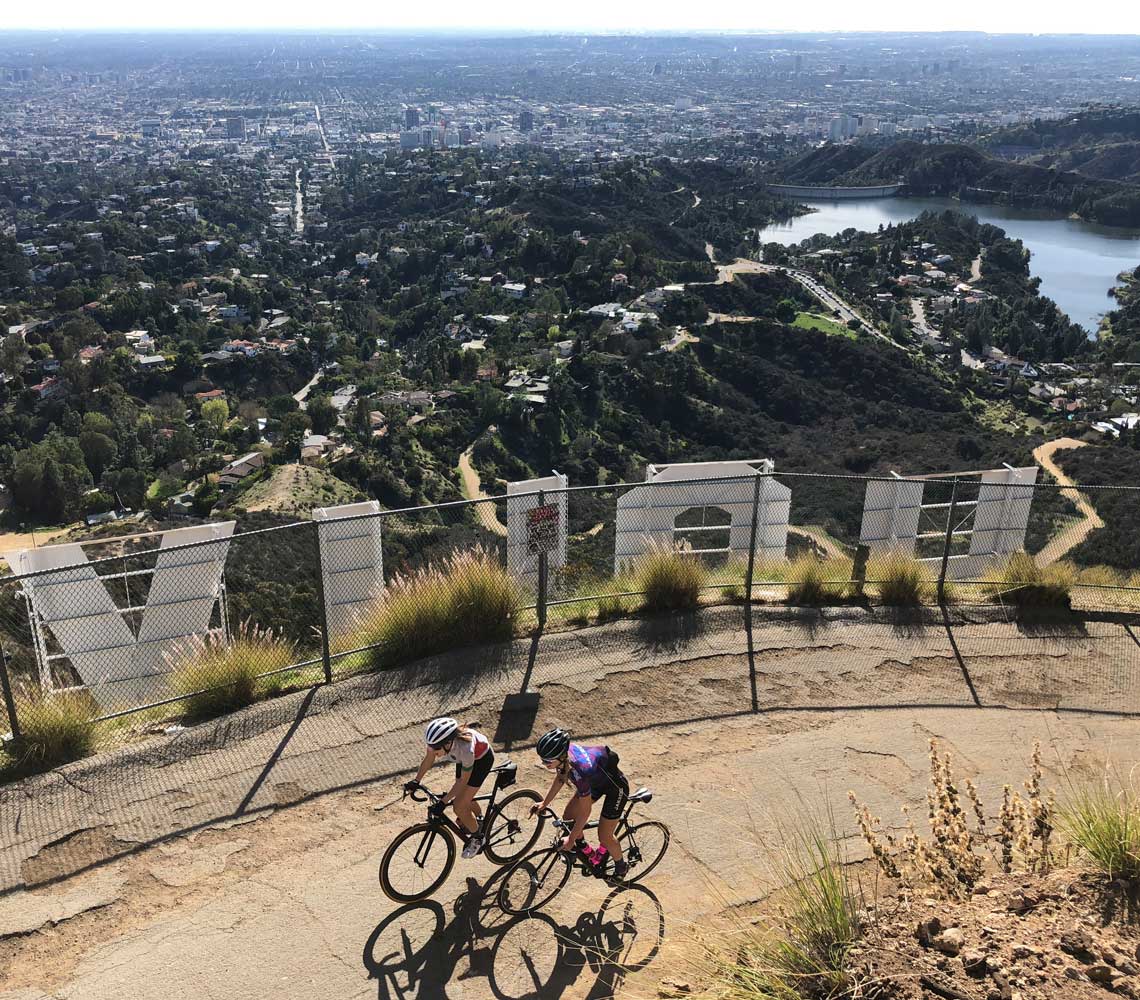 Photo by Jeff Fox. 
Then, descend back down the way you came up and go around the white gate at the bottom. Look to the right and there is a cool dirt trail section. Shred it! It's short and the dirt is packed solid, so it's road bike friendly. The trail will spit you out on Mulholland Hwy. Then it's a fast descent down. Make a left on Tahoe Drive.
You will come to the Lake Hollywood Reservoir entrance. Another pedestrian road! Take a lap around the lake and enjoy the beauty. As you pass over the reservoir, look to the right and there it is again - the Hollywood Sign you were just at! This is a location from The Andy Griffith Show.
Eventually, you will end up at some portable toilets, if you need to use the facilities. Pass through the chain link fence, make a left on Lake Hollywood Drive, and ride up the steep climb to the stop sign. Make a left to stay on Lake Hollywood Drive and take it down to Barham Blvd. Here make a right and it's a speedy descent back to sea level.
You'll pass the Universal Studios lot on your left at the bottom of the hill. On your right, you'll see the Smokehouse Restaurant, where they shot the scene in LA LA Land where Emma Stone walks into the restaurant and sees Ryan Gosling play the piano for the first time and the scene where he gets fired on Christmas and then shoulder checks Emma on his way out - so rude. If you need a break, stop and fuel up here, they have this crazy cheesy bread covered in orange cheese dust that sounds and looks gross but is really good.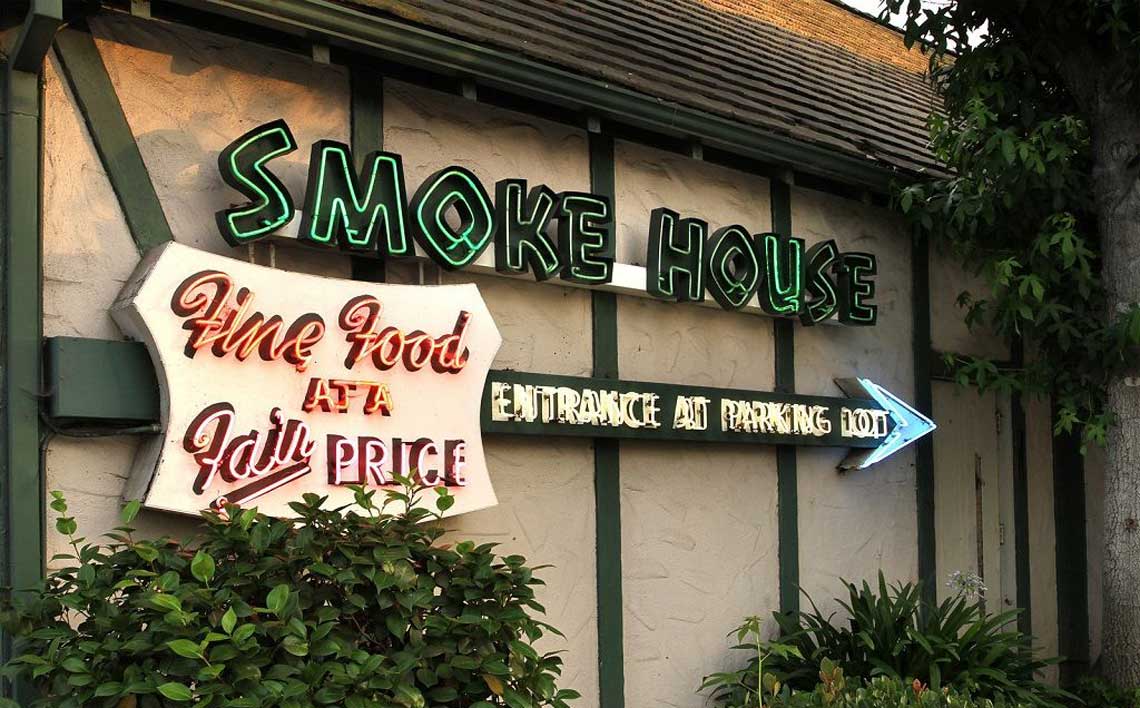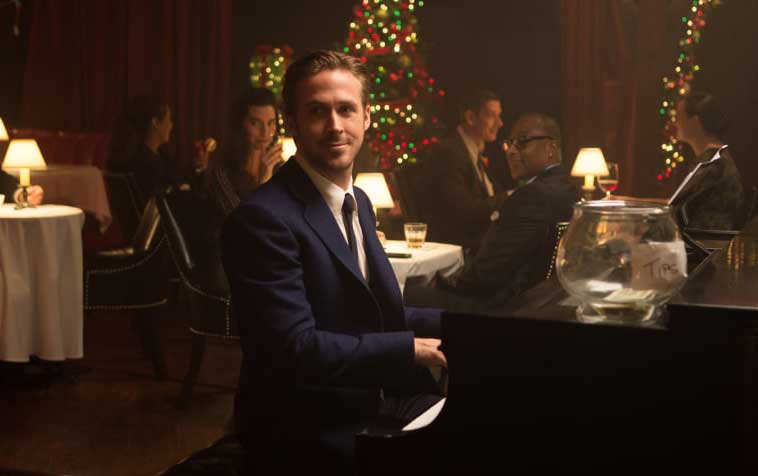 If you don't want to stop at Smokehouse, make a right onto Forest Lawn Drive from Barham. Two miles down Forest Lawn you will arrive at the entrance to the legendary Griffith Park. Make a right onto Zoo Drive to enter the park and then your first right onto Griffith Park Drive to head up trash truck climb. The 2-5 minute climb is a very coveted Strava QOM (I wonder who has it… I'll give you a hint - it's the person who wrote this. If you beat my QOM I will take you to lunch). At the top of the climb, you'll reach a stop sign and if you look to the right you'll see a gate.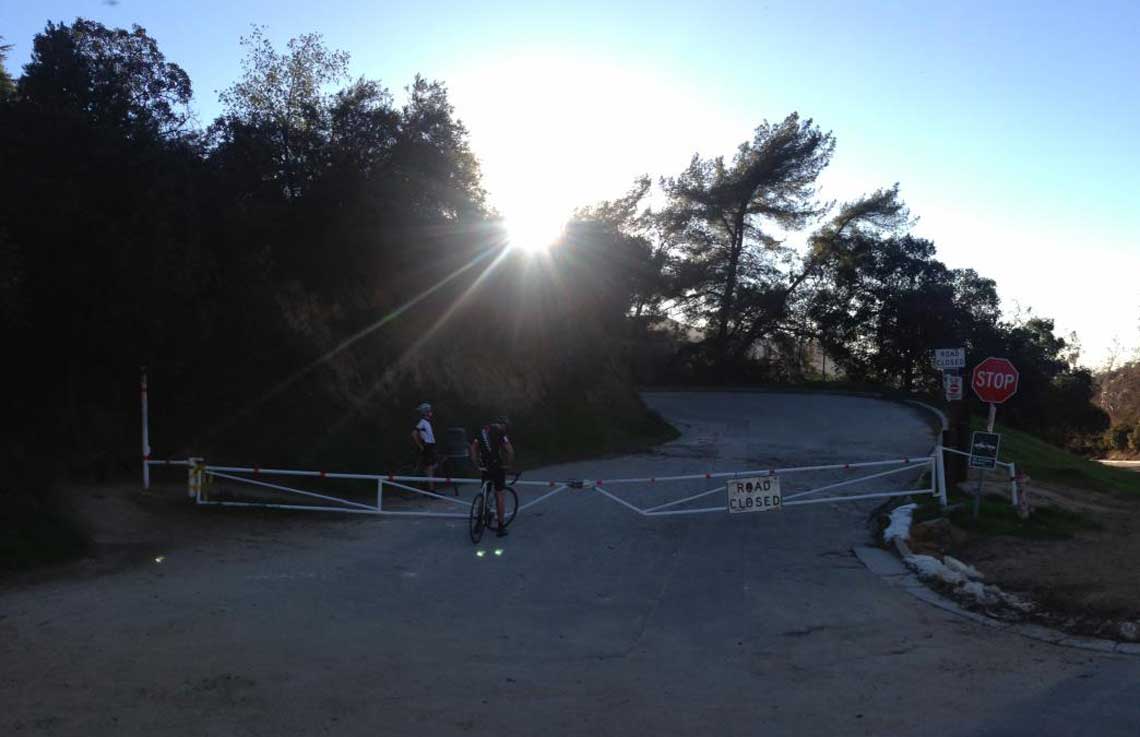 Go around the gate, feel like a rebel, and climb the wonderful, magical, closed-off road that is Mt. Hollywood Drive. It's about a 15-minute climb. There usually aren't any cars, unless they're shooting a movie or television show, so watch out for production trucks, flaming cars, robotic beasts, fight scenes, etc. You may see deer or coyotes on this road as well. Don't worry about the coyotes, they are pretty chill and you can ride right past them.
Mt. Hollywood is the setting for the friendly impromptu bicycle race in Beautiful Boy where Timothee Chalamet races his friend up the climb on road bikes. I like to think that the movie was making the observation that riding a bike can be a form of therapy and that the character Nick, who struggles with addiction, was realizing that and feeling the high that comes from flying on two wheels.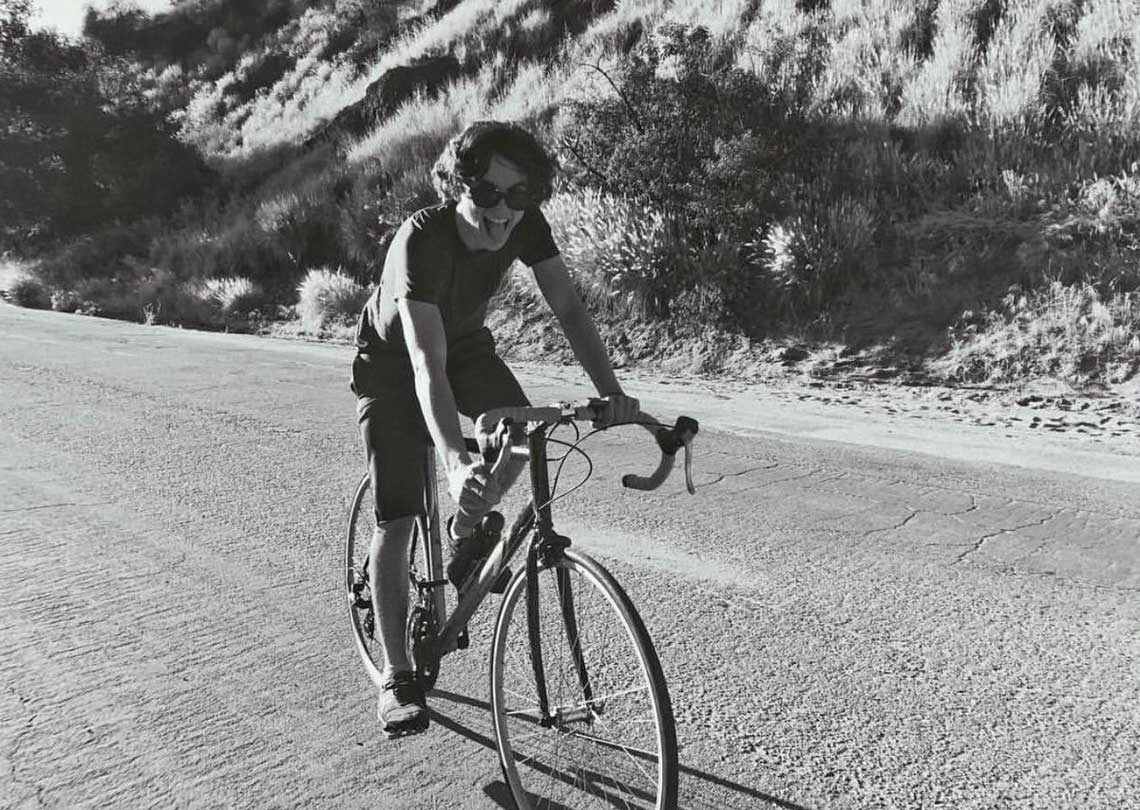 The last sharp switchback you hit on the climb is another location from LA LA Land, where Ryan Gosling and Emma Stone have their first dance and sing "Lovely Night." You know the one - where Ryan Gosling flexes those Mickey Mouse Club moves as they pay homage to "Singin' in The Rain." You can stop and do the dance, but don't slip on your cleats. And make sure to post a video and tag me, because I want to see that.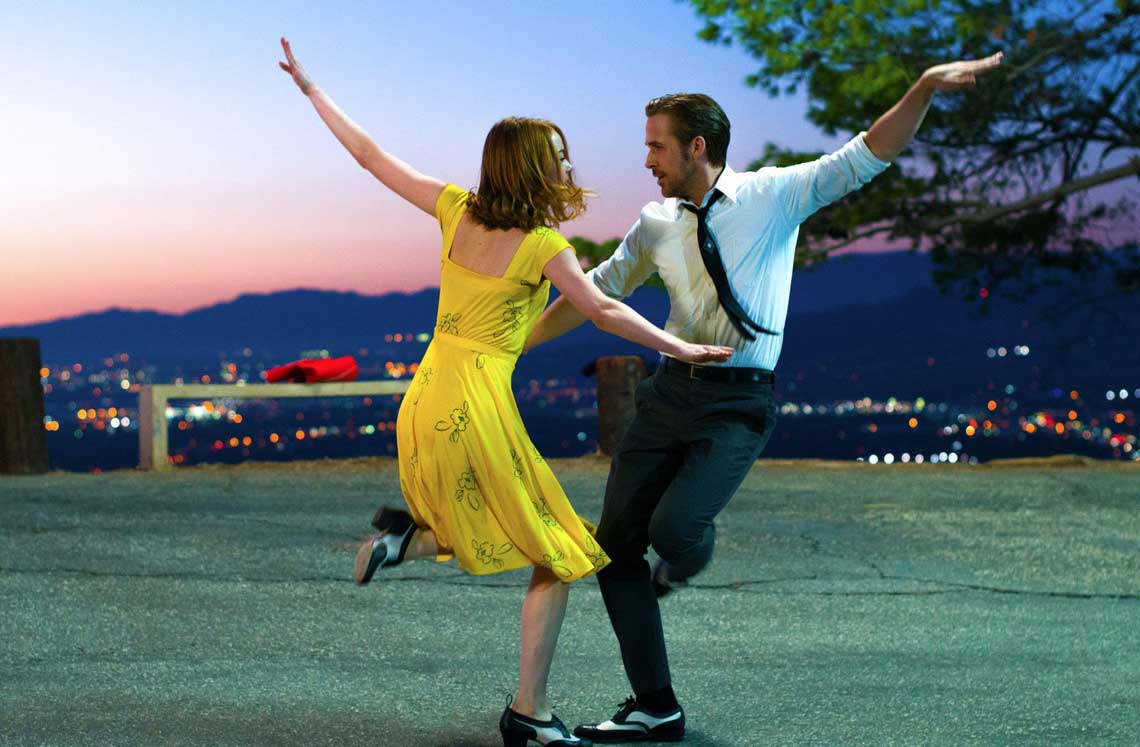 Continue up until you come to an open white gate - the top of the climb. You can go left on Valle Vista if you want to go to the place that Instagram was born - the helipad. The road is sandy, so watch out. But we are going straight on this ride to hit one more LA LA Land location - the Griffith Observatory.
You'll descend for a while and get to a closed gate, which you'll go around. If you look to your left, you will see a tunnel. This was a location for the trans-dimensional entrance to Toontown in Who Framed Roger Rabbit. It's also where the hoverboard vs. car chase happens in Back To The Future 2.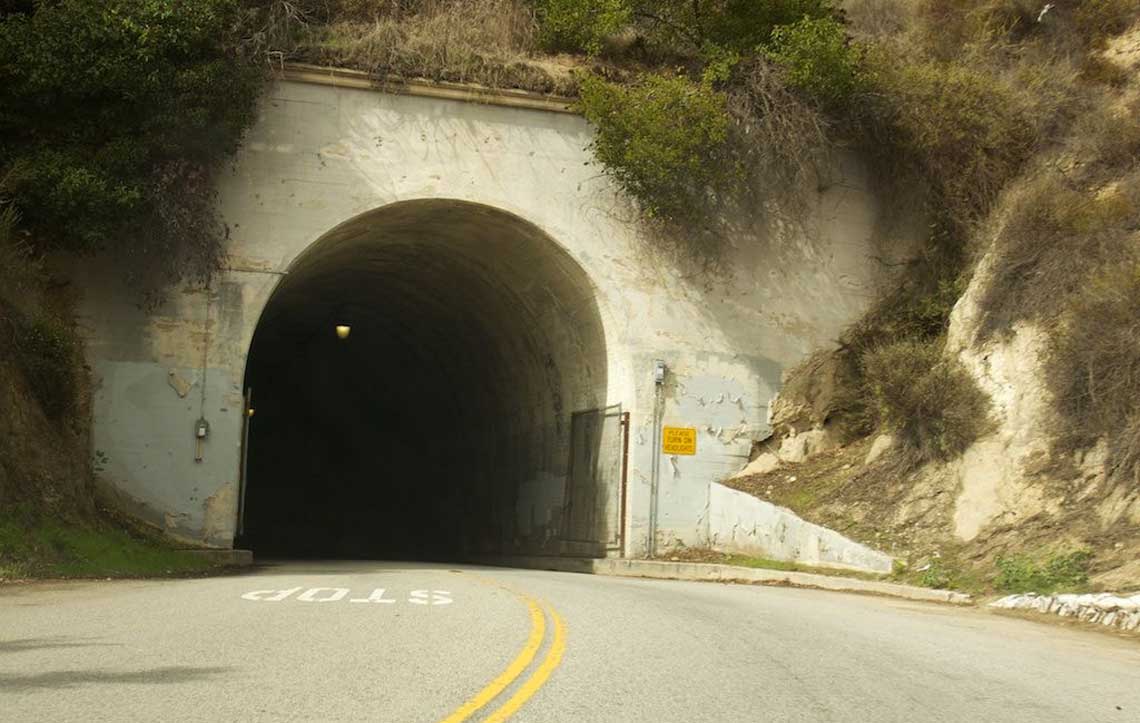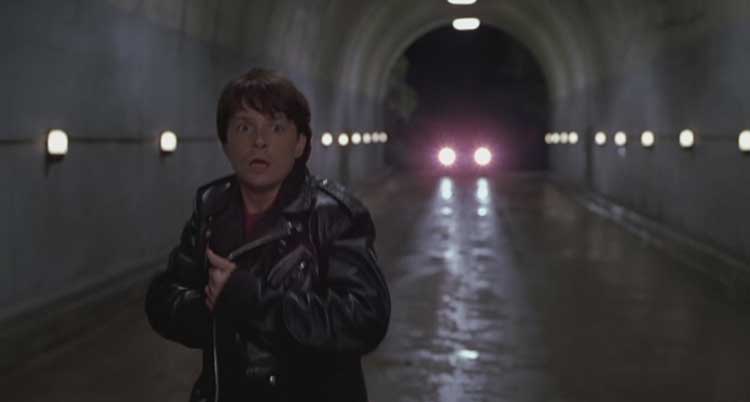 The tunnel appears AGAIN in the Adam West-era Batman, as the entrance to the Bat Cave. Take a roll through if you want to be nostalgic.
But flip a u-turn and come back, because you still have to see the Observatory.
Make a soft right on Observatory Road to do one last climb up to the Observatory. Watch out for dweebs parking their cars, they are most likely confused tourists. This is also a Strava segment, so go for it if you wish. Once you get to the top, you'll cruise past another great view of the Hollywood Sign on your right. Stay to the right and you'll see a bust statue of James Dean. YOU'RE TEARIN ME APART! To the right of the Observatory, you can see where he drove his car up to the building in Rebel Without A Cause.
The exact action is repeated in LA LA Land. Inside the Observatory is where Emma Stone and Ryan Gosling have their very first kiss and have that crazy fantasy dance number. Around the back of the building, you'll find the location for the knife fight scene from Rebel Without A Cause. If you go in the early evening during a special moon, you will see astronomers setting up telescopes in the front lawn for people to look at the moon. Have a lay in the cool grass and reflect on what a sweet day it has been. Bikes are awesome! It's free to go inside the observatory and geek out on planets if you have someone to watch your bike. The planetarium has some really cool shows, too.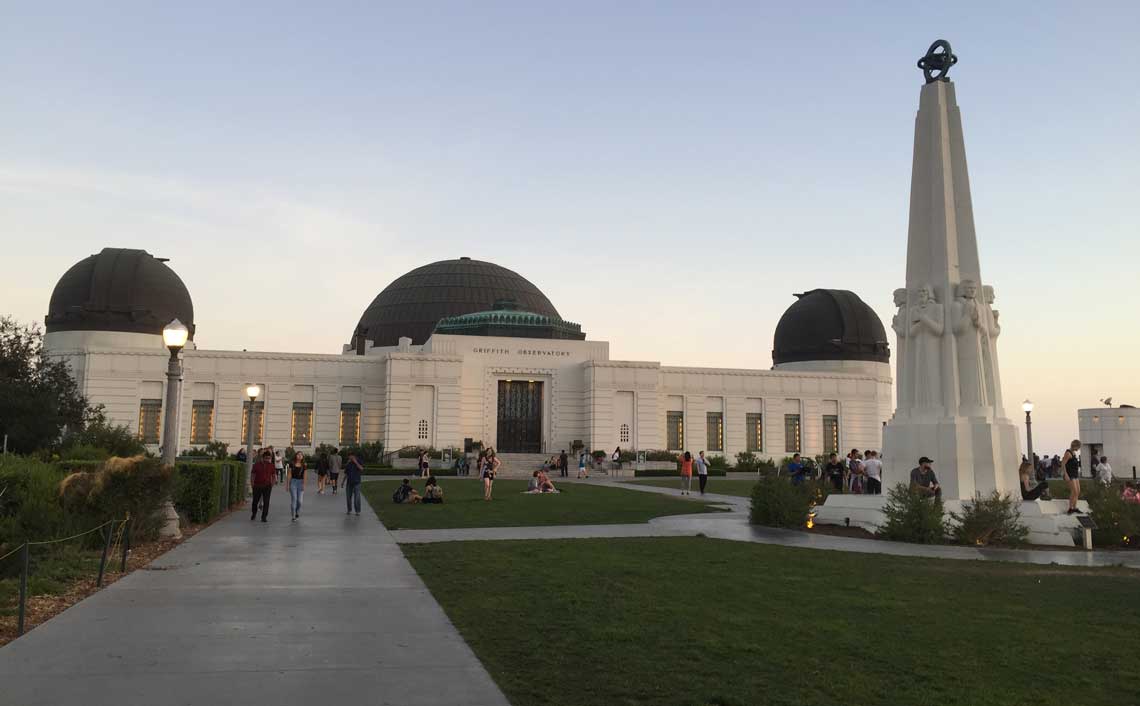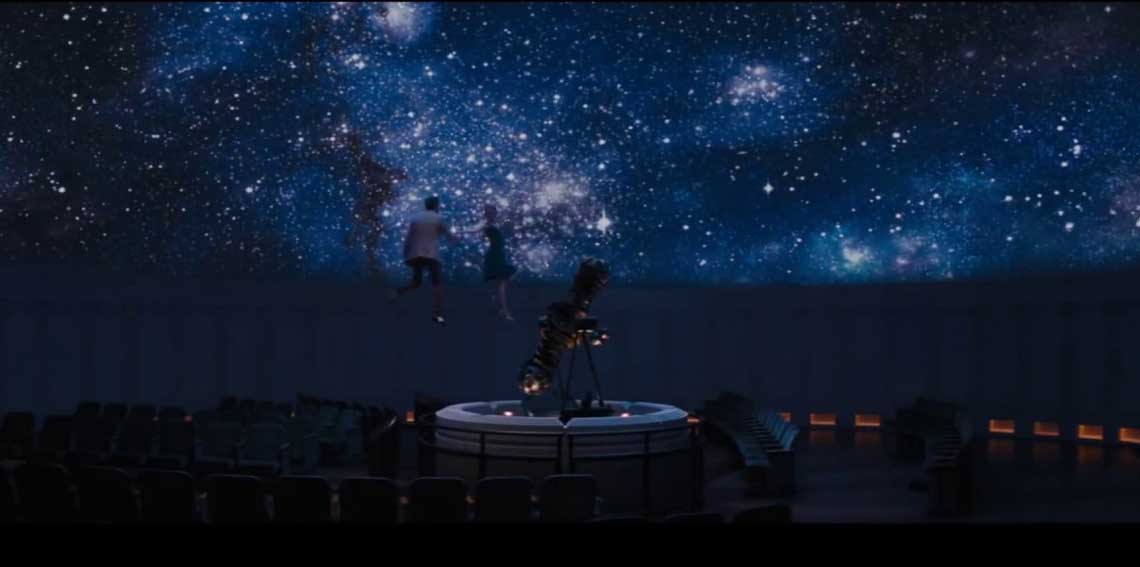 Now say so long… but not goodbye.
To get back to where we started, descend down E. Observatory Rd. (the opposite of where you came up). It's to the right of the observatory if you're facing away from it. You'll pass the Greek Theater on your right. Eventually, you will reach an intersection and light at Los Feliz Blvd. Continue straight through and roll down Vermont Ave until you hit Franklin Ave. Make a right on Franklin and continue until you see where it all began, The Bourgeois Pig. Have an eight dollar coconut water, you deserve it.