Best Hairstyles for Biking
5 Bike-Friendly Hairstyles
Finding a great hairstyle for cycling can be tough! When you are an active women, it is important to find a hairstyle that's functional AND good-looking. Cycling presents an additional problem: How do you have a cute hairstyle when you have to fit a helmet over it?
Get inspired by these ideas! Whether you are looking for some race-day inspiration, practical styles for riding or trying to prevent helmet hair on the ride to work, check out the best hairstyles for biking. Liv tested and approved, check out our how-tos below!
The Perfect Braid
We love this neat braid. It is the perfect go-to look for whatever the occassion: racing, commuting, or touring!
Start with a basic pony tail, placed in the middle of your head. If the pony tail is too high or too low, it will get in the way of the webbing in the back of your helmet.
Separate your pony tail into three pieces and braid as far down as possible.
Secure with hair elastic.
When you place your helmet on your head, pull the braid through the opening in the webbing of the helmet. This will allow a super secure and comfortable fit for longer rides or races!
Ponytail
A basic ponytail is a classic on-bike hairstyle. But, if you're hair falls flat when put in a pony, or short layers in your hair fall out when your hair is in a mid to low ponytail. This is a great solution!
Start by pulling short layers to the top of your head. Separate the hair into three parts and braid down to the center of your head where the ponytail will be. If your layers are too short for a regular braid, do a French braid instead.
Gather the rest of your locks and secure your ponytail with a hair elastic in the center of your head. Too high or too low, and your helmet will not fit properly.
Place your helmet on your head and pull the loose hair of your ponytail through the webbing.
There is nothing better than flying past some guys on a mountain bike trail or road ride with your ponytail flapping in the wind!
Versatile Head Scarf or Go-to Headband
Head scarfs are practical and beautiful additions to your cycling wardrobe. They can act as a headband to keep your hair out of the way while riding, can cover your hair while commuting to prevent the dreaded helmet hair and can even be an attractive way to stay warm while cycling in the colder months. If you're not feeling confident in your headscarf skills, stick to a basic headband (it'll do the trick)!
There are tons of great ways to use head scarf: HERE ARE A FEW. The most important thing to remember when adding accessories to your hair for commuting is to make sure a helmet can still fit safely and securely over your hairstyle.
First, start with a very low ponytail at the base of your hairline and secure with a hair elastic.
Braid the ponytail as far down as possible. You do not need to secure your hair with an elastic.
Wrap the braid around the base of the ponytail to form a corkscrew bun. Hold it in place as you secure it with another hair elastic.
Start with your scarf at the back of your neck, below the bun, and pull the ends to the front.
Cross the ends over each other and pull tight before twisting one more time.
Pull tightly and secure the scarf at the base of your neck, under your bun.
Place your helmet on your head and secure the cinching system above your bun.
You can wrap your hair the same way with a ponytail, with your hair completely down or a longer scarf! This hair style prevents fly-aways and keeps your hair looking cute, even after you remove your helmet!
Simple, Low Bun
CCC-Liv's Inge van der Heijden opts for a simple low bun to keep her hair neat and tidy.
You can start by parting your hair or going for the slicked-back look. Parting your hair to the side can give you a little added style points once your helmet is removed.
After your hair is parted, pull back into a low ponytail and secure with an elastic.
Depending on the length of your hair, fold your hair over once or twice and secure with another hair elastic.
When you place your helmet on your head, you can tighten the cinch system above your low bun OR you can pull your bun through the webbing and cinch under your hair. Be sure the front of your helmet is still above your eyebrows to ensure a proper fit.
Beautiful!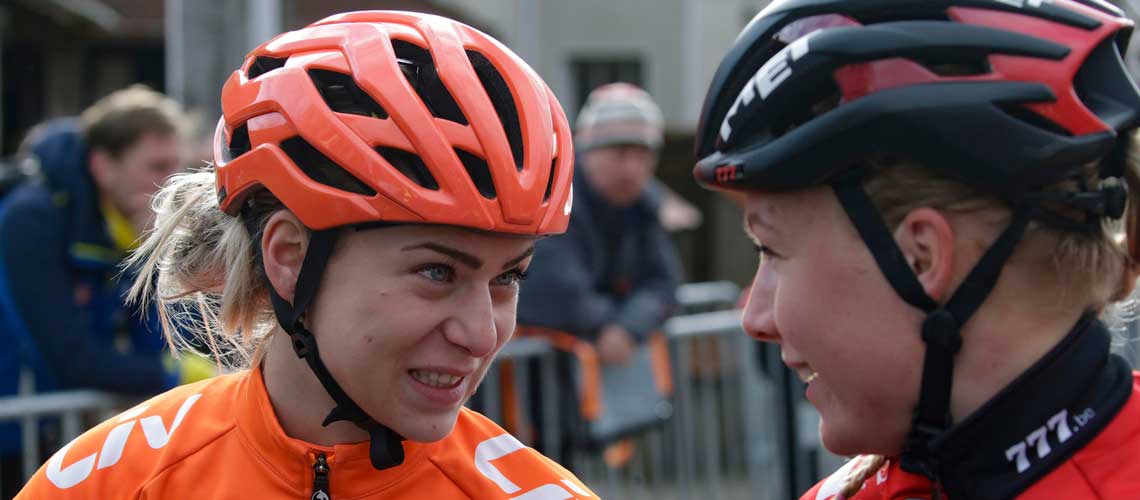 Double Braids!
CCC-Liv's Marta Lach loves to rock two braids (otherwise known as pigtails).
Start by parting your hair down the middle of your head, from front to back.
After your hair is parted, you can secure one side with an elastic while you braid the other.
Pull your hair behind your ear and begin to braid. Then, repeat on the other side.
You should be able to easily cinch your helmet in place without any hair in your way.
Such an awesome signature look.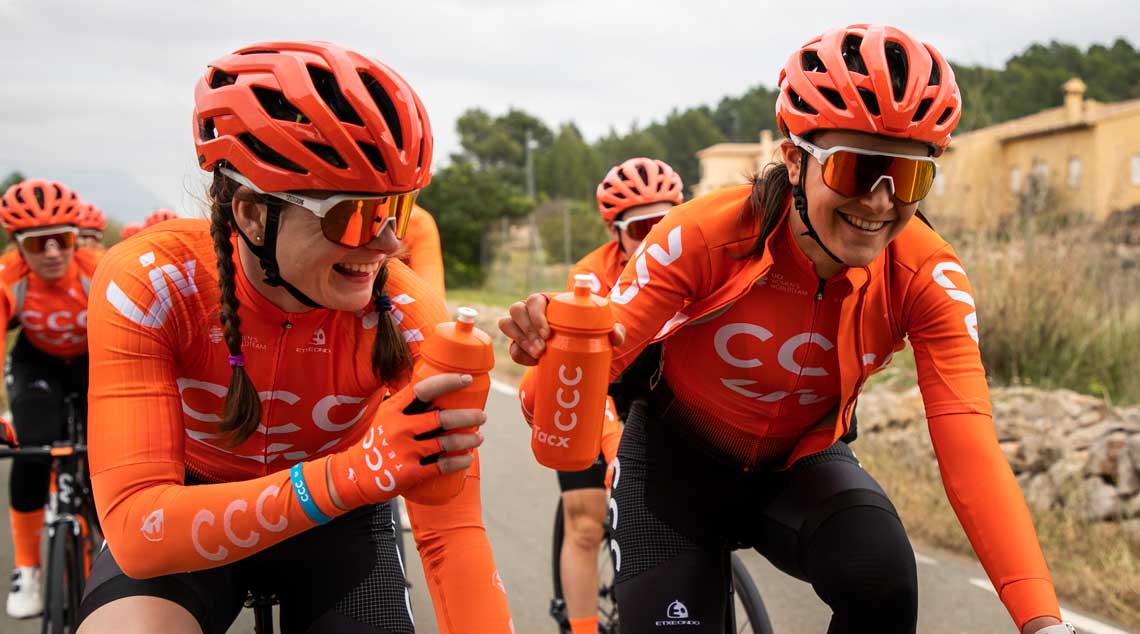 PRO TIP: When cycling, do not use a bunch of bobby pins to secure your hairstyle. As your helmet settles on your head, those bobby pins will become increasingly uncomfortable and probably give you a headache!
What is your favorite biking hairstyle? Share it with us on social media! @LivCycling #HowWeLiv