Best Bikes for Beginners
When you're just starting out, choosing the right bike can sometimes feel overwhelming. From wheel size and tire width to frame material and type of brakes – where do you start?
In this guide, we'll take you step-by-step through the process of selecting the best bike for your needs.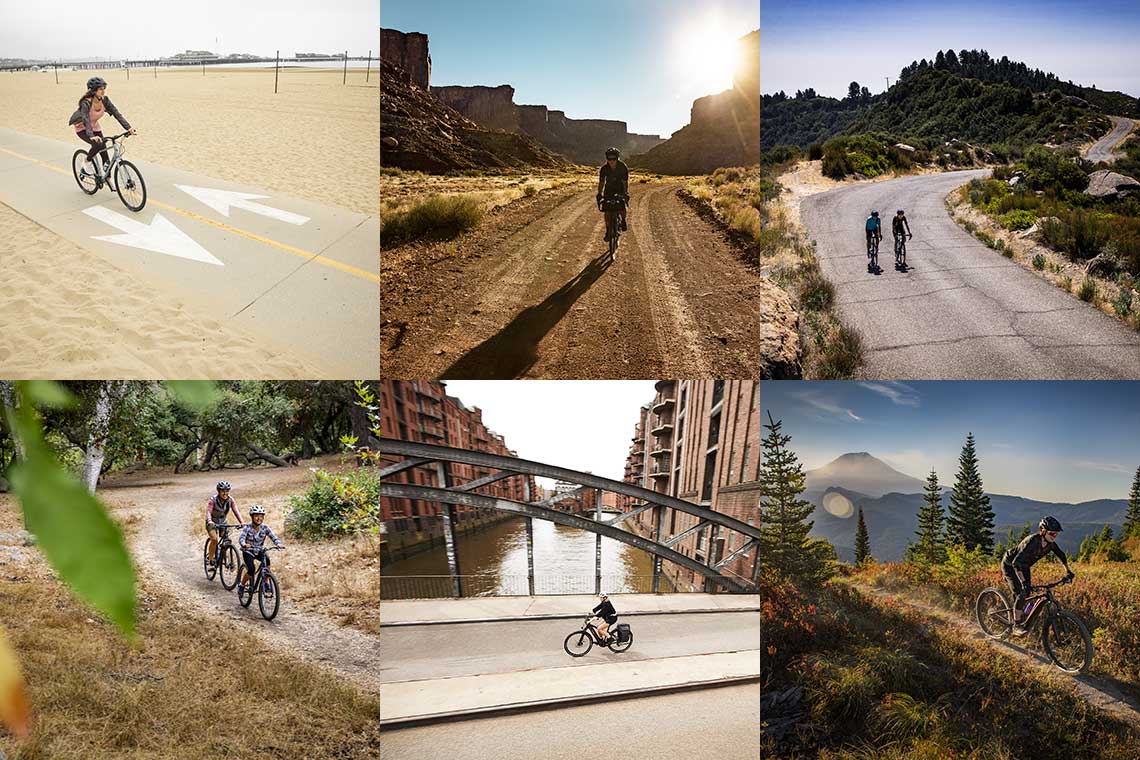 Where do you want to ride?
One of the great things about bikes is they can take you anywhere. From the city streets to backcountry mountain trails and everything in between. But, not all bikes are created equal. Every bike is designed to serve a function – some are great at soaking up bumps on rugged dirt trails, others are designed for speed on the open road, and some are to haul your groceries or take you on a bikepacking adventure.
When choosing a bike, the first step is to ask yourself: where do I want to ride?
Paved roads, bike paths or greenways
Pavement, light gravel, and dirt paths
Mostly gravel, dirt roads, and maybe some smoother singletrack trails
Dirt roads and singletrack trails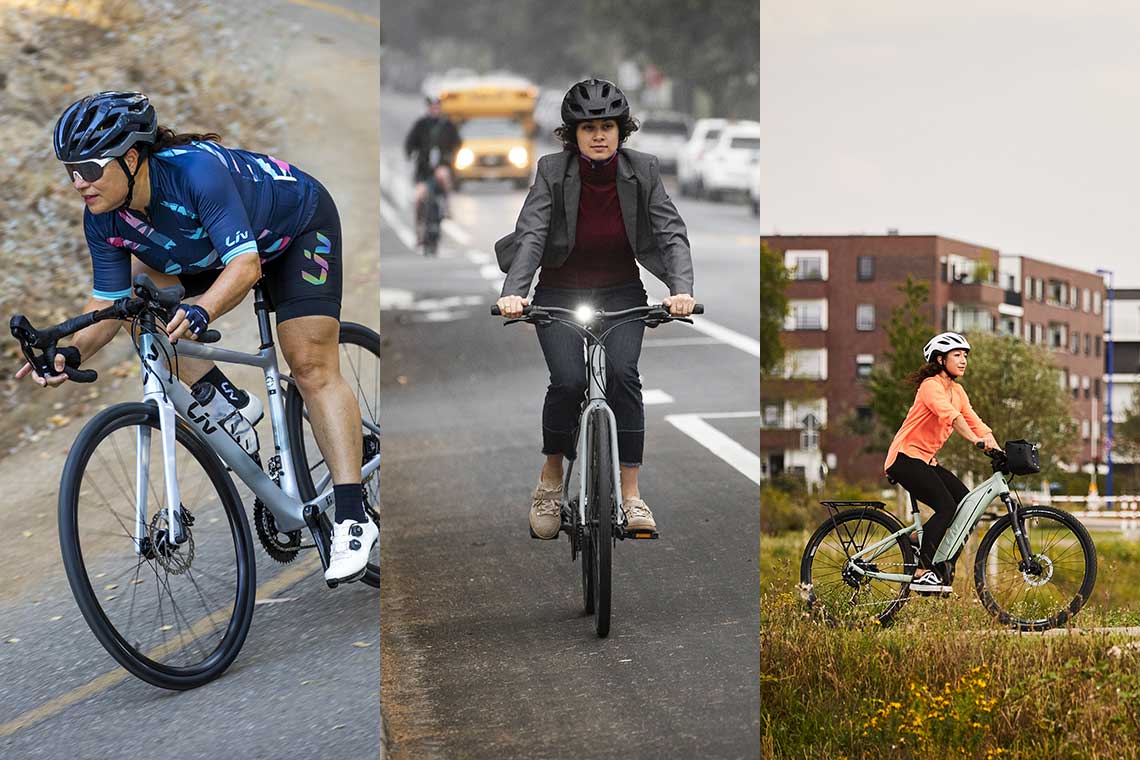 What is your riding style or goal?
Once you know where you want to ride, the next step is deciding how you want to ride. Even among bikes designed to be ridden solely on paved surfaces, components, frame geometry, and accessories will vary based on the bike's intended purpose.
So now you'll want to ask yourself: what goal do I want this bike to help me achieve?
Riding for fun and fitness
Exploring with the kids
Commuting (short distances or long distances?)
Riding long distances
Overnight biking adventures
Starting to race
What is your budget?
New cyclists often thing cycling is an expensive hobby to get into, but it doesn't have to be! Make sure you set a budget before you head to your local bike shop. Keep in mind, you will need a helmet and, depending on your cycling goals, a couple of other gear items to get started. Performance bikes that are created to be lightweight and fast will likely be more expensive than bikes that are created for fun and fitness. More expensive bikes may have nicer components that will last longer or add more comfort. If you simply can't afford a new bike, there are always options for buying used bicycles. Some bike shops sell used bikes or can point you in the direction of resources near you.
Go for a test ride
Now that you have an idea of what you are looking for in a bike, take a few for a spin. Your local bike shop will help you determine your size and get a bike set up for a test ride around the parking lot. Always try multiple bikes and styles out to see what feels the most comfortable to you. If you're looking for a bike to take off road, you may be able to demo or rent a bike before buying it.
Our favorite bikes for folks new to cycling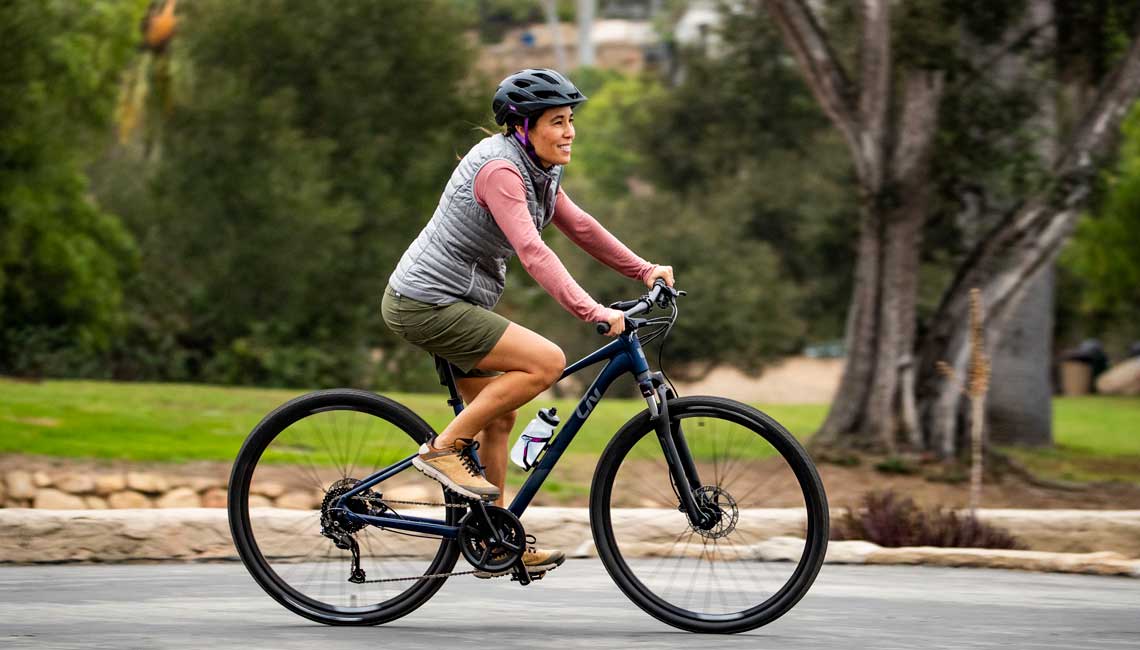 If fun, fitness, or commuting is your thing, Rove is a great choice. 700c wheels and tires that are fairly narrow with a little tread give Rove efficiency on paved surfaces while also being capable of tackling dirt or gravel paths. The suspension fork will also make non-paved rides a little more comfortable.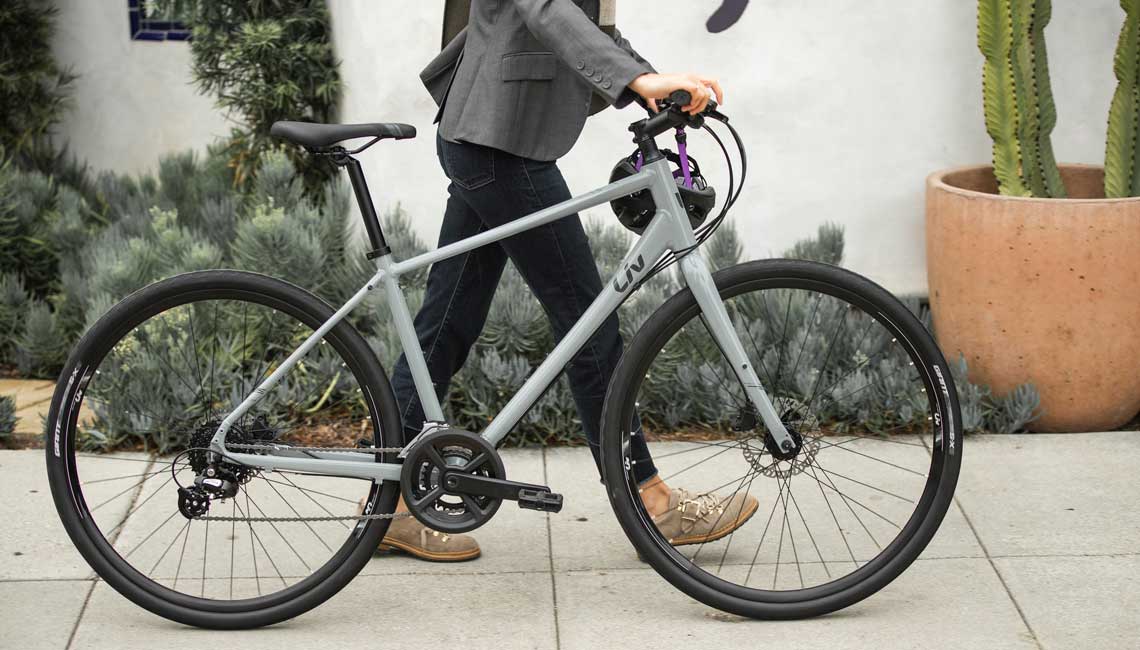 Alight Disc is made for efficient commuting, in-town adventures, or building fitness on bike paths and greenways. With smooth, fast-rolling tires, and a rigid fork, this bike is at home on the pavement. Alight is also ready to carry a load – with mounts for racks and fenders, you can easily add panniers to carry your office essentials or groceries.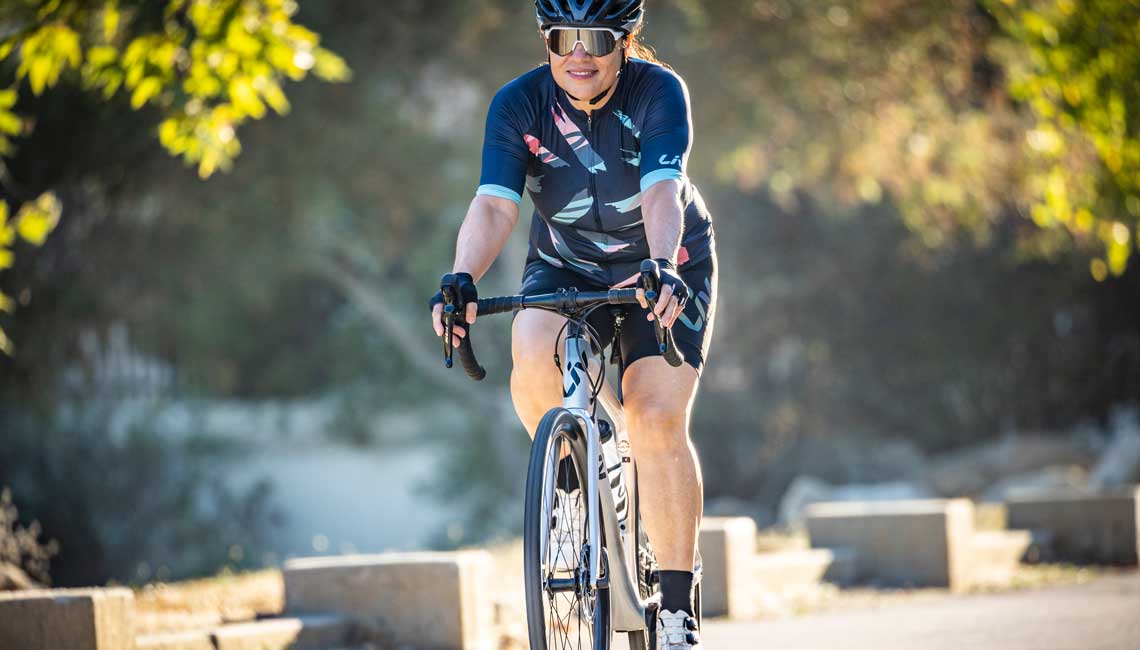 For going the distance, stepping up your fitness game, or venturing into group rides or races, Avail is the perfect road riding companion. Drop bars (handlebars that curl at the end) give you more places to put your hands for longer distance rides and more control on pavement at faster speeds. Avail comes with 28c tires (which refers to the tire width) that have a smooth tread, making it an efficient choice for rides on paved surfaces. Want to know more about tires? Check out our guide to road bike tire selection.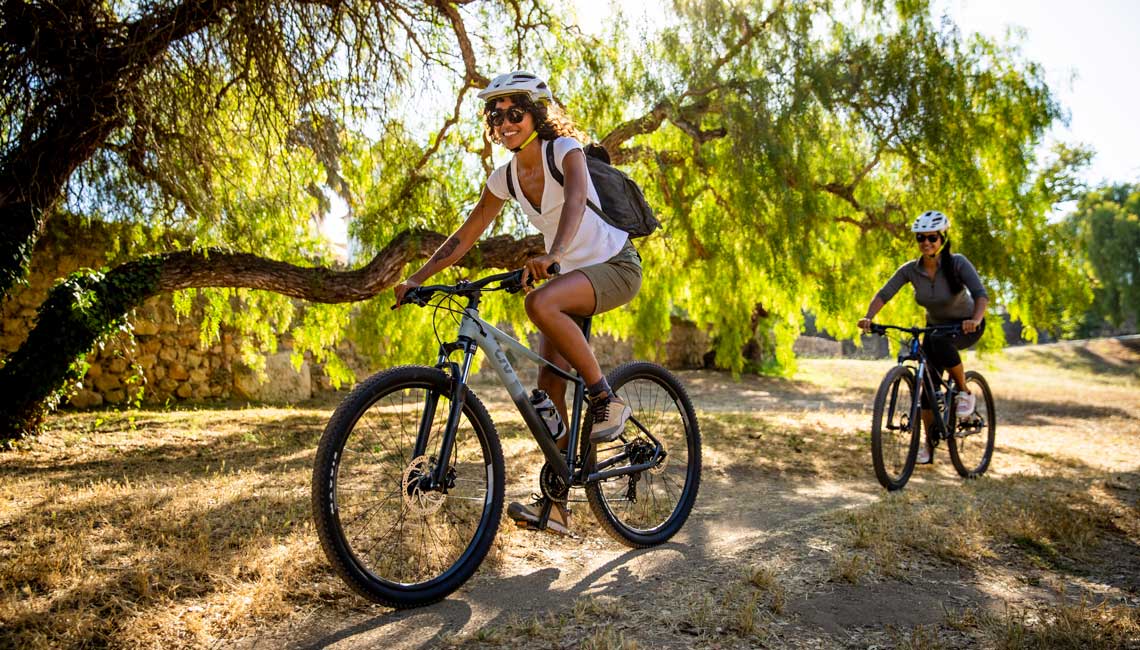 Whether you're looking to ride around-town or explore singletrack mountain bike trails, the Tempt can fit the bill with wider, knobby tires for more stability. With a suspension fork and powerful hydraulic disc brakes, this bike can handle rougher trails with ease.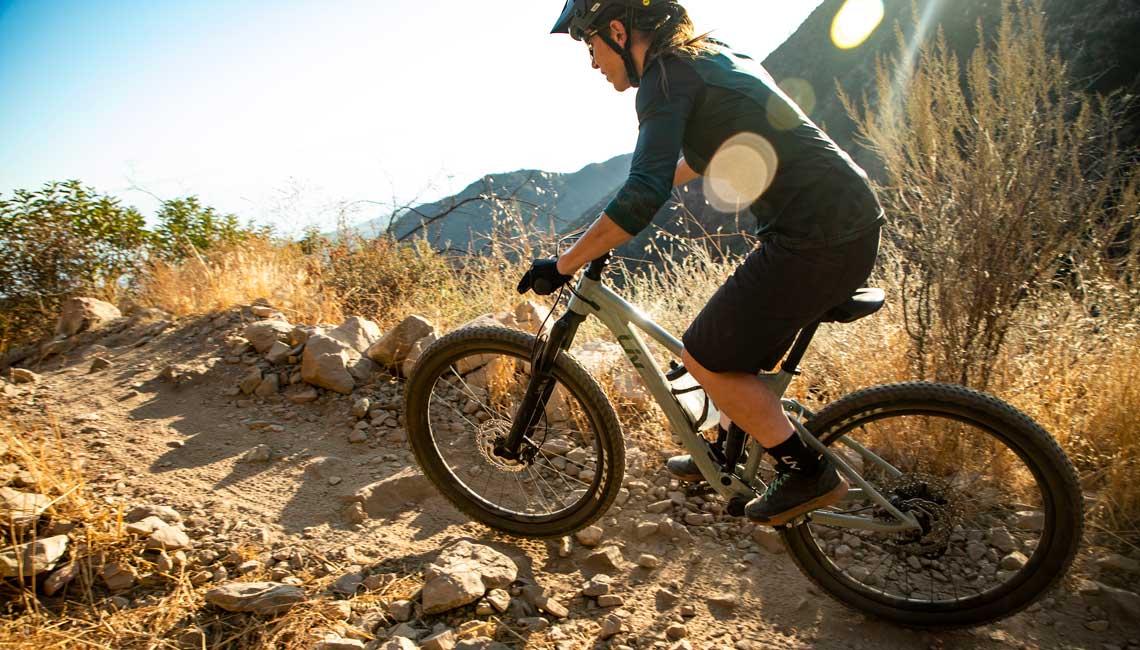 Embolden will take your singletrack trail riding up a notch with both front and rear suspension. If you're dedicated to getting into mountain bike trail riding, full suspension is much more forgiving and comfortable than a bike with only front suspension.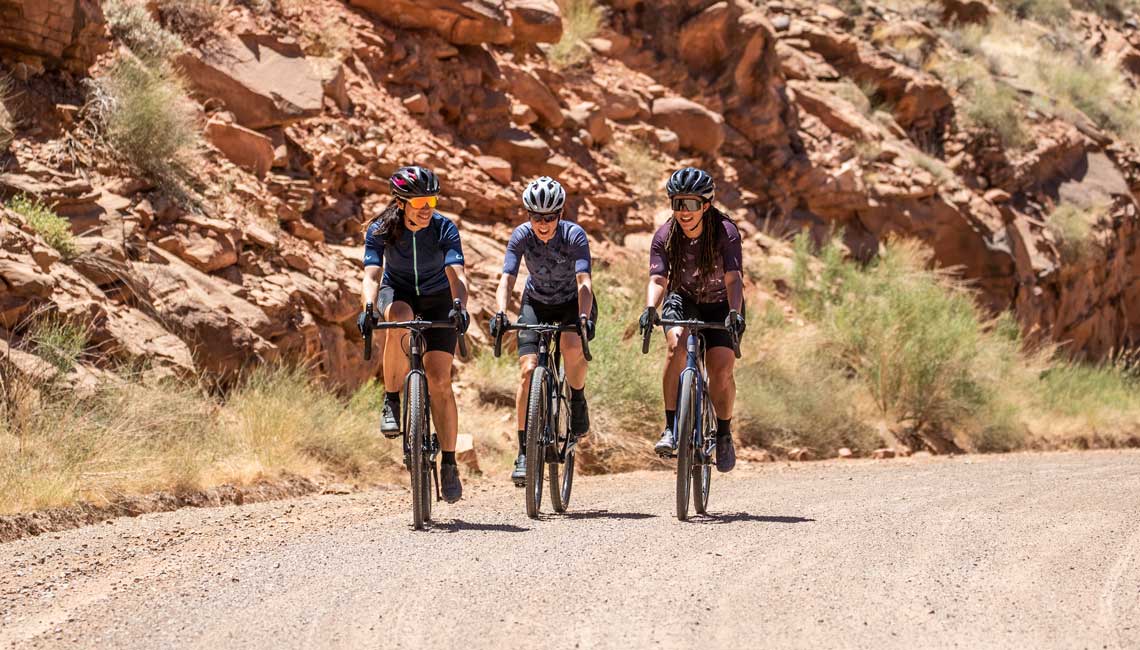 If most of your rides will be on gravel or dirt roads and you want the ability to turn down a singletrack trail, or if you're thinking about trying bikepacking, a gravel bike like Devote is a great choice. With drop bars like a road bike, wider knobby tires like a mountain bike, and mounts for racks, fenders, and extra water bottle cages, this is the Swiss Army Knife of bikes.
E-bikes
Another option when getting into cycling is to go electric. E-bikes are not motorcycles; they are pedal-assist bicycles. When you put power into the bike as you pedal, the electric motor on an E-bike will add a percentage of power to each pedal stroke. How much power? The choice is yours. With the handlebar-mounted control system, you can dial in the power output to fit your goals.
E-bikes make great commuter bikes, grocery-getters, and around-town explorers, but they can also help you go further, explore off-road paths, have more fun on mountain bike trails, and help you keep up with faster family members or friends. Learn more about E-bikes HERE
From around-town, dirt and gravel capable commuters like Rove E+ and Amiti E+ to singletrack-ready explorers like Tempt E+ and Embolden E+, there are great E-bike options for beginner cyclists.