Hybrid Cycling Technology is a unique and innovative system that can be found in all Giant and Liv electric bikes. The system combines electric power with human power to produce the most efficient, most powerful and most natural E-Bike riding experience. There are several features that combine to create the HCT system and we'll take a closer look at each here:
Motor
Giant offers three different SyncDrive motor options for its various E-bike models. SyncDrive Pro is designed for high-performance E-bike riding and is used primarily on Giant's high-performance E-bikes including the new Trance E+ SX Pro and Trance E+ Pro off-road models. SyncDrive Sport is a true all-rounder and used on E-bikes that are used for both everyday riding and more demanding off-road riding and SyncDrive Life is the ideal solution for lifestyle E-bikes and recreational riding.
The good news is that, whatever your style of riding and whatever motor your bike is equipped with, all motors are powered by Yamaha meaning all are packed full of technology and are a reliable source of assistance from a real world leader.
Battery
Giant's 'EneryPak' batteries come in various sizes offering different levels of capacity, and therefore different ranges, for the different styles of riding – 300Wh, 400Wh and 500Wh. Our downtube mounted batteries offer seamless integration whilst still ensuring the bike is well balanced and our rear rack mounted batteries are practically located for commuters and city riders.
Like our motors, the batteries we use are manufactured by a true world leader in the field – Panasonic. As a result they have highly innovative cells meaning charging and is quick and easy. The batteries we use have some of the longest lifespans of all available E-Bike batteries; they have the capacity for 1000 complete charge cycles, before stepping down to 80% of their maximum capacity for 800 charge cycles, and then 60% for 600 charge cycles and so on. 
RideControl
RideControl is Giant's very own handlebar-mounted control centre and features ergonomically designed controls to adjust riding modes and view important data including speed, distance and battery level. There are three different RideControl options available, each one offering different functionalities. See the information table below for a breakdown of the features of each RideControl option: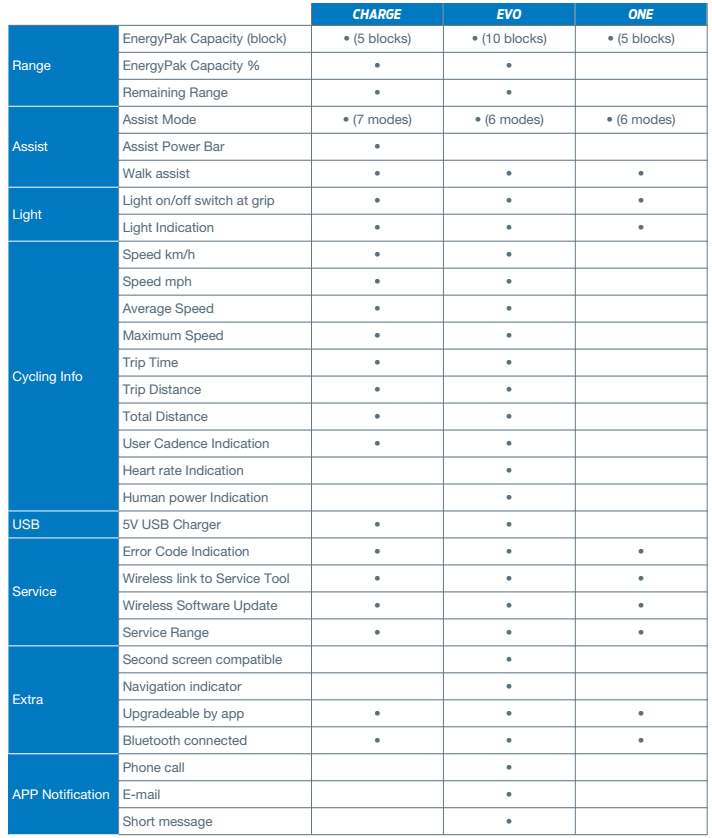 Pedalplus
Giant's PedalPlus sensor technology offers the best possible riding experience. PedalPlus precisely measures the amount of force a rider is applying to the pedals so that the motor delivers a seamless power boost. The system uses speed and torque sensors along with motor and pedal rotation sensors to produce even power that feels totally natural in any gear and makes riding the bike feel smooth and powerful on all types of terrain.
App
The new Giant E-bike app makes it possible to connect your phone with your E-bike and allows you to tune your motor settings and choose a support ratio most suitable for your riding style and terrain, it features fitness functionalities so you can maximise fitness gains and set goals by time, distance, calories or heart rate and even makes it possible to show incoming calls, messages and notifications on the RideControl EVO. The Giant E-bike app is compatible with all 2019 Giant and Liv E-bikes.
What makes Hybrid Cycling Technology different?
Perhaps the standout feature in terms of HCT is that, whilst the system is put together by Giant at our manufacturing facility (something no other E-Bike manufacturer can say), our close relationships with both Panasonic and Yamaha mean that they design and manufacture complete systems for us to put into our bikes. Panasonic build the entire battery system for us - from the individual cells to the battery management system and as a result, the batteries have that extra bit of technology because of this. Panasonic do supply to other brands but don't supply the whole battery system making our bikes unique.  The same can be said for our Yamaha motors - these are manufacured especially for us as a complete motor system - again, a benefit no other brand can claim. And because this whole system is then put together at our own facility, the result is complete system integration meaning that each component is tuned and designed to work as best as possible with the others.