If you got excited about our guide to inclusive women-led cycling communities in the UK, but were disappointed to find that there aren't any near you, we've got the perfect solution: start your own!
It's much easier than you might think, and can be the perfect way to meet new people, get out on your bike more, and go on some pretty great adventures. Plus, because it's your own group, you can make it whatever you want it to be, whether that's simply a women-led but welcome-to-all space for social bike rides, or part of a wider patriarchy-smashing activism, it's your choice.
In this guide to starting your own cycling community, we'll show you that it's much easier than you might think to create an event and invite some lovely folks along. You can follow our step-by-step guide to get started with your first ride. Afterwards, we'll leave you with some valuable tips and advice to get the most out of your group and create the most welcoming space imaginable.
How to get started:
Figure out what you want to do
The first thing you need to do is decide what it is you actually want to do with this group. What is its purpose? Is it to be a women-led space for anyone who wants to join, or is it a group for women only? Are you a mum, planning to start a group for parents and children? Or are you looking for a new group of pals to go on some off-road and bikepacking adventures with? Are you dedicated to leading beginner-friendly and accessible rides, that build up people's confidence and get progressively harder? Or are you hoping to create a space where there's opportunities to teach and share skills?
This is the first (and hopefully easiest) step to setting up your group. Know your 'why', and let that guide you through the rest of the process.
Get a team together (or do it on your own!)
Many hands make light work, so if you've got a friend or two who can help you, that's perfect. But don't worry if not! You can totally do it alone, because your numbers will grow faster than you think, and really the bare minimum required is one person with the passion, the ideas, and the drive to get things going. Anything on top of that is a bonus.
You can always start alone and recruit help after you've done a few rides. You'll immediately be able to tell who among your regular ride attendees is keen to be more involved, and can approach them later.
Having a team means you can share responsibilities, which might include route planning and recceing, ride leading, social media promoting, partnering with other groups and organisations, applying for funding, if that's the route you decide to go down. But if you're just getting started and are completely alone, you can totally do this, and here's how:
Set up a social media profile
Decide on which communication channels you want to rely on. Lots of groups use social media like Instagram and Facebook, because you can share lots of photos, engage with people and foster a community, and set reminders for your upcoming rides and events. Others rely mainly on a public Google calendar and monthly newsletters, to reach people who don't use social media. Some have started out simply with a flyer in the local bike shop. Think about what works best for you, where you've got the most reach, and go from there. You can always change this and add new channels later down the line.
Next you need a name, just so people know how to find you. It's nice to have a punchy name that people will remember, but don't get hung up on it if that's the thing that delays you from getting started. You can change the name later, so if all else fails, take the name of your town or city and call yourselves the [Location] Cycling Group.
Get your communication channels set up, and then share, share, share as much as you can from your personal social media accounts and ask your followers to spread the word. Even if you only have a handful of people following you, it's likely they're people who care about you, so you can ask them to help you spread the word, and it does spread very quickly.
This is the really fun part! It can be as simple as committing to a date and time, and doing your usual loop, or you can get adventurous and plan something big and exciting.
Just come up with a route that you're excited to do, and that sits comfortably within your level of fitness so that you can comfortably lead other people through it. Be sure to recce the route a few days before the event, to make sure there aren't any unexpected obstacles and to be able to plan diversions if needed.
Once you've planned your first ride, it's time to tell people about it. It's important to communicate clearly so people know what to expect, so share details of where and when to meet up, and factor in a bit of time at the beginning to meet and chat before you set off.
Also share the route details, including the distance, the amount of climbing (preferably with an elevation profile) and give an idea of what the terrain is going to be like. If you think it'll be really muddy, let people know, and provide any useful details about accessibility, like kissing gates and A-frames, as these can be a problem for some riders. What's even better is providing a GPX file so people can download the route to their GPS navigation devices before they join.
All that's left to do (once you've checked out the route) is to turn up and ride it! Come prepared to meet people, socialise, and have a great time. It helps to prepare a few words to say at the beginning, to welcome people and set the tone of your ride and let them know what to expect. If you've never led a ride before, share that with people so they can support you. You can use this time to emphasise that people are responsible for their own wellbeing and safety, and let them know what to do if they need to stop.
Summarise what the ride will be, and whether or not you plan to have a social afterwards, so people can plan what to do when the ride ends. Share hand signals if you plan to use them, and ask people to take pictures, and tag your social media accounts so you can share them.
Tips for creating your perfect community: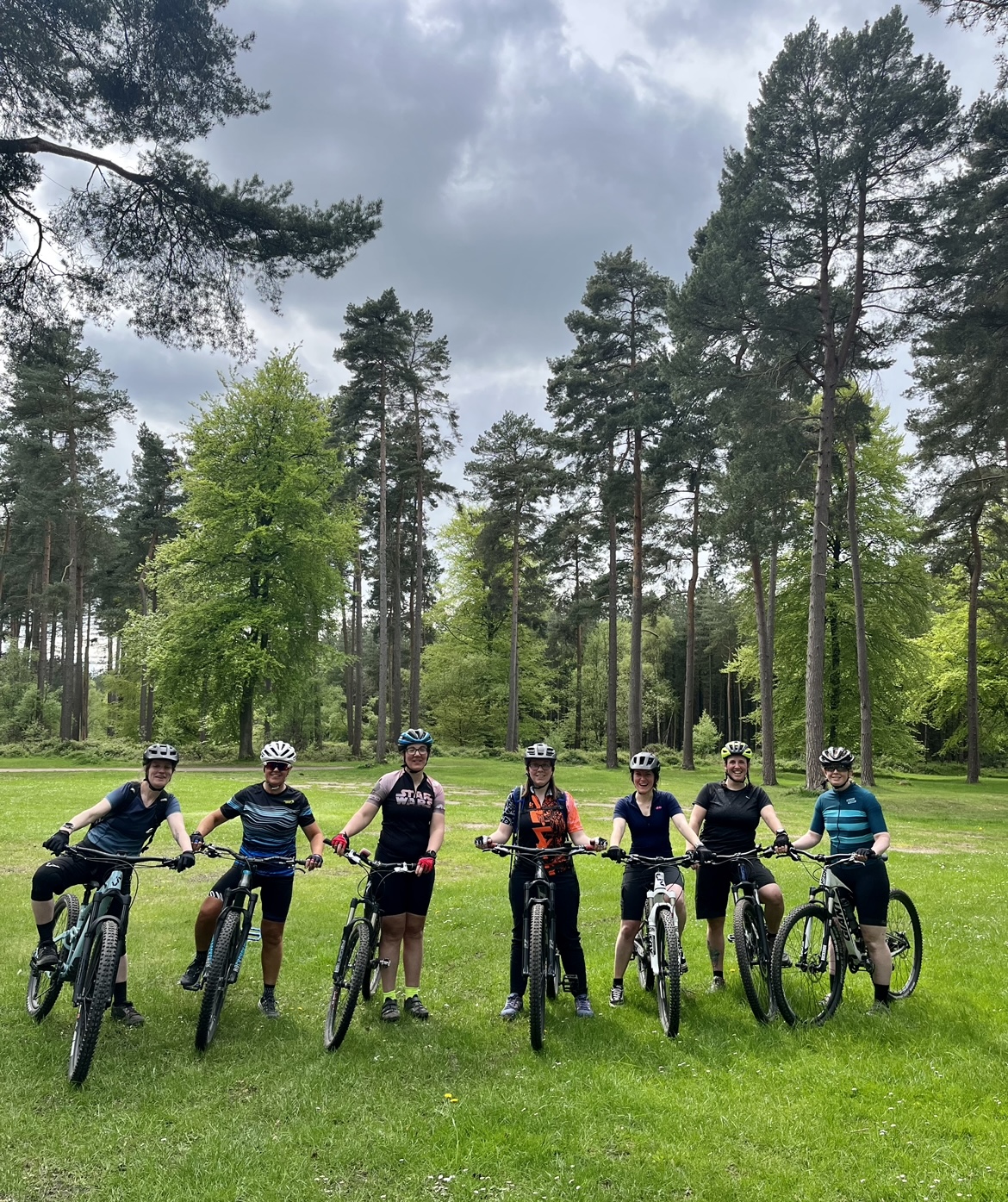 Plan the rides you want to do
After a while it's really important to make sure ride leading doesn't feel like a chore, so always plan rides that you're excited to do. It can be easy to get hung up on what you think people will want, but generally people are happy to be taken on a led ride, whatever it is. As long as you communicate clearly what to expect, people can make their own decisions.
The most important thing is that you're stoked to go riding and you bring all that enthusiasm with you. So if you're excited to try out a new trail in the mud, plan a muddy ride. If you know you're going to be really tired, plan a gentle pootle. It's totally your call.
Don't get hung up on numbers
One of the scariest parts of starting a new group is the fear that no one will turn up to your ride. Rest assured, it's extremely unlikely. As long as you share your group and your ride details, give people plenty of notice, and ask your followers to help spread the word, there's bound of be at least one person who turns up, and even if it's just one other person, that's a new person to meet and ride with, and when you share the next ride, you've already got one under your belt.
Some groups develop slowly and organically, mainly through word of mouth, with small turnouts at the beginning that grow over time. Other groups have an explosive start with a huge turnout for their maiden voyage, and then experience depleting numbers over time as people start to prioritise other things in their lives. Embrace the unpredictability, and if the absolute worst happens and no one comes, then you've still got a fun bike ride to go on, and you can try again next time. There's nothing to lose!
This won't work for everyone, but if you can set a regular day and time for your rides, it helps people factor them into their plans. If you know your rides are always going to be on a Saturday at 10am, let people know that. However if you can't commit to a regular schedule and prefer to keep your rides ad hoc, that's perfectly fine too. Just be sure to give people enough notice (a week or two at least) so they can plan to attend.
Ideally make sure your rides are 'no-drop', and don't let people get left behind. If you've got a team together, aim to always have one leader at the front of the group, and one sweeper at the back. That way if there's someone struggling to keep up, or who has to stop, there's someone else with the route who can stay with them and make sure they rejoin the group afterwards.
This will make your group so much more inclusive than many traditional cycling clubs where slower riders often fall off the back and get left behind, which is unlikely to be the vibe you're aiming for if you're here. And if you're operating alone and don't have a sweeper, then you can either ask someone who's a confident rider (and who has the route downloaded) to volunteer as sweeper, or make an effort to stop regularly to regroup, and request riders to pass messages along if anyone runs into trouble.
That leads nicely into this tip: prepare for lots of stopping! Whenever you have a group of people, there will always be faff. People need to stop for toilet breaks, a breather, to take photos, to eat something, or to fix a problem with their bike. Factor in some pit stops when planning your route, in a place where a large group of cyclists can stop safely without blocking the road or path. Make it clear at the beginning that it's okay to stop if someone needs to, and what they should do. Generally, it's best practice to keep the group together at all times, so make it clear that if one person needs to stop, then everyone will stop until they're good to go again.
While some traditional cycling groups are about getting your head down and pushing through a ride, inclusive cycling groups tend to be more about socialising while riding bikes. Encourage people to chat to each other, explain when it's safe and sensible to ride two abreast on the road, and always factor in some time for a meet and greet before you set off on your ride.
It can be nice to plan for one main stop in the middle of the ride, where people can step away from their bikes, share snacks, take photos and get to know each other without needing to focus on the road or path ahead. If you're up for it, plan to end the ride somewhere where you can have a post-ride social, whether that's a local cafe or bar, or a food market. And be sure to communicate this with the group so they know it's an option for afterwards.
You don't need to be a professional bike mechanic to lead a ride, but you should be prepared for the inevitable mechanicals that eventually happen, whether it's a flat tyre or malfunctioning gears. If you're running the group alone, it's worth learning some basic bike maintenance, which helps you be more self-sufficient on your rides.
Carry some essential tools with you, like a pump, a spare inner tube, a puncture repair kit, tyre levers, and a multi-tool, and encourage people to be self-sufficient and bring what they need to keep them moving.
At the beginning of the ride, communicate what level of knowledge and skill you have (or don't have) when it comes to mechanics, and if you're not a professional, encourage everyone to chip in if needed. With a bit of signal and some Youtube videos, you'll be able to muddle through together to keep the group moving. Adopt a DIT (Do It Together) attitude.
Importantly, let people know that if they want help with their mechanical, it's there, but make sure they want it first before you or anyone else steps in. For some people, especially women, the experience of having their wheel snatched from their hands by someone who wants to help, can be extremely disempowering. Establish the level of input wanted or needed first, then take it from there.
If you're relying on social media to promote your rides, then it's important to get lots of photos. This is especially important if you want to show how cyclists come in all shapes and sizes, and that all riders are welcome regardless of what they're wearing or what bike they're riding. The more diverse smiling faces you can show, the more welcoming it will be to folks who normally don't feel welcome or represented by other groups.
Don't forget to ask people to take photos and tag you in them on social media so that you can share them, and over time you can build up a bank of lovely images to use to promote your group, and future rides
Think about the culture you want to foster
Inclusive cycling communities have one major thing in common, and that's their desire to be welcoming. From there, they can vary.
Think about what you want your group to achieve, and what sort of culture you want to foster within it. We touched on this earlier in step one of 'how to get started'. If there are certain behaviours you want to promote or prevent, make it clear in your communications, both online and at the start of the ride.
For example, you might want to promote safe and sensible cycling etiquette, introduce hand signals, and encourage your riders to give way to pedestrians. Or, you might want to dissuade people from commenting on each others' bikes or kit, if that's not the kind of vibe you want for your rides.
Every group is different, and it's your group, so decide what kind of atmosphere you want it to offer, and then make it happen.
As a final piece of reassurance, there's always demand for group rides, you just might not know about it. To reiterate what we said before, don't be discouraged if you have low numbers at the start, there will always be someone who wants to go on a bike ride with lovely people. Sometimes you have to supply something before people realise they want it.
Get ready for the group rides ahead and shop our wide range of bikes and cycling gear.