Dr Alice Bell is a keen cyclist and mother of two, working as a GP. As well as being a family doctor, she is also a women's health specialist who has worked in psychiatry and understands how important it is to look after yourself during difficult times. Below, she gives Liv her expert advice on 5 reasons why cycling is the perfect method for self-care and improving mental and physical wellbeing during lockdown. 
It is a challenging time at the moment, for everyone. Whether you are grieving the loss of a loved one, the lack of contact with friends and family, or the loss of your livelihood, it might be difficult to motivate yourself to do anything, let alone exercise.
As a GP, I know the importance of exercise for our mental and physical health, but sometimes even with all the knowledge and the best will in the world, I can find it hard to motivate myself to get out on my bike. Here I'll tell you why, whether you're new to cycling, or a seasoned professional, there is no better time than now to get cycling and be kind to yourself while doing it.
In this current lockdown, we can cycle locally with up to one other person in our household or support bubble (if eligible to be in one), as long as we only exercise once a day. As a mother, I know the importance of time to myself to exercise. My turbo trainer was invaluable during my maternity leave throughout the first lockdown as I didn't need childcare to use it, it wasn't weather dependent, and I could fit in a quick cycle while my baby napped. Now I am back to work; my daily cycle commute helps clear my head and rid myself of the day's stresses.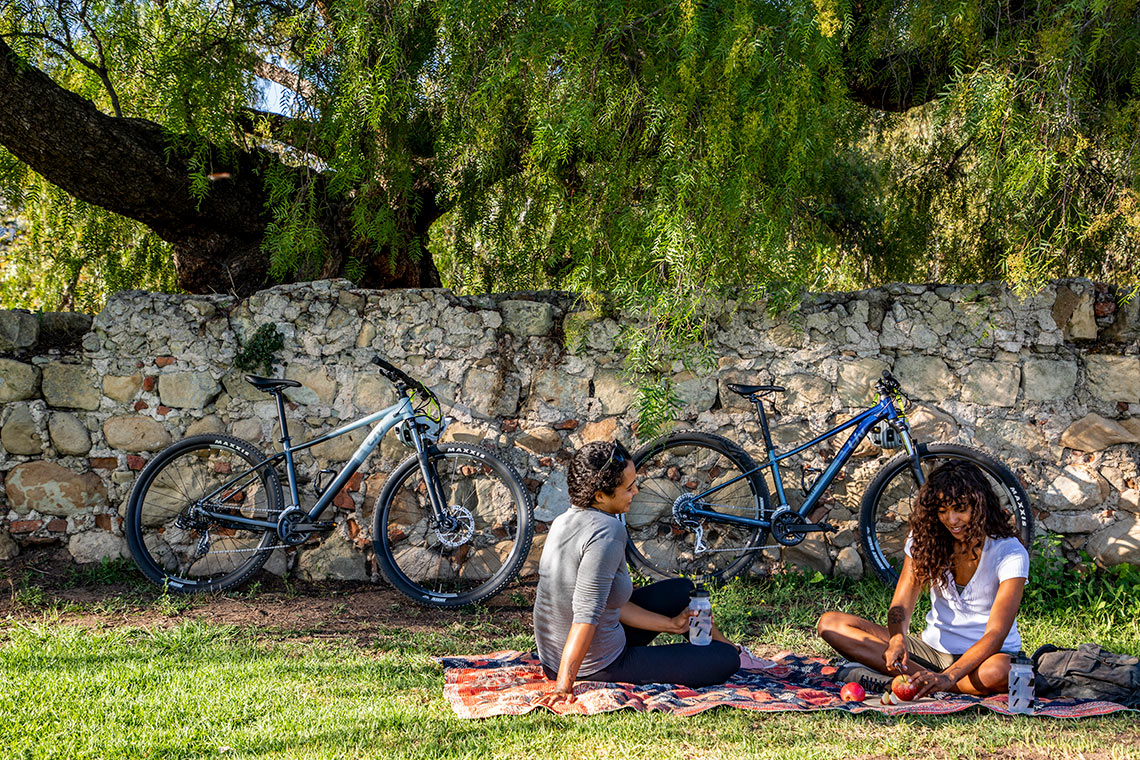 So whether for leisure or at home on an indoor trainer, here are five reasons why cycling is a great way to care for yourself during the lockdown.
Helps Your Mental Health
There is nothing that beats an endorphin rush from exercise. The evidence that exercise helps your mood is overwhelming, and if you're someone who does it regularly, you will know that it can become more enjoyable the more you do.
Many of us will go through times of feeling low and anxious during the pandemic, and some of us might develop obsessive thoughts (OCD), and we know that exercise can help reduce the burden of this on your mental health. In fact, exercise is fast becoming a recognised treatment for depression.
It is important, though, to be kind to yourself and accept that you don't feel like exercising some days. It is OK to change your exercise routine and be more flexible, changing goals on week by week or even day by day basis. Listen to your body, if you feel stressed or tired, perhaps a gentle cycle or a walk is preferable to that long ride you had planned.
Sometimes it is hard to motivate yourself when you are feeling low, so try to make it as easy for yourself to use the bike; aim to go for just 10-15minutes, and set realistic targets.
As women, we are often the main caregivers in a family, so spending time focusing on yourself, by cycling alone or in groups (when allowed), or indoors on a trainer enjoying a simulated route or virtual class, can help you can feel reconnected with your body, boosting your mental health and well-being. A recent study of cycle commuters found them less stressed; we know that a short burst of exercise can help your concentration and memory, so cycling could be the secret to a more productive day working from home.
If you're someone who uses social media a lot, now might be a good time to try to use it less; seeing other people who might not share your caring or work commitments achieving their weekly goals whilst you struggle to achieve yours, won't help your mental health. Try to stay focused and grounded on you and your goals.
Helps You Get Fit
The benefits of exercise on your health are well known: it reduces the risk of heart attacks and stroke, breast cancer, diabetes, depression and dementia, amongst other things. When gyms have shut, and outdoor group exercise classes have stopped, cycling is a great way to fit in low-impact cardiovascular exercise into your day.
We are currently advised to do 150 minutes of exercise a week, and recent research has shown that the more time spent doing brisk exercise, the better this is for our health. Cycling is a great way to get this higher intensity cardiovascular effort in. Exercise can also help strengthen your immune system, which has obvious benefits during lockdown and the pandemic. Getting on your bike can also help you lose weight; catching COVID can worsen if you have a high BMI.
If you are new to cycling and wondering where to start, there are plenty of charities and local cycling groups (e.g. HSBC Breeze women-only rides) that can help you get started. Cycling increased in popularity over the summer; across Europe, there has been over £1bn in cycling infrastructure investment since the pandemic began.
There is a drive to open more cycle routes in the UK, with a recent government initiative hoping to add twenty more cycling routes across the country. Many UK employers offer government-backed salary sacrifice schemes to give significant discounts on bikes, allowing the cost of your new bike to spread over 12 months.
Motivation & Focus
Whether you are new to cycling or have cycled for years, the process of developing a habit can be incredibly empowering. Knowing that you plan to cycle for a certain time every day or week can give you purpose and direction. Particularly now, as many women have come out of the workforce during the pandemic, fitting exercise into your day may need to look very different from how it did before.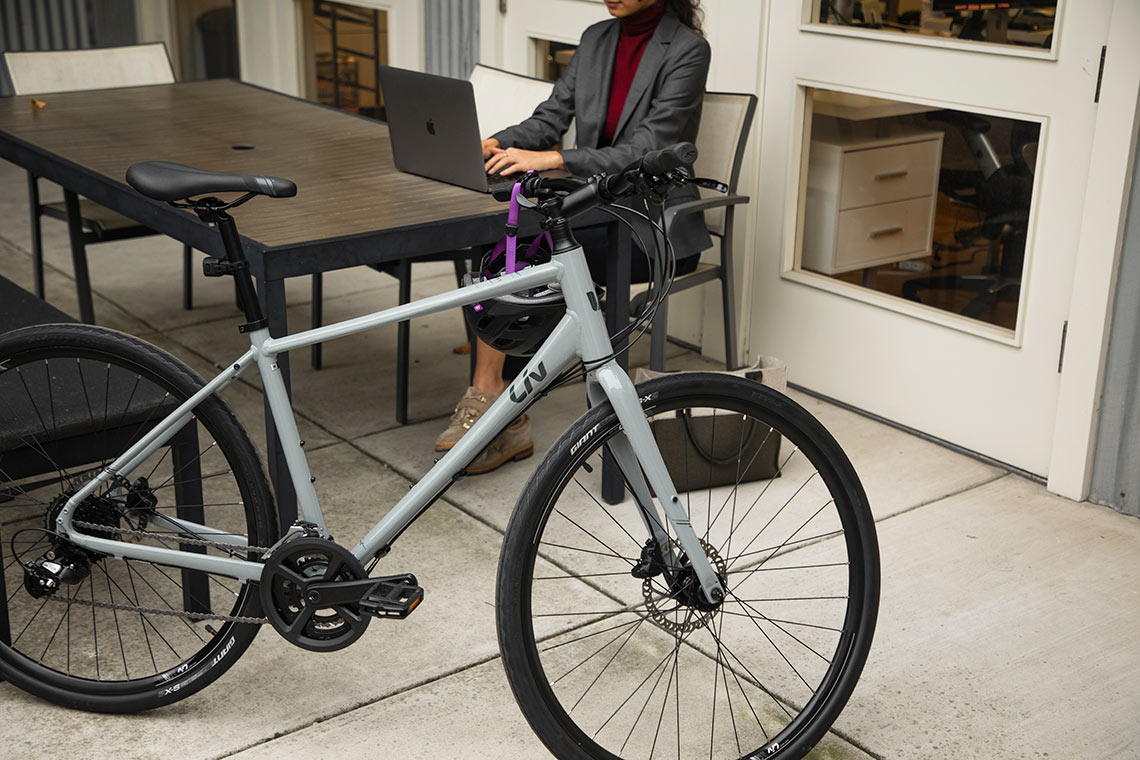 If, for instance, you have a 20minute gap in your schedule between home-schooling and meetings, why not try a quick spin around your local park or a gentle workout on a turbo trainer. You could get creative and spend twenty minutes doing yoga or strength exercises instead. Once the lockdown eases, cycling in groups is a fantastic way of sharing the exhilaration of a ride, whether it be around your local park or further afield. There is something unique about travelling together and sharing the views on your journey.
Connect With Nature
There is evidence that being outside, in nature, can help your mental health. This is all the more important at the moment when the pandemic has changed all of our lives, and many of us are working from home. We have been discouraged from leaving the house unless to exercise, so what better way to experience a change of scene, fresh air in your lungs, and nature, than to go on a cycle ride.
Spending a few minutes taking deep breaths, feeling the wind in your hair, and the blood pumping can be enough to dispel the stresses of the day. Personally, I find the feeling of having ascended a hill unparalleled, because you can cover so much more ground cycling than running, and the sense of descending gives you such a thrill.
Flexibility
Cycling is flexible: you can ride on roads, for instance using the Liv Langma, or even venture to doing some gravel routes using my favourite Liv Avail AR bike, or for something more off-road the Liv Pique can give you freedom descending mountain trails.
If you fancy something more sedate, the Liv Flourish could give you a stress-free way to go to collect your shopping or enjoy cycling around your local park. It is also a fantastic way to exercise as a family, with lots of options for transporting little ones or teaching them how to ride.
Keep up-to-date with all the latest Liv news by following us on Instagram @LivCyclingUK, Twitter @LivCyclingUK or like us on Facebook.