Becoming a Champion: Ashleigh Moolman Pasio
Discovering Cycling, Leading CCC-Liv and Winning a 5th National Title
with ASHLEIGH MOOLMAN PASIO, Professional Road Cyclist, CCC-Liv Team
On Saturday, February 9, 2019, Ashleigh Moolman Pasio crossed the finish line in Pretoria, South Africa to become the Women's Elite National Champion for the fifth time. This win comes after a successful 2018 season, with podium finishes at the Ladies Tour of Norway, La Course by Le Tour de France, La Fleche Wallone, and most significantly a second place finish overall at the Giro d'Italia Femminile (Giro Rosa). Ashleigh begins 2019 with a new team – CCC-Liv, new bikes – Langma Advanced SL and EnviLiv Advanced Disc, and a drive to win. Read on to learn more about CCC-Liv's co-team leader.
Q&A with Ashleigh Moolman Pasio
LIV: How did you get into cycling?
ASHLEIGH: I've always loved sport and growing up I dreamed of going to the Olympic Games, but at school, I never really found my real sporting talent. I played sports like hockey, tennis, and athletics, and although I was good at these sports, I never reached the top level. It was only while I was studying Chemical Engineering at Stellenbosch University that I met my husband, Carl Pasio, and he introduced me to a life of endurance sports. He was a triathlete at the time, so I first tried my hand at triathlon – but I'm not a very fast swimmer. So I tried duathlon, and after multiple running injuries, I was forced to focus only on cycling. This is a decision I will never regret. Things progressed very quickly from there and after completing my degree at the end of 2009, I decided to make the move to Europe to pursue an international cycling career.
It's amazing how things kept progressing. I had a lot of desire and determination to improve as fast as I possibly could. Obviously, I knew I was on somewhat of a back foot starting much later in life. Now I find myself in a position where I am on CCC-Liv. It's quite an achievement for me to have started so much later in my life and in the space of 10 years to find myself in a position where I am now co-leading with Marianne Vos – who when I first started was my idol.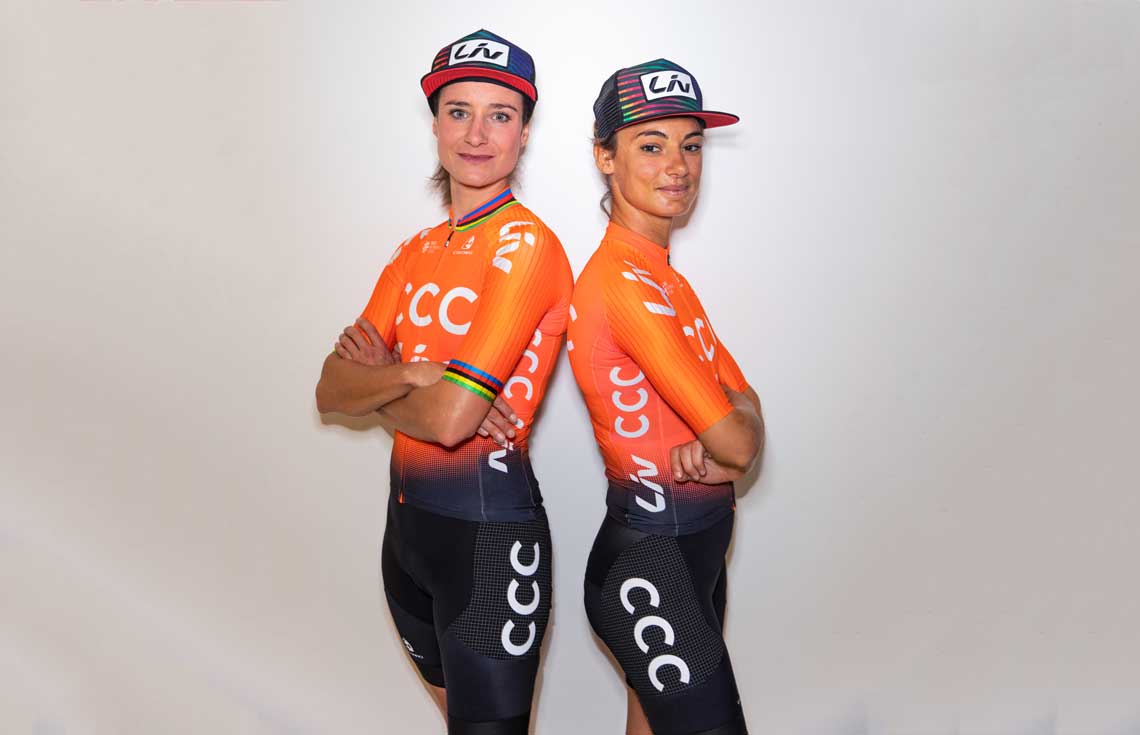 Jeff Clark Photo.
LIV: After this year's South African National Championships in February, you are now a 5-time National Road Champion. The last time you held the title was 2015. How does it feel to be the National Champion again? What were some of the things that went in your favor this year compared to years past?
ASHLEIGH: I'm very happy to win my national champs, as it has been a couple of years since I won; 2016 was a challenging year as I was sick, then I had my big hip injury at the end of 2016, which meant I wasn't in great form for the 2017 race. And last year I didn't take part at all because it just didn't suit my early season plans.
This year's course was a great course. It was a short, technical lap in the Capital city of Pretoria; with a short, steep climb in front of the union buildings on every lap which we repeated 12 times and then the final circuit included another very steep climb up Tom Jenkins. This was the perfect course for me; the only challenge was that I was racing alone with no team support.
I left the early racing to the two big teams (Demacon and Cyclenation), knowing a long warm-up would be favourable. When a solo break was free and clear, I continued to let the defending champion worry about controlling the gap. I didn't have anything to lose, she did. But that didn't mean I didn't have a plan.
We hit the main climb for the second last time and I dropped the hammer. The steep climb has a flatter lull in the middle so I turned to see I had a group of favourites on my wheel. I got them to roll through but when the climb kicked up again, I laid it down. I crested the climb solo with my sights set on catching the breakaway.
I rounded the course and as I hit the climb for the final time, I caught the only other rider between myself and the line, Juanita Venter. After impressively leading the race alone from 100km, she still tried to follow me but her chips had been played. I turned onto the finishing circuit alone, the chase far behind me more concerned about second and third place. I approached my National Championship title solo and was flooded with emotion as I crossed the line. It´s always very special to race with my country flag on my chest when in Europe, so this year I was very determined to win the champs again.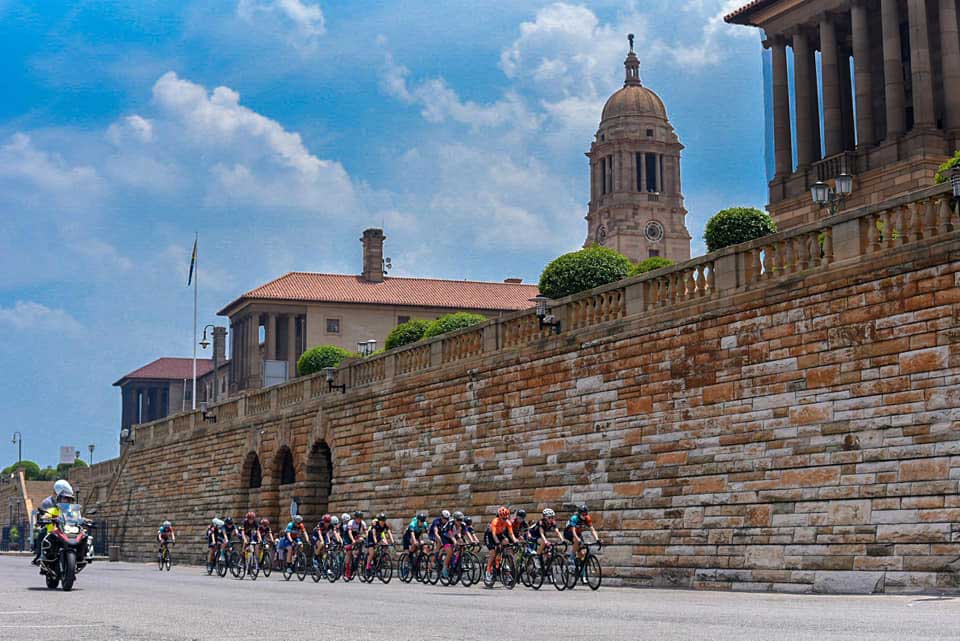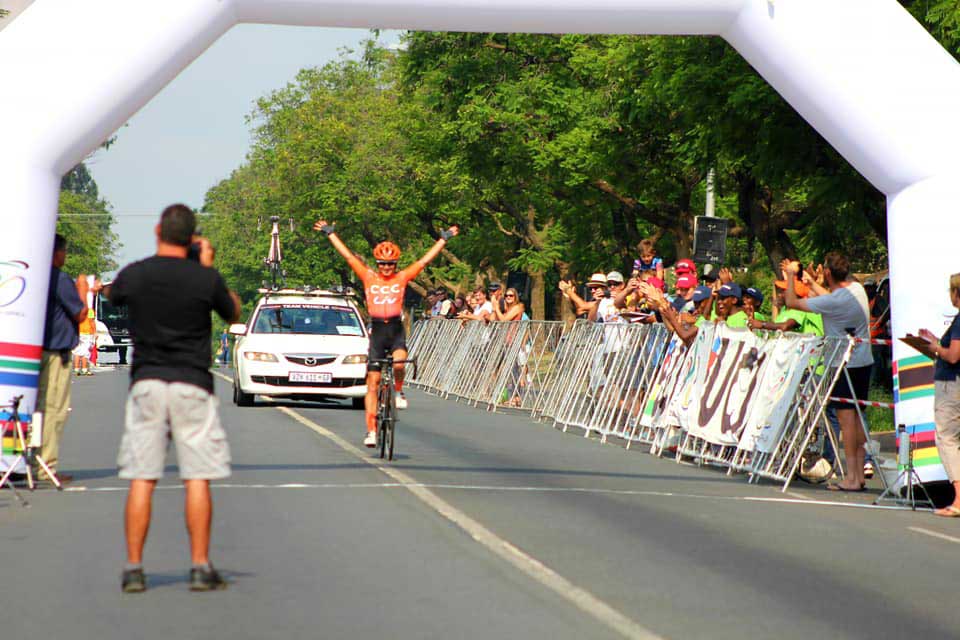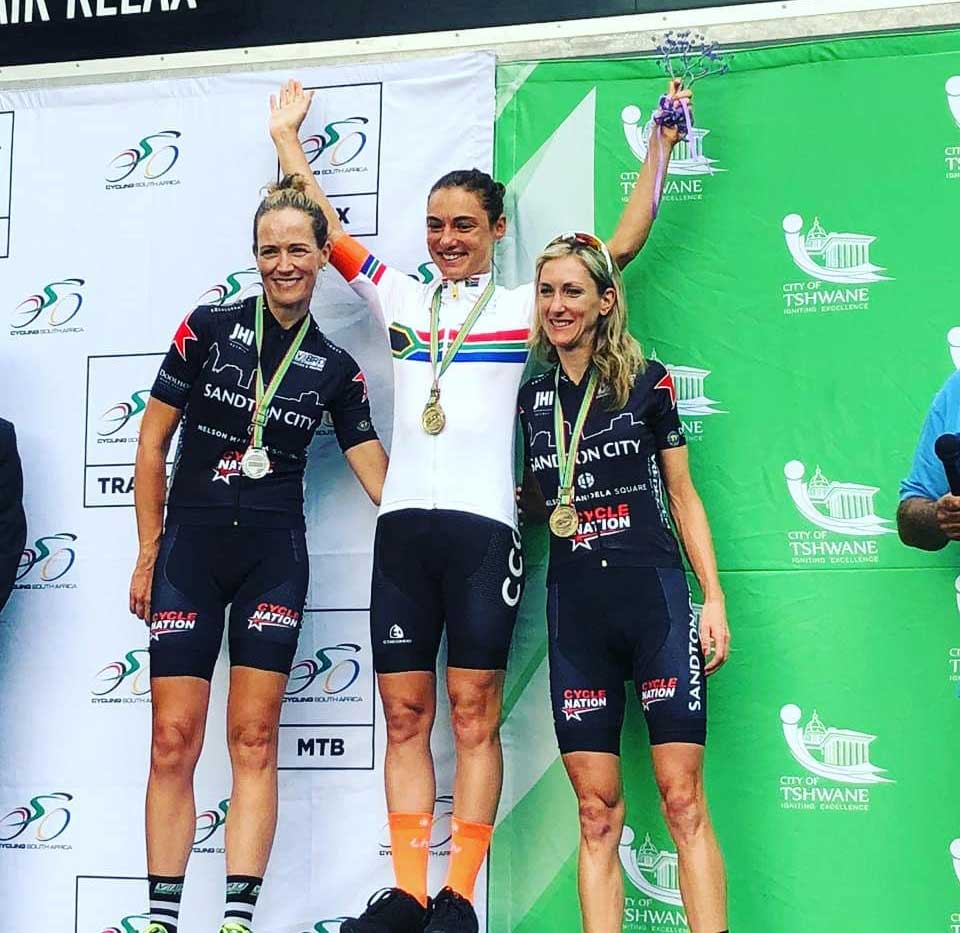 Photos courtesy Ashleigh Moolman Pasio. 
LIV: Now that you have had the opportunity to race in Australia, at your National Championships and attend two training camps with CCC-Liv, what is your favorite thing about being a part of this team?
ASHLEIGH: I love the morale and spirit of the team. All members of the team are very ´real´ which – in a sport like cycling where there are many egos and tactics involved – it is great to be surrounded by genuine people. This atmosphere creates a great team spirit which enables us to go to the races feeling united and confident to tackle the challenges racing presents.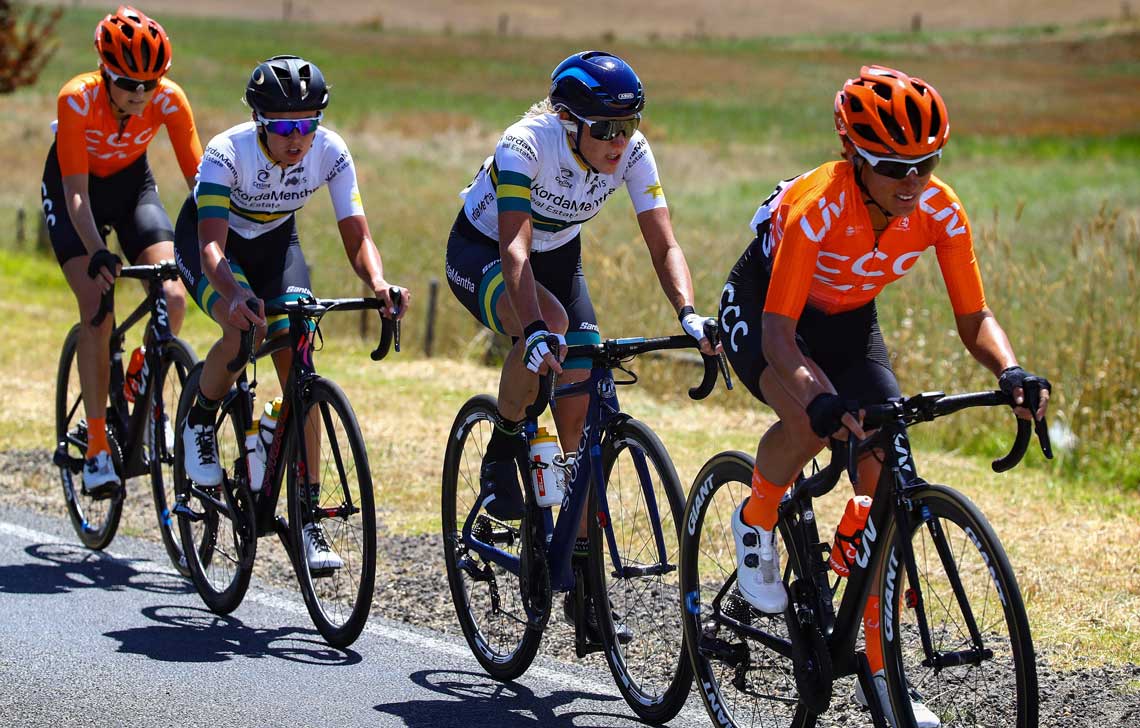 Cor Vos Photo.
LIV: How do you like racing aboard the Langma?
ASHLEIGH: I love racing my Liv Langma on all terrains; it is a perfect culmination of light weight, stiffness, comfort, and speed. I also love that the geometry is specifically tailored to a female build because I'm a small rider. So the angled top tube makes the bike feel nimble and aggressive. It is the perfect race machine!
Interestingly, for my 21st birthday, I had the option of getting a car or a carbon bicycle. And, stupid me – or obviously it as the right decision because of where I am now – I chose the carbon bicycle. It happened to be a Giant TCR. Of course, at that stage, there wasn't a Liv equivalent. But it's kind of nice, my first real race bike was a Giant and now I find myself back on Liv. I love what Liv is doing. Having a women's-specific brand that is putting everything into the women and making sure we have bikes that suit us – I really love that. So far, I'm really enjoying the Liv Langma.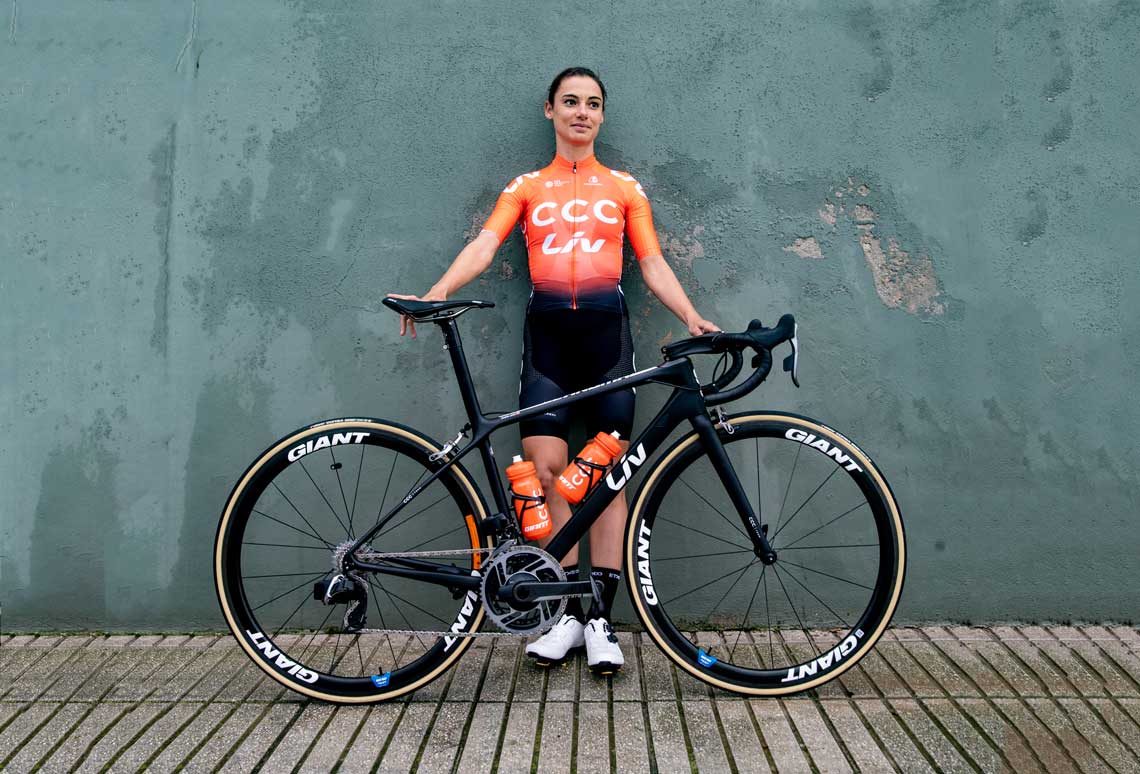 Jeff Clark Photo.
LIV: How are you feeling heading into the Spring Classics?
ASHLEIGH: I'm really looking forward to tackling the Spring Classics with my new CCC-Liv Team. After some good early season racing in Australia and South Africa, I'm feeling good and super motivated to start my season in Europe. I love the Classics season because it is so unpredictable, you never quite know what to expect weather wise and the courses are so tough, which makes the racing very exciting. My favourite Spring Classics races are Strade Bianche, Tour of Flanders and of course the Ardennes Classics in April which will be a big target for me.
LIV: What advice would you give to girls and women who are just getting into the sport?
ASHLEIGH: For me, the best advice I was ever given was to find my passion and pursue it. I really believe if you have a passion for what you're doing and you really love it, you'll always be able to work through the obstacles and find your best potential. My advice would be to love what you are doing. Try to hold onto that enjoyment. If you lose that, it becomes more difficult to motivate yourself. It's important that motivation comes from inside – especially for youngsters. If the motivation is coming from their parents who what them to perform or from winning prizes or other external things, I don't believe that's sustainable. So, just love what you're doing and keep that enjoyment factor.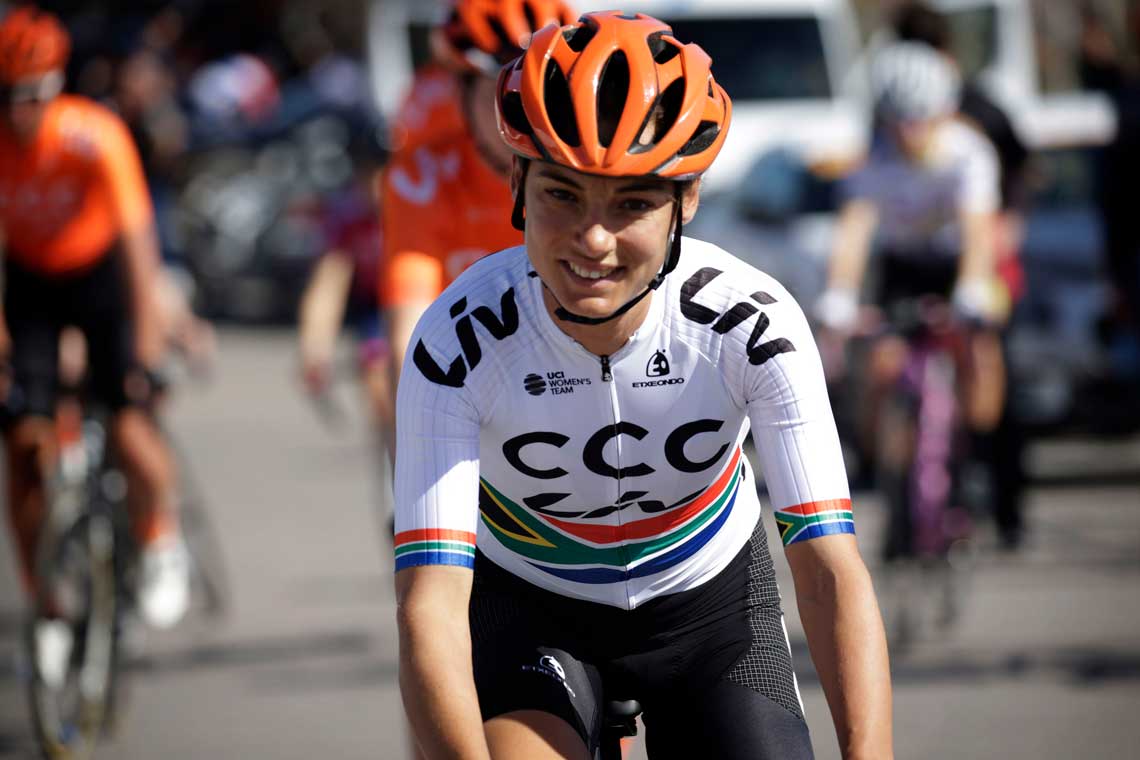 Cor Vos Photo.
Learn more about Ashleigh by checking out her athlete bio HERE!