8 Must-Have Items for your Bike to Work Bag
Biking to work is awesome, but the helmet head and sweat don't make for a stylish 9-5 look. Here are our favorite tips, tricks and tools we use that let us bike to work and show up looking good.
So you have been toying with the idea of riding your bike to work, but one hang up is that you actually have to look decent once you get there and your office doesn't have a shower. Here are some tips and items that make commuting via bike a breeze and allow you to look your best.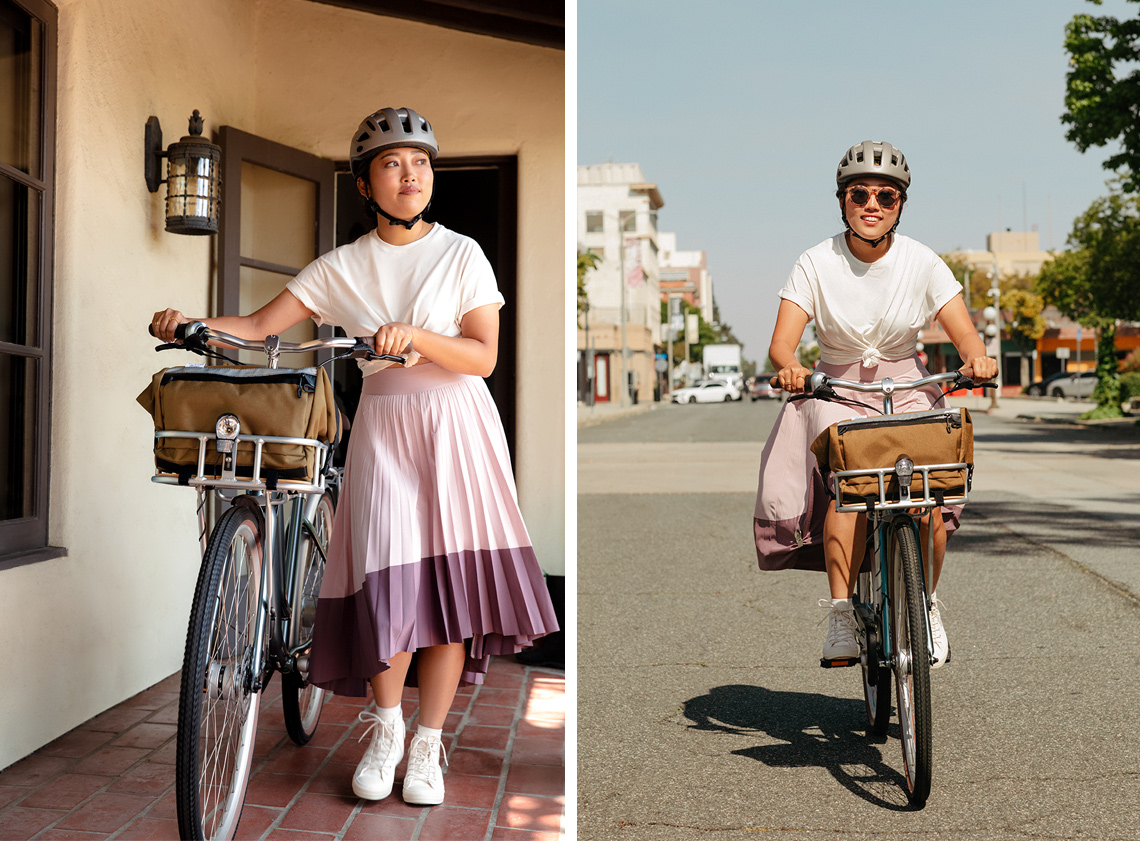 Here is a quick list of items that can help you go from your bike to your desk with grace and style:
1. Travel Friendly Mug
First things first. Not only do you need to show up looking good, but you need your brain to be cranking too. Grab your coffee, tea or smoothie from home or make a stop at your favorite coffee shop along the way. Packing your travel friendly, spill proof mug for your trip will ensure you have the right tools to be properly caffeinated or nourished for your day.
2. Waterproof Mascara
Especially if you plan to apply before you leave home, waterproof mascara will hold up on the dewy mornings or if you sweat more than you expect and keep you from dreaded raccoon eyes at 8 am.
3. Wet Wipes
We have our favorites, but for the face, we mostly prefer those that exfoliate and have a nice pleasant smell. Doing a quick wet wipe on your face will keep break outs at bay and have you feel fresh. For the body, deodorizing body wipes help you feel so fresh and so clean so your colleagues will not only tolerate but enjoy sitting next to you in that 9 am all staff meeting.
4. Dry Shampoo
If you don't have a bottle of this, this may become your new best friend (move over diamonds). Follow the direction on the bottle and you'll see flat helmet hair come back to life.
5. Bun Shaper
Here in the Liv global office we swear by this little piece of hair magic. We prefer the type that actually snap together. It is an easy way to manage long hair. Add this and throw it quickly into a bun that would make a prima ballerina jealous.
6. Bobby Pins, Hair Clips and Headbands
Probably obvious, but nothing is worse than forgetting these crucial items. A pin here and there can make a messy head of hair into a "glamorous" up do.
7. Spare Undergarments
Yes, throw in an extra pair of undergarments, top and bottom or leave them in a private drawer at work so that if you do sweat more than you expected you can change out to something dry and clean.
8. Tote Bag
Have a little something to store this all in and throw in your basket, backpack or pannier.