Liv: Hi Tayte! You've been on the road since Crankworx Whistler earlier this summer. You've achieved so much this season and there's a lot to cover! Let's start with something new for you this year. Can you tell us a little bit about your experience at Jackalope Fest in Montreal? What was this festival all about and how did you get invited?
Tayte: Yeah, it's been a busy summer for sure. I learned a lot and got to go see some new places, including the Jackalope Fest in Montreal. So basically, Jackalope is a skateboarding festival at the Olympic Stadium. Other than skateboarding, they included base jumping and breakdancing. Swatch is one of my biggest supporters and they brought a lot of the Swatch team to the festival, so I also got to meet some super cool athletes. Overall, it was one of the best weeks ever.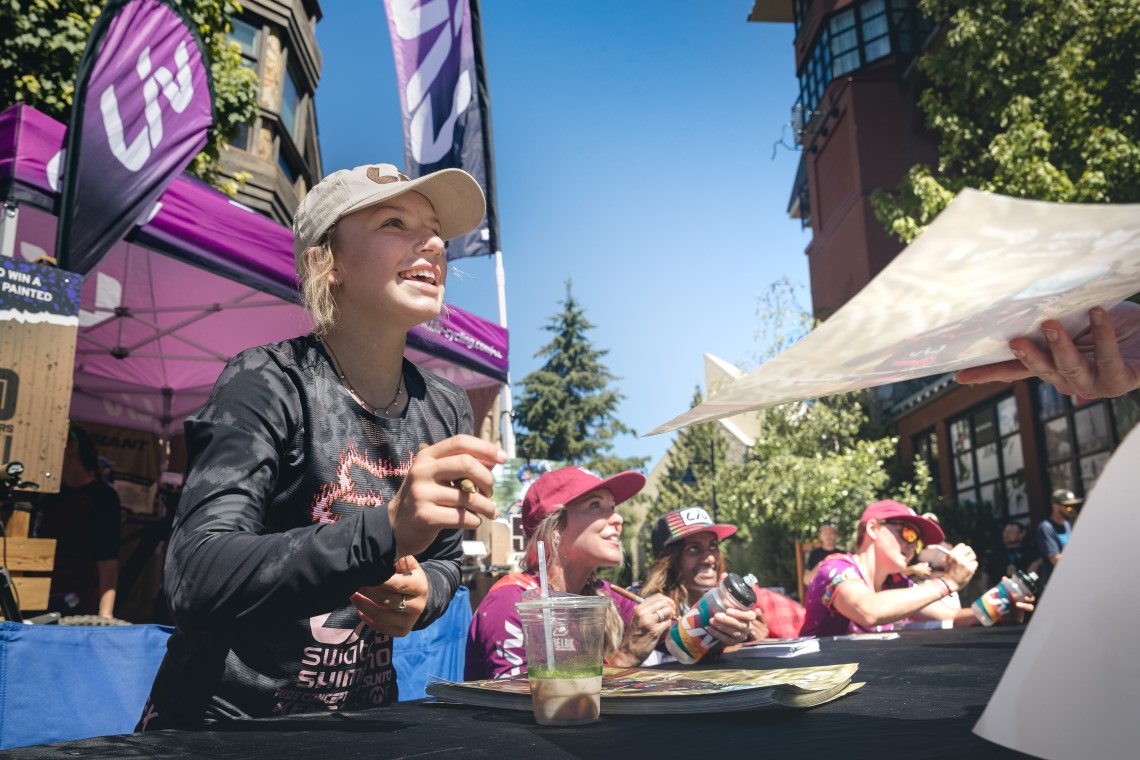 Liv: Last year, you took part in the inaugural invitational Darkhorse event in Revelstoke, BC, and came back home with the award recognizing an up-and-coming rider. The progression this year seemed incredible with all the riders clearing the full line on the first day. Can you tell us about this year's event and how you approached it compared to last year?
Tayte: Last year, at the end of the week at Darkhorse, I got recognized as the "darkhorse", which was a dream come true. Now moving on to Darkhorse 2022, it was super fun and a bit different too! Tons more riders from all over the world, as far as New Zealand. So a super cool group of girls. For the course, it was quite a bit smaller than last year but definitely super fun. The course being smaller than the previous year made for a bit more potential for tricks.
Liv: Did you do anything new at this year's Darkhorse event?
Tayte: I was stoked on throwing some no handers and T-bogs (toboggan) on the main jump. I came into this year's Darkhorse pretty relaxed and laid back but definitely excited. I also got to stay in a huge room with some of my best friends, which was really fun!
Liv: Just a week after Darkhorse, you traveled a bit south to attend Hannah Bergemann's Hangtime freeride event in Bellingham, Washington. Tell a bit about this weekend and your riding experience.
Tayte: Yeah! I went straight to Bellingham for one more event with Hannah Bergemann. It was really great time, minus one big crash from one of the riders - sending her big healing vibes. Other than that it was super fun with again tons of girls sending it. Overall I had an awesome time on super sick jumps!
Liv: What's the highlight of your 2022 season? 
Tayte: I think winning the Provincial Champs in XC and DH, I'm super proud of that! And the cherry on the top was winning the DH BC Cup overall champ jersey. Yeah, I was super stoked on those ones.
Liv: What's next? 
Tayte: Not sure! But I'm definitely getting back into XC skiing and downhill skiing! And I definitely want to get some snowy rides in. Big thanks to Liv for the support this year and I can't wait for next season!