What does it take to work in the cycling industry? Passion, determination, skills, support...crazy ideas? This Women International Day, we are pleased to introduce you to Canadian bike shop owners and managers. Read their story and get inspired! 
Ira Kargel - Gears Bike Shop - Greater Toronto Area, ON
"Gears began in a small shack, fixing bikes, tuning skis and sharpening skates.  I joined the founder, Kevin Wallace, as a new girlfriend and employee in 1990.  I continued on in my original pursuits of science at both Western and Queen's University in Ontario, but found that my immersion in the growing business of Gears was simply too deep to do anything else.  After school finished, Kevin and I decided we would go forward together, but in business only, after 7 years our romantic relationship ended.
It is not a sad story however, as we maintained not only an excellent business partnership, and best friendship but, also found 2 amazing customers to be our spouses to join us on the Gears Journey.  Kevin has true vision, where I excel in day to day operations.  I liken our relationship to the game of Curling;  Kevin throws out those rocks and I sweep like crazy.  Today we have 4 stores in the GTA (Greater Toronto Area) with a focus on the future and E-Bikes.  There is a special magic at Gears and we invite you all to come and experience it with us."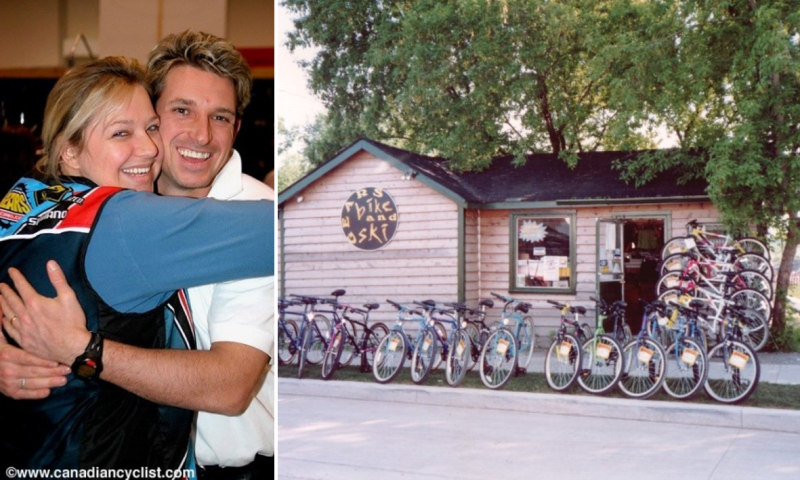 Jaclyn Delacroix - Essential Cycles and Ozmosis Training - North Vancouver, BC
"I am the founder and owner of Essential Cycles and Ozmosis Training based out of North Vancouver, BC. Through these avenues I like to inspire the North Shore community as an avid mountain bike coach, guide, and advocate for the sport both personally and professionally.
Born and raised in the hardy Australian outback I moved to Vancouver in 2007, where I quickly found my passion for mountain biking on the steep trails of the North Shore mountains. In 2013 I left my primary career as an accountant to follow my passion and become a full-time mountain bike coach for my company Ozmosis Training. Since then, I have competed at the Pro/Elite level, coached an all women's mountain bike team and maintained a number of different trails on Mt Seymour and Mt Fromme.
In 2018, looking to create a more holistic mountain bike experience, I opened Essential Cycles, enabling me to add mountain bike rentals and bicycle repairs to my business offer. Having a physical location has been both amazing and scary. 2020 will be our 3rd year and I am excited for all the plans we are starting to roll out!"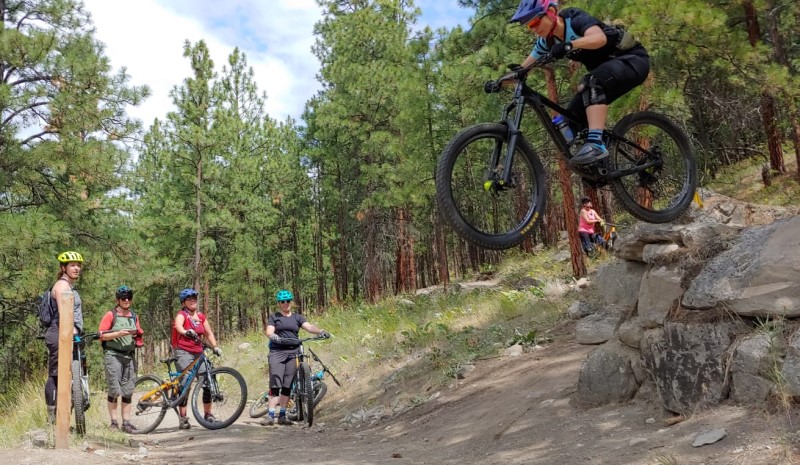 Sheila Gardner - J&J Cycle - Kingston ON
"I got started in the bicycle business while in high school.  My boyfriend and I wanted to start a business.  I thought a clothing store, and my boyfriend said that will be boring folding clothes all day.  I always liked to bike.  Growing up my father could fix everything, and we were always fixing up bikes.  So we decided on a bike shop.  My boyfriend did not like being in the shop, and as soon as I finished high school, he left the shop for another job, and I carried on, and on, and on and now 31 years later.
I have had a lot of challenges, and a tonne of rewards.  I have met so many great people, from all over the world all because of a passion for bikes.  It's a wonderful addiction!"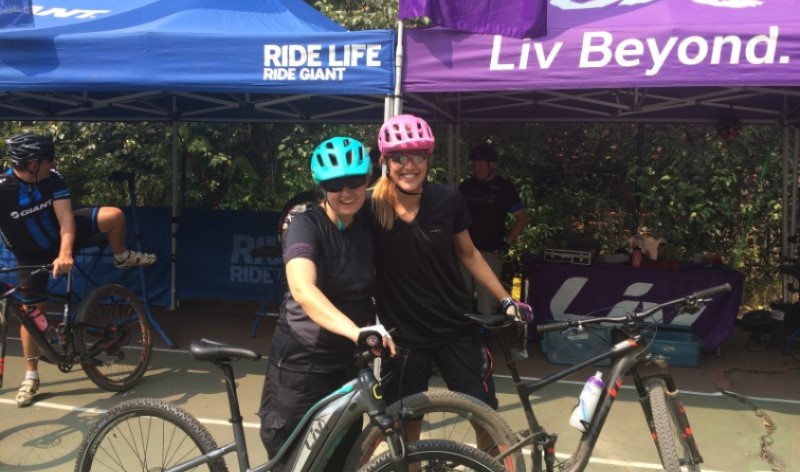 Cheryl Beattie - Bicycle Café - Kamloops, BC
"When I was 20 and moved to Canmore, I was given an opportunity to get a great deal on a very nice mountain bike through some friends. I jumped at the chance and immediately fell in love with the sport. I started riding every day and applied for my first job in the local bike shop. I loved sharing my passion for bikes with others and have since gone on to open my own shop in Kamloops BC Canada.
Owning a shop has been quite an experience! The opportunities to meet so many other riders and help them in the sport has been amazing. I have also gone on to race bikes, have obtained many coaching certifications and began to work with my local women's ride group the Dirt Chix."
Dana Heyman - Liv Ambassador and Founder of The Dirt Chix: "Besides owning the Bicycle Cafe, Cheryl has volunteered tirelessly as a Director of the 5 members Board of the Kamloops Performance Cycling Centre. This group manages the Kamloops Bike Ranch, Harper Mountain Trail Network, Pineview Trail Network and the Isobel Winter Trail Networks.  She advocates for grant funding and donations for these riding areas, manages relationships with Ministry of Forests, Rec. Sites and Trails, private and corporate landowners for trail access, maintenance and development. She donates all proceeds of her annual kids bike camp and the River Beaver Funduro weekend race back to the Kamloops Bike Ranch to continually fund improvement projects for the riding community. She has donated thousands of dollars each year over at least a ten year span, back to our trail networks.
She works tirelessly behind the scenes to improve the riding in Kamloops and has welcomed the Dirt Chix Ladies Group as our shop sponsor, further volunteering her time to help lead the group rides each Thursday evening, along with our 17 ride hosts, hosting our socials, providing instruction for our annual skills clinic and bike maintenance nights. There is no doubt that Cheryl and the Bicycle Cafe have made an outstanding contribution to the wealth of riding in our community and the creation of a local mountain bike culture. We appreciate her!"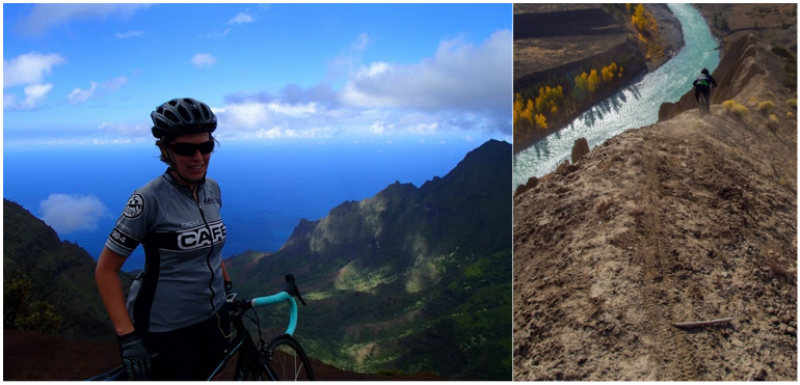 Andrea Marchand - Bike Bros - Cochrane, AB
"If you told me 20 years ago that I would be part owner of a bike shop one day, I never would have believed you. Having grown up in a small town in Saskatchewan, I was not a cyclist... well, unless riding an $89 bike purchased from Co-op 2 blocks to the pool makes you a cyclist.
In 1999 I met my husband, Graham, who was already a guy obsessed by bikes. Cycling became an activity I learned to like, even though my Saskatchewan genetics meant my tolerance for riding up hills was not very good. In 2003, Graham left his "real" job to start a bike shop, Bike Bros. If I wanted to see Graham, I would have to hang out at the shop so I started getting familiar with shop life. I was a fresh graduate with a BCom in Accounting so I did the bookkeeping. Riding bikes was becoming a bigger part of life for me. Riding was something I liked.
In 2007, Graham and I went on a mountain biking road-trip. We were headed to Interbike (THE bicycle tradeshow) in Las Vegas. We made a fun trip of the drive down and included a visit to Fruita, Colorado. This was the place where I finally "got it". My developing skills, the location, the pizza, the type of trails combined to give me the "Voila Moment". I got it! I was in love with mountain biking.
As time progressed, my riding and my involvement in the shop increased. Though I had a full-time accounting job, I started working the sales floor on evenings and weekends in addition to doing the shop's bookkeeping. The shop just kept on growing… and I worked in the shop more and more.
In 2015, we purchased a commercial building. Bike Bros. was about to take on significantly more space and a massive renovation before we could get rolling. Following some good discussions, I decided to leave my accounting career and share ownership and management of the shop with Graham.
I never could have foreseen a future where I owned a bike shop. Five years into it, Graham and I still like each other. We had four big goals when I became an owner: to grow the business, to make the store a beautiful retail space, to leave customers with really positive experiences and to make sure we took advantage of slow season by doing mountain bike destination road trips together. We are achieving those goals. Our roles have evolved organically and we're looking forward to moving ahead as a team with even bigger goals on the horizon."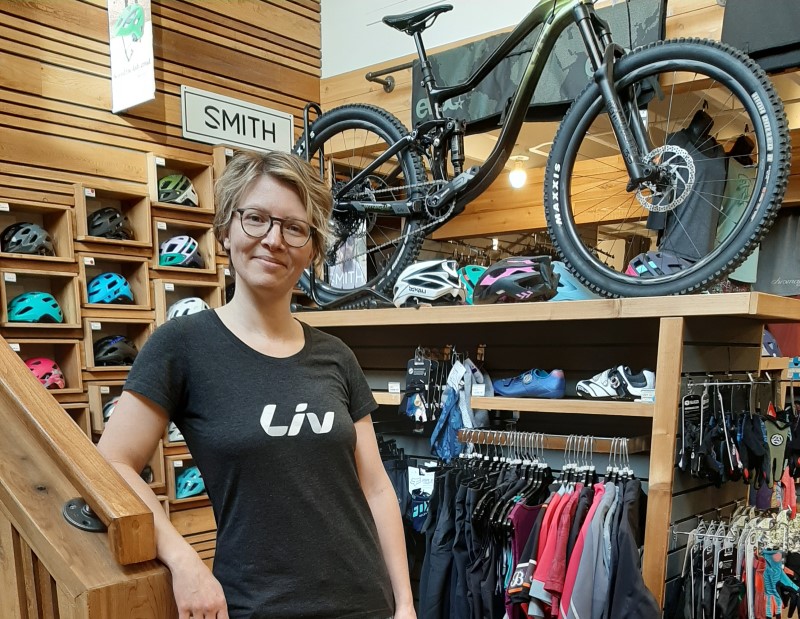 Allison Dawes - Ecclestone Cycle - Bracebridge, ON
"It was pure serendipity that I skidded into a life of bicycles.  I had just returned to Muskoka from a year long university co-op placement, I was keen to get active and savour the great outdoors - but it was still too chilly to enjoy my usual water-based activities.  I asked a co-worker who was deep into cycling where I should go to buy a bike, and he directed me to "that Purple house in Bracebridge".  The rest as they say is history.
I attended a demo day (solo), bought a bike with the entirety of my rainy day savings, started going to group rides, and fell in love with my now husband of 17 years (and fell into every rocky outcropping and raspberry bush along the way).  Turns out that guy behind the counter who invited me to the demo day, was the owner of Ecclestone Cycle.  He patiently taught me to ride the gnarliest of trails and an appreciation of all things bike.   I'm so glad I stepped waaaaaaay out of my comfort zone one drizzly spring day 20 years ago!  Try something new, challenge yourself, and let a bicycle be your vehicle for change, freedom and adventure.  Cycling revealed an entirely new world to me - family, friends, career, healthy living and the confidence to ride anywhere!
I'm thrilled to have the privilege to share the joy of cycling with all who enter my Purple World."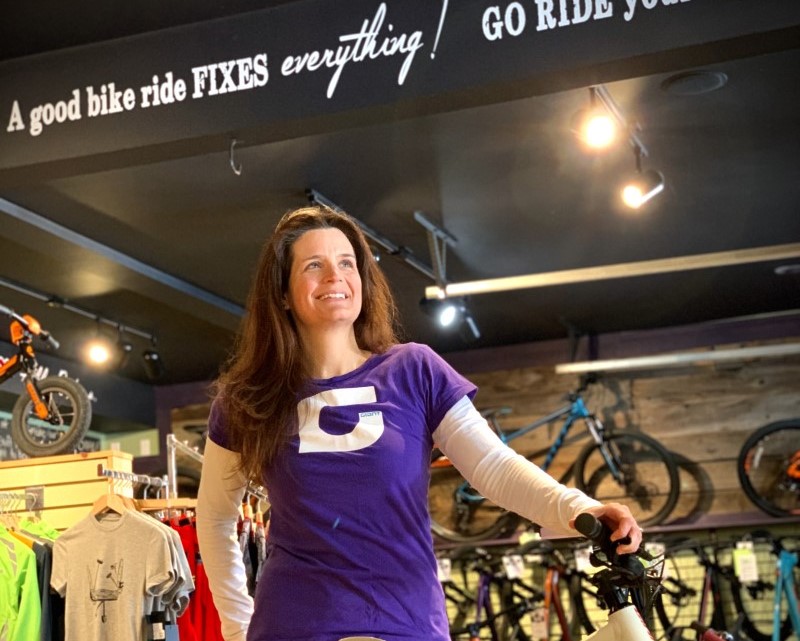 Tennessee Mayer - Liv Vancouver, Vancouver, BC
" When a Giant shop opened in my neighborhood in Montreal I couldn't resist applying and that was my very first job! I got this opportunity thanks to the owner Anne-Marie who later became a mentor, inspiration and a friend. Anne-Marie believes that "it's not about knowledge but about attitude". Thank god, because I knew very little!... And to this day, I still find myself learning day in day out and that is part of why I love the cycling industry so much: technologies evolve constantly and it keeps me on my toes!
Fast-forward a few years and now I live in Squamish, BC and I am living the dream more than ever. Don't get me wrong, the cycling industry can be hard at times, especially as a woman in such a technical field. Over the years I've learned that I do not need to prove myself to anybody and that the people you surround yourself with make all the difference. That is exactly what we have been working on so hard with Liv Vancouver: creating that welcoming and inclusive space for all to be able to enjoy our beautiful sport. "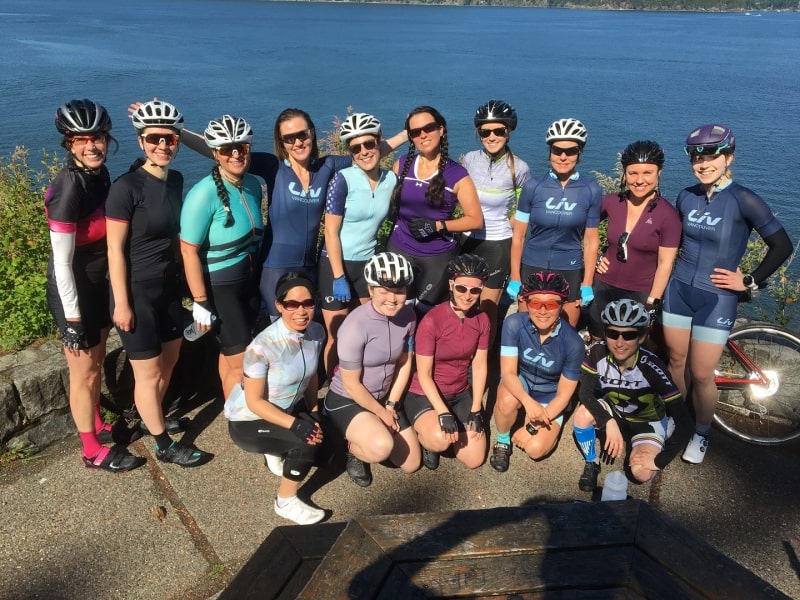 Monika Chalebois - Aventure 78 Inc - Lachute, QC
"I'm Monika Charlebois, owner of Aventure 78 Inc. My husband and I took over this gem of a bike shop back in 2017. Passionate of cycling, we didn't miss the opportunity to combine work, passion, sport and family. As a mom of an active 14 year-old boy, our little family loves to practice different sports and enjoy the outdoor. Either it is on the road or in mountain, cycling is for us a moment to escape and grow. Just like our business, we gotta roll!
With a bold nature, my determination and my ambition allowed me to have a varied and inspiring life path. Local involvement and support between shop owners are really important values for me. I'm passionate about being a shop owner and it makes me grow everyday. I'm not afraid of challenges because without them, Aventure 78 Inc would not exist. Buying this shop and discovering high-end bike brands like Liv and Giant allowed me to push my limits. Before, cycling was a chore. Now, it is a necessity!
 My first bike ride (little anecdote)...
After several year without riding, I told myself: «Don't worry! You can't have forgotten how to pedal!». So I tried a carbon road bike with clipless pedal… Ho! This wasn't easy! My husband told me: « We won't go far, only a little 25 km! ». Well, congratulations! After a few kilometres, we arrived at a bike path and I totally forgot that I was clipped. The worst I could imagine arrived. I fell in "slow motion" on my side, my knee landing on a big rock that was just there. I was stubborn and I finished my 25km. This scar is there for life, and reminds me the joy of cycling."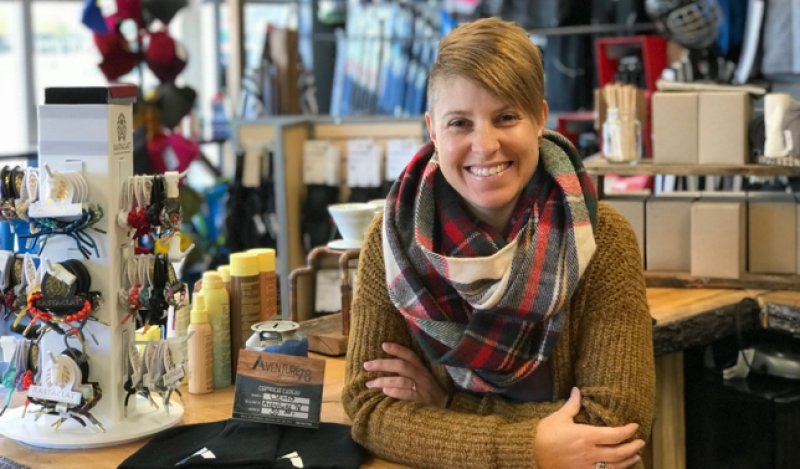 Angel Sterling - Camrose Cycle - Camrose, AB
"Bicycles are the best. Riding a bike has taught me skills, patients and to always pursue goals! Like most kids, I've been on a bicycle for as long as I can remember, but when it comes to "big kid biking" I've been riding more seriously since 2014.
Rewind back to 2013. I was pushing to become an advocate for women riders in the motorsports industry. At the time I was working for a motorsport dealer and realized a lot of women were criticized for being loan riders. For some reason this pushed me to prove ladies can do anything. I wanted to push boundaries and challenge the minds of people in my community and mold bicycling into my roster of two wheeled sporting activities. So I purchased my very first bicycle… well actually a frame… a used 2007 Giant Reign.
I worked on building this frame into the perfect dream machine. I purchased used parts from other riders, I would wait in line ups at service counters waiting to be told by a bike tech that putting an oval chainring on an old bike was pointless, waited on hold for an hour, to be told that my non-tapered head tube cannot accommodate a tapered fork when in fact it could, and so on. The struggle was so real. But in the end, I held on and I finished the bike. This was my opening to the real world of mountain biking.
Fast forward to now. I was confident to approach my position in the bicycle industry with the knowledge I picked up from building and riding my Reign. I have now been at Camrose Cycle for two years and have loved every minute. The bicycling community is so diverse and carries such a positive vibe, no matter how taco'd Joe's wheel is. It's from here that I've continued pushing my roll as a female ambassador in the sport and share my enthusiasm with other like minded women. Bicycling is all about having fun and challenging yourself. It's about pushing boundaries and becoming your own positivity. I strive to ensure all riders are treated equally and experience the fun and enjoyment bicycling offers. Gone are the days a woman rider doesn't feel comfortable buying a bicycle by herself and gone are the days when a lady bike tech wrenching in the back is unheard of. I will make sure of this!"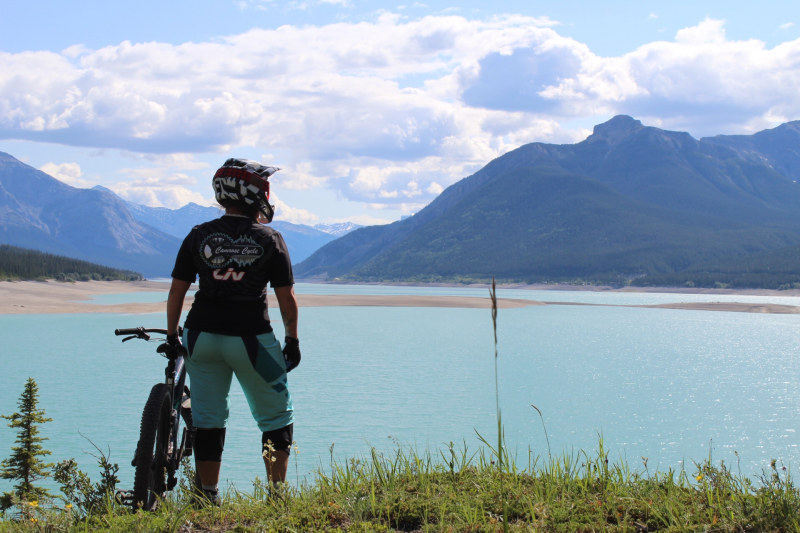 Marta Generoux and Margaret Pachnik - Ziggy's Cycle - Kitchener, ON 
"Margaret, Marta with their staff bring a refreshing take on cycling culture to Ziggy's Cycle, in Kitchener Ontario.
From the décor to the wide range of products and services, the store takes a very progressive stance in a business which often tends to be a masculine enterprise. The store caters to everyone from seasoned mountain, road, gravel, and triathlon athletes, to families buying their children's first bikes and all the gear in between.  Our factory trained mechanics provide a full range of technical services and repairs from annual maintenance to comprehensive overhauls, e-bike service to shock rebuilds. We are a certified bicycle fitting centre with state -of the art equipment and expertise. The store tirelessly advocates with local Government on cycling issues and bicycle access. We support local cycling clubs and groups, as well as the mountain bike trails at the HydroCut. We have created a cheerful and vibrant place in which to work and enjoy the interaction between cyclists of all stripes.
This reflects the energy and family values of the lady entrepreneurs that founded and continue to run the business after 35 successful years."