A Ride Sharing Initiative
The MTB Exchange was born out of a desire to attract more women riders to our local trails, while bridging the gap between women's social ride groups found at different hubs across Ontario.
We are a ride sharing initiative that puts an emphasis on connecting women mountain bikers. At each trail hub, guest riders meet the host women's ride club who'll take them right to, "The good stuff !" After the ride, the women exchange in an apres social, getting acquainted with their fellow shredders who rode alongside them that day. Experience brag-worthy ride guiding combined with a lasting kinship between friends. It's simple: you host us, then we'll host you!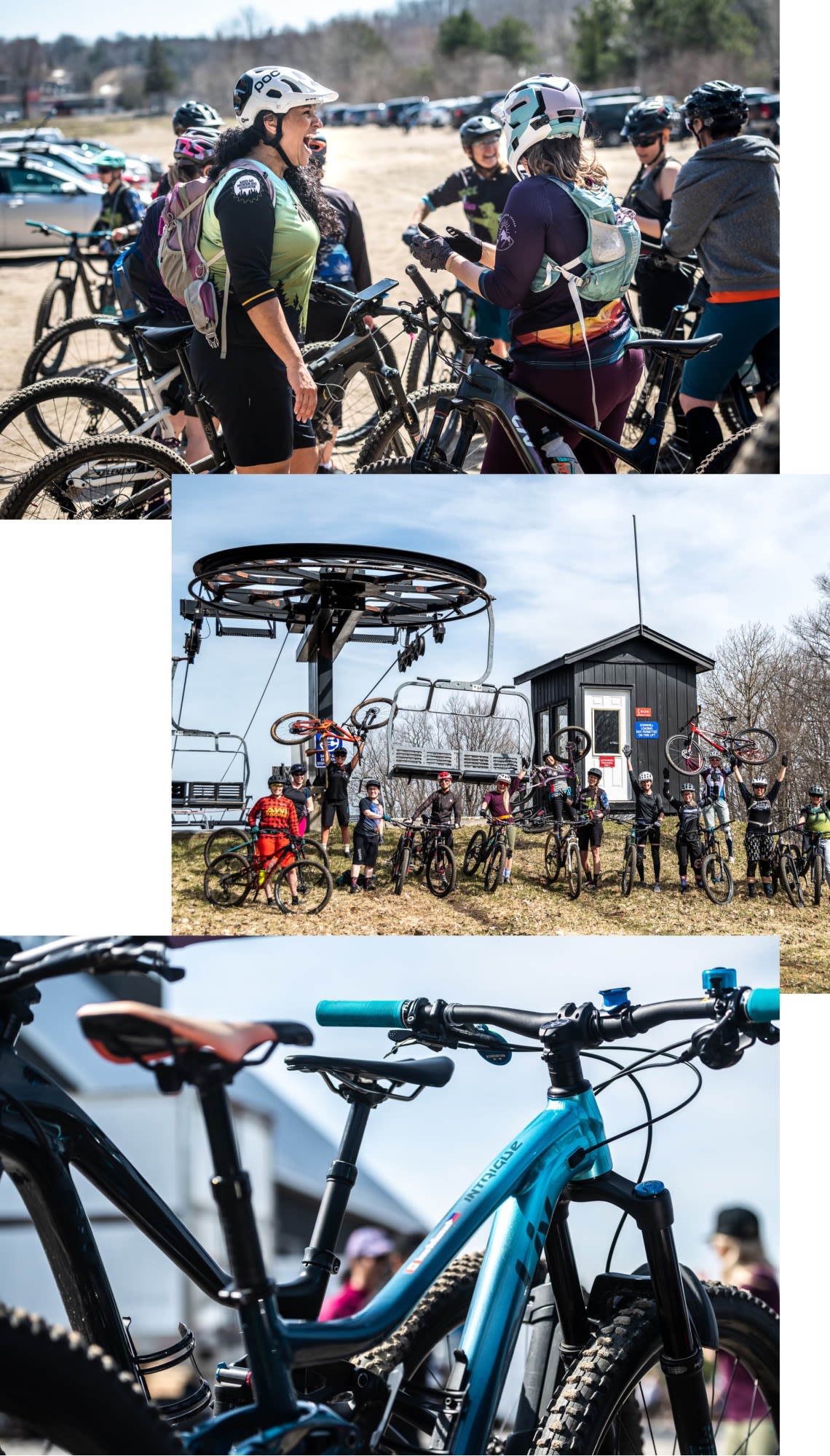 Who will ride?
Each 2022 host trail and their associated women's clubs will encourage their social ride group to attend a date/dates on the 2022 event calendar. Rider's will be required to sign up for each ride date to give each host a heads up on the number of riders that will be attending.
These are social rides, however waivers/insurance requirements will need to be signed/determined for each trail. Riders should already be comfortable on their mountain bikes and looking for a solid crew of girls to ride with. If you don't mind suffering on the climbs, want to get faster on the descents, and need a little inspiration to ride features that scare you, The MTB Exchange is for you!
We are intermediate to advanced riders who are already comfortable riding blue/black trails (you don't have to clean it but can ride most features), and should be comfortable riding distances of 10-20 km on trails without feeling crushed.
These ride dates are about more than just great riding. The experience puts a much bigger focus on creating friendships between women and taking a minute to appreciate how lucky we are to be enjoying such rad mountain biking in Ontario.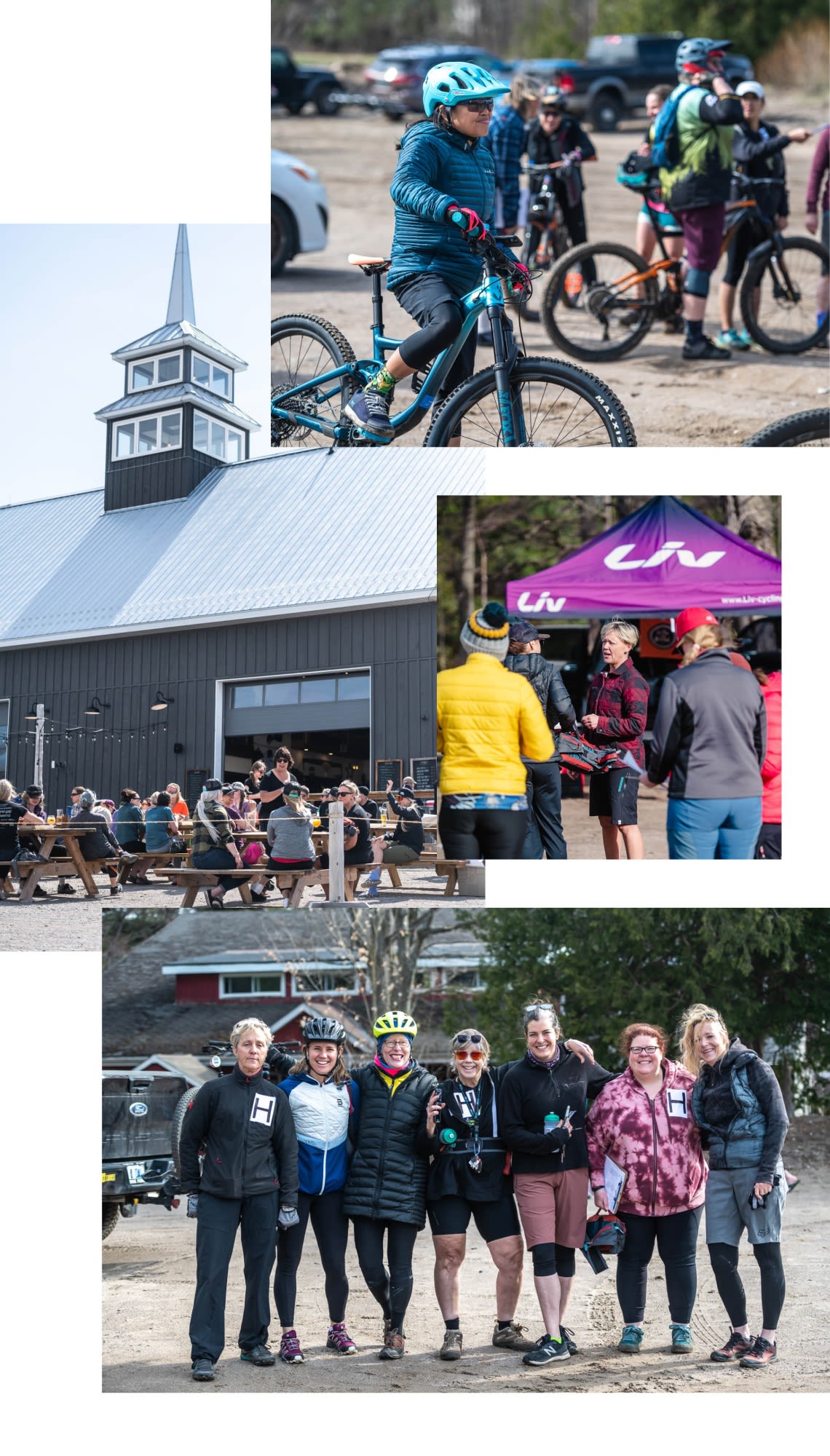 A ride for everyone
"Sounds fun but a bit scary"? Don't sweat it! The MTB Exchange is for everyone. If you want to work on your skills and meet riders who are also future lady shredders. AWESOME! We totally support that decision. Mountain biking is our favorite thing in the world and we're confident that you'll love it too. You'll get to explore amazing and beautiful places, have a blast on the trails with friends, gain confidence on and off your bike (seriously, mountain biking helps with real-life stuff too!), you'll get fit and strong, and so much more.The MTB Exchange offers guided rides that cater to the beginner rider whose goal is to work up to being a full fledged "Weekend Warrior".
Choose your position in the pack:
Lead Group = Competitive Riders
Wolf Pack = Advanced Riders
Sweepers = Weekend Warriors
Novice = Beginner - but not new to biking altogether
Après ride
Let's hang and refuel
"Still buzzing from a great ride?" Life is meant for sharing great adventures with good people. So, be ready to relax and exchange some laughs after the ride and get to know the women who rode alongside you that day. After cycling, riders will meet at the host's restaurant/brewery/campground/bike shop/trail-head meeting place of choice where riders will enjoy some relaxation and local hospitality.
"Every new friend is a new adventure and the beginning of even more memories." - The MTB Exchange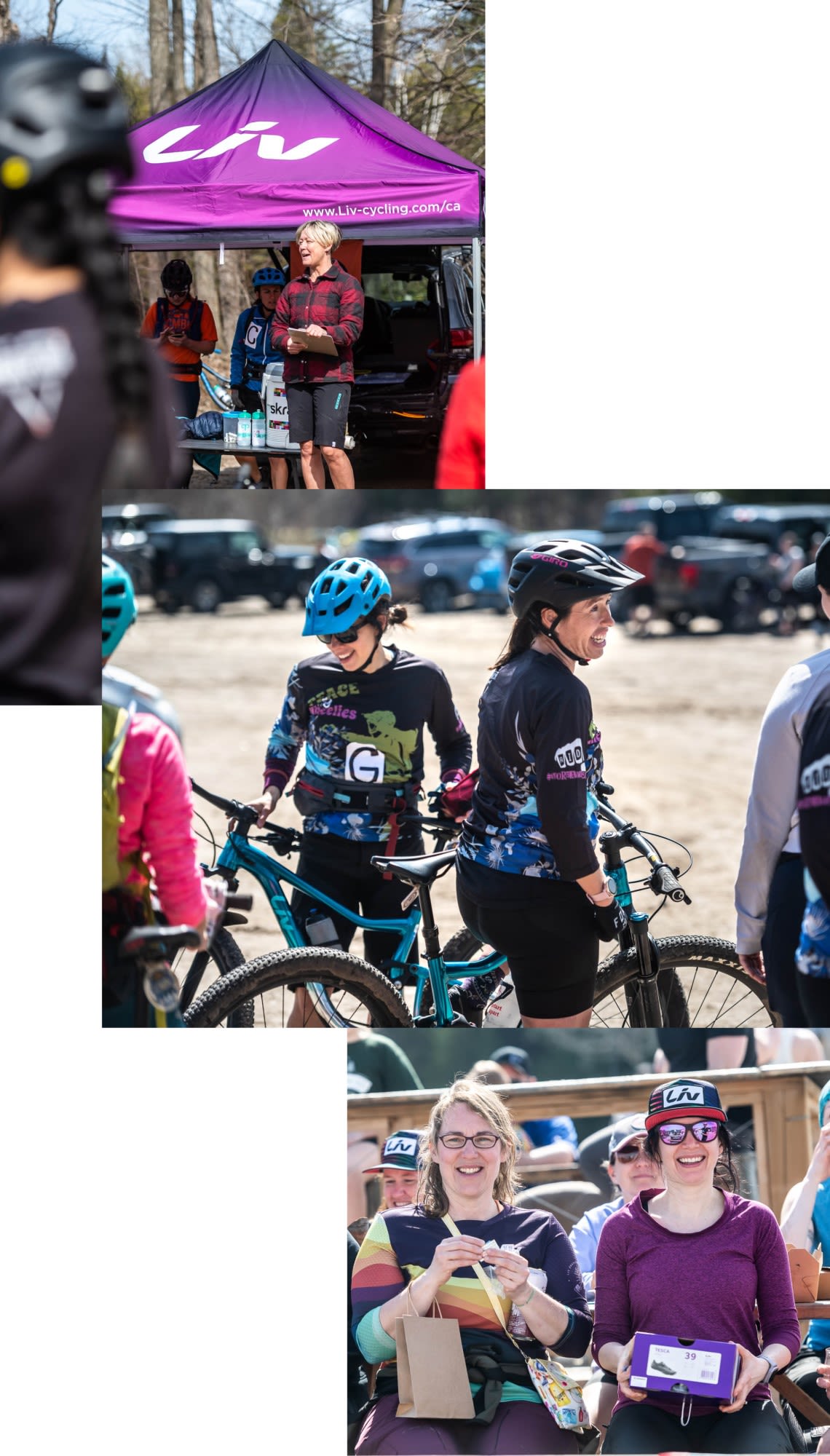 | | | | | | | | | |
| --- | --- | --- | --- | --- | --- | --- | --- | --- |
| EVENT | DATE | START TIME | FINISH TIME | DISCIPLINE | TYPE OF ACTIVITY | DESCRIPTION | DISTANCE | LOCATION |
| Opening Day | Sunday, April 24th, 2022 | 10:30AM | 1:30PM | MTB | Group Ride | Guided club ride - Female identifying only / Hosted by Peace & Wheelies MTB | 15-25 km | Horse Shoe Resort, 1101 HorseShoe Valley Rd. West HorseShoe, ON |
| Durham / Dagmar Connection | Sunday, May 15th, 2022 | 10:30AM | 2:00PM | MTB | Group Ride | Guided club ride - Female identifying only / Hosted by DMBA MTB Association | 20-30 km | Durham Forest Main Tract, 3613 Concession Rd 7, Uxbridge |
| Pumps and Jumps | Sunday, June 5th, 2022 | 10:30AM | 2:00PM | MTB | Group Ride | Guided club ride - Female identifying only / Hosted by Brant Cycling Club | 15-20 km | Rotary Bike Park 390 Grand River Avenue Brantford, Ontario N3T5A3 |
| GORBA is FIT4Adventure | Sunday, June 12th, 2022 | 10:30AM | 1:00PM | MTB | Group Ride | Guided club ride - Female identifying only / Hosted by FIT4Adventure | 20-25 km | 60 Woodlawn Rd E, Guelph, ON N1H 8M8 Woodlawn Rd E, Guelph, ON N1H 8M8 |
| Hiawatha Highlands | Sunday, July 10th, 2022 | 10:30AM | 2:00PM | MTB | Group Ride | Guided club ride - Female identifying only / Hosted by Sault Cycling Club | 20-30 km | 780 Landslide Rd, Sault Ste. Marie, ON P6A 5K7 |
| NBMBA Bike Fest | Saturday, July 30th, 2022 | 10:30AM | 1:00PM | MTB | Group Ride | Guided club ride - Female identifying only / Hosted by Minii Adventures | 20-25 km | Laurentain Ski Club, 15 Janey Ave, North Bay, ON P1C 1N1 |
| More Dirt Enduro Flirt | Sunday, August 7th, 2022 | 10:30AM | 12:30PM | MTB | Group Ride | Guided club ride - Female identifying only / Hosted by Minii Adventures | 30 km | The Heights Ski Hill and Resort, Horseshoe Valley |
| | | 1:30PM | 3:00PM | MTB | Group Ride | Guided club ride - Female identifying only / Hosted by Minii Adventures | 30 km | HIgh Vista Drive, Barrie, ON, L4M 4Y8 |
| HAFTA | Sunday, August 14th, 2022 | 10:30AM | 1:00PM | MTB | Group Ride | Guided club ride - Female identifying only / Hosted by The Wild Betty's | 10-18 km | Halton Agreement Forest Trails, 9430 Guelph Line, Campbellville, ON |
| | | | | | | | | |
| Rock and Roll | Sunday, September 18th, 2022 | 10:30AM | 1:00PM | MTB | Group Ride | Guided club ride - Female identifying only / Hosted by Walden Women | 30 km | 935 Ramsey Lake Rd, Greater Sudbury, ON P3E 2C6 |
| 3-Stage | Sunday, September 25th, 2022 | 10:30AM | 1:30PM | MTB | Group Ride | Guided club ride - Female identifying only / Hosted by CORC Trail Association | 10-15 km | 635401 2 Line, The Blue Mountains, ON N0H 2E0 |
| GORBA is FIT4Adventure (NEW DATE) | Sunday, October 16th, 2022 | 10:30AM | 1:00PM | MTB | Group Ride | Guided club ride - Female identifying only / Hosted by TPMBA L.O.S.T | 20-25 km | 60 Woodlawn Rd E, Guelph, ON N1H 8M8 Woodlawn Rd E, Guelph, ON N1H 8M8 |
| Halloween Witches Ride National | Sunday, October 30th, 2022 | 10:30AM | 2:00PM | Fat Bike | Group Ride | Guided club ride - Female identifying only / Hosted by Peace and Wheelies MTB | 23 km | Long Point Eco Center 1730 Front Rd, St Williams, ON N0E 1P0 |
| National Fat Bike Day | Sunday, December 4th, 2022 | 10:30AM | 2:00PM | Fat Bike | Group Ride | Guided club ride - Female identifying only / Hosted by Peace and Wheelies MTB | 15-20 km | SCMBA Trail HUB Parking Lot, 100 Base Lake Side Road, Coldwater |
2022 PARTICIPATING TRAILS & RIDE CLUBS