Off-Road Demo - Mountain Fest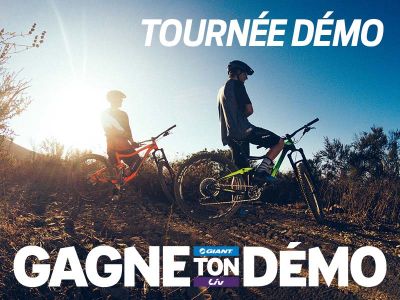 When
20 July - 22 July
Where
Mont Sainte-Marie, Qc
La Tournée Démo Giant et Liv s'en vient! Profitez de l'occasion pour essayer les meilleurs vélos au monde!
Joignez-vous à nous et passez du bon temps.Soyez à l'affût de la semi-remorque Giant,  le Sprinter Giant/Liv, les grandes tentes bleues, les drapeaux et une abondance de vélos prêts pour la randonnée!  
Afin de faire la démo d'un vélo, vous aurez besoin de 4 choses :
Un permis de conduire valide
Une carte de crédit
Un casque!
Des pédales Clipless, si vous le souhaitez (des pédales plate-forme seront mises à votre disposition)
Heure: 10am-4pm 
Location: 76 Chemin de la Montagne, Lac-Sainte-Marie, QC J0X 1Z0
The 2018 Giant and Liv Demo Tour is coming, bringing the world's best bicycles for you to test out!
Come join us for a great time.
Look for the Giant Demo Tour rig, the Giant/Liv Sprinter, the big blue tents and flags and plenty of bikes for you to ride!
To demo a bike you need 4 things:
(1) A Valid Drivers license. 
(2) A credit card.
(3) A helmet!
(4) Clipless pedals if you choose. (we have platform pedals).
Time: 10am-4pm
Location:76 Chemin de la Montagne, Lac-Sainte-Marie, QC J0X 1Z0
More information
https://www.velomsm.com/en/mountain-fest/