5 Ways Mountain Biking Helped My Career
Leadership Lessons from the Trail
As a female founder, people often ask me about my career path and how I built a ski and snowboard company owned by women. It wasn't the line I thought I would take, but it has definitely been an adventure. After college, I worked in the outdoor industry as a ski and snowboard instructor and raft guide. I went back to school and worked in healthcare before taking a leadership role at Girls on the Run – a move that blended my degree in public health with the outdoor industry. I took a leap of faith that my skill set as the leader of a growing nonprofit transferred to co-founding a startup company at Coalition Snow. This year I'm making another bold move on my career path focusing on leadership development and empowering women to invest in female founders. As part of my transition, I've been reflecting on lessons learned over the past 20 years and insights gained while riding my bike. Here are my five takeaways: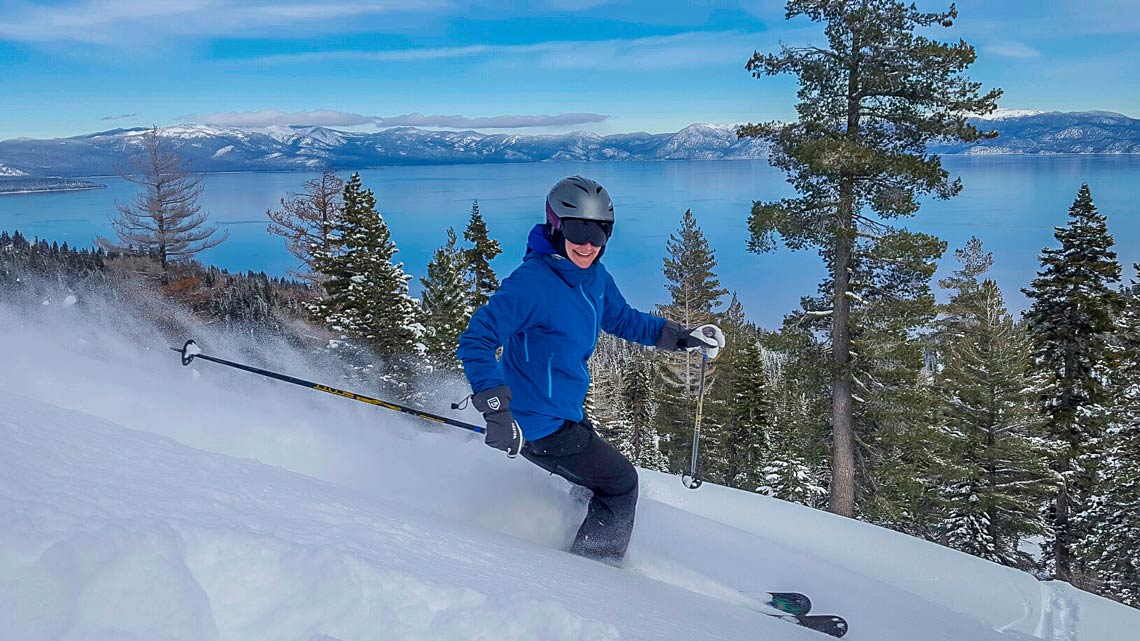 Invest in your gear (and in yourself).
When I started mountain biking on the Tahoe Rim Trail, I was terrified I would go a$$ over tea kettle riding over a two-foot rock. I had a death grip on the brakes and leaned my butt so far behind my seat, my legs were practically locked. [Need MTB riding tips? Click HERE for Liv's MTB Skill Guides] After I invested in a more downhill oriented bike with a bigger fork, I realized I had attributed my fear of falling to my lack of skill. Once I started riding a bike appropriate for the terrain, I felt confident in my skills to ride the aggressive line. Having the right gear matters, if you can't trust your gear how can trust yourself? When registering for a race, asking for a raise, or making a career transition I have learned to invest in myself. This year, I signed up for a women's downhill clinic, joined a leadership mastermind, and hired a coach to help me reach my goals.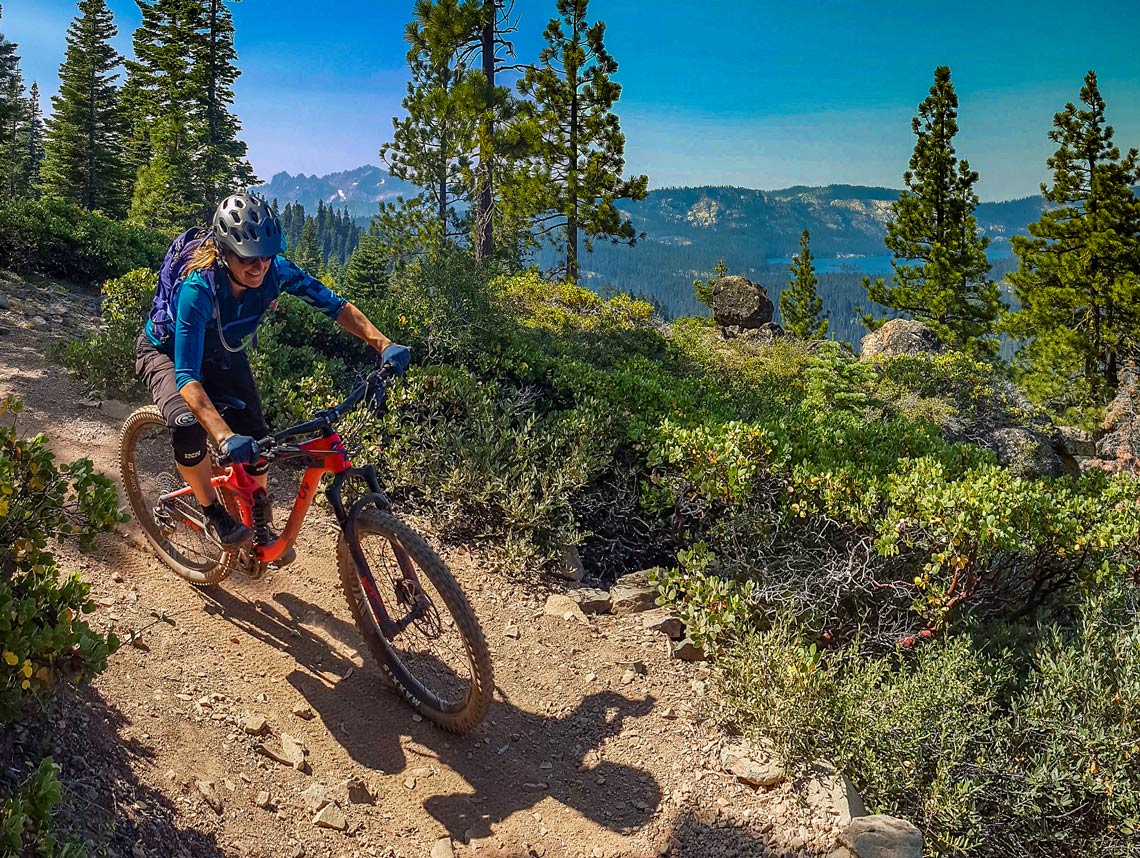 Believe in yourself.
One of my favorite quotes is, "She believed she could, so she did," by R.S. Grey. There is one section on my local trail I walked dozens of times before I even thought it was rideable. I remember the feeling of clarity when I could see a path through the seemingly impassable rock garden for the first time. I rode that section for years attempting to make the crux move, until one day my belief in myself combined with physical strength and determination paid off. When I realized I was doing what had once seemed impossible, I hooted with joy. Often the toughest part of taking on a new challenge is getting started and trusting yourself to figure it out as you go along. When applying for a promotion, making a sale, or pitching to an investor, I have learned that believing in myself is critical to my success.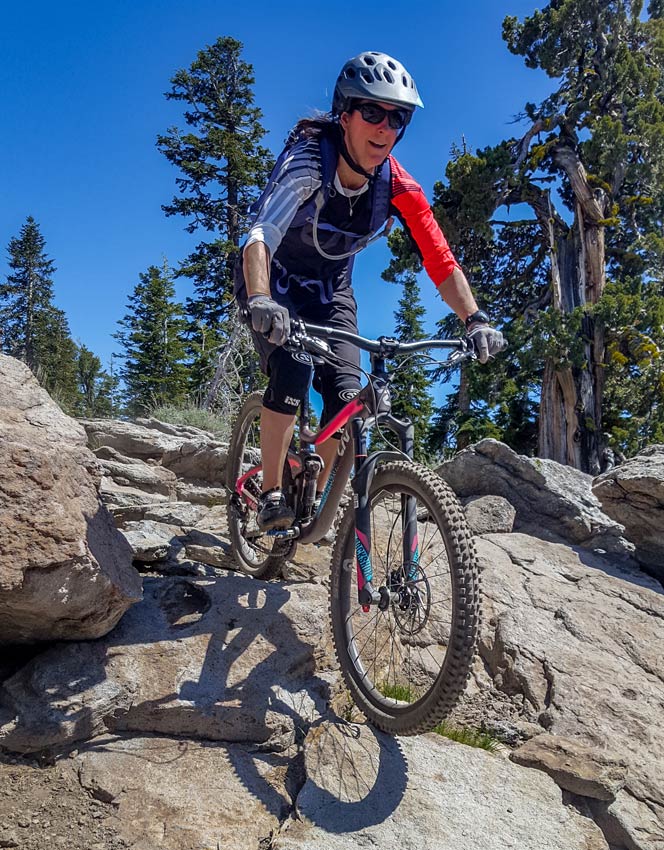 Go with the flow and embrace uncertainty.
What I love most about mountain biking is getting into a state of flow. For me, being in the present moment is when my focus sharpens, and time slows down. I experience flow during yoga and my mindfulness meditation practice, but when I am on the trail is when I feel truly alive. When I am biking down a technical line or letting off the brakes on a fast and flowy trail, I am fully in my body and blissfully out of my head. I have learned that I cannot grow without being vulnerable – embracing uncertainty, risk, and emotional exposure. Taking on new challenges on my mountain bike has taught me that courage is not the absence of fear, it is being afraid and doing it anyway.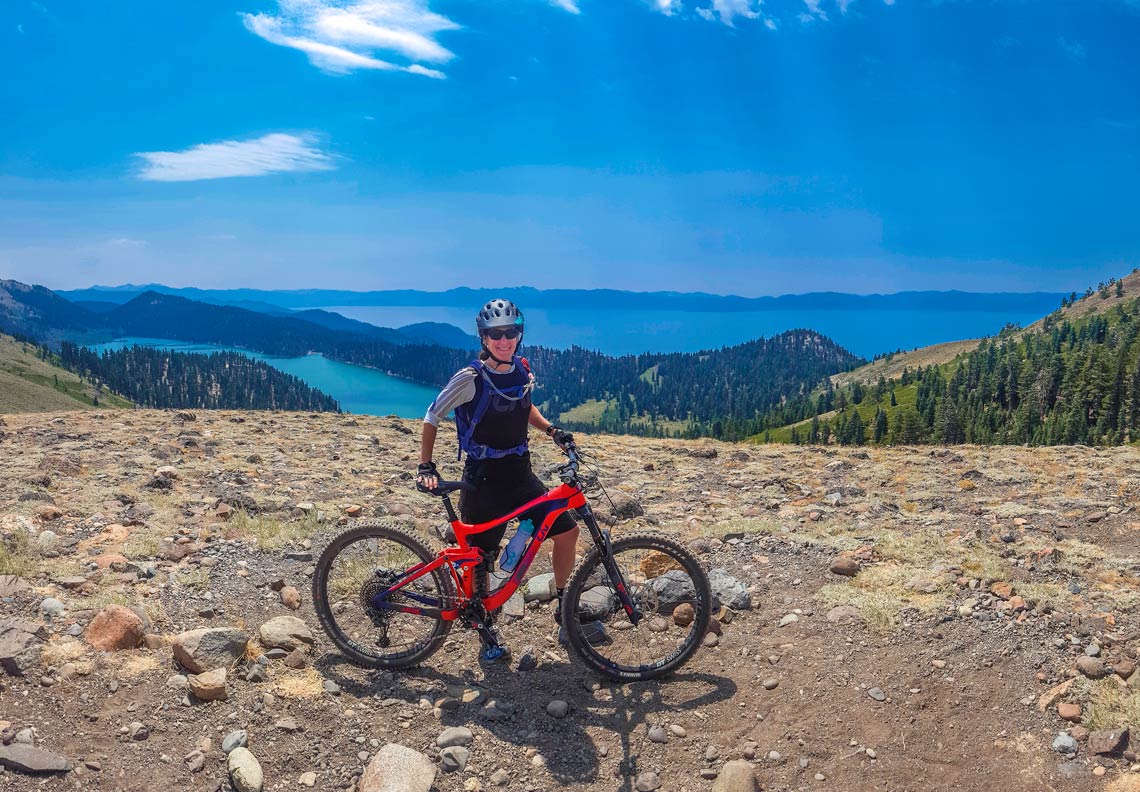 Be kind to yourself.
This photo was taken on the pre-ride for the XTERRA Lake Tahoe off-road triathlon. Completing this event has been on my bucket list since I did the Tahoe City sprint distance when I was 30. Over the last five years, I have given myself permission to rest and recover from a recurring knee injury, automobile accident, and surgery. The morning of the event, my inner critics of fear and self-doubt started questioning my training: Do you really think only two open water swims was enough? Why didn't you add a brick workout every week to your training?  When reaching high for big goals I've learned to be kind to myself and replace my inner mean-girl thoughts with how I would talk to a friend who was struggling. "You've got this. You trained hard and are stronger than you think.  It's OK if you walk; I know you will reach the finish."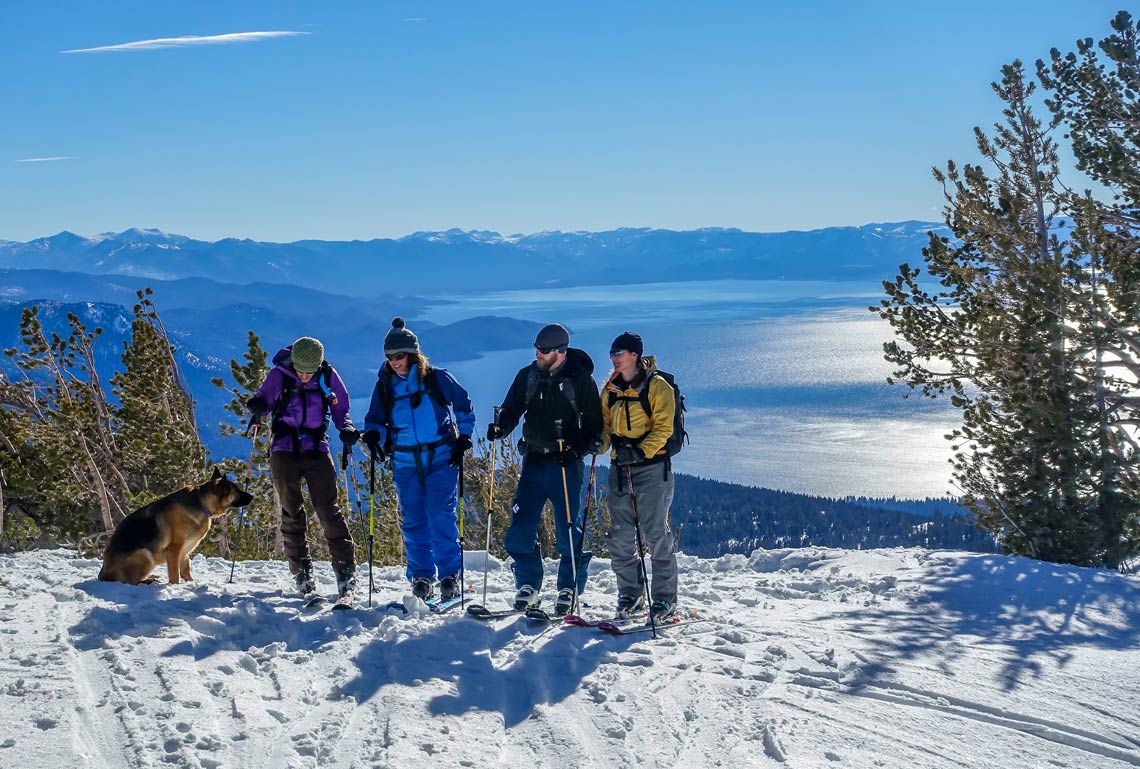 Build a sisterhood.
I love getting out with my girlfriends backcountry skiing, trail running, and mountain biking. Their support encourages me to push myself physically and mentally in the mountains. Much of my career has focused on building a supportive community of female athletes in the outdoor industry. With each new twist and turn in my career I continue to look for female founders to partner with to build community.   Encouraging women brings me joy- and it's way more fun to celebrate reaching the summit with my sisters.   In my career, in life, and in mountain biking, I seek opportunities to expand and cultivate sisterhood. The support encourages me to ride the next big line, and helps me pick up the pieces if everything doesn't go as planned!
Get to know Danielle by checking out her profile HERE>