How to Fuel your Body for an Epic Stage Race
The Trail Squad's Tips for Proper Nutrition During Endurance Efforts
Eat. Drink. Ride. Eat more. Drink more. Ride. Repeat until done.
That is the cadence for racers at the Absa Cape Epic. This race is no picnic, and fueling your body correctly doesn't mean just eating a lot of food and drinking some water – no, nutrition at an epic stage race requires diligence. Racers are outside on the bike for between 4-9 hours a day in the South African heat, putting in max effort to conquer the terrain. In situations like this, proper nutrition can be a chore.
That's why we've reached out to get those all-important nutrition tips from women who've been there – the Liv Trail Squad.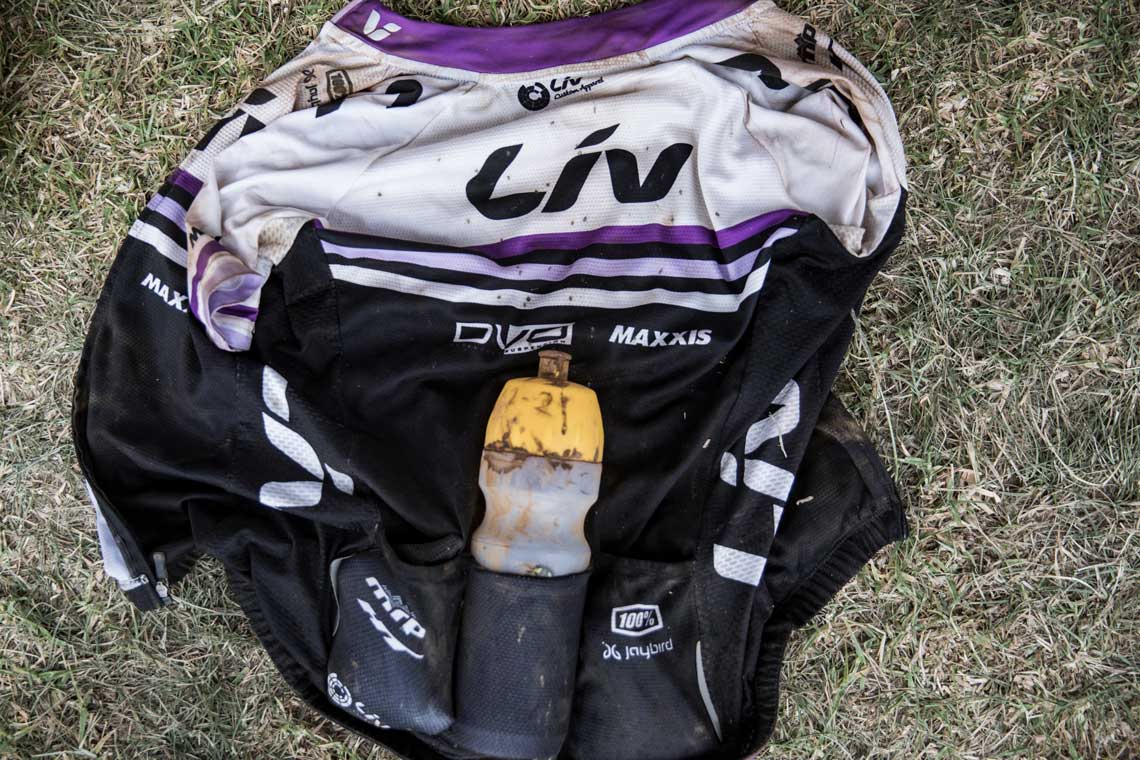 When Do I Eat?
Simple answer: All the time.
When you are riding your mountain bike over 100km a day, multiple days in a row, it is easy to burn more calories than you are able to take into your body. But, in order to be strong, efficient and energetic the following day you need to replenish all those calories burned – and then some.
So, when pro athlete Serena Bishop Gordon says, "Eat as much as you can. Eat on the bike, off the bike, when you first wake up and right before bed," she isn't joking.
Cape Epic was Madeleine Gerard's first mountain bike race (for real!), but she learned quickly how important it was to take calories in BEFORE she felt hungry. By staying on top of her fuel intake, she maintained her strength and didn't begin to feel any loss of energy until Stage 4 (Day 5 of the Cape Epic). Even when Madeleine woke up in the middle of the night hungry, she would eat. Her dedication is a huge factor in what got her to the finish line!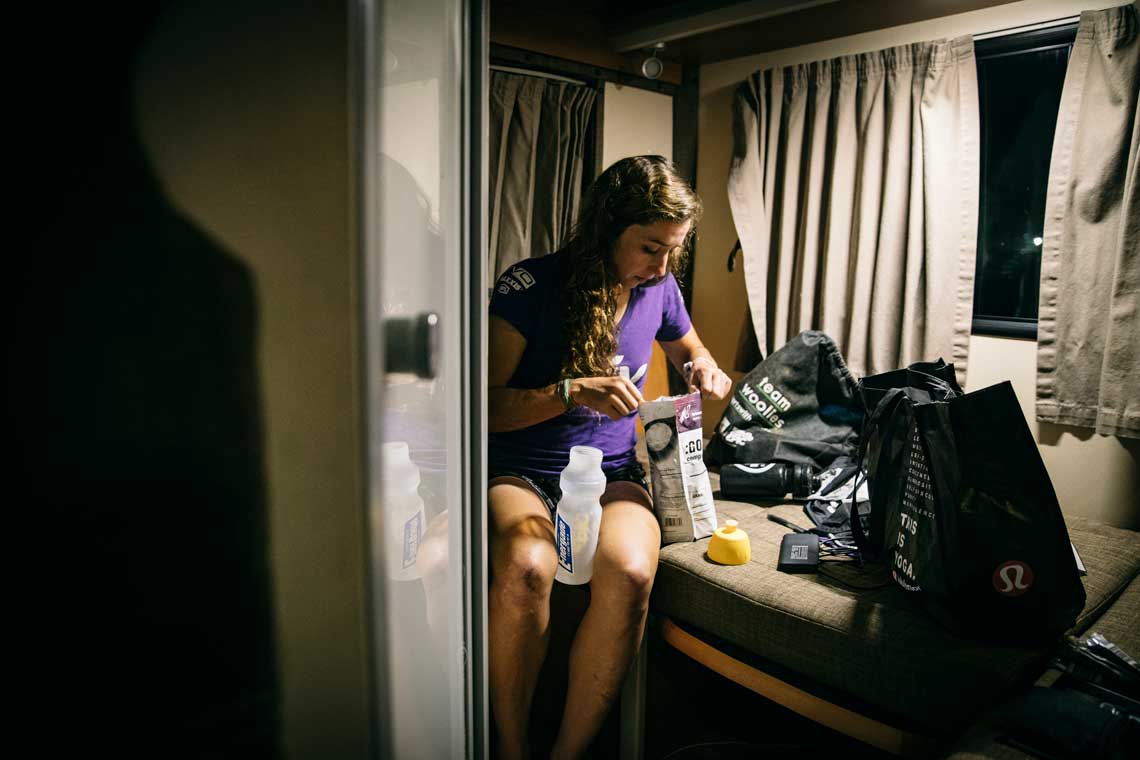 What Do I Eat?
Simple answer: Anything that sounds good.
That could be salty boiled potatoes, banana bread, hot cross buns, or… baby food.
The problem is when you are expending so much energy, sometimes even a big, juicy hamburger or yummy, cheesy pizza or even CHOCOLATE just doesn't sound that good. Dealing with loss of appetite is a real problem for a racer – regardless of the cause.
It was something that surprised Serena. "I have a real addiction to dark chocolate, and eat some just about every night; but during the race, sweets just didn't sound good. I would eat them because they were high in calories, but it was the first time in my life that I had to force myself to eat a piece of chocolate cake," she said.
Amateur racer Olivia Smedley also struggled with a loss of appetite – a mix of stomach bug and nervous energy. Though she diligently planned her nutrition during training, nothing she brought to eat during the race seemed to go down. Baby food ended up being her go-to source of nutrition.
"I didn't know that at the end of such a long stage, you would have absolutely no appetite and you don't feel like eating large portions of food – quite the opposite of how I felt during training," said Olivia.
A Sport Recovery Drink Mix can also be a great way to intake calories when it is a struggle post-race. The Trail Squad was hooked on this chocolate-flavored drink because it went down so easy and nurtured their bodies with the calories they desperately needed, along with carbs, protein, fat, and salt. Yummy!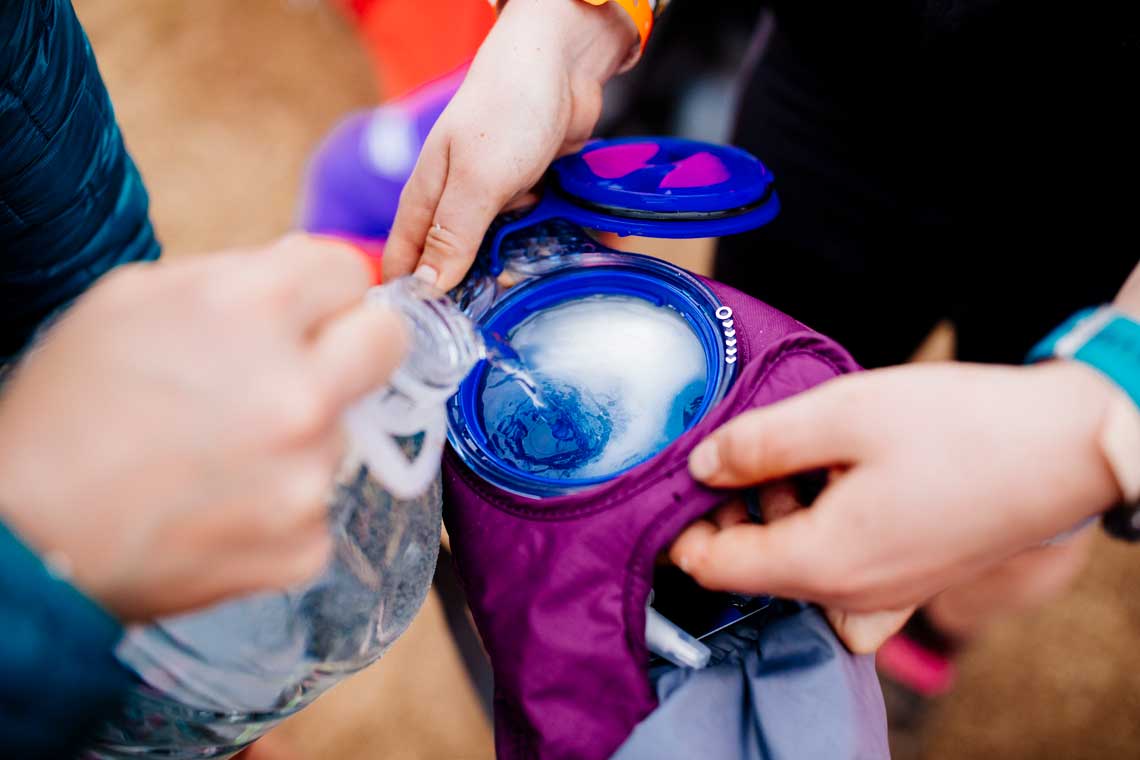 What About Hydration?
When it comes to hydration, it is not quite so simple.
Drinking as much water as you can fit in your belly is actually not the solution and in extreme cases could cause Hyponatremia – or a condition in which the level of salt or sodium in your blood drops too low. It's a pretty big deal, and it can even be fatal.
That's why electrolyte powders were the Trail Squad's best friend when competing in the Cape Epic. In an epic stage race (particularly one in South Africa), you sweat a lot. When you sweat, you lose salt in addition to water – that's why your hydration packs and helmets sometimes get white and crusty after a long ride. You have to replace that salt somehow and the most efficient way to do that is with hydration powder mixes. Some of these powders have other things in them to help you absorb electrolytes easier, including some sugar, but some might have additives you don't want or need – so make sure you read the packaging.
The Trail Squad loved loading up on their Skratch Labs Sports Hydration Drink Mix before, during and after each stage. That being said, plain ol' water is great, too! It is all about finding a happy balance that works for you and your body.
"I worked with a nutritionist who really laid down the law on my hydration," said Lisa Land. "Once I started doing what she asked of me and getting at least 50-60cc of water in a day (more on training days) I noticed that I felt better from day to day and performed better on the bike."
For Kate Ross, she found out because she is not that good at eating on the bike; she needed to carry extra liquid carbs to ensure she was adequately fueled during the race.
"Although it may not be 'cool' to carry a hydration pack, I find I drink more consistently throughout a race if I use a hydration pack, so even for shorter races with bottle drops I still use a hydration pack," said Kate. "Be warned though, you need to be diligent about cleaning a bladder that's had electrolyte drink in it. It gets pretty gross pretty quick!"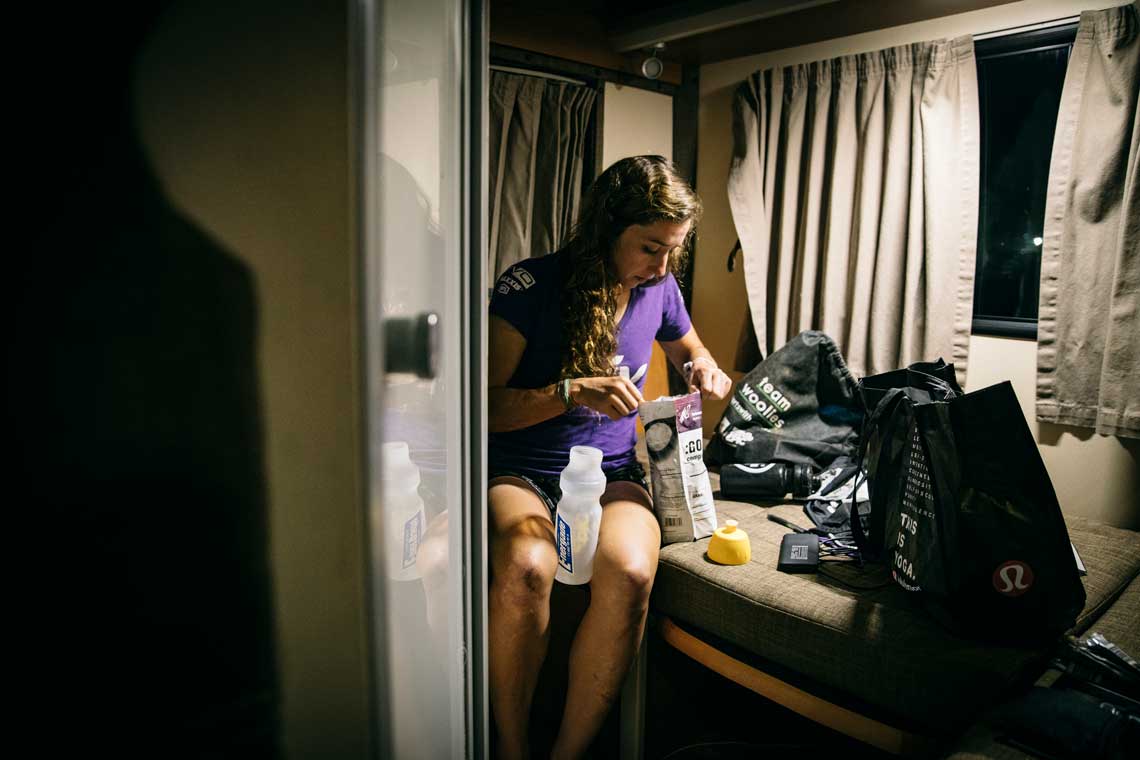 I'm Racing an Endurance XC Race or Stage Race… What Else Do I Need to Know?
Here are some of our favorite tips about nutrition straight from the Trail Squad to you:
"I began to eat the same thing day after day. It helped me to build a routine in order to overcome my loss of appetite." – Anna Barea Garcia.
"Eat whatever you feel like eating, a then eat some more. And take electrolytes. They are a girl's best friend." – Serena Bishop Gordon
"During my training, I was not used to eating that often but now I know nutrition is the key! In this kind of races, it is really important to eat regularly before you even feel hungry. The same for electrolytes. I was not taking them really often. I remember last summer when I rode 500 km from South of France to Lyon in 3 days, I felt really exhausted. Now I know it was due to bad nutrition and hydration." – Madeleine Gerard
"Figure out a proper nutrition strategy and test out what works and what doesn't over a number of different training sessions and races. This is what I did, and eventually discovered food worked best for me and what I would pack with me for Cape Epic." – Kate Ross
PRO TIP: If you have a food routine, don't take any risks. Pack your favorite go-to pre-race meals and on-the-bike nutrition in your bag when traveling for a race.
"Do everything you can to learn how your body reacts to the race environment – it is very individual." –Olivia Smedley
"When in doubt, eat the watermelon," – Kaysee Armstrong
"Always have something in your back pocket to eat more between aid stations – bars, gels or whatever it takes. Even if you're not hungry, that doesn't mean you should go long periods of time without eating while expending that much energy." – Sandra Reyes Coronilla
"Put in some long days in the saddle – at least as long as your anticipated longest day. Dial in your nutrition, race warm up and post-race traditions so that you're optimized on race day. This helps you have a routine so that you're less likely to forget something. I made a little-laminated checklist card to use to help me prepare each night. I would lie out my items and check my card. You're going to be tired and you're more likely to forget simple things when you're tired, so having a "fail-safe" like a little checklist card is pretty simple!" – Lisa Land