6 Things New Mountain Bikers Wonder But Never Ask
New to MTB? No Worries. Here are Some Tips!
Hey there! I'm Jen – a former pro skier, turned mountain biker, who spends a ton of time coaching women on two-wheels. Over the years, I've realized that there are a lot of questions that newer riders wonder about, but are often too shy to ask. If you're here, I assume that you are a new rider, getting swept up by the awesomeness that is mountain biking. Starting out, there is a ton of information to digest, so hopefully, this resource is helpful! But keep in mind, no question is a dumb question. As a mountain biker, you become part of a larger family and we're all here to support one another. Don't be shy when you have a question. Speak up! That is the quickest way for you to learn and begin having the best time on your bike.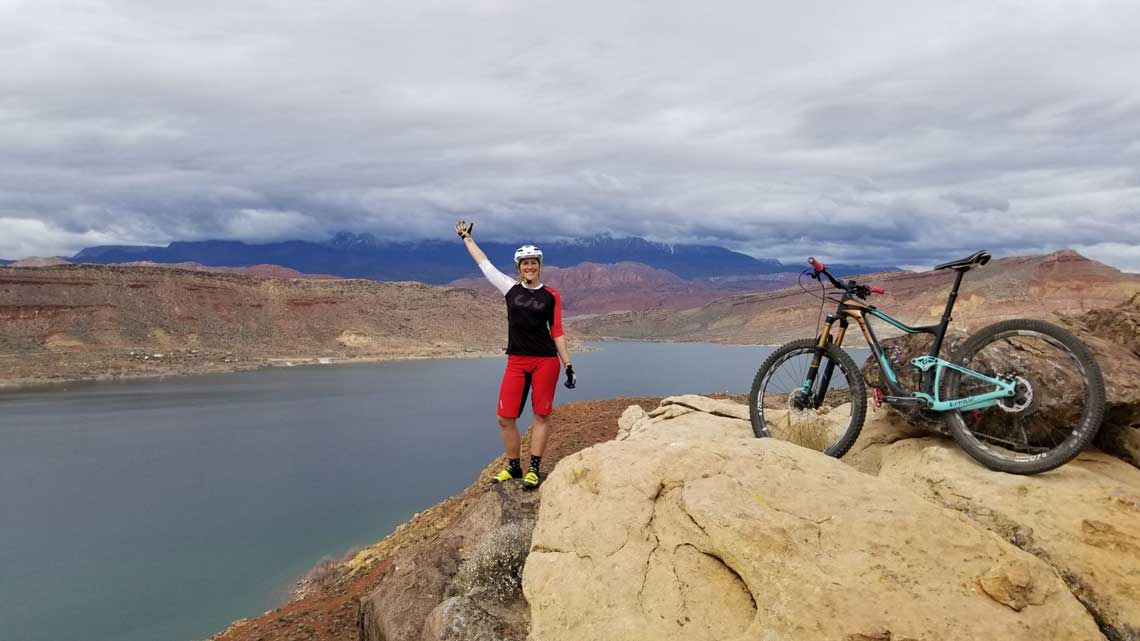 1. On what side of the trail am I supposed to stop? Don't we drive on the right?!
Most bikers are aware that they should yield to all other traffic on the trail (hikers, horseback riders, etc.) – if not, now you know! In the case of two bicycles on the trail, the downhill mountain biker should yield to the uphill traffic.  "I know thaaattt, but even when I do, people seem annoyed!" you say. As it turns out, you might be pulling over to the wrong side of the trail. Unlike driving a car, the "drive on the right, pass on the left" thing is essentially non-existent.
When yielding to uphill traffic on a mountain bike, you want to pull over and stop completely on the upsloping side of the trail! Many mountain bike trails are bench cut across mountains; so on one side the hill will be going up, and on the other side it'll be sloping down. Stopping on the downhill side because it's on your right, is a tempting idea, but not the appropriate method. This can put you at greater risk for tipping off the trail. It also makes it more difficult for the person passing to get by, since they're now sandwiched between you and the uphill slope of the mountain.
2. What the heck is "tubeless" and how much air pressure do I need?
Tubeless tires have become the standard for new mountain bikes. This means that there is no inner tube holding the air pressure between the tire and the rim (the outer metal circle that makes up your wheels). Essentially, the edge of the tire creates a seal by locking into a small lip on the interior of your rim. Using a sealant in combination with this, you eliminate the need to use a tube inside your tire. This leads to a lighter overall wheel weight (think easier pedaling) and allows you to run lower tire pressure (think more traction)!
So, about this tire pressure – the number indicated on the sidewall of the tire is the maximum amount of tire pressure you can safely run. Usually, that number is much higher than you'll need to run. Your psi is also dependent on your weight, riding style and terrain. The lighter you are the less pressure you'll need, the more aggressive you are the higher pressure you'll need. In general, in wet or loose conditions riders will run lower tire pressure. For hard-packed dirt or trails that are very rocky, higher tire pressure could be needed or desired.
The below chart is a good place to start based on rider weight and riding style. Personal preference will affect tire pressure choice, so these recommendations are not set in stone.
Recommended Tire Pressure for Tubeless Tires

Rider Weight (lbs)

27.5 x 2.0 - 2.2

27.5 x 2.2 - 2.4

29 x 2.0 - 2.2

29 x 2.2 - 2.4

More Aggressive Rider

100

23 F / 25 R

21 F / 23 R

21 F / 23 R

19 F / 21 R

(+) 2 psi F & R

110

24 F / 26 R

22 F / 24 R

22 F / 24 R

20 F / 22 R

(+) 2 psi F & R

120

25 F / 27 R

23 F / 25 R

23 F / 25 R

21 F / 23 R

(+) 2 psi F & R

130

26 F / 28 R

24 F / 26 R

24 F / 26 R

22 F / 24 R

(+) 2 psi F & R

140

27 F / 29 R

25 F / 27 R

25 F / 27 R

23 F / 25 R

(+) 2 psi F & R

150

28 F / 30 R

26 F / 28 R

26 F / 28 R

24 F / 26 R

(+) 2 psi F & R

160

29 F / 31 R

27 F / 29 R

27 F / 29 R

25 F / 27 R

(+) 3 psi F & R

170

30 F / 32 R

28 F / 30 R

28 F / 30 R

26 F / 28 R

(+) 3 psi F & R

180

31 F / 33 R

29 F / 31 R

29 F / 31 R

27 F / 29 R

(+) 3 psi F & R

190

33 F / 31 R

30 F / 32 R

30 F / 32 R

28 F / 30 R

(+) 3 psi F & R

200

34 F / 32 R

31 F / 33 R

31 F / 33 R

29 F / 31 R

(+) 3 psi F & R

 
 
 
 
 

F = Front Tire Pressure
R = Rear Tire Pressure
All pressures given in PSI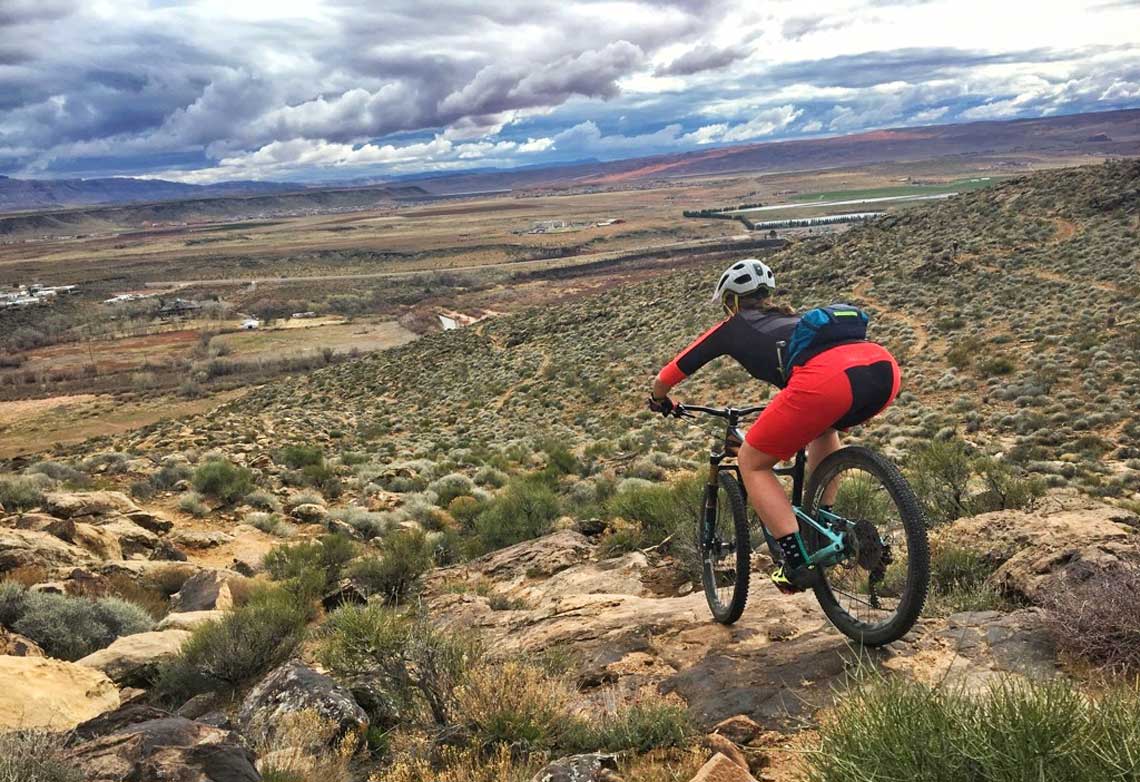 3. How often are you supposed to check tire pressure, shocks, brakes, etc.?
TIRE PRESSURE: You should check your tire pressure before every ride. The more frequently you do this, the sooner you'll be able to use your hand as your testing device. Cop a quick feel and you'll know if your pressure is too high or low. Living in the mountains, as I do, can lead to huge fluctuations in outdoor temperature, which can affect your tire pressure. For example, if you ride at 2 pm and in 85-degree weather one day, you might register 27 psi in your tires. But check the same tires at 7 am the following morning when it's 45 degrees, and that pressure might've fallen to a dangerously low 18 psi.
SUSPENSION (Fork & Shock PSI): When you first get your bike, have someone (a mechanic at the local shop or an experienced rider/friend) help you set up your suspension to your weight. Write your fork and shock psi on a piece of masking tape and stick it on your down tube so you'll remember. Remember to reset the little rubber rings around the stanchions (inner tubes of your fork) before each ride. This allows you to ensure you are using all of the travel in your suspension and not bottoming out your suspension too often. If you are not using enough travel or using too much, you can adjust the amount of air pressure in your suspension using a shock pump. Once you have the right amount of psi in your fork and shock, you shouldn't have to check this level too often. Any sudden loss in suspension pressure usually means you need to get your suspension serviced (seals and oil replaced) at the local bike shop. This should be done every 50-100 hours of riding.
BRAKES: As for your brakes, you certainly want to make sure that they're engaging properly before every ride. To do this, simply grab each brake individually and try to slide your bike forward. With the front brake, the bike should not slide forward at all and the back of the bike should begin to lift in the air. For the rear brake, your bike will slide forward and the rear tire should be skidding along on the ground.
Depending on where you ride and how hard you ride your bike, it is worthwhile to bring your bike in for a basic tune and check-up about every 250 miles (about every month and a half with regular riding). If you bring your bike into the shop regularly for service, they will be able to catch issues before they cause trouble on the trail. Tires, brake pads, brake rotors, and chains are all parts of your bike that wear out with time. Replacing them keeps you safe and ensures more expensive parts – like your drivetrain – last longer.
4. How often do I need to wash my bike?
The frequency with which you need to clean your bike truly depends on where you live and how dirty your bike gets when you ride. The most important things to keep clean are your chain and drivetrain. Check your chain after each ride. If it appears dirty, clean it and then apply chain lube. This way, you're not applying chain lube right before you ride (which ultimately attracts more dirt and gunk onto your chain). For the drivetrain, clean major debris out after every ride and fully remove and clean it once per season. If you get really muddy during a ride, clean it off before it dries. Check out this great video, from LIV, which walks you through the process of washing your bike. Pro tip: Only use the shower setting on your hose and be careful to not spray water directly at bearings (this can cause unintentional damage by cleaning off needed grease to keep the bearings lubricated). P.S. – the bearings are the pivot points of your bike, where parts of the frame are joined together to create your sweet ride.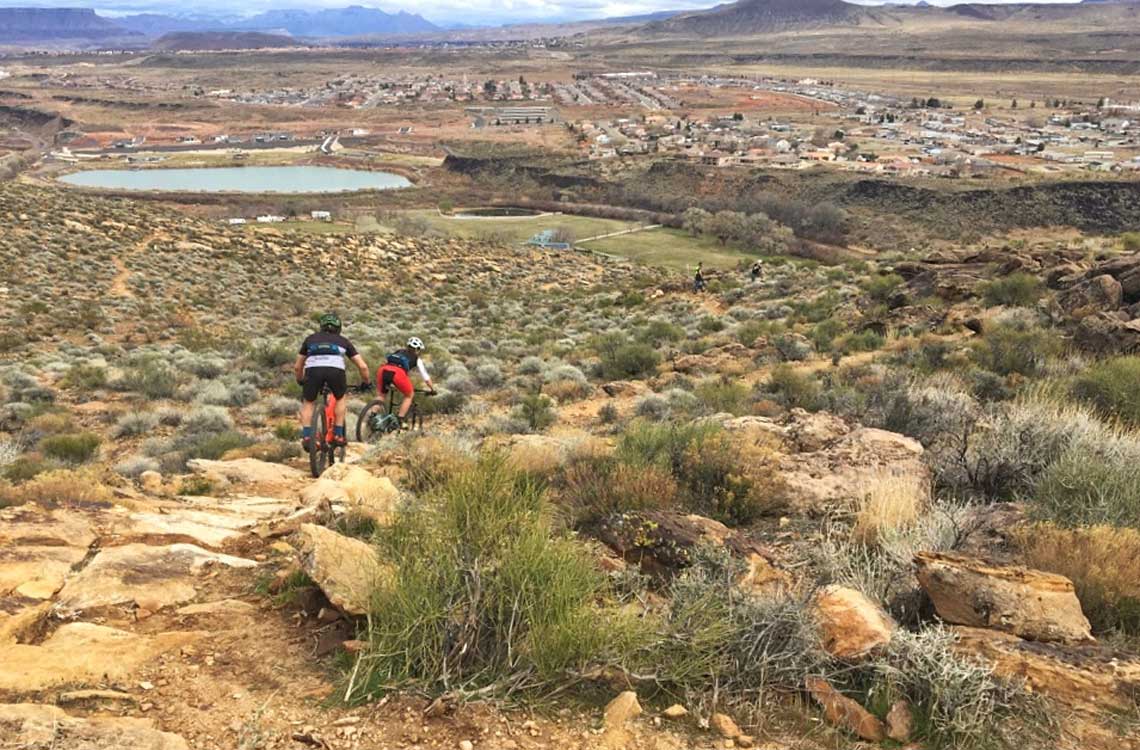 5. How do I start pedaling on a hill?
Starting to pedal on a hill can be a challenge and if you don't have the right technique, it can seem impossible! But we're here to help. For starters, I want you to know that it's okay to get off your bike and walk it to a slightly flatter spot on the trail before attempting to pedal. This is something even experienced riders do all the time. There are some hills that are simply not worth the headache to try and start on, so this is part of the technique. Once you've found your starting location, position your bike parallel with the upsloping side of the trail (if there is one). This will allow you to leave one foot on the ground, while you place your other foot in "power position." Power position is positioning your pedal between 1 and 2 o'clock as if your crank was the hand on a clock. This will give your quad maximum power and range of motion to get you moving. When you're ready to go, scoot your butt as far forward on your saddle as you can, lower your chest to your bars, look ahead and then pedal from that power position! Keep pedaling to gain momentum and balance before trying to clip in (for those of you with clipless pedals)! Pro tip: Sometimes you'll need to be in a harder gear than you think. If you find yourself easily cranking your pedal to the bottom of the stroke before you can get your other foot in position, you probably need to shift into a harder gear.
6. Cham-what?!
A chamois (pronounced shammy) is designed to give your sit-bones a little extra cushion during your saddle time and to help prevent chaffing. It should be the undermost layer of clothing you wear while riding your bike. You don't have to wear one, but I highly recommend one if you'll be pedaling for any extended period of time (1+ hours).
Do I wear underwear with a chamois? This is a common mistake, but NO, you don't want to wear underwear with your chamois. Like I said at the start, the chamois should be the undermost layer of clothing on your body. They are not only designed to provide padding but are designed without seems for anti-chaffing. This feature is completely undermined if you're wearing something underneath your chamois.
What do you do with chamois cream? Chamois cream reduces friction between your skin and the chamois, which helps prevent saddle sores. Certain products also help to fight bacteria and provide an anti-odor effect. Chamois cream is applied directly to the chamois face or to the skin in problem areas.
How do you wash your chamois? Wash your chamois inside out so that the padded area can get thoroughly cleaned. While most chamois have anti-microbial qualities, it can be a breeding ground for bacteria if not cleaned properly.
If you have any more questions about gear, etiquette, or maintenance, don't hesitate to reach out to your Liv community! We're all here to support one another and maximize fun on bikes!