FAST AND FLOWY ACROSS DIVERSE TERRAIN, PIQUE 29 IS THE XC BIKE THAT'S DESIGNED FOR SPEED.
Hauptleistungsfaktoren
Fast
ALUXX SL-Grade aluminum frame built to offer a lightweight and stiff bike at a lower price.
Premium Outlook
Inspired color and graphics created with lightweight paint and internal cable routing for a sleek look.
Effective
Tuned suspension for women, by women, cross-country specific dropper seatpost and a cross-country build that lets you roll fast with confidence.
Warum wir es lieben
This 29er has cross-country geometry designed specifically for women with a lightweight frame with a PowerCore bottom bracket for ideal pedaling efficiency to conquer those serious climbs. Pique 29 offers 100 mm of front and rear travel, tuned for women and on the leading Maestro Suspension Technology. Complete with a dropper post, the Pique 29 is built for cross-country racers and riders alike. The integrated design accommodates downtube water bottles on all size frames, XS-L. Built with a lightweight ALUXX SL-Grade aluminum frame, the Pique 29 offers a premium ride at a winning price. The 29-inch wheels ensure bike handling is stable and fast, boasts itself to precision cornering and bump-reducing qualities.
Spezifikationen
Größen

XS, S, M, L

Farben

Rainbow HP Aluminum / Black Ti

Rahmen

ALUXX SL-Grade Aluminum, 100mm Maestro Suspension

Gabel

RockShox Recon RL Silver, 100mm, Boost 15x110, Kabolt, tapered, 44mm offset, custom tuned for Liv

Dämpfer

RockShox Deluxe Select+ [165/45], RT, Solo Air, custom tuned for Liv

Lenker

Giant Contact SL XC, flat, 780x31.8

Vorbau

Giant Contact

Sattelstütze

Giant Contact Switch dropper, remote lever, 30.9

Sattel

Liv Sylvia

Pedale

N/A

Schalthebel

Shimano Deore

Umwerfer

N/A

Schaltwerk

Shimano Deore

Bremsen

Shimano BR-MT410, hydraulic disc

Bremshebel

Shimano MT-401

Kasette

Shimano Deore, 10x51

Kette

Shimano

Kurbelsatz

Praxis Cadet Boost, 30t

Tretlager

Praxis, press fit

Felgen

Giant XCT 29, tubeless ready, sleeve-joint, 25mm inner width

Naben

[F] Shimano 15x110, sealed bearing [R] Shimano 12x148, sealed bearing

Speichen

Sapim

Reifen

[F] Maxxis Recon Race, 29x2.35, foldable, TLR, EXO, tubeless [R] Maxxis Recon Race, 29x2.25, foldable, TLR, EXO, tubeless

Extras

tubeless prepared

Gewicht

Wie schwer ist das Fahrrad ? Das ist eine vielgestellte Frage. Zur Bestimmung des Gewichtes bei Fahrrädern gibt es keinen einheitlichen Industriestandard, was einen seriösen Vergleich von Gewichtsangaben nahezu unmöglich macht. Ein Fahrrad ist ein komplexes technisches Produkt. Fahrfreude wird von vielen Faktoren wie Sitzposition, Rahmengeometrie, Rahmenmaterial, Rahmenverarbeitung, Federungstechnologie, Laufrädern und Reifen bestimmt.
Spezifikations-, Preis- und Farbänderungen vorbehalten.
Highlights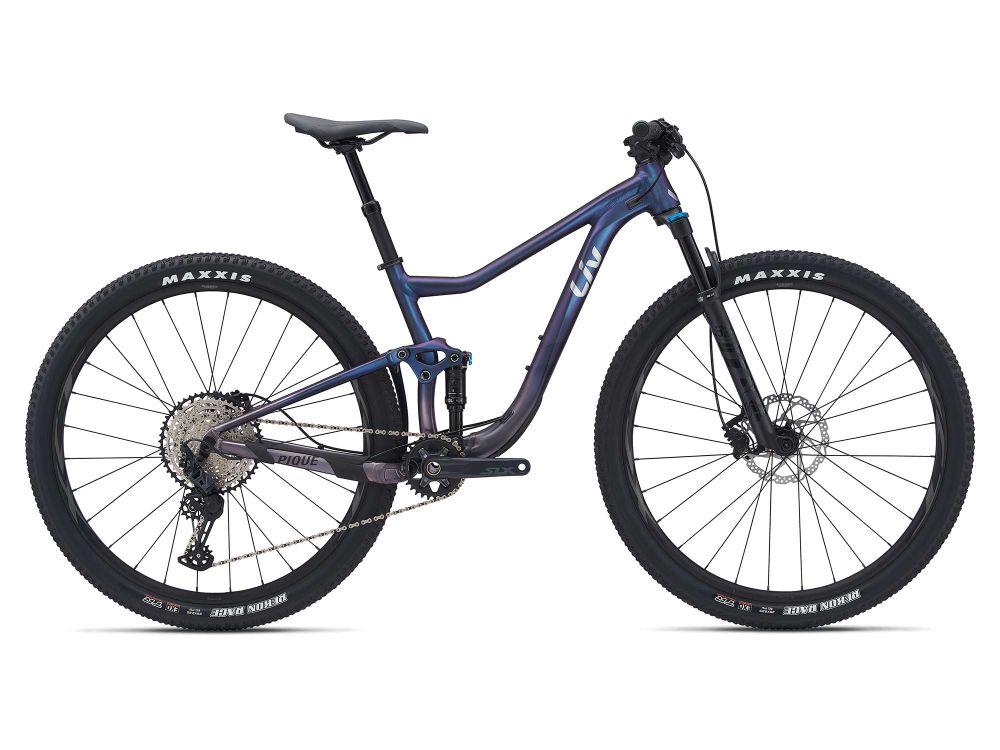 Größenhilfe und Geometrie
Sizing to be used as a reference only. Please check with a local authorized Liv or Giant dealer to determine the correct size.
Available sizes may vary from country to country.
Selection of a button will change the units measurement displayed throughout the entire sizing guide section.
XS

 

148 cm

4'10"

163 cm

5'4"

S

 

158 cm

5'2"

169 cm

5'7"

M

 

164 cm

5'5"

175 cm

5'9"

L

 

170 cm

5'7"

183 cm

6'0"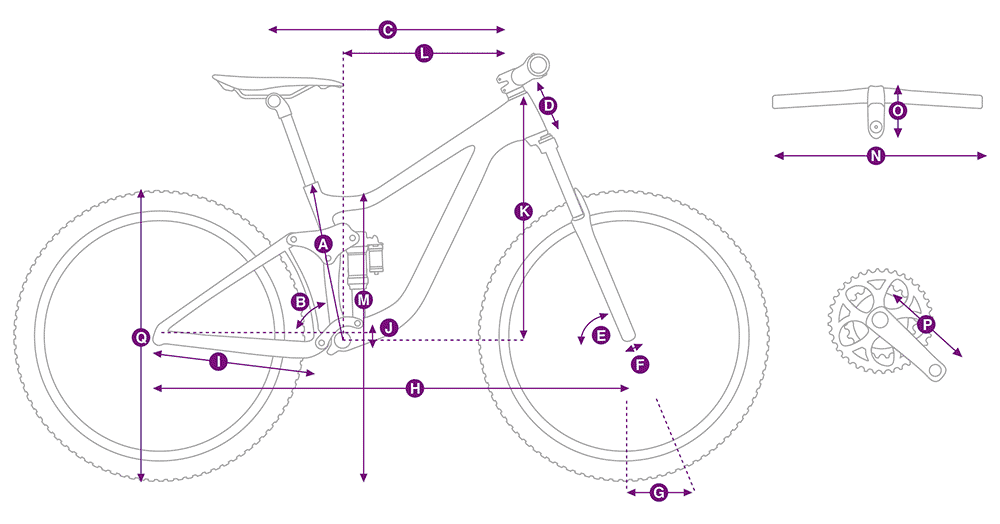 Selection of a button will change the units measurement displayed throughout the entire sizing guide section.
 
 
XS
S
M
L

A

Sitzrohrlänge

(mm)

(inch)

390

15,4

406

16

445

17,5

482

19

B

Sitzrohrwinkel

(degrees)

74,0°

74,0°

74,0°

74,0°

C

Oberrohrlänge

(mm)

(inch)

565

22,2

580

22,8

595

23,4

610

24

D

Steuerrohrlänge

(mm)

(inch)

90

3,5

95

3,7

100

3,9

110

4,3

E

Steuerrohrwinkel

(degrees)

68,5°

68,5°

68,5°

68,5°

F

Gabel

(mm)

(inch)

51

2

51

2

51

2

51

2

G

Spur

(mm)

(inch)

92,9

3,6

92,9

3,6

92,9

3,6

92,9

3,6

H

Radstand

(mm)

(inch)

1100

43,3

1115

43,9

1131

44,5

1147

45,2

I

Kettenstrebenlänge

(mm)

(inch)

438

17,2

438

17,2

438

17,2

438

17,2

J

Tretlager

(mm)

(inch)

45

1,8

45

1,8

45

1,8

45

1,8

K

Stapel

(mm)

(inch)

578

22,8

583

23

587

23,1

597

23,5

L

Reichweite

(mm)

(inch)

399

15,7

413

16,3

427

16,8

439

17,3

M

Überstandshöhe

(mm)

(inch)

694

27,3

703

27,7

724

28,5

755

29,7

N

Lenkerbreite

(mm)

(inch)

720

28,3

720

28,3

740

29,1

740

29,1

O

Vorbaulänge

(mm)

(inch)

50

2

50

2

60

2,4

70

2,8

P

Kurbellänge

(mm)

(inch)

165

6,5

170

6,7

170

6,7

175

6,9

Q

Radgröße

29"

29"

29"

29"
Technologien

ALUXX SL Aluminum Technologie
Das Hochleistungsmaterial besteht überwiegend aus 6011-Aluminiumlegierung für ein hervorragendes Steifheit-Gewichtverhältnis.

Maestro Suspension Technology
Vier strategisch positionierte Drehpunkte und zwei Anlekungen erzeugen zusammen einen einzigen schwimmenden Drehpunkt für das aktivste, effizienteste und unabhängigste Federungssystem auf dem Trail.

Advanced Forged Composite Technologie
Mit diesem Hochdruck-Formverfahren werden Komponenten mit komplexen Formen produziert, die leichter und robuster sind als Teile aus Aluminium oder Standarad-Composite. Der Schlüssel zur Advanced Forged Composite-Technologie ist eine multidirektionale Carbon-Konstruktion und ein innovatives Formverfahren, bei dem extremer Druck eingesetzt wird.

OverDrive
Der Original-Oversized-Gabelschaft von Liv. Für Lenkpräzision gebaut, liefern die extragroßen Steuersatzlager (1 1/4" unten, 1 1/8" oben für die Straße, 1 1/2" unten und 1 1/8" oben für Mountain) und der konische Gabelschaft optimale Steifigkeit im Vorderbau.

PowerCore
Das PowerCore Innenlagergehäuse ist ein weiterer Punkt, der zur hohen Rahmensteifigkeit bei Giant beiträgt. Der weite Sitz der Innenlagerschalen und die gute Verbindung um MegaDrive Unterrohr erhöhen die Rahmensteifigkeit.


3F: Fit, Form, Function
Fit, Form, Function ist die allumfassende Philosophie, die das Liv-Team leitet, wenn die Bikes für Frauen entworfen und entwickelt werden. Fit - Passform: Tatsache ist, dass keine andere Marke so viel Aufwand betreibt wie Liv, um perfekte Passformen für Fahrerinnen zu entwickeln. Um das Optimum aus jeder Form zu machen, arbeiten wir mit vier zentralen Elementen: 1. Globale Datenbank der Körpergröße 2. Einsatzzweck 3. Feedback der Profi-Fahrerinnen 4. Feedback der Kundinnen, die wir erreichen wollen Form: Bei Liv wollen wir Bikes entwickeln, in die sich Fahrerinnen verlieben, die Lust aufs Fahren machen und nicht zu übersehen sind. Jedes Jahr werden von unseren Designerinnen Farb- und Musterkonzepte entwickelt, die sich durch die gesamte Produktionspalette von Rädern, Zubehör und Bekleidung ziehen. Abgesehen von den Farben definieren wir die verschiedenen Kategorien der Liv- Bikes in Performance, Sport und Lifestyle mit einzigartigen Designs. Wir sorgen mit großer Liebe zum Detail dafür, Dich zum Radfahren zu inspiriere. Function: Liv definiert Funktion danach, was ein Rad in seinem Element leisten soll. Unser Ziel ist, leichtere, schnellere und effizientere Räder und Ausrüstung für jeden Fahrerinnen-Typ zu entwickeln. Das erreichen wir unter anderem, indem wir die Technologien und Kenntnisse nutzen, die bei den Giant-Herrenrädern perfektioniert wurden. Auch Komponenten haben eine erhebliche Auswirkung auf das Fahrverhalten eines Rads. Wir analysieren jedes Teil und entwickeln wichtige Komponenten wie z.B. Sättel weiter, um Deine Fahrqualität zu verbessern.
Spezifikations-, Preis- und Farbänderungen vorbehalten.